Introduction
Given Fiji's lush green slopes, aquamarine waters and dazzling white beaches, it's not hard to imagine that underwater, Fiji also offers a stunning diversity of terrain and variety of marine life. Circled by three of the world's largest barrier reefs, Fiji offers lots of lazy lagoon diving on sheltered reefs teeming with friendly reef fish, as well as great wall diving along the barrier reefs. There are plenty of dive resorts to suit every budget scattered throughout the Fiji Islands.
Acknowledged as the soft coral capital of the world, spectacular diving awaits in places like Vatu-I-Ra where colourful coral clad pinnacles rise from 40m to just below the surface, and Taveuni's Rainbow Reef named for its extravagant mix of soft and hard corals, and colourful sea fans and anemones. For thrill-seekers, Fiji's shark diving sites offer the opportunity to safely observe several species of sharks up close, and you can even snorkel with reef sharks and manta rays.
For beginners, if you're looking to graduate from snorkeler to certified diver, Fiji's warm clear waters provide a great place to try diving for the first time. As well as being fully PADI or SSI qualified, Fijian dive instructors know you're on holiday and so will make your first underwater experience or dive course just as much fun as it can be.
Fiji caters for all budgets as well, whether you're looking for an affordable eco-resort, a generous family-friendly resort, or a luxury, adults only couples retreat, you'll find what you're looking for here. Explore your diving options in this brochure then hop online and book your Fijian diving holiday.
Browse the different kinds of diving on offer in the Dive Sites section, then deep dive into that region to see who can take you diving there and where to stay. Or send us an enquiry and we can help you find the best place for you.
Location
Fiji Islands, an archipelago in Melanesia in the South Pacific Ocean, is 3,300 km due east of Cairns and 2,000 km due north of New Zealand and just 3½ hours flying time from Sydney.
In most cases, you will stay in a resort of one form or another (or aboard a liveaboard or small cruise ship). The resort may be a dive-focussed resort, a resort with its own 'dive shop', or a resort serviced by a local dive shop or other resort dive shop.
Fiji is no backwater when it comes to diving. Boats are surveyed, and most of the gear is modern and well serviced. Dive Centres are certified, usually PADI or SSI, and most dive centres are qualified to take Discover Scuba Divers and teach Open Water and Advanced courses.
Most of the dive guides – mainly Fijian, but not always – stick with a particular dive centre for a while, so you'll find them very knowledgeable about the areas they dive guide in. You'll also find them very friendly.
Each region has number of resorts and dive centre to suit your budget. So select a region depending on what you want to see, then choose a resort that will give you the kind of diving at the price you're wanting. Bear in mind some of the other activities on offer at each resort too. Some offer infinite snorkelling right of the beach – others don't. Once you're at a resort, it can difficult to access water-based activities not offered by that resort.
Liveaboards in Fiji
If you are looking for a liveaboard in Fiji, here are three to choose from, plus, Captain Cook Cruises Fiji also offer diving aboard their small cruising ship the MV Reef Endeavour.
The Nai'a Liveaboard departs Lautoka with 7 and 10 day itineraries through Vatu-I-Ra, the Koro Sea and the Namena Marine Reserve.
Captain Cook Cruises Fiji has a PADI dive team on-board and offers daily diving on all its itineraries. There are different itineraries which include the '4 Cultures Cruise' with options to dive all the best sites Vanua Levu has to offer including the Great Sea Reef, the Rainbow Reef and Namena Marine Reserve, and the Lau and Kadavu Discovery Cruise, which also includes diving in the Somosomo Strait, diving throughout the remote Lau Group as well as Kadavu. Read more on how diving on a small cruise ship works.
To browse our selected dive centres and dive resorts, select your dive region of interest and you'll find them all listed by region. Below is a list of Fiji Dive Liveaboards that we can personally recommend.
Dive Resorts
Liveaboards
Dive Sites
There is an amazing variety of diving across all of Fiji's different regions. Have a look at Fiji in the satellite view of Google maps and you will see the 1,000's of kilometres of reefs: fringing reefs, barrier reefs and lagoon reefs – marking the outlines of Fiji's ancient volcanoes.
Here we present the high lights of each region working simply around the Fijian Archipelago from the top going clockwise.
Quicklinks: Rakiraki/Blight Water  Savusavu  Taveuni  Kadavu  Beqa Lagoon & Pacific Harbour  Coral Coast  Mamanucas  Yasawas
Fiji's northern coast is often referred to as the Sun Coast, but divers are more familiar with Rakiraki, home to a couple of dive resorts, and the terms Bligh Water – the waters between Viti Levu and Vanua Levu, and Vatu-I-Ra an area with spectacular bommies, covered in soft corals rising from 25m to just below the surface. This area alone confirms Fiji's title of 'Soft Coral Capital of the World'.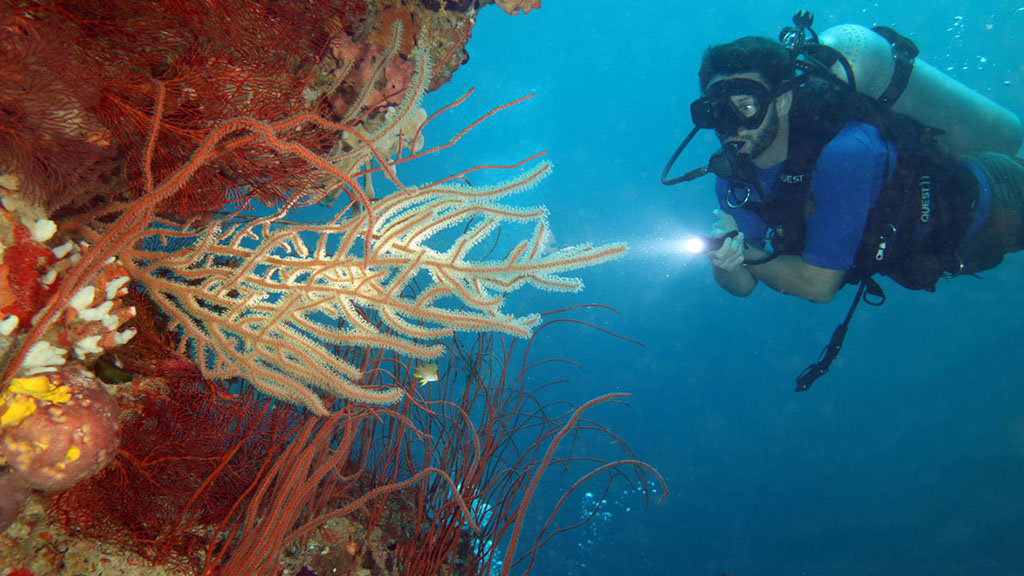 Vanua Levu is home to three different dive areas: the Great Sea Reef to the north, which arcs 200 km towards the west, the Namena Marine Reserve and the famous Rainbow Reef with its Great White Wall.
Taveuni, just across the Somosomo Strait from Rainbow Reef provides possibly the easiest access to dive the world famous reef.
Scattered south of Taveuni are the Lau Group of islands, divable only via private charter, or a small cruise/dive ship like the MV Reef Endeavour.
To the south of Viti Levu is Kadavu and its magnificent Great Astrolabe Reef, home to big fish like tuna and marlin and a place where you can routinely dive and snorkel with manta rays.
Immediately to the north of Kadavu, back on the southern coast of Viti Levu is Beqa Lagoon, Fiji's shark diving capital. But Beqa Lagoon is not just shark diving, the 144 km long reef around the lagoon has dozens of colourful soft and hard coral dive sites.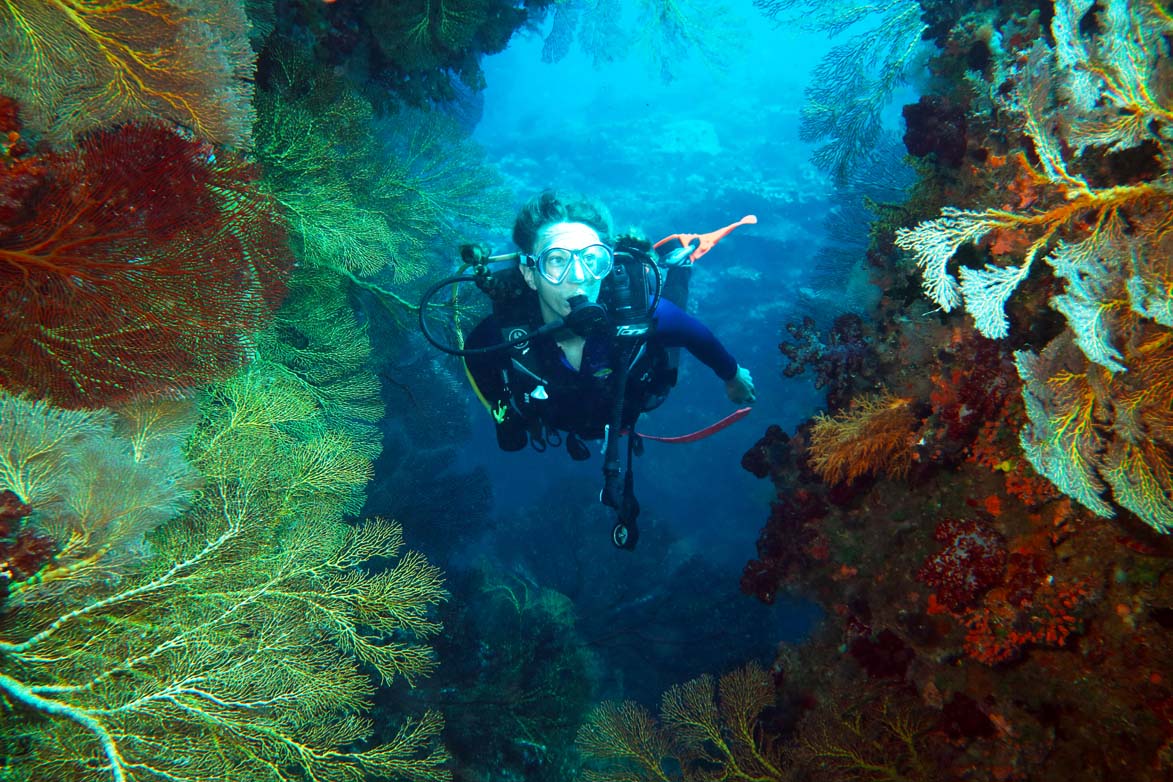 In the south west of Viti Levu lies the Coral Coast – a name that gives away what you'll find just offshore: walls of coral reefs with steep drop offs and visiting pelagics.
Running from the southwestern tip up to the northwest is the Malalo Sea Reef which provides shelter to the waters around the Mamanuca Islands resulting in that calm, tropical vision of paradise so typical of Fiji. Diving is the Mamanucas is likewise laid back whether drift diving on the walls on the ocean side of the barrier reef, or on the coral bommies on the lagoon side.
To the north lie the Yasawa Islands, now featuring a new shark dive, and a shark snorkel, in addition to the well-established manta ray snorkel. The rugged islands present equally rugged underwater terrain with a great diversity of marine life.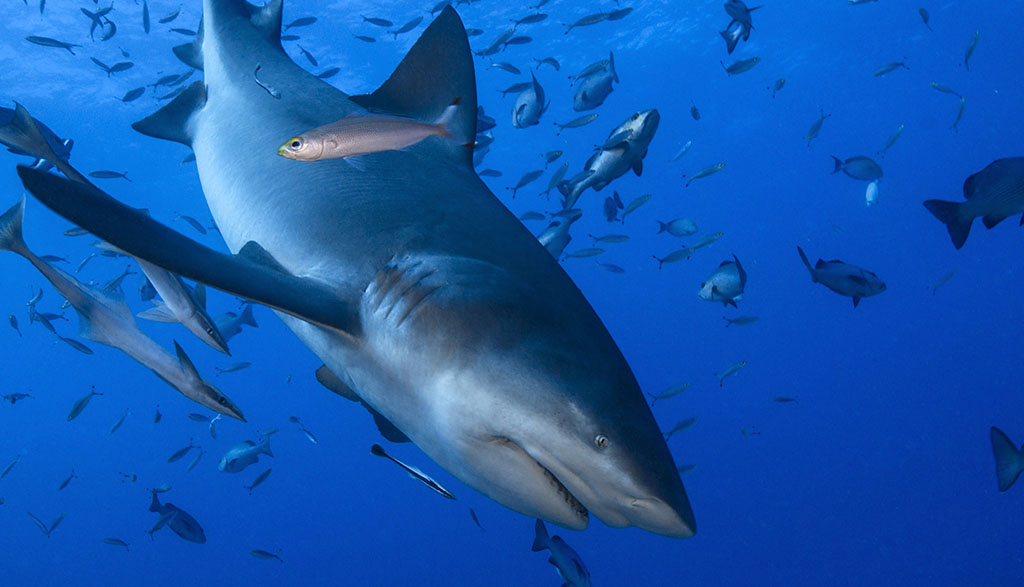 Baffled by the options? We listed Seven Great Ways to Dive Fiji – in one post just for you.
Dive Sites
Where to Stay
Most resorts in Fiji offer both great value, and excellent and friendly service. Some are obviously more dive focussed than others, and so for each region both the diving resorts, and some standouts which either have on-site dive shop or are well serviced by a local dive outfit are listed.
Other Activities
Apart from the usual non-diving activities available at the resorts, Fiji is developing its own brand of adventure tourism. You can find everything from white water rafting to jet boats, zip lining to surfing, even horse riding and golf. Activities available are listed for each region.
Local Information
Visa & Passport Information
A 4 month visa is granted automatically on arrival to visitors from most countries; and as with most international travel nowadays, ensure that your passport is valid for at least 6 months beyond your stay.
Currency
Credit cards are accepted everywhere, and there is typically a 3% surcharge, on top of the 25% Government tax. If you are going straight to a resort, and only one resort, you don't need cash. If you're travelling between resorts, take local banknotes and exchange what you think you'll need at (either) airport – the rates in hotels and resorts are not good.
Telecommunications and Electricity
The international IDD country code for Fiji is 679 and there are no area codes. Most hotels have IDD out-bound.
There are Wi-Fi hotspots all over Viti Levu – some are free – some not so. Unless you have a desperate need to be on Facebook 24×7 you can probably get by without making specific arrangements.
There are two main providers for mobile coverage in Fiji: Vodafone and Digicel. Vodafone have a 3G network, Digicel have a GPRS network which is not as fast as 3G. Vodafone have an office at the airport, so you can get yourself a SIM card as soon as you arrive. This worked out much cheaper for us than a $10 per day global roaming with our carrier at home. Purchase a data pack add-on and you can access your e-mail via your device; if you have a Wi-Fi hotspot capability on your device, that allows you to access the Internet from your laptop too, where it is not available at the resort.
Some resorts are switched on to our desire to be continuously connected and charge a lot more than you would expect for Wi-Fi.
Power points throughout Fiji are the 240 volts AC 50Hz with three flat pin power points – the same as in Australia and New Zealand
Weather
The climate is tropical with the cooler drier months being May to November with temperatures ranging from 19°C (night time) to 29°C (daytime), and the warmer humid season being (normally) from December to April with temperatures from 22°C to 33°C.
Cyclone season in Fiji is November to April and may result in flooding, landslides and disruptions to infrastructure and essential services. It also rains frequently in the cooler part of the year, though in most cases, the rain is in the late afternoon and in the night.
To get a more accurate picture of the weather at your destination, check out Fiji's Met Office website just before you go.
Health
Fiji is free from malaria, yellow fever and major tropical diseases. Outbreaks of endemic mosquito-borne illnesses occur occasionally, so take precautions against being bitten by mosquitoes, including using insect repellent, wearing long light coloured and loose-fitting clothing and ensuring your accommodation is mosquito proof.
Throughout most of Fiji, tap water is now safe to drink which means you don't have to buy water in plastic bottles (– though double check with your accommodation). If in doubt, take a metal water bottle which you can fill with boiled kettle water, and cool in a sink of cold water. On our last 10 day trip we consumed exactly zero plastic bottles of water.
There are Pharmacies in large towns only; most up market resorts will stock a small amount of medicines for the usual travel-related issues. Think ahead and pack accordingly: this could save you half a day traipsing around looking for someone who stocks contact lens fluid!
Emergency Services
For Fire and ambulance emergencies, use 911; if you need to contact the police use 917.
Flooding is common in Fiji, particularly in the areas of downtown Nadi and the Coral Coast, and can sometimes result in road access being cut, including to the airport. Ensure you follow the advice of local authorities at these times.
Dress Code
Dress code is casual for both night and day. Pack t-shirts, shorts, light cotton dresses and swimwear. Sunscreens and hats are a must and joggers or 'closed' sandals are good protection for walking or trekking. You might also consider a light-weight rain-proof jacket if you're the kind of person who carries on with their activity, whatever the weather.
The sulu or sarong is Fiji's most distinctive form of dress. Ask your resort staff for hints on tying and wearing your sulu. Visitors are asked to be careful not to offend local sensibilities. Wearing bikinis and ultra-brief swimming costumes is fine around the resort pool, but not when visiting villages or shopping in town. This is where a sulu comes in handy.
Observing Culture
The Fijians are pretty easy-going, but if you are invited into a village, wear modest clothing and take off your hat (wearing one is an insult to the chief) when in the village. Leave your shoes outside the door when entering a home and keep in mind that it's also insulting to touch someone's head – which can be tempting when you are surrounded by wide-eyed, smiling children.
Fijians are the friendliest people in the world. Your respect for their customs and traditions will not only make you a welcome guest in their villages and homes, but add another dimension to your Fijian holiday
Be prepared to shake hands and answer personal questions like, where you are from, are you married, how many children do you have… and so on.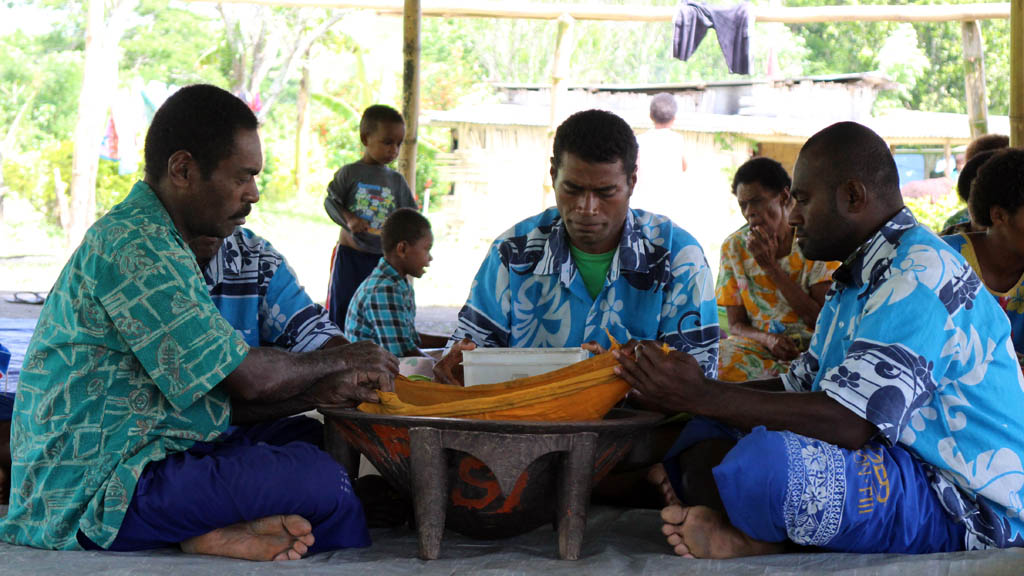 When visiting a village, it is customary to present a gift of kava, which is also known as 'yaqona'. The gift, (a 'sevusevu'), will cost less than F$20 for a half kilo. If you are accompanied by a guide, he/she will look after that. The sevusevu is presented to the traditional head of the village ('Turaga Ni koro'). After it's been pounded into powder and mixed with water, the kava is usually served in the head person's house. It would be quite rude not to accept kava if it is offered.
Tipping
Tipping is not encouraged anywhere in Fiji. Tip with a smile and 'vinaka'
For other useful information, and to check the FAQs, go to Fiji Tourism's official website.
As at August 2017, there are no decompression chamber facilities in the Fiji Islands, though plans are underway to remedy this. Get your DAN insurance here.
Getting There
Nadi is the international airport on Fiji, and Fiji Airways (used to be called Air Pacific) flies directly to Brisbane, Sydney, Melbourne, Auckland, Christchurch, Hong Kong, Honolulu, Los Angeles and some of the smaller regional islands such as Vanuatu. Virgin and Jetstar fly from Australia, and Qantas and Air NZ have flights to LA which stop off at Nadi.
If you are traveling from Australia you can connect to Nadi through Sydney, Melbourne or Brisbane using Fiji Airways, Qantas or Virgin Australia.
If you are traveling from the United States or Canada, you can choose to fly direct from Los Angeles, or through Honolulu, Hawaii with Fiji Airways.
If you are travelling from within Europe, you can connect through Hong Kong or Seoul with Fiji Airways or Korean Airways respectively.
Fiji COVID-19 Checklist
Here is a checklist of things you will need for an easy ride to paradise.
A travel voucher stating that you trip is with CFC approved operators end-to-end. Diveplanit will supply that for you
Be double-vaxxed and print out your International COVID Vax Certificate (ICVC) to present at check-in.

To get one, Log on to your myGov account on a browser; you'll see the Proof of COVID-19 vaccination under Quick links; click

Go to Medicare>

link. Have your passport ready!

Get

travel

insurance – it's mandatory. We have some dive & travel insurance options on our Insurance Page.

If you already have DAN, or you are just snorkelling, you can get Fiji specific travel insurance here.

Book your PCR test. The test needs to be taken within 48 hours of your planned departure – not earlier. We list some options here. Again, get a printed copy to present at Check-in.
Download, complete and print and sign the COVID Declaration for travel to Fiji.
Download the careFIJI App (not the FijiCare app).
Within 48 hours of arriving in Fiji, you must have a Rapid Antigen Test. Your CFC-accredited hotel will organise this for you.
If you have any other questions, please visit Fiji Travel's FAQ page first. If you still have questions, please just shoot your Diveplanit Travel Consultant an email of give us a call.
Pricing / availability enquiry