Liveaboard Diving Experiences
Liveaboards boat dives by country or region, discover experiences unique to these amazing dive holiday boats
If you know what you want you can browse all our liveaboards or search by destination and date. This page is about what to expect on liveaboard diving and how to choose a liveaboard that suits you.
There are many forms of a liveaboard diving boat, but essentially, the aim of each boat is the same: to enable their customers to dive multiple sites over a large area in comfort and in many cases – extreme luxury.
The advantages of a dive liveaboard (over a dive resort, for example), are many:
They usually go to the best sites and cover a larger area
They offer access to dive sites where a shore-based alternative might require an arduous overland journey, or provide only modest facilities
If weather conditions are not optimal, they can be flexible with itineraries
They often offer up to 5 dives in a 24 hour period
Most divers on liveaboards are relatively experienced divers and so the dive sites that can be visited are the slightly more challenging, less visited sites, and often in pristine condition as a result
In some regions, such as the Philippines and Indonesia, liveaboards relocate depending on the season, and these transition trips can take you to some rarely-visited, very special places, between Raja Ampat and Komodo for example, or
On this page, we explore some of the notable scuba liveaboard destinations. We also touch on scuba diving cruises which offer fewer dives, but more cruising combined with land tours in what some might consider better-balanced scuba cruise vacations.
Maldives
Liveaboards in the Maldives can reach many of the top dive spots in a short time. Most offer one to two week expeditions are almost always accompanied by a smaller Dhoni from where the diving is organised. Dive gear & tank storage along with air refills take place on this vessel. Especially during the extended liveaboard trips, you reach dive-sites which are not visited by other vessels at the same time. See our selection of Maldives Liveaboards here.
Thailand
There are two main areas in Thailand visited by liveaboards, both in the Andaman Sea: the Similans and the area between Phuket and Krabi including Koh Phi Phi. The Similan Islands (Mu Ko Similan or 'the Similans') are a group of nine granite boulders in the Andaman Sea, 55km west of Khao Lak, accessible via liveaboard from Khao Lak and Phuket. Slightly further north is the fabled Richelieu Rock in Surin National Park (Mu Ko Surin). Often the two groups are combined into a single trip that takes a week and are collectively considered the best places to go scuba diving in Thailand. Certainly, Richelieu Rock would be considered within the top 10 dive sites in the Asia Pacific region.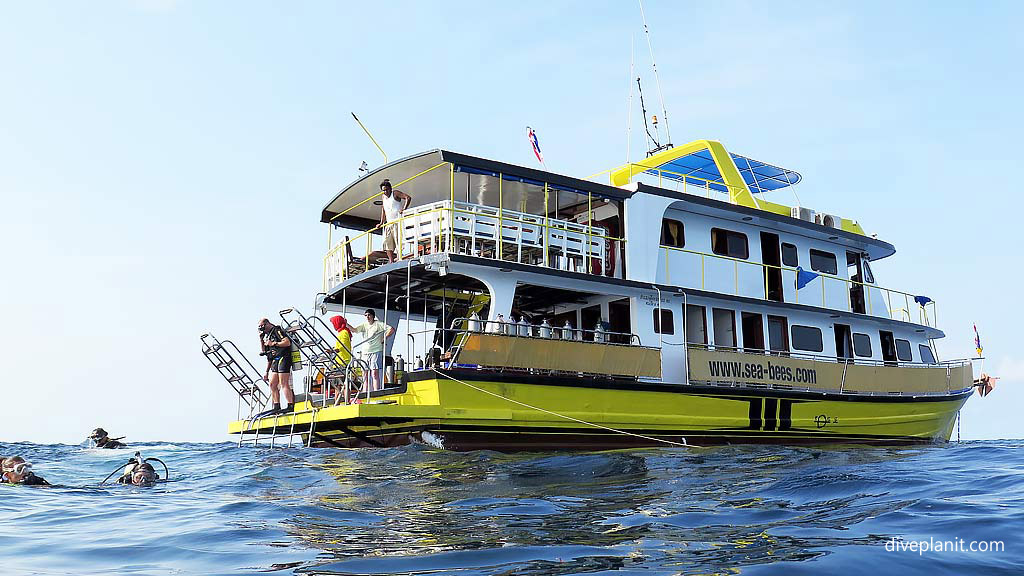 Indonesia
Liveaboards in Indonesia concentrate mainly in the areas of Raja Ampat, Komodo and Ambon.
Komodo National Park in Indonesia encompasses an area between Sumbawa and Flores and includes the main islands of Komodo, Rinca, Padar and a number of smaller islands. There are two distinct environment zones, the warmer clearer north and the cooler south, resulting from the north to south flow of water from the Pacific into the Indian Ocean. There is often current on dives, but it is the upwellings caused by these currents that bring forth the abundant marine life, from the ever-present anthias to the reef sharks and other large predators. There are many Liveaboards in Komodo, and Moana Cruising is a good example of the traditional style liveaboard, and one that operates exclusively in Komodo. You can compare all the Komodo Liveaboards here.
Raja Ampat in Indonesia is smack bang in the middle of the Coral Triangle and being both remote, and having one of the lowest population densities makes this area simply stunning in respect of the unspoilt nature of the marine environment. It breaks records for biodiversity of all types of species from coral to fish. The name means four kings for the four major islands that make up Raja Ampat – Batanta, Misool, Salawati and Waigeo.
Most itineraries start and end in Sorong, though some are one way and end in Waisai or even Ambon. The waters of Raja Ampat are warm year-round (28-30°C), and the most reliable time to enjoy calm seas is mid-October to mid- December. Mid-June to mid-September can have ferocious winds and therefore horizontal rain.
You can compare all the Raja Ampat Liveaboards here.
Solomon Islands
The Solomon Islands has two liveaboards, the Bilikiki and the Solomons Master. Both have a range of 7 and 10 night itineraries, with some now including Guadalcanal as well as the Russell Islands, Mary Island, Florida Islands and even up to and around New Georgia, including many sites only accessible via liveaboard diving trip. Departures are from the very convenient Honiara Yacht Club.
PNG
The MV FeBrina and the newer MV Oceania are based in Kimbe Bay and offer a range of itineraries around New Britain, with very experienced skippers who know all the best places to go. Both are listed here.
Fiji Islands
Fiji has a lot of resorts that offer diving on their local reefs, to visit the best dives in one trip, a liveaboard is the best way to go – but there is only one: the Nai'a. The Nai'a cruises the amazing soft coral havens of Bligh Water and the Namena Marine Reserve.
The alternative to a liveaboard dive cruise is to join a cruise with scuba diving. Often the big cruise liners will stop in ports that offer scuba diving as a 'day trip'. Much better are the small ship cruise lines such as Captain Cook Cruises Fiji which offer a much more intimate and cultural experience, but also, diving directly from the mothership. This allows you to mix and match the land tour opportunities with scuba diving in a balance that's right for you.
Palau
Palau also has a number of liveaboard vessels departing Koror and sailing to the best scuba diving locations around Palau. You'll find a full list of the Palau liveaboards here.
Australia
Mike Ball's Spoilsport Liveaboard runs regular trips up the Great Barrier Reef and into the Coral Sea. Advocates of Mike Ball's Dive Expeditions cite the overall great customer experience, the attention to detail and the ocean advocacy philosophy as their reason for booking repeat trips.
The Spirit of Freedom is another excellent choice for 3, 4 and 7-day trips to the far north Great Barrier Reef and the Coral Sea.
By contrast, on Deep Sea Divers Den's Ocean Quest Liveaboard, which operates on the Ribbon Reefs closer to Cairns, you can stay for a few or as many days as you like. Each day, the Sea Quest day boat rendezvous with the Ocean Quest to transfer guests back to Cairns. Read about that experience here.
You can also search a list of liveaboards from all around the world, and narrow down by destination and date, here. Happy hunting – there is a very long list!
Finally, here are some of the things you might want to take into consideration before deciding which liveaboard cruising company to book with. Some companies are more focused than others on sustainability and giving back to the communities in whose seas their guests dive. These are simple questions, but in many cases, you will need to ask specifically, as the answers are typically not on their websites.
Are the boats built locally, supporting local traditions of boat craftsmanship?
Are the crew and dive guides local employees?
Where and how do they source their freshwater and produce?
What are their recycling and waste disposal procedures?
Do they discourage guests from touching or harassing marine life?
Do they support any local outreach programme such as a school or medical facility?
Explore more: Where to start | Easy Diving | Learn to Dive | Luxury | Families | Great Barrier Reef