Introduction
Location
Resorts
Liveaboards
Local Info
Dive Sites
Enquire Now
French Polynesia, also known as the Tahiti Islands, is an archipelago spread over 3,200km of the South Pacific Ocean. The islands of Tahiti are known for their luxury resorts, but visitors can also find reasonably priced resorts and some of the best diving is accessible by liveaboard.
Of the 118 islands of French Polynesia, 11 have dive centres that explore the various dive sites. The narrow channels between islands leading into the lagoons are havens for marine creatures, with hundreds aggregating here to feed in the current. The plankton growing inside the lagoon escapes by these natural gates through the reef and attracts pelagic species in numbers. Serious numbers. These channels and their abundant shark populations are what make these islands, the Tuamotu Islands in particular, famous worldwide. Due to its exceptional ecosystem, Fakarava Atoll and its neighbouring islets are a registered UNESCO biosphere reserve.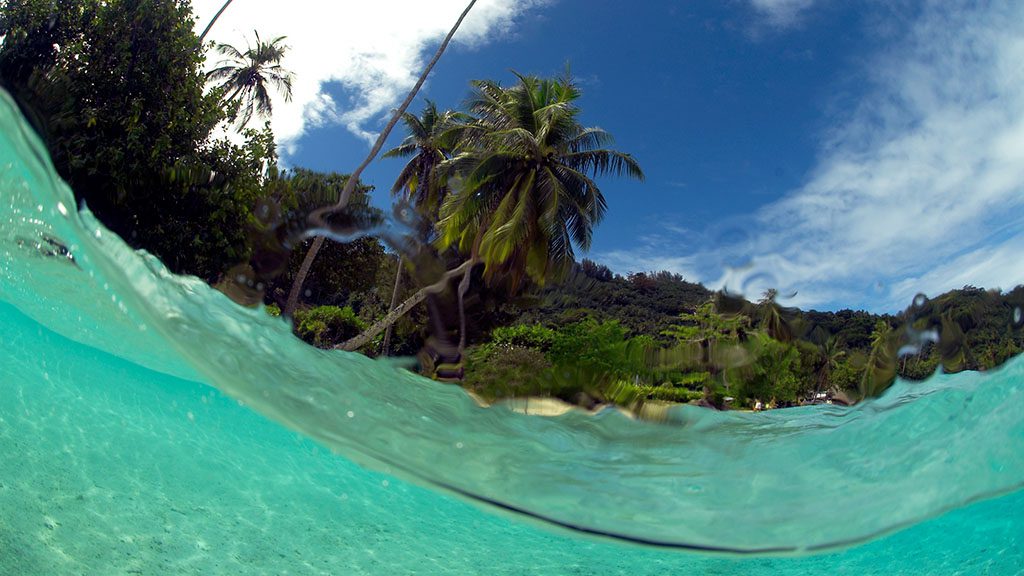 When is the best time to dive French Polynesia?
You can see the grey sharks year-round. However, you will have sunnier weather if you go from April to November. Rainy season is November to March. The water temperature is between 26 and 28°C all year-round so most people dive in a 3mm shorty.
Wildlife Events:
humpback whale season is from August to October
hammerhead shark season is from February to March
mating season of the groupers is from mid-June to the beginning of July
paddletail perch aggregate to breed before new moon from November to February.
French Polynesia is located about halfway between Australia and South America, and the expensive airfares can often be daunting – but due to its remote location, the diving is worth the journey (and expense).
Getting There
The easiest way to get to French Polynesia is to fly into Faa's (Fa'a'ā) International airport on Tahiti. From there it is easy enough to catch a domestic flight or take a ferry to one of the many islands.
Best time to dive
French Polynesia has a tropical climate so you can dive all year round. The best time to dive generally depends on what you want to see. The peak season for tourists runs through the dry season (May to October), with the grouper aggregation in June/July that brings with it hundreds of reef sharks.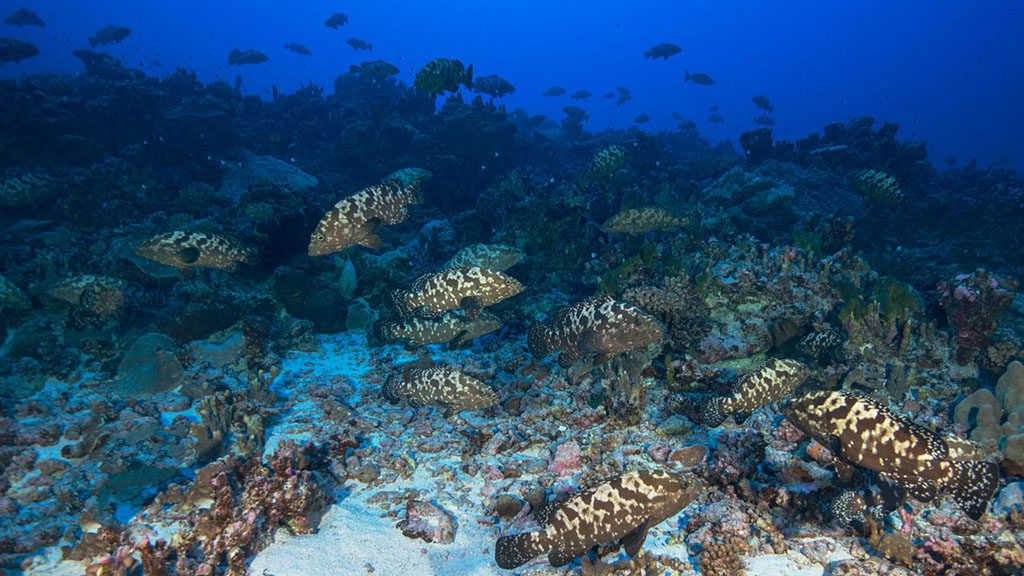 In rainy season (November to April) brings with it plankton-rich water and poorer visibility but higher numbers of pelagic marine life to the shallow waters. November is the best time to find whales due to the larger amounts of plankton.
Weather
November to April is considered the rainy season, while May to October the dry season. Underwater visibility is not as great in the rainy season, but you can dive year-round. In the Summer water temperatures average around 30°C, and in Winter about 25°C.
Visas
Passport holders of most Western and Asian countries are exempt from visa requirements for stays of up to 90 days, however, we always advise our guests to check for updates and changes with their nearest French embassy. Please make sure that your passport has validity of at least 3-6 months depending on nationality beyond the period you intend to stay in French Polynesia. If you are travelling with medication, bring your prescription with you.
Currency
The local currency in French Polynesia is the French Pacific Franc (XPF or CFP). You can exchange Euros or US Dollars, paying a commission, at the exchange office located outside the arrival hall of Papeete international airport or at exchange offices on the main islands (Tahiti, Bora Bora and Moorea). Banks do not exchange money. Large international chain hotels, however, will provide this service with a commission and most of the main islands will have several working ATM machines to withdraw cash.
Most of the remote atolls (Tuamotu, the Austral and Gambier group, etc.) have no banking facilities, no exchange services and have very few ATMs. They also rarely accept credit/debit card payments and cash payments in other currency than XPF. Therefore, we recommend bringing cash USD or Euro and changing at the airport to cash XPF or alternatively withdraw the cash you may need for your stay in the remote islands when possible. In Tuamotu, exchange facilities are rare, and hotels, pensions, restaurants and shops will accept cash XPF only.
Health
In French Polynesia, medical care is generally very satisfactory and medical infrastructure is comparable to what you would find in most developed countries. The most modern facilities are located in Tahiti and mostly concentrated in Papeete.
How to Get Around
We recommend that you arrive in French Polynesia one day before cruise departure, so you are well rested before the start of the cruise. There are 6 to 7 flights per week from Tahiti to Fakarava and Rangiroa (depending on the season), which take approximately 1 hour.
Other Activities
Though the stunning white sand beaches are undoubtedly the most popular attraction in French Polynesia, there are also a few hikes that offer amazing views. Both Magic Mountains and Mount Otemanu boast panoramic views of the turquoise waters below. For an easier walk, it is also worth exploring the shopping markets that are scattered around the islands.
Rangiroa Atoll. Rangiroa is the second largest atoll in the world. It is an enclosed lagoon surrounded by a fringing reef. The reef has two breaks in it, which twice a day creates currents in and out of the lagoon. Rangiroa Atoll is a great spot to watch sharks and rays come up from the deep water to feed.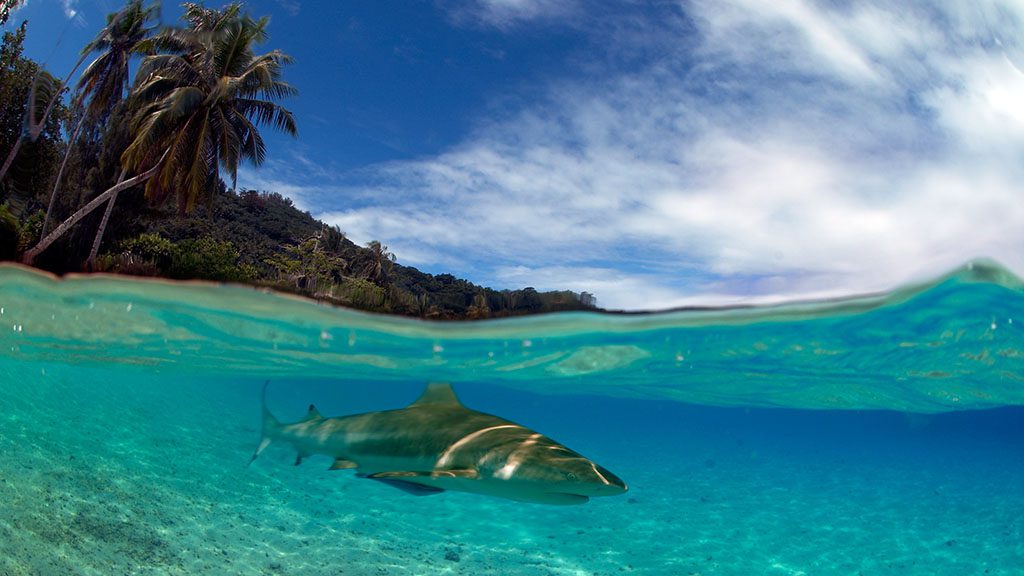 Fakarava, Garuae Pass. Located in the north of Fakarava, a UNESCO biosphere, the Garuae Pass is the largest channel in French Polynesia. Here you can find grey reef sharks, and other species such as tuna, barracuda and several species of rays, including manta rays.
Bora Bora. Tahiti's most famous island sits inside the lagoon of an atoll and has many dive sites. Anu – with depths of 30m is a manta cleaning and feeding site – great for watching manta ballet. Tupitipiti requires a longer boat ride but is a world-renowned spot in its region. Coral boulders form a grotto with overhangs through to a dramatic wall teaming with marinelife.
Moorea, Tiki. The picture-perfect place for predators, here you can find black tip, grey and lemon sharks up to three metres long. This spot is famous for great visibility and is visited regularly by dolphins and whales when the conditions are right.
Moorea, Rose Garden. Recommended for more experienced divers, the Rose Garden is located on Moorea's north coast and is home to dramatic reef carpets and shark-filled, deep and clear spaces.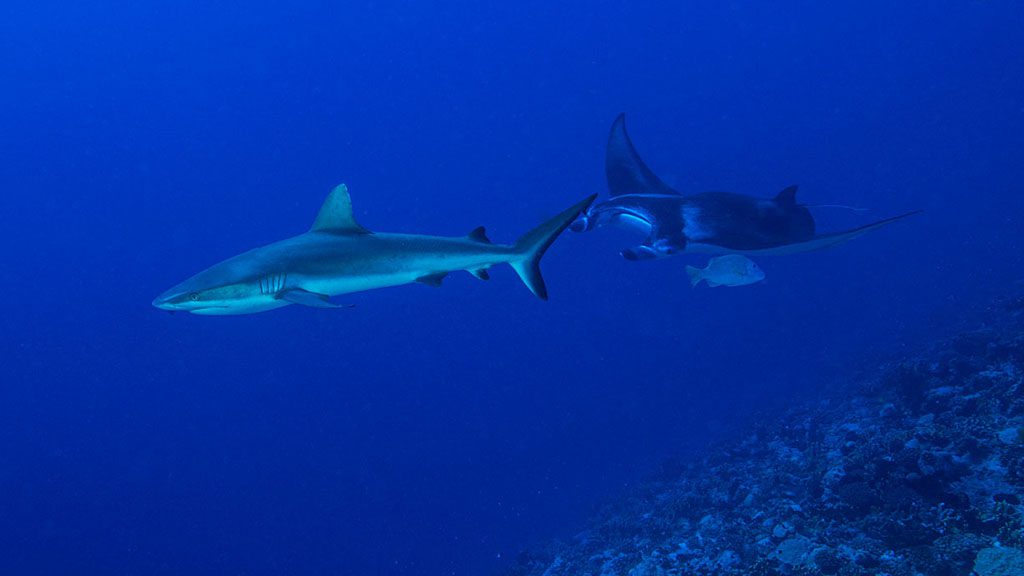 Tahiti, The Wrecks. Lying on a sloping sandy seafloor are the remains of a WWII minesweeper was deliberately sunk here in 1967. The wreck is filled with large schools of juvenile fish. Nearby you can also find an old Catalina Seaplane wreck.