Introduction
Location
Local Info
Enquire Now
Japan really is a destination like no other: beautiful landscapes (above and below water), rich culture, friendly people, great food, exciting cities and fascinating history. This quote from Lonely Planet sums ups Japan well:
Japan is truly timeless, a place where ancient traditions are fused with modern life as if it were the most natural thing in the world.
Culture
On the surface, especially in its cities, Japan appears exceedingly modern, but everywhere you go there are numerous opportunities to connect with the country's traditional culture, whether that's dining in an Izakaya (Japanese pub), spending the night in a traditional Japanese guest house or Ryoken, soaking in an onsen (hot springs), or visiting one of its many beautiful temples.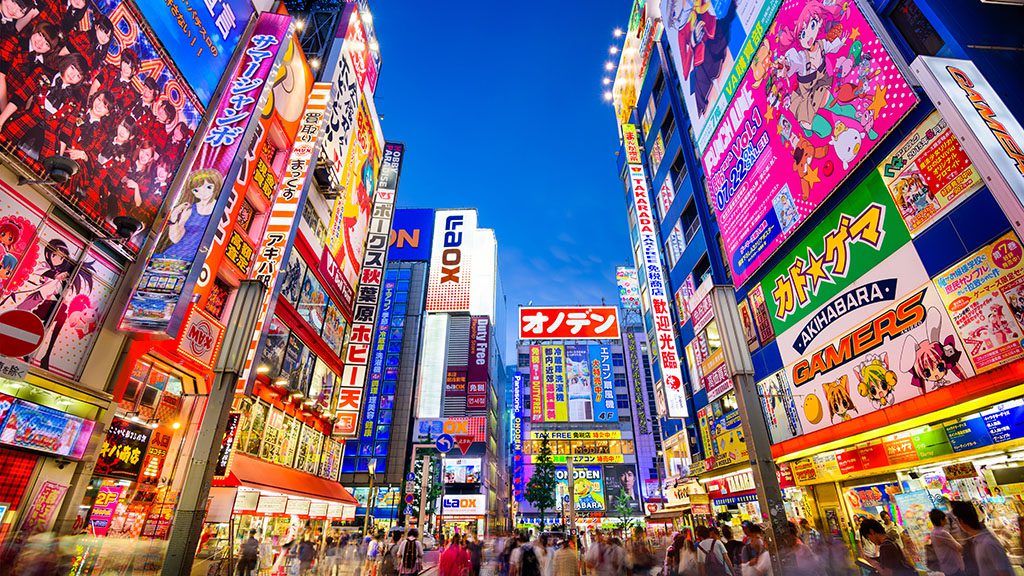 Food
Wherever you are in Japan, you're never far from a great meal. Restaurants often specialise in just one dish, whether that's ramen, katsu, sushi or steak – perhaps having spent generations perfecting it, attention to detail at every stage, from sourcing the freshest, local ingredients to assembling the dish attractively.
The Great Outdoors
Japan is a long volcanic archipelago, over two-thirds mountains, with bubbling hot springs at every turn. In the warmer months there is excellent hiking, through forests, up to soaring peaks and ancient shrines. In the winter, the skiing is world class. Meanwhile in the south, there are tropical beaches and great diving.
Japan has several international airports, the largest hubs being Haneda and Narita in Tokyo, and Osaka in the south west. The main region for diving in Japan is Okinawa, which also has an international hub in the prefecture capital, Naha.
Getting Around
Japan is incredibly easy to get around: you can travel the entire country using nothing but its efficient public transport. The shinkansen (bullet train) network runs all the way from the southern tip of Kyūshū (the southernmost of Japan's major islands) up to Hokkaidō (its northernmost), and reasonably priced rail passes make it affordable. Major cities have subway networks that are signposted in English, and in the regional areas there are buses and ferries to connect you from train or plane to more remote locations. More Information.
Visa and Passport Information
A 90-day visa is granted automatically on arrival to visitors from most countries; and as with most international travel nowadays, ensure that your passport is valid for at least 6 months beyond your stay.
Currency
Local currency is Japanese Yen and ATMs can be found throughout Japan, in Banks, Post Offices and at Lawson and Family Mart outlets, however not all ATMs accept foreign ATM/Credit Cards – ATMs have signage to indicate whether or not they accept foreign cards.
Telecommunications and Electricity
The international IDD country code for Japan is 81 and to make an international call from Okinawa, the international prefix is 010.
Tourists have access to free WiFi with over 200 hot spots at tourist attractions and facilities throughout Okinawa, and all hotels also provide fee WiFi access.
Voltage in Okinawa is 100 volts/60 Hz with two flat pin power points (the same as North American power points but different voltage).
Weather
Japan's land area stretches from the northernmost island of Hokkaido, close to Russia, to the subtropics of Okinawa, so the weather varies greatly from region to region, in fact, it's possible to plan a holiday in Japan that combines skiing and diving. More information here.
Customs and Tipping
There is no custom of tipping in Japan, and in fact, it will often be refused. Japanese people believe that you are paying for good service, so why should you pay extra? Good manners are expected however – be respectful, polite and grateful. Here's a handy guide to tipping etiquette.
If you really want to leave a tip – do not hand over cash directly from your wallet, this is considered vulgar – place money in an envelope. But seriously – it is enough to incline your head and say "thank-you".
Please be careful to dress modestly outside of beach areas and especially in the countryside and surrounding islands where moral and religious standards are strict.
Language
English is not widely spoken here so it's a good idea to learn a few Japanese phrases. Here are a few basics:
Good afternoon Konnichiwa
Good-bye Sayou nara
Thank-you Arigatou (arigatou gozaimas is more polite)
Excuse me Sumimasen
I'm checking out Chekku auto shimasu
How much is it? Ikura desuka?
It's delicious Oishii
Yes Hai
No Lie
1,2,3,4,5 Ichi, Ni, San, Yon, Go
6,7,8,9,10 Loku, Nana, Hachi, Ku, Juu