Introduction
Location
Diving
Dive Sites
Pricing & Schedules
Enquire Now
MV Oceania is the newest addition to liveaboard diving in the waters of Papua New Guinea. The 27 metre catamaran accommodates up to 16 guests, and operates out of Walindi Plantation Resort with itineraries including Kimbe Bay, Fathers Reefs and the Witu Islands. Run by an extremely professional and experienced team, and MV Oceania's daily routine allows up to 5 dives a day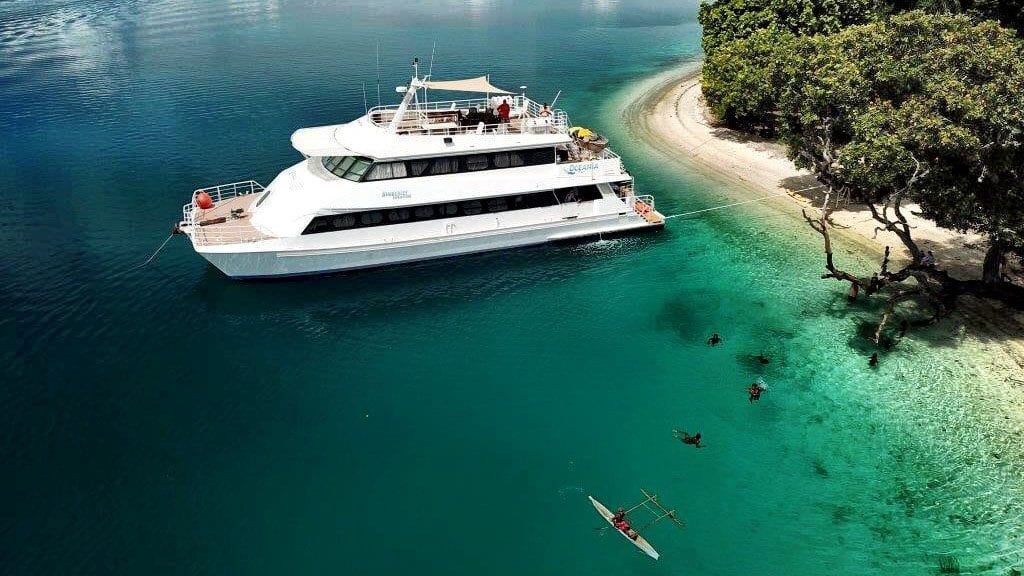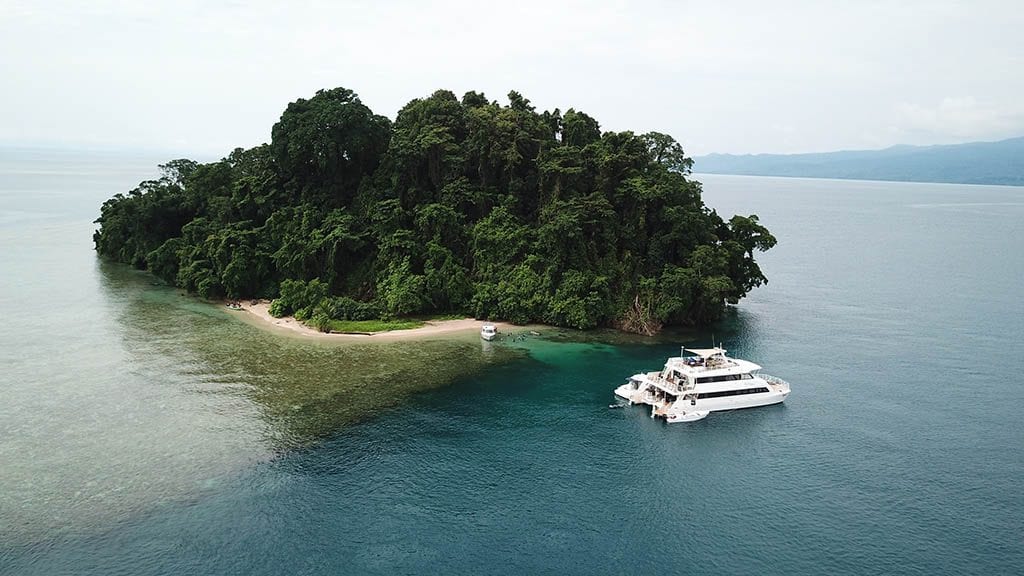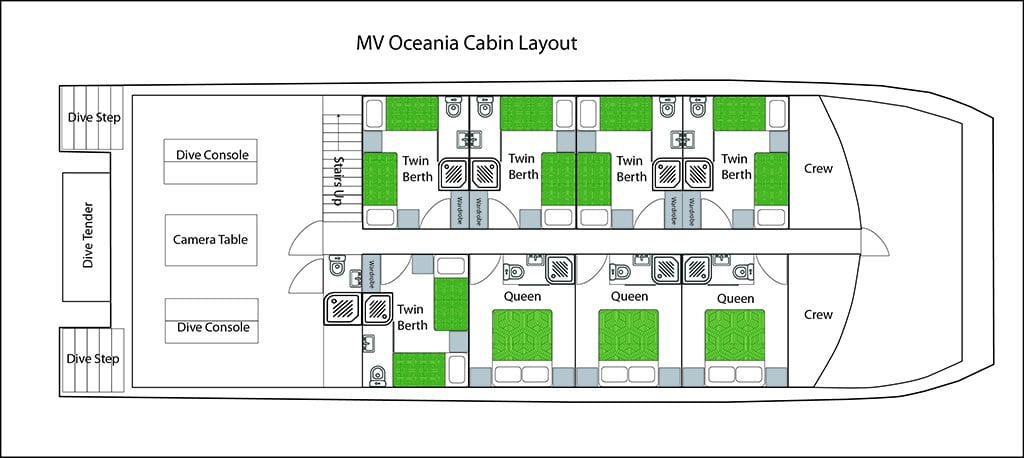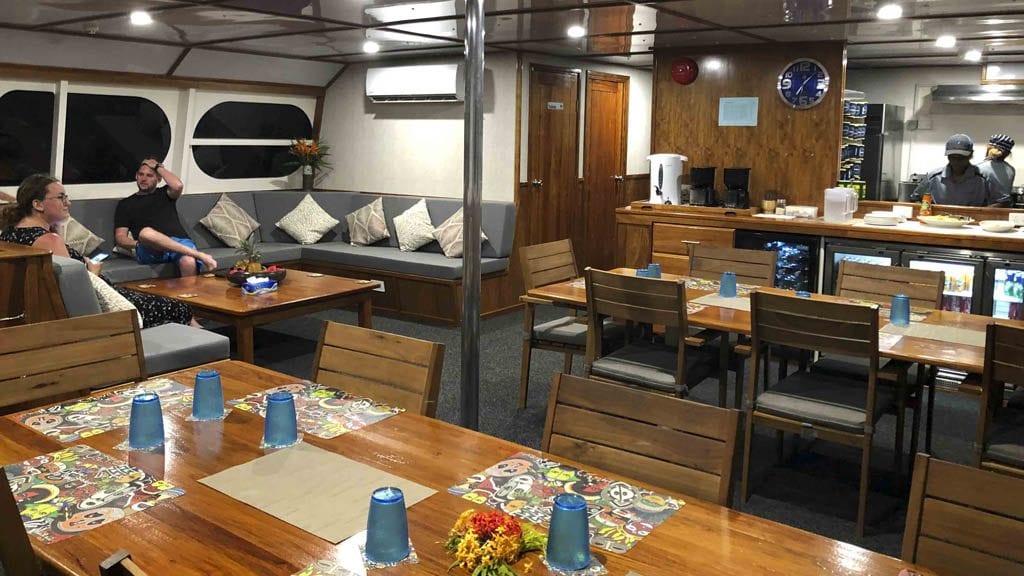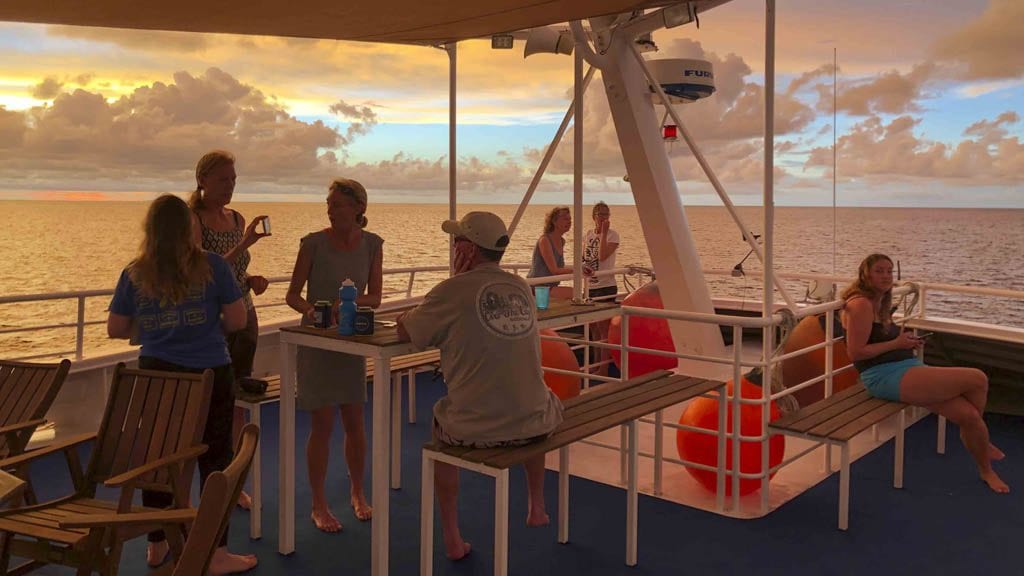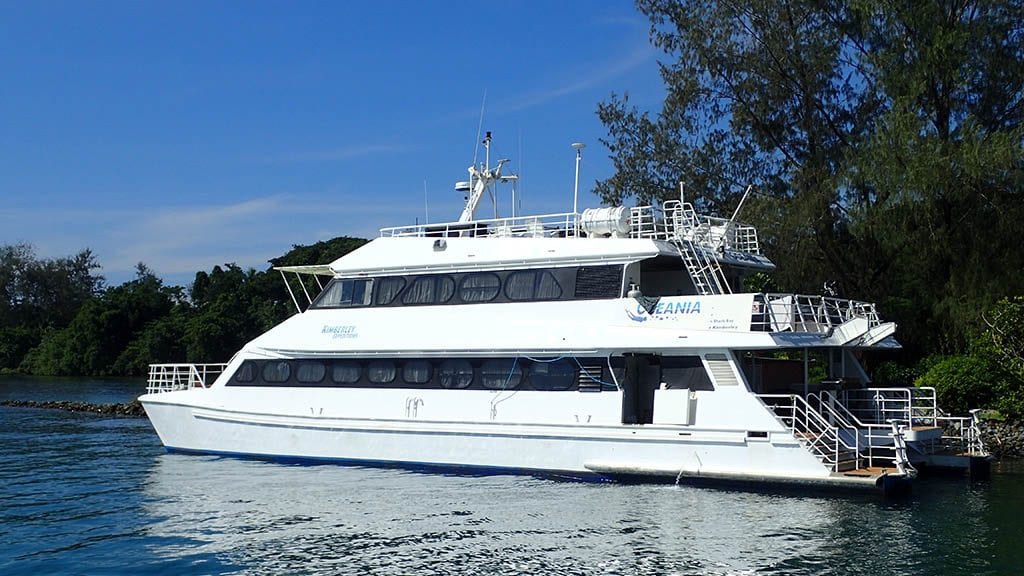 MV Oceania is fully air conditioned and accommodates up to 16 guests in double (queen) and twin cabins, all with plenty of storage space, en suite bathrooms with showers. All rooms have a wardrobe, mirror, hairdryer, soap, fresh towels daily, and a personal laundry daily.
The main communal areas are the saloon and dining area, with expansive views across the ocean, the upper sun deck – perfect for sun bathing, and enjoying the sunset with a cocktail to hand, and the well laid out dive deck.
Meals are a blend of Western and Asian cuisines with healthy portion sizes. Seafood, beef, fruit and vegetables are sourced locally. Dietary requests are accommodated wherever possible (advance notice required).
Diving service
The daily routine aboard MV Oceania allows up to 5 dives a day with an early morning dive, a late morning dive, an after lunch dive, an afternoon dive and a night dive.
MV Oceania has a fantastic dive deck, complete with camera table, and most of the diving takes place from this dive deck with its easy access via the water level dive platform. MV Oceania's dinghy is used for some drift dives, and for the more inaccessible reefs. The dive crew on MV Oceania are pretty good at spotting rare and endemic marine life and they are very helpful if you are after something special. Ocean is well equipped for underwater photographers and videographers with a large camera table complete with shelves and 110V & 220V power outlets.
Dive areas
Oceania offers the unique combination of Walindi's outstanding coral reef dives in Kimbe Bay with the excitement of diving in the deep clear waters of the Witu Islands and Fathers Reefs further offshore where pelagics are to be found. Whale, orca and dolphin encounters are not unusual in the area.
The West New Britain is known for the huge range of giant soft coral species, the abundance of barrel and elephant sponges and the prolific marine life. As it is relatively sheltered, coral can grow to enormous sizes in Kimbe Bay.
We think…
For divers and photographers who want a total PNG dive experience, MV Oceania specialises in combining excellent service and meals with dive focused itineraries providing as much bottom time as possible. The variety of itineraries provides the opportunity to explore a number of different areas of PNG – and your first trip aboard the MV Oceania will probably not be your last.
Live Availability and Pricing – NB: Australian and New Zealand residents – please enquire re AUD pricing.
MV Oceania Extras Payable Locally (as of June 2019)
USD
Environmental & Safety fees, per night
9
Nitrox single tanks fill per tank
10
Nitrox fills: 7-8 nights per person
210
Nitrox fills: 9-10 nights per person
270
Nitrox fills: 11-12 nights per person
300
This liveaboard's prices are in USD. If you are a resident of Australia or NZ please contact us directly for pricing
Important Information
Special payment and cancellation terms apply for this operator.
Note: Celebrity hosted cruises may attract a surcharge