Introduction
Location
Accommodation
Diving
Dive Sites
Pricing & Schedules
Enquire Now
Paradise Taveuni Resort, located on the Garden Island of Taveuni, is found on the south end of the island, protected from the wind, ensuring calm, clear waters year round. Paradise Dive offers full access to the Rainbow Reef and Great White Wall, free shore diving, Nitrox, an air-conditioned camera room and double or triple dives daily.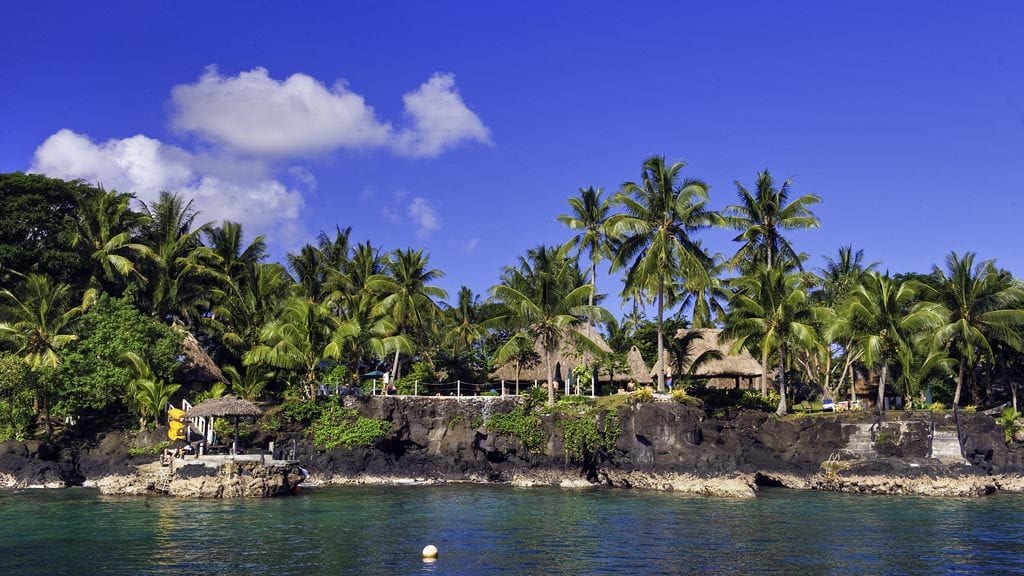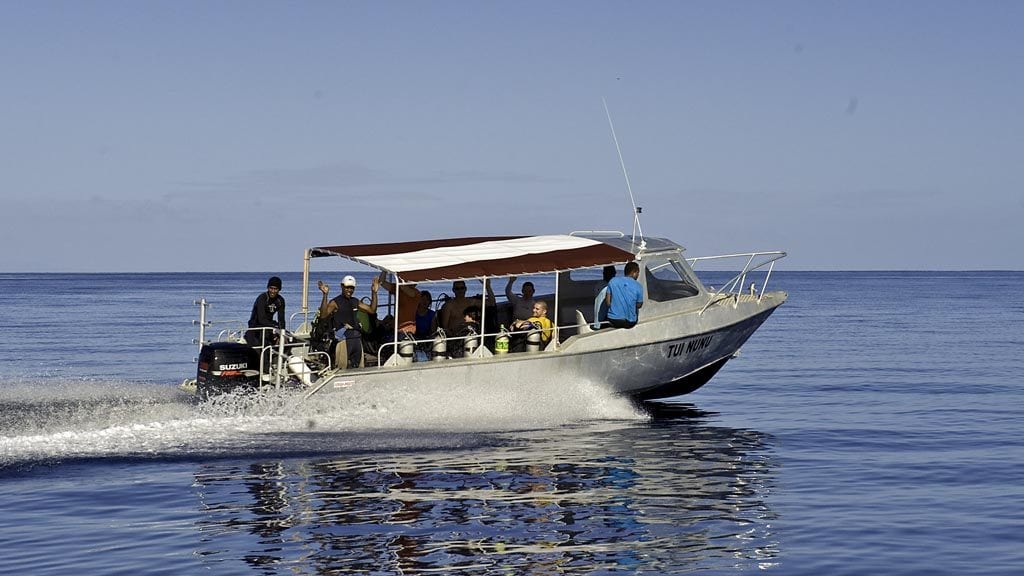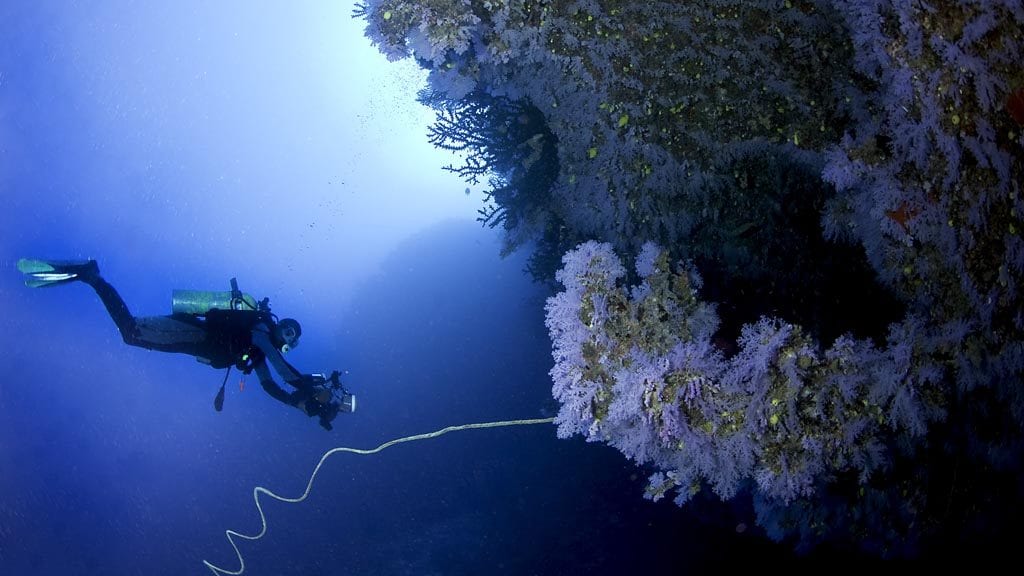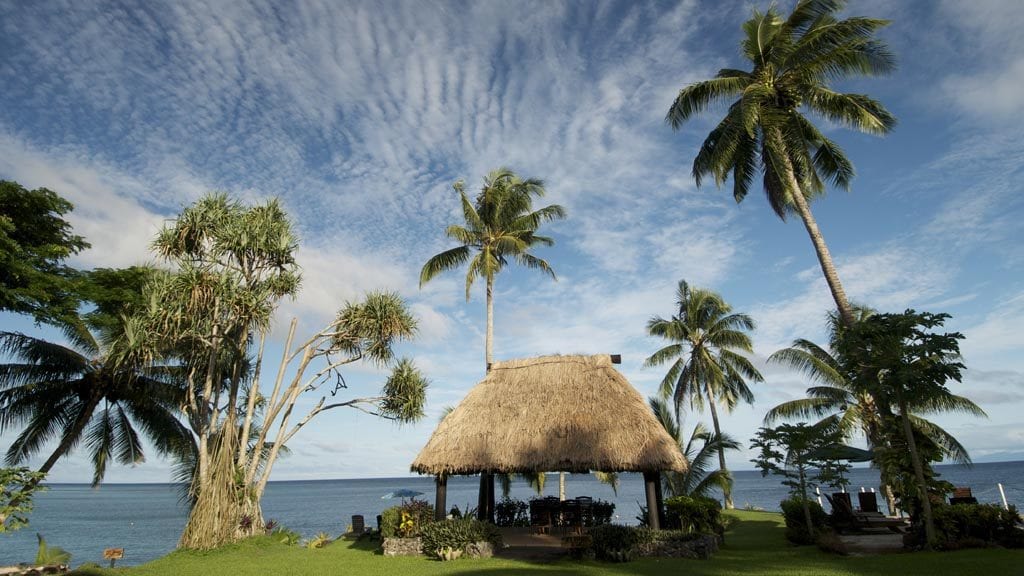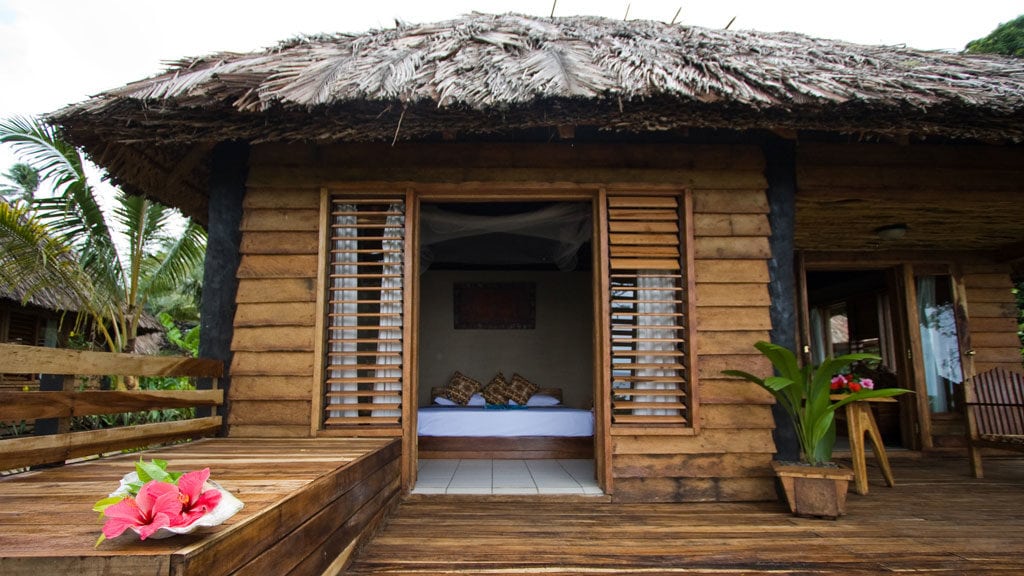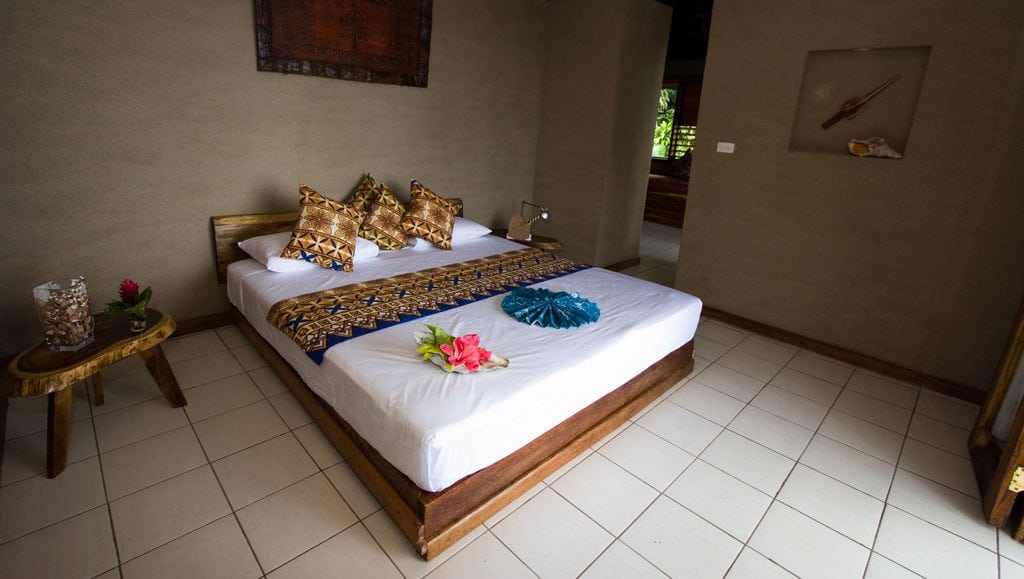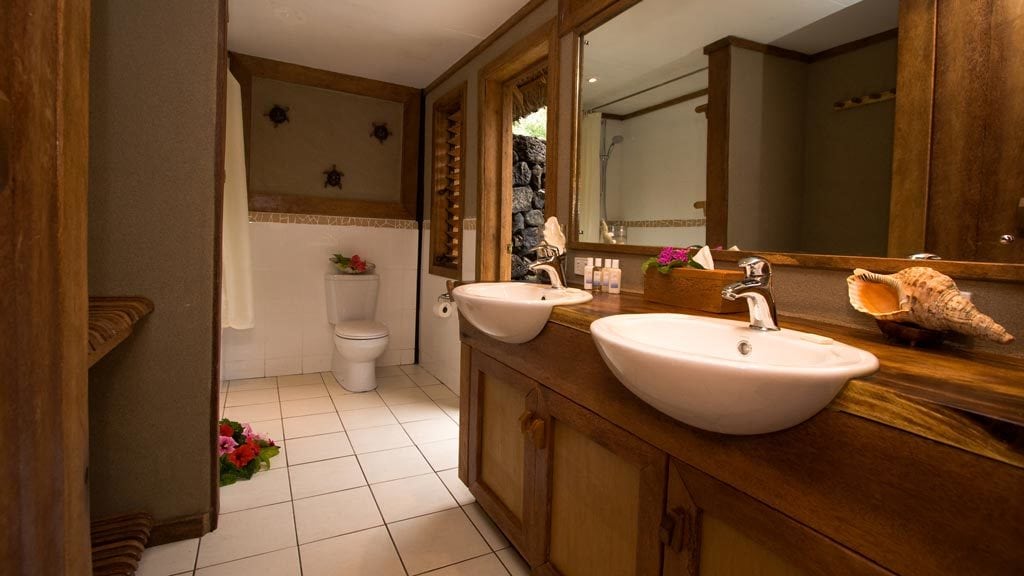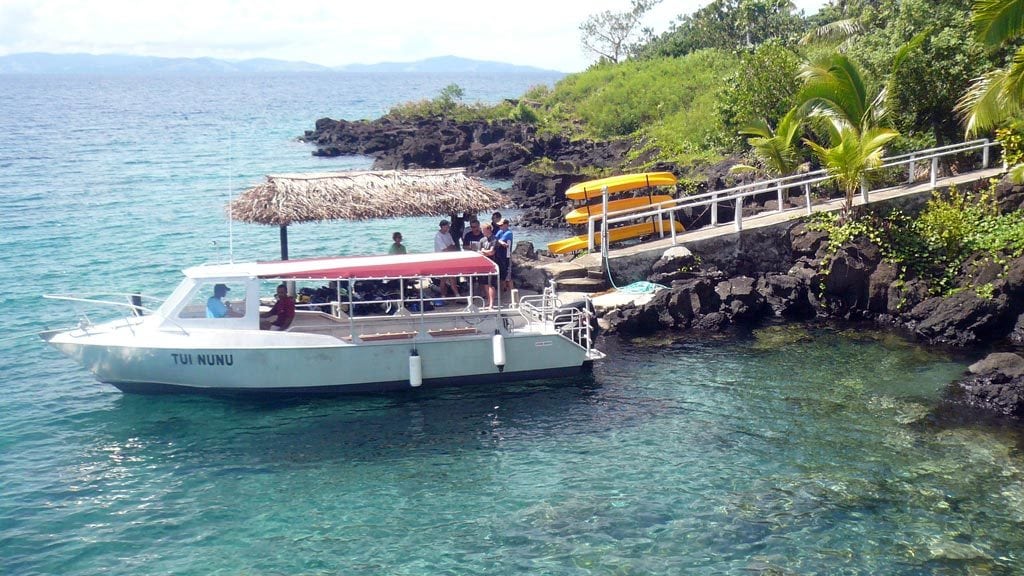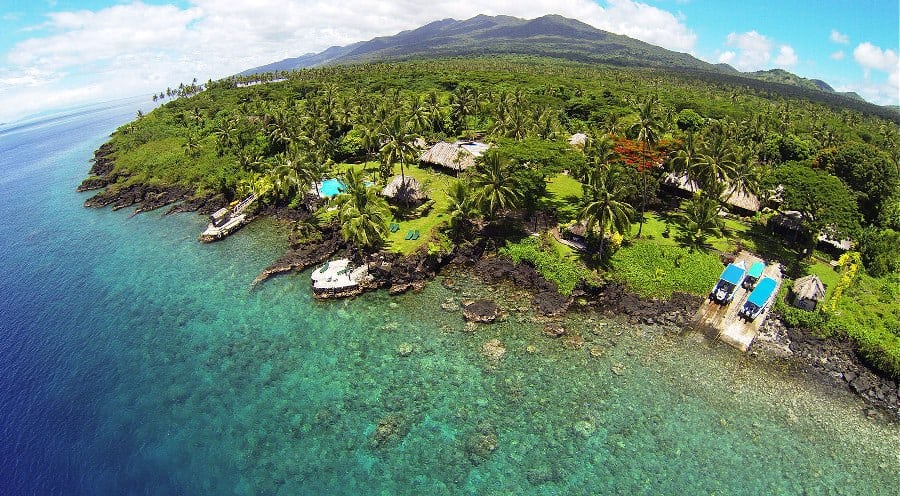 Resort Facilities & Meals
There are 4 dining options at Paradise Resort:
The Oceanfront Kana Bure with wood fire pizza oven
The Poolside Bure
The Sunset Bure
The Marina Bure
All located oceanfront for guests to enjoy the panoramic ocean views at any time.
Dining at Paradise Taveuni is quite a special experience. Full cooked breakfast is served in the mornings. Lunches are served as 1 or 2-course meals. Dinners are either 2 or 4-course meals. Indulgent 4-course Lobster dinners are also available at extra cost. The menu reflects a combination of International and Fijian influenced dishes – innovative fresh fish and seafood dishes are served along with delicious local produce.
Every week you can experience a Fiji Night, a theme night dedicated to the culture and people of this mystical tropical paradise. Share a cocktail as you watch the sunset, and then join with other guests for a traditional Fiji Lovo Feast. The 4-course dinner includes meats, fish and local vegetables prepared Fijian style and followed by a tropical dessert.
The Main Bure features a restaurant, bar, gift shop, tour desk and a new private air-conditioned library with complimentary Internet.
Other Activities
Guided Culture Walk: Set off with your local guide for an educational & leisurely walking tour of the local area. The 2 hour culture tour visits a village ruins, a deserted cemetery, the nearby black sand beach and the southern reservoir.
Snake show: Join 'snake man' Maikeli for an up-close and personal look at the nocturnal Paradise pets. Boa Constrictors are native to Taveuni and you will find them curled up enjoying the warm tropical heat (in a cage, of course). Maikeli places the reptiles on the resort lawns for you to get a closer look at. Touch their cool scales and get your picture taken. Complimentary activity for 30 minutes.
Fiji Church service: The local villagers who are normally very religious, sing like the angels and will welcome you into their church. Complimentary activity is 1-2 hours each Sunday morning. Extra cost for transportation.
Guided kayaking adventure, coconut lessons, burying a lovo, fish feeding, sulu tying, frond weaving, coconut climbing and learn-to-speak Fijian are amongst other complimentary activities offered at the resort.
Paradise Spa Packages offer affordable luxury using Pure Fiji products made locally. The in-house spa offers a number of different spa treatments such as massages, body scrubs, facials, manicure, pedicure and other relaxing body treatments.
Staying Connected
Paradise Taveuni Resort has reliable mobile phone reception. Prepaid local SIM cards are available. Complimentary internet (not wireless) is available in the main bure from 7am to late. High-speed WiFi is available throughout the resort for an additional fee. The resort also provides a guest computer in the common area for internet access.
Paradise Taveuni is located about 40km and a scenic 60-minute drive from Taveuni's Matei Airport. Perfectly positioned on 5 acres of oceanfront land with deep-water frontage and an extinct volcano (900m high) behind as a dramatic background.
Getting to Paradise Taveuni Resort
Your international flight into Fiji will take you into Nadi on Fiji's main island of Viti Levu. From there daily domestic flights take you to Taveuni's Matei Airport. For those already in Fiji daily flights also operate between Suva and Taveuni. Paradise Taveuni is located a scenic 60-minute drive from the airport along Taveuni's only sealed road.
Accommodation
The Oceanview and Oceanfront Bures offer you a private bedroom with a generous king bed and swinging French doors, opening to your sundeck with a Fijian Day Bed, perfect for reading a book or relaxing in the sun.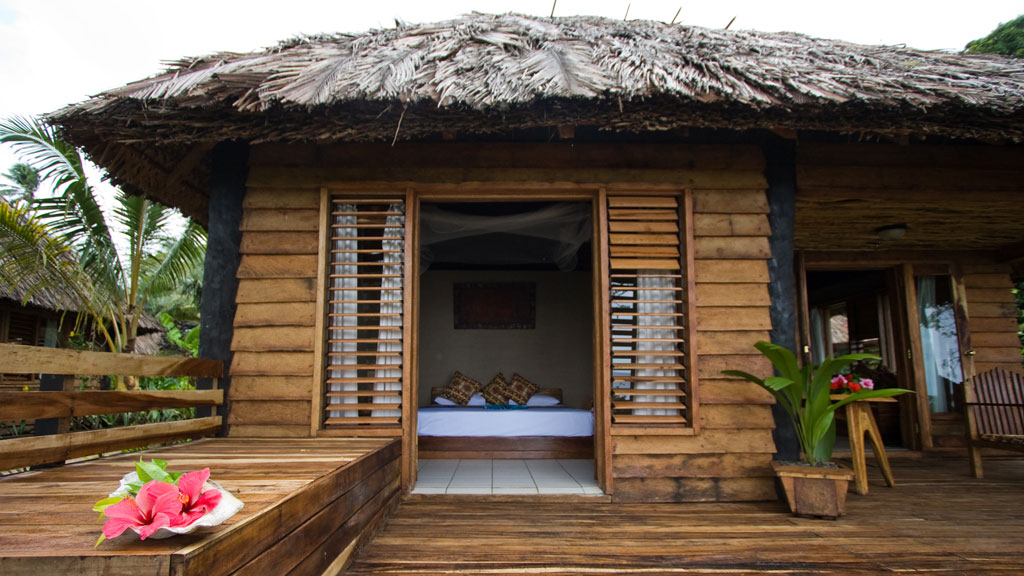 The spacious lounge room has a mini bar, refrigerator, tea and coffee making facilities, as well as comfortable lounge furniture. The modern bathroom is tropically designed with an inside bath and shower, bath products, hair dryer, cupboards, and an electronic safe. The Oceanview Bures have an outdoor shower set amongst a private lush tropical garden, whereas the Deluxe Oceanfront Bures feature a deluxe bathtub in the private tropical garden with outdoor shower. All Bures are air-conditioned and fan cooled.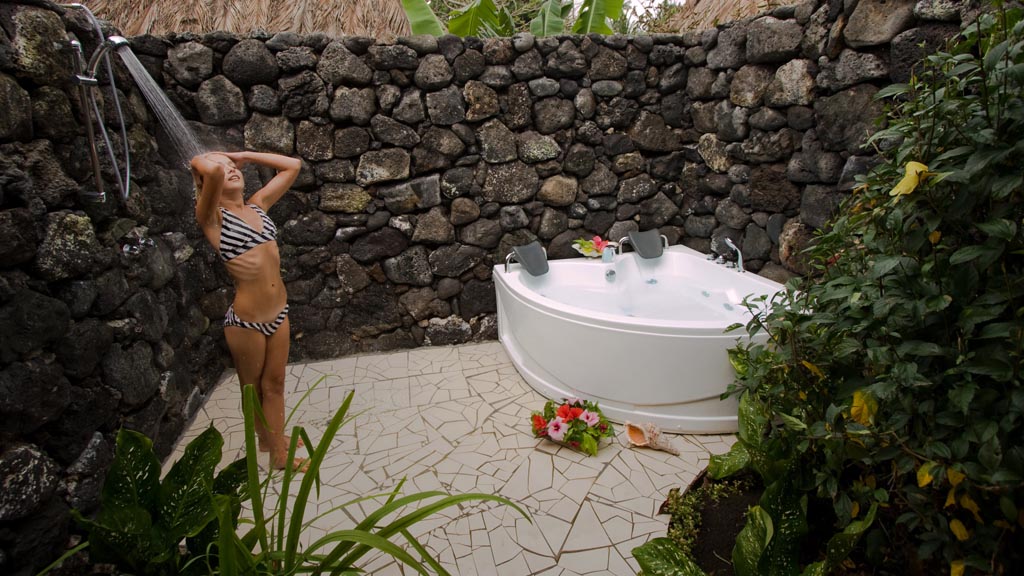 The Oceanfront Vales, similar in design as the resort Bures, offer you a large bedroom and generous king bed, mini bar, refrigerator, tea or coffee making facilities, wardrobe, and a comfortable lounge area.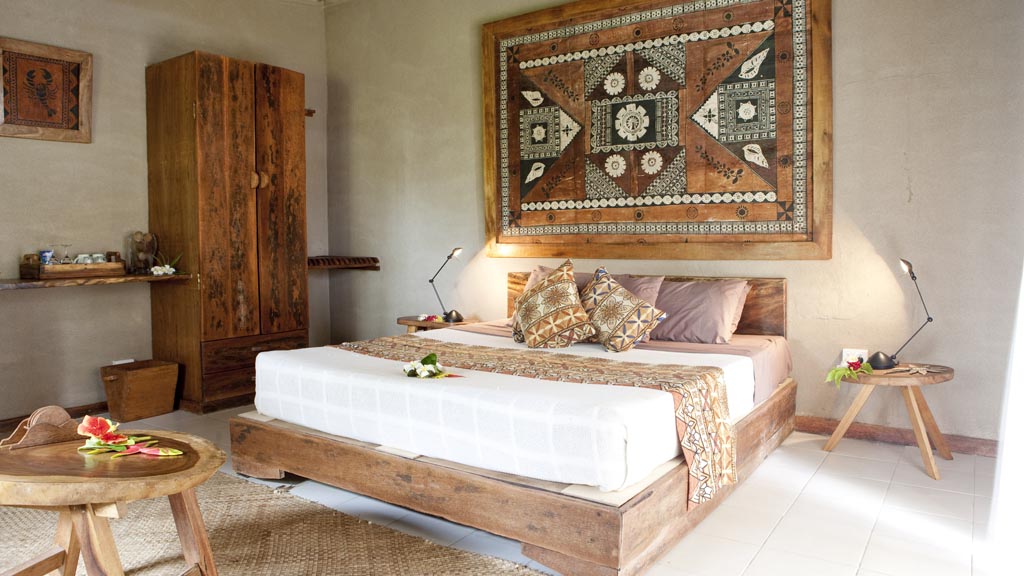 Perfect for singles or couples alike, the Vales have a modern bathroom that is tropically designed with an inside shower, bath products, and hairdryer. The outdoor shower is set in the private lush garden of every Vale. All Oceanfront Vales are air-conditioned and fan cooled.
Paradise Dive Centre is located on the oceanfront of the resort, offering fast access to scenic unspoilt Fiji diving including the world famous Rainbow Reef & White Wall – a must for all advanced divers. The Dive Centre offers top quality scuba diving gear coupled with professional local knowledge. The PADI instructors offer a large range of dive courses & safety is paramount at the resort.
Paradise Taveuni is the only dive resort on Taveuni to offer Nitrox dives and you can also learn to dive the Nitrox way with their Oxygen Enriched Air Specialty course.
Dive Service
Allan Gortan and his team of expatriate PADI dive instructors and local Fijian divemasters, guides and crew use a number of custom built dive boats for daily excursions from the resort – 'Paradise Princess' (12 divers and crew), 'Lady Paradise' (22 divers and crew), 'Taveuni Explorer' (26 divers + crew) and 'Adi Vuki' (5 divers and crew).
Guests are offered a personalized and tailor-made diving experience and can enjoy the flexibility of the Pro-Dive Team's versatility. Rainbow Reef is dived on a daily basis, according to conditions. Vuna Reef is visited 1-2 times per week and Rainbow Reef at least 6 times per week. The shore dives have great visibility.
The Dive Shop features an air-conditioned camera room for the dedicated underwater photographer.
Dive Sites
Somosomo Strait (Fijian for 'good water') on the doorstep of Paradise Taveuni, has strong tidal currents, which provide a constant flow of nutrients, idyllic for soft corals and diverse fish life. Taveuni is world renowned for the spectacular soft coral sites around Rainbow Reef, a fringing reef almost 32km long on the southwest corner of Vanua Levu and easily accessed from Paradise Taveuni Resort. Not only the best Fiji scuba diving but one of best scuba diving sites in the world – a 'must' for your 'must-dive' list.
Dive sites in Taveuni are exciting and varied with some sheer reef walls from 1000m to the surface, shallow sunlit coral gardens and current-flushed channels. You can even find "gravel grovelling" and "muck diving" in protected bays on the Taveuni coast.
So expect to be amazed by Taveuni underwater treasures, with 1500 species of fishes including dozens of rare or endemic species, 1000 known species of invertebrates and 100's of coral species.
Excellent diving and snorkeling is available right of the resort's private marina, as well as kayaking and safe ocean swimming.
We think…
Paradise Taveuni will most certainly exceed your expectations. This beautiful little dive resort is a great place to relax and unwind. Enjoy some great Fijian hospitality, great service and friendly staff. We recommend this resort also to single divers and diver/non-diver couples.
Pricing for Paradise Taveuni Resort
Valid 1 April 2023 to 31 March 2024
AUD
FJD
7 Nights Deluxe Oceanfront Bure (Double) with 10 boat dives + 1 night dive
4853
FJD
|
4853
7 Nights Deluxe Oceanfront Bure (Single) with 10 boat dives + 1 night dive
6760
FJD
|
6760
7 Nights Oceanview Bure OR Oceanfront Vale (Double) with 10 boat dives + 1 night dive
4660
FJD
|
4660
7 Nights Oceanview Bure OR Oceanfront Vale (Single) with 10 boat dives + 1 night dive
6375
FJD
|
6375
This resort's prices are in FJD. The AUD prices shown are based on the current exchange rate. The price paid in AUD will be based on the actual exchange rate at the time any payments are made.
INCLUDED: accommodation as specified, all meals, return airport transfers on Taveuni Island, 10 boat dives at Vuna Reef or Rainbow Reef, unlimited shore dives, tanks & weights, Fiji Government taxes. Free Salusalu (floral lei) on arrival, free welcome foot massage, free sulu (sarong) on arrival, complimentary snorkel gear.
Divers Special (min 5-night stay - FREE 30-minute massage, romantic 4-course dinner for 2 one night during stay, and Fiji Night - Lovo Feast, Meke entertainment & kava ceremony.
The per person pricing above is indicative only: we show 7 night with 10/12 dive packages at high-end and lower-end rooms (singles & doubles) for the purposes of comparison. We can give you a price (and availability) for any combination of nights/dives you wish to undertake, which will include any discounts due to you as part of that package, and any exclusions, or items payable at the resort. Please use the [Enquire Now] tab to give us your exact requirements and we'll give you the best deal we can.