Introduction
Location
Accommodation
Diving
Pricing & Schedules
Enquire Now
At Jean-Michel Cousteau Resort, it's not just about the great diving and access to the Namena Marine reserve, but Jean-Michel Cousteau Resort also focuses on rest and relaxation, authentic cuisine and culture, and providing plenty of activities for non-divers – especially kids.
Designed in an environmentally friendly style, the individual one – and two-bedroom bures are constructed of local timbers, have high temple ceilings, thatched roof, contemporary furnishings and extensive decks which afford great outdoor relaxation space & stunning sunset views.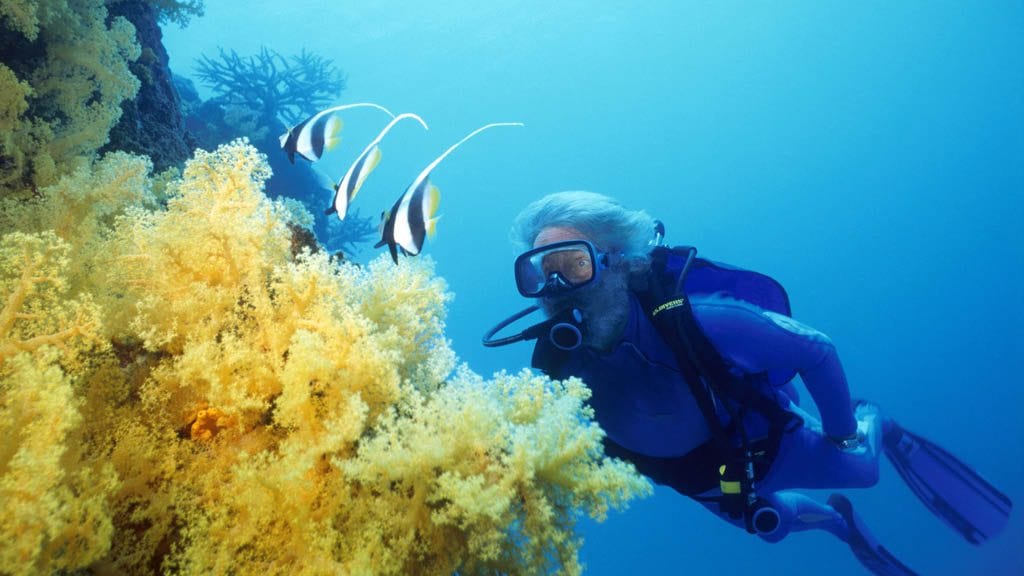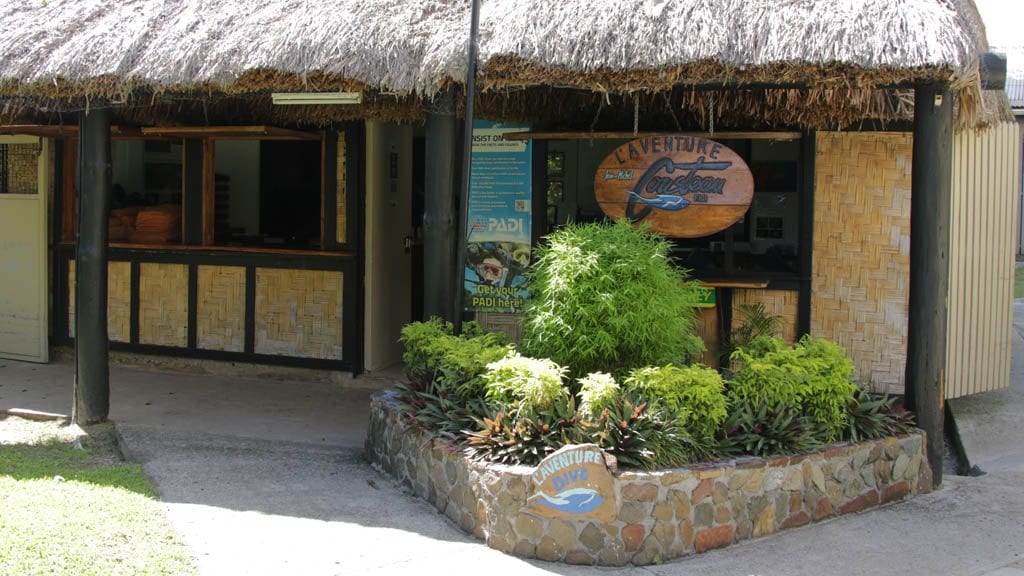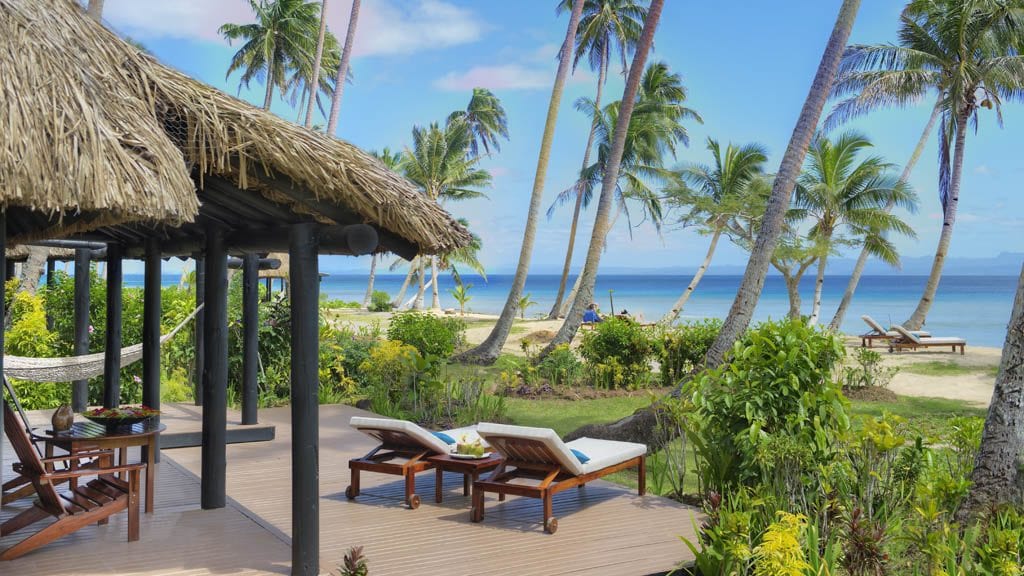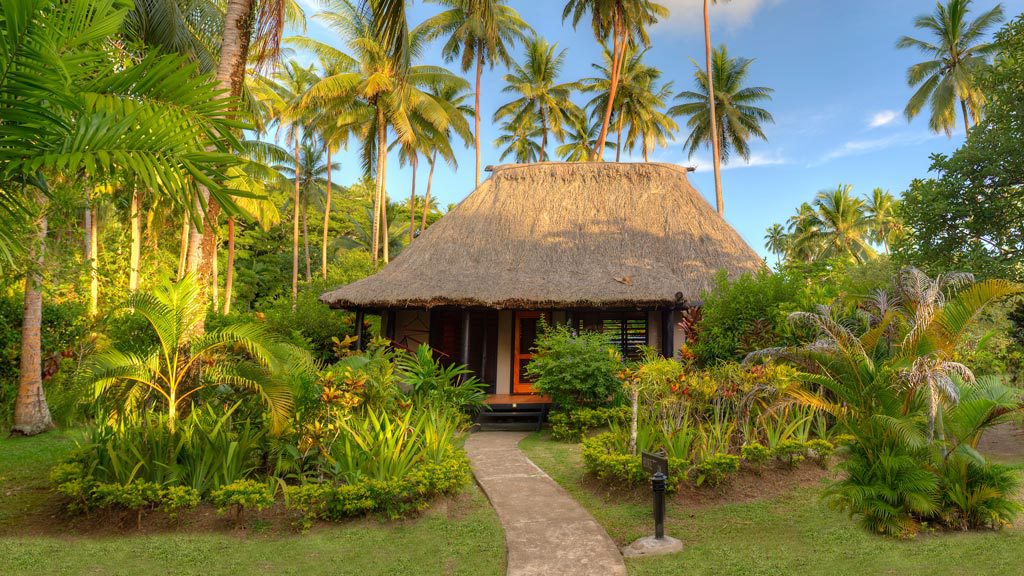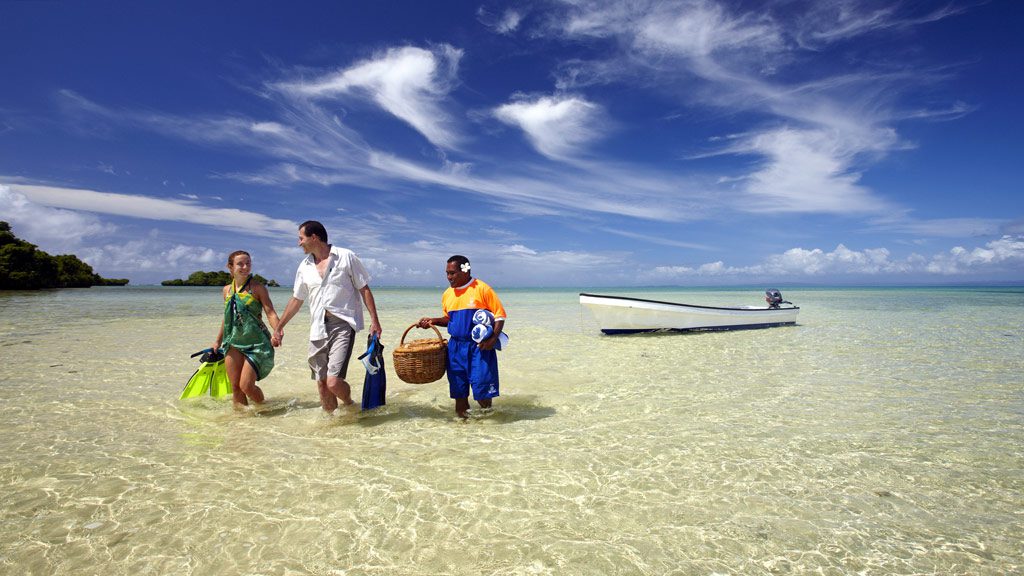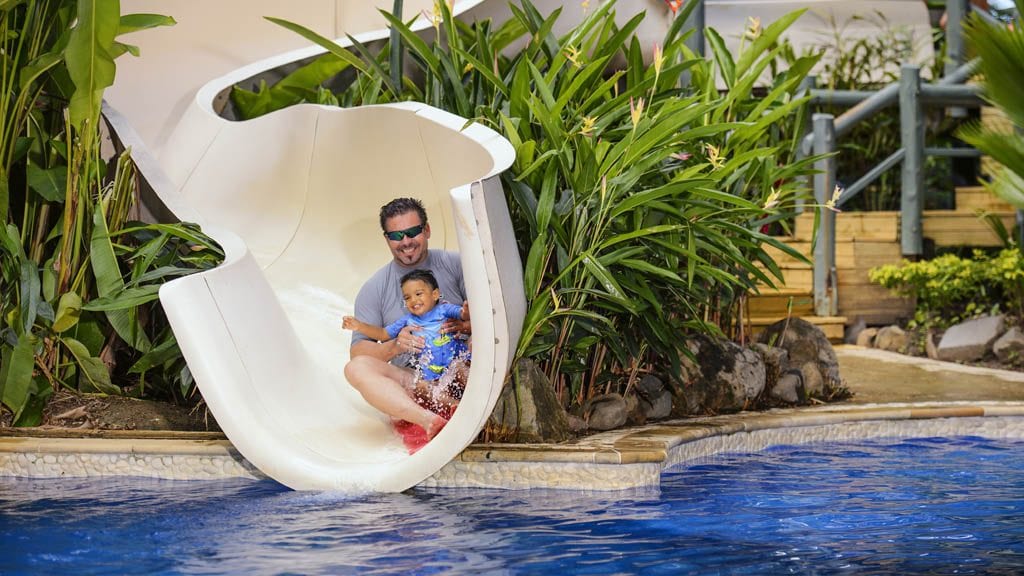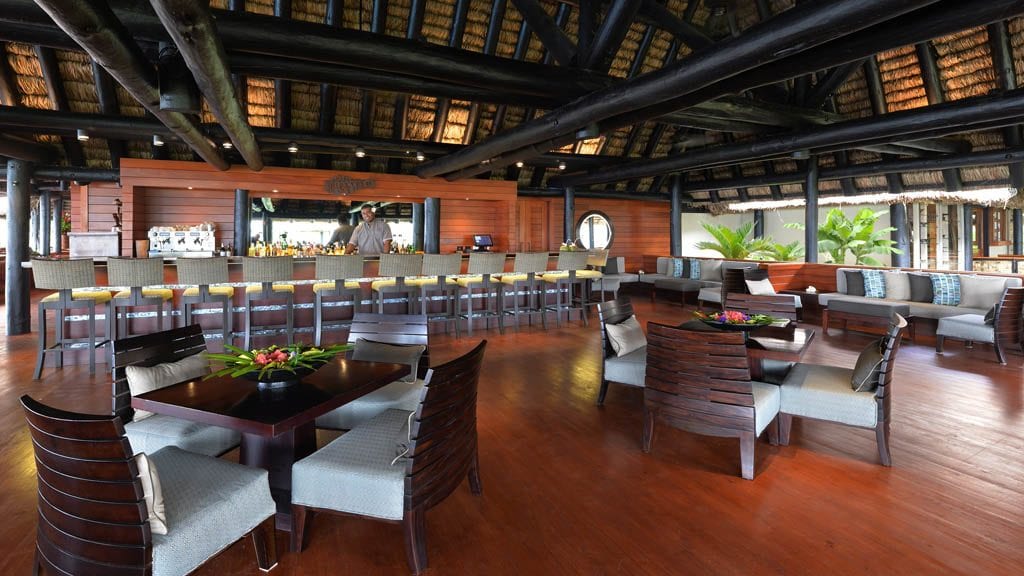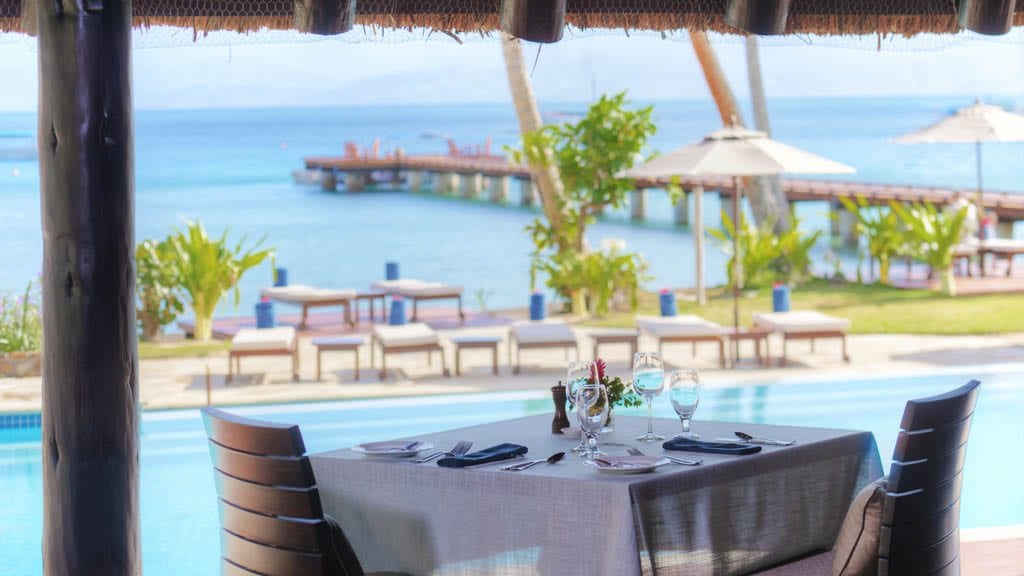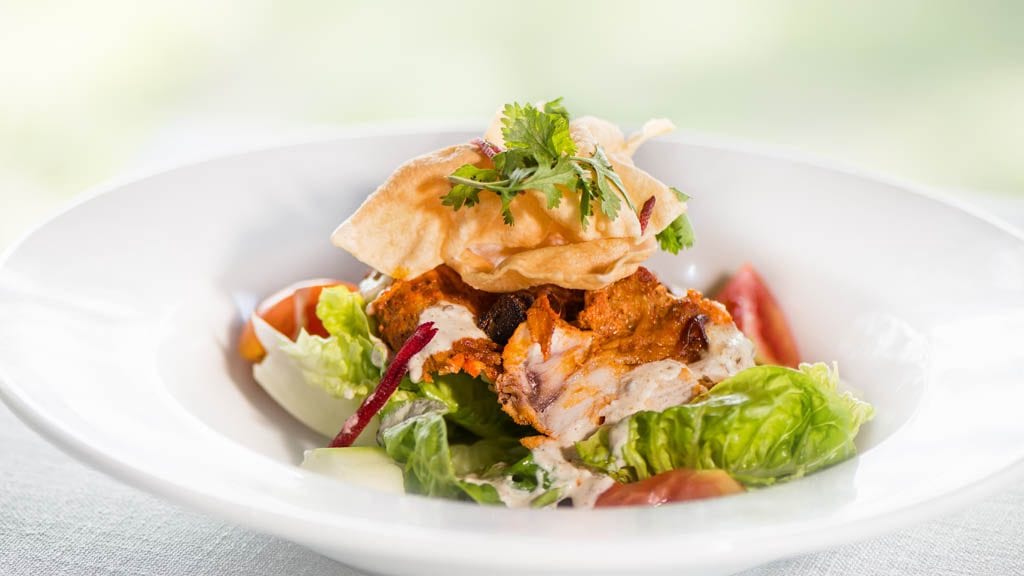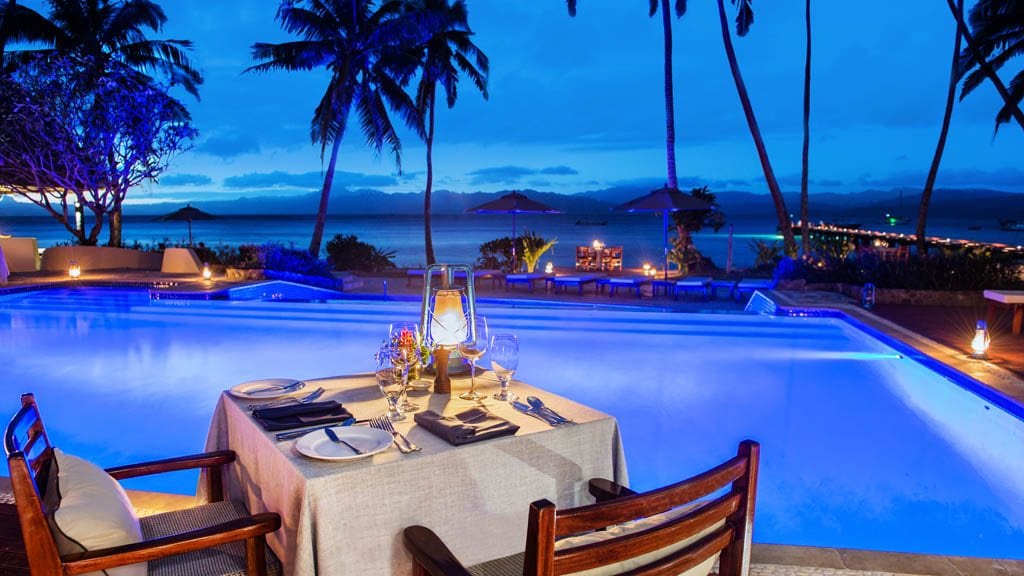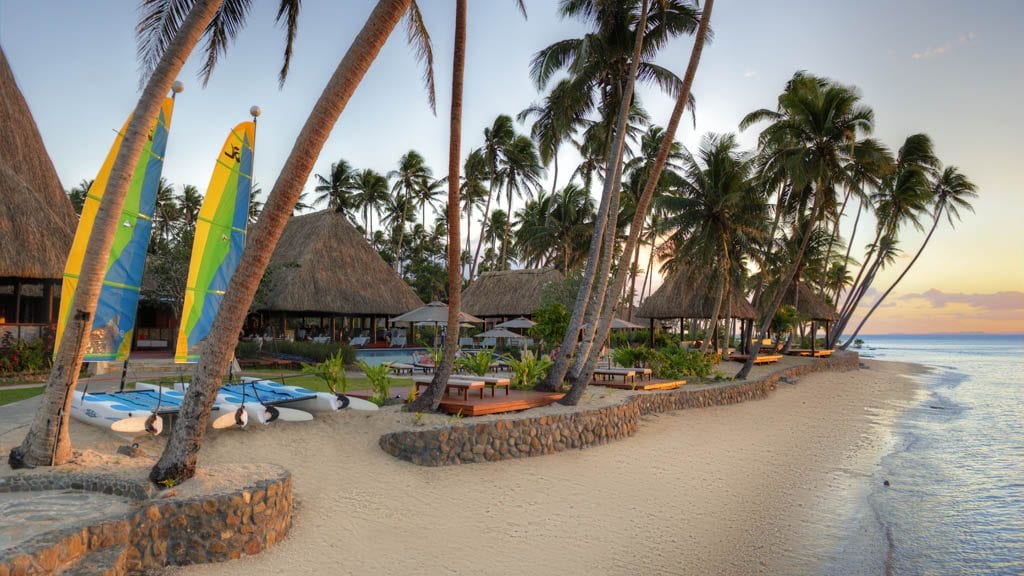 Meals
All meals are served in Restaurant or Poolside. Breakfast is a buffet plus à la carte options. Lunch and dinner are also à la carte with a choice of 2 or 3 appetizers, 3 or 4 main courses and three desserts. Beverages include soft drinks, fresh lemonade, iced tea/coffee, loose-leaf teas and espresso coffees.
Other Activities
Other than diving there's plenty to keep non-divers and kids busy during the day, with everything included in the price. Choose from catamaran sailing, paddle boards, kayaking, snorkelling, swimming, beach picnics, tennis, volleyball, table tennis, the trampoline, and night snorkelling. All equipment is available and all activities are included in the price.
There are five cultural off-site excursions scheduled on a weekly basis, including a Savusavu farmer's market trip, village church services, and a Nukubulavu village trip. Other cultural activities include Fijian storytelling, palm leaf and basket making, the Kava ceremony, Fijian Lovo and a school visit.
A number of ecological excursions, led by the resort's on-site Marine Biologist, are on offer too, from guided snorkelling trips to nature hikes, reef flat walk, mangrove tour, glass-bottom boat excursions, rainforest walk and waterfall hike, clam farm excursion, traditional Fijian medicine walk, star gazing.
The Spa is situated amongst the beachfront Bures close to the point and offers is a full spa treatment menu. A morning yoga class starts at sunrise each day.
For Kids
Jean-Michel Cousteau Resort is particularly well suited to families with kids. All kids' supervision and activities are included in the pricing. The daily Bula Club for children runs from 8:30 am to 9 pm. Children under 6 years have an exclusive nanny daily from 8:30 am – 6:30 pm, children 6-12 years have a maximum of 1 nanny for each 5 children, plus one dedicated nanny per bure for the evening hours 6:30 pm – 9 pm. Teenagers have a dedicated activities staff member 8:30 am – 6 pm.
There's also a reef critters and coral city slide show delivered by the resident Marine Biologist aimed to engage a younger audience.
Staying Connected
A complimentary high-speed wireless network (WiFi) is available in public areas and all individual bures.
Domestic and International telephone calls can be made from the office and are chargeable to the guest.
We think…
Beautiful location, delicious food, great customer service, wonderful staff and of course truly amazing diving – an excellent combination for a fabulous holiday away from the tourism hotspots of Fiji.
The Jean-Michel Cousteau Resort is on the southern coast of Vanua Levu, and sitting just inside the Savusavu Bay, offers protected diving in almost all weathers. Being just a 10 minute drive from Savusavu airport, the transfer is included in the package. A meet and greet at Nadi Airport is also included. There are frequent flights from Nadi to Savusavu.
All bures at Jean-Michel Cousteau Fiji are elevated to take advantage of the views and sea breezes. They have Vesi timber floors, wall to wall wooden-louvered, and fully screened windows which provide excellent ventilation. All bures have a luxurious custom made King bed, luxurious linens, single day bed, overhead fans, standing fan, private deck, writing desk, beach baskets, robes, French press coffee maker (plunger), iron & ironing board and hairdryer.
The bathrooms feature warm Italian tile surfaces, large double vanity, generous storage space and a separate shower. There is also a mini-bar stocked with complimentary bottled soft drinks and water in each bure.
The Bures feature generous verandas with sun loungers, hammock and table and chairs, all Bures feature one large king bed, plus a number of single beds, or twins that can be zipped together to form another king bed, each with a rollaway bed if required, as follows:
Gardenview Bures: one King bed, one single day bed (& roll-away bed if required)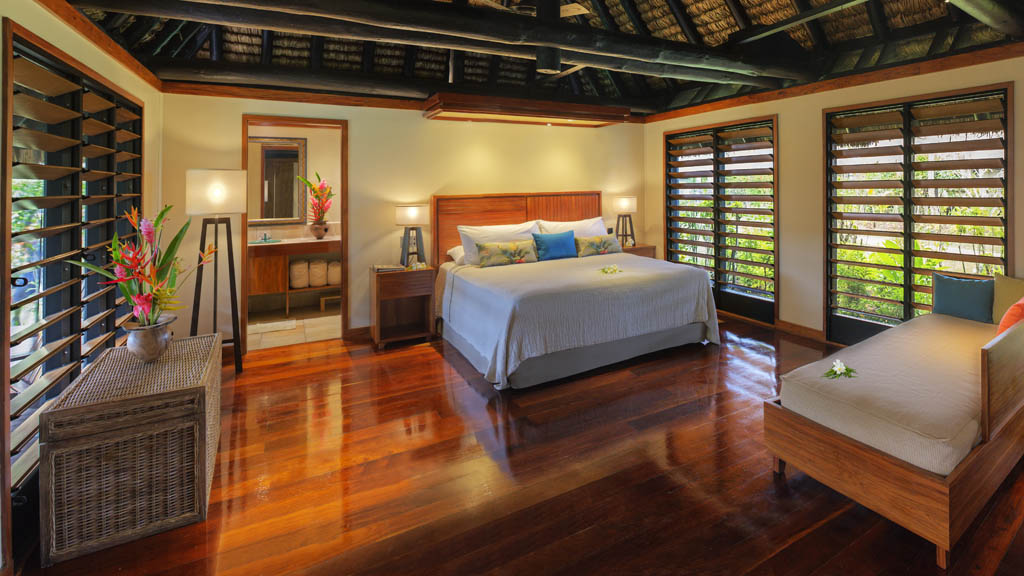 Oceanfront Bures: one King bed, one single day bed (& roll-away bed if required)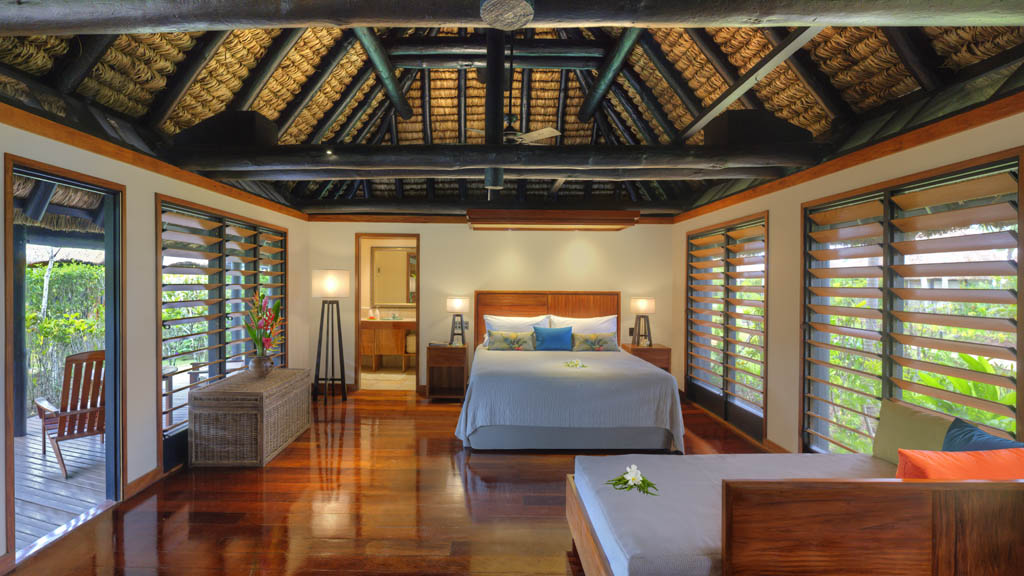 Two Bedroom Oceanfront Bures: one King bed, 1 single day bed in main room, and 1 King zip in second bedroom
Deluxe Oceanfront Two Bedroom Bure: one King bed, 1 single day bed in main room, and 1 King zip in second room (& roll-away bed if required)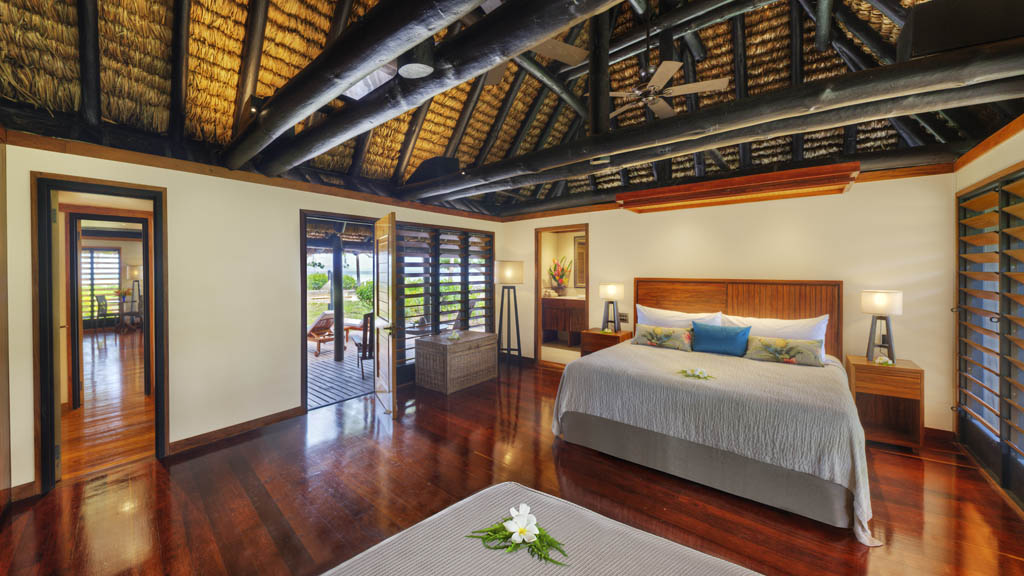 Point Reef Bures: one King bed on upper level, 2 single day beds on lower level room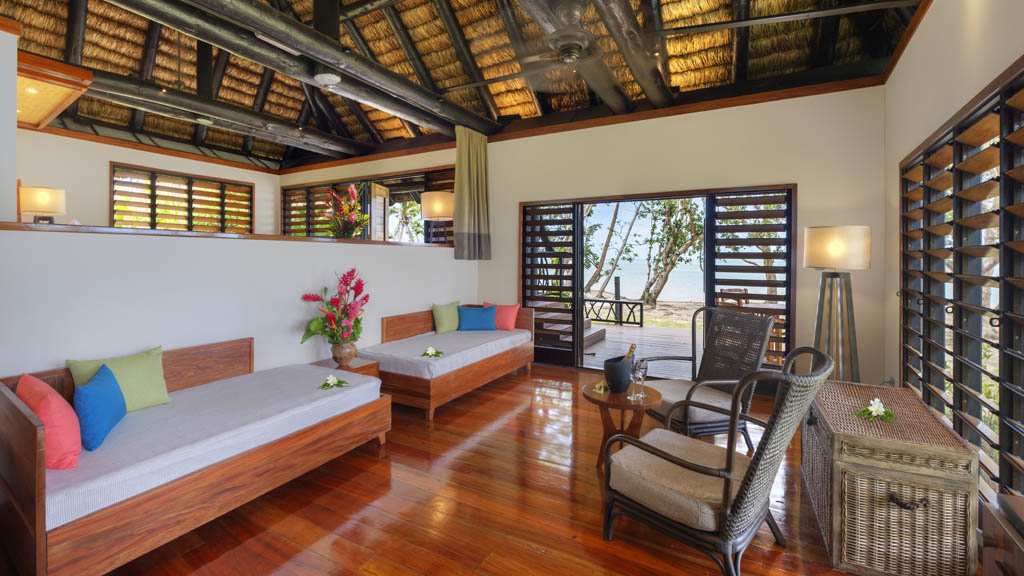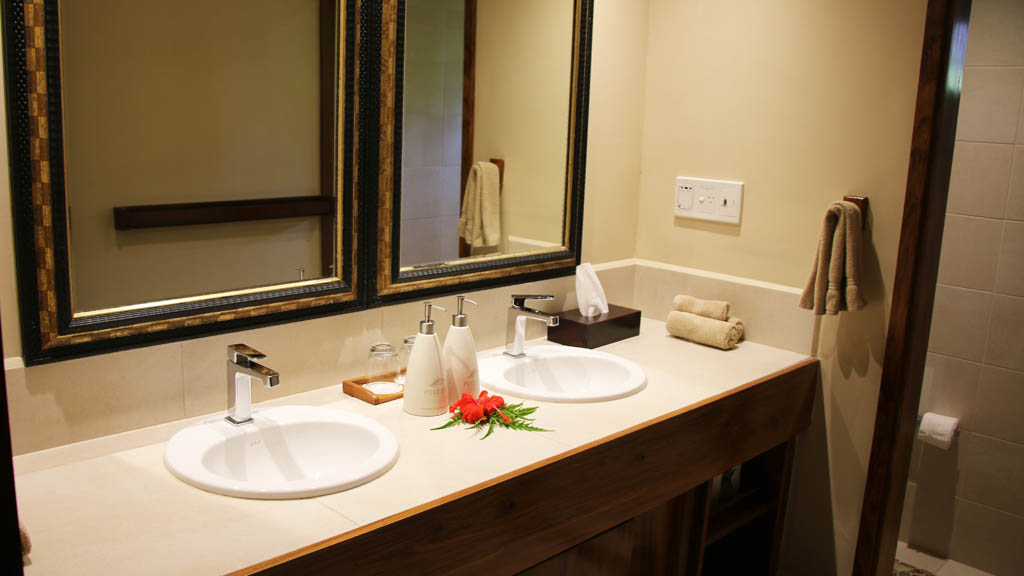 Honeymoon Point Reef with Spa Tub: one King bed on upper level, 2 single day beds on lower level (& roll-away bed if required)
The Presidential Villa: one four-poster bed in the bedroom suite, two-day beds in sitting room bure which also has an ensuite.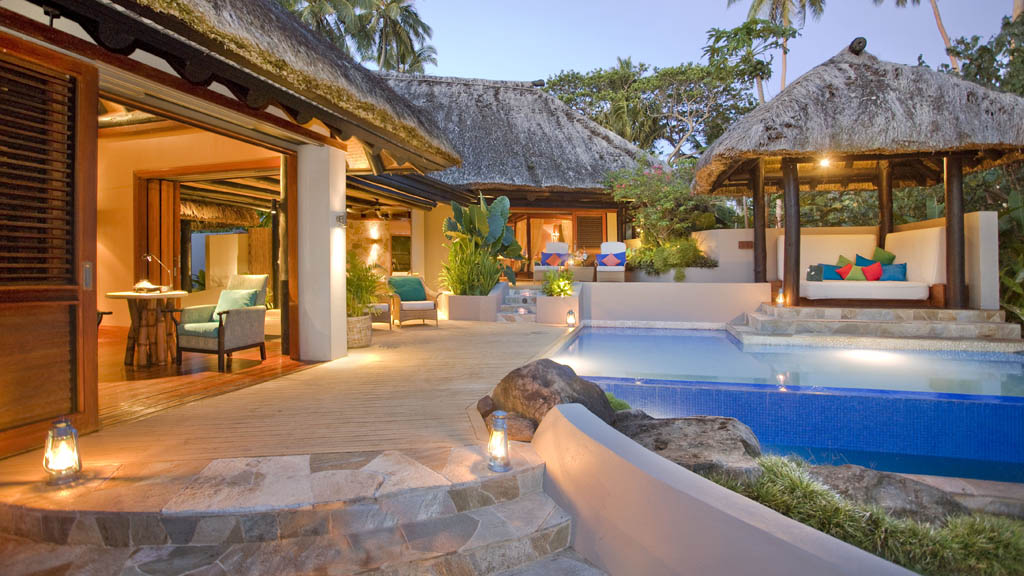 Dive Centre
Jean-Michel Cousteau Diving located at the Resort is a PADI 5 Star dive facility offering diving at Namena Marine Reserve, dives on local sites and the full range of dive courses from Bubble–maker to Dive Master Certification. Also available are discover scuba diving courses and guided snorkeling excursions. Nitrox is available at 32%.
Daily Diving
The dive boat departs each day at 8:30, 11 and 1:30 for the 5-15 minute trip to the local dive sites. The 20 or so sites all offer different diving from Dreadlocks' colourful soft corals to the Big Blue's mountain of hard coral from 5 metres below the surface down to 18m.
The main reason to be diving from Jean-Michel Cousteau Resort is its unique access to the Namena Marine Reserve. The round trip, including two one hour dives at Namena takes about five hours.
Considered to be one of the top ten dive sites in the entire world, the Namena Marine Reserve is an island surrounded by a tongue of reef that extends 20Km south into the deeper Koro Sea. What makes Namena Marine Reserve so special is its location.
Surrounded by spectacular seamounts and right on the edge of the reef drop-off, Namena is also on a migratory pathway for cetaceans. So, in addition to the 1000-plus species of reef fish, and the 1000-plus invertebrates, you could see pelagic fish, dolphins and four species of whales.
Pricing for Jean-Michel Cousteau Resort
Valid 1 April 2023 to 31 March 2024
AUD
FJD
7 Nights Oceanfront Bure (Double) with 10 dives
11740
FJD
|
11740
7 Nights Oceanfront Bure (Single) with 10 dives
18425
FJD
|
18425
7 Nights Gardenview Bure (Double) with 10 dives
9815
FJD
|
9815
7 Nights Gardenview Bure (Single) with 10 dives
14575
FJD
|
14575
7 Nights Two Bedroom Oceanfront Bure (Quad Share) with 10 dives
9640
FJD
|
9640
Price includes: 5 days of 2 tank dives; meet and greet at Nadi & Savusavu Domestic Airport, individual bure accommodation, all a la carte meals, - a la carte breakfast, gourmet lunch & dinner daily, adult & children's menus, bottled non - alcoholic beverages, iced tea & coffee, fresh lemonade specialty loose-leaf teas, espresso coffees, afternoon tea, wash & fold daily laundry , most resort activities including 5 off site excursions scheduled on a weekly basis, boat snorkel trips with resident marine biologist, snorkelling equipment, Wi-Fi & return vehicle transfers from Savusavu Airport to the resort. Daily Bula Club for children, 830am - 9pm. All Fiji Government taxes.
The per person pricing above is illustrative only: we show 7 night with 10/12 dive packages at high-end and lower-end rooms (singles & doubles) for the purposes of comparison. We can give you a price (and availability) for any combination of nights/dives you wish to undertake, which will include any discounts due to you as part of that package, and any exclusions, or items payable at the resort. Please use the [Enquire Now] tab to give us your exact requirements and we'll give you the best deal we can.