Overview
The Barefoot Collection's Barefoot Kuata Resort in the southern Yasawa Islands is in a particularly beautiful part of this string of islands. The view from the small island resort, beyond the white sandy beach and turquoise water, is of tall striking rock formations on Waya Island across a narrow channel.
Most importantly it's the place to go to do the Awakening Shark Dive – the best shark diving experience in the Yasawas.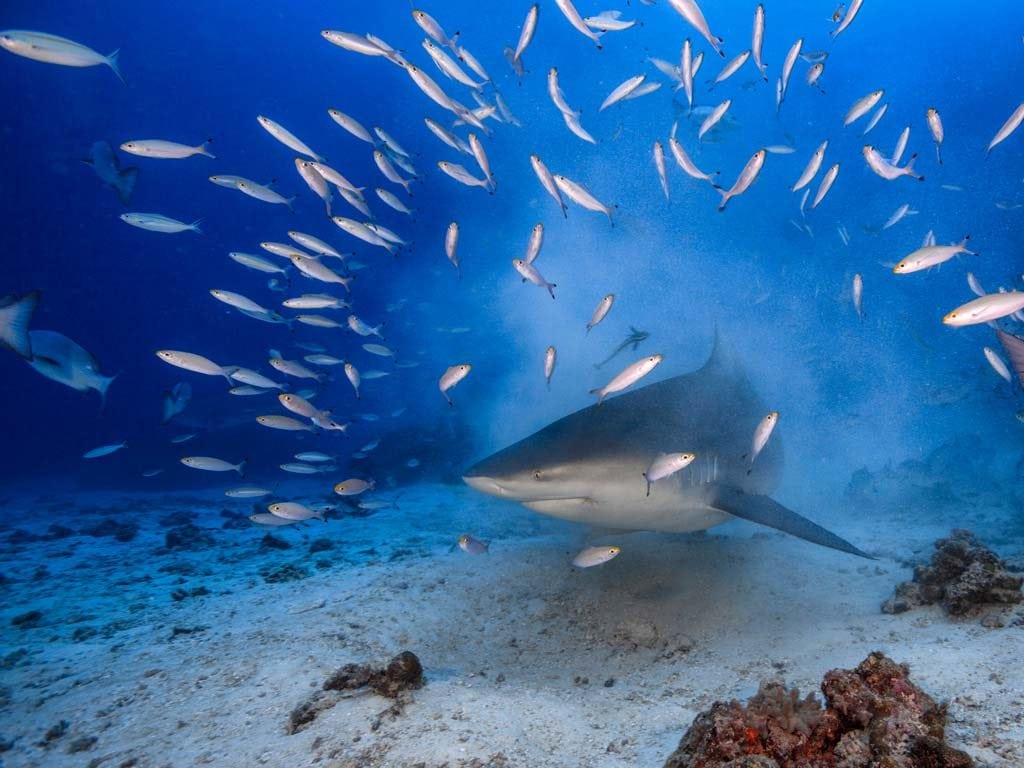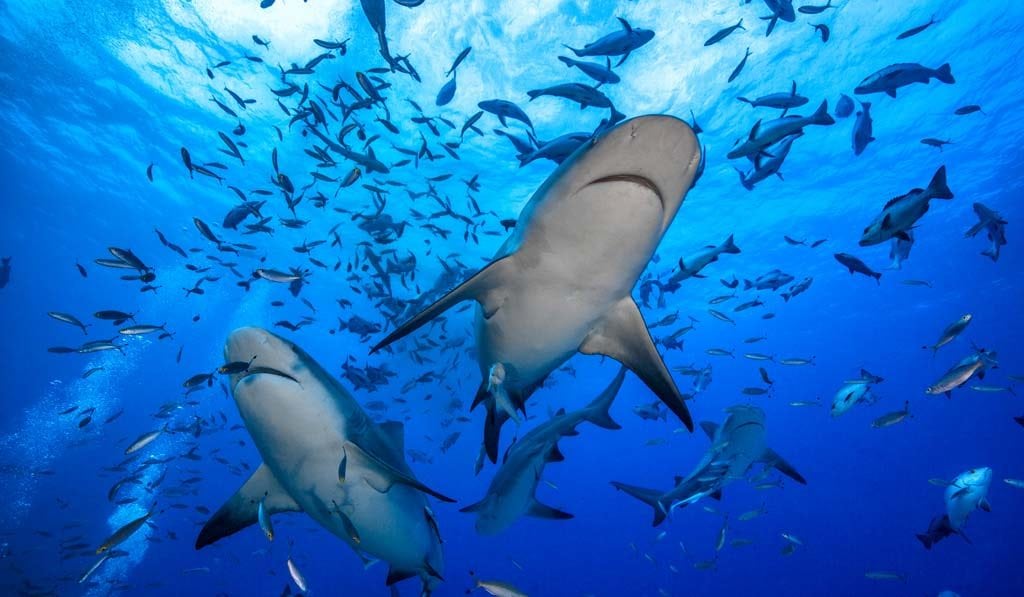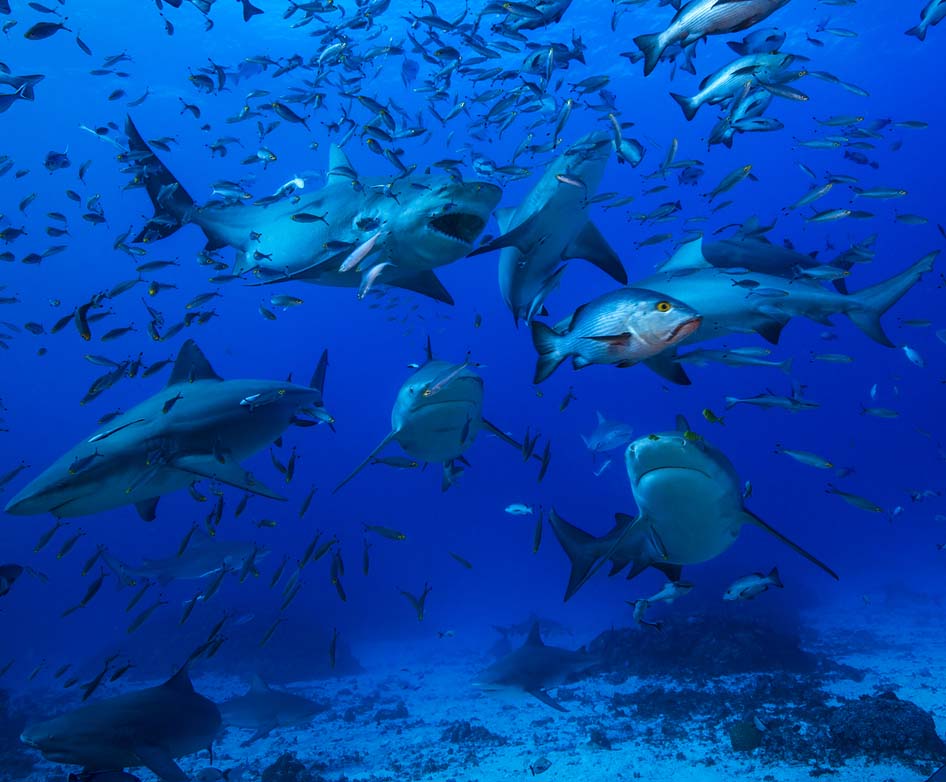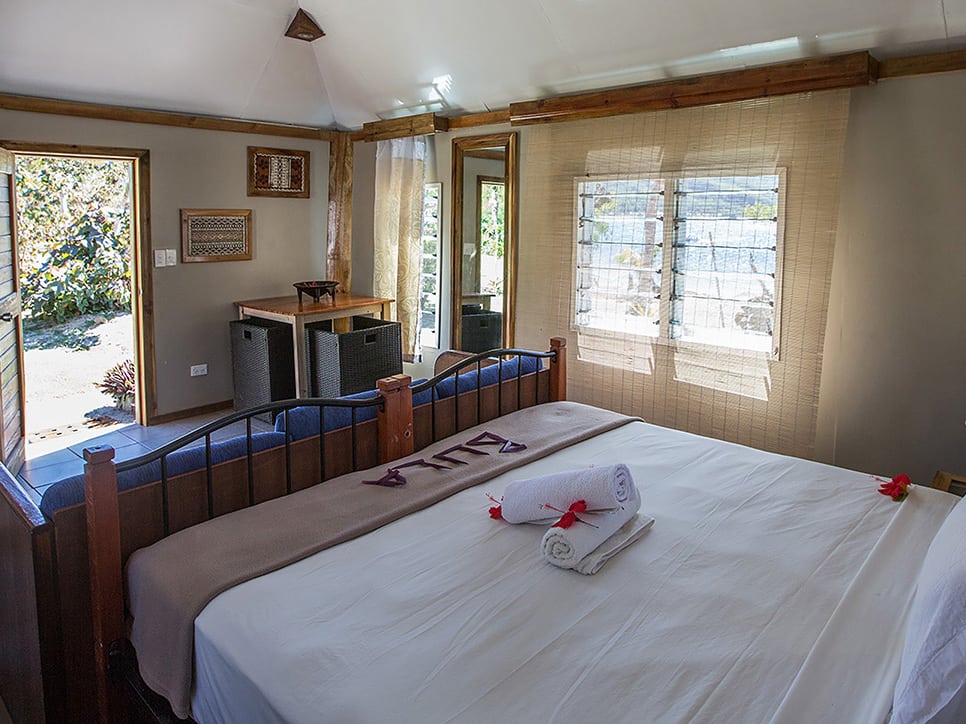 Pricing for Barefoot Kuata Resort
Valid 1 April 2019 - 31 March 2020

AUD
FJD
7 Nights, Sunrise Beach Dorm, 10 dives inclusive of one shark dive

3106
FJD
|
3106
7 nights, Beachfront Bure, 10 dives inclusive of one shark dive (Single)
4982
FJD
|
4982
7 nights, Beachfront Bure, 10 dives inclusive of one shark dive (Twin Share)
3862
FJD
|
3862
7 nights, Garden Bure, 10 dives inclusive of one shark dive (Single)
4912
FJD
|
4912
7 nights, Garden Bure, 10 dives inclusive of one shark dive (Twin Share)
3827
FJD
|
3827
This resort's prices are in FJD and inclusive of all Fijian Taxes (totalling 25%). The AUD prices shown are based on the current exchange rate. The price paid in AUD will be based on the actual exchange rate at the time any payments are made.
Inclusive of high-speed ferry transfers ex-Port Denarau and the Barefoot Collection Resort Package: 3 meals per day per person; high Speed Internet at Main Complex and Sunset Bar; non-motorised water sports and free Water Bottle
Important Information
Every guest will receive a water bottle upon check in that will be theirs to keep and to refill as often as required from our safe desalinated water stations located around the resort.

Bottled water will be available to purchase at the resort should this be the guest preference however prices for bottled water will be at a premium

The per person pricing above is indicative only: we show 7 night with 10 dive packages at high-end and lower-end rooms (singles & doubles) for the purposes of comparison. We can give you a price (and availability) for any combination of nights/dives you wish to undertake, which will include any discounts due to you as part of that package, and any exclusions, or items payable at the resort. Use the [Enquiry Form] button to give us your exact requirements and we'll give you the best deal we can.
Accommodation
Accommodation ranges from beachside dormitories to safari-style tented accommodation and family bures. The rooms are all very well appointed, no air conditioning but there are ceiling fans in the bures, and the tents have louvre windows that allow in the sea breeze.
Sunrise Beach Dorm
The Sunrise Beach Dorms have single and bunk beds, designed for up to six people. These dorms are unique, stylish and only a few metres to the beach. Shared bathroom facilities are just a few steps from the rooms.
Garden Bures
The Garden Bures are perfect for couples. This room includes a queen bed, sofa (optional if travelling with a little one) and a charming outdoor shower with indoor toilet and vanity. Although not beachfront you can be walking along the shoreline within 2 minutes.
Beachfront Bures
The Beachfront Bures are a favorite among the guests, designed for 2 adults with an en-suite and amazing ocean views. Extra beds for families of 2A/3C are available upon request in this room type.
Safari Beach Double
Set on the beautiful sunrise beach and lush, tropical garden setting, these rooms are for those that like a little more privacy than the dorms offer but within budget.  Your own room with shared bathroom facilities a few metres away.
Breakfast and lunch are both buffet-style, and you will usually be asked to choose your dinner options at lunch (a choice of two dishes).
There are plenty of other activities on offer as well, including snorkeling, kayaks and stand-up paddle boards. The resort is also famous for its Shark Snorkel, a shark experience for non-divers.
For an extra cost, a village visit can also be organized. A local guide will take you through the village and explain what is going on. Certain dress and behaviour codes are relevant so you will be advised on these prior to leaving for the village.
While Barefoot Kuata is on the beach, there is also plenty to do on land. There are some fabulous walks to do, ranging from easy to energetic. Many of these will open out on spectacular views and all will enjoy the spectacular scenery. Caves, jungles, beaches, and rock pools to name a few. A walk with one of the local staff to learn about the history of the island is fascinating, and you can also join a walk with the resident botanist to learn about plant life.
There are other activities that can be enjoyed such as basket weaving or coconut jewelry making classes. If you have an interest, ask the staff and they will be happy to help.
Facilities
| | | | | |
| --- | --- | --- | --- | --- |
| Training School Type: | SSI | | Nitrox Fill: | |
| Air Fill | | | Number of Guides | 6 |
| Gear Hire | | | Number of Boats | 3 |
| Gear Sales | | | Number of Dive Sites | 12 |
| Gear Servicing | | | Accommodation | |
Location
Kuata is one of the more southern of the Yasawa Islands, and accessible via the Yasawa Flyer or seaplane.
What to expect
The dive shop here is an SSI training facility and offers all the introductory SSI courses if you want to learn to dive there. Diving and snorkeling activities are managed by a resident marine biologist, who also looks after the island's marine conservation projects, so if you want to know what you've just seen, you know who to ask.
The mornings here are usually shark dives, with an 8 am shark dive for certified divers, and a shallower shark dive at 11 am for Discover Scuba shark dives. The afternoon is reserved for reef dives. There are over 10 dive sites to choose from, including Sea Fan City, Coral Garden, Pinnacles and a Cave Dive. The House Reef is also great to explore as a day or night dive.
Tanks and regs need to be carried to the boat, where they are laid on the floor of the boat for the (very short) trip to the first dive site, which could be the very pretty Seafan City or the Pinnacles – well known for white tipped reef sharks. Entry is a backward roll over the side, and exit is via the ladder at the rear. Even after two dives, and a surface interval, you will be back at the resort in time to catch lunch.
The Shark Snorkel is very popular, and day-trippers will also join you, so often two boats are used to take you out to the reef.
Pricing / availability enquiry