Overview
On the most northerly tip of Fiji's largest island, Viti Levu, lies a headland where, nestled amongst rainforest, waterfalls, sugarcane fields and some of the earth's healthiest coral reefs, you'll find Volivoli Beach Resort— a premium, boutique, four-star, resort on Fiji's untouched Suncoast.

Accommodation
Luxury Oceanfront Villas
The Luxury Oceanfront Villas are perfect for families, groups of friends, honeymooners looking for extra privacy and space. These rooms are suitable for four adults, or two adults and three children.
2 Bedroom Family Villa
This 2-bedroom villa is a modern take on a traditional Fijian-style home—featuring uninterrupted ocean views, 2 large bedrooms with king size beds and private ensuites, two additional single beds in the lounge area.
Premium Ocean View Studio Bures
Premium Ocean View Studio Bures are perfect for honeymooners looking for a little privacy, or for a family holiday, these rooms are suitable for two adults and up to two children.
Deluxe Ocean View Rooms
Designed specifically for divers traveling together, Deluxe Ocean View Rooms are beautifully finished in sustainable hard-woods and feature two queen size beds, a writing desk, Wi-Fi, deck chairs, 2 large ceiling fans, air conditioning, large en-suite bathroom, tea and coffee facilities and Volivoli's famous Ocean views.
Ocean View
An affordable option for families or friends, still with an uninterrupted 180-degree ocean view. Created with our dive groups in mind.
Dive Centre
Ra Divers was established in 1980's, and has lots of local experience diving the Bligh Waters and the Vatu-i-ra Passage. Having recently moved their operations to Volivoli they are in the process of extending the dive shop, due for completion early 2015. They have gear, boats and staff capable of hosting up to 36 divers daily, from beginners still in training to certified divers exploring the delights of the Vatu-i-ra Passage.
Ra Divers has two dive boats and one beginners/snorkel boat. The two 'big boats' are surveyed for 22 pax – that's up to 16 divers and 6 crew/dive guides. They are are spacious, very comfortable, and well equipped with full safety gear. They also provide towels and refreshments (and yes there's a toilet on board). These boats are used for the longer trips, about 45 minutes, up to the Vatu-i-ra passage. Here's a 98 sec snippet of one of the Vatu-i-ra dive sites, just to whet your appetite.
The smaller boat is used for the local reefs and to take snorkelers out.
Pricing for Volivoli Beach Resort inclusive of accommodation, meals, transfers & diving
1 April 2019 - 31 March 2020
AUD
FJD
7 Nights Deluxe Oceanview Bure (double/twin) with 10 dives
4825
FJD
|
4825
7 Nights Deluxe Oceanview Bure (single) with 10 dives
6760
FJD
|
6760
7 Nights Oceanview Bure (double/twin) with 10 dives
4525
FJD
|
4525
7 Nights Oceanview Bure (single) with 10 dives
6160
FJD
|
6160
1 April 2020 - 31 March 2021
7 Nights Deluxe Oceanview Bure (double/twin) with 10 dives
5005
FJD
|
5005
7 Nights Deluxe Oceanview Bure (single) with 10 dives
6760
FJD
|
6760
7 Nights Oceanview Bure (double/twin) with 10 dives
4705
FJD
|
4705
7 Nights Oceanview Bure (single) with 10 dives
6160
FJD
|
6160
This resort's prices are in FJD. The AUD prices shown are based on the current exchange rate. The price paid in AUD will be based on the actual exchange rate at the time any payments are made.
INCLUDED: accommodation as specified, all meals (full cooked breakfast, 2 course lunch, 3 course dinner off a la carte menu or buffet), return airport transfers from/to Nadi, 5 dive days/2 tanks per day, unlimited shore diving (if tanks available and reserved 24 hours in advance), tanks, weights, boat, free use of kayaks, Fiji Government taxes
The per person pricing above is indicative only: we show 7 night with 10/12 dive packages at high-end and lower-end rooms (singles & doubles) for the purposes of comparison. We can give you a price (and availability) for any combination of nights/dives you wish to undertake, which will include any discounts due to you as part of that package, and any exclusions, or items payable at the resort. Use the [Enquiry Form] button to give us your exact requirements and we'll give you the best deal we can.
Facilities
| | | | | |
| --- | --- | --- | --- | --- |
| Training School Type: | SSI | | Nitrox Fill: | |
| Air Fill | | | Number of Guides | 7 |
| Gear Hire | | | Number of Boats | 3 |
| Gear Sales | | | Number of Dive Sites | 50 |
| Gear Servicing | | | Accommodation | |
What to expect
Each day guests are given the option of a two or a three tank trip. Two-tank dives will have you back for lunch, with a three-tank dive you take a packed lunch and get back to the resort around 4pm. This is all locked in the evening before.
In the morning you just need to turn up and make sure that once you're on your boat, you have all your gear on board. (You can leave all you gear on the boat if you are diving multiple days – so just double check again in the morning). Also, if you have a three tank dive, double check someone has brought your lunch.
Diving with Ra Divers is a very relaxed affair, the boats and big and comfortable, the diving is fantastic and the dive team do all the heavy lifting into terms of getting your gear onto the boat.
The trip out to the local reef is just 10 minutes, and often you'll get to do this on your first day, just to get yourself wet again, sort your gear and buoyancy, and let the dive team get a feel for your capabilities.
The trip out to the dive sites around Vatu Island is 30-45 minutes. It is mainly shelter and when the boat is on the plane, there's not too much chance of sea sickness. However, even on a two-tank dive you'll have at least a one hour surface interval moored on the open ocean. If you're prone to seasickness take precautions – even if only as an insurance policy – it's crazy to spoil a day's diving for the sake of one little tablet.
On these sites, there will be current – indeed some of the sites need it. The Wheatfields won't look like wheat fields without it, and the Vatu Express becomes the Vatu Crawl without a little current. It is also potentially variable, meaning it might slow or speed up as you move along the reef wall to a point. Almost, the strongest are closest to the surface. Most of the dive sites are relatively isolated coral stacks, so there will be a lea side. Bottom line, you may be required to do a negative entry and aggregate at a designated depth and spot communicated during the dive brief. So even though you are on holiday having a great time: listen up and remember your buddy check before these kinds of dives.
The depths are between 18 – 24m, and as you'll spend most of the time above the 18m mark, after a quick dip to the bottom just to check out the snoozing grey reefies, you will probably get the full 60 minutes dive time.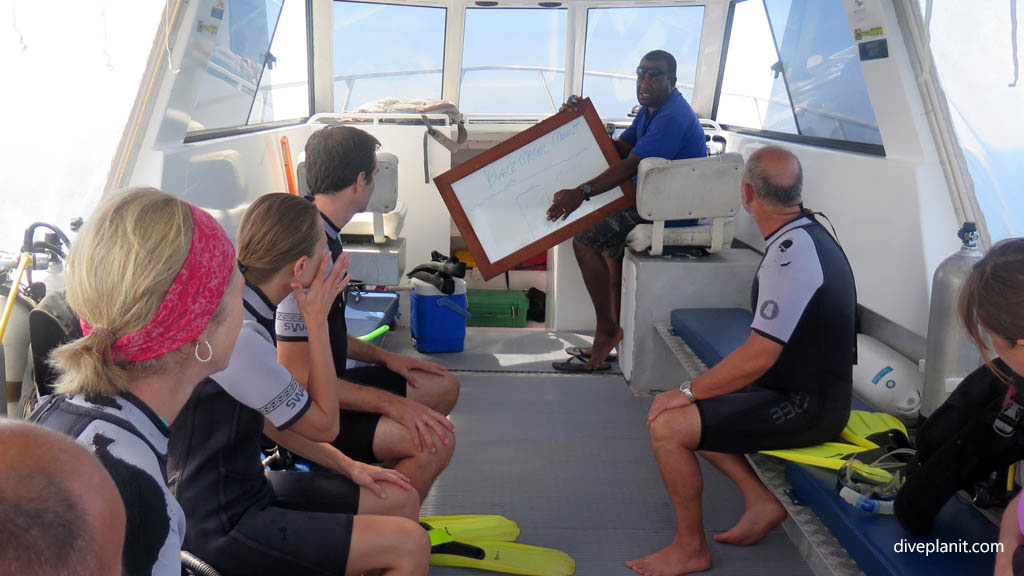 Many of the mooring points are submersed, so occasionally a dive guide will need to enter the water to moor the boat. Once moored there's a good dive brief with a graphic of the site drawn on a chalkboard, and entry is via giant stride off both sides of the stern.  There will be a mermaid line if it's not a negative entry. Exit is via ladder at the stern.
Cookies and drinks are served during the surface interval, and the dive guides will change your tanks with the minimum of fuss. They even have fish ID books available on board for you to identify your latest find whilst it's still fresh in your mind. Overall, Ra Divers will give you one of the best diving experiences in all the Fiji Islands.
Pricing / availability enquiry