Overview
Vomo Resort has a PADI Dive centre with gear, boats and three instructors offering PADI training, and for certified divers a variety of dive sites: from relaxed scenic reef dives, to walls, steep sided bommies and atmospheric sunlit swim-throughs.
Diving at Vomo is 'at your convenience'. When you book your stay at Vomo, let them know that you'll be diving and the kind of diving you want. It will be arranged. The Ocean Play Manager Jacques will meet with you after you have checked in and chilled out and discuss what kind of diving you would like to do, and when you would like to dive. There are plenty of sites to be explored from scenic reefs, to channels, overhangs and swim throughs.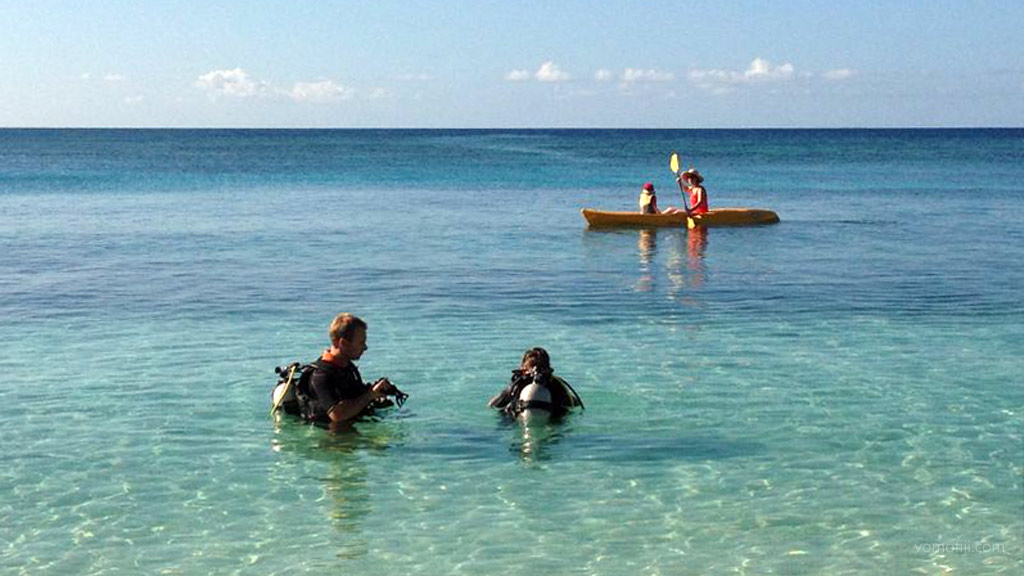 If you have not dived before, or your partner or kids have not dived before, Jacque can tailor the training and diving to accommodate. You can go to a site where you dive and they snorkel, or you can do a Discover Scuba Diving course which will get beginners started on the road to being qualified divers.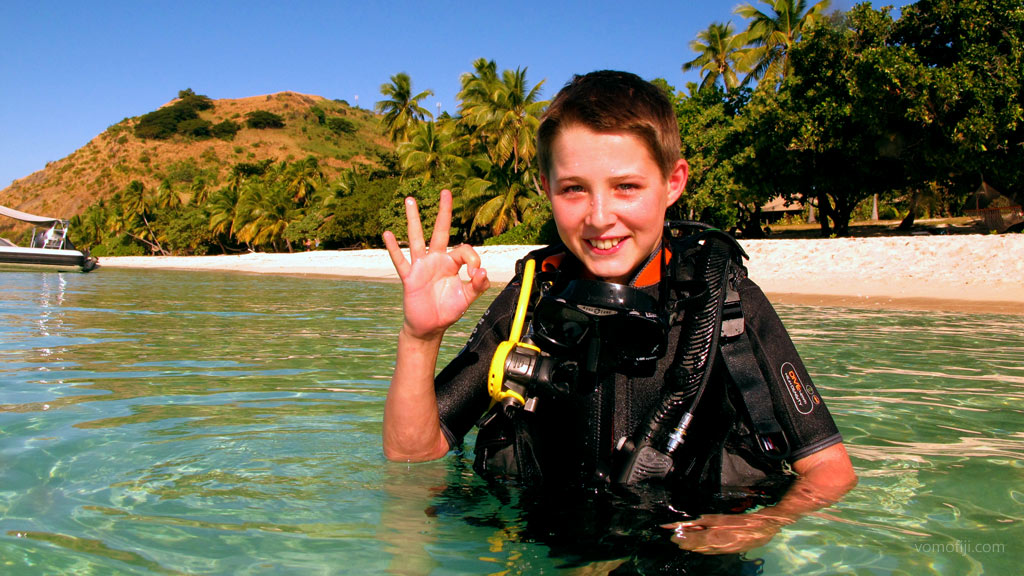 Vomo also offer refresher courses, an advanced open water, and specialised courses, all with PADI certification.
The gear is new, and like everything else at Vomo – it's personal. They have BCDs, with integral weights, and wetsuits in male and female fittings and sizes, and wrist computers and torches.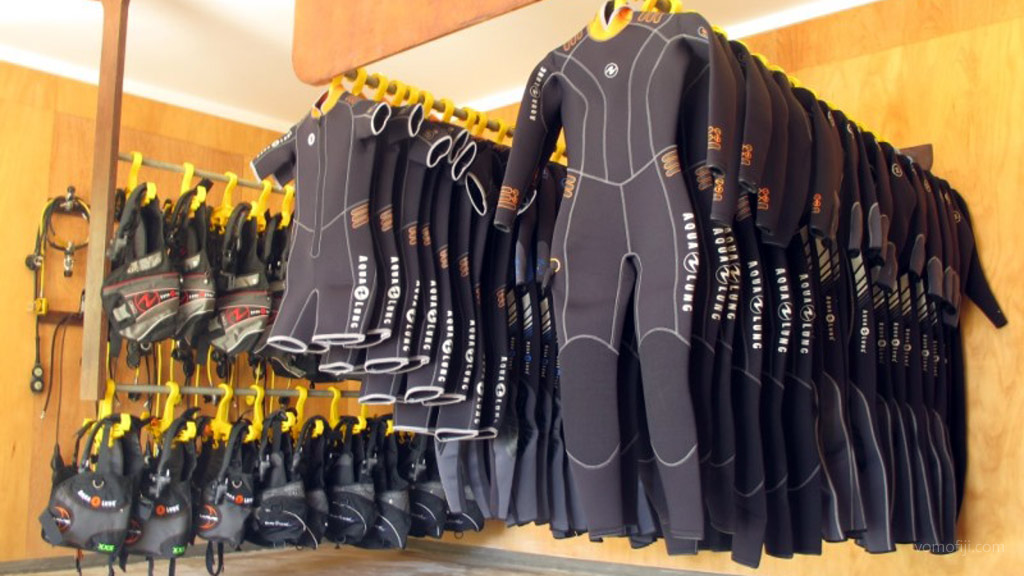 Wherever you go, there is a private, fully covered boat, just for you.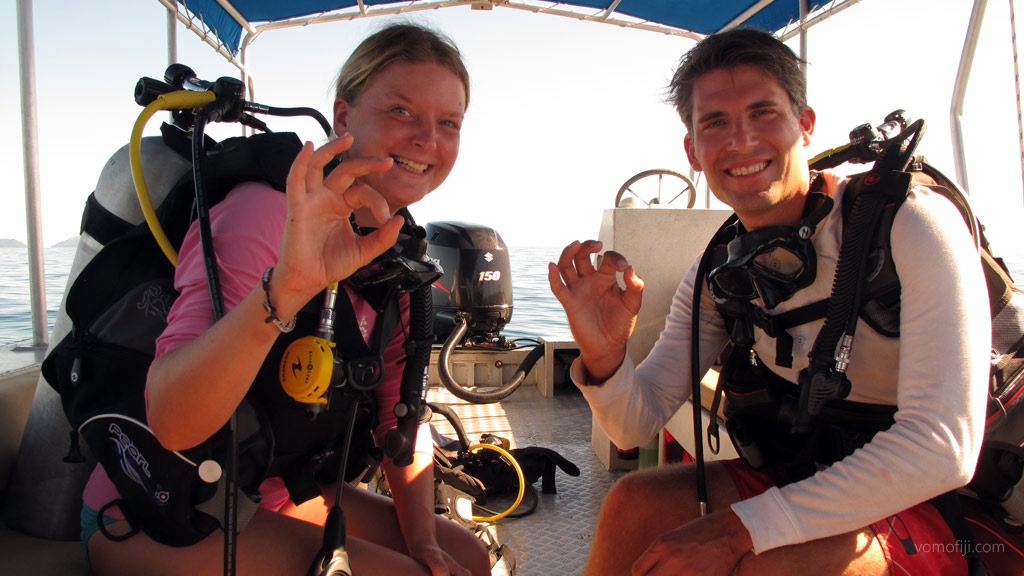 And the chances are, you'll be the only ones at any given site.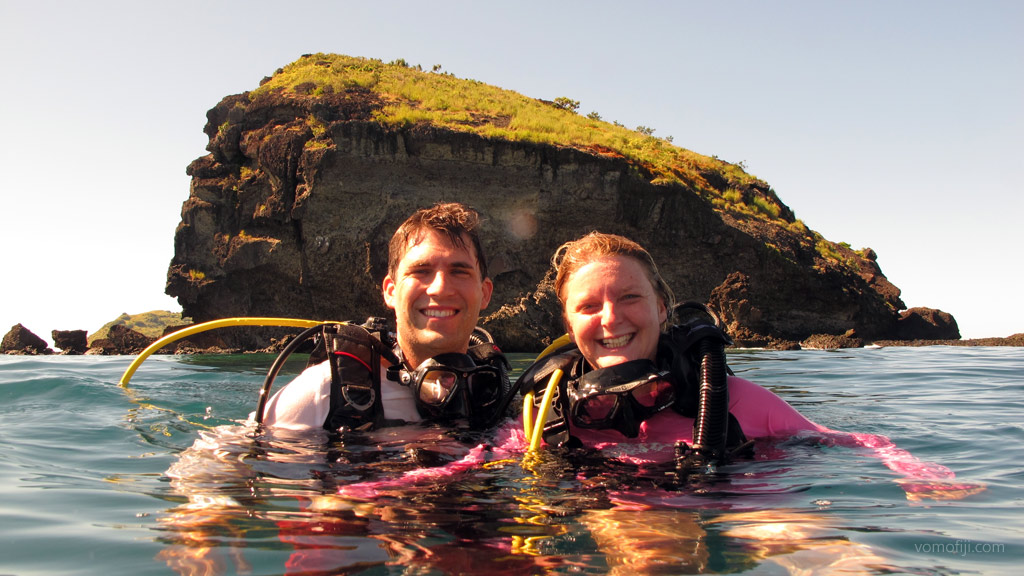 As well as the dive sites within a few minutes of Vomo, you can also make a dive excursion to other sites in the Mamanucas like Supermarket and Garden City, and snorkel with mantas up near Mantaray island, in the Yasawas.
Facilities
| | | | | |
| --- | --- | --- | --- | --- |
| Training School Type: | PADI | | Nitrox Fill: | |
| Air Fill | | | Number of Guides | 2 |
| Gear Hire | | | Number of Boats | 1 |
| Gear Sales | | | Number of Dive Sites | 10 |
| Gear Servicing | | | Accommodation | |
Location
Vomo is considered the northern most of the Mamanuca Islands and is just south of the Yasawa Islands. So, as well as the dive sites around the island itself, Vomo Resort PADI Dive Centre has access to the dive sites of the Mamanucas and those of the southern Yasawas including Mantaray – which is famous for snorkelling with manta rays in season.
What to expect
When you first arrive at Vomo the Ocean Play Centre Manager will meet with you to discuss your diving requirements. Everything at Vomo is personal; you always feel like you have the whole place to yourself. If you want to take a course from refresher to a PADI specialty course – it can be arranged. If you just want to go diving every day – it can be arranged.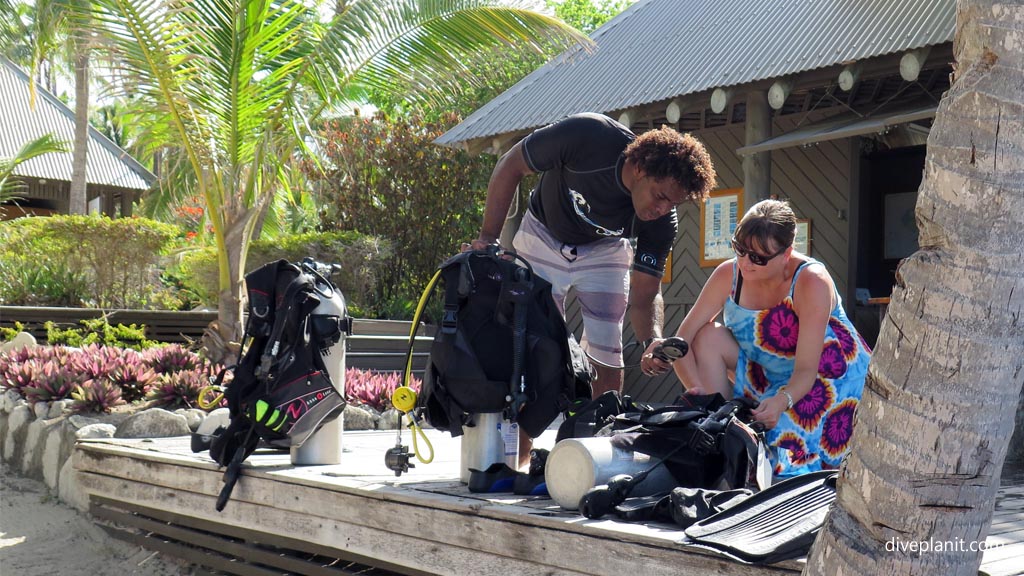 The first time you arrive at the Ocean Play Centre, you'll be sized up for a wetsuit and a BCD; every other time after that your gear will already be on the boat.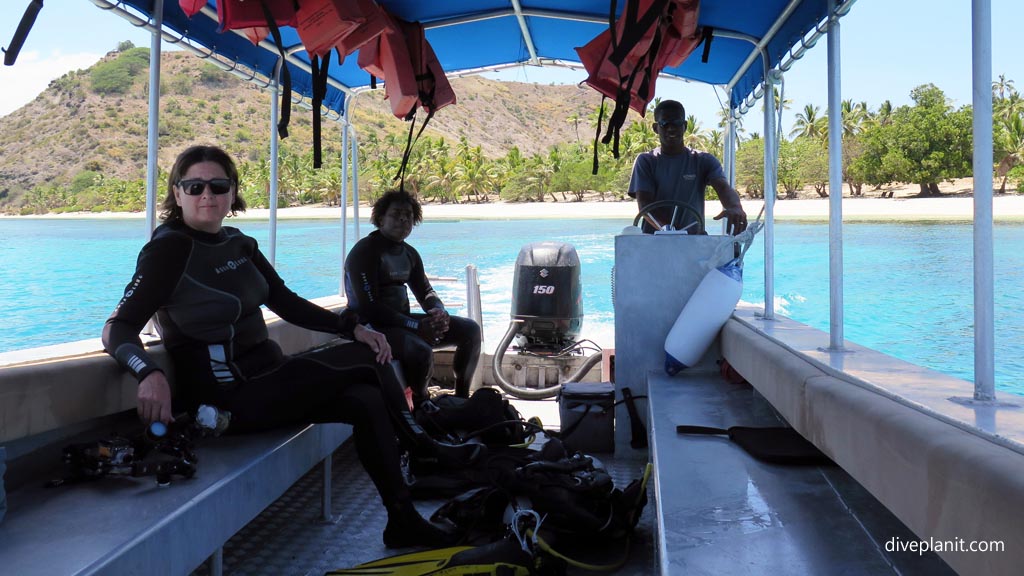 The local guides, the dive instructors and the boatman all know the best sites and the best times to dive them.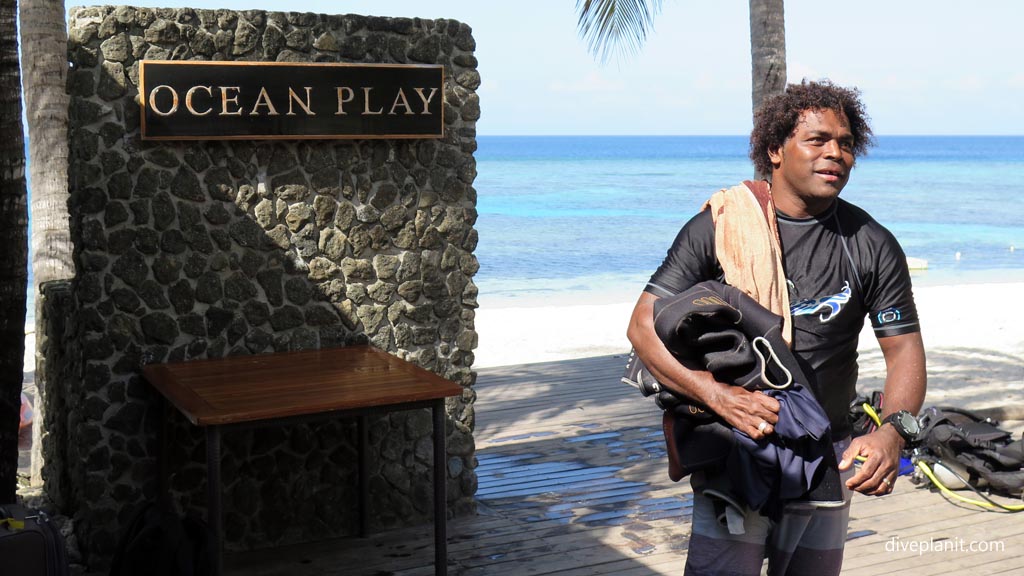 There are two islands to choose from, one with shallow sloping coral covered reefs, and the other with steep sides and swim throughs. There are also a number of bommies and reefs in the surrounding waters for the more adventurous.
After the dive when you return back to the resort you simply get off the boat and move on to your next activity. (The gear elves look after everything else).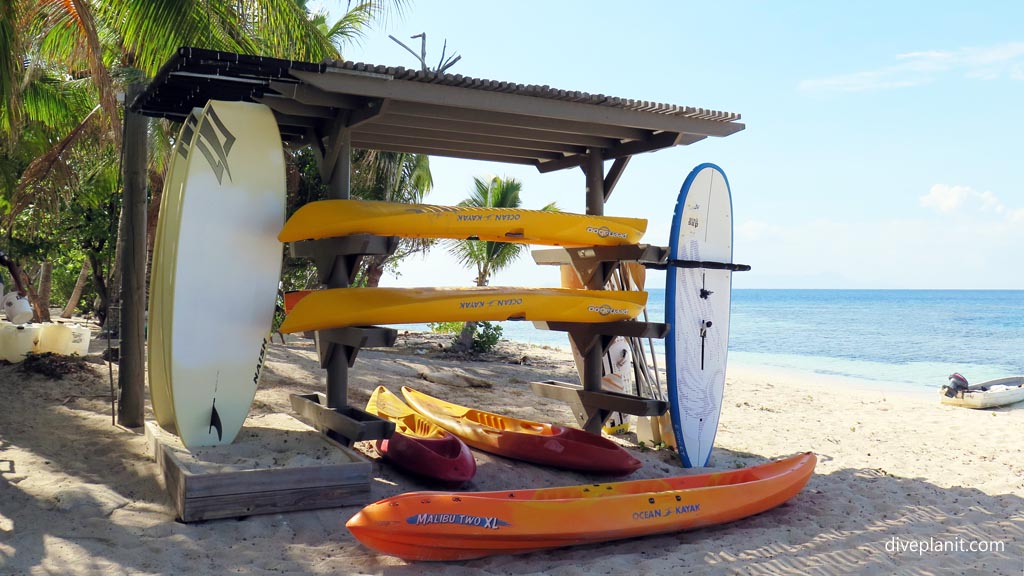 The nominal departure times are 9am, 12 and 2pm, and when you arrive at the dive centre you board the boat and are in the water 10 minutes later. So you can easily do two morning dives and so enjoy a leisurely lunch which runs until 3pm. Alternately, enjoy an afternoon dive and get back in time for cocktails and canapés at the rocks bar as a sun begins its slow ascent towards the horizon.
Pricing / availability enquiry