Introduction
The Gilis are three small islands (between 1 and 1.5kms wide), separated by channels of less than 1km in Kambal Bay within 1km of the coast of Lombok.
There are lots of different ways of diving Gili Islands; lots of turtles, lots of drift diving in the currents between the islands, and plenty of natural features like Secret Reef and Meno Wall. Each of the dive sites has different features, and if you dive with one dive centre, they'll make sure you get plenty of variety.
From a pack-packers perspective, they are en route from Bali to Lombok – as many of the fast ferries stop there. The three islands have three distinct characters: the largest Gili Trawangan is considered the 'party' island; the smallest middle one called Gili Meno, attracts mainly couples and guests are typically tucked up in bed by 9.30pm. The one closest to Lombok is Gili Air which succeeds in striking a balance between the other two. The diving is on the reefs all around the three islands, and the channels between them, and as they are so close together, it is possible to dive any of the well-known sites via the dive operators on any of the islands. A couple of places have a 'house reef' but most of the diving is by boat.
There is no motorized transport on the Gilis, but there is plenty of accommodation from top end down to traditional beachside bungalows. There are frequent fast ferries to Bali and Lombok. There are plenty of eateries and other things to do as well as dive.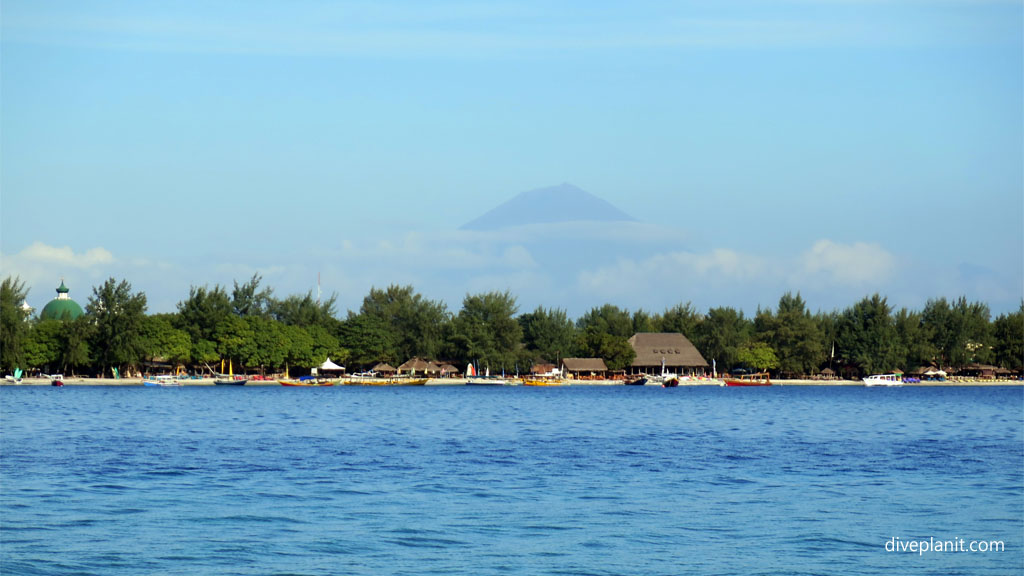 Location
Off the north western coast of Lombok.
Difficult to believe, but there 20+ operators on these three little islands (which would fit in a rectangle just 3 x 7km). That gives an impression of how many dive sites there are to be explored. Just about every dive school/federation is represented, and so is every language. Many of the operators have their own accommodation, some are effectively a dive 'resort' with accommodation, restaurant, pool, dive shop and boats.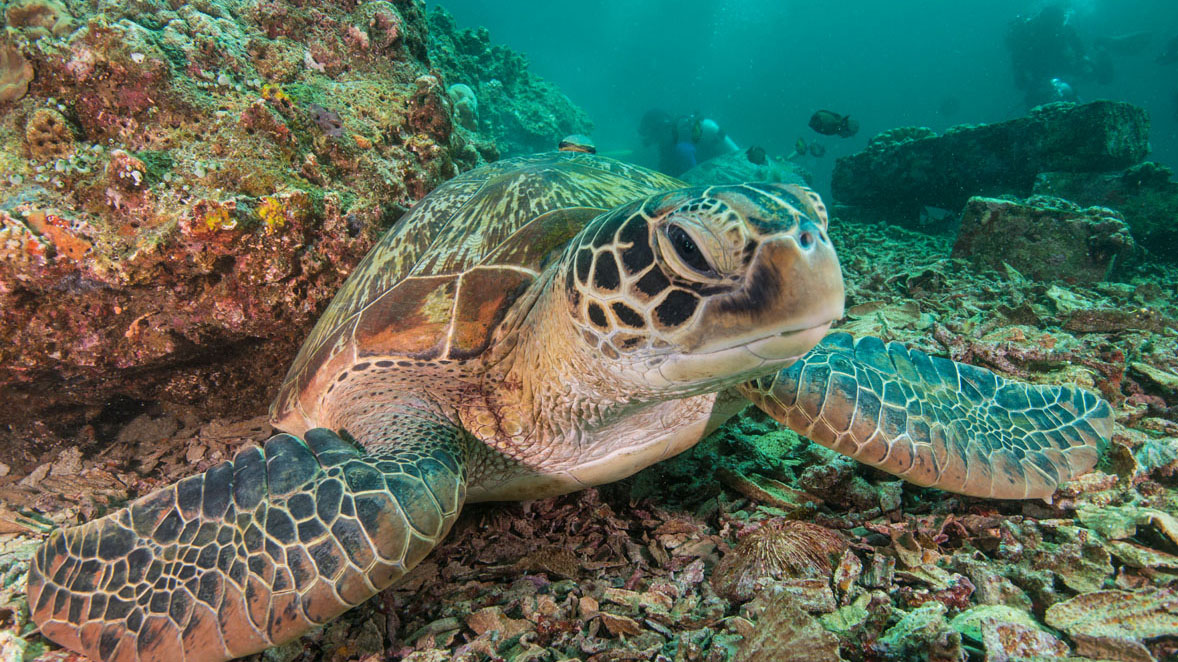 We dived with 7Seas Dive Gili, which as a PADI 5 Star Dive Resort obviously comes well recommended. You can read about that via the link below.
Liveaboards
Dive Sites
The majority of dive sites are coral reefs, but there are also gardens, bommies and walls, and one wreck. The dives tend to be drift dives too, as the water runs between the islands. This has the advantage of keeping the water clear and typically the vis is very good.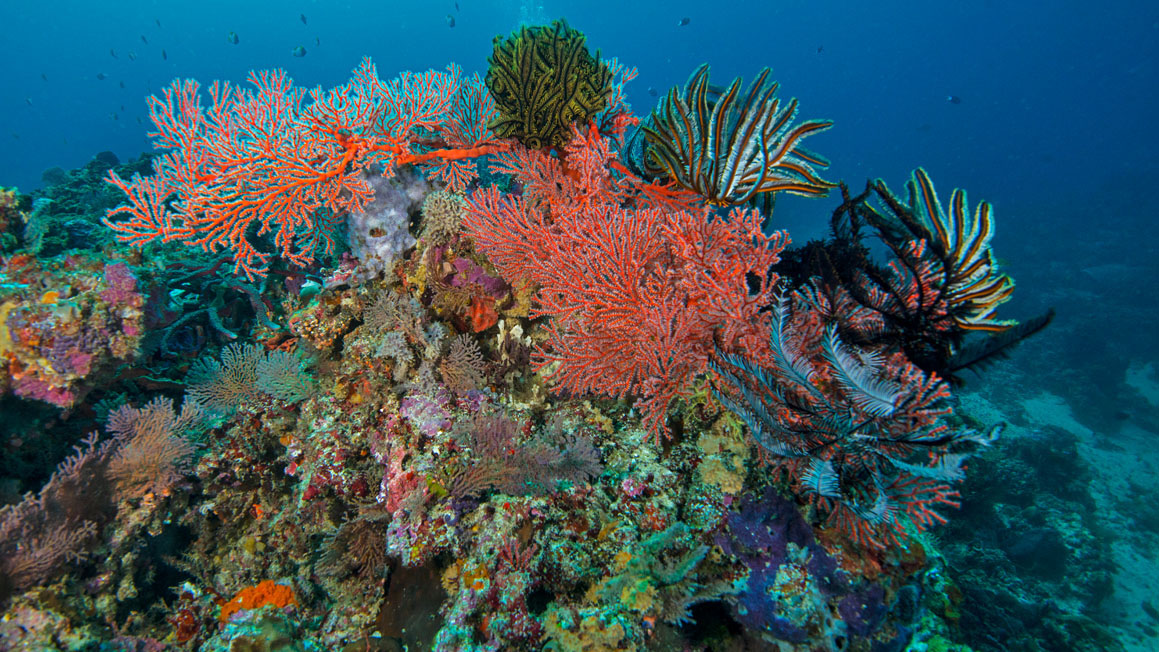 It would be fair to say that there is no 'must do' dive as they are all different, and good dives in their own right. Here is a short compilation of footage from a few different sites.
The dives below give a good overview of the variety of diving in the Gilis.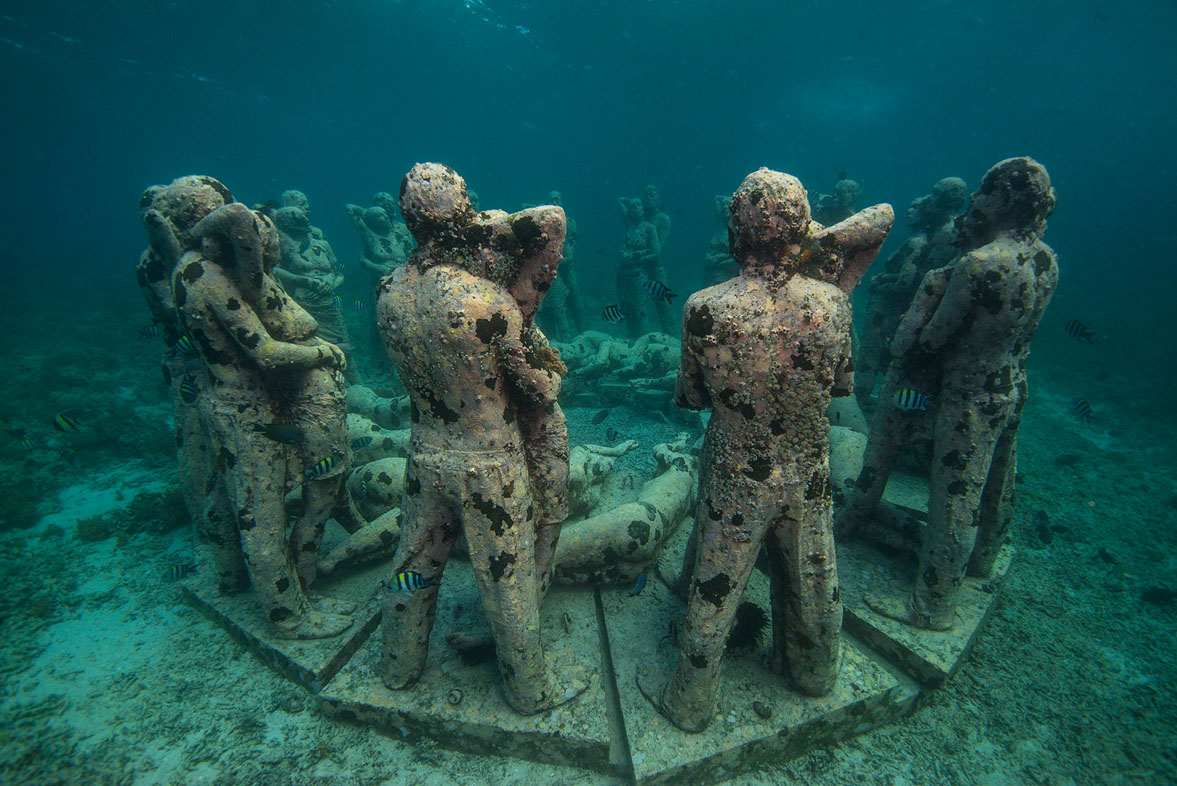 Dive Sites
Where to Stay
There is plenty of accommodation of a reasonable standard all around all three islands. Here is a list of things to think or ask about when considering what might suit you:
Spacious or not, and with out-door terrace or balcony
Few rooms have air-conditioning, so check for fans and ceiling fans
Mozzie nets: as quite often the bathrooms are open to the elements, and mozzies can get in
Pool, restaurant, bar or mini-bar.
WiFi, electronic safe, laundry facilities, ATM, room-service or massage
Inclusions such as transfers, free bike hire or water sports.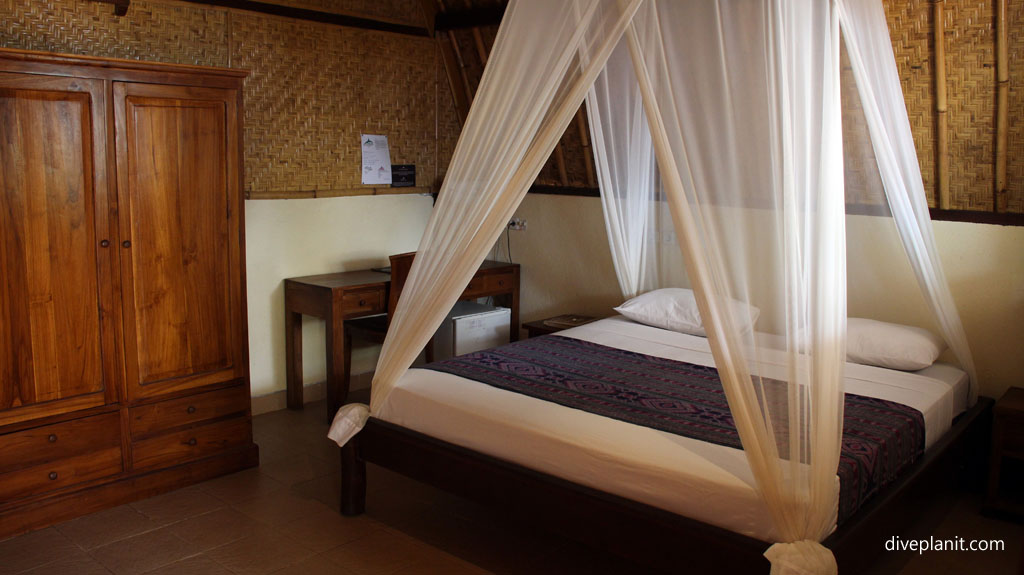 If you have already selected an operator, most operators will either have, or be able to recommend accommodation nearby; proximity is another factor. Often operators will package the accommodation and meals, for example, 7Seas give divers doing an open water course with them free accommodation.
In practice, most of the accommodation is clean and tidy, and most of the bathrooms are covered, but still open to the elements which means they dry quickly and stay clean.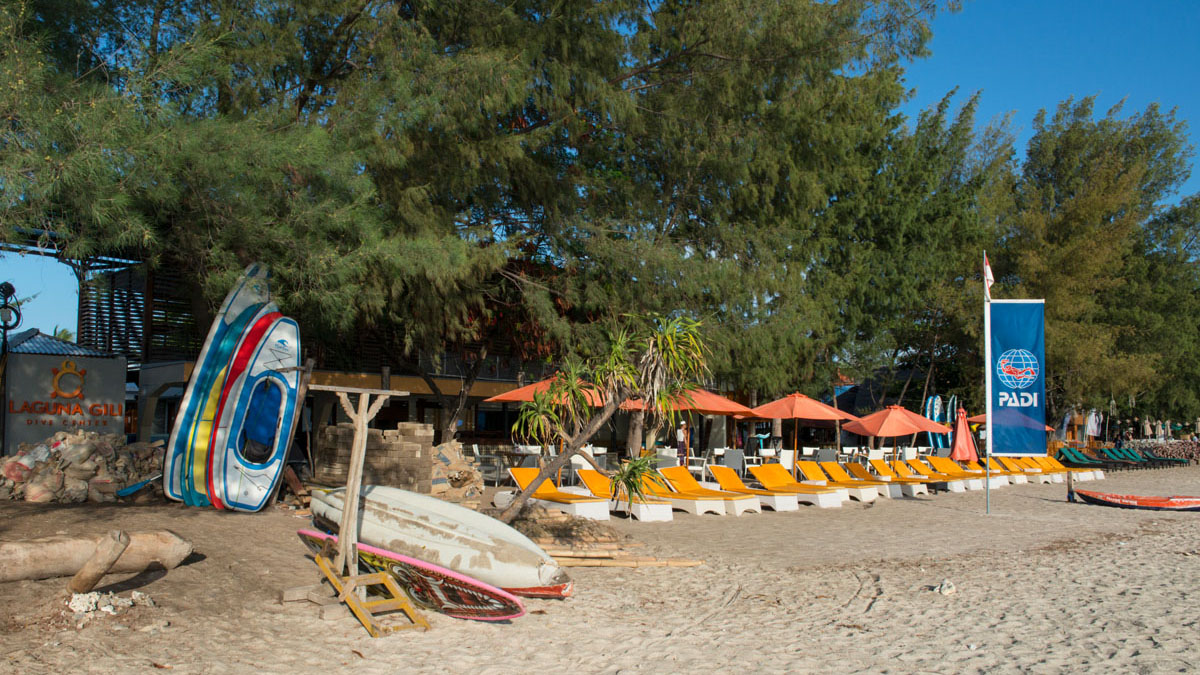 Where to Eat
There are eateries everywhere and you can get everything from traditional Indonesian Nasi Goreng to western fayre. There are even places that specialise in particular cuisine – like pizza – ask around. However, be aware that the Gili's are islands, and local food that has not travelled far, is likely to be the safest and tastiest.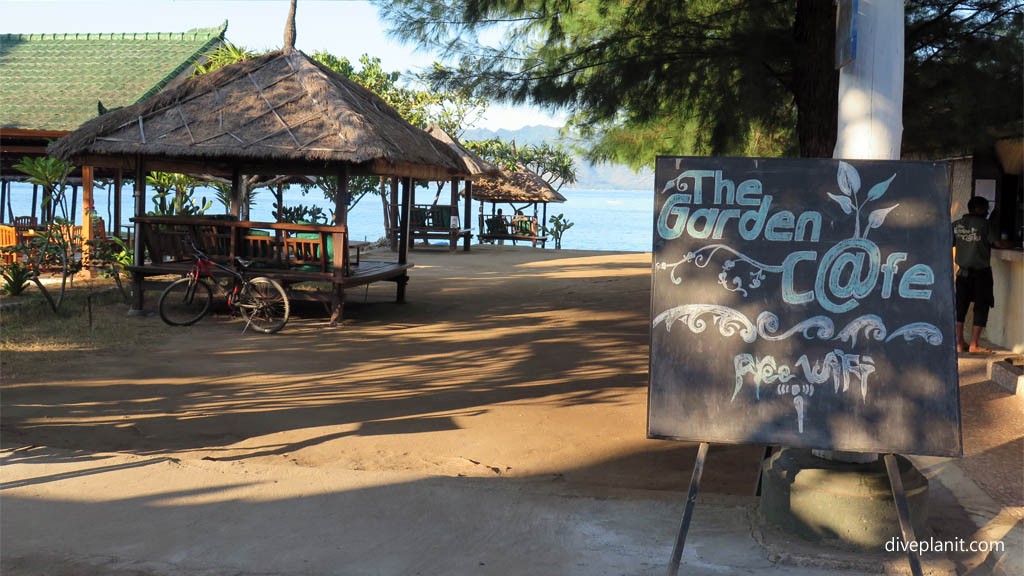 "Would you like TV with that?" – some places have streaming live sports, others live entertainment, and some just have the gentle lapping of the ocean to accompany your meal. If you want to push the boat out (so to speak), and enjoy drinks on the beach followed a top class meal with excellent friendly service, I can recommend 'The Reef' (also called Karma Reef) on Gili Meno. However, if you are not staying on Gili Meno transport may be an issue as, contrary to what you might expect, there is no water taxi service between the islands.
How to Get Around
When you first arrive, there will be donkey carts vying for your business to take you to your resort.  Whether it's 100m or 500m it's probably worth it.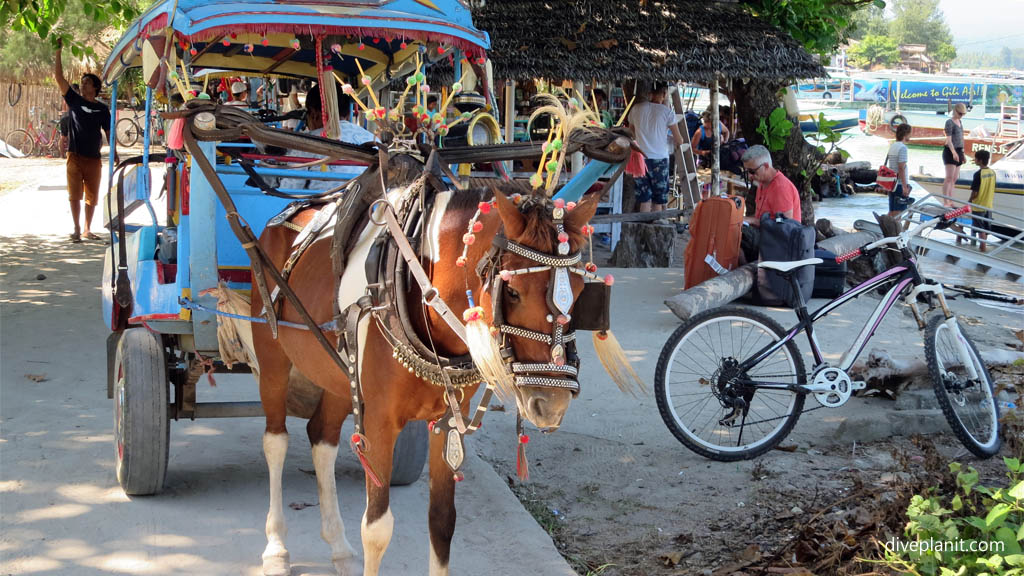 You can hire a bike for $2.50 a day from your accommodation if you feel the need, otherwise the most obvious option is to walk.  There are no forms of motorised transport on any of the Gilis.  (No noise, no pollution – it's great!)
Other Activities
On Gili Meno, there is a little turtle sanctuary, where some stray hatchlings are reared until they are old enough to be released. It is not very big, so don't make a special trip to the island for it, but if you stay on Gili Meno visit it, as they are so very cute.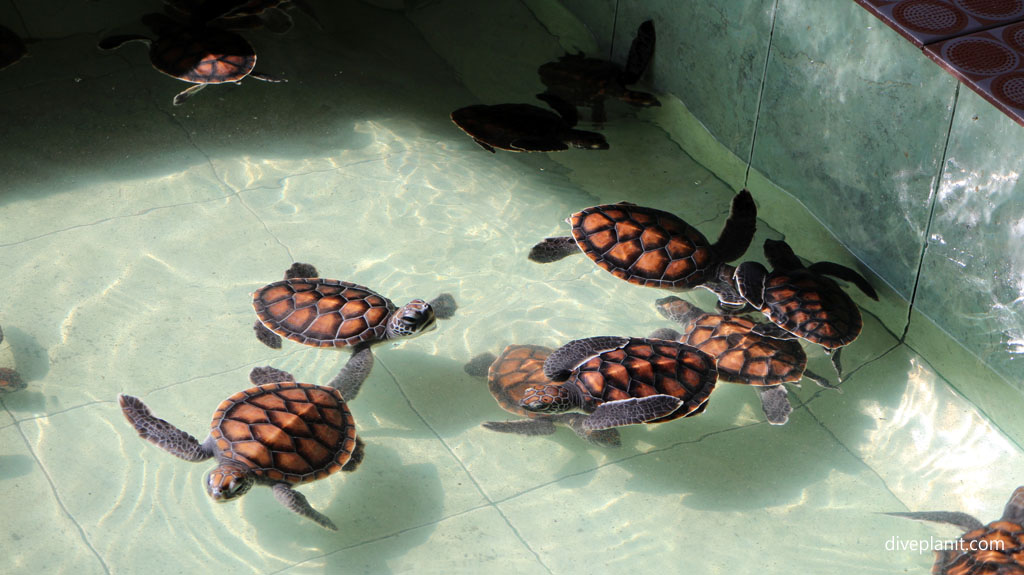 Some operators offer surfing and kite surfing and may have a stand up paddle that you can muck around on. Often impromptu games of beach volley ball, handball or soccer are organised.
Apart from diving and snorkelling, many travellers go to the Gilis for a bit of down time. So grab a book and spend some time just enjoying the sunset with a Bintang.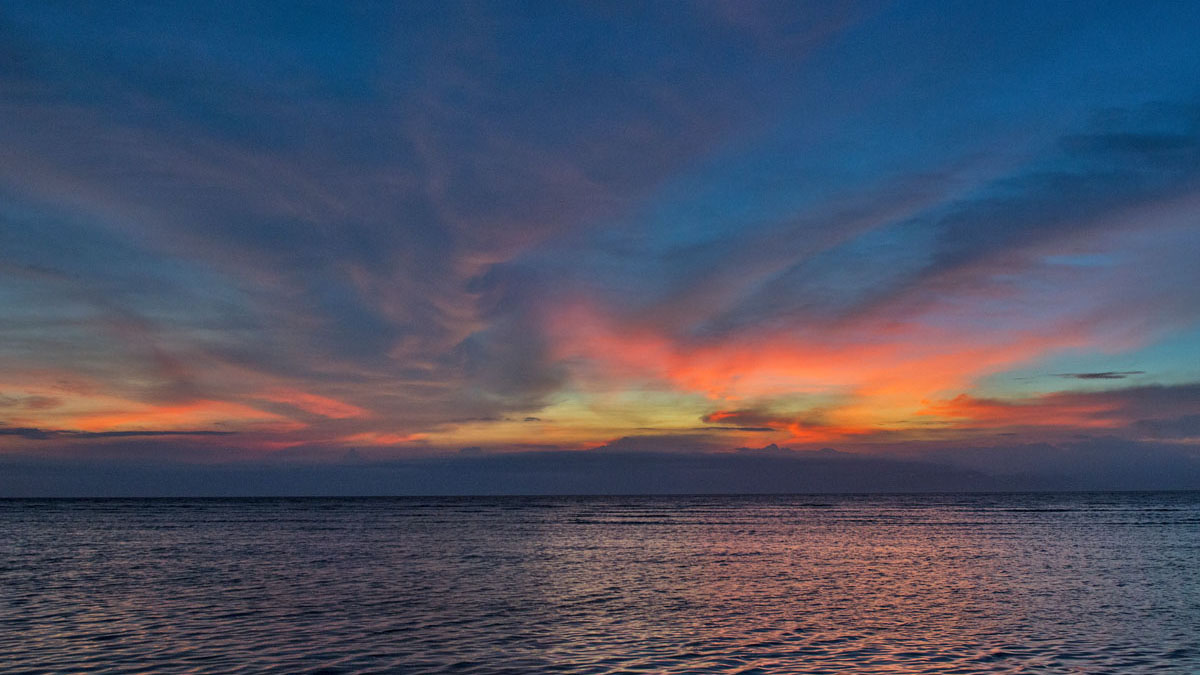 Getting There
There are three operators running boats from Padang Bai to the Gilis.  These companies have their schedules on their websites:
The trip is just over an hour to two hours depending on route and conditions. Some boats stop at Lombok on the way, while others don't. Transfers to Padang Bai are typically included, but there may be a surcharge if you are a bit remote. Definitely do your research and buy a ticket in advance – if you want to turn up and go – otherwise you could be hanging around in the organised chaos that is Padang Bai. It can be a bit of a free-for-all at the islands too, as there is no jetty, you wade ashore.
However, rest assured, the Gilis are definitely worth the effort – it's a very chilled place once you're there.
Pricing / availability enquiry