Introduction
Location
Accommodation
Diving
Pricing & Schedules
Enquire Now
Papua Diving Resorts include the upmarket Sorido Bay Resort and the budget Kri Eco Resort both on the eastern tip of Kri Island in the Dampier Strait, fantastic diving on their amazing rich house reef and 30 of Raja Ampat top dive sites, all within a 10km radius of the resort.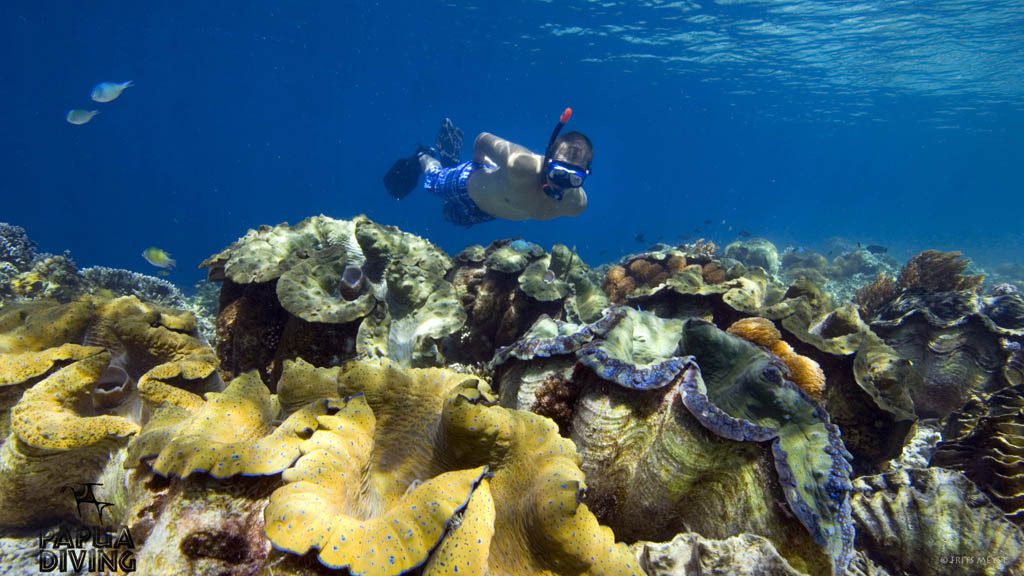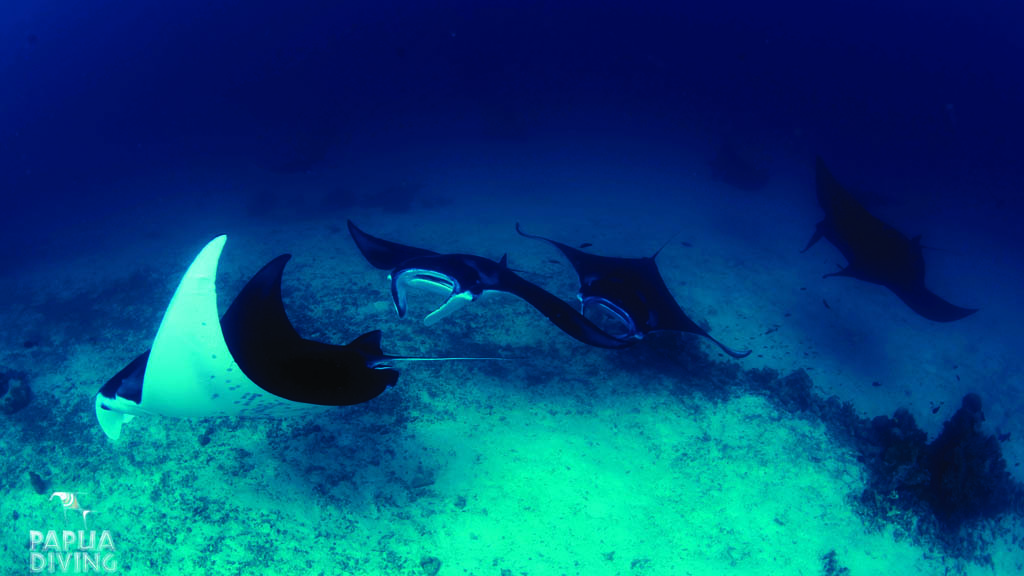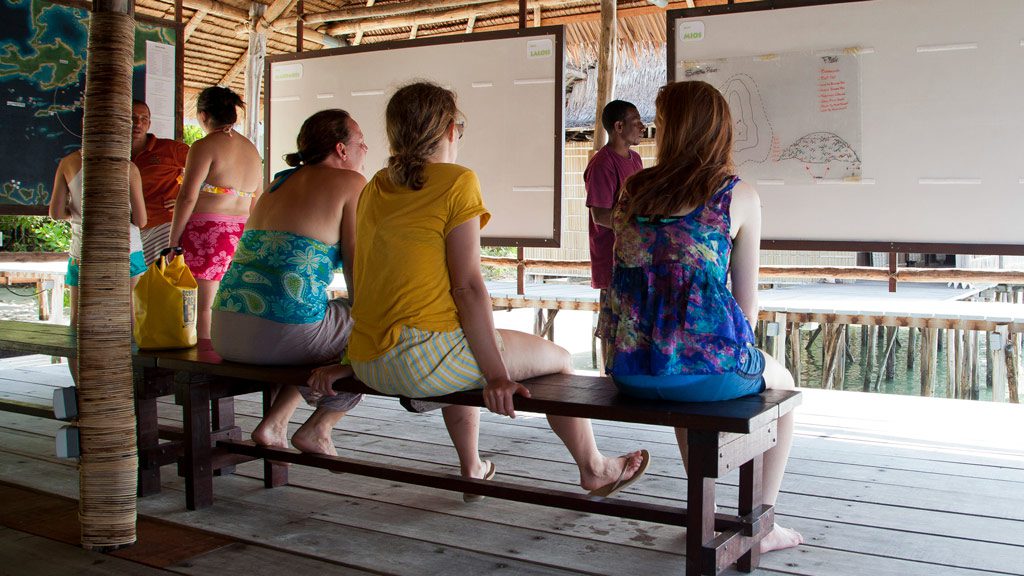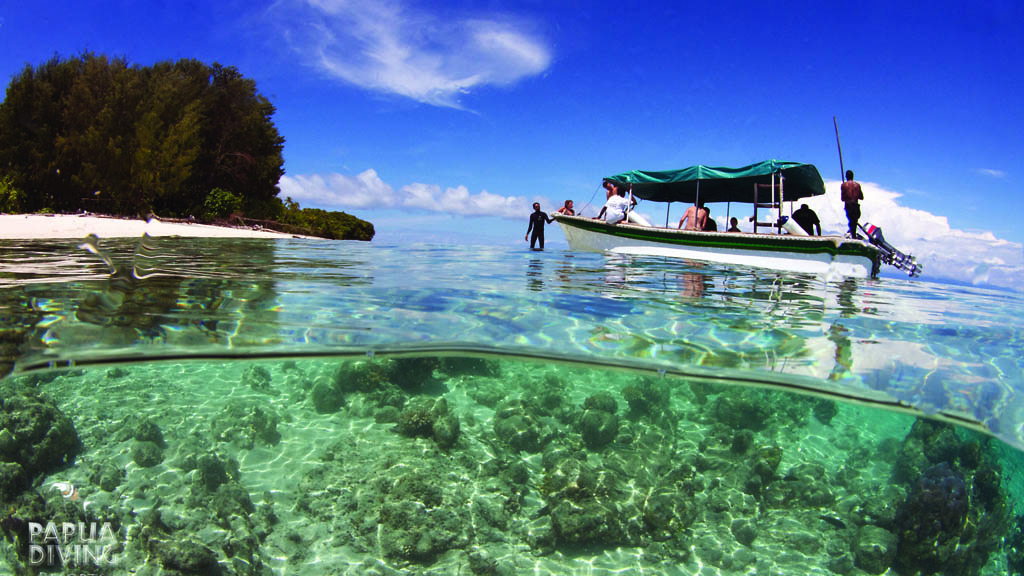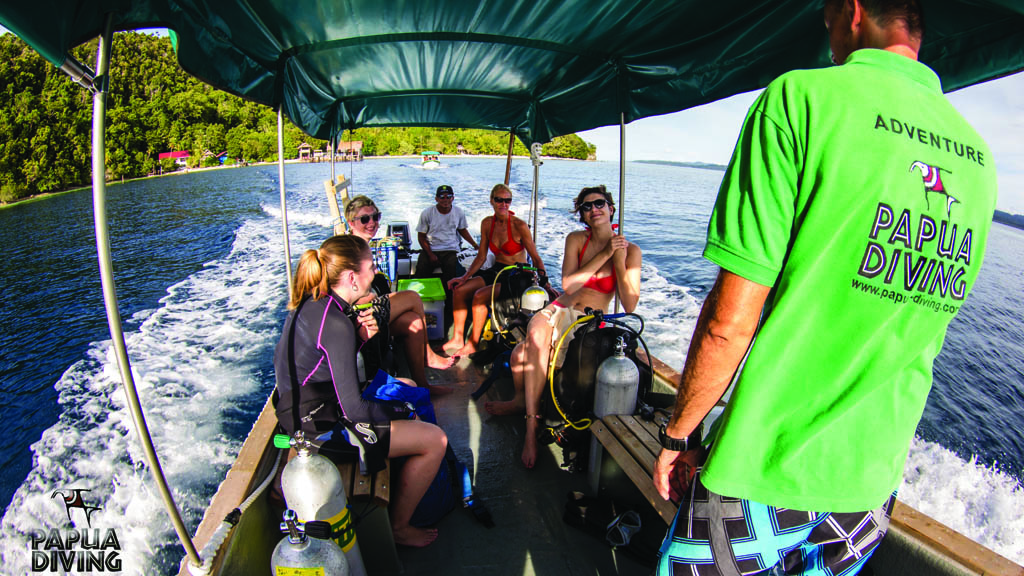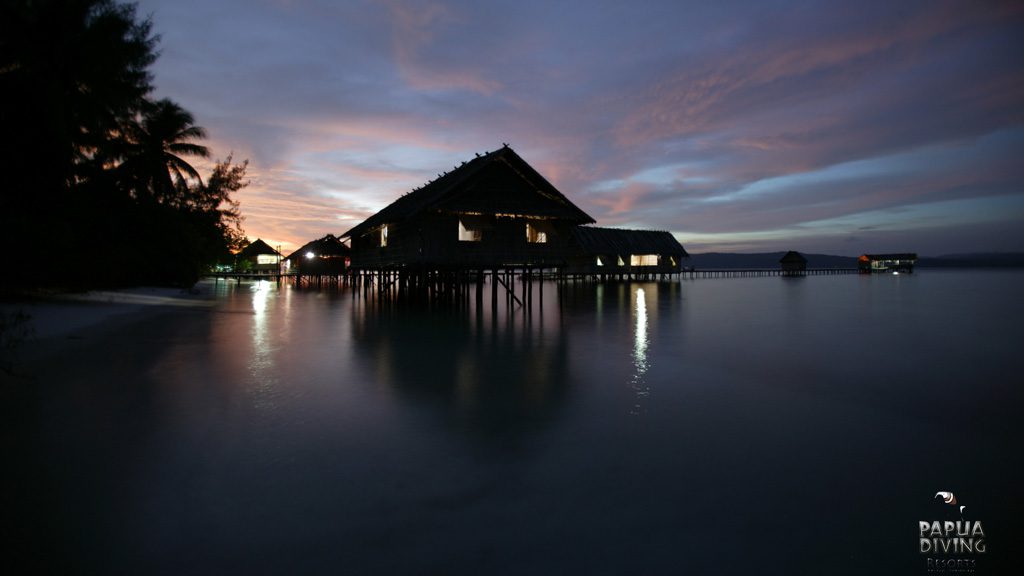 Meals
Meals are served in the restaurant, a large over-water dining area – open to the ocean breeze, with long tables sheltered by a traditional palm-thatched roof.
The kitchen is always busy with staff cooking over the gas burners in large woks or stew pots. Bread is freshly baked and pizza is a frequent treat. In the back, there are more staff slicing fresh vegetables and fruits in the open air under the shade of the trees. Each meal is freshly prepared, and iceboxes, supplied weekly from Sorong, contain fresh meat (but can chill a beer if required). Coffee, tea and flavoured drinks are available all day.
Resort Facilities
The resort is located on a spectacular lagoon, where clear blue waters meet a brilliant white beach. The traditionally built water bungalows create a beautiful South Seas ambiance. Although the accommodation at Kri Eco Resort is very basic, it is functional with a lot of atmosphere.
Staying Connected
Free Wi-Fi internet access is only available at the Sorido Bay Resort. Although it can be intermittent, the resort has a mobile signal.
You need to know
It is important to note that the resorts have a no boat diving policy on Saturdays as this is the day of rest for all staff at both resorts. Boat diving is not offered between 6 pm Friday and 6 pm Saturday but boat night diving is possible again at 7 pm on Saturday. Tanks are provided to dive from the resorts' jetties during Saturday.
We think…
Kri Eco Resort is ideal for divers traveling on a budget who choose the proximity of pristine nature over a long list of resort amenities.
Kri Island is located in the Dampier Strait, between Waigeo and Batanta, about 2 hours by boat from Sorong.
Transfers
Guests who arrive on Sunday morning in Sorong must ensure they arrive before 8am for a same day transfer to the resort. There is only one free boat departure to Kri Eco Resort on Sunday which departs latest at 9am. Guests who depart from Sorong on Sundays or Wednesdays must book a departure flight after 10am.
For a 10 night stay, the best option is from Sunday to Wednesday as no extra nights in Sorong are required and only 1 Saturday is spent without boat diving; though 10 night packages can also be arranged from Thursday to Sunday; (however, a night must then be spent in Sorong because the boat departure to Kri Island on Thursdays is very early in the morning).
Kri Eco Resort has a total of 13 guest cottages for up to 26 guests: Four Standard Papuan Water Cottages with shared 'mandi' type bathrooms (traditional Indonesian bathroom with cold water and no shower but western toilet). Seven Superior Water Cottages with shared 'mandi' type bathrooms (but with hot water shower and western toilet). Two Deluxe Water Cottages, located on the beachfront, with a spacious private sundeck and a private western style en suite bathroom including hot shower.
All guest cottages feature a western-style bed and mattress, mosquito nets and camera table with several sockets. They all have 24-hour electricity and fans (no aircon), and all furnishings are hand-made.
Superior Cottage Interior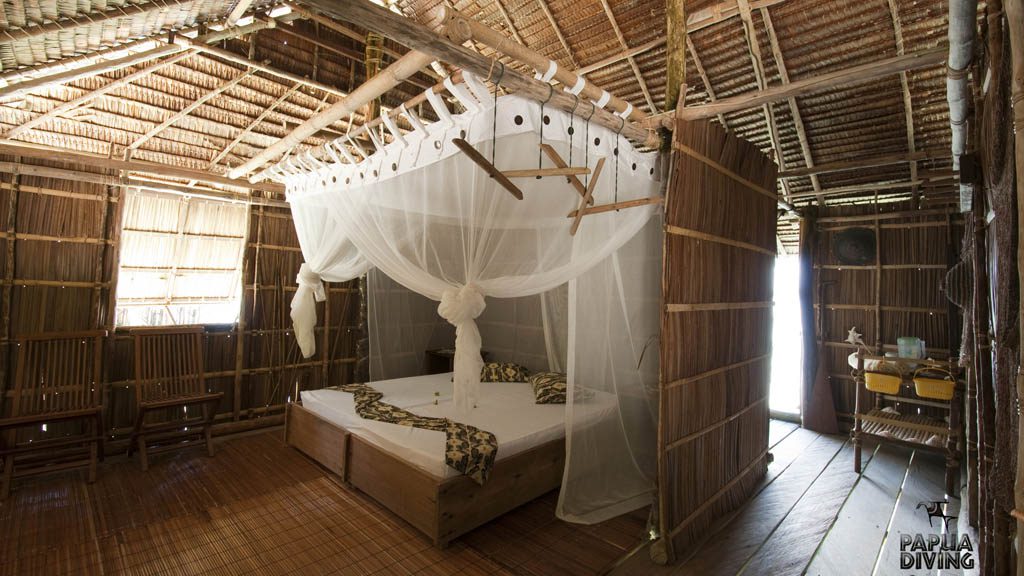 Papuan Cottage Twin Bedroom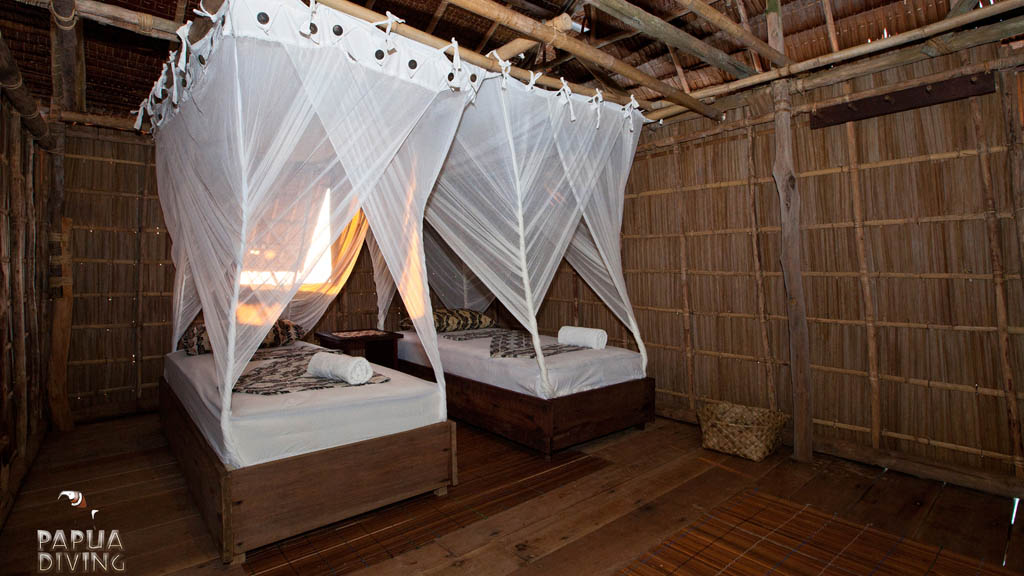 Deluxe Cottage Interior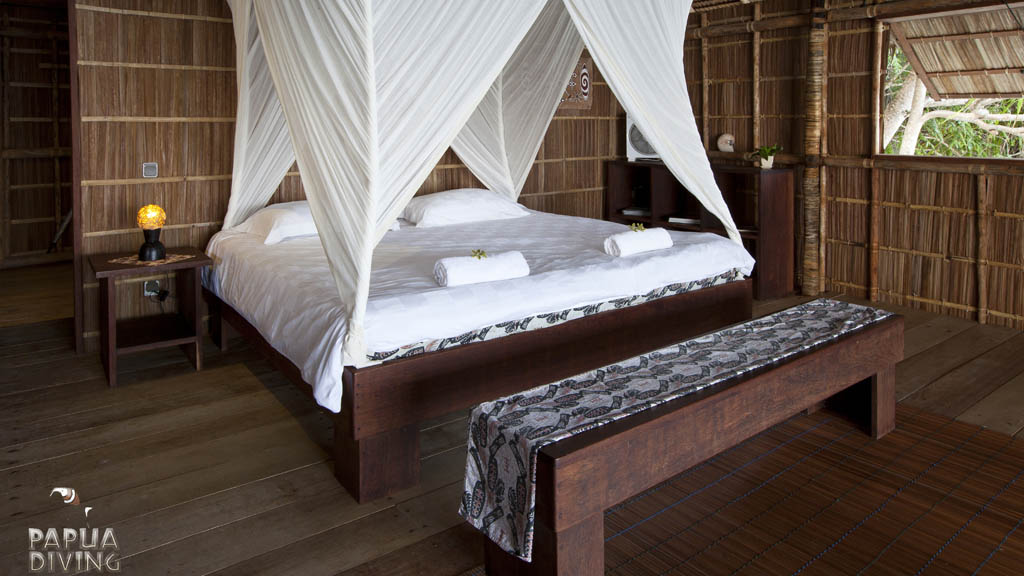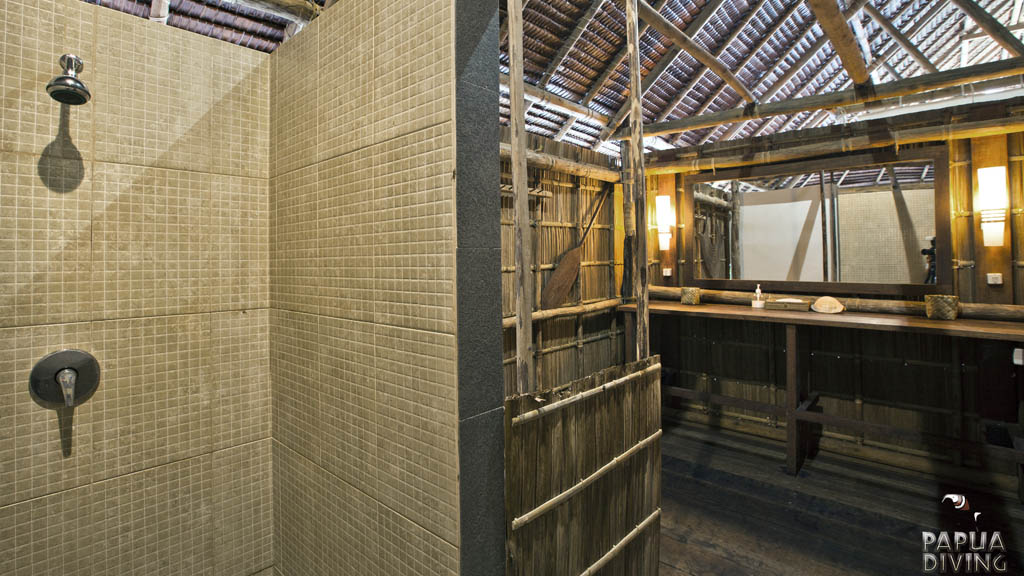 With over 20 years of experience, Papua Diving are one of the pioneers in Raja Ampat diving. Papua Diving is the dive operation for Kri Eco Resort and Sorido Bay Resort, both located on Kri Island, in the famous Dampier Strait, about a 2-hour boat ride northwest of Sorong. Each resort operates its own Papua Diving Dive Centre.
Dive Service
Papua Diving has seven custom-built fibreglass dive boats that head off for a fresh diving adventure each day. All boats are equipped with Emergency Oxygen, First Aid kit, radio, GPS and flares. Towels, drinking water, fruit, snacks and juice are provided on all dive trips. The dive centre provides 12L aluminium tanks with Yoke valves (own adaptor required for DIN regs), 10 full sets of Aqualung rental gear and free Nitrox. There is a no gloves policy. PADI Advanced and Nitrox courses can also be arranged.
Dive area
Kri Island is one dive destination which has it all: shore and boat diving, house reef, coral gardens, swim-throughs and reef walls, with sharks, manta rays, whales, dolphins, and plenty of other critters.
There are more than 30 dive sites surrounding the resorts. Most dive sites are between 5 to 15 minutes away and offer world-class pristine reef diving. Three guided boat dives are offered per day plus an additional night/dusk dive (max. 4 dives per day). Max. 6 divers and 2 dive guides per boat. The dives included in the unlimited dive packages are within a 10km radius of the resorts. Due to the close proximity between resorts and dive hot spots, it is Papua Diving's custom to return to the resorts for the surface intervals. Excursions to more distant dive sites are can be arranged, though a fuel surcharge will apply). These half/full day dive trips include picnic lunch on remote and pristine beaches.
Pricing for Kri Eco Resort 2023 Valid Until December 31st 2024
Valid Until Dec 31 2023
AUD
EUR
7 Nights Papuan Water Cottage -double/twin; with unlimited diving
1863
EUR
|
1863
7 Nights Papuan Water Cottage - single; with unlimited diving
2073
EUR
|
2073
7 Nights Deluxe Water Cottage - double/twin; with unlimited diving
2419
EUR
|
2419
7 Nights Deluxe Water Cottage - single; with unlimited diving
2671
EUR
|
2671
Valid From Jan 1 2024 Until 31 Dec 2024
AUD
EUR
7 Nights Papuan Water Cottage -double/twin; with unlimited diving
1863
EUR
|
1863
7 Nights Papuan Water Cottage - single; with unlimited diving
2073
EUR
|
2073
7 Nights Deluxe Water Cottage - double/twin; with unlimited diving
2532
EUR
|
2532
7 Nights Deluxe Water Cottage - single; with unlimited diving
2802
EUR
|
2802
This resort's prices are in Euro. The AUD prices shown are based on the current exchange rate. The price paid in AUD will be based on the actual exchange rate at the time any payments are made.
Price includes: Accommodation as stated, full board (all meals, snacks, free drinking water, tea, coffee), laundry service, kayaks, 3 guided boat dives per day + 1 optional dusk/night dive (except Friday evening and Saturday daytime), unlimited diving from resort jetty, tanks, weights, air fills, FREE Nitrox fills, boat, dive guide, fuel charges within 10km from resort, roundtrip speedboat transfers from/to Sorong (Sunday to Sunday or Sunday to Wednesday only)
Price Excludes: Raja Ampat Marine Park fee of Rp1,000,000, dive gear.
The per person pricing above is indicative only: we show 7 night with unlimited dive packages at high-end and lower-end rooms (singles & doubles) for the purposes of comparison. We can give you a price (and availability) for any combination of nights/dives you wish to undertake, which will include any discounts due to you as part of that package, and any exclusions, or items payable at the resort. Please use the [Enquire Now] tab to give us your exact requirements and we'll give you the best deal we can.