Introduction
Location
Accommodation
Diving
Pricing & Schedules
Enquire Now
The Coralia Liveaboard is committed to creating sustainable and unforgettable nature experiences while conserving the oceans they cruise in and developing the local communities they work with. Aboard the Coralia Liveaboard, you will be well taken care of by their dedicated local crew, with a 1:1 staff-guest-ratio. Also, one of the few liveaboards that welcome snorkelers.
Coralia Liveaboard's journeys are led by the very experienced cruise directors Debbie and Jerry, who have been leading liveaboard cruises all over Indonesia for more than 10 years.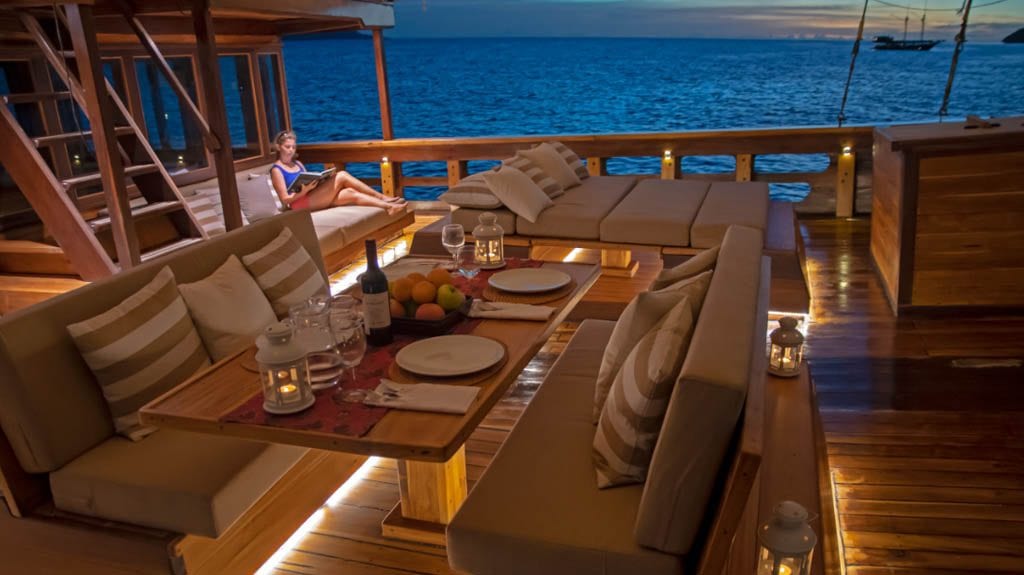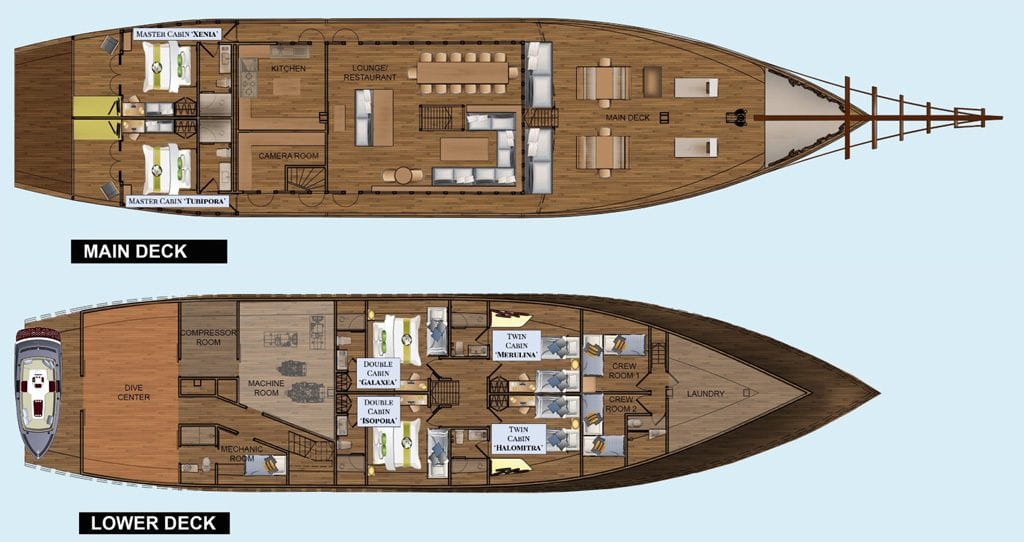 Staying Connected
Free WiFi is provided for guests depending on the local cell phone reception. The power sockets are 2 round pin European type sockets.
We think…
A trip on the Coralia Liveaboard would be a dream come true for every nature enthusiast – whether snorkeler or diver!
Airport transfers are included with every itinerary, but there are some constraints as the arrival and departure times depending on the exact itinerary. We can give you this information at the time of enquiry, and even book or recommend flights for you.
The air-conditioned restaurant and outdoor dining areas are the perfect spots to indulge in the delicious creations of the Ambonese chef and his team. From early breakfast before the first dive, followed by a large breakfast, over lunch, afternoon snacks, right up to dinner, you will be spoiled with highlights of local and international cuisine – some healthy, some wholesome, but all freshly prepared and definitely very tasty. Vegan and vegetarian options are available, and there will always be additional snacks such as cookies and a fruit bowl throughout the day. Dinner is served sometimes a la carte, sometimes buffet style, and once per cruise, we will have a mouth-watering barbeque night.
Water, coffee, tea, and soft drinks are complimentary aboard and there is a great selection of beer, wines and spirits on the menu. You are also able to bring your own wine and spirits as per the Indonesian customs allowance. (There is no corkage fee).
Coralia Liveaboard has 8 spacious air-conditioned cabins that are designed to provide a stylish and authentic sanctuary for nature enthusiasts. In each cabin, guests will find cozy beds, a sofa, a working desk, and a closet. Additional modern amenities include a safety box, regular and USB charging stations.
They are named after coral species – a tribute to the stunning underwater world of Indonesia.
The 4 Master Cabins on the main and upper decks are 30 m² – spacious and airy with private balcony with a sun chair and outside sofa. Their names are Xenia, Tubipora, Anthelia & Ellisella.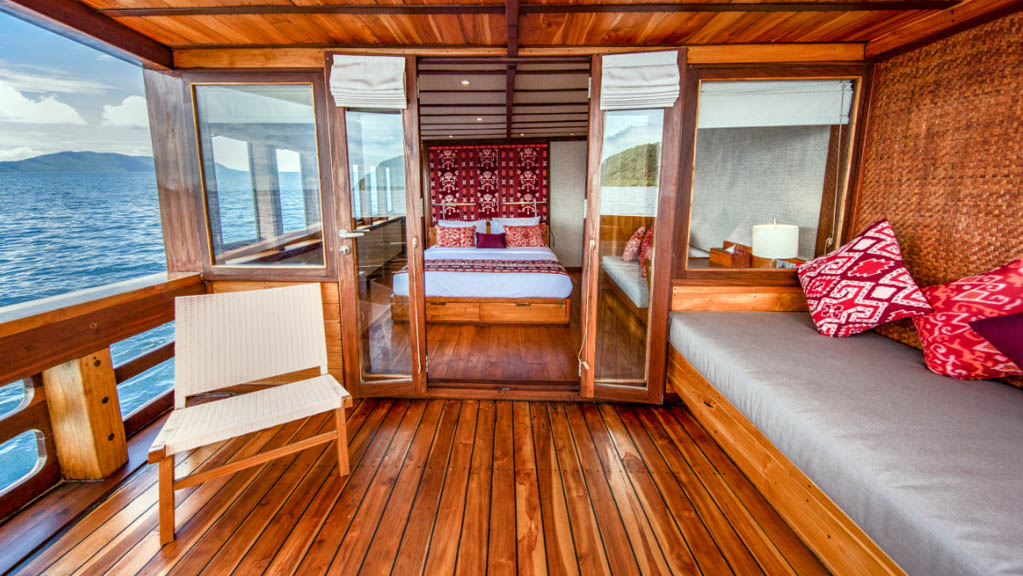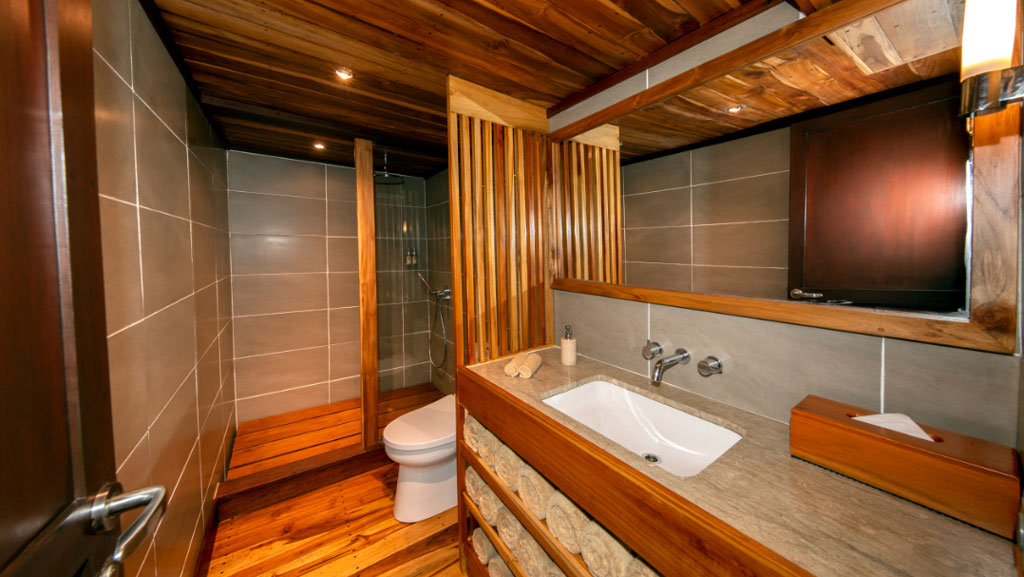 The 2 Double Cabins on the lower deck are 24 m² and can be turned into a triple room when needed. They are called Galaxea & Isopora.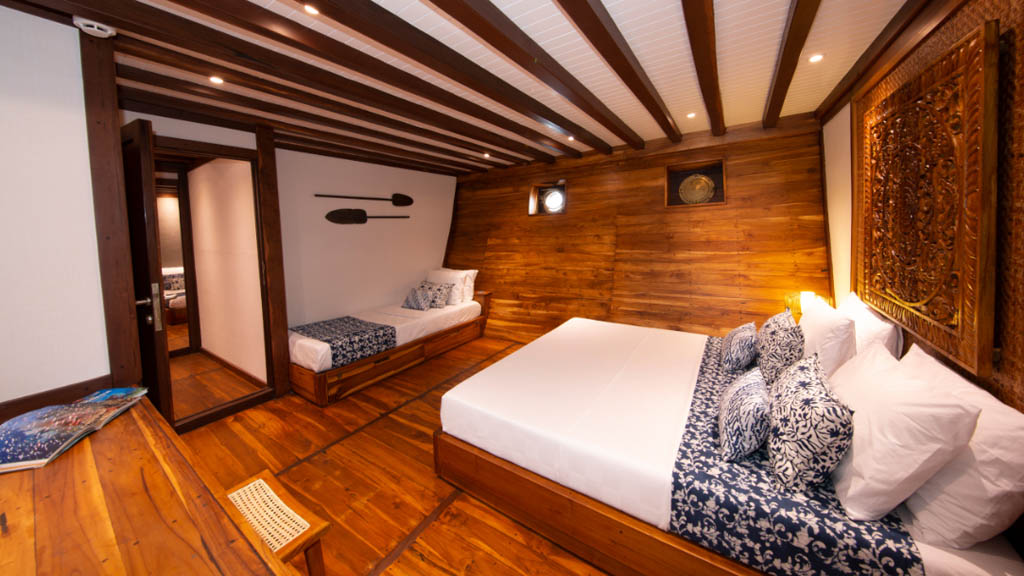 The 2 Twin Cabins on the lower deck are 22 m² and share-spots can be booked in these cabins. They go by the names Merulina & Halomitra.
All cabins have their own bathrooms and are tastefully decorated, incorporating traditional design elements with modern features including warm freshwater showers and a hair-dryer. Environmentally friendly, natural soap and shower amenities are provided free of charge.
The sun deck is at the very top and the airy main and upper decks feature each an outdoor dining and a leisure area with plenty of cozy sofas and loungers. After a busy diving day, head up to the top deck to indulge in a soothing massage at the spa. If you prefer to stay cool you can do so in the air-conditioned lounge and restaurant on the main deck. Here you will also find our fish ID library and audio/video entertainment.
The Coralia Liveaboard was specifically built for dive cruises – the shaded dive deck has warm showers, a changing room, hangers, equipment storage and extra towels are provided for diving.
Underwater photographers are well-catered for, with a dedicated air-conditioned camera room on the main deck, providing individual camera stations for charging, extra towels and lighting. The dive deck features a rinsing basket for cameras, as well as a camera table.
Aboard Coralia, the dive team consists of our two experienced cruise directors who are also PADI instructors, and three PADI certified local dive guides. The dive guide to guest ratio is 1:4. Detailed briefings are held in the restaurant whilst the equipment is set up by the crew. Two tenders are on hand to take divers to the best dive spots and ensure speedy pick-ups after the dive.
Depending on the schedule, 3 to 4 dives are offered each day, the fourth being a night dive. The days starts with a small breakfast, followed by the dive brief in the restaurant, and the first dive of the day. On return you'll have a hearty breakfast and time to relax before the second dive. After that it's time for lunch, time to relax and then the third dive.
After night dives guests are spoilt with hot chocolate and warm towels.
Nitrox is free of charge on Coralia, tanks are 12-litre aluminium (with a small number of 15ltr tanks available on request), and DIN & yoke regulators are catered for. For those who prefer to leave their dive gear at home, rental gear is available and it is recommended to reserve it well in advance.
For guests who would like to refresh their skills, continue their dive education, and also for the newbies, we offer PADI dive courses and specialties of all sorts.
As Coralia has 2 tenders they can accommodate both snorkelers and divers. Most dive sites are suitable for snorkeling as well, as the reef tops are quite shallow. So in most cases when divers are on the deeper reef there is a nearby site with a shallower reef suitable for snorkeling.
Dive Areas
The Coralia Liveaboard has itineraries between 7 and 11 nights in Raja Ampat and Komodo during the main season for each destination.
It also has a number of transition itineraries between each season which include some of the less-dived destinations such as Maumere, Alor, the Forgotten Islands, Banda, and Ambon.
You should know
All payments onboard (for extra drinks, massages, etc.) need to be settled in cash on checkout. The following currencies are accepted on board: USD, Euro & Indonesian Rupiah.
Live Availability and Pricing – applicable extras are listed below this panel
Please see pricing table below the availability panel for inclusions, exclusions, and extras.
Coralia Liveaboard Extras Payable Locally 2023
Valid until 30 April 2020
AUD
USD
7 Night trip full gear hire including computer
290
USD
|
290
11 Night trip full gear hire including computer
485
USD
|
485
15 Ltr tank hire per day
5
USD
|
5
It is possible to hire gear by the item by the day, so if you only need certain items just let us know and we can give the appropriate price.
Port, Fuel and Park Fees per person per trip
Raja Ampat
295
USD
|
295
Komodo and Alor
225
USD
|
225
Banda Sea and Forgotten Islands
325
USD
|
325
Komodo and Sumbawa
265
USD
|
265
Note that these fees are set by the relevant authorities and are subject to change without notice.
Discounts and surcharges:
* 10% discount on the cabin rates for returning guests (also applies for former Papua Explorers guests**)
* 10% discount on the cabin rates for non-divers / snorkelers
* 10% discount for triple-share in the lower deck double cabins
* The maximum combined discount is 15%.
** Consecutive stays on Coralia, right after the first time stay at Papua Explorers do NOT qualify for the returning guest discount.
Single Cabin Surcharge: 55%