Introduction
Location
Accommodation
Diving
Dive Sites
Pricing & Schedules
Enquire Now
The 'Komodo Liveaboard Diving Cruise' aboard the Adelaar liveaboard is regarded as the finest way to travel to Komodo. The signature 11 days / 10-night intimate trip departs every other Monday from Bali, and travels to Komodo with a return to Bali. The Adelaar's crew pride themselves on being the experts of the Komodo Liveaboard diving scene, as they have been sailing this unique maritime route for over two decades.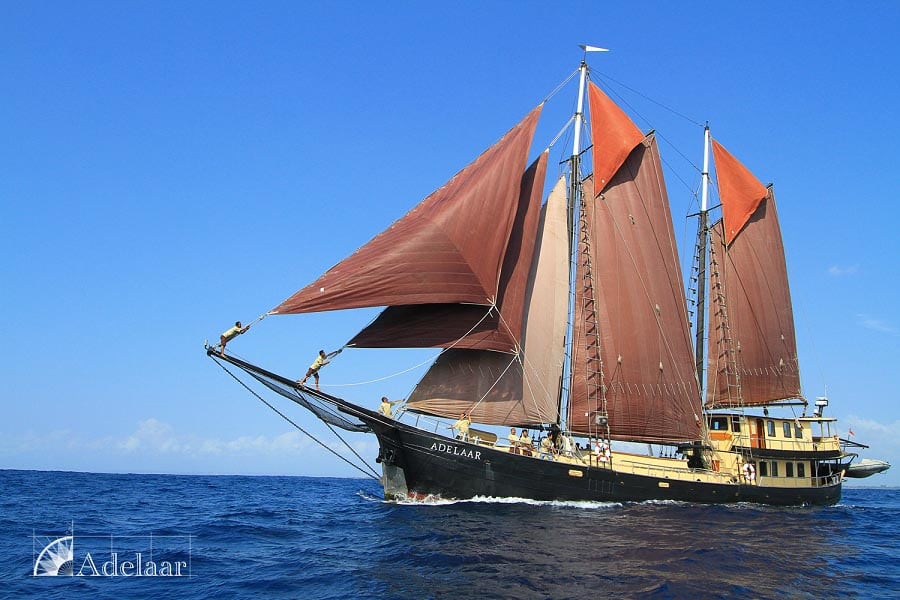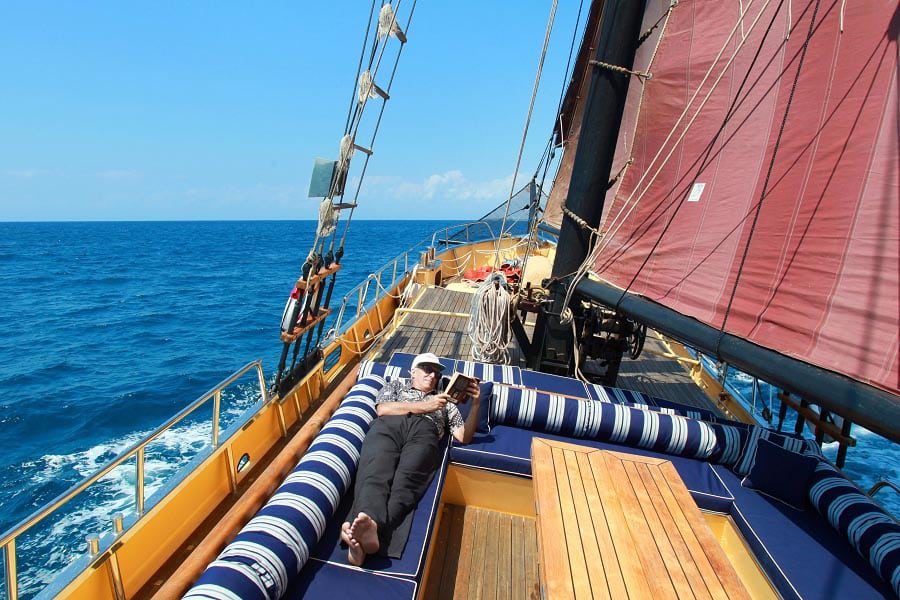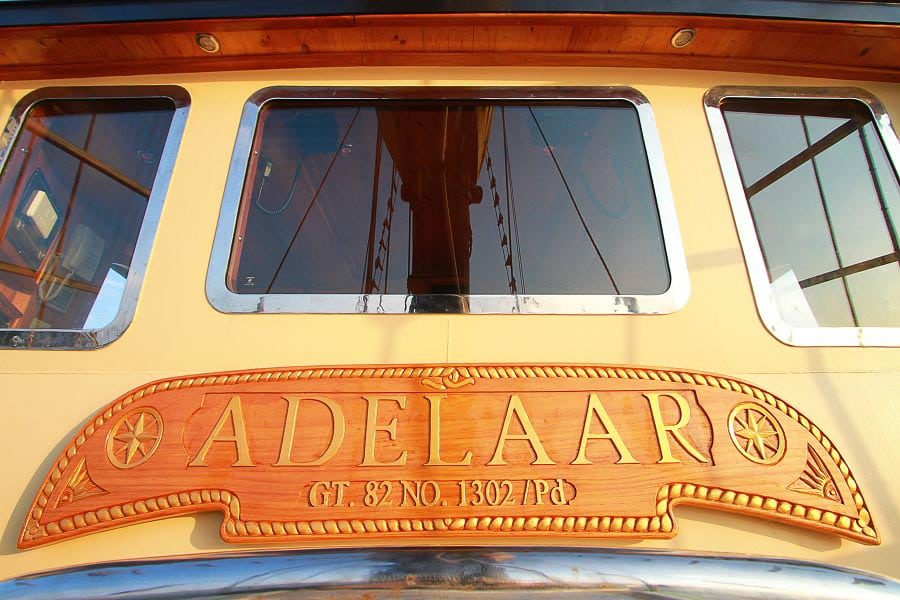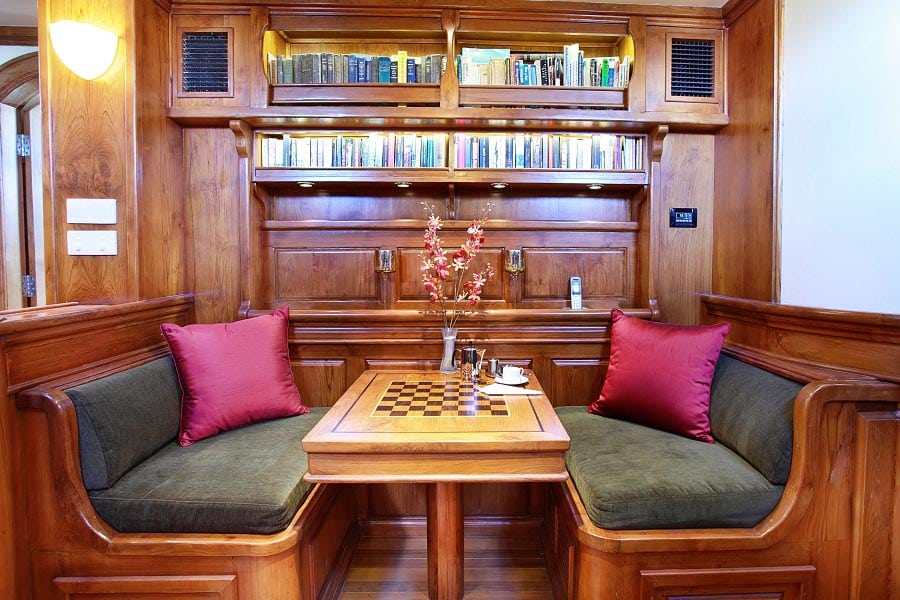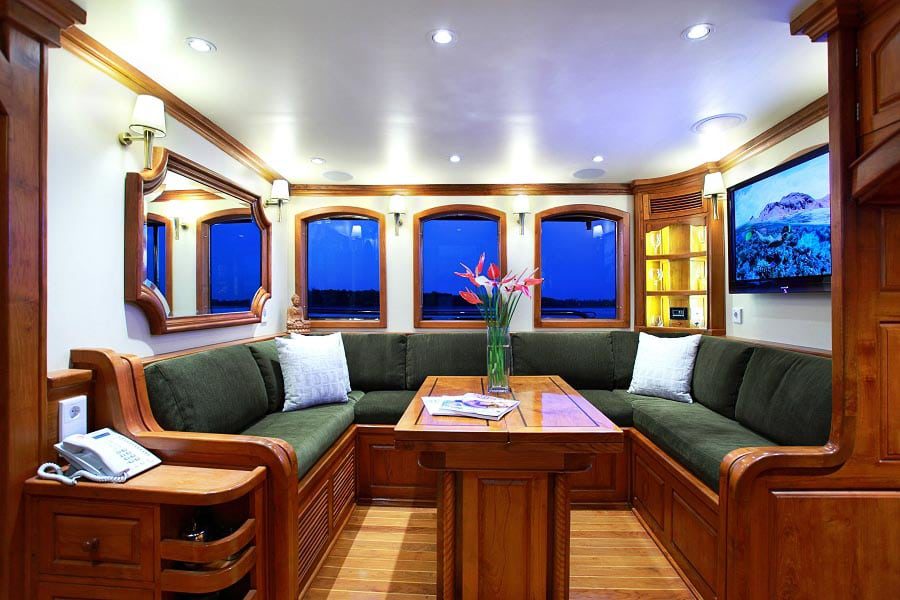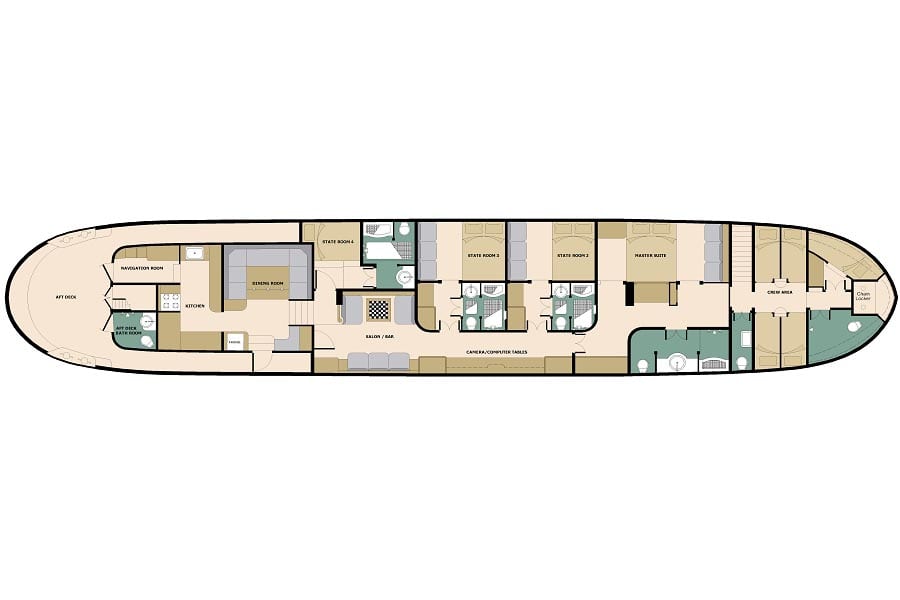 Features
Be prepared to be thoroughly pampered on this Komodo Liveaboard vessel, as you surface from your day of diving, you'll be treated in true Indonesian hospitality where guests are always guests. Sit back and relax, enjoy a delectable array of the onboard cuisine, freshly prepared each day, by our Balinese cooks. Sunsets always seem to be special at sea. Whether it is relaxing from a full day of spectacular diving, and winding down with a cocktail or anxiously anticipating that special night dive, while listening to the distant sounds of waves lapping on remote islands.
We think…
Whether a novice or seasoned diver, Adelaar's dive guides will take you to explore world-class dive sites only accessible by liveaboard.
Embarkation and disembarkation ports vary with itinerary – see Pricing Tab. Your Travel Consultant will ensure your connection to the liveaboard runs smoothly.
Adelaar Liveaboard Signature cruise – Bali – Komodo – Bali runs all year round.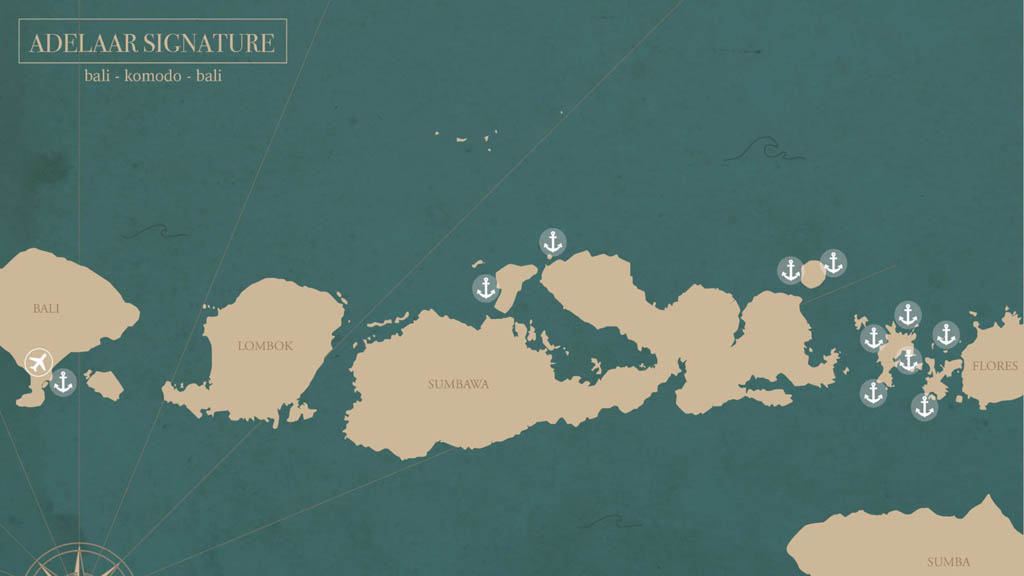 Adelaar Liveaboard occasionally runs a Komodo Exclusive itinerary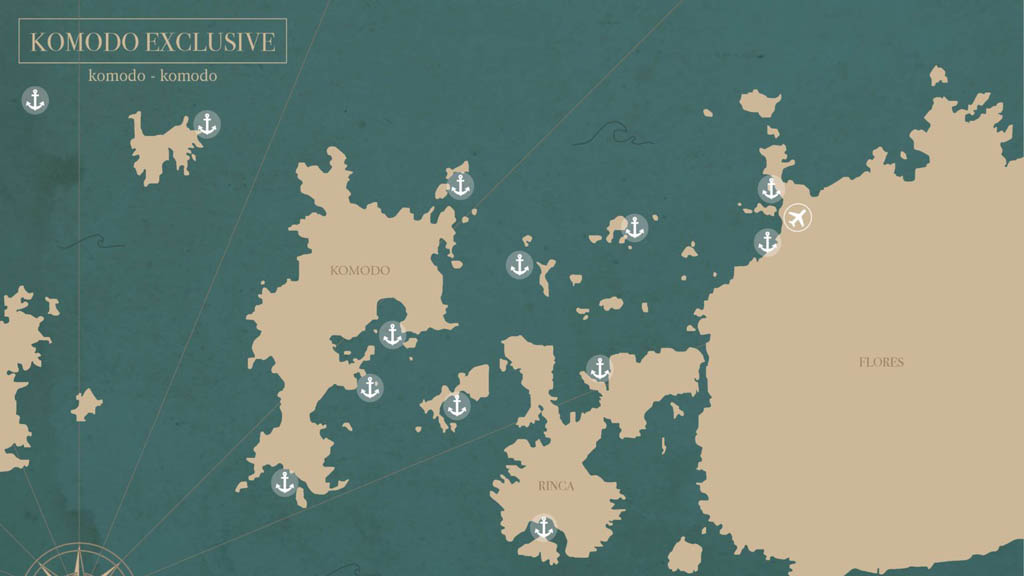 The much sought after Alor Archipelago itinerary is offered September to November each year.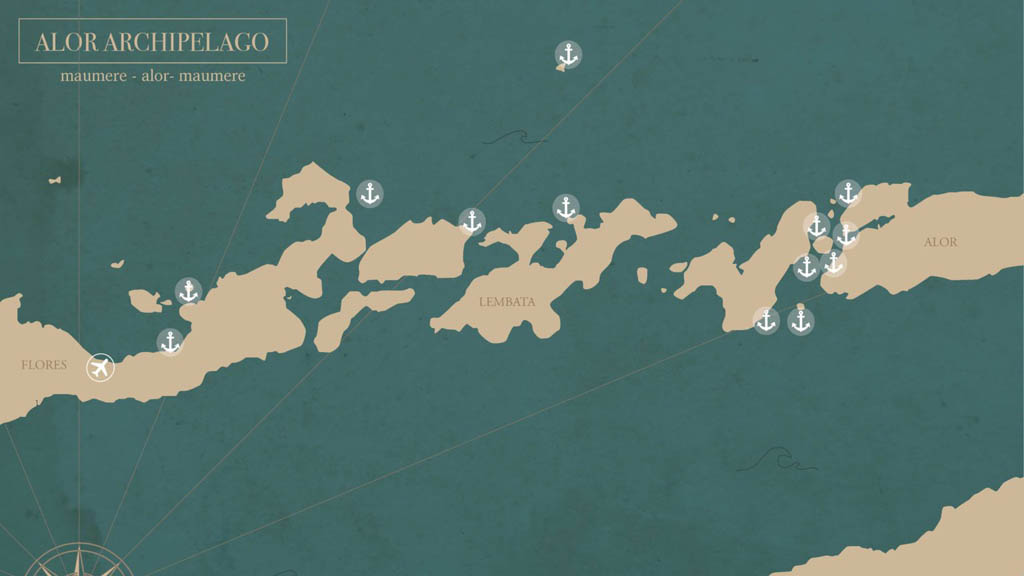 Adelaar comfortably accommodates up to 8 guests, in 4 double staterooms that are exquisitely furnished. All cabins come with en suite bathrooms, individually controlled air-conditioning, and flat screen TV with large on-demand music and movie selections from the ship's server. The rich teak interior, high ceilings, intricate Persian rugs and marbled en suite bathrooms lend to the feeling of elegance.
Master Suite: Double bed (160 x 207 cm), sofa (can be converted into extra bed for twin share), desk, 2-night stands, 2 closets and plenty of storage space.
Staterooms 2 & 3: Double bed (140 x 200 cm), sofa (can be converted into extra bed for twin share), nightstand, desk, closet and plenty of storage space.
Stateroom 4: Double bed (128 x 198 cm), (cannot be converted into extra bed for twin share), nightstand, closet and sufficient storage space.
Explore the luxury of the liveaboard with a virtual tour, and check out the deck plan to select your ideal cabin.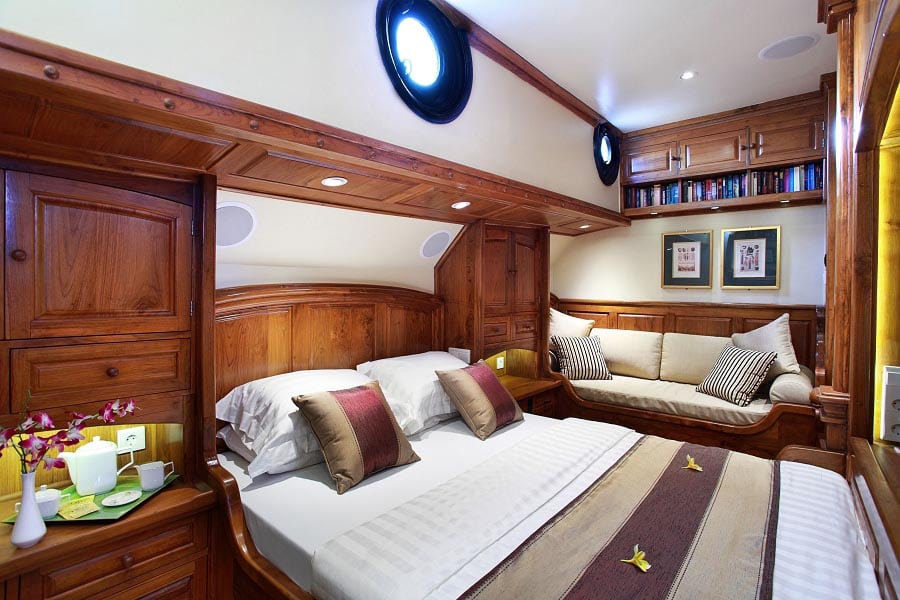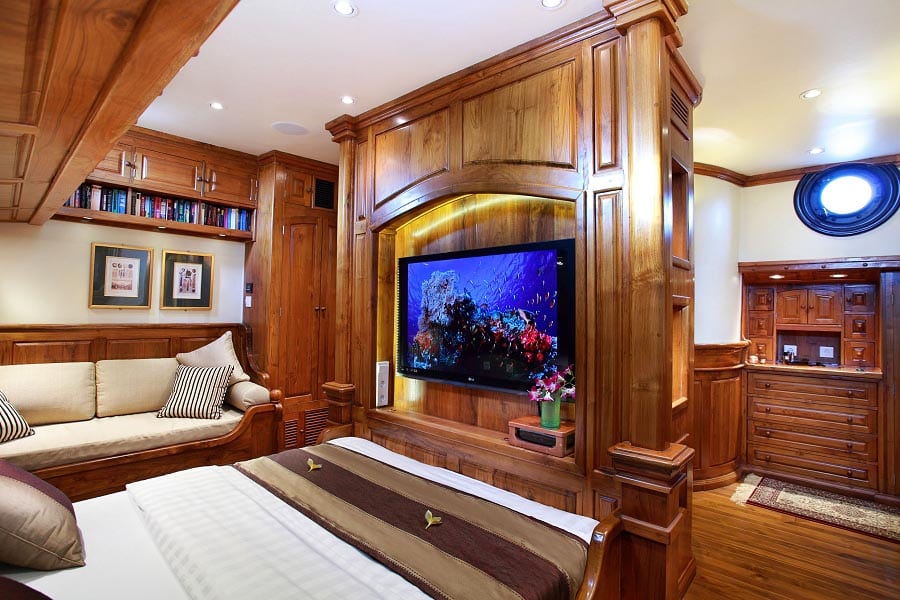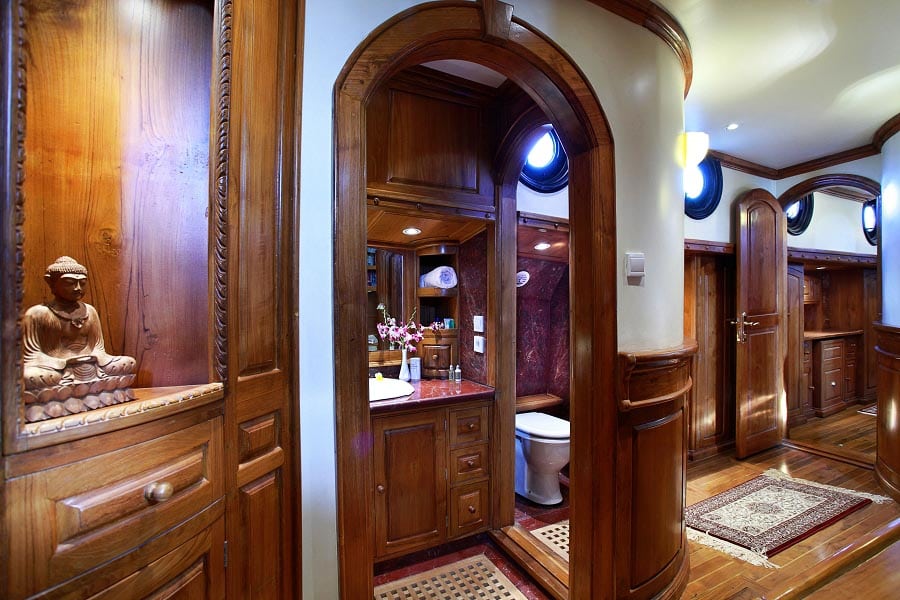 Adelaar runs their Signature cruise – Bali – Komodo – Bali all year round – check out the 11 day Itinerary here. The journey begins in Bali, and as you will sail along the string of sleepy islands through to Komodo, you will dive some of the least dived sites in Indonesia. Between dives, relax and soak up the stunning imagery of wild Indonesia. There are also many additional activities to be enjoyed, on both the water and land excursions.
Adelaar also runs a Komodo Exclusive itinerary and the much sought after Alor & the Banda Sea itinerary – a destination off the beaten track with world-class dive site nestled around untouched island.
Trip dates & availability
Please see pricing table below the availability panel for inclusions, exclusions, and extras.
Adelaar - Inclusions, Exclusions and Extras
Included
Accommodation as specified, all meals, snacks, water, coffee, tea & soft drinks, ship to shore transportation, all dives, tanks, weights dive guides, all harbor clearances (for Bali - Komodo - Bali itineraries only).
Single supplement surcharge is 75%
Excluded
AUD
EUR
Park Fees: Bali-Komodo-Bali cruises (11D/10N)
200
EUR
|
200
Park Fees: One-way cruises Bali / Komodo (11D/10N)
250
EUR
|
250
Fuel Surcharge per trip (depending on fuel price) from
250
EUR
|
250
Optional Extras
Full dive gear rental incl. dive computer per trip
400
EUR
|
400
Nitrox per Komodo trip
180
EUR
|
180
Nitrox per Alor trip
180
EUR
|
180
Nitrox per tank fill
10
EUR
|
10
Transfer Package: 1 - 4 persons (with same flight and hotel reservation) price per car. Includes: Airport – Hotel in southern Bali plus Hotel in southern Bali – Adelaar plus Adelaar – Hotel in southern Bali or airport
120
EUR
|
120
Important Information
This liveaboard's prices are in EUR. The AUD prices shown are based on the current exchange rate. The price paid in AUD will be based on the actual exchange rate at the time any payments are made.