Introduction
Location
Accommodation
Diving
Dive Sites
Pricing & Schedules
Enquire Now
Raja 4 Divers is located on Pulau Pef, a beautiful island about 50km south of the equator in the north-west part of Raja Ampat. The resort, which is under Swiss management, was built along a palm-fringed beach. As well as all the local and signature dive sites of Raja Ampat, guests have the whole island to explore, with its spectacular bays, hidden lakes, lagoons, exotic birds and lush flora.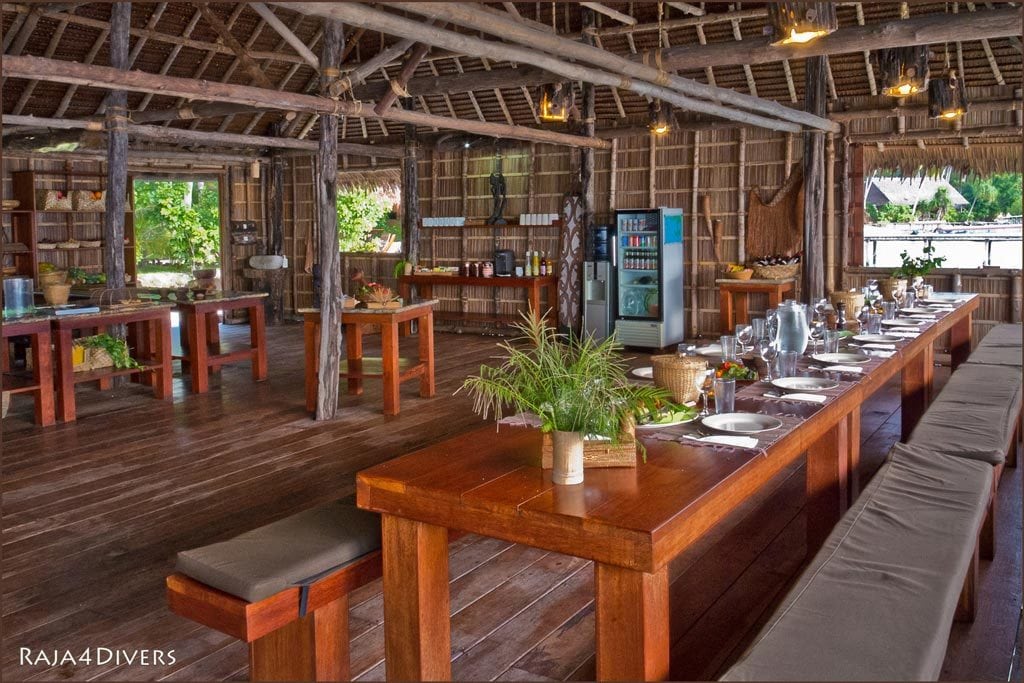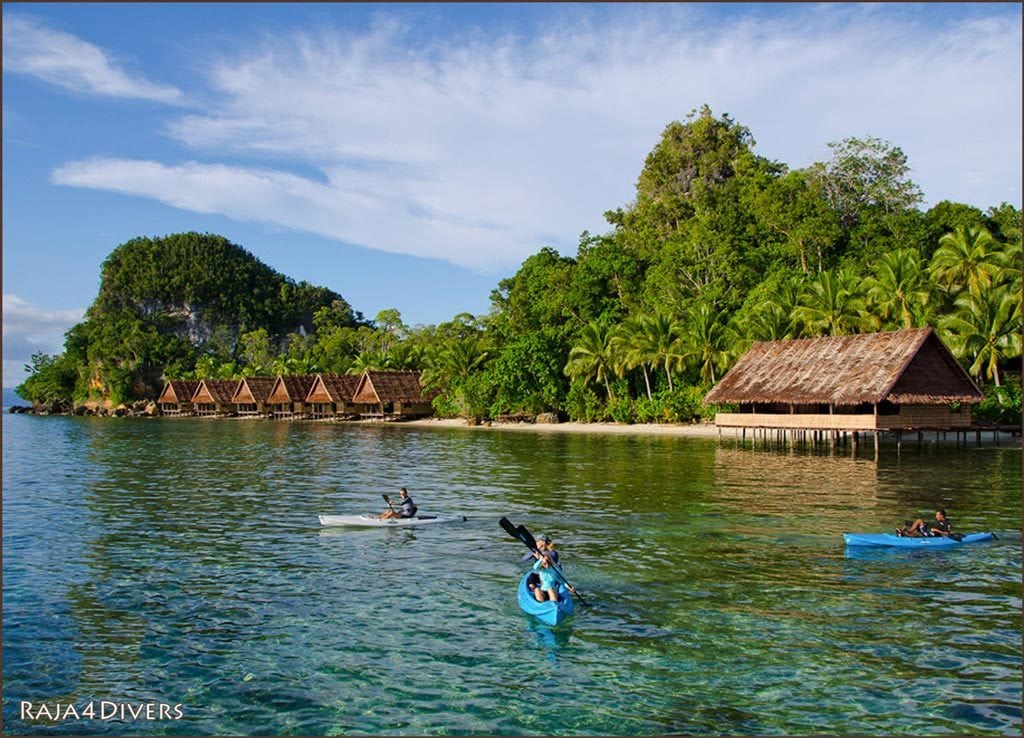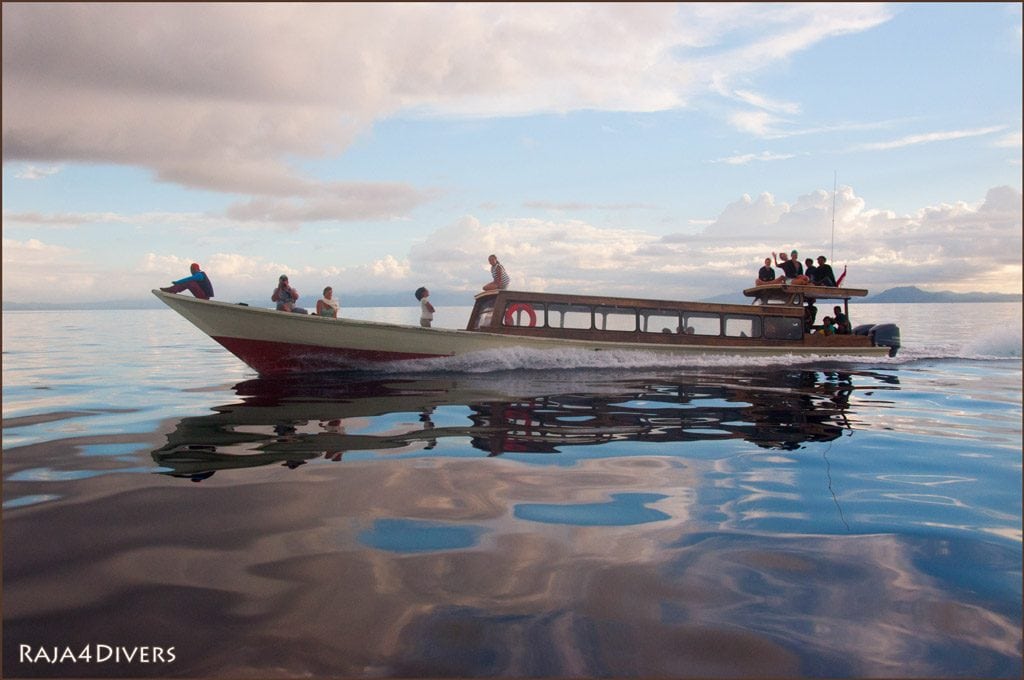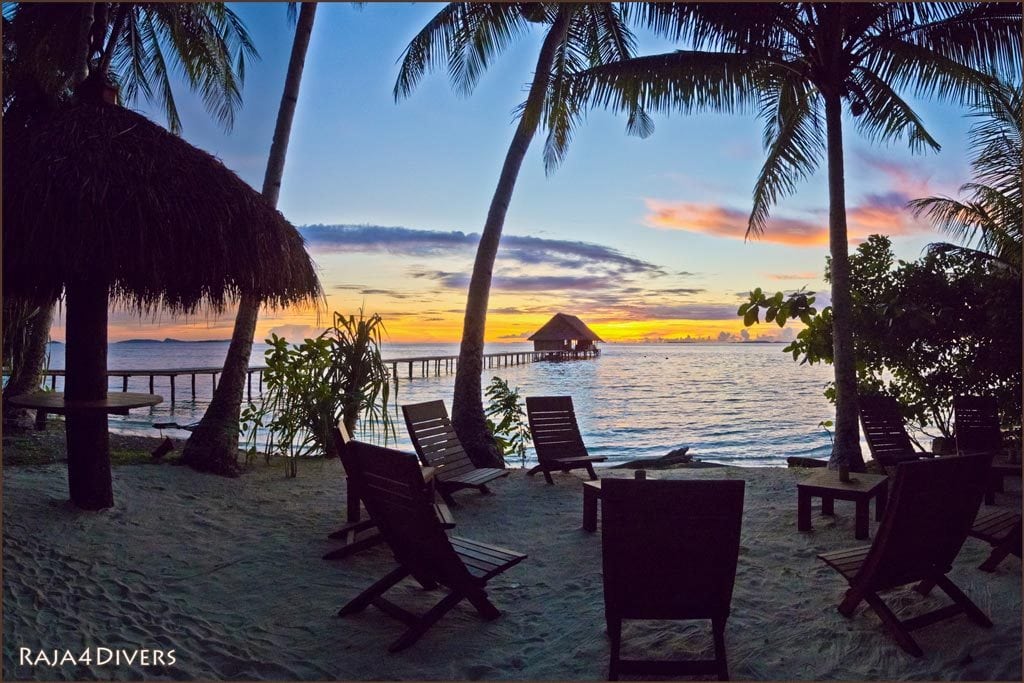 Activities
Pulau Pef is a mini Raja Ampat all in one – meaning that it offers not only diving and snorkelling on the house reef and a large variety of dive sites in the general area surrounding the island but also a host of other exciting activities close to nature – hiking, climbing, kayaking, swimming, sunbathing, walking, photography, bird-watching or just plain relaxing!
You should know…
Any incidentals at the resort are payable in cash only. Euro, USD, CHF or IDR are accepted. No credit card facilities are available at the resort.
Staying Connected
Wi-Fi internet is available on the island, however, for the time being, there is no cell phone signal.
We think…
Raja Ampat has so much diving to offer. This resort is a welcome addition, well managed and in an exciting location.
Raja 4 Divers is located on Pulau Pef, a beautiful island about 50km south of the equator in the north-west part of Raja Ampat.
Transfers
There is only one scheduled boat transfer to the resort on Saturdays. Guests must arrive in Sorong before 9.30am for the same day transfer to the resort. The boat departs at 10.00am. The transfer boat will only wait until noon for delayed flights.
All guests return to Sorong on Friday evening and stay one night at the Swiss-Belhotel (inclusive in the accommodation rate). Guests can depart at any time on Saturday.
The resort accommodates up to 18 guests in spacious water bungalows, all built in the traditional Papuan method using local materials. Each bungalow has an indoor/outdoor bathroom with hot and cold water, mini-fridge, tea/coffee maker, iPad, water dispenser, writing desk, mini-safe, bath towels, swimming towels and a large sunset deck with sun lounges, hammock, steps into the water and glorious sea views.
The over-water restaurant serves a delicious cuisine using local produce and flavours. The new Pef Bar at the sunset lounge offers soft drinks, beer, wine, juices and daily specials.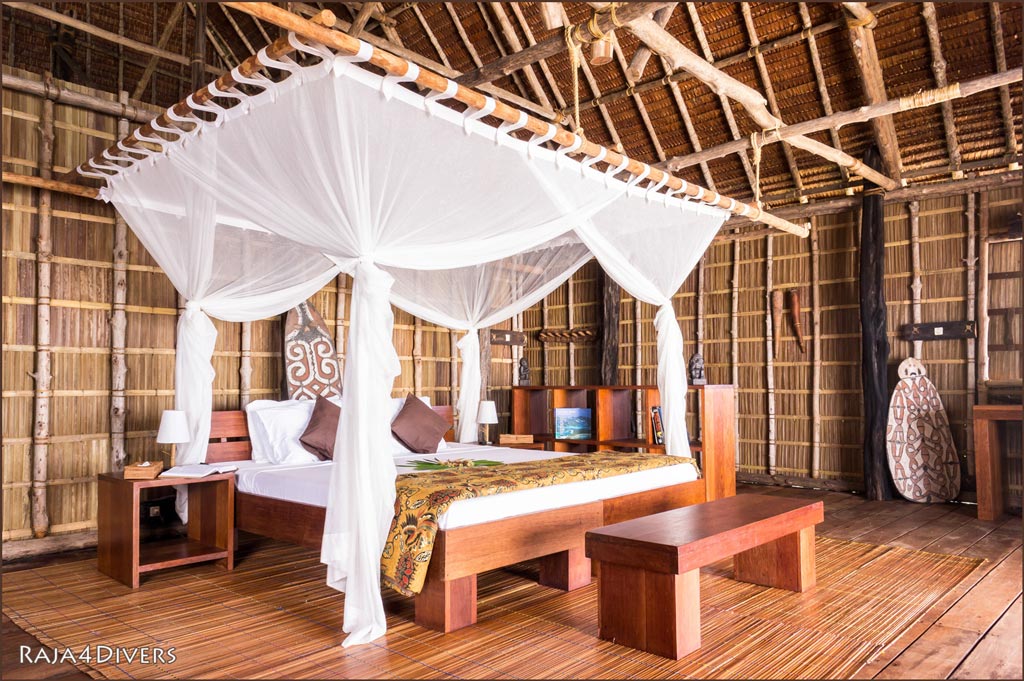 The dive centre is located in the main building at the start of the jetty, and the wet/dry storage areas are conveniently located at the pier at the end of the jetty, where dive briefings are held and the dive boats are docked.
For maximum convenience, divers' personal diving gear is stored at the end of the jetty for the duration of the trip. Photographers are welcome to use the climate controlled Imaging Studio facilities for storage and set-up of their imaging gear. Nitrox is offered free of charge.
Dive Service
The three dive boats, Pef II, Pef III and Pef IV have quiet and fuel-efficient twin Yamaha 50hp 4-stroke outboard motors, built-in shade protection, and have been custom fitted to maximum space and comfort, offering a maximum of eight divers per boat. Each dive boat is equipped with standard safety equipment – First Aid kit, First Aid Oxygen, tools, compass, GPS and 2-way radio, as well as dedicated padded camera crates, drinking water and towels on all trips.
Three guided boat dives (plus a night dive) plus dives on the beautiful house reef are available each day. The ratio is one dive guide to four divers with a maximum of eight divers per boat. The boat rides to dive sites take between 3 and 60 minutes (no fuel surcharges). Nitrox is offered free of charge.
Dive area
There is a great variety of dive sites in the immediate area surrounding Pulau Pef, from sites dripping with lush soft corals, to spectacular hard coral gardens, slopes, critter sites and mantas, not to mention one of Raja Ampat's most celebrated dive sites 'The Passage' – a winding river-like gap between Gam and Waigeo, which is close by.
Diving is tailored to suit the mix of weather conditions, logistics and guests' wishes. Around Pulau Pef there are a myriad of dive and snorkelling sites, with a fascinating variety of habitats and experiences. During a typical week, it is possible to see many varieties of schooling fish, pygmy seahorses, nudibranchs and small critters, wobbegong sharks, the endemic Raja Ampat walking sharks, bump-head parrotfish, turtles, giant trevally, barracuda, manta rays and just about every reef fish and critter in the book, set against a back-drop of the healthiest hard and soft corals in the world.
The water temperature is a constant 28-30°C (82-86°F) and visibility varies between 15 and 30m / 50 and 100ft.
Pricing for Raja 4 Divers Resort 2023
Peak Season: 7 Jan to 10 Jun 2023 / 30 Sep to 23 Dec 2023
AUD
EUR
7 nights double/twin room with 5.5 days diving
3048
EUR
|
3048
7 nights single room with 5.5 days diving
4054
EUR
|
4054
Off-Peak Season: 8 Jul to 30 Sep 2023
AUD
EUR
7 nights double/twin room with 5.5 days diving
2875
EUR
|
2875
7 nights single room with 5.5 days diving
3824
EUR
|
3824
5.5 Days Diving Includes:
up to 3 guided boat dives daily + 1 optional night dive + house reef dives, tanks, weights, air, Nitrox, boat, dive guide, 15% Government Tax
EUR
This resort's prices are in Euro. The AUD prices shown are based on the current exchange rate. The price paid in AUD will be based on the actual exchange rate at the time any payments are made.
Price includes accommodation as specified (6 nights at resort + 1 night in Sorong incl. breakfast), all meals, snacks, water, coffee, tea, fruit, snacks, WiFi, laundry, kayak rental, snorkelling by dive boat, 15% Government Tax
Please use the [Enquire Now] tab to give us your exact requirements and we'll give you the best deal we can.