Introduction
Location
Accommodation
Diving
Pricing & Schedules
Enquire Now
The world-renowned Pelagian liveaboard is under Wakatobi management and is mainly based at the Wakatobi Dive Resort in South Sulawesi. This combination brings together the Pelagian's sought-after luxury and spaciousness with the quality and assurance of Wakatobi Dive Resort, one of Indonesia's most reputable dive operations. The Pelagian Liveaboard offers 7-night itineraries starting every Monday.
For many years, the Pelagian liveaboard has widely been regarded as one of the premier dive liveaboards in the Southeast Asia/South Pacific region. During this time, it's earned an unparalleled reputation for quality operations and unique itineraries. Pelagian's credits include numerous documentaries, features and stories in National Geographic, diving and travel magazines, and television productions around the world.
Facilities
The world-class M/Y Pelagian offers top class live-aboard diving in great style. Originally built as a 115ft world ranging motor yacht, she accommodates 10 guests very comfortably with tremendous range and sea-keeping abilities. With only 10 guests on a vessel of this size, and with between eight and ten crew, there is plenty of room to spread out and plenty of staff on hand to ensure that your holiday goes smoothly.
The comfortable salon has stereo and video facilities, as well as a comprehensive library, and there are a separate dining area and a dedicated photo room for underwater photographic equipment. A large sundeck offers both sunny and shaded areas for lounging, and the aft deck serves both as a pleasant place to see the sundown and as the staging area for our diving activities.
We think…
This is one of the most comfortable liveaboard vessels in the world, which offers top service and outstanding diving.
Pelagian Liveaboard itineraries depart from Wakatobi Resort
Accommodation
The Pelagian liveaboard accommodates up to 10 guests in 5 cabins:
Standard Cabin (#6) Lower deck
Ideal for twin occupancy and single divers sharing. Private bathroom & porthole. The smallest of the cabins on board.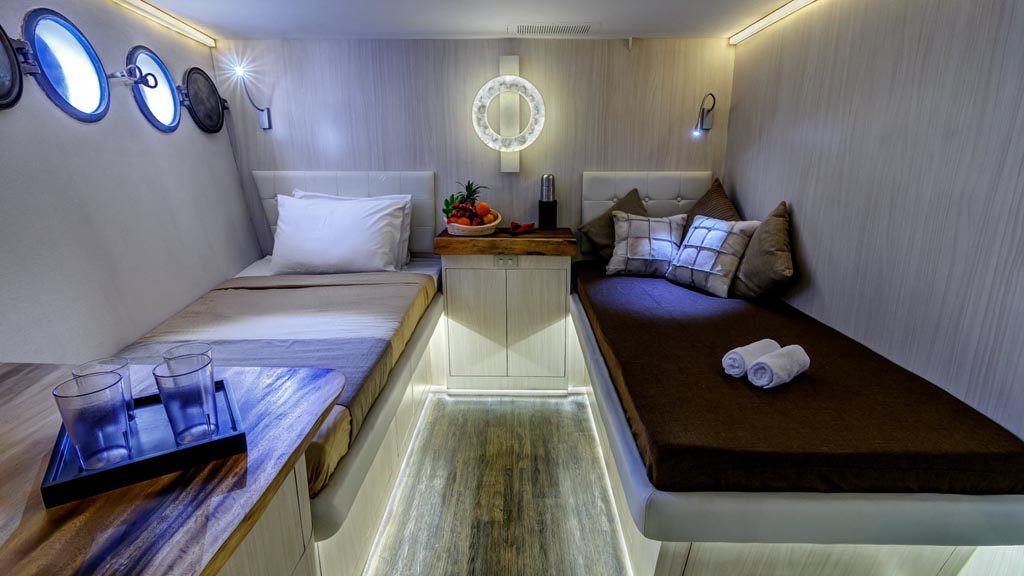 Deluxe Cabin (#2) Lower deck
One double & one single bed above, ideal for double or twin occupancy. Private bathroom. More spacious than the standard cabin with plenty of storage space.
Superlux Cabins (#3, #5). Lower Deck
Located at the stern with its own staircase access from the saloon. One double and one single bed. Large private bathroom. Plenty of floor space, very quiet.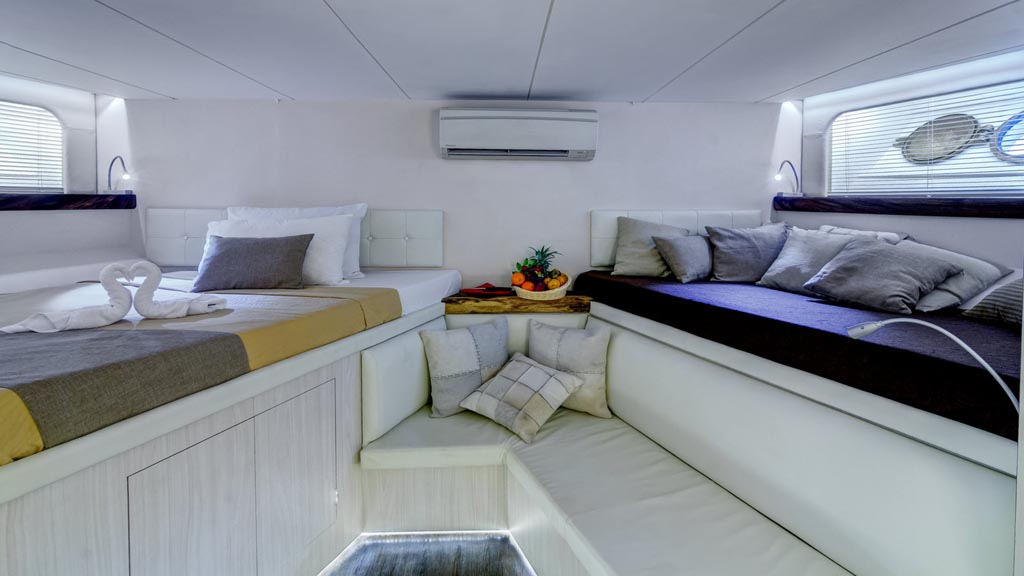 Master Suite (#1). Main Deck
A very large cabin with same level access from saloon. Spacious private bathroom with separate shower cabin, a long vanity with double mirrors and a WC. One king size bed. Sofa, lounge chair entertainment centre with stereo, DVD player and TV. Separate little beauty room in the front of the cabin.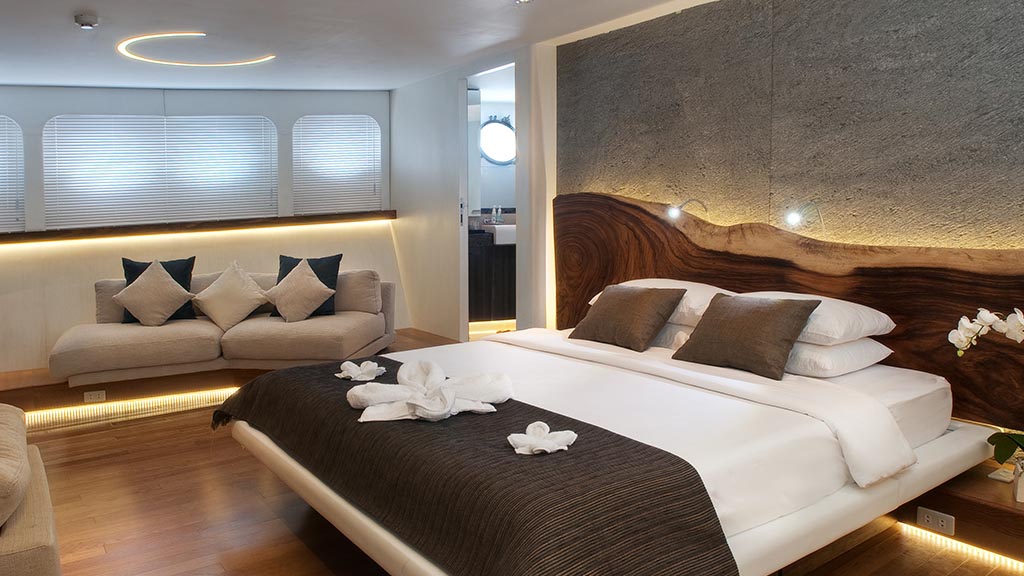 The Pelagian liveaboard features a convenient platform at the stern, with a large, diver-friendly ladder, though usually it's easier to zip over to the dive site in one of the two custom-designed 6m (18ft) rigid-bottomed inflatable tenders. These boats have centre consoles with attached tank racks, onboard oxygen, radio communications and terrific rigid ladders. Nitrox fills are available on board for an additional fee, and so are Nitrox certification courses.
Dive areas
For divers, Pelagian's new home at Wakatobi means offering new and exciting diving opportunities in the extended Wakatobi region. This much-researched area is home to some of the most prolific coral reefs in all of Indonesia.
Wakatobi Islands: The reefs of the Wakatobi region provide a habitat for the tiniest to the largest and the most beautiful to the weirdest of marine creatures. Many of the sites are remote pinnacles and steep ridges where the currents attract a huge variety of species. There will be an opportunity to explore the outer reefs of the Wakatobi islands including the smaller eastern and southern islands of Moromaho and Runuma, the big reefs of KarangKaledupa, and the fascinating (but so far almost unknown) 'critter diving haven' of Buton island, as well as the best of the reefs around Wakatobi Dive Resort.
The dive sites at Binongko Island are very dramatic with shear walls filled with black coral overhangs populated with schools of fish and coral-covered reef tops with swim-throughs draped in colourful soft corals. Within these soft coral overhangs divers can find some fascinating small critters such as peeping blennies, dottybacks, gobies and some very photogenic sea spiders.
The Eastern Islands are the most remote islands of the Wakatobi islands group and are consequently the least dived. Some of these small, palm-covered, low lying islands still have sea gypsy villages on stilts. Giant overhangs, dramatic canyons and fabulous drop-offs combined with very clear water, superb diversity, profuse and healthy coral and rich fish life make for some wonderful diving.
KarangKoromaha is an atoll of around 6 kilometres in diameter, from where it is possible to see Tomia Island (where Wakatobi Dive Resort is located). Deep walls and steep slopes, overhangs with huge cracks, delicate hanging soft corals and cracks and crevices rich in invertebrate life make these dives a delight for photographers and videographers as well as those who dive armed only with a magnifying glass. Reef corners in this area attract huge schools of fish. Search under table corals for sweetlips lurking below.
The large island of Buton, southeast of Sulawesi, has some very special dive sites with some amazing inhabitants. Shallow dives of no more than 7m hold such marine 'treasures' as flying gurnards (often in pairs), throngs of pipefish, ghost pipefish, frogfish in a variety of colours, juvenile black snappers, marbled snake eels, octopus, crabs in every shape, size and colour and anemones galore. Devil scorpionfish, stonefish, cockatoo wasp fish, blue-ringed octopus, are also found in this area.
Enquire for Trip dates & Availability
Pricing for Pelagian Liveaboard 01 Jan 2018- 31 Dec 2019
AUD
USD
7 Nights Standard cabin with 6 dive days
3515
USD
|
3515
7 Nights Deluxe cabin with 6 dive days
3830
USD
|
3830
7 Nights Superlux cabin with 6 dive days
4530
USD
|
4530
7 Nights Master Suite with 6 dive days
5300
USD
|
5300
Return charter flight Bali-Wakatobi-Bali(USD 590-USD 860pp based on seasonality and demand!)
675
USD
|
675
Sole occupancy rates apply for single travellers
This resort's prices are in USD. The AUD prices shown are based on the current exchange rate. The price paid in AUD will be based on the actual exchange rate at the time any payments are made.
Included:
*Standard, Deluxe, Superlux Cabin or Master Suite accommodation
*All meals (three multi-course chef-prepared meals + snacks)
*24 hours tea/coffee/hot chocolate, drinking water
*Daily turndown service
*Four tender boat dives per day, all at 70 minutes
*Multilingual highly trained instructor-level dive guides
*Tanks, weights and unlimited air refills
*Optional village tour on last day
*Greeting service upon arrival into Bali
*Substantial marine park protection and community development contribution
Please use the [Enquire Now] tab to give us your exact requirements in terms of Trip#, dates, number of divers/snorkelers, and we'll give you the best deal we can.
Pelagian Liveaboard Wakatobi Extras Payable Locally
AUD
USD
Nitrox fills (per dive day + VAT)
25
USD
|
25
Full set of dive gear rental incl. computer (per dive day + VAT)
30
USD
|
30
This resort's prices are in USD. The AUD prices shown are based on the current exchange rate. The price paid in AUD will be based on the actual exchange rate at the time any payments are made.
Important Information
Special payment and cancellation terms apply for this operator.
Note: Celebrity hosted cruises may attract a surcharge.
Extended Stay, Loyalty and Other Benefits
Stays of more than 7 nights receive a 5% reduction.
Stays of more than 14 nights receive a 10% reduction.
Repeat visitors can enjoy an additional graded loyalty reward of between 5% and 15%.
With timely payments you may deduct another two percent from your invoice total.
Early payment provides discounts of up to 5% percent from your invoice total.