Introduction
Location
Accommodation
Diving
Pricing & Schedules
Enquire Now
Alami Alor Dive Resort is a boutique dive resort set in a tropical forest on a volcanic rock beach, offering three dives per day to a mixture of coral reef and muck diving sites.
The resort provides personalised service to each guest, accepting a maximum of 12 divers. Up to three guided boat dives are provided each day to a mixture of coral reef and muck diving sites, and complimentary dives on the stunning house reef day and night.
The resort caters to underwater photographers with wide-angle and macro dive sites, camera room at the resort, and on-site Photo Pro. Full and half resort charters are available, with no single supplement on groups of 11 or more guests.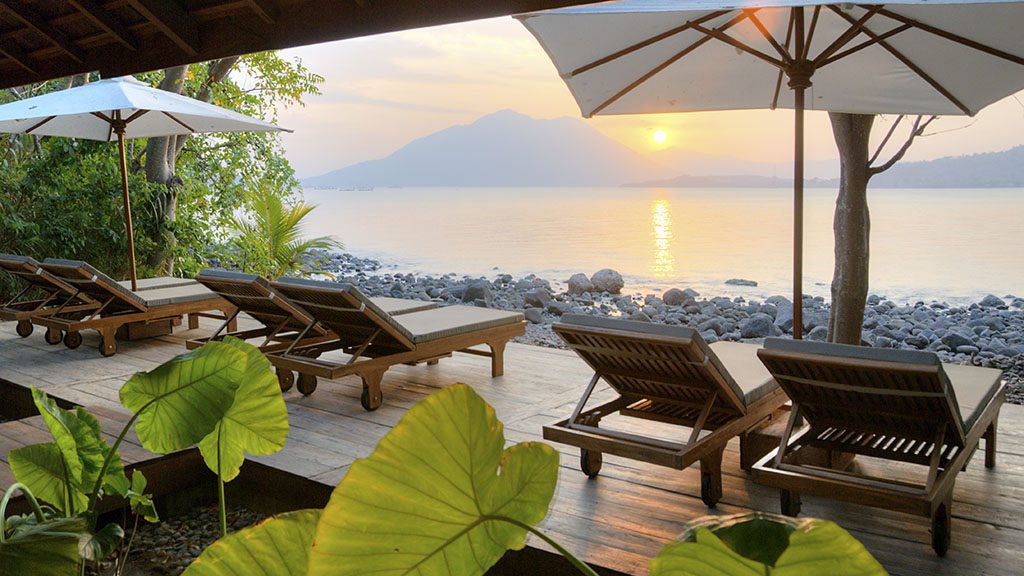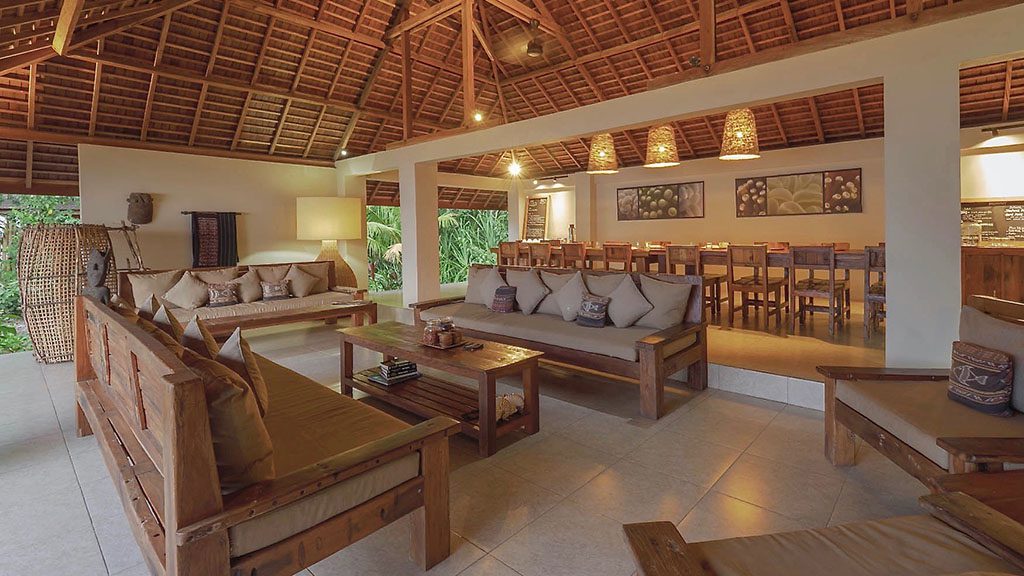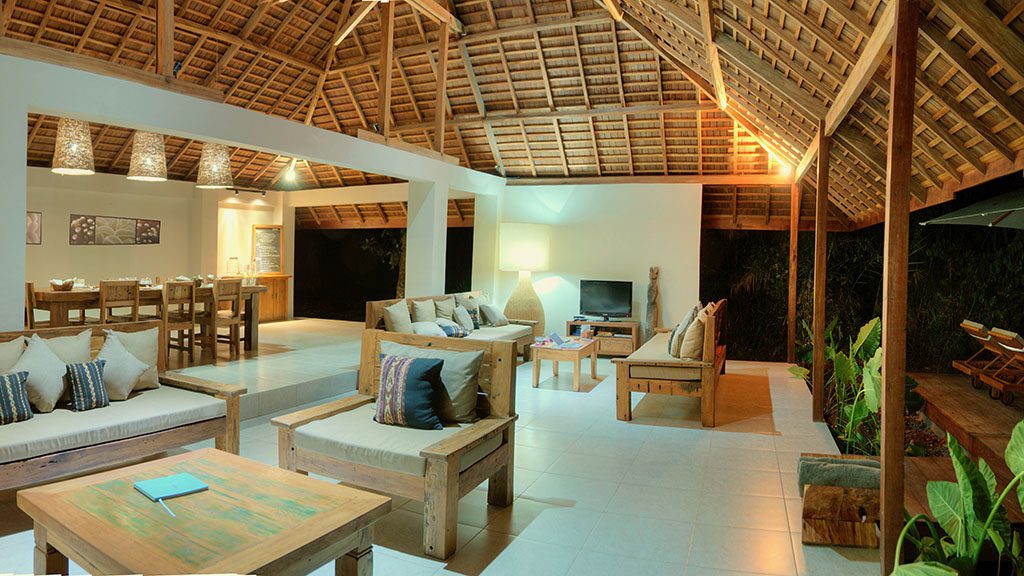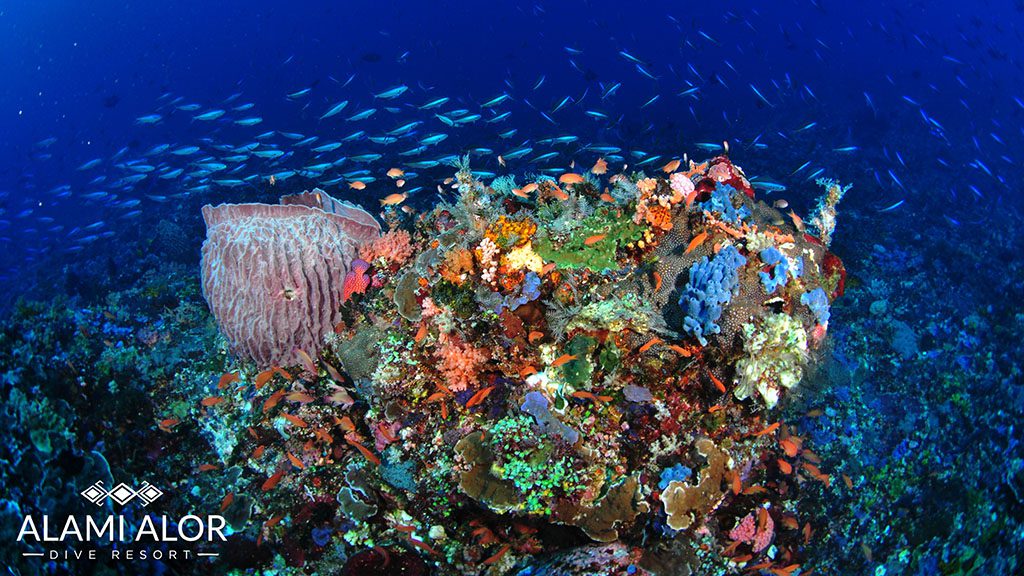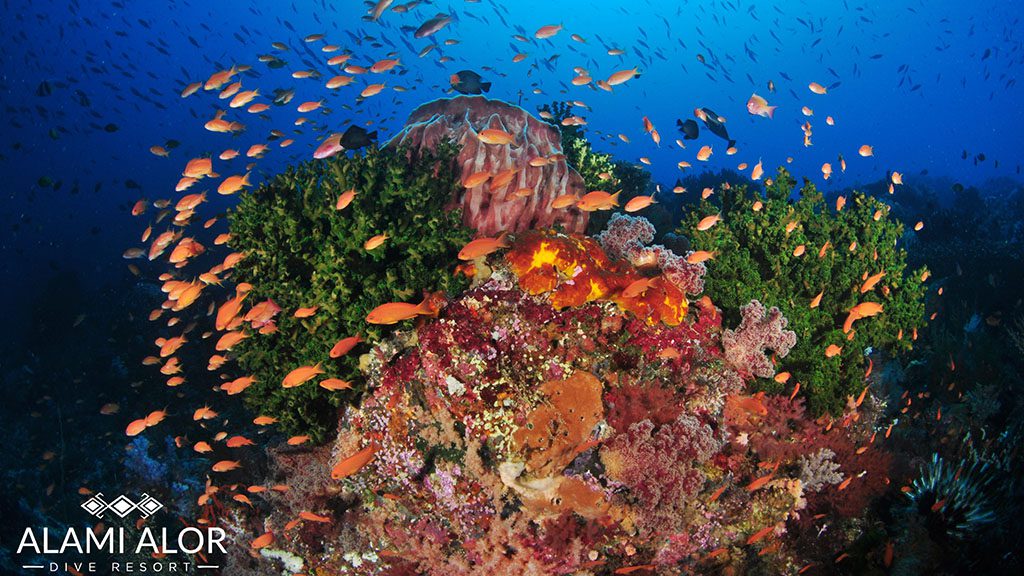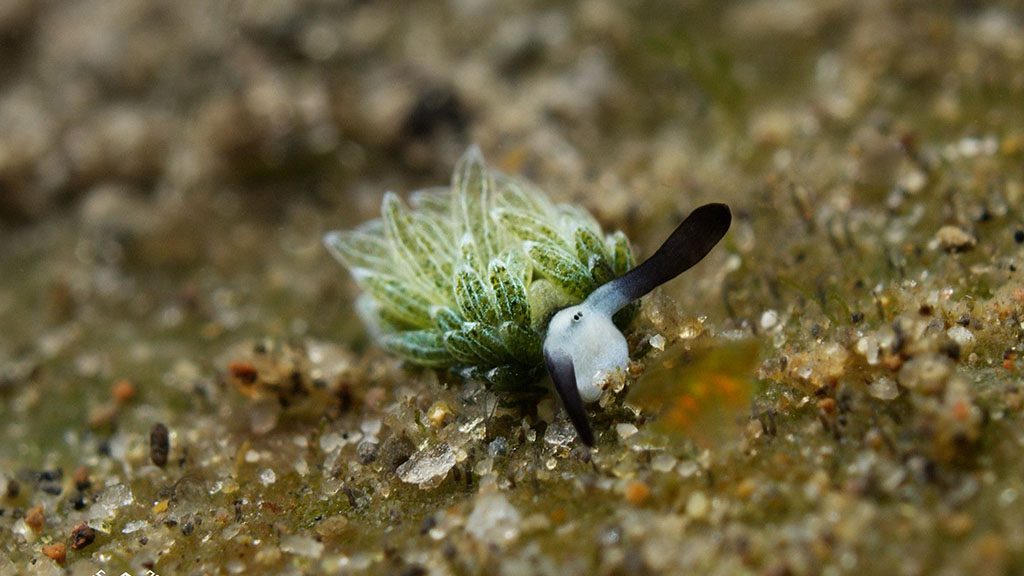 About the Resort
The Central Guest Area is located in a central location at the waterfront. All meals are served in the dining room at a long communal table as the resort is full-board as there is nowhere for guests to go for outside meals or drinks. Breakfast, Lunch and Dinner are served at scheduled times daily. Breakfast is a la carte, while Lunch and Dinner are set menu and served family-style. Breakfast is a choice of western or Indonesian options, while lunch and dinner are a home-style Indonesian & tropical themed menu. We can easily cater to vegetarian, vegan and other dietary requirements.
Self-service afternoon tea with snacks and a small bar selection of local beer, Southern Hemisphere wine (Australia, New Zealand, Chile) and spirits (gin, vodka & rum cocktails) are also available in the lounge.
Wifi is available in the central guest lounge only. While the resort is in a remote location, the signal is usually quite good, but subject to availability by the national provider Telkomsel.
220V AC, European 2-prong outlet. Adaptors and power strips available at the resort.
Tipping is not required and based on guest discretion. The resort recommends a base USD $10 from each guest per day for resort staff and dive crew. Gratuity is divided between all members of staff.
We think…
Alami Alor dive resort provides a 5-star diving and accommodation service despite its remote location. The resort's small size ensures an intimate diving experience. The diving is pristine, with a range of underwater attractions to please lovers of macro and big stuff.
Alami Alor is located on Alor Island which is at the very eastern end of the Nusa Tenggara island chain (1700 km due east of Bali.) This area of Indonesia is fairly disconnected from the rest of the country, so travel while not difficult can take longer than it does to other more touristy parts of the country. This point is balanced by the feeling once arrived of being in a remote and exclusive destination as there is still a "back in time" authentic Indonesia feeling with the people and the Island, plus the rare sighting of any other foreign visitors or other divers and snorkelers on the sites.
Once on Alor Island, airport to resort transfers is organised by the resort and included in the dive & stay package. Alami Alor Resort is a 50-minute drive from the airport.
Guest Accommodation is provided in spacious and private bungalows, with 6 bungalows along the waterfront and 1 bungalow set back in the garden. All guest rooms have an air-conditioned bedroom plus ceiling fan, wardrobe & computer desk, an open-air bathroom with hot water rain shower, and front terrace for relaxing outdoors.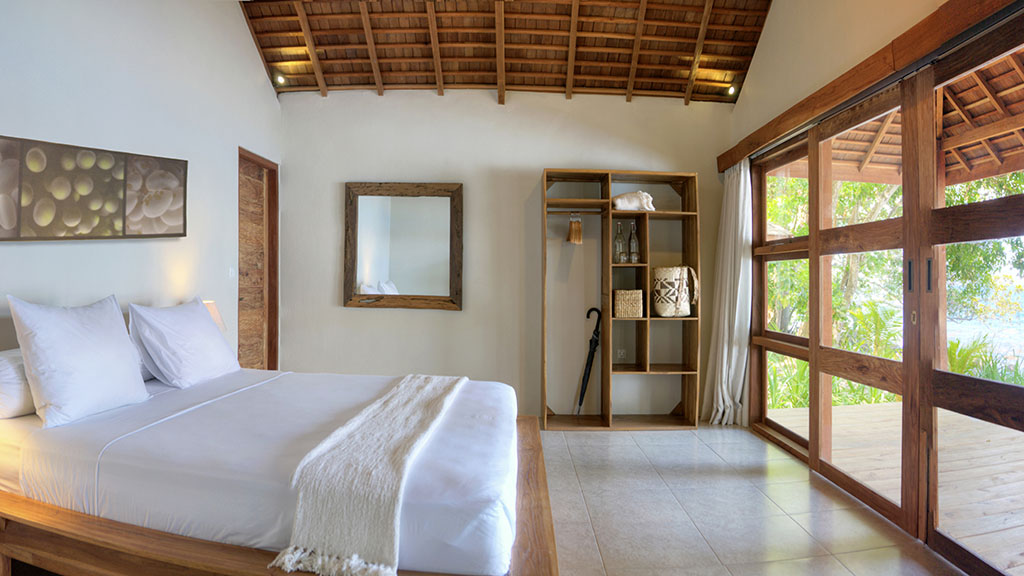 Diving Alor
Diving Alor, you can expect to see a wide range of coral walls and coral slopes, fields of anemones, caves. Macro and muck sites on black sand, red sand and white sand and the occasional pelagic surprise. Dolphins are occasionally spotted from the dive boat, and thresher sharks, mola mola and schools of hammerhead sharks sometimes surprise divers.
Alami Alor Resort provides personalized service and the remoteness of the area, with experienced local guides. Diving is planned daily with the specific dive site selection dependent on the best tidal conditions. Guests are divided over two speedboats with a maximum of 6 guests on each boat (unless requested otherwise.)
Guide to guest ratio is maximum 4:1 and resort staff try to group divers with similar interests and experience levels. The resort caters to certified divers only, so no courses are on offer. The diving service is focused on guiding guests to see beautiful landscapes and finding unique critters.
Diving packages include a set number of guided boat trips, unlimited unguided house reef dives, tanks & weights and Alor Marine Park fees. Additional guided boat dives are subject to conditions/availability and additional fee which.
Alor is also suitable for snorkelers, with shallow coral reefs reachable by boat and a stunning house reef with shallow areas and clear water. Snorkelers can choose to join the morning dive boat and explore the reefs independently or pre-book a snorkeling guide to accompany them on a tour.
The Dive Center, Camera Room & Pier are located together at one end of the resort. The diving service is full service, so the dive center is used mostly for staff only as it is where dive gear is cleaned & stored, where tanks are filled and equipment repaired or serviced.
Guests can use the air-conditioned camera room to store, charge and setup their camera systems. Soak tanks and a drying station are available just outside at the top of the pier. The resort's in-house Photo Pro is available for advice on camera equipment and underwater photography.
The resort pier is approximately 25 meters long and has a shaded seating area at the end, plus pivoting floating platform that makes boarding the dive boat or entering the water for a house reef dive as easy for guests as possible at any time (the region experiences tidal movement of up a 3m depending on moon phase).
Aluminum DIN tanks with built-in International Adaptor Nitrox 32% 12L / Nitrox 32% 15L (extra charge). Air tanks available for divers not Nitrox Certified.
You Should Know
Water temperature is between 20 to 26°C on southern sites, 26 to 29°C on northern dive sites. 3mm to 5mm wetsuit recommended. Rental equipment is limited.
Pricing for Alami Alor Dive Resort
Valid from 1 Jan 2023 - 31 Dec 2023
AUD
USD
7 Nights Waterfront Bungalow (double/twin-share) with 10 dives & all meals
2244
USD
|
2244
7 Nights Waterfront Bungalow (single) with 10 dives & all meals
3224
USD
|
3224
7 Nights Waterfront Bungalow (double/twin-share) with 15 dives & all meals
2508
USD
|
2508
7 Nights Waterfront Bungalow (single) with 15 dives & all meals
3488
USD
|
3488
Valid from 1 Jan 2024 - 31 Dec 2024
AUD
USD
7 Nights Waterfront Bungalow (double/twin-share) with 10 dives & all meals
2332
USD
|
2332
7 Nights Waterfront Bungalow (single) with 10 dives & all meals
3382
USD
|
3382
7 Nights Waterfront Bungalow (double/twin-share) with 15 dives & all meals
2604
USD
|
2604
7 Nights Waterfront Bungalow (single) with 15 dives & all meals
3654
USD
|
3654
This resort's prices are in USD. The AUD prices shown are based on the current exchange rate. The price paid in AUD will be based on the actual exchange rate at the time any payments are made.
10-dive package pricing includes full board, 2 morning boat dives and unlimited house reef diving (7am to 8pm), tanks, weights, marine park fees and FREE Nitrox for certified divers.
15-dive package includes 3 boat dives and unlimited house reef diving (7am to 8pm).
The per person pricing above is indicative only: we show 7 night with 10/12 dive packages at high-end and lower-end rooms (singles & doubles) for the purposes of comparison. We can give you a price (and availability) for any combination of nights/dives you wish to undertake, which will include any discounts due to you as part of that package, and any exclusions, or items payable at the resort. Please use the [Enquire Now] tab to give us your exact requirements and we'll give you the best deal we can.