The Asia/Pacific region, which encompasses the rich waters of the Coral Triangle, offers divers some of the most spectacular underwater adventures on the planet. Famous for its coral reefs, diverse marine life, muck sites and artificial reefs, the area also has an abundance of shipwrecks that will appeal to any diver. Here's our guide to the best wreck diving in the South Pacific and South East Asia.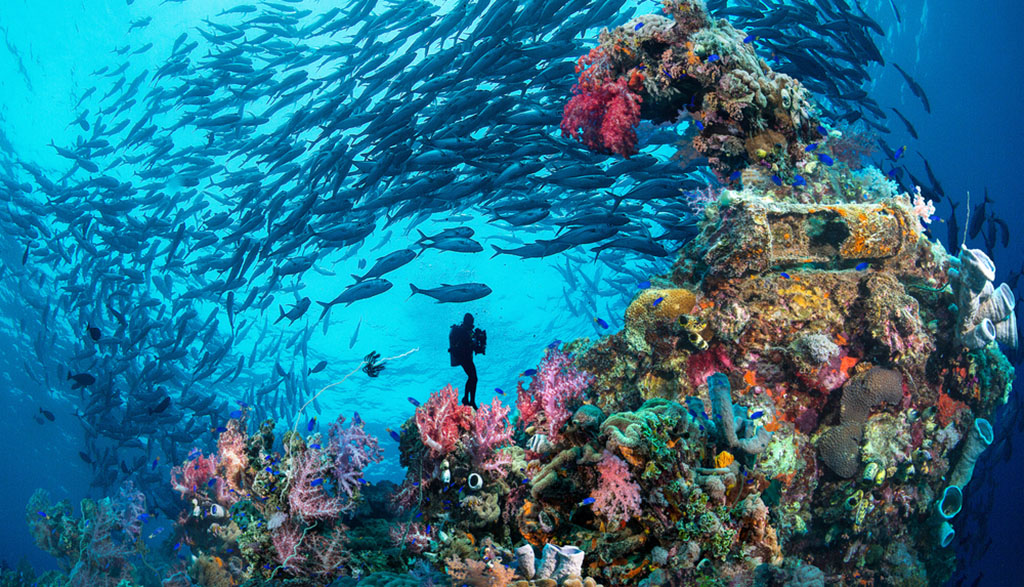 Countless ships have come to grief in the waters of the Asia/Pacific region, victims of war, storms, piracy or poor navigation. Found in this area are everything from ancient Chinese junks carrying priceless porcelain to Spanish galleons loaded with silver and gold to more modern cargo ships. But some of the famous shipwrecks in this area were sunk in the many fierce battles of World War II.
While there are plenty of amazing individual shipwrecks in this region, like the SS Yongala or Bali's Liberty Ship, this article is focusing on dive destinations where you can explore numerous shipwrecks during your stay. Following is a guide to the best wreck diving destinations in the Asia/Pacific region.
Espiritu Santo, Vanuatu
The small town of Luganville, on Espiritu Santo, was once a major American base during World War II and is now one of the best wreck diving locations in the world. Its main claim to fame is the former ocean liner SS President Coolidge, but there are many more wrecks worth exploring at this destination.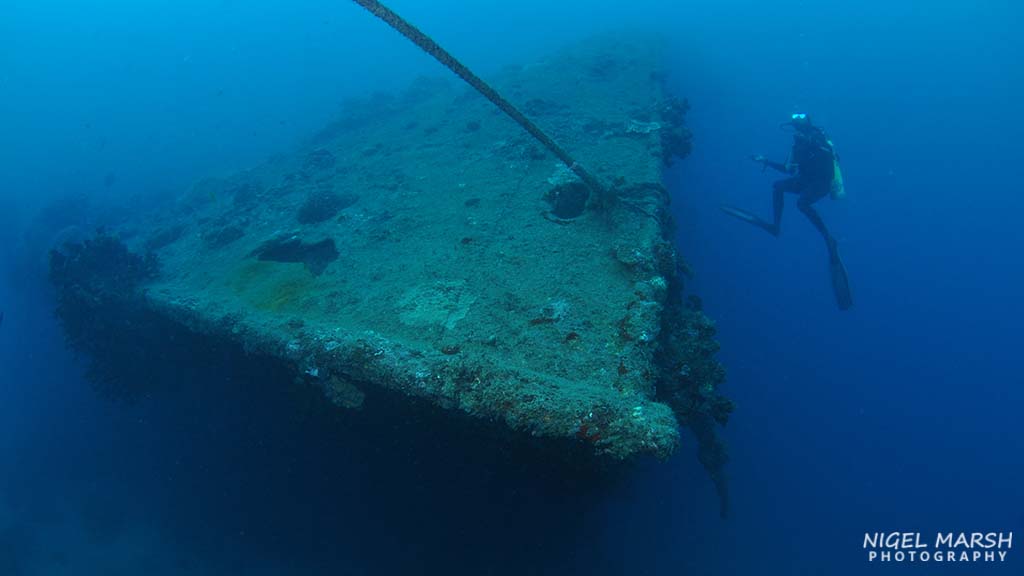 Sunk after hitting two mines in 1942, the 198m long SS President Coolidge now rests on its port side in depths from 18m to 70m and is a spectacular dive. The ship sank while fully loaded with war supplies, and divers today can explore every nook and cranny of this immense ship. With a ship this size, in this depth, it takes at least a week to cover all its major points of interest, but divers have been known to spend months exploring this incredible ship.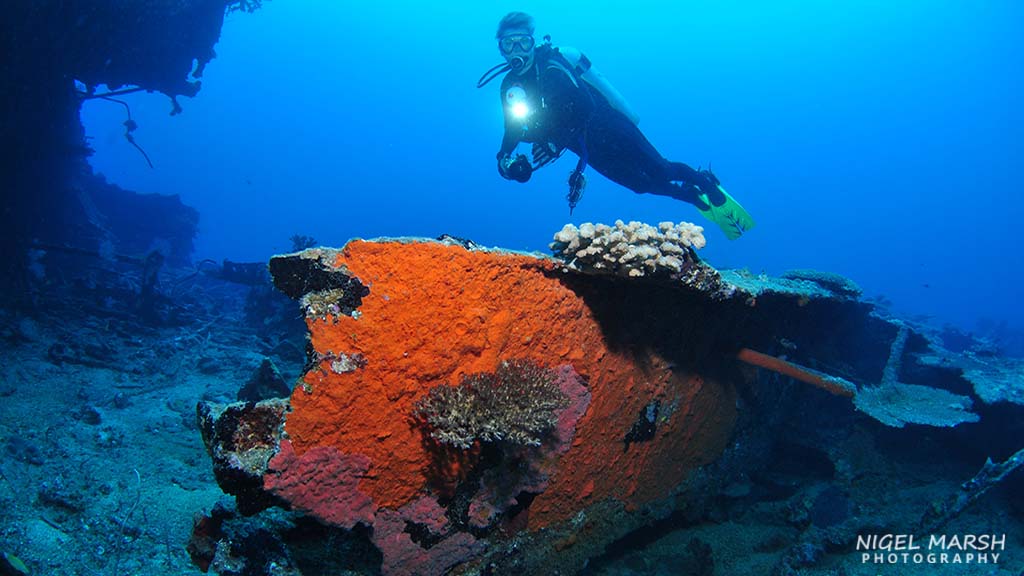 If you can drag yourself way from the Coolidge, other great wreck dives in the area include the destroyer SS Tucker, the tug boat Tui Tuate, the island trader Henri Bonneaud and the leftover war equipment dumped into the sea at Million Dollar Point.
Dive the wrecks of Espiritu Santo with Pacific Dive  or Absolute Adventures Santo.
Guadalcanal & Iron Bottom Sound, Solomon Islands
A small stretch of water separates Honiara and Tulagi, known as Iron Bottom Sound. It was once called Savo Sound, but after the massive loss of ships in this strait in World War II it was renamed and today offers incredible wreck diving. Easily accessible from the shore west of Honiara are three Japanese cargo ships – Hirokawa Maru, Kinugawa Maru and Kyusya Maru. Run aground while being attacked, the ships are broken up at their bows but more intact at their sterns, allowing some penetration.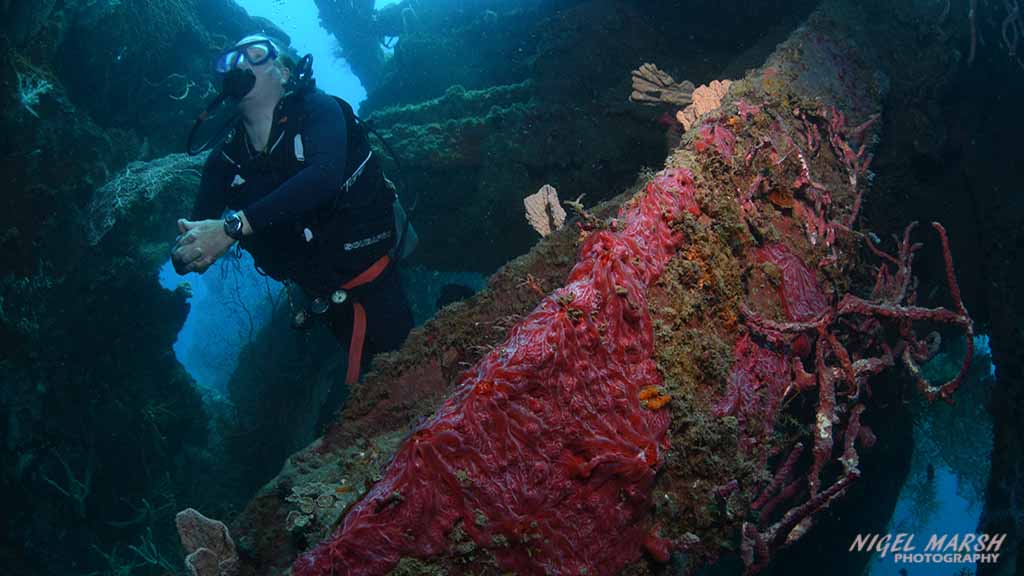 These wrecks are also covered in colourful corals and home to fishes big and small. Also accessible from the shore is a B17 Bomber and the very broken up I1 Japanese submarine. Other wrecks off Honiara that are done as boat dives include the Japanese freighter Azumason Maru, the American Coast Guard liberty ship USS Serpens, the American attack transport ship USS John Penn and in deeper water the legendary American destroyer USS Aaron Ward – which features on most wreck-lovers' bucket lists.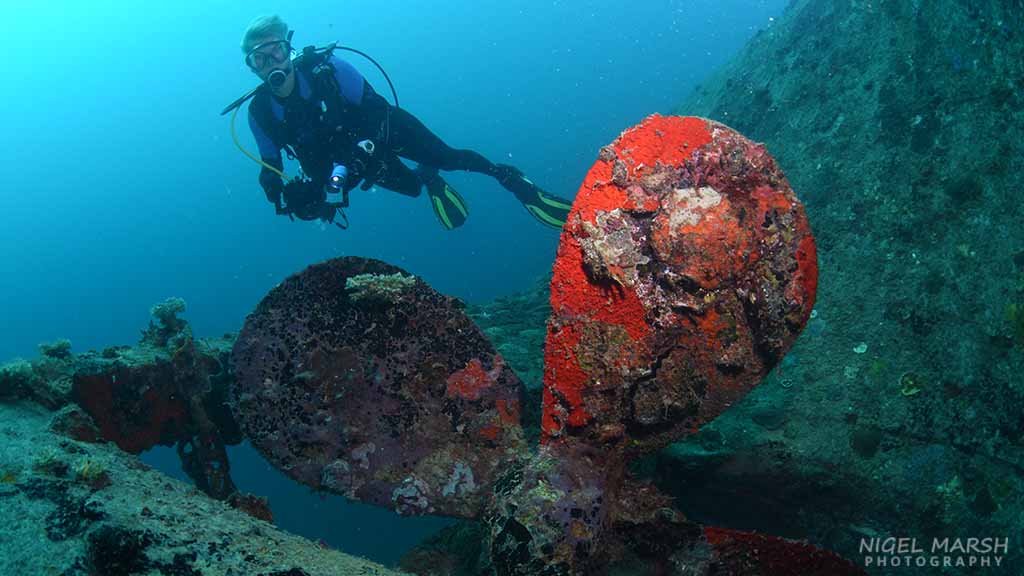 Only one hour by boat from Honiara, Tulagi plays host to another incredible range of shipwrecks. The area's premier shipwreck is the USS Kanawha, a 137m long American fuel ship that rests in 40m to 57m. Nearby is the New Zealand Mine Sweeper HMNZS Moa, resting in 40m.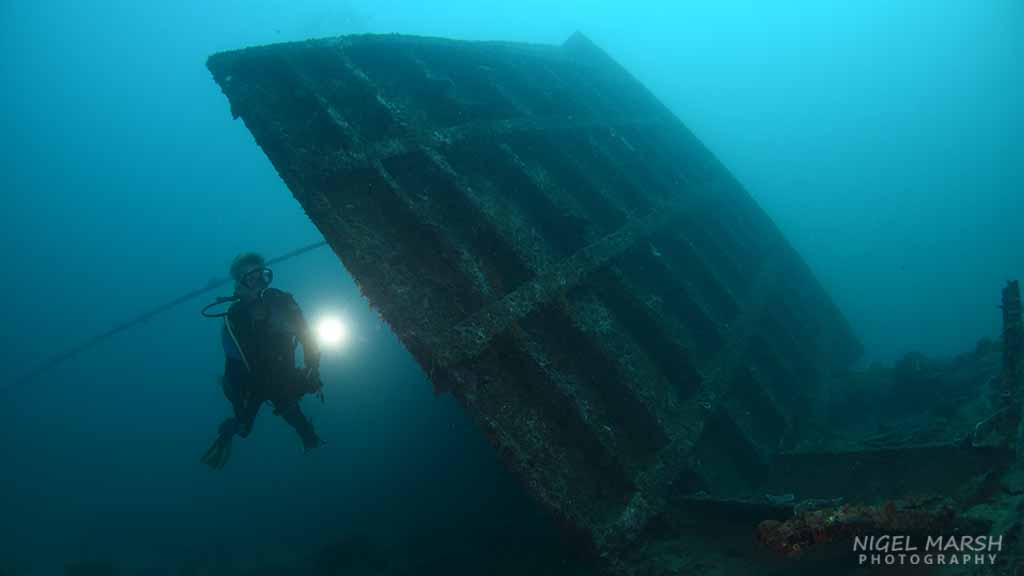 Shallower shipwrecks can be found at Base One in 10m to 25m. A dump site during the war and after, divers can explore landing craft to more modern fishing boats and cargo ships. One of the main highlights of Tulagi are its plane wrecks, in deeper water are fighter planes, while in depths from 20m to 35m are several Japanese Kawanishi Seaplanes and an American Catalina Seaplane.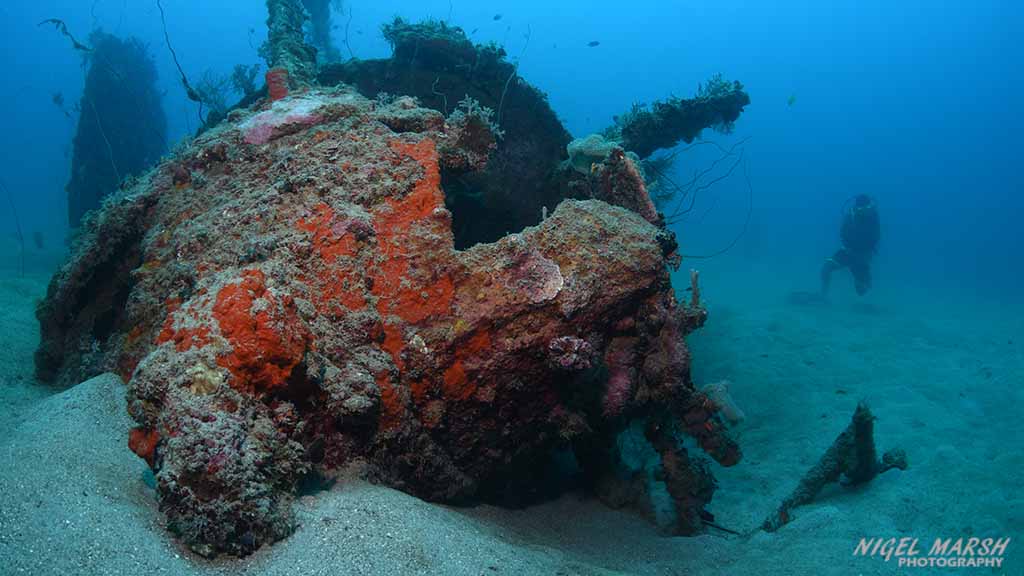 Dive the wrecks of Guadalcanal and Tulagi with Tulagi Dive and Raiders Hotel & Dive. Even more wrecks can be found in the Solomon Islands' Western Province, in Gizo and Munda, best dived with Dive Gizo and Dive Munda. Look out also for the Solomons PNG Master Liveaboard's special WWII Wreck Weeks. 
Coron Bay, Philippines
Another great collection of World War II shipwrecks can be found in the Philippines in Coron Bay, at the northern end of Palawan. Used as a secret harbour by the Japanese, the fleet was discovered and attacked by the Allies in 1944, and while the ships were later salvaged, they still offer sensational wreck diving.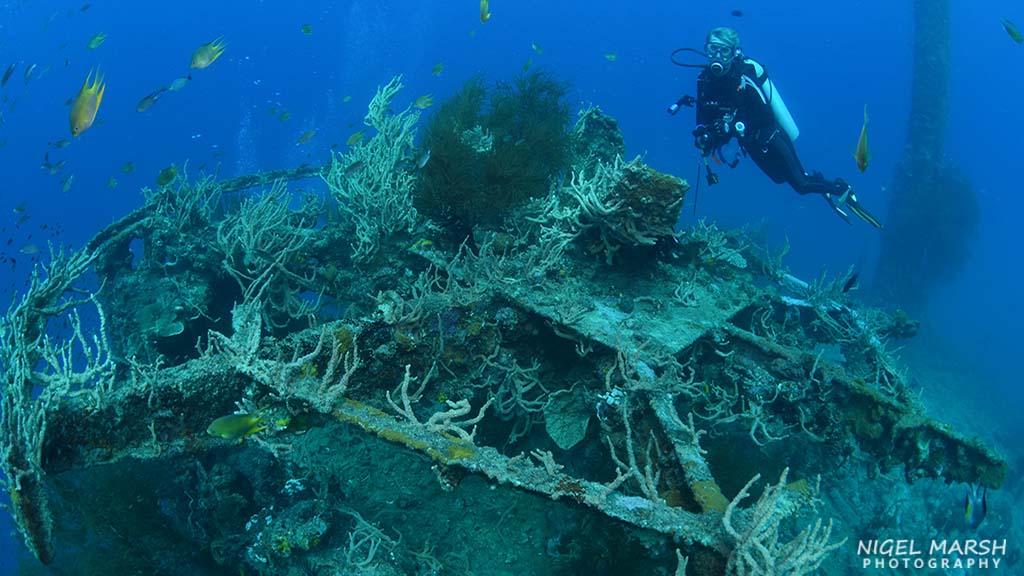 The largest shipwreck in Coron Bay is the Okikawa Maru, a 168m long auxiliary oil tanker that rests upright in 26m. This ship is simply enormous, so it takes several dives to see all its features. One of the most unique shipwrecks is the Akitsushima, a 118m long seaplane tender that rests on its port side in 35m. Machine guns and the giant crane boom are just some of the features that can be seen.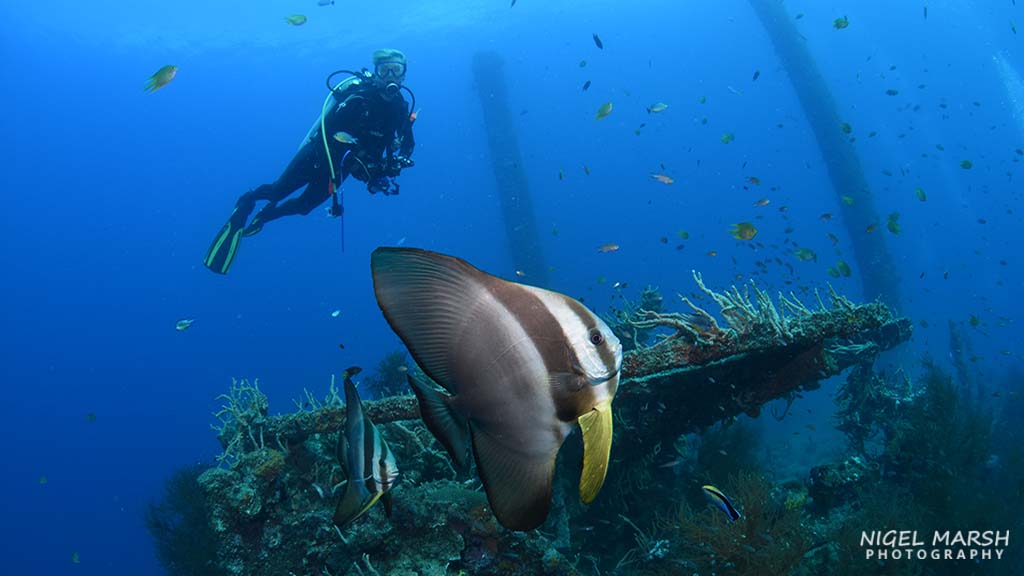 Many of the Coron Bay shipwrecks are freighters, like the Olympia Maru, Kogyo Maru, Irako Maru, Kyokuzan Maru and the Morazan Maru. Other ships in the area include 20m long Lusong Bay Gunboat and the Nanshin, a 50m long tanker. Most of these wrecks are in depths between 20m to 35m. One note of warning, Coron Bay is tidal, so does have strong currents at times and the visibility can vary from 6m to 30m. However, these nutrient rich currents mean the ships are covered in incredible coral growths and play host to a wonderful variety of marine life.
Contact us for diving options in Coron Bay.
Palau
Most divers head to Palau to dive pretty coral reefs and spectacular drop-offs, but used as a harbour by the Japanese during World War II, this island nation is also a wreck divers heaven. The Japanese ships sunk in the waters of Palau went to the bottom in two attacks in 1944. Most of the wrecks rest in the harbour in depths between 10m and 40m, and while they don't enjoy the brilliant visibility of the offshore reefs, they still offer exciting diving.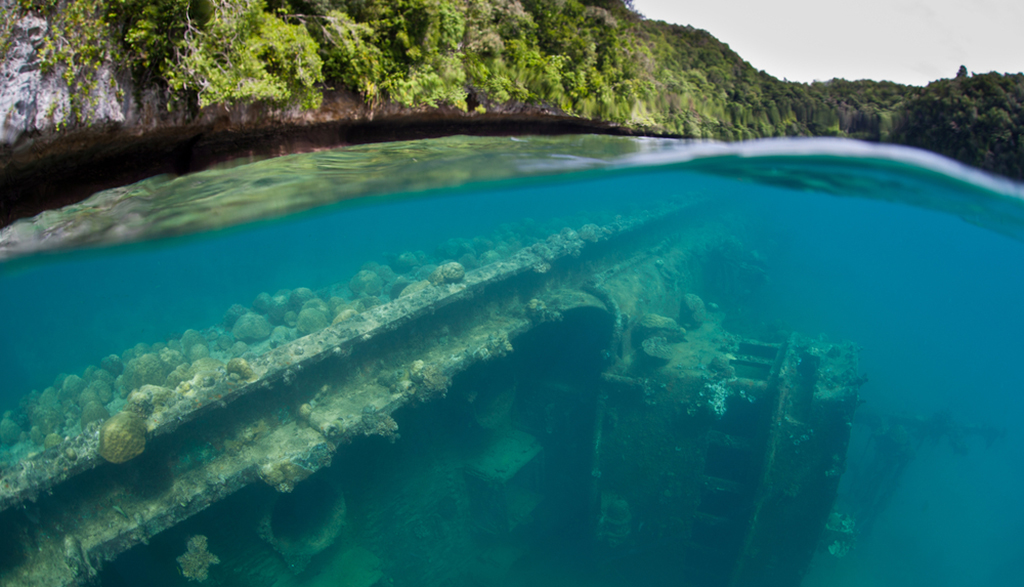 Palau's most famous shipwreck is the Iro, a 143m long oil tanker. This immense ship is a fabulous dive, with plenty to see including a large gun on the forecastle. Two other large oil tankers can also be explored at Palau, the 160m long Amatsu Maru and the 143m long Sata.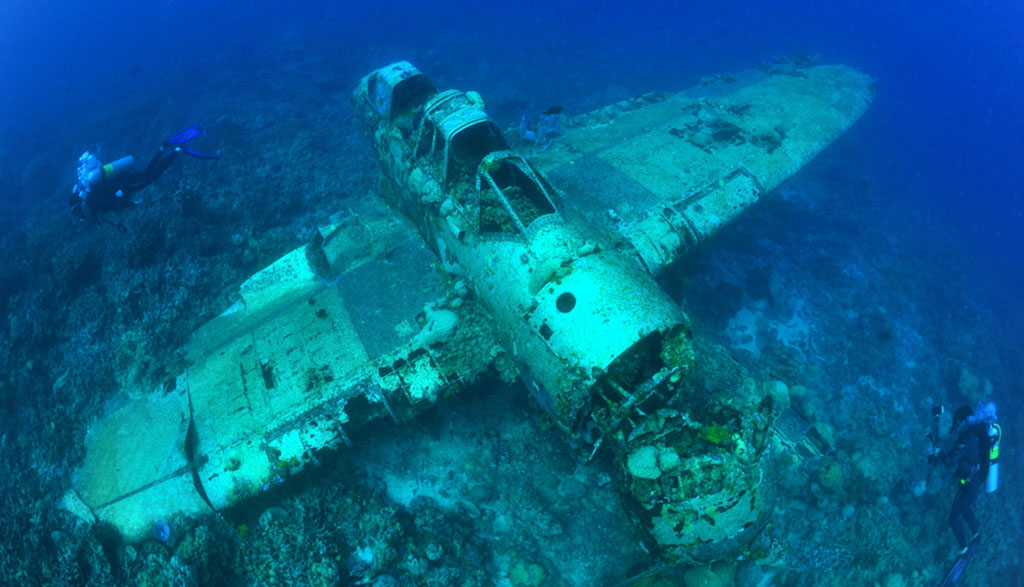 Wreck divers can also explore a Japanese destroyer the Watatake Maru, two repair ships the Urakami Maru and the Kamikaze Maru and also an American tank transporter LST-T1.  Most of the other wrecks are cargo ships like the Ryuko Maru, Raizan Maru, Teshio Maru, Bichu Maru, Nagisan Maru and the Chuyo Maru. These cargo ships range in size from 87m to 110m long, and while most were salvaged, they still have an abundance of features that make them fascinating to explore. The final must-do wreck is called the Helmet Wreck, as its name is not known. This 60m long cargo ship was not salvaged and its holds are still full of munitions, depth chargers, sake bottles and other items.
Dive the wrecks of Palau with Sam's Tours, Fish n Fins Dive Centre or by liveaboard on Ocean Hunter III, the Palau Aggressor II, Palau Siren, Rock Islands Aggressor or Solitude One.
Chuuk Lagoon
Formerly known as Truk Lagoon, this tiny atoll in Micronesia is a Mecca for wreck divers. A major Japanese navy base in World War II, the Allies attacked the base, airstrips and the ships in the harbour in 1944, sending over 70 ships to the bottom. Today Chuuk Lagoon is one of the largest ship graveyards in the world.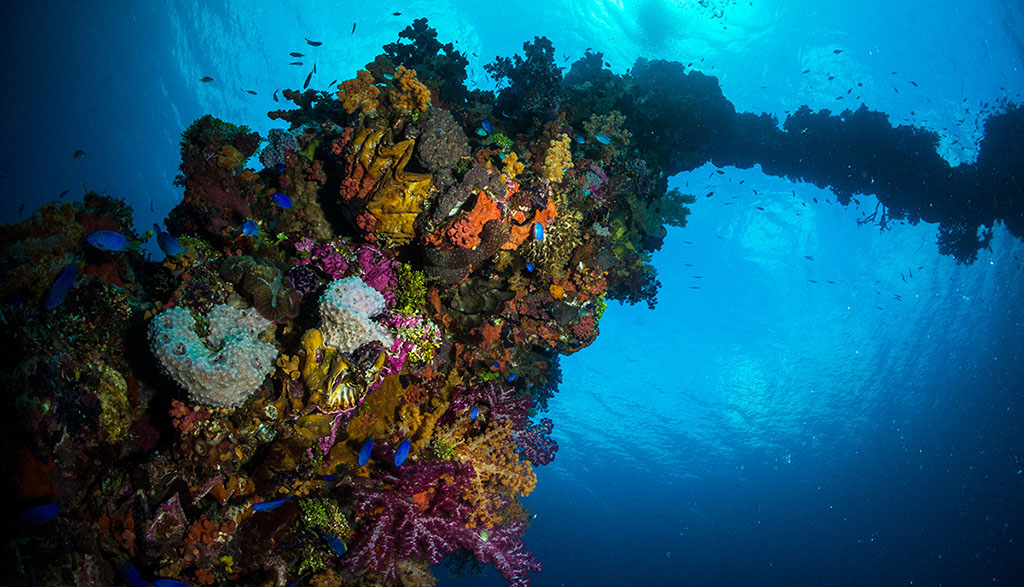 The wrecks of Chuuk Lagoon are covered in beautiful corals and home to a wonderful array of marine life, but mostly left untouched after the war, they are also loaded with relics, such as tanks, airplanes, mines and tons of munitions. One of Chuuk Lagoons most famous wrecks is the San Francisco Maru, a 117m long cargo and passenger ship. Resting in depths from 30m to 60m, this amazing wreck is overloaded with war supplies, including tanks, mines, a steamroller, trucks and munitions. Much more accessible is the 152m long oil tanker Shinkoku Maru resting in 12m to 36m. This large ship has many features, with divers able to explore its large engine room and the wheelhouse. Two other oil tankers can also be dived in Chuuk Lagoon, the Fujisan Maru and Hoyo Maru.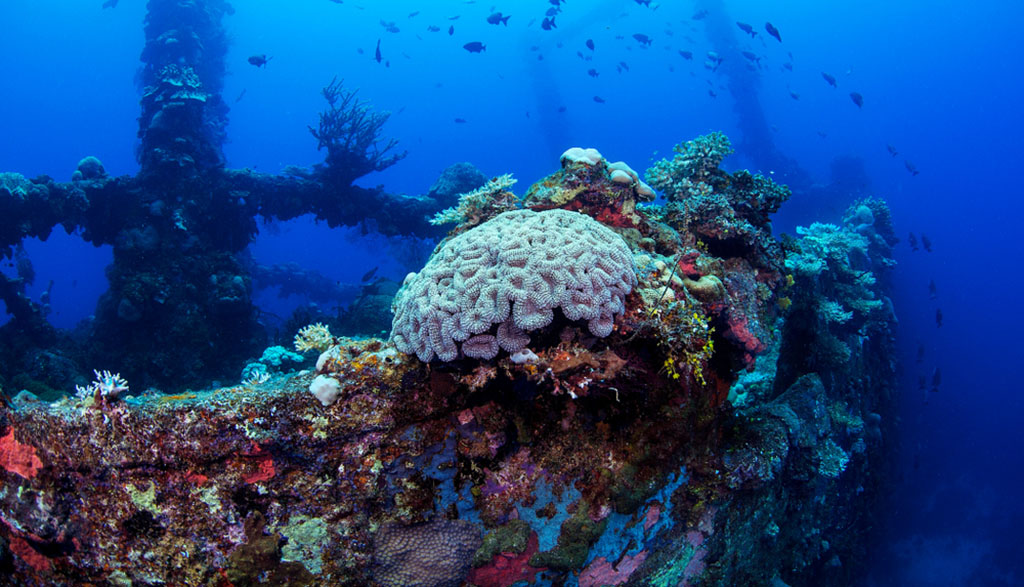 The Rio de Janeiro Maru was once a passenger/cargo ship, and still loaded with cargo, it is a fascinating dive. The 140m long ship rests on its starboard side in 34m, and divers can see its large guns and crates of beer bottles. Another popular wreck is the 132m long Fujikawa Maru. This armed aircraft transport ship rests in 9m to 33m, and filled with airplane parts and other equipment it is an incredible dive.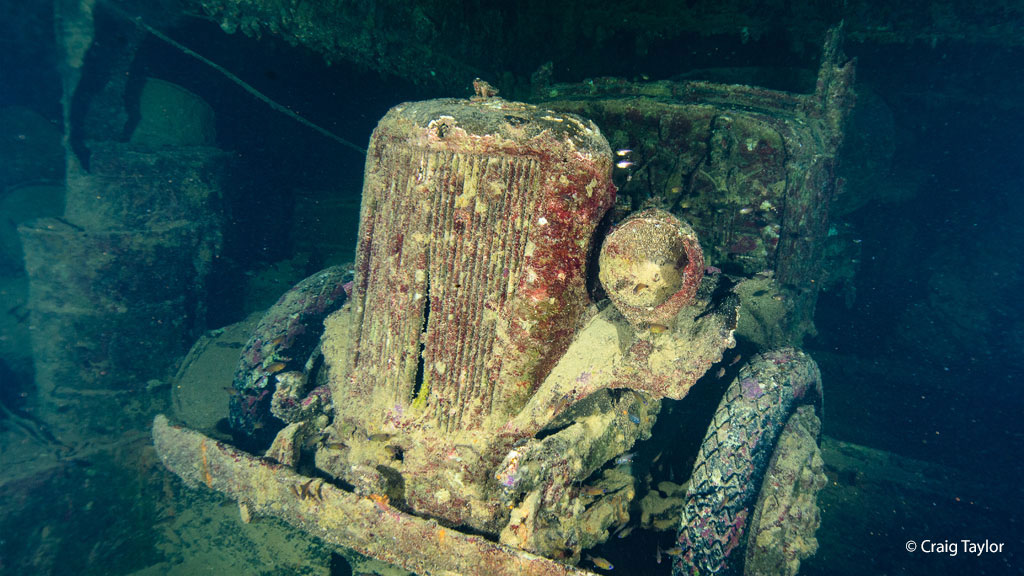 The largest wreck at Chuuk Lagoon is the impressive submarine tender Heian Maru. Resting on its port side in 33m, it takes many dives to see all the features on this 155m long ship, including a stack of periscopes. Other wonderful wrecks in Chuuk Lagoon include the Aikoku Maru, Nippo Maru, Hoki Maru, Fumitzaki, Yamagiri, Hanakawa Maru, Sankisan Maru and the list goes on and on. It would take months or even years to investigate every wreck in Chuuk Lagoon, so it is not surprising that divers return year after year to explore this wreck diving Mecca.
Dive Chuuk Lagoon staying at Blue Lagoon Resort or by liveaboard on the Truk Master or the Truk Odyssey.