Overview
Experience the best reefs in Palau on-board the luxurious liveaboard Palau Aggressor II. Palau Aggressor II Liveaboard, a very stable and spacious catamaran, offers regular 7 night excursions from Koror every Sunday year round and explores the legendary outer reefs south-east of Koror and around Peleliu Island in the beautiful micronesian archipelago of Palau.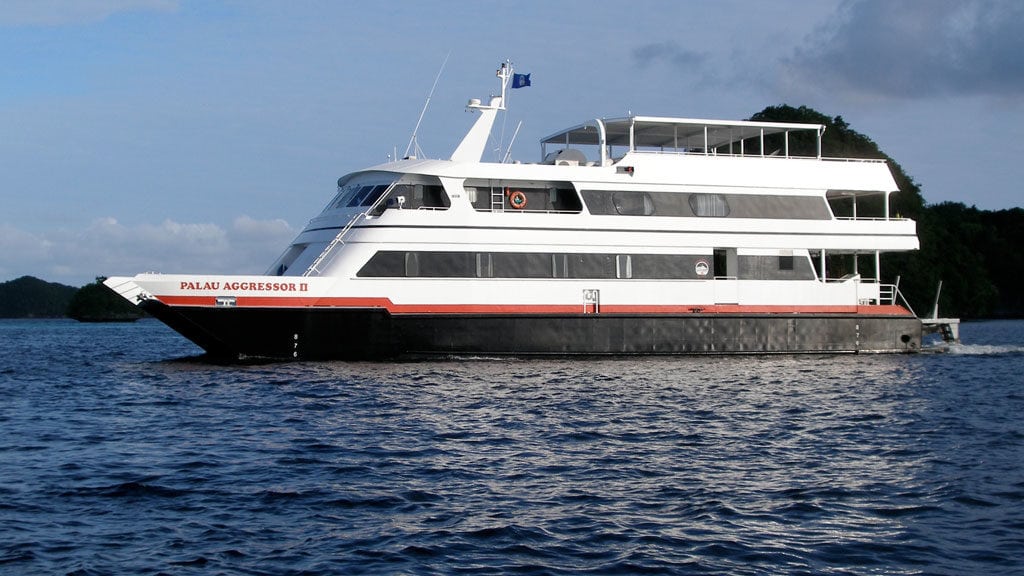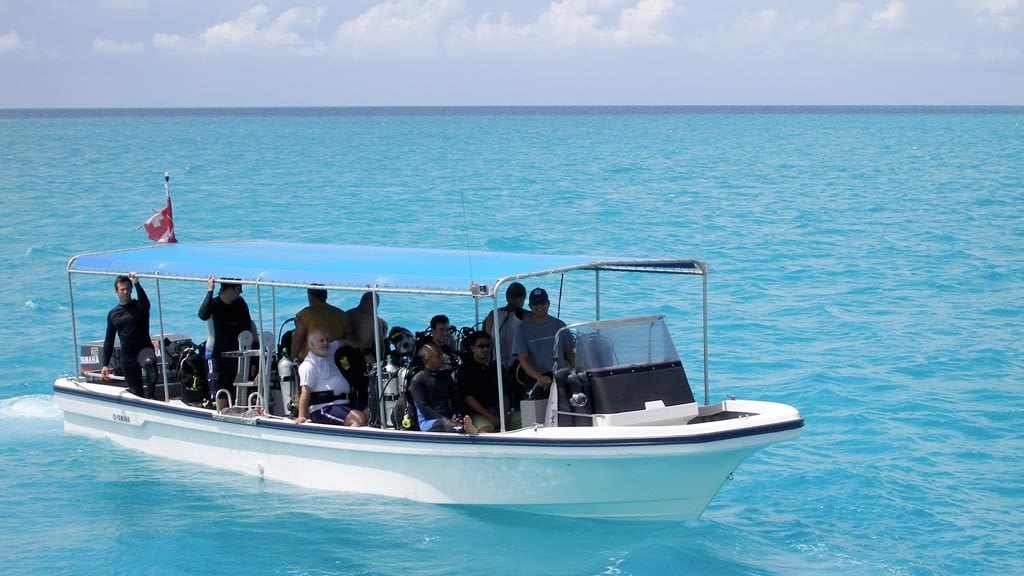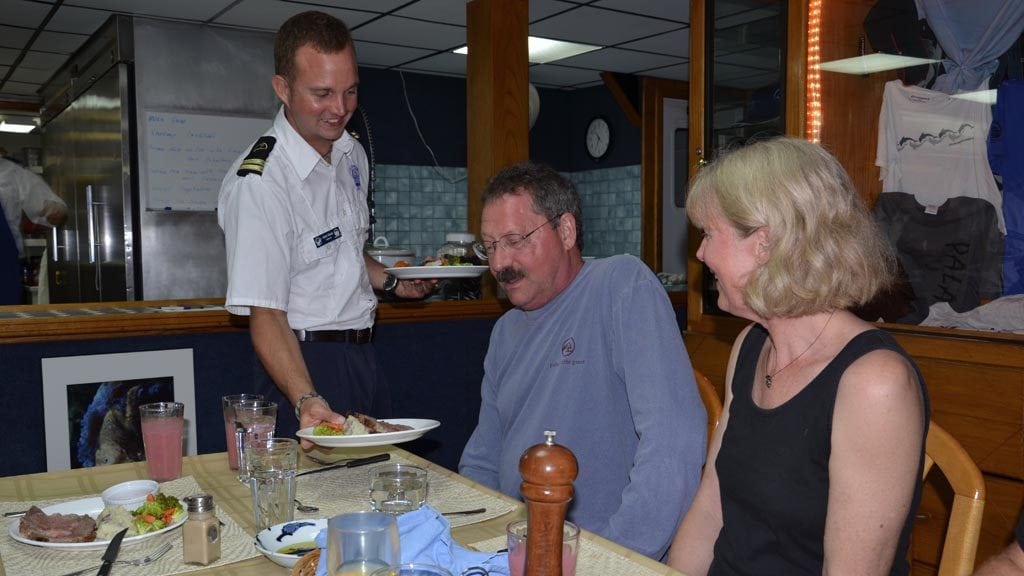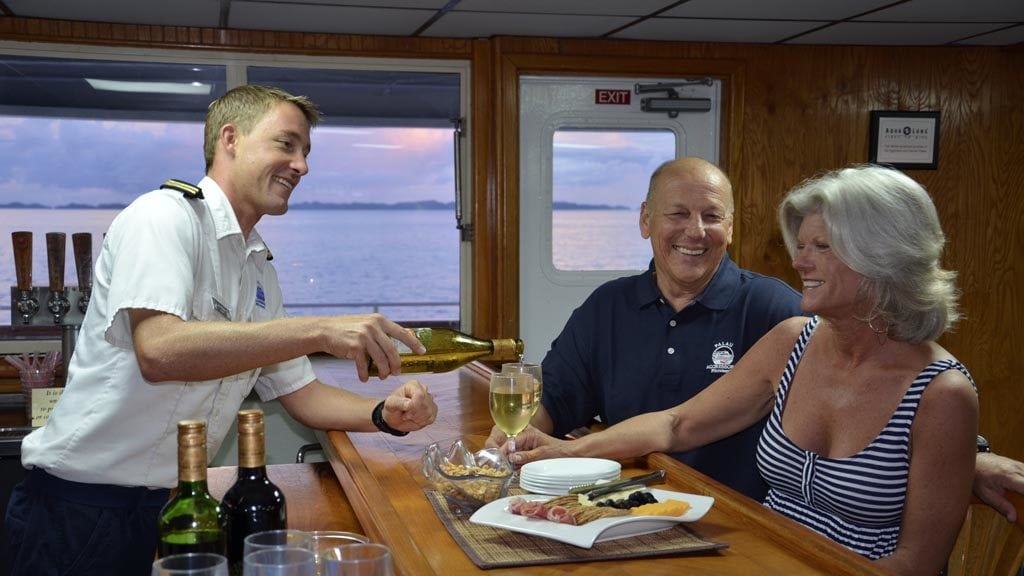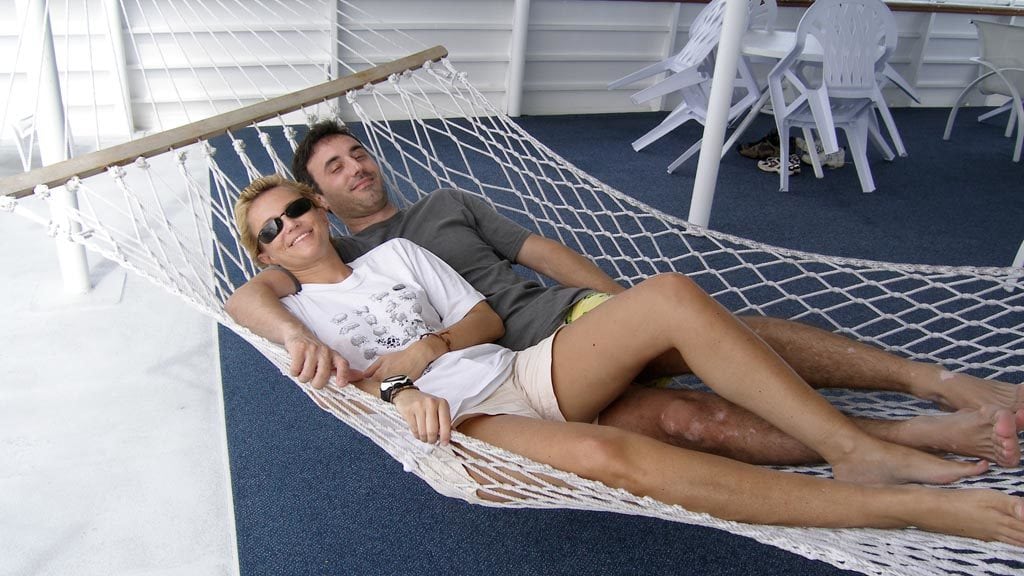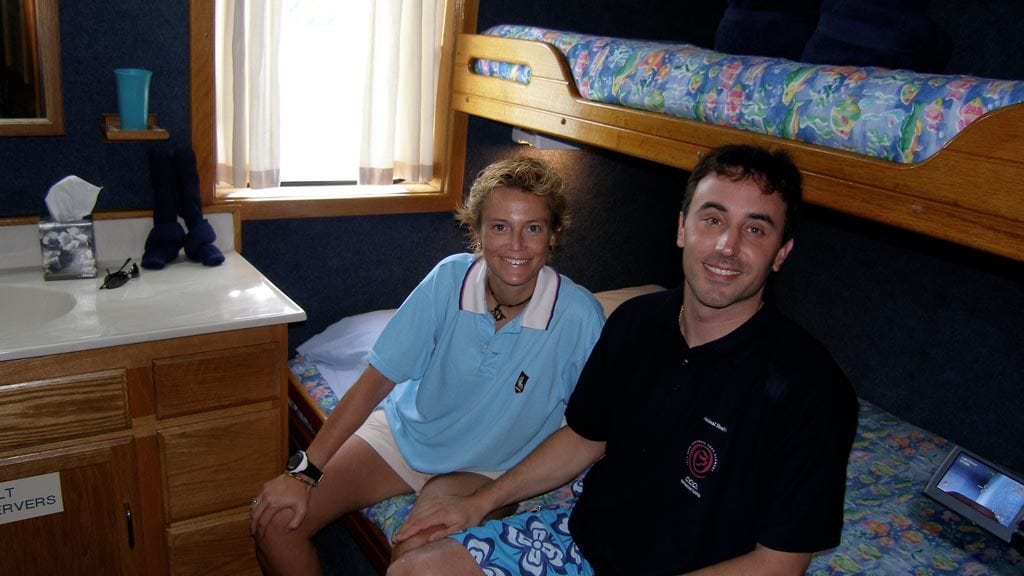 Features
The Palau Aggressor II, built in the US in 1994, is a 32m (106ft) 18-passenger catamaran is one of the most stable and comfortable liveaboards you'll find. She is 9m (30ft) wide, with an average cruising speed of 21 knots and a shallow draft. The salon is attractively furnished, featuring a well-stocked library and entertainment centre with large screen TV and DVD/CD player with all video camera capabilities.
The large interior saloon features a dining area and bar – which is also accessible from outside. Breakfast and dinner are eaten indoors and lunch is often enjoyed alfresco at the bar. The third level features a "moon deck," a 30-foot wide shaded deck. Here guests may relax on a chaise lounge or nap in a hammock.
Accommodation
There are 8 Deluxe staterooms with queen size bed plus upper single bunk, and 1 smaller twin share cabin, all located on the main deck. All staterooms feature en suite bathrooms with hair dryers and large picture windows. They are individually climate-controlled, fully carpeted, with generous storage space and insulated for sound. Each cabin has a TV/DVD set-up and power outlets are 110V.
Location
Palau Aggressor II itineraries depart from Koror.
What to expect
Diving service
All dives are made from the 18-passenger dive tender, which is lowered into the water by a hydraulic cradle. This 9m (30ft) dive tender accommodates all 18 divers and a dive guide. Each diver has a tank rack and seat on the tender. All tanks are filled in place with either air or Nitrox (extra charge).
Divers board the tender at deck level then the boat is lowered into the water by a hydraulic lift. After completion of the dive, the tender cruises into the lift and returns to deck level where passengers safely disembark. Divers can rinse off with two freshwater showers on the dive deck. A dive briefing area, camera table with low-pressure air hoses, camera rinse tank, freshwater showers and photo lab are all part of the roomy dive deck. A full range of photo and video equipment is available for hire on board, as well as a variety of dive courses including Nitrox certification.
Dive area
Legendary dive sites like Blue Hole, Shark City, Blue Corner, German Channel, Siaes Tunnel or Ulong Channel offer dramatic coral walls, drop-offs, and caverns with a close shark and manta ray encounter in warm tropical waters with excellent underwater visibility year-round. Most dives in Palau are drift dives, and reef hooks are used frequently in the strongest currents near the reef tops. Palau is considered a dive destination most suitable for experienced divers.
Staying Connected
Email is available on board through the satellite system, for which there is a charge. Private calls may be made from the yacht.
We think…
The Palau Aggressor II is one of the longest established liveaboards in the fleet. She has been operating in Palau for many years and has a very knowledgeable and experienced crew.

Pricing for Palau Aggressor II Liveaboard: 1 Jan 2018 - 5 Jan 2019
7 Nights Double/Twin cabin
AUD
3335
USD
7 Nights Deluxe Double/Twin cabin
AUD
3535
USD
Important Information
Surcharge for single occupancy cabin 65%
-
Included: Accommodation in double/twin cabin, all meals, beverages incl. local alcoholic beverages, diving, tanks, weights, dive guide
Not Included: Dinner on the last night, dive equipment rental, Nitrox fills, local taxes, transfers in Koror on charter days
Please use the [Enquiry & Booking] button to give us your exact requirements in terms of Trip#, dates, number of divers/snorkelers, and we'll give you the best deal we can.
Trip dates & Availability
Palau Aggressor II Koror Extras Payable Locally (as of August 2018)
Port fees & dive permits
AUD
210
USD
Transfers in Koror on charter days: Airport-Vessel-Airport
AUD
30
USD
Transfers in Koror on charter days: Hotel-Vessel-Hotel
AUD
10
USD
Full set of dive gear rental incl. computer (7 nights)
AUD
175
USD
Full set of dive gear rental incl. computer (10 nights)
AUD
260
USD
Nitrox fills (7 night cruise)
AUD
100
USD
Nitrox fills (10 night cruise)
AUD
150
USD
Important Information
Note: Airport Fees – Environmental Impact Fees
From 01 January 2018, the government of Palau has implemented their previously announced new Palau Pristine Paradise Environmental Fee (PPEF) to enhance their environment protection plan. The PPEF replaces the former Green Fee and departure tax charges (50 USD) and amounts to 100 USD per departing non=Palauan passenger and should normally be included in your ticket when it is issued after 01 January 2018. If your ticket was issued before 01 January 2018, the old charges of 50 USD will remain in place.