Overview
The well-established Dive Gizo, owned and run by Kerry and Dan Kennedy, is the only dive centre in Gizo. They offer various PADI training courses, have plenty of gear for hire, and offer recreational diving pretty much 365 days of the year.
Best of all, Dive Gizo offers a six double dives for the price of 5 which fits perfectly with a week at Gizo.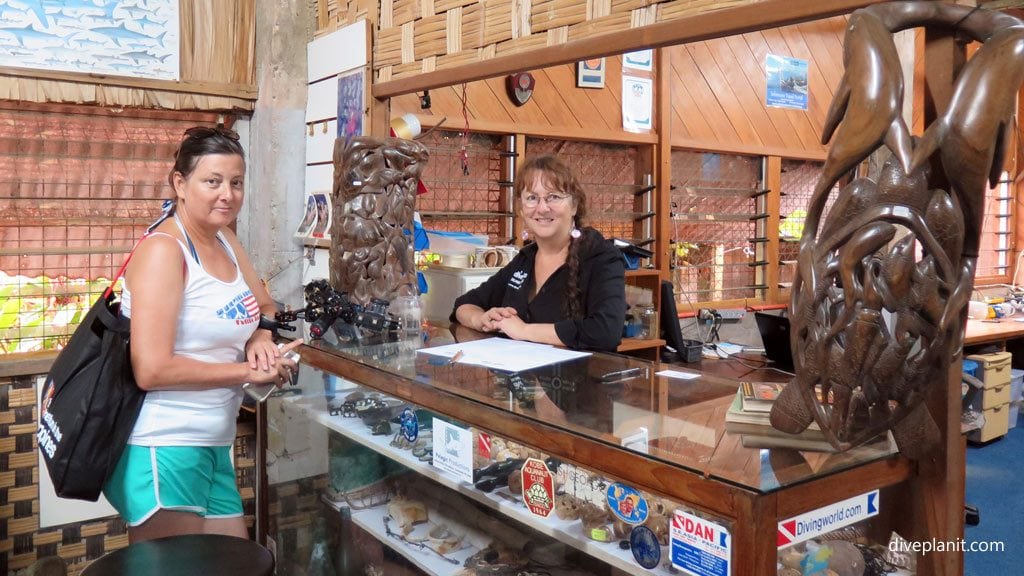 With more than one boat Dive Gizo can cope with groups of divers at different levels, trainees, and divers wanting to see different things. As Gizo is a great place for snorkelling too, they will take snorkelling partners out with divers, and still ensure both have a great day.
They have a great variety of dive sites to choose from – east and west of Gizo – and a number of experienced staff who know them all like the back of their hand.
There are sites close at hand and others about 30 minutes away. A double dive can be completed in the morning or if it is somewhere like the Toa Maru and Grand Central Station which are both deep dives, or dives on the other side of Ferguson Passage, it becomes a day trip with a barbecue lunch.
Their boat is same as most of the boats in the Solomon Islands except that it has twin outboards and a shade cloth which runs a full length of the boat. There's also dry storage up front too.
Other Activities
As well as diving and snorkelling, Dive Gizo offer full and half day trips to centres of interest around Gizo. These include trekking tours, both to jungle waterfalls and volcano peaks; tours to WWII sites and cultural tours at local villages to experience the life of the Solomon Islanders first hand. Ask us for a brochure.
Accommodation
With free pick up and drop off for diving, Fatboys Resort is an easy choice for divers. There are also many different room types available, all ensuite, suitable for twin sharers, couples, families and other groups. Ask us what's best for you. Amongst the options are:
Over the Water Deluxe Bungalow – Air conditioned Premium Private Bungalow, with queen sized Bedroom, stylishly furnished sitting room and private deck overlooking the stunning turquoise ocean.
Honeymoon Bungalow – Amenities include ensuite bathroom with hot water, 5-star bedding with mosquito netting, screens & ceiling fans. Large over ocean verandahs boast incredible views & vistas from the comfort of your hammock.
Couples Bungalow – The couples bungalow has an ensuite bathroom with hot water, queen size bed, mosquito screening and netting over the beds. It boasts large verandas with incredible views and hammocks.
Beach House – The Beach House has its own private beach & views over both Kennedy Island & the Vona Vona. It has an upstairs master bedroom with a queen bed & ensuite, two verandahs with lounge chairs and a hammock. The next level has a bedroom with a queen & a single bed. It also has a lounge room. The whole unit is screened & there are mosquito nets above each bed. Children 12 & under stay free with parents.
Family Bungalows – Each Family Bungalow has its own master bedroom with Queen-sized 5-star bedding and a rear bedroom with three singles. They are completely screened, have netting over each bed, ceiling fans & bathrooms with hot water. Each bungalow has its own verandah with a hammock and stunning views. There is also a shared verandah with tables/chairs and a staircase to the beach.
Pricing for Dive Gizo staying at Fatboys Resort Valid 2020
AUD
7 nights Couple/Honeymoon Bungalow (double/twin-share) with 12 dives
1596
7 nights Beach House (quad-share) with 12 dives
1236
7 nights Deluxe Overwater Bungalow (double/twin-share) with 12 dives
1776
Included: accommodation, continental breakfast daily, airport transfers in Gizo, 12 dives, tanks, weights, air, boat, dive guide and lunch on dive days. PLUS bonus value: half day polycraft boat hire (fuel not included), one day guided village walk tour and use of SUP's, kayaks and snorkeling gears.
This pricing is based on the Stay 7 Pay 6 Fatboys deal, and the Buy 5 Dive 6 Dive Gizo deal.

The per person pricing above is indicative only: we show 7 night with 10/12 dive packages at high-end and lower-end rooms (singles & doubles) for the purposes of comparison. We can give you a price (and availability) for any combination of nights/dives you wish to undertake, which will include any discounts due to you as part of that package, and any exclusions, or items payable at the resort. Use the [Enquiry Form] button to give us your exact requirements and we'll give you the best deal we can.
Facilities
| | | | | |
| --- | --- | --- | --- | --- |
| Training School Type: | PADI | | Nitrox Fill: | |
| Air Fill | | | Number of Guides | 2 |
| Gear Hire | | | Number of Boats | 2 |
| Gear Sales | | | Number of Dive Sites | 20 |
| Gear Servicing | | | Accommodation | |
Location
Dive Gizo is in Gizo town: find PT-109 Bar and Restaurant; turn around and look for the signage. Though in many cases the dive boat will pick you up at your resort and drop you there afterwards. You might just visit the dive centre once at the start and end of the week.
What to expect
Dive Service
The dive schedule is usually planned a day in advance based on the numbers and experience of the dive guests, and the weather conditions.
If they have more than four divers they can take two boats: one with the refills and lunch and one with the divers.  Also, if they are diving out eastwards, the dive team will pick you up from Fatboys Resort if you're staying there which saves about an hour at each end of the day.
Otherwise the day starts at the dive shop and set up the first tank with your gear which will be taken to the boat for you. Once the boat is loaded, it's off to the first site. Most sites have a mooring buoy and once secured, the dive guide will give the dive brief.
The guides know the sites so well, they can plan a profile to give a great orientation dive of a wreck or reef, and still get a good 60-minute dive even though most of it is spent at 24 m.
Entry is backward roll, and exit is via a short ladder; which entails de-kit in water and handing the gear up first.
If there are snorkelers on board, they are dropped after the divers onto the nearest piece of colourful reef – which in Gizo is rarely far away.
Lunch is prepared, cooked and served on a remote beach to allow for a good two-hour surface interval. In our case we have one of the tastiest lunches of my entire stay in the Solomon Islands: barbecued pumpkin, aubergine, reef fish and stir-fried rice – all served on large leaves. Bonus no washing up!
Dive Sites
Gizo has a great variety of dive sites which makes it such a great place to dive. There's the massive hulk of the Toa Maru at 444 feet long, which is 37m at its deepest point, and much of which has practically turned to coral reef between 8 and 16m. And the nearby Grand Central Station which has many more fish than Grand Central Station has New Yorkers.
There are colourful reefs covered in sea fans at Joe's Wall, Secret Spot and One Tree Island, and in between there are the wrecks of a few fighter planes that you can literally fly around.
Diving Gizo is how diving should be – easy, colourful and fun.
Have a read of this little post which explains why divers will often good back.
Pricing / availability enquiry