Site Overview
Dive Centres
Site Type:
Large Wreck of a Japanese Freighter
Depth:

Top: 8M

Bottom: 37M

Location:
Off a small island north of Gizo Island, Solomon Islands
The Toa Maru wreck is 440 feet long and lies on its starboard side in about 37 m of water less than 100 m offshore. It is the biggest and most impressive wreck, (at recreational diving depths), in the Solomons. That said, it is hard to get far enough away from it to get any perspective of its size. Imagine standing of a wharf next to sa ship 130m long. How far would you have to step back, to see it from end to end without moving your head?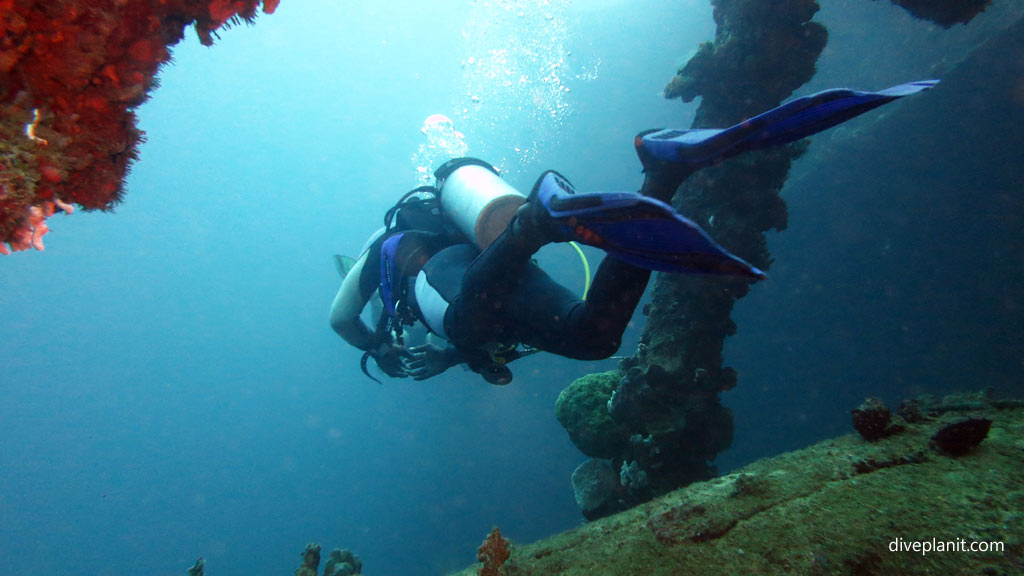 The orientation dive takes you to the stern, through the rear holds and into the forward holds.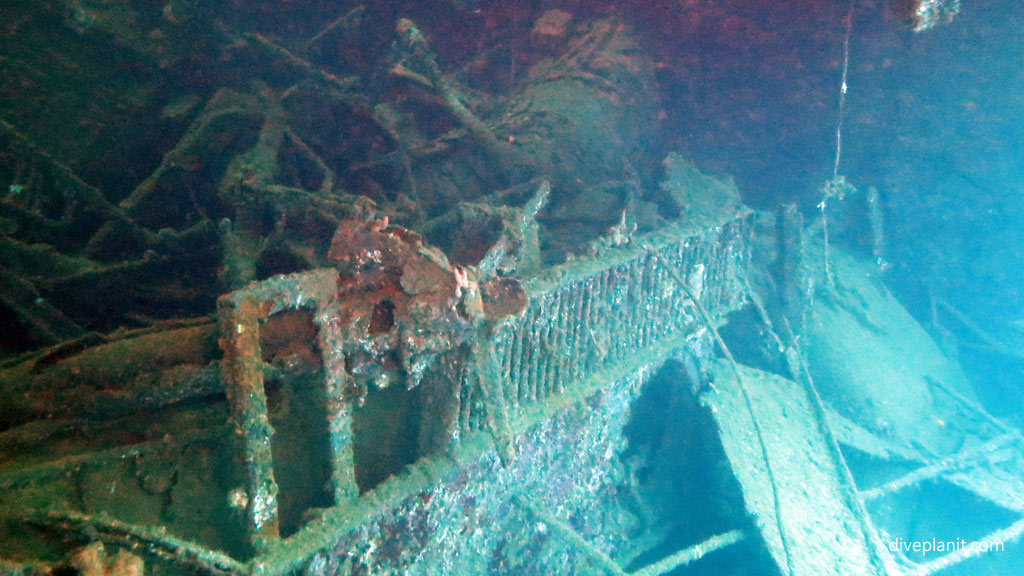 The bridge superstructure, which was amidships, was largely destroyed in the recent tsunami and is scattered down the slope. There are few artefacts that have been retrieved and placed in plain sight.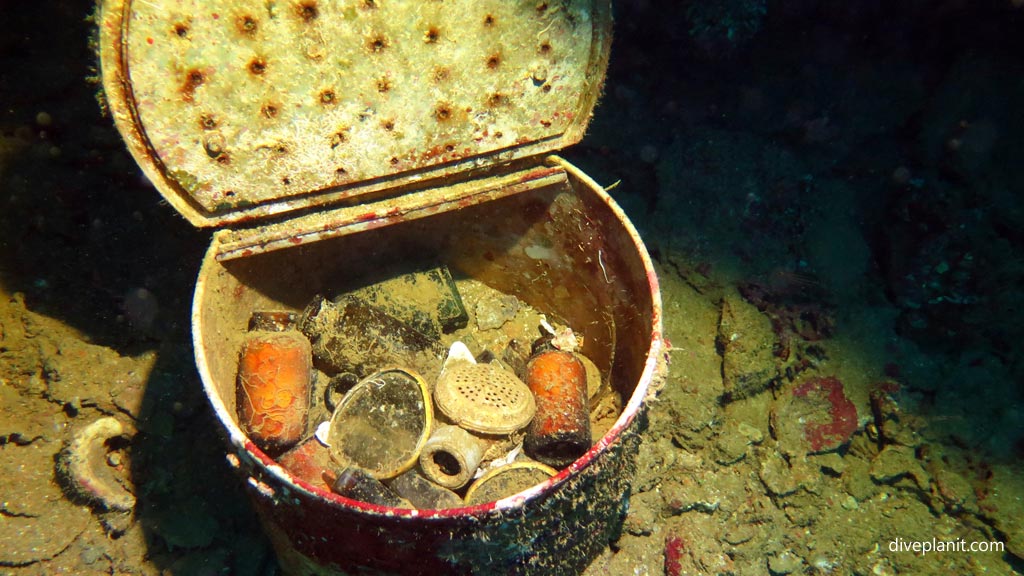 Most noticeable of which is a jar of condoms, and another, which contains vials of medicine.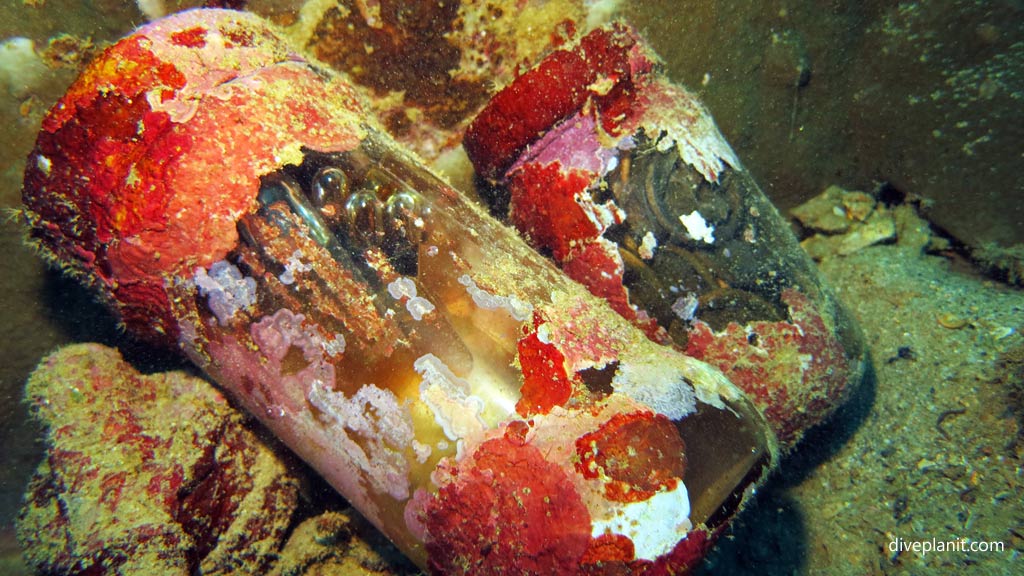 Inside one of the holds is a two-man tank, in another bottles of Saki and a third contains bags of cement.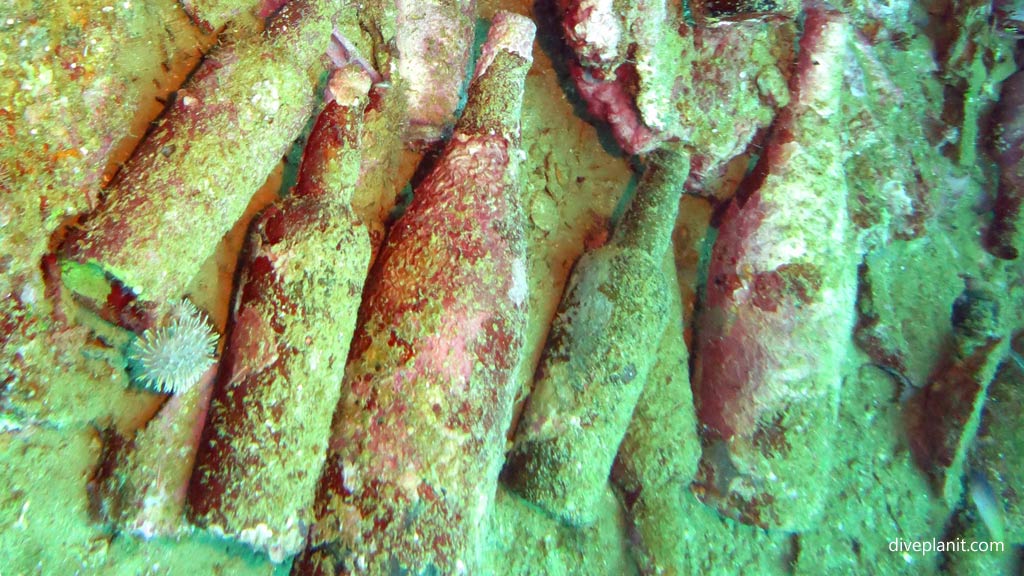 The thing that strikes you about the wreck is a sheer size of the open holds, the stern and bow.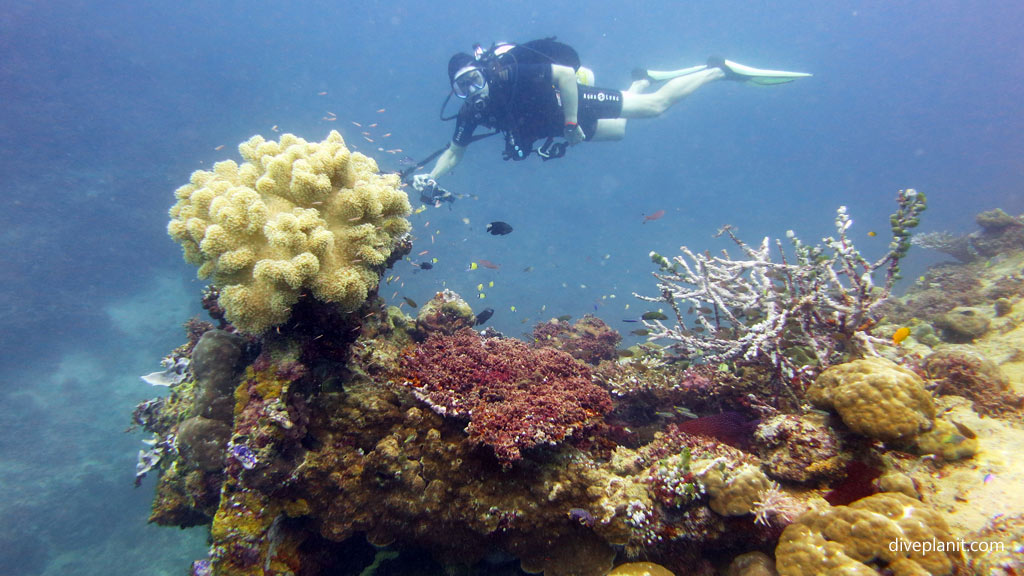 You literally have to swim as far away as 30 m off the wreck in order to get a photograph that shows enough of it to get any context of location or size.
Every exposed surface appears to have been colonised by coral.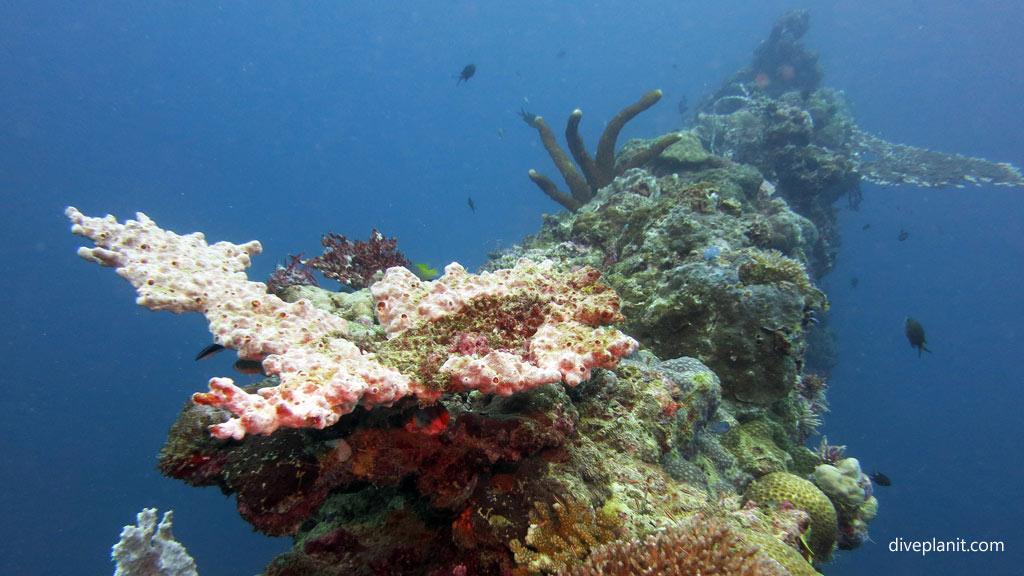 The curves of the stern and bow – now vertical – are amazing and it's exhilarating to hover in free water off the stern railings, or the cutting edge of the bow – now a horizontal ridge.
The top of the wreck is literally its port side which presents a flat sloping surface from about 5 m down to about 14 m.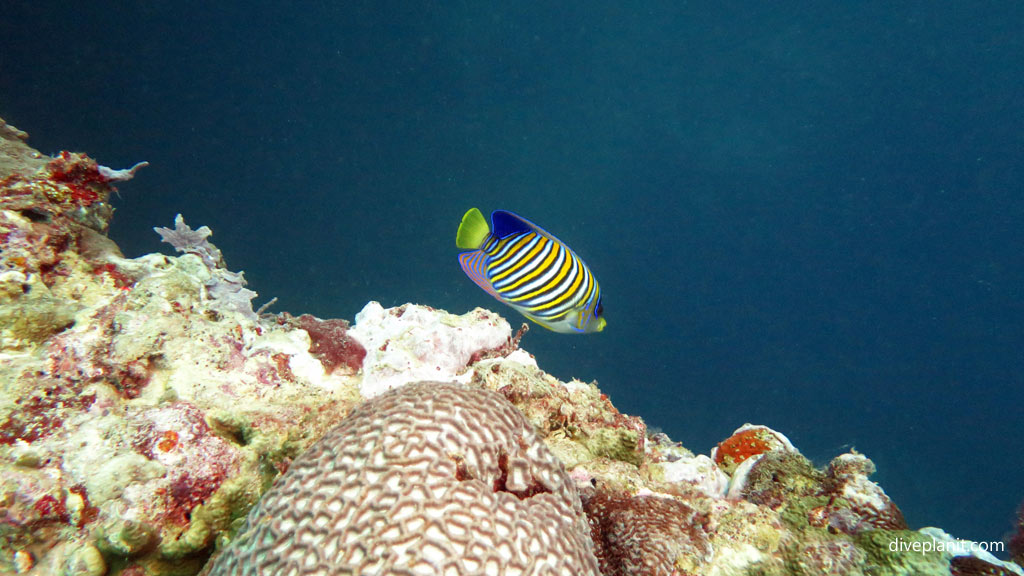 It is now a coral garden with corals of every kind complete with reef fish and nudibranchs.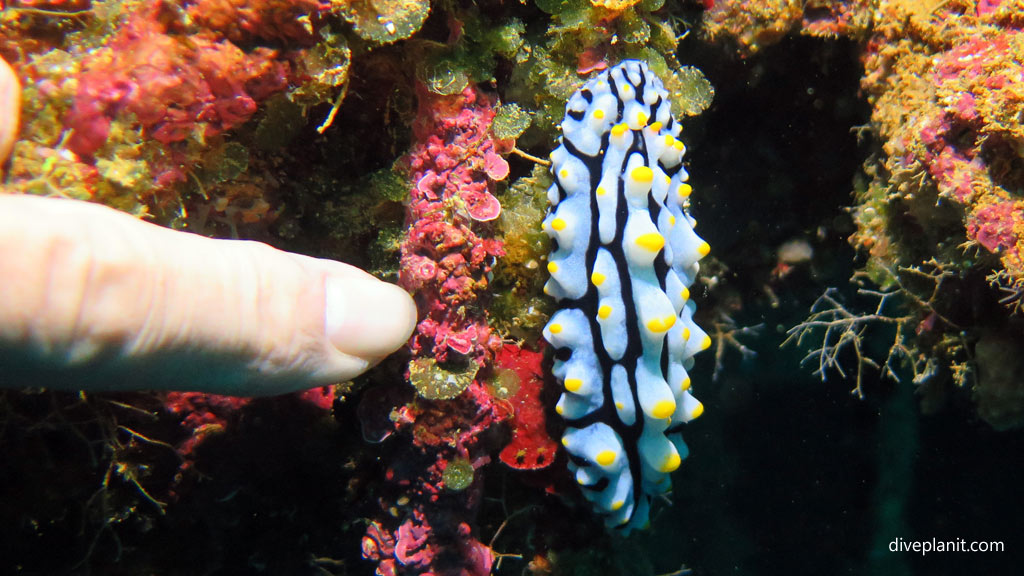 Even running one minute off deco for the entire gradual ascent along the wreck from the stern to bow, you can still spend the rest of the 60 minutes of your dive decompressing on this surface and observing the amazing marine life of this artificial reef slope.
There are the usual Spinecheeks living in bulb anemones.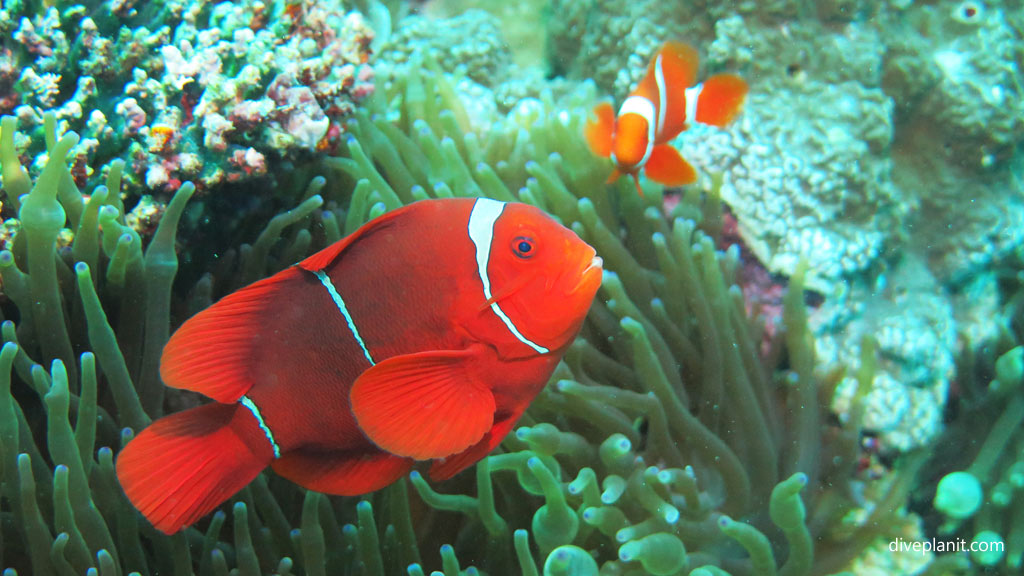 And some that live in these long orange tentacled anemones.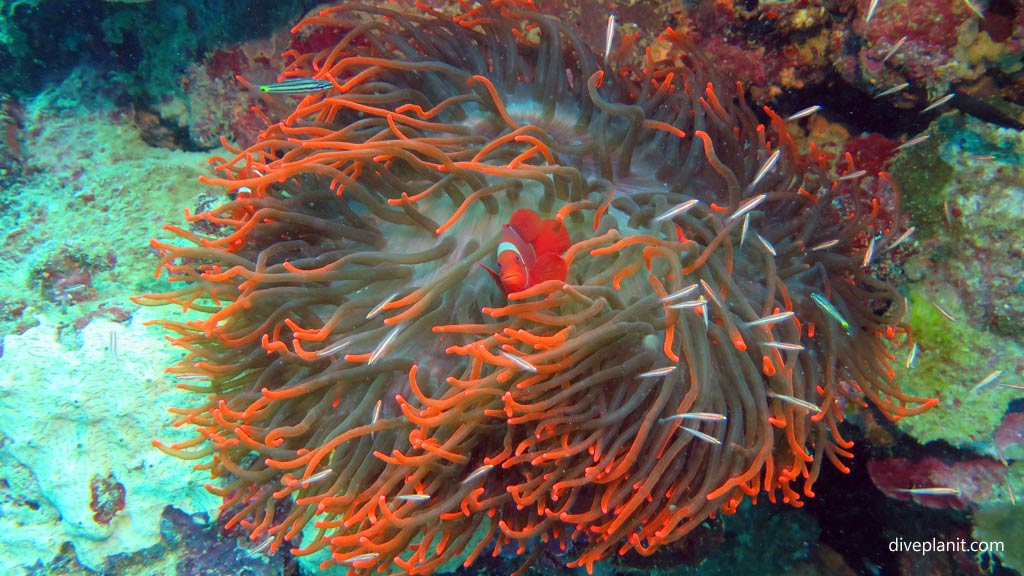 The 'reef' on the top of the wreck, is a reef to rival your average 'real' reef.