I have a confession to make. I have committed the sin of dive site snobbery – but have been shown the error of my ways. I had heard diving the Gili Islands was beautiful. A family-friendly, chilled spot that was also an ideal place to learn to dive. This information had led me to bypass this as a dive destination in Indonesia as I like to think of myself as an "experienced" diver. The earthquake that devastated Lombok gave me further reason to bypass the Gili's.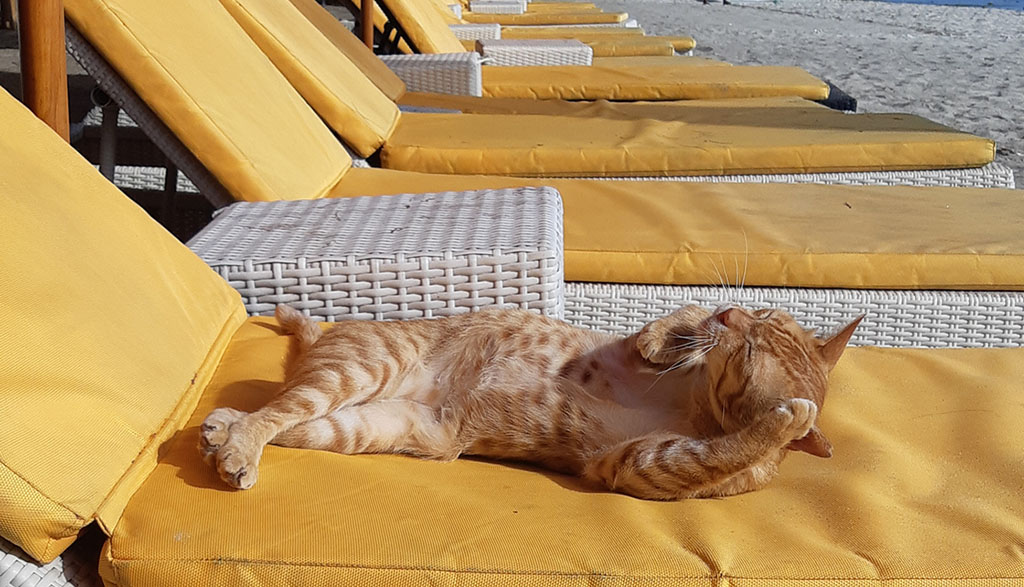 I am converted. A wonderful week diving Gili Islands and north-west Lombok has added another dive spot to my must-do recommendation list. The Gili Islands and Lombok are open for business and ready to welcome everyone to their slice of paradise.
We started our Gili's experience with a short (40 min) flight from Bali. This was followed by a 30-minute drive north to our shuttle boats and a quick 10-minute hop across to the largest of the three Gili's – Gili Trawangan. You can also access the Gili's via fast boat from Padang Bai.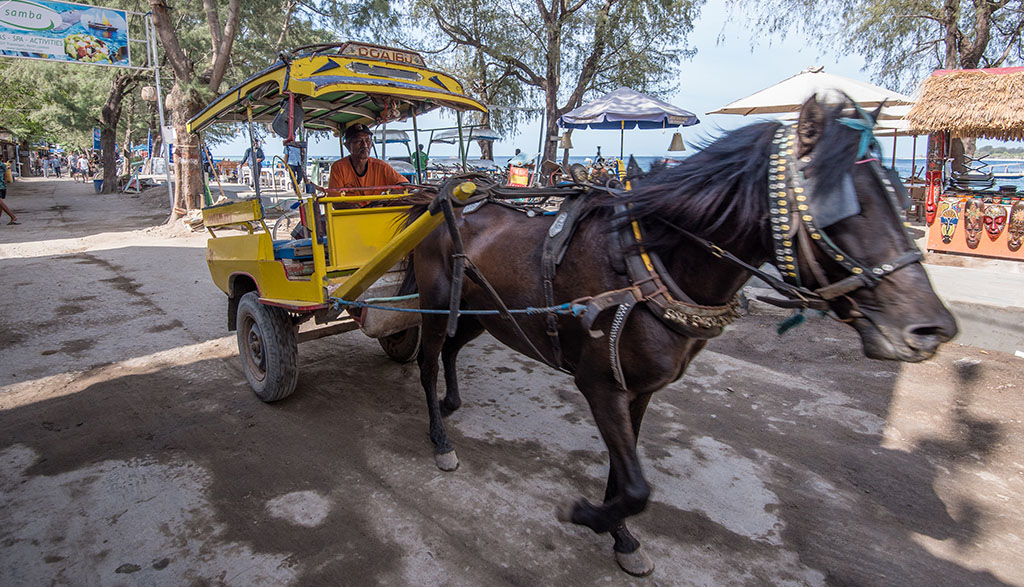 The three islands in the chain all have different vibes but are so close that you could easily try all three or just pick your favourite. Gili Trawangan has a good mix with quiet and serene beaches on the northern and western sides, and a multitude of dining, partying hotspots, restaurants and lively bars on the south side. Gili Meno serves as a perfect choice for an escape; discreet with beautiful quiet beaches and a village ban on late partying. Gili Air is easily a baby Trawangan, great for families looking for a quiet retreat.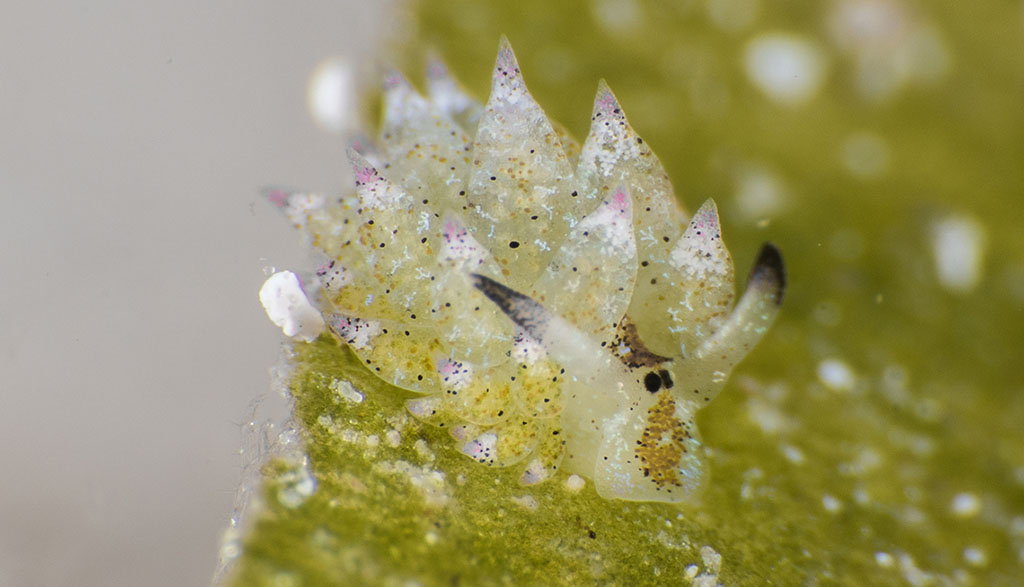 We arrived late in the evening which made it hard to get a sense of the island, but the magic was a short sleep away. There are no cars on the islands, only horse taxis and push bikes which makes for a very quiet, peaceful sleep (the 4:30 am call to prayer being the only noise so if you are a light sleeper, bring ear plugs). We were located on the quiet end of the eastern coast of Gili T but for those looking for more music and night life, it is a 10-15 min stroll away.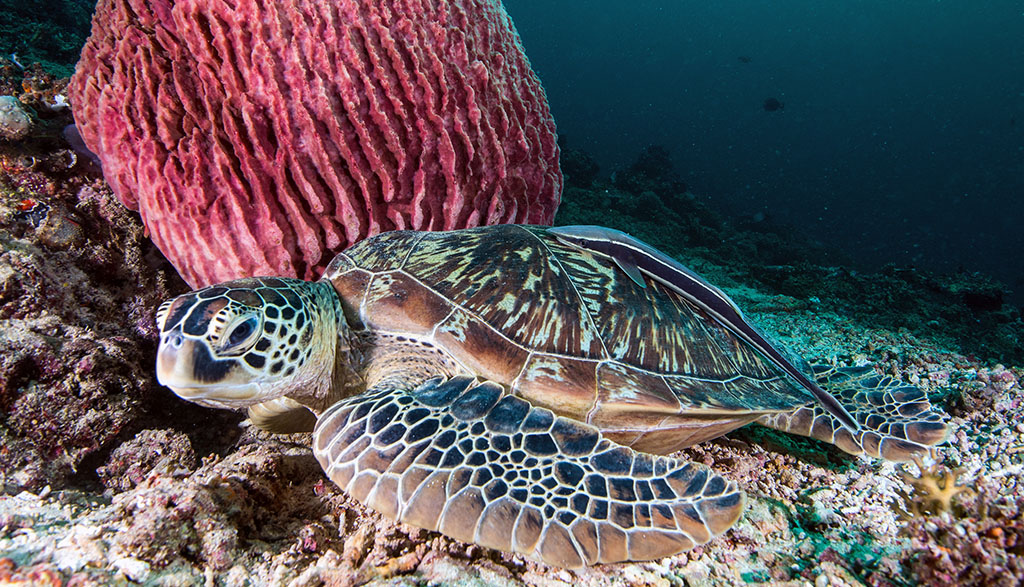 Next morning, a stunning, cloud free day greeted us and a full day of muck diving ahead of us. I hadn't heard about the muck sites in this area but they certainly provided enough critters to keep a whole boatload of photographers happy for hours. Pipefish, frogfish, spiny sea horses, orangutan crabs and even the classic Costiella (Shaun the Sheep) nudibranchs were all found off the coast of Lombok. I could quite happily spend an extra week exploring the macro goodness in this area.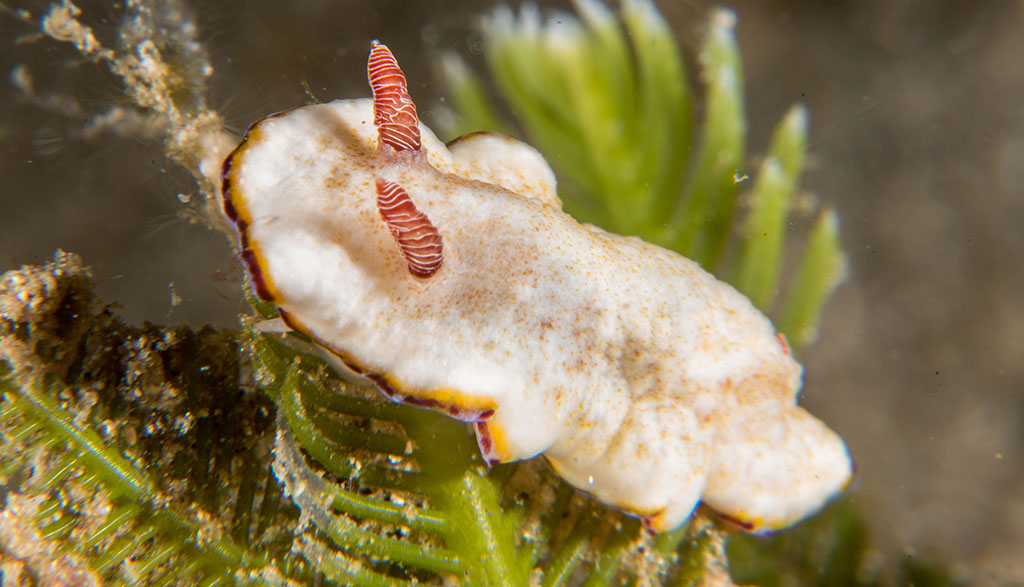 Day two and we headed into the wide-angle sites of Deep Turbo and Shark Point. Big full moon-driven currents make for fun drift diving with plenty of turtles and reef sharks. There was very little noticeable damage to the coral reefs. Having so many dive sites around the Gili's allowed for lunch back at the resort, allowing for easy battery changes in cameras and strobes. The camera room and dive storage facilities at Laguna Resort are brand new, well thought out and spacious enough for large groups of divers.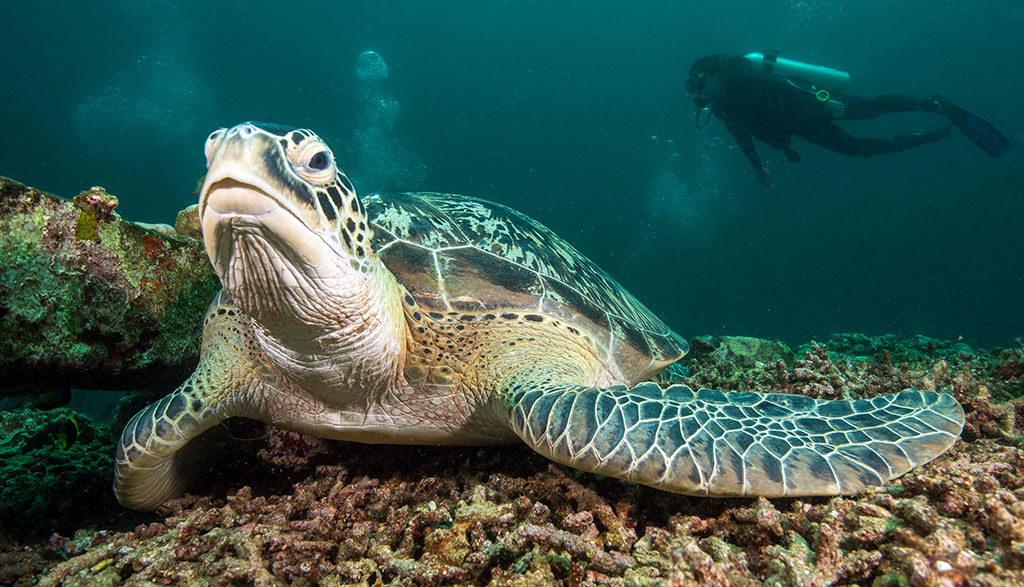 Our third day of diving saved the best for last; less than 15 minutes from the hotel and we were treated to more turtles on one site that I have ever seen, even outdoing Balicasag in the Philippines. Turtle Heaven is a great introductory dive site at 12m in depth. The turtle traffic is so hectic that you have to check that you are not about to be photobombed by incoming green and hawksbill turtles.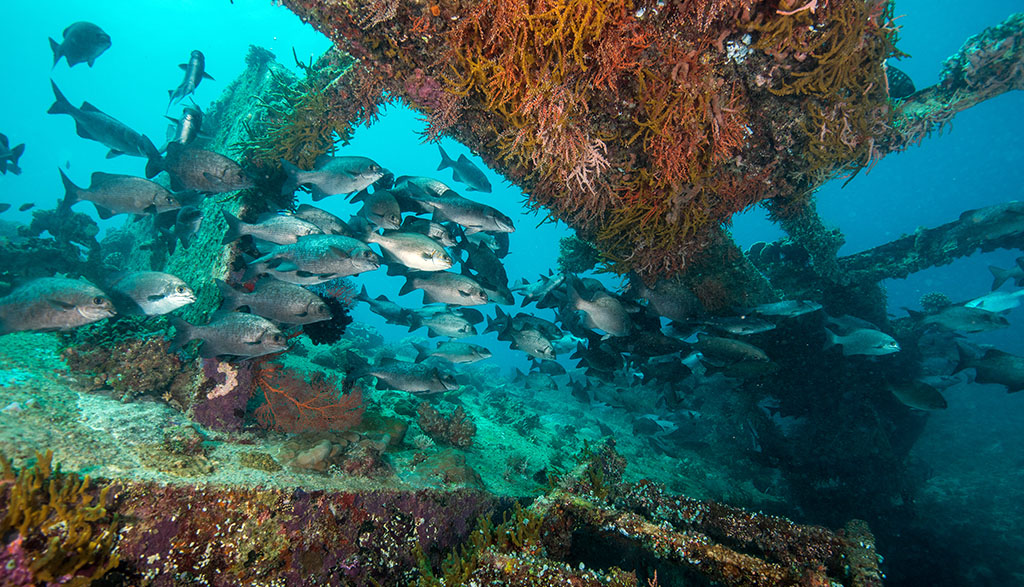 The second site is an amazing art installation by Jason Cares called 'Nest' accessible by divers and snorkelers, it was a scenic start to a fun drift along the coast of Gili Air. We finished with the Bounty Wreck dive site, lots of schooling fish and the ability to do simple penetrations for wreck diving training.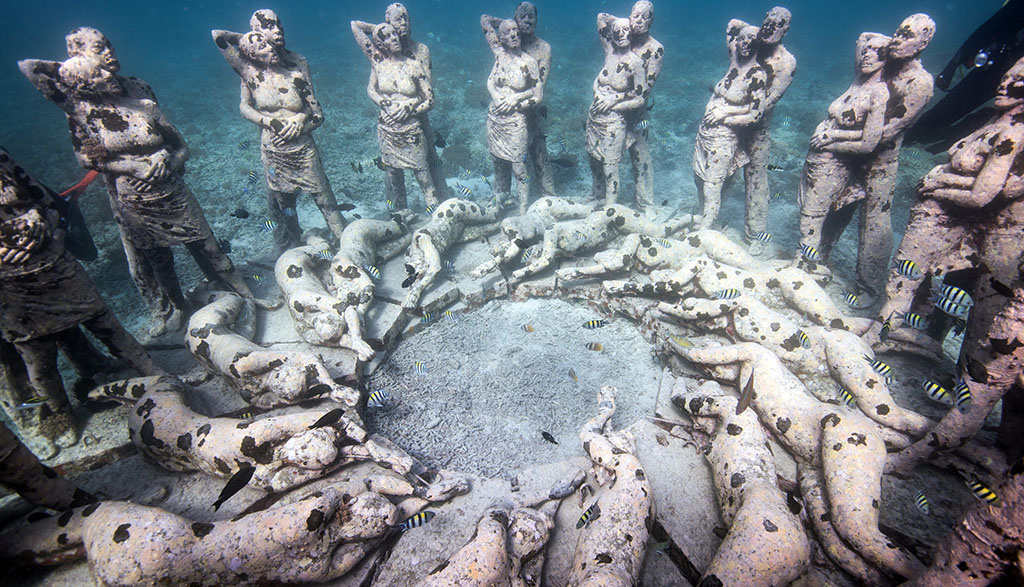 The Gili's offer plenty of relaxing activities outside of diving including stand-up paddle boarding, horse riding or just enjoying the spectacular sunsets on the west coast. Our no – fly time was spent shopping in the boutiques that line the shore and sipping cocktails while enjoying the sunset accessed by a short taxi ride across the island. The more adventurous can hire a bicycle and ride around the island.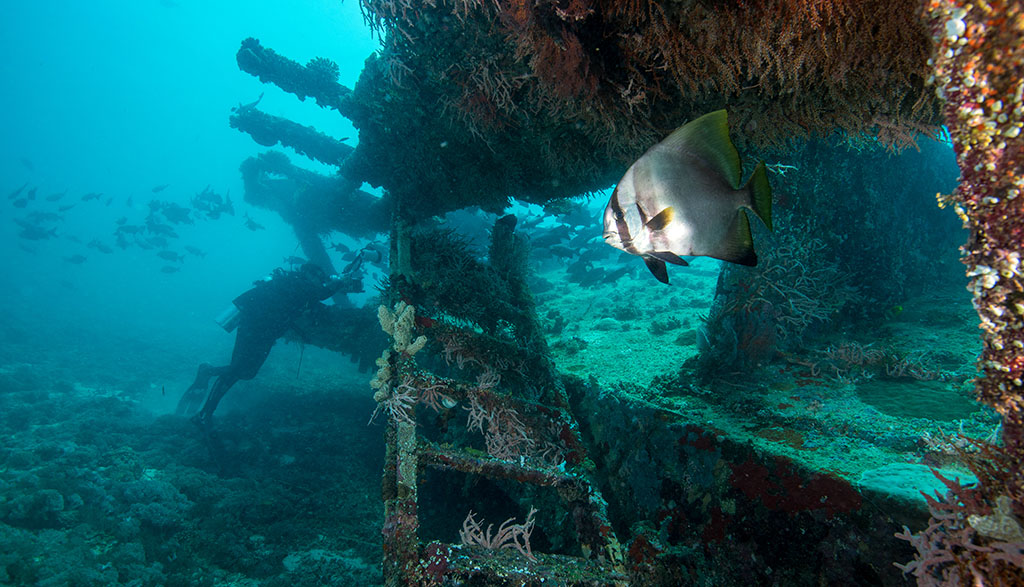 I thoroughly enjoyed the short time I spent on Gili T and will return. I will be planning on adding the Gili's to my future trips as a place to relax and do some diving as an alternative to relaxing on Bali with the larger tourist crowd – I have certainly found my new refuge from the masses that is close enough to travel to and great enough to dive again and again.