Overview
Ocean Hunter 3 – The best way to dive Palau
Ocean Hunter 3 is the latest and most luxurious addition to the Ocean Hunter Liveaboard Fleet in Palau. Ocean Hunter liveaboards are owned and run by Tova and Navot Bornovski, pioneers of Palau's scuba diving, the couple also run the Fish'n Fins dive centre in Palau.
Ocean Hunter represents 25 years of knowledge, designed by divers for divers, this family-run vessel also offers you personalized service and the knowledge and hospitality of a very experienced local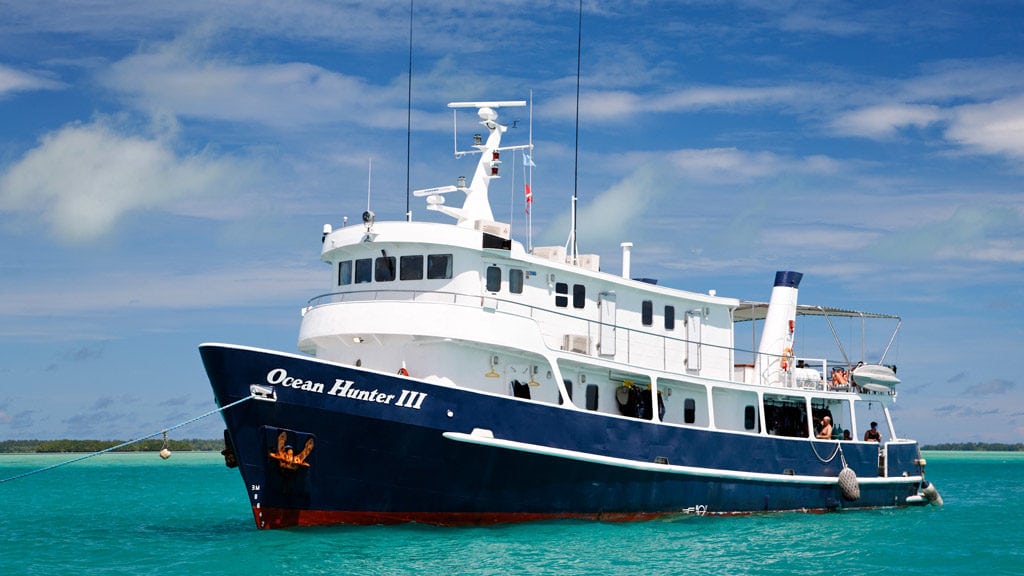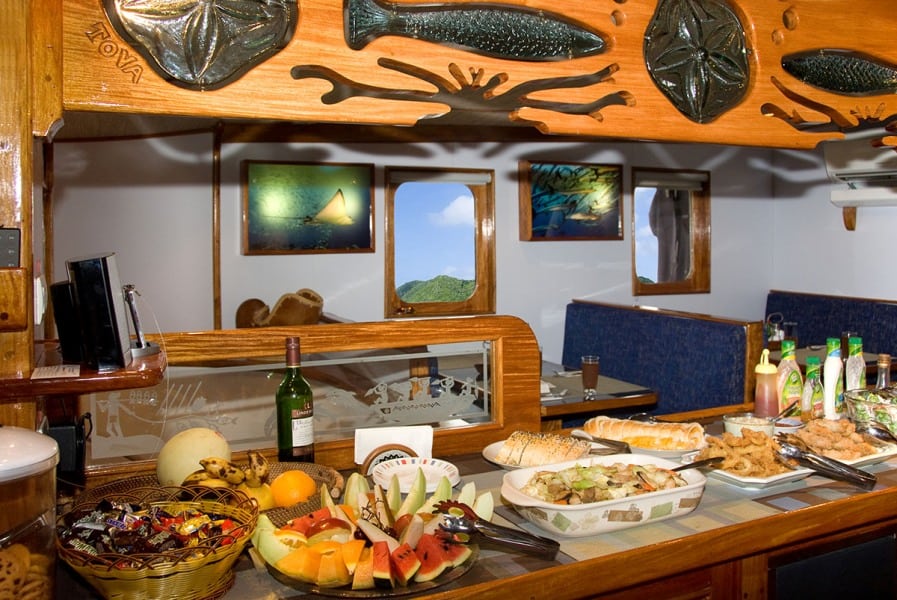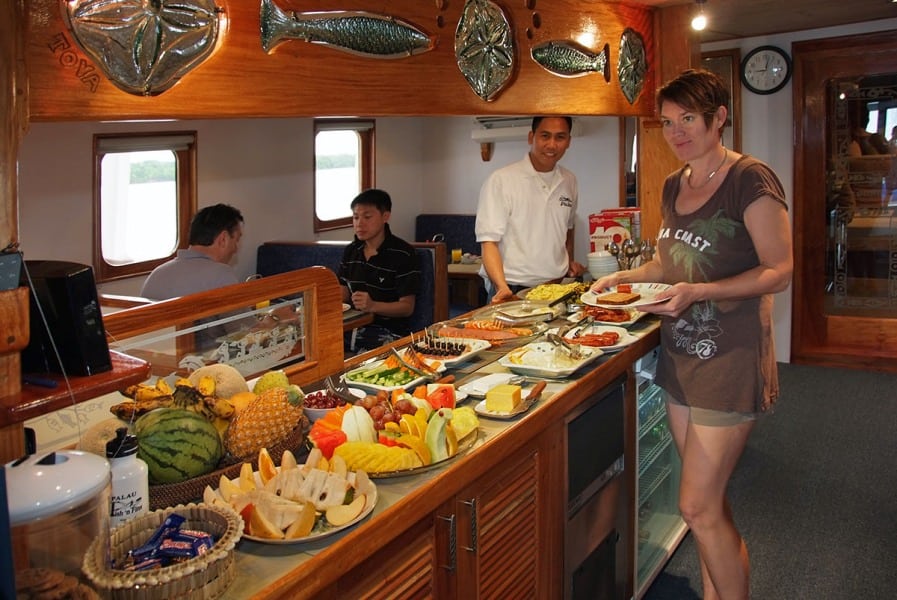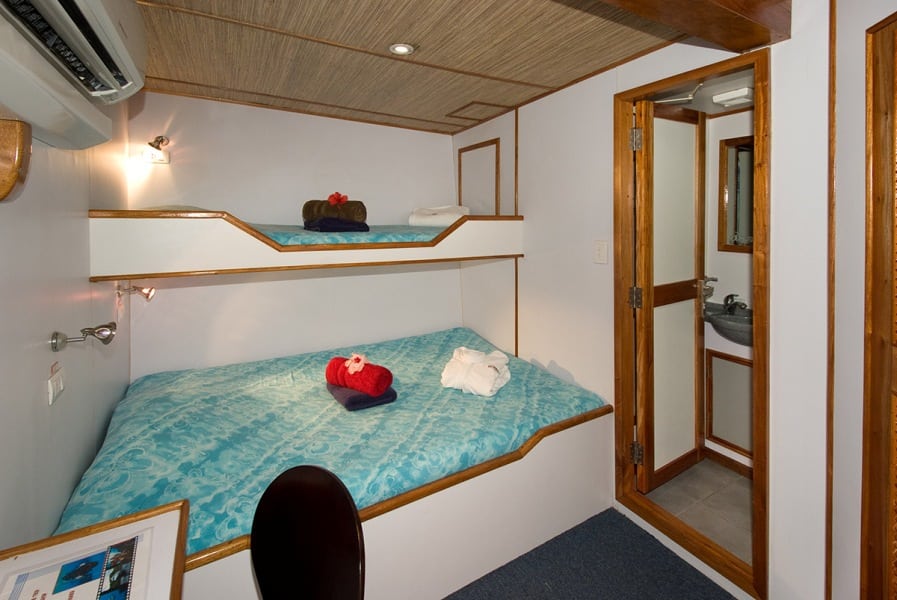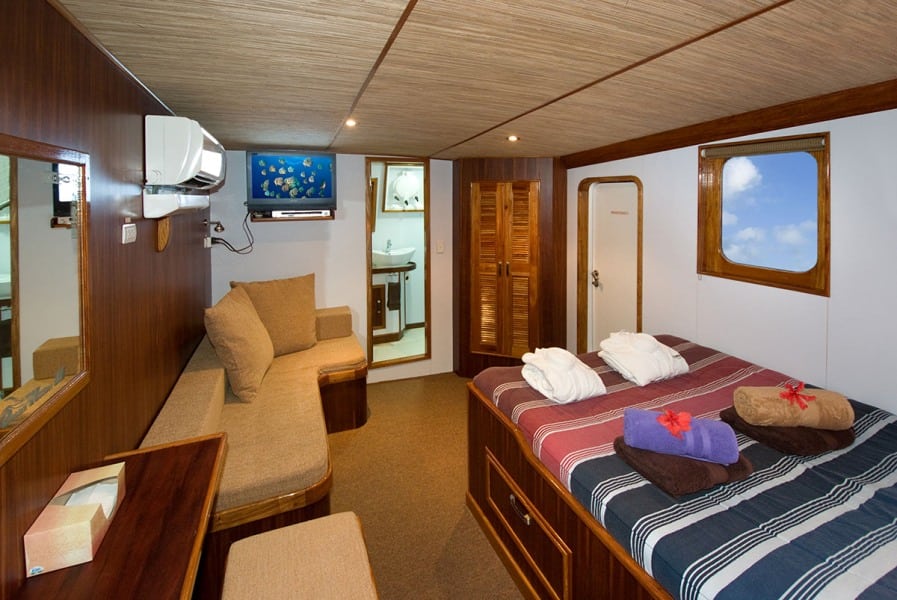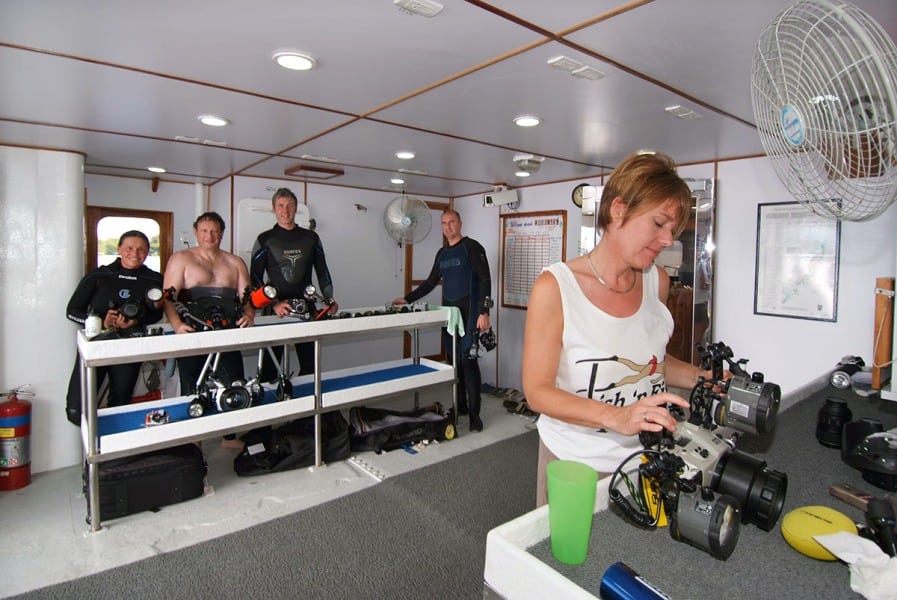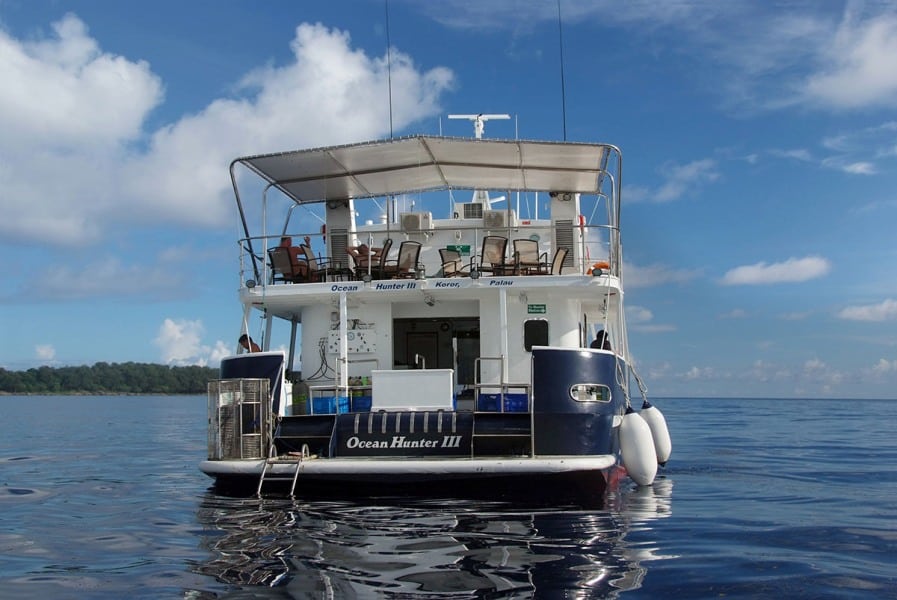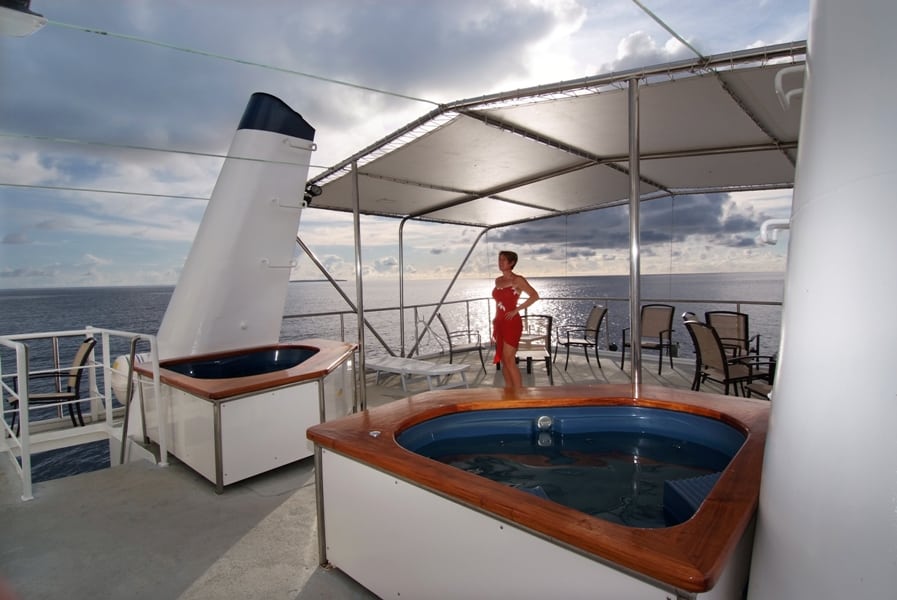 Accommodation & Facilities
The Ocean Hunter 3 has a large main deck with saloon, galley and big dive deck. There is a large dining room and a comfortable lounge with sofas and an entertainment system.The spacious sundeck leaves plenty of space to relax and also features 2 Jacuzzis.
The vessel accommodates up to 16 guests, and all guest cabins, located above and below the main deck,have private bathroom and air-conditioning. The delicious gourmet menu served on Ocean Hunter vessels has been designed by the owners, specifically with divers in mind. The menu incorporates international cuisines such as Palauan, Italian, Mediterranean, French and Japanese and plenty more.
Location
Itinerary
The beauty of liveaboard diving around Palau is that distances between dive sites are very short compared to some other destinations. This allows the itinerary to be very flexible as the only restrictions are tidal patterns, moon cycles and the general weather conditions. Ocean Hunter offers 7 day and extended 10 day cruises.
What to expect
Diving service
The Ocean Hunter 3 crew use their knowledge and experience to bring you to the right dive site at the right moment. Diving off Ocean Hunter means you get personal attention, reefs without a crowd, easy entry into the water and a maximum bottom time! After giving you a briefing at least one dive master will enter the water with you on every dive to guide, guard and assist. Night dives are offered every night, and Nitrox is available.
All levels of divers, from experienced to beginner, are welcome. Experienced instructors and dive masters will give you all the assistance and guidance you need. When your dive is over, you can climb back on-board and take a warm, freshwater shower right on the spacious dive deck before enjoying a cake or a fresh fruit smoothie.
The dive tender is a purpose-built 10.5m (35ft) rigid hull boat designed specifically for divers, with ample room and dry storage areas.
Dive areas
Ocean Hunter 3's itinerary includes the world-famous spots of Palau such as Blue Corner, Big Drop Off and Ulong Channel. There is also the opportunity to snorkel in jellyfish lake explore several WWII wrecks.
We think…
Ocean Hunter III is the best option for divers who wish to maximize their dive time in Palau. Due to their midday departures, they offer 6 full days of diving. Cabins are spacious and service and amenities are on-par with the best luxury dive cruises in the South-East Asia/Pacific region.
Pricing for Ocean Hunter 3 Luxury Liveaboard 1 Sep 2017 - 31 Aug 2019
7 Nights Standard Double/Twin cabin No 2 & 5
AUD
3495
USD
7 Nights Deluxe Double/Twin cabin No 3, 4, 6 & 9
AUD
3595
USD
7 Nights Master Double cabin No 7 & 8
AUD
3995
USD
-
10 Nights Standard Double/Twin cabin No 2 & 5
AUD
4990
USD
10 Nights Deluxe Double/Twin cabin No 3, 4, 6 & 9
AUD
5135
USD
10 Nights Master Double cabin No 7 & 8
AUD
5770
USD
Important Information
Single supplement surcharge +100%
-
Included: accommodation in a double/twin cabin, all meals, snacks, fruits, coffee, tea, water, dive guide, tanks & weights, return airport transfers on charter days. On diving days up to 5 dives daily.
Please use the [Enquiry & Booking] button to give us your exact requirements in terms of Trip#, dates, number of divers/snorkelers, and we'll give you the best deal we can.
Trip dates & Availability



Ocean Hunter III Koror Extras Payable Locally (as of August 2018)
Koror Dive Permit excl. Jellyfish Lake (incl. $3 processing fee)
AUD
53
USD
Koror Dive Permit incl. Jellyfish Lake (incl. $5 processing fee)
AUD
105
USD
Peleliu Dive Permit (incl. $3 processing fee)
AUD
33
USD
Nitrox fills (7 night cruise)
AUD
199
USD
Nitrox fills (10 night cruise)
AUD
285
USD
Full set of dive gear rental incl. BCD, reg, fins, mask, snorkel, wetsuit, torch, computer (per dive day)
AUD
75
USD
Nautilus Safe Line rental (per dive day)
AUD
10
USD
15L tank (per dive day)
AUD
5
USD
Important Information
Special payment and cancellation terms apply for this operator.
Note: Airport Fees – Environmental Impact Fees
From 01 January 2018, the government of Palau has implemented their previously announced new Palau Pristine Paradise Environmental Fee (PPEF) to enhance their environment protection plan. The PPEF replaces the former Green Fee and departure tax charges (50 USD) and amounts to 100 USD per departing non=Palauan passenger and should normally be included in your ticket when it is issued after 01 January 2018. If your ticket was issued before 01 January 2018, the old charges of 50 USD will remain in place.