Introduction
Diving Espiritu Santo is synonymous with diving the SS President Coolidge, but it's not the only dive in town – there's the infamous Million Dollar Beach and the USS Tucker. For those seeking coral reefs, there's Ratarata Reef and two at Tutuba Island, with good chances of seeing resident turtles, barracudas and other passing pelagics, plus Cindy's Reef, off Aore Island, which provides easy reef diving with good visibility.
There are plenty of other activities and places to see on Santo, and they are all accessible within a day trip from the capital Luganville. Whether you want to clamber into caves or plunge into Blue Pools, you'll be surprised how much there is on offer.
Location
Espiritu Santo is roughly on the same latitude as Cooktown, in far north Queensland and Fiji, and the same longitude as Norfolk Island.  It is the north most of the large islands, and about 3 hours flying time from Brisbane.
All dive operators offer combinations of diving on the Coolidge and boat diving on other wrecks and reefs. The accommodation associated with each varies too. Peruse the options below, and if you still can't make up your mind give us a call.
Dive Centres
Dive Resorts
Dive Sites
It would be a rare diver who came to Santo and didn't dive the Coolidge, as the Coolidge is a very rare dive. But the Coolidge is a very particular dive: it is big and deep. Imagine starting from the gangway and wandering around a massive luxury cruise liner (because that's what it was) – how long would it take you to explore it? Now imagine you can only explore it for 30 to 40 mins at a time before you have to be back on shore: how many times would you need to go? Also imagine the lights are out and it's dark inside – would you go without a guide? Don't plan a dive on the Coolidge – plan several, and plan them with someone with years of experience.
Dive Sites
Where to Eat
Each resort has a sufficiently varied menu to last you a week of variety, and some have at least one day in the week when they cook their own particular speciality.
In Luganville town, the Espiritu Hotel has both Western and Thai menus – both good, and there is a pretty good Chinese restaurant a few blocks down. The Beachfront Resort is famous for its pizza.
How to Get Around
Unless you have a particular need to be very mobile there's little point in hiring a car, as in most cases, the tour operators, whether a dive centre/resort or day trip, will get you to where you need to go in reasonable comfort. Failing that – ask them to call you a taxi – there are plenty and they are cheap.
Other Activities
All of which we can recommend, either for the non-diving days, or for the non-divers in the party.
Santo Safari Tours
A trip from Luganville, north up the east coast to Port Olry, made all the more memorable by Glen, our guide and font of all local knowledge.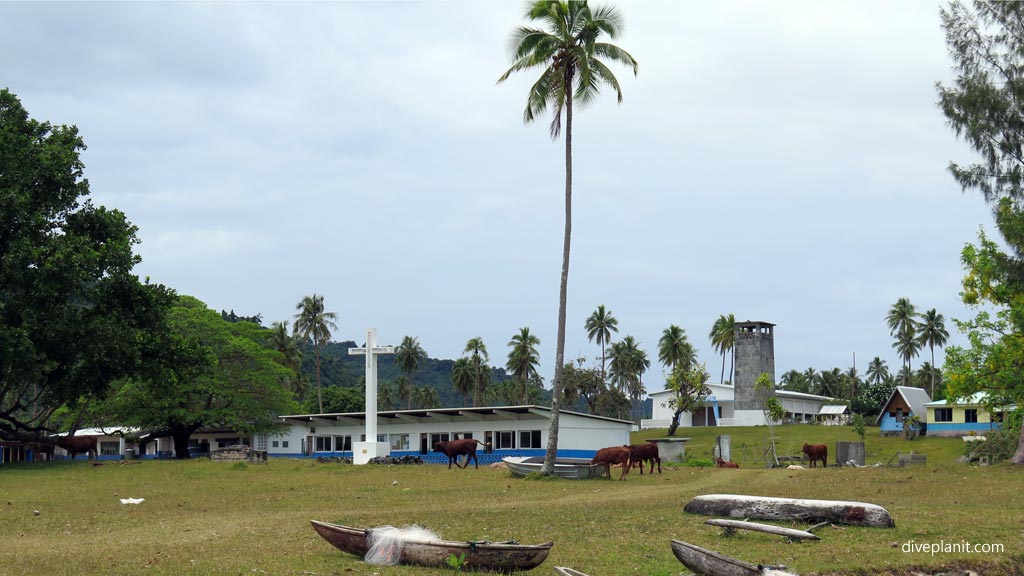 The road to Port Olry passes many plantations of sandalwood, coffee, cocoa and kava, a few resorts, and Hog's Harbour (so named by the Catholic missionaries who brought the pigs to wean the cannibals off human flesh and also to give them something else to sacrifice). Our trip included a kayak trip on the Riri River, a dip in the Nanda Blue Hole, and a stopover at Champagne Beach. (Email: santosafaritours@vanuatu.com.au or call: +678 7742178)
Blue Hole
The water comes from down the mountain and surfaces at the Blue Hole – a perfect 'swimming-hole-sized' hole. There's a platform on one side with tables and chairs and a swing on the other side for the kids. The blueness of the water is simply stunning, and completely natural (no added chemicals); the water is crystal clear having been filtered through limestone and volcanic rock.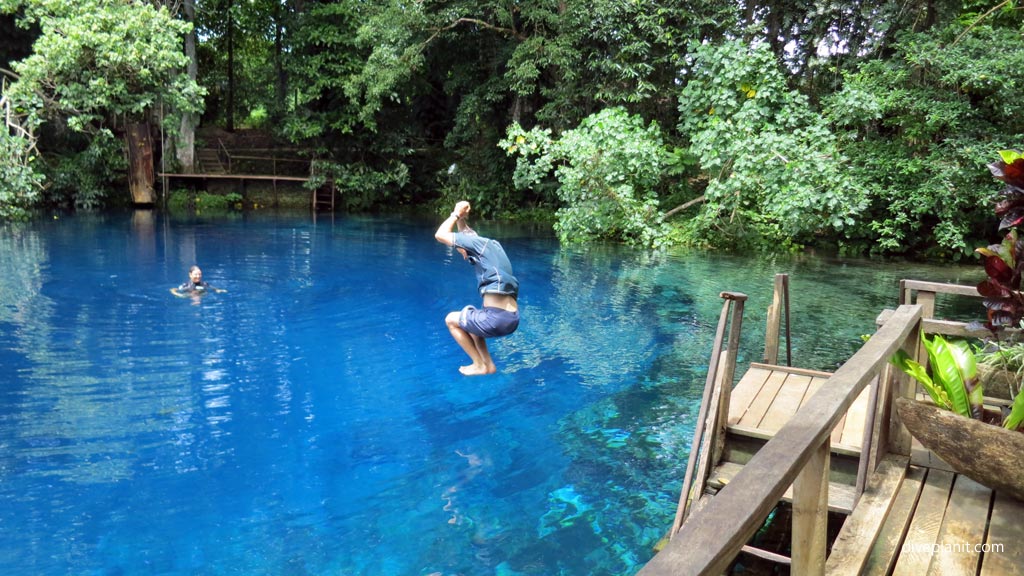 Canoe Trip on the Riri River
A ride aboard a traditional wooden dug-out canoe with a local guide (who does all the paddling) along the wonderfully quiet and picturesque Riri River.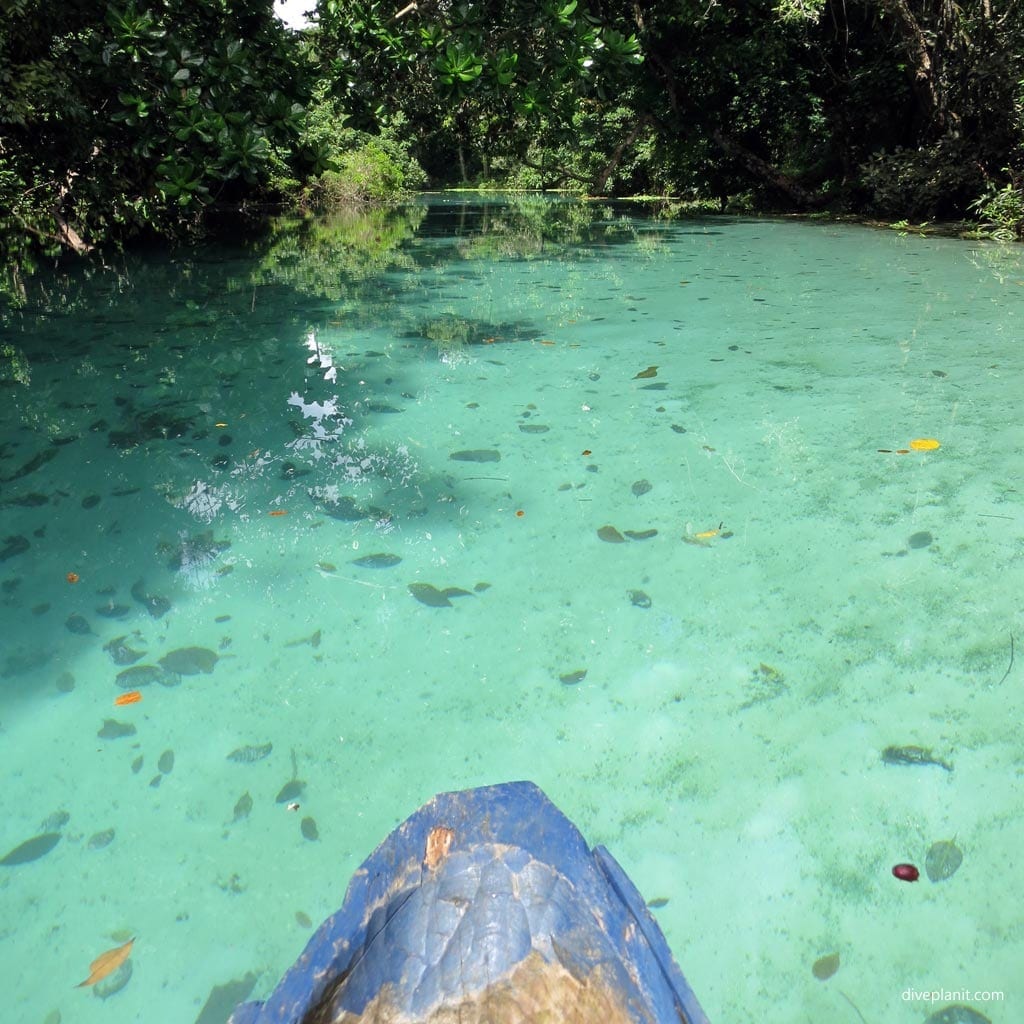 The water is so clear it occasionally looks like the canoe is suspended invisibly above the river bed. There is another blue hole at the end of it too.
Champagne Beach
Much of the infrastructure of Santo has its origins in the US base that housed over 100,000 US soldiers from 1942.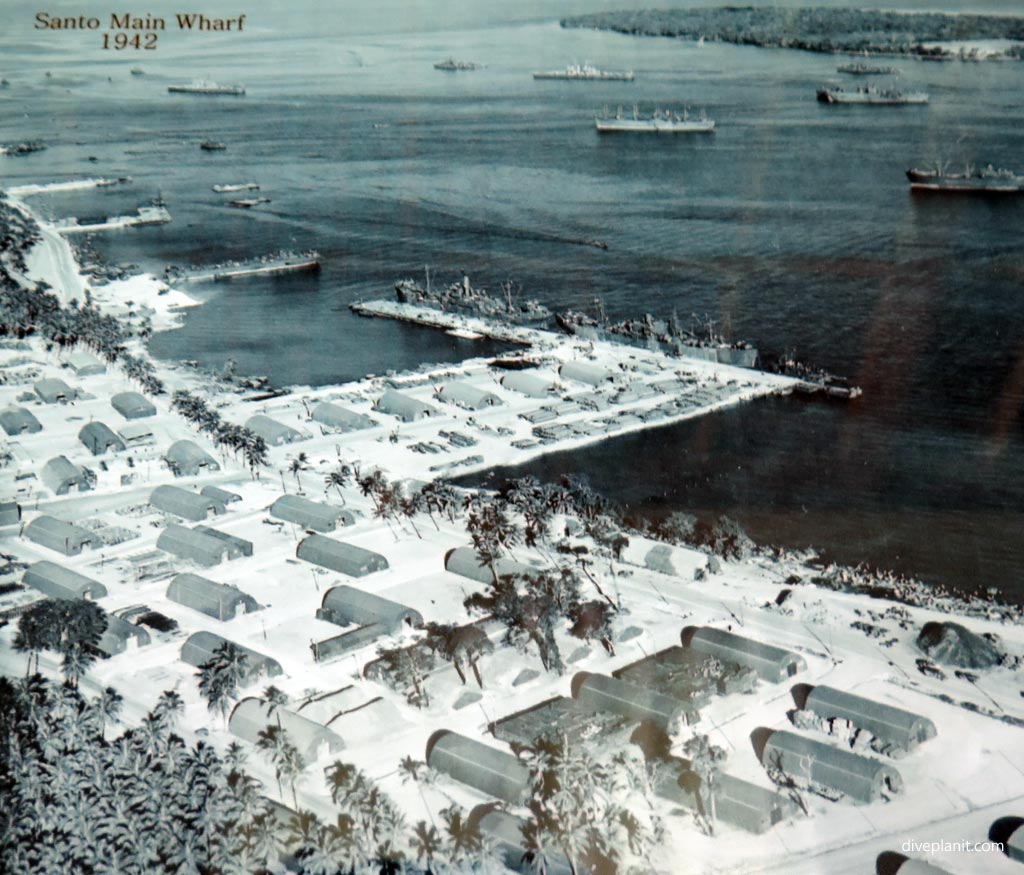 Many of the stories of that period are captured by James Michener. General Ross was a guy in charge of the operation to capture this particular beach first, which he did in an overnight sortie. In the morning he woke to name the beach Champagne Beach (possibly because of its crescent shape, pale yellow sand and foamy white surf, or possibly because he'd just got married prior to shipping out and had missed out on his honeymoon).
The beach is owned by a local chief and all visitors must pay a small bounty or entrance fee.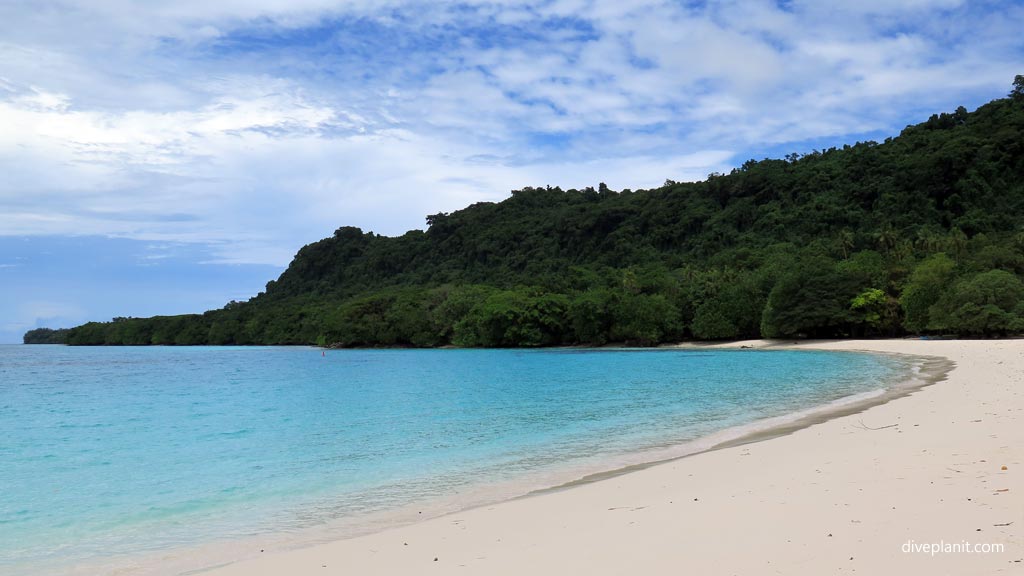 Port Olry
Although Champagne Beach is more famous, Port Olry is more beautiful. Chez Luis is a great beachfront bar-restaurant here and there are some bungalows which can be used for short overnight stays or day trips.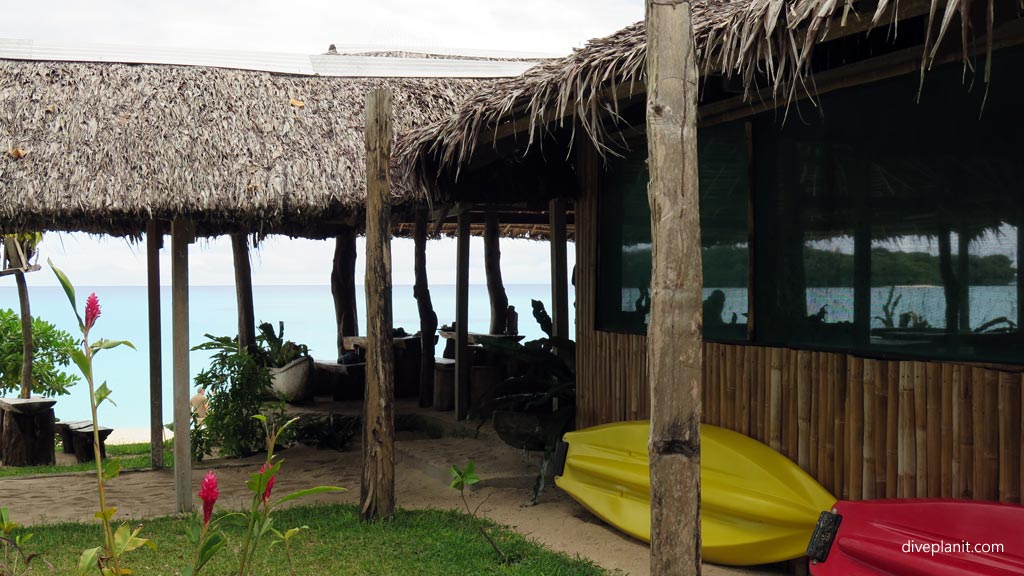 Millennium Cave Tour
This is something that we couldn't squeeze into our itinerary, however it comes very well recommended by locals and tourists alike. The description here is pretty accurate and this could sensibly fill your 'no fly' day.
Getting There
We always promote flying the local flag, so Air Vanuatu has to be your first choice.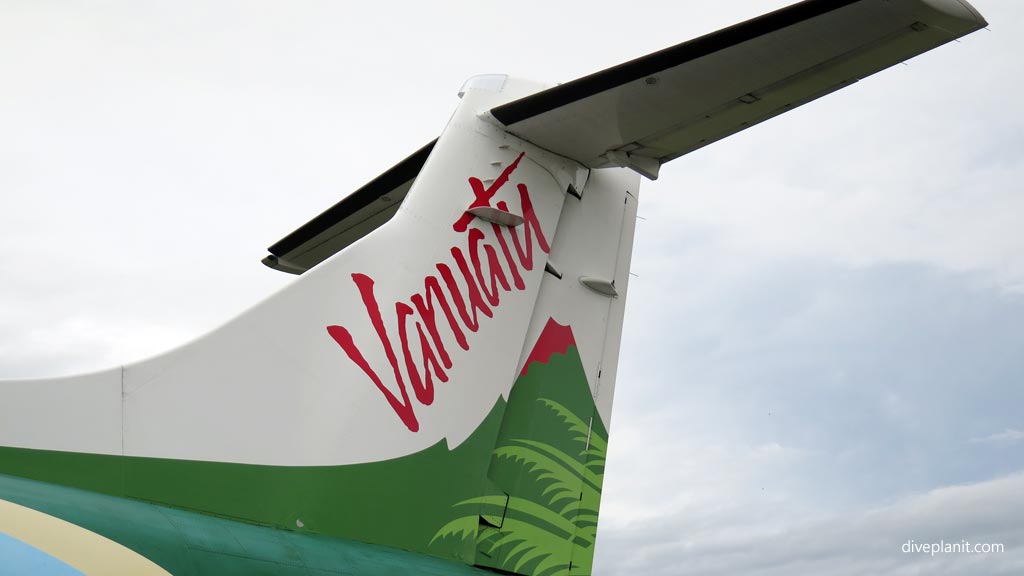 Air Vanuatu has direct flights to Santo from Brisbane. But not every day. However, the flights between Port Vila and Santo are twice daily and connect well with international flights.
Check out their schedules here.
Pricing / availability enquiry