Introduction
Location
Accommodation
Diving
Pricing & Schedules
Enquire Now
The Truk Odyssey Liveaboard is a 40m (132ft) dive liveaboard located in Weno, in Truk Lagoon in the Federated States of Micronesia. On board the Truk Odyssey, you'll find amenities consistent with the world's top liveaboards. The Truk Odyssey Liveaboard only offers 7-night cruises leaving on Saturdays.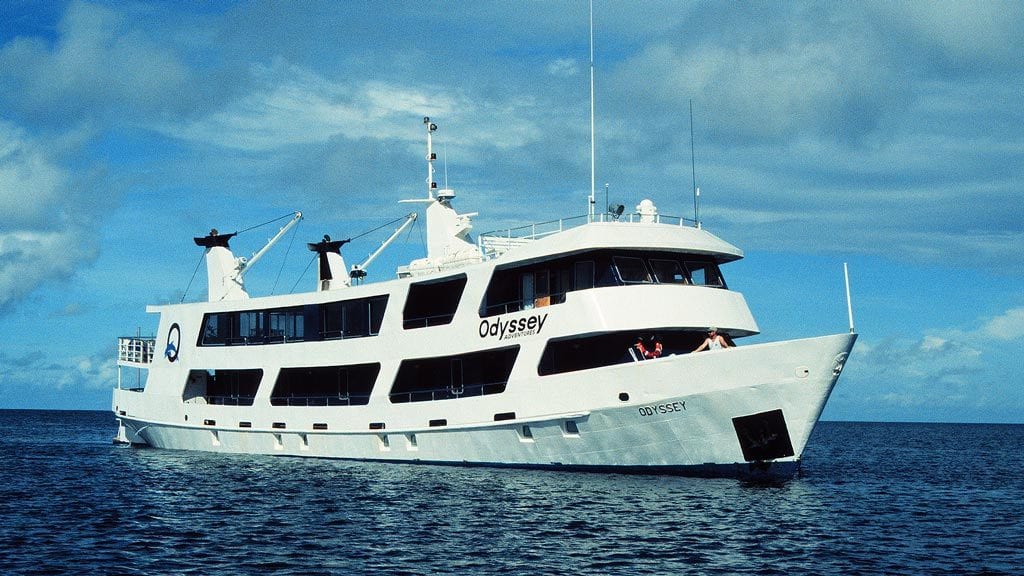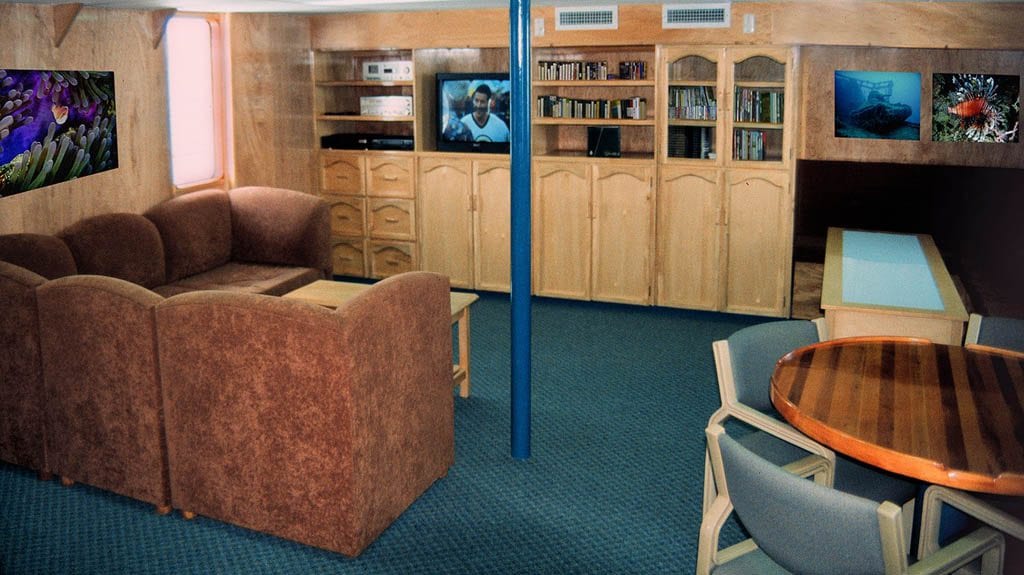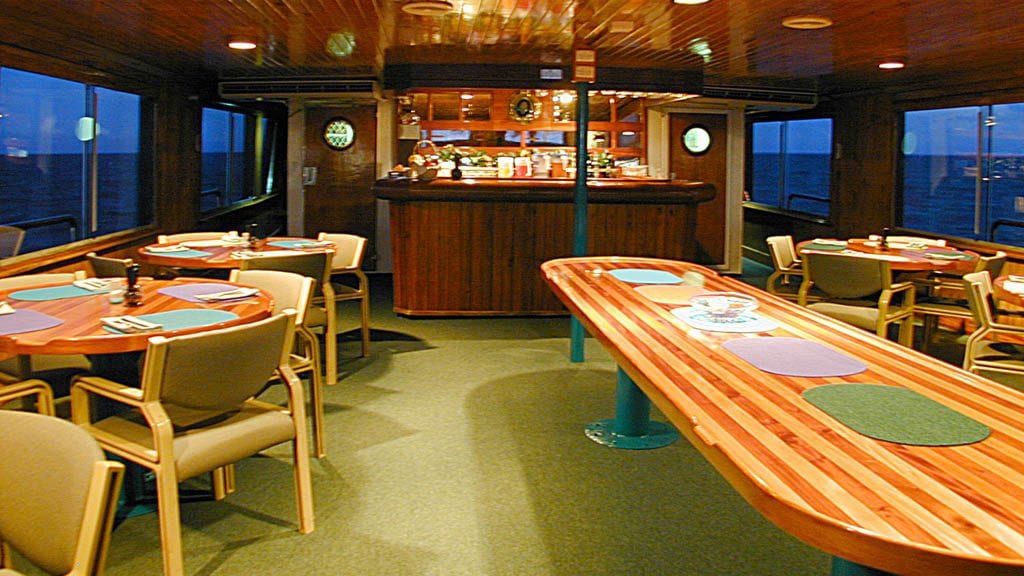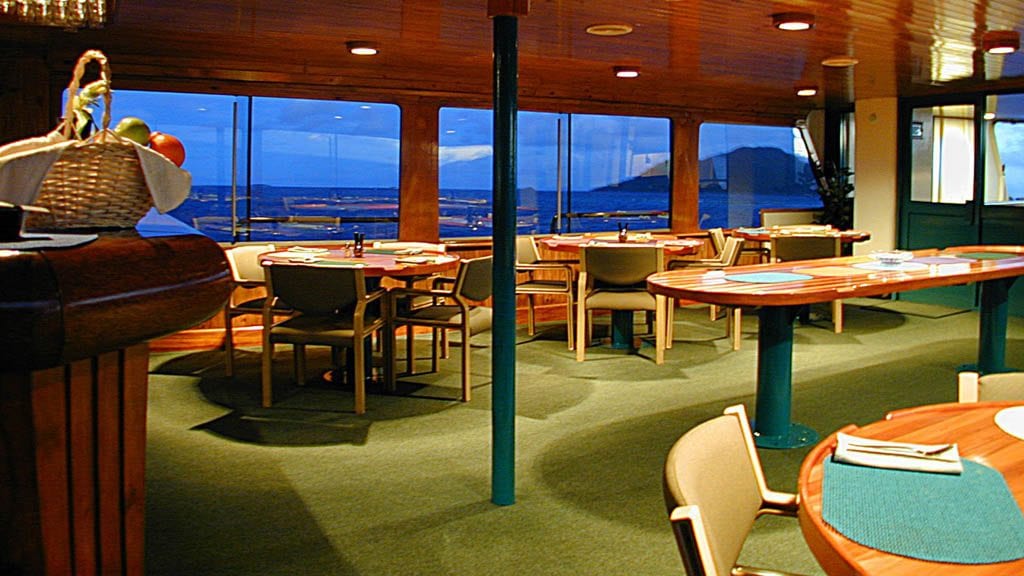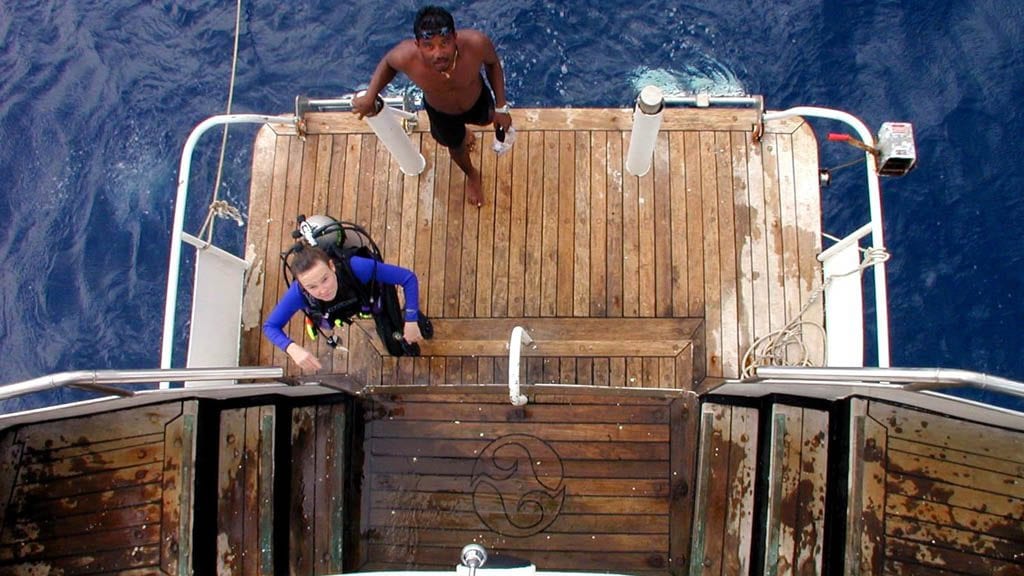 Features
With its enormous size (40m/132ft), the Truk Odyssey offers more amenities and space than most liveaboards. The comfortable lounge is where you'll find a variety of ways to entertain yourself: a TV & VCR, DVD player, sound system and a good library, cards and games. The lounge is also where you'll find the well-stocked bar and the boutique.
The Odyssey's dining salon is fully carpeted and air-conditioned with two walls of large windows with permanent views across the islands in Truk Lagoon. The Truk Odyssey serves delicious buffet-style meals: breakfast includes a hot breakfast plus toast, cereals, fruit and juices; lunch may be served on board, or maybe a beach barbecue; hot, savoury, hearty dinners complete your exciting day of diving, eating and relaxing.
Just behind the dining area is a nice size sundeck with lounge chairs and deck chairs. There is also a shaded section for those who prefer it, which is also where the dive briefings are held.
Staying Connected
There is no Internet access on board the Truk Odyssey. You will only be able to access the internet when Odyssey is moored at the Blue Lagoon Resort via the resort's WiFi, for the Saturday night of arrival and Friday night at the end of the week.
We think…
The Truk Odyssey Liveaboard is a great liveaboard choice for the recreational diver in Truk. It offers a comfortable way to explore Truk's ghost fleet and surrounding reefs. Though the Truk Odyssey is more expensive than other dive operators in Truk it is worth it.
The Truk Odyssey Liveaboard itineraries depart from Weno seven nights every Saturday to Saturday.
Accommodation
The Truk Odyssey boasts nine large, luxurious staterooms all fully carpeted with private air conditioning controls, windows or large portholes, and private bathroom with shower. Seven of the staterooms (#3 to #9)are equipped to accommodate two single travellers in twin beds…
…or a couple in a generous king size bed.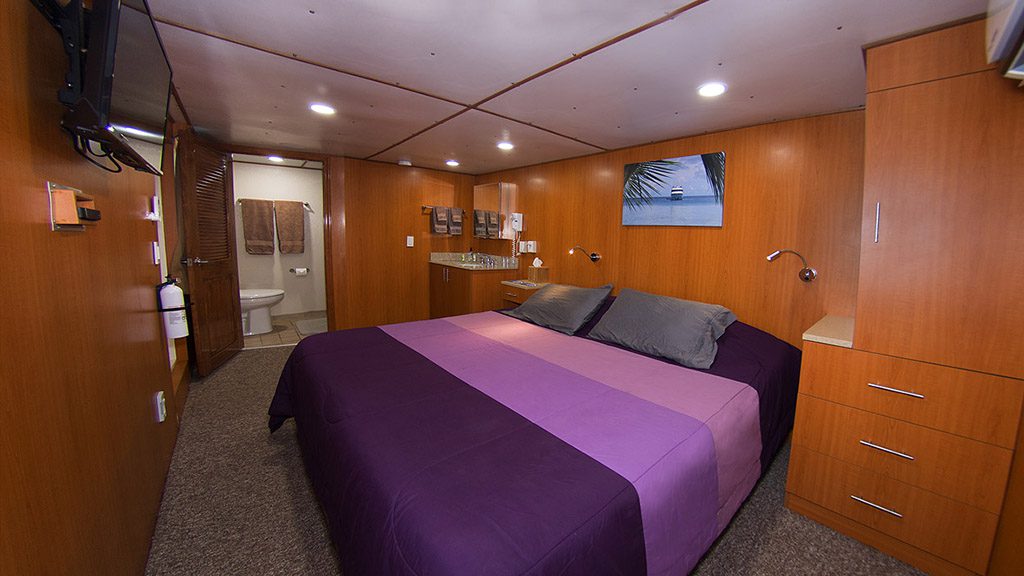 Staterooms 1 and 2 are designed for single travellers and have a single bed.
Daily Itinerary
The day aboard Truk Odyssey begins after a 7.00am hot breakfast with your first dive briefing around 7.45am. Depending on the dive site you'll have up to two dives before lunch. During lunch, the boat usually moves to a new site. After lunch, you have the option to either do another dive or relax on the either of the sundecks or in the privacy of your own stateroom. A late afternoon dive is also offered. Around 6.30pm a sumptuous dinner will be waiting for you. After dinner, you may choose to do a night dive. At night guests usually, gather in the entertainment lounge to enjoy a movie, or review what was captured that day in video.
Since most of the dive sites in Truk Lagoon are fairly close to each other, it is easy to move around. The best part about diving aboard the Truk Odyssey is that they don't require everyone to dive at the same time. So it is not unusual for you and your buddy to be the only divers on a wreck. For photographers, this offers more opportunities to shoot those popular scenes without having to wait for others to move out of the way.
Dive Service
During your stay in Truk Lagoon, you will find that the majority of your diving will easily be done directly off the Odyssey while they are moored over the dive site. Once you arrive and set up your gear in your own private seat and dive locker, you won't have to take your gear apart until you prepare to go home. Your tank (air or Nitrox) is conveniently filled at your seat.
The spacious dive platform has plenty of room for all divers. There are two long ladders to help you out of the water just a step away from the freshwater shower. Just 4 steps further to the dive deck and you'll find the camera rinse tanks (one on either side of the boat). Past the camera rinse tanks are the gear rinse tanks.
There's plenty of space to hang your wetsuit on the bar just in front of the fan blowing warm air out of the engine room. For photographers, there is a large, sturdy, 3-tiered, carpeted photo table for all your working needs. A battery charging station is on board, and photo and video courses are available.
Technical Diving Facilities
Odyssey is well equipped for technical divers with double aluminium 80 ltr tank systems with dual valve isolation manifolds, DIN or yoke, and pony tanks. Nitrox is also available.
Pricing for Truk Odyssey Liveaboard
Schedule
Length of trip: Seven (7) nights on board the Odyssey. Saturday to Saturday. Up to 5 dives daily off the mother ship.

Arrival and departure Information: Guests are greeted at the airport by an Odyssey crew member. Transfers to and from the airport are included in the price at the beginning and end of the scheduled charter for those arriving and departing on charter schedule. Boarding time on Saturday begins at 5 PM and continues through the night for later arriving flights.
Valid to 31 December 2024
AUD
USD
7 Nights Double/Twin Cabin (#3 to #9) with private bathroom
3495
USD
|
3495
7 Nights Single Cabin (#1 or #2) with private bathroom
3495
USD
|
3495
7 Nights Guaranteed single occupancy in double occupancy cabin with private bathroom
5245
USD
|
5245
Valid to 31 December 2025
AUD
USD
7 Nights Double/Twin Cabin (#3 to #9) with private bathroom
3695
USD
|
3695
7 Nights Single Cabin (#1 or #2) with private bathroom
3695
USD
|
3695
7 Nights Guaranteed single occupancy in double occupancy cabin with private bathroom
5545
USD
|
5545
Valid to 31 December 2026
AUD
AUD
7 Nights Double/Twin Cabin (#3 to #9) with private bathroom
3795
USD
|
3795
7 Nights Single Cabin (#1 or #2) with private bathroom
3795
USD
|
3795
7 Nights Guaranteed single occupancy in double occupancy cabin with private bathroom
5645
USD
|
5645
Included:
* Airport greeting and transfer to vessel on charter days
* 7 nights accommodation onboard the Odyssey
* 6 days of diving up to 5 dives per day
* Free Nitrox 30% (for nitrox certified divers)
* Tanks and weights
* All meals, snacks, beverages incl. beer and wine
Not Included: Dinner on Friday night
Discounts:
Back to Back: When a person reserves 2 consecutive charters, a $400 discount on the second week will be applied.
Non-diver: When traveling with a diver, a non-diver will receive a 10% discount.
EXTRAS payable at time of booking (Valid to 31 December 2020)
Truk Service Tax 5% of cruise price
Truk Dive Permit
50
USD
|
50
EXTRAS payable locally
Truk Airport Departure Taxes (payable cash on departure)
40
USD
|
40
Optional: BCD or regulator rental per item/week
50
USD
|
50
Optional: Dive computer or mask/snorkel/fins package rental per item/week
110
USD
|
110
Optional: Wetsuit rental (shortie) per week from
40
USD
|
40
This liveaboard's prices are in USD. The AUD prices shown are based on the current exchange rate. The price paid in AUD will be based on the actual exchange rate at the time any payments are made.
Please use the [Enquire Now] tab to give us your exact requirements in terms of Trip#, dates, number of divers, and we'll give you the best deal we can.