Overview
Kungkungan Bay Resort, or KBR, is nestled at the water's edge on the Lembeh Strait just north of Bitung. Once you're there, the daily commute to the boat is literally just a few steps, and all of Lembeh's best dive sites are 5-15 minutes away by boat. Plus, there's all day free diving on the Kungkungan Bay Resort protected house reef – one of the few in the Lembeh Strait.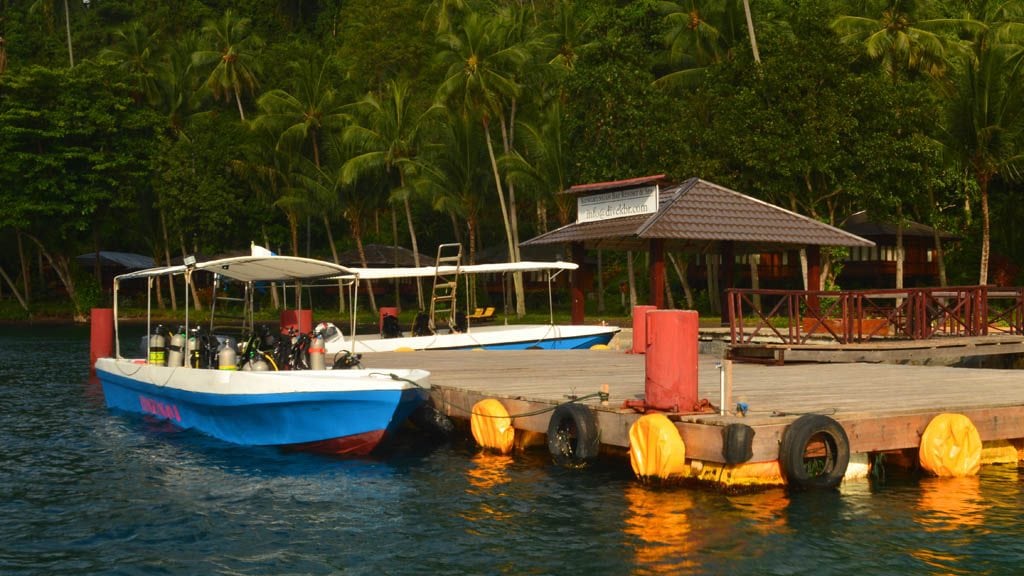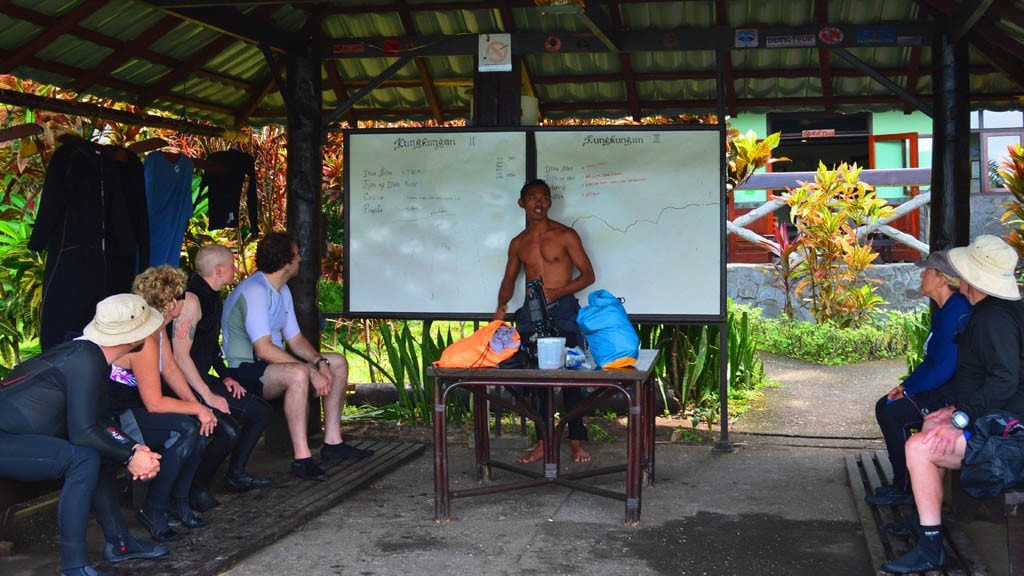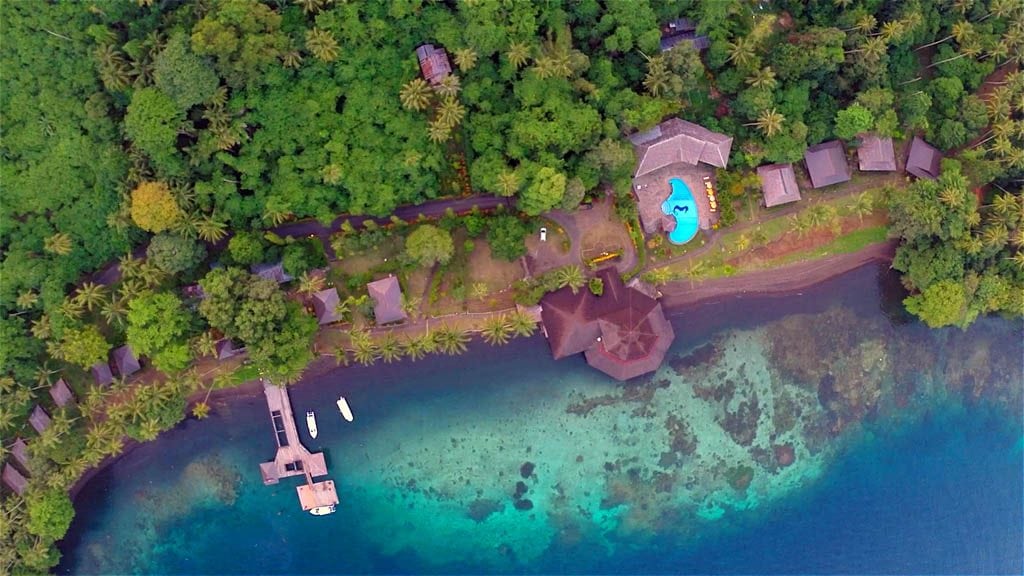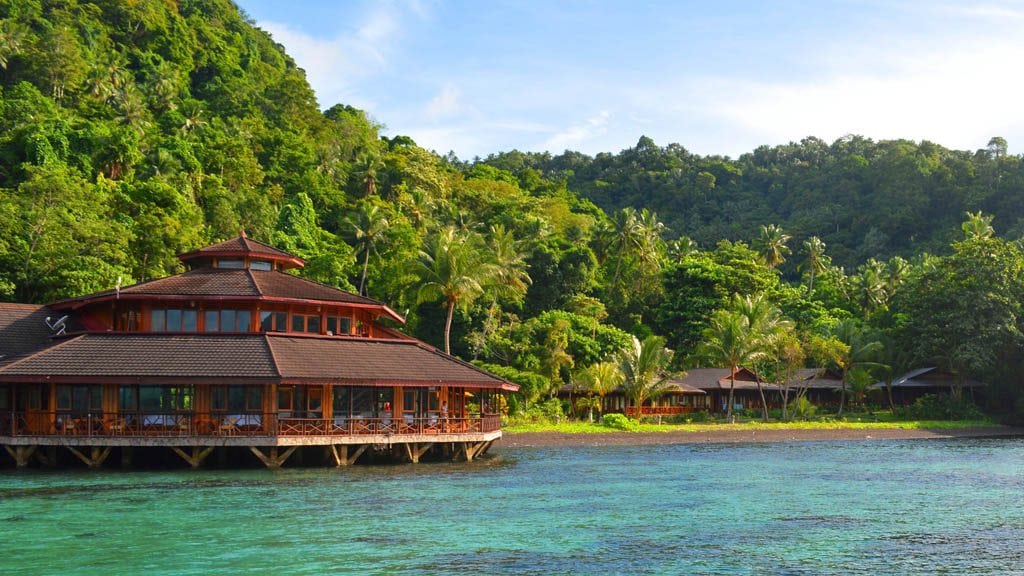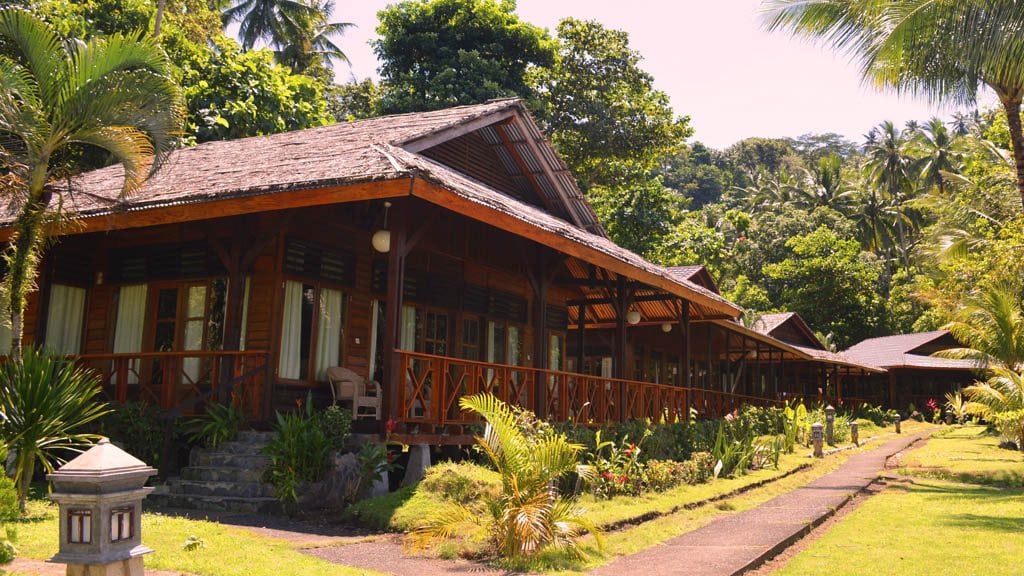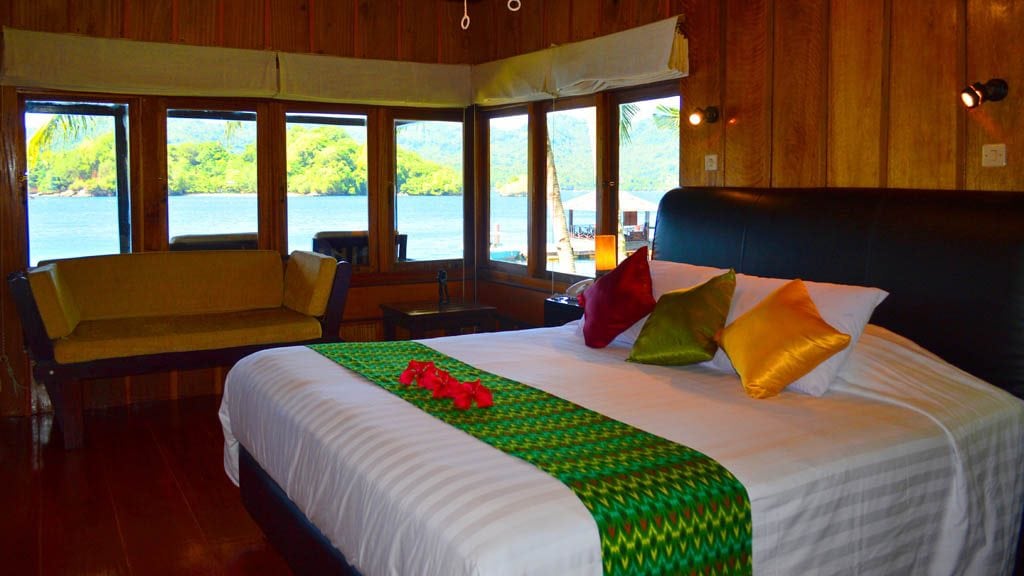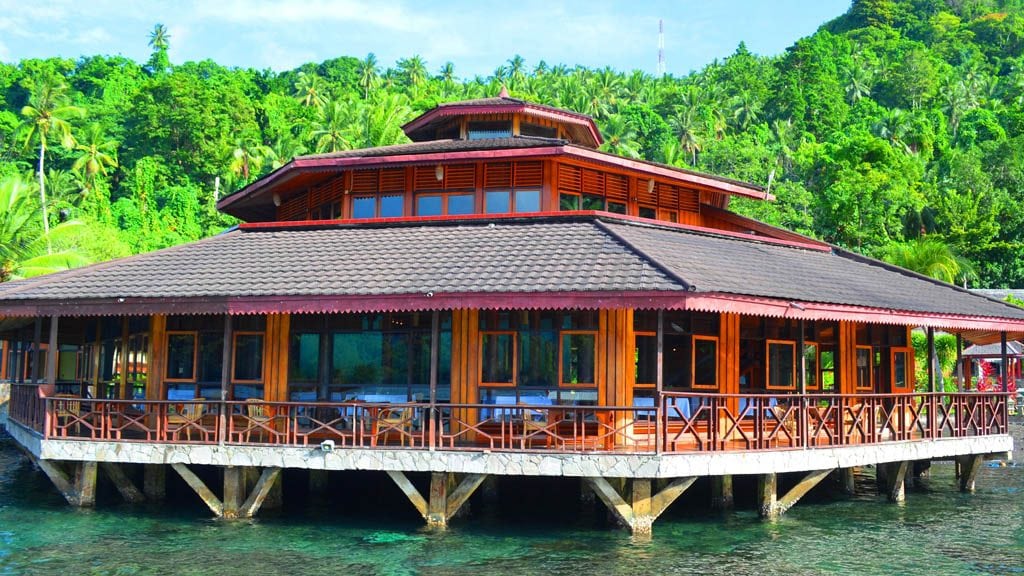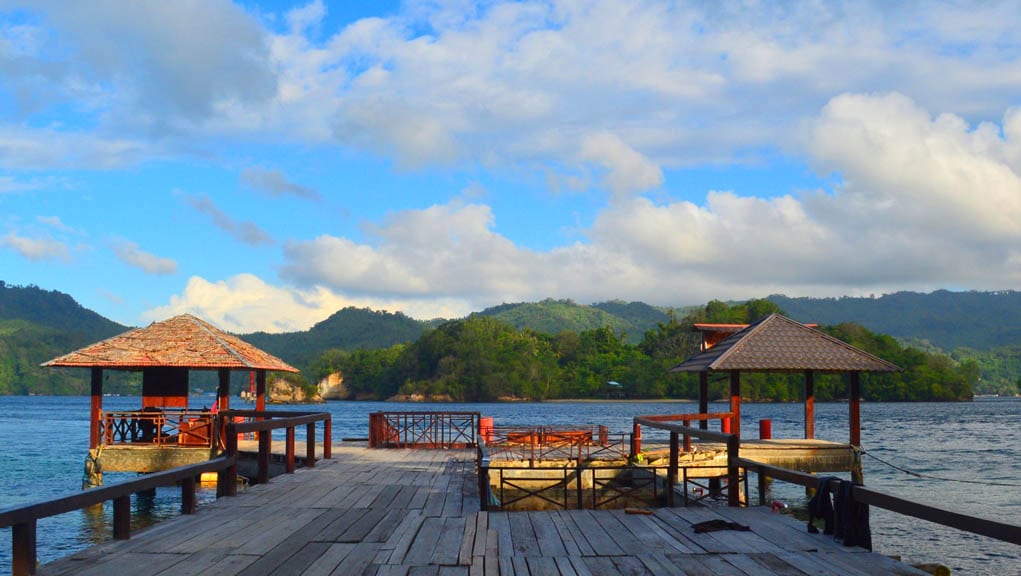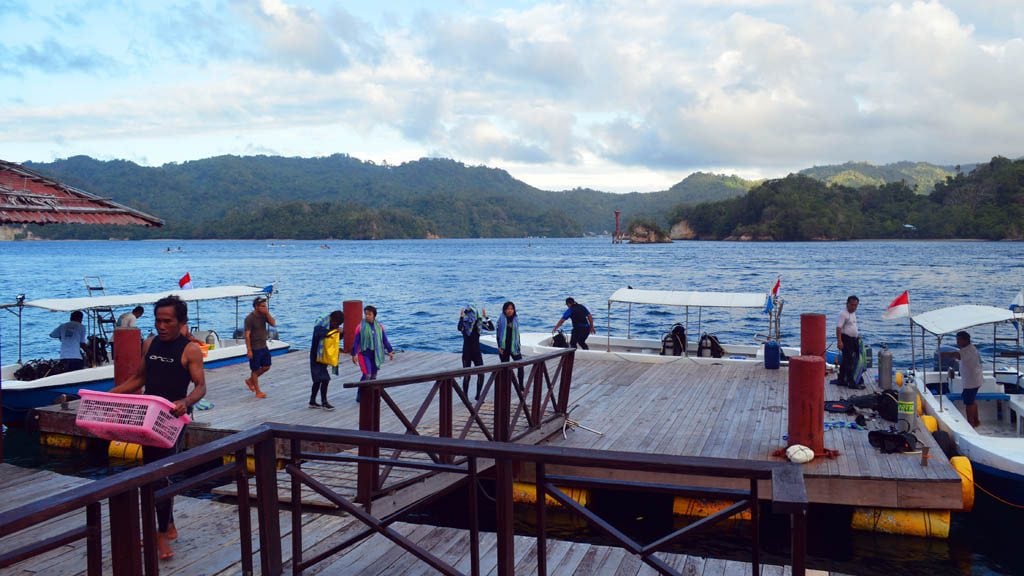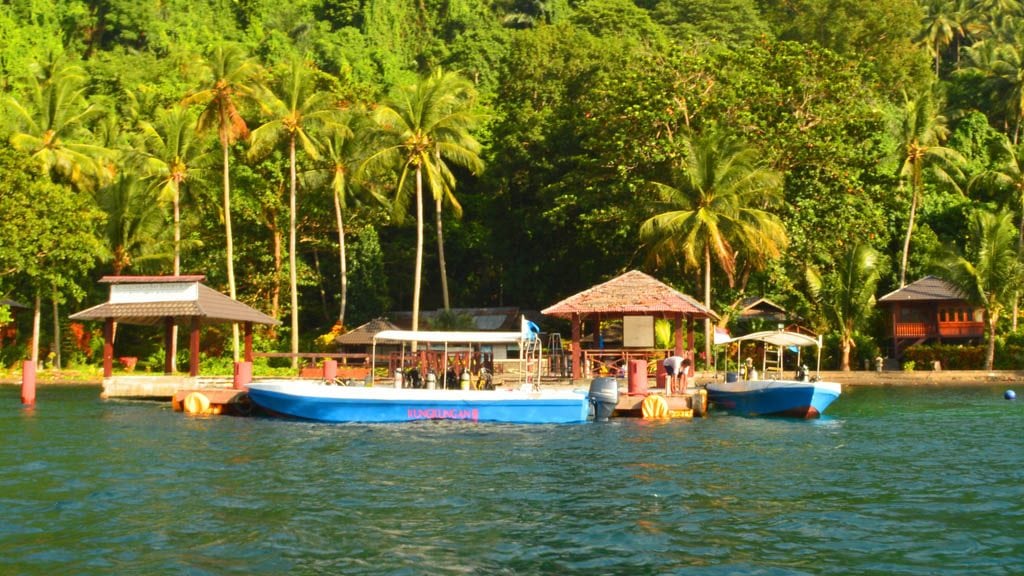 Accommodation
The resort was specifically designed to achieve a pleasing aesthetic effect with minimum impact on the environment. By using local materials and traditional architecture and adding western style bathrooms and amenities the resort reflects the local Minahasan culture while providing international standards of comfort, convenience, safety, and privacy.
KBR has 17 luxurious sea facing rooms in 4 categories: Beachfront Cottage Suites, Beachfront Traditional Houses, Beachfront Villas and Hillside Villas and an Owner's Suite. All cottages and villas are beachfront (with one exception) and just steps away from the water's edge. Rooms are very spacious and offer queen beds, ceiling fans, air conditioning, mini bar, coffee/tea facilities, sitting area, large bathrooms with walk-in shower and hairdryer and a veranda. Tastefully furnished with plenty of natural woods, all rooms are very welcoming.
The popular Beachfront Cottage Suites are duplex units which share a common veranda. For most privacy, guests can stay in the freestanding Traditional Houses or Beachfront Villas.
Pricing for Kungkungan Bay Resort
Vaid to 31 December 2020
AUD
USD
7 Nights Beachfront Cottage (Double) with 6 dive days
1860
USD
|
1860
7 Nights Beachfront Cottage (Single) with 6 dive days
2210
USD
|
2210
7 Nights Traditional House (Double) with 6 dive days
2035
USD
|
2035
7 Nights Traditional House (Single) with 6 dive days
2525
USD
|
2525
This resort's prices are in USD. The AUD prices shown are based on the current exchange rate. The price paid in AUD will be based on the actual exchange rate at the time any payments are made.
INCLUDED: accommodation in a Beachfront Cottage Suite, all meals, return airport transfers from/to Manado between 8am and 5pm only, free WiFi, up to 3 guided boat dives per dive day, tanks, weights, air fills, unlimited house reef diving between 8am and 5pm on dive days
The per person pricing above is indicative only: we show 7 night with 10/12 dive packages at high-end and lower-end rooms (singles & doubles) for the purposes of comparison. We can give you a price (and availability) for any combination of nights/dives you wish to undertake, which will include any discounts due to you as part of that package, and any exclusions, or items payable at the resort. Use the [Enquiry Form] button to give us your exact requirements and we'll give you the best deal we can.
Resort Facilities
Kungkungan Bay Resort's distinctive over the water restaurant building has become a local landmark for Lembeh Strait and serves as a social centre and entertainment area. The resort features also an air-conditioned bar, swimming pool with swim-up bar, TV lounge as well as a lending library.
Food at Kungkungan Bay Resort is plentiful and of the highest quality. The menu features both local Indonesian and Western Cuisine. Breakfast and lunch are served buffet-style to get you back on the dive boats sooner. Dinner time is whenever you are ready and dinner is always chosen from their extensive a' la carte menu. Food is available 24 hours a day, with a limited menu after 10pm. Weather permitting, delicious BBQ/Indonesian Buffets are often held around the infinity pool.
Some food and beverage items are hard to get in this part of the world, but KBR have a good supply of ice-cold beer (local and imported) and wine from Australia, and of course, offer tropical drinks with local fruit juices and rum. Drinks can be either ordered at the restaurant or the pool bar.
KBR runs a fabulous spa which will pamper you while not diving. This exciting addition offers a full range of traditional Indonesian spa treatments for your relaxation and wellbeing.
The KBR Dive Shop is located on the resort's premises.
Activities
Apart from eating, diving and sleeping it is also possible to arrange for local tours such as the Minahasa Highlands or Tangkoko Jungle, a visit to the Bitung markets or a Manado city tour. The friendly reception staff will assist you, with a smile.
Staying Connected
There are WiFi hotspots available throughout the resort. Mobile phone reception is reliable.
Facilities
| | | | | |
| --- | --- | --- | --- | --- |
| Training School Type: | PADI | | Nitrox Fill: | |
| Air Fill | | | Number of Guides | 6 |
| Gear Hire | | | Number of Boats | 3 |
| Gear Sales | | | Number of Dive Sites | 50 |
| Gear Servicing | | | Accommodation | |
Location
Kungkungan Bay Resort, or KBR, is nestled on the site of an old coconut plantation on the North Sulawesi coast of Lembeh Strait right at the water's edge. Located on the sunrise side of the peninsula, the beautiful view encompasses rugged Lembeh Island and the smaller Serena Island. It is about 60 minutes by car from Manado airport.
What to expect
Kungkungan Bay Resort (KBR) and its dive shop, Kungkungan Bay Dive Centre, are located in the very heart of the Lembeh Strait, giving access to fifty dive sites, all within fifteen minutes from the resort jetty. Kungkungan Bay's dive crew is a highly trained and professional dive team who will look after the guests every need from the moment they arrive to the moment they depart.
At Kungkungan Bay Resort, you can discover the best dive sites in Lembeh Strait. The longest boat ride is about 15 minutes. The average boat ride is about 5 minutes away from the resort.
Dive Service
KBR is a PADI Dive Centre offering daily boat dives and also beginner dive and specialty courses. A full range of Aqualung dive equipment is available for rent. A wide range of Scubapro full-length wetsuits in various sizes in 3mm and 5mm thickness are also available. The advanced notice should be given to the resort's dive shop for any dive gear rental requirements.
The dive shop is well equipped with compressors and 12L (80 cuft) aluminium tanks with yoke (INT) connection. Nitrox is available at extra cost. Scuba gear storage, rinse tanks, camera table, hot water shower and medical equipment are all part of the well-run dive shop.
Up to 3 guided day boat dives are offered with the possibility of unlimited house reef diving between 8 am and 5 pm on diving days and night dives at a surcharge.
Each dive day starts with the first dive boat leaving at 8.15am. The boats return to the resort after each dive, where staff will unload and wash the equipment.
KBR runs 3 dive boats, 9m wood hull with 2x 90HP engines. The boats have a shaded area with steel entry and exit ladder. Maximum 8 divers travel per boat. Snacks, fruit, tea, coffee and drinking water are supplied.
Dive Sites
The Lembeh Strait is one of the world's best dive areas for 'muck diving', 'critter diving' or 'macro diving' – whatever you choose to call it. It is a paradise for divers who are looking for the smallest and rarest of critters. There are specific sites where you are very likely going to see scorpion fish, ghost pipefish, seahorses, crabs and angler fish and more nudis than you can point a scoffling stick at. These sites, including the two wrecks, are a highlight for underwater photographers and lovers of muck diving.
Please do not expect beautiful coral reefs swarming with colourful reef fish in perfect visibility.
There are partial rather cool currents in the Lembeh Strait. The water temperature can get as low as 22°C (71°F), a warmer 5mm wetsuit is recommended.
From July through to November the water temperature averages 25°C-26°C (76-78°F), and December through to June water temperature averages 28°C (82°F). The Strait is also subject to the occasional cool current (22°C), and as muck divers tend to move at a glacial pace and often dive at night, dressing for warmth is recommended. Take at least a 3mm wetsuit, if not even a 5mm, and a thin hood, and thin dive undergarment for flexibility.
There are two diveable wrecks in Lembeh: Mawali and Kapal Ikan. Both wrecks are overgrown with beautiful corals and resting in about 15-30m.
Mawali: The Mawali or Tanduk Rusa is the most commonly dived wreck in the Strait. This Japanese freighter from WWII is lying on its port side and has a length of 90m. The wreck is still complete with propeller, beams, bridge and engines. The cargo holds are safe to visit, but the machine room is unstable and should be avoided. The wreck acts as an artificial reef, so is attractive even for divers who are not particularly interested in wrecks. There are no currents, so it is a fairly easy dive.
Kapal Ikan: This 40m steel fishing vessel is seldom visited by divers. Although not an old wreck, it is already becoming overgrown with sponges and corals. She stands on her keel and is largely intact, providing a home to lots of fish and lobster. Sometimes stronger currents make anchoring difficult.
We think…
For divers, this is an outstanding choice in location and luxury. This dedicated dive resort is very well managed and offers great service.
Pricing / availability enquiry