Introduction
Location
Accommodation
Diving
Pricing & Schedules
Enquire Now
The Solitude Lembeh Resort is a boutique dive resort that has been designed with complete facilities and services for divers looking for a touch of luxury and personalised, safe and hassle-free diving. The compact layout of the Solitude Lembeh Resort and its facilities specially caters for divers and photographers wishing to explore the delights of the Lembeh Strait.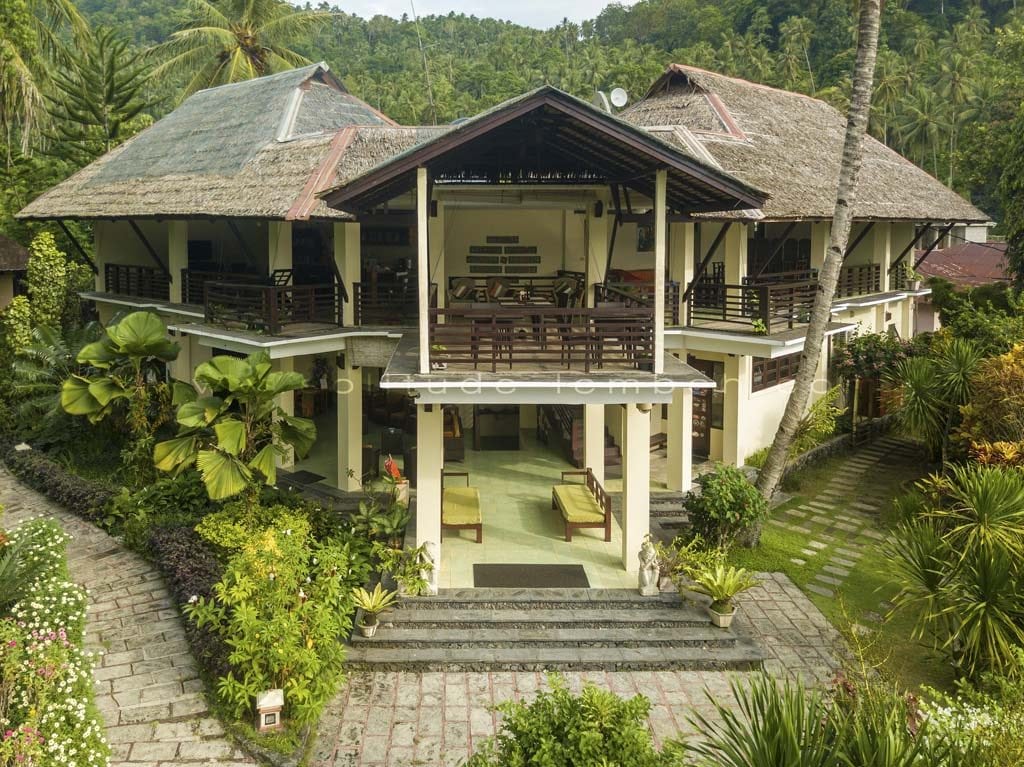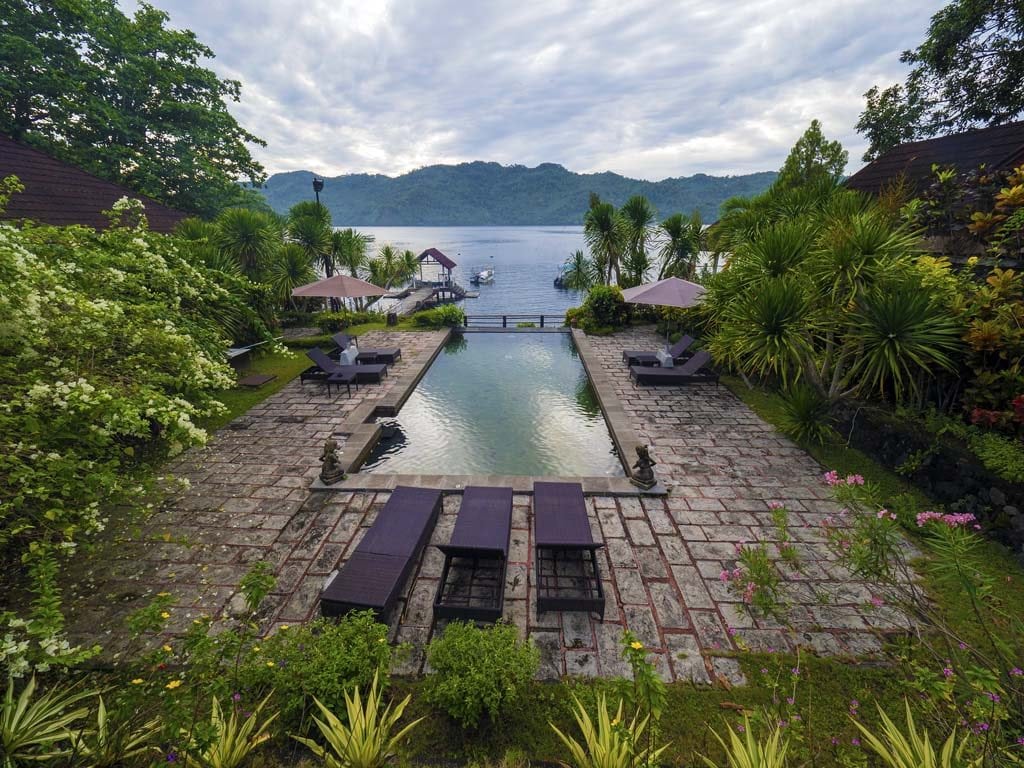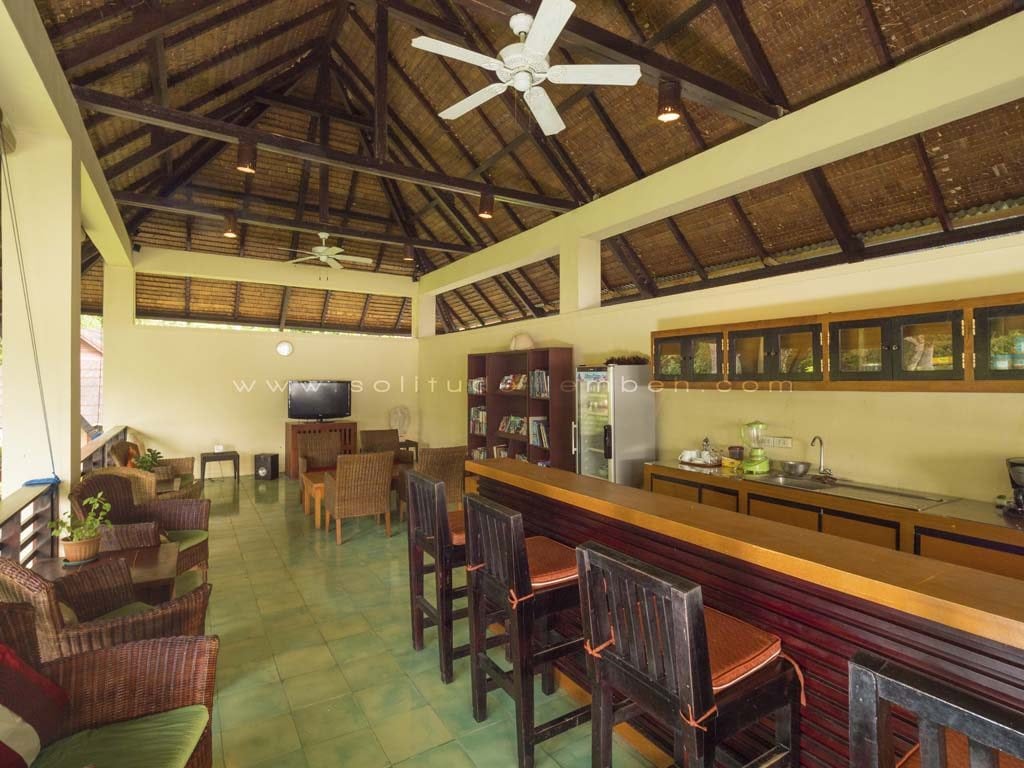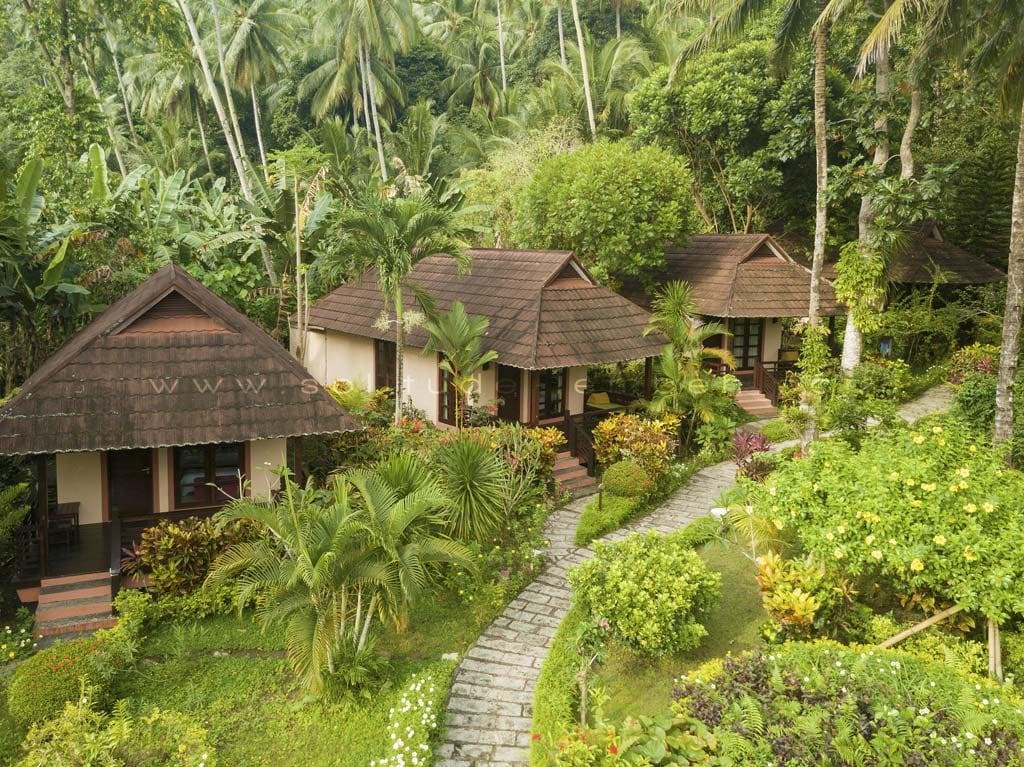 Resort Facilities
The resort features a beautiful seafront infinity-edge swimming pool with built-in Jacuzzi overlooking the resort's jetty and sundeck.
Bar and Restaurant
Currently located on the upper floor of the main building, the Restaurant & Bar serves local and international cuisine under an airy ceiling and weather permitting, provides dining under the stars by the pool. Open from 7 am to 11 pm, though the music is turned down at 10 pm in the interests of guests who have turned in for the night. An ala carte menu complements the full board meal plan policy for those who can't wait for mealtime. Last orders for food is at 9 pm and there is no room service.
BabySitting Services are subject to availability and advance request is encouraged. Baby cots and baby chairs are available in limited numbers.
Family Plan
A maximum of two children ages 10 or younger may stay free in the same room as an adult. Please note that Garden Villas can only accommodate one extra bed, while the Seafront Villas can accommodate a maximum of two extra beds. Two Children occupying one separate room will be charged at a single-room rate.
Activities
Full-day excursions with local guides to the Minahasa Highlands are available. This provides a combined scenic and historic tour to Tangkoko National Park for a chance to see rare animals such as the crested black macaque, hornbills and the world's smallest primate (the Tarsius Tarsier – that looks like a big-eyed evil grandmother!). There is also a 3-hour trip to the local fish market and Bitung town. Trekking and rafting trips can also be arranged upon request.
Staying Connected
There is a mobile phone signal repeater station installed at the resort, so the signal is good even inside the villas. Internet access via satellite WIFI connection is available throughout the resort.
We think…
Solitude Lembeh Resort is a perfect base to enjoy the best of diving that the Lembeh Strait has to offer in a relaxed environment with little touches of luxury.
Solitude Lembeh Resort is located north of Bitung, just 90 minutes' drive from Manado Airport, right at the water's edge in the Lembeh Strait.
The resort features 10 luxury villas. Eight deluxe and two Kasawari villas are situated amongst beautiful lush tropical gardens, coconut trees and well-manicured lawns. Each villa is less than a minute's leisurely stroll from the resort's facilities and dive centre.
All rooms are built in traditional Minahasan style and have been fitted out to provide a high level of comfort and luxury for all guests. Each villa comprises a spacious air-conditioned bedroom with handmade terrazzo flooring and an over-sized bathroom that incorporates both indoor and outdoor shower areas with abundant hot-water supply. Individual climate control, comfortable beds and fluffy quilt blanket will ensure that you get a good night's sleep before each day's diving.
The Deluxe Villas have a private wooden deck and other modern amenities and facilities such as a mini-bar, a safe-deposit box, CD player, hair-dryer, bathrobes, ceiling fan and coffee and tea making facilities. In each villa there is also plenty of wardrobe and storage space for luggage and personal belongings.
The two Seafront villas are substantially larger, located close to the dive centre right on the waterfront, with their own private decks and gazebos overlooking the tranquillity of the Lembeh Strait. The enormous bathroom with its double basin also has an outdoor shower in an enclosed tropical garden.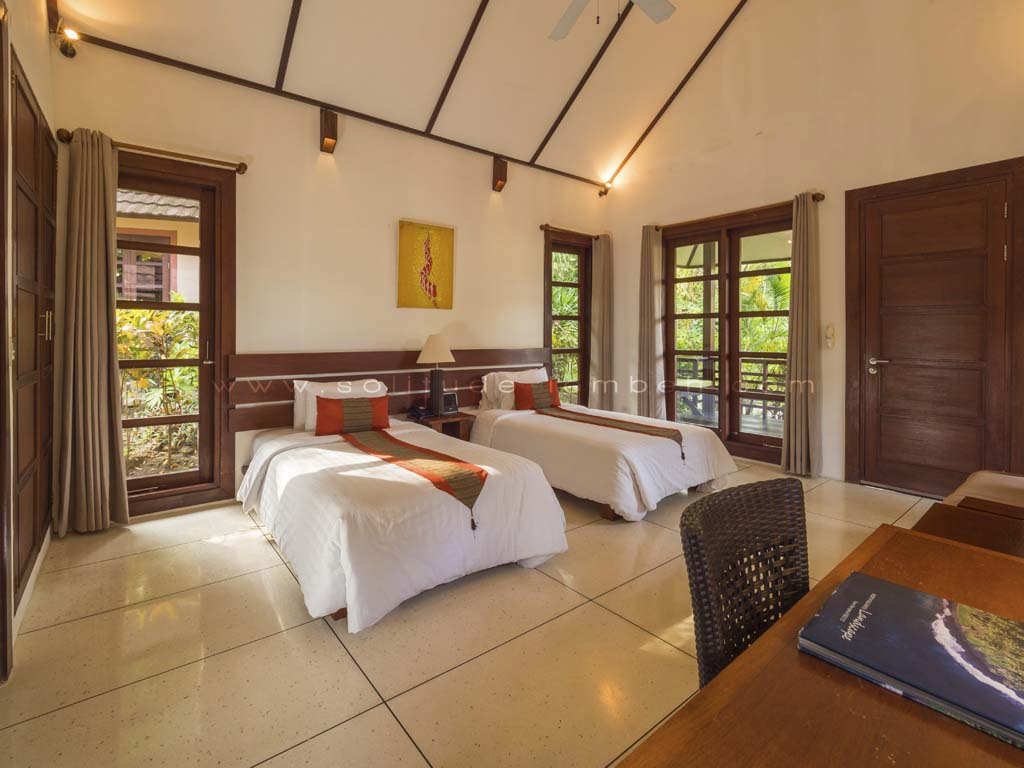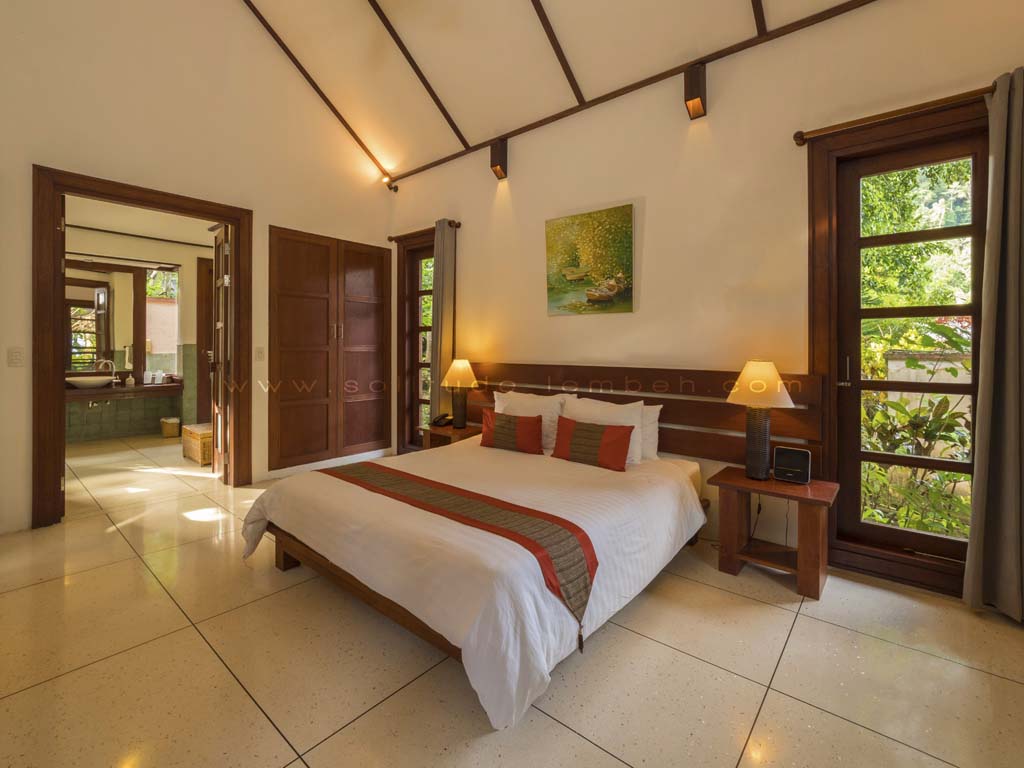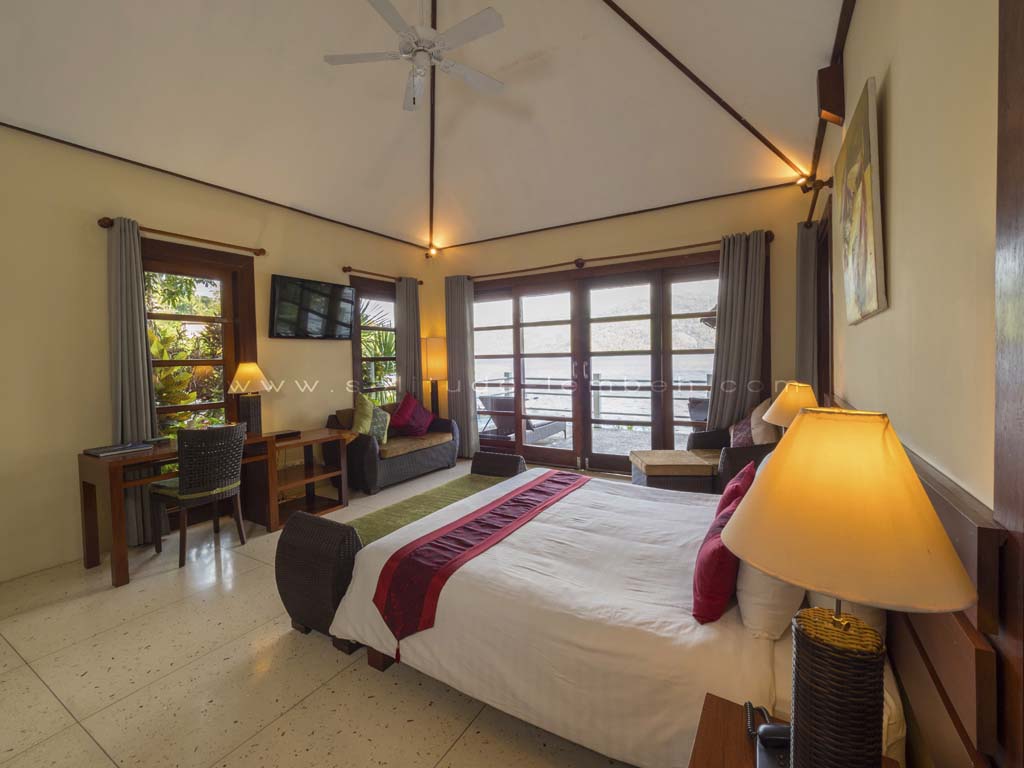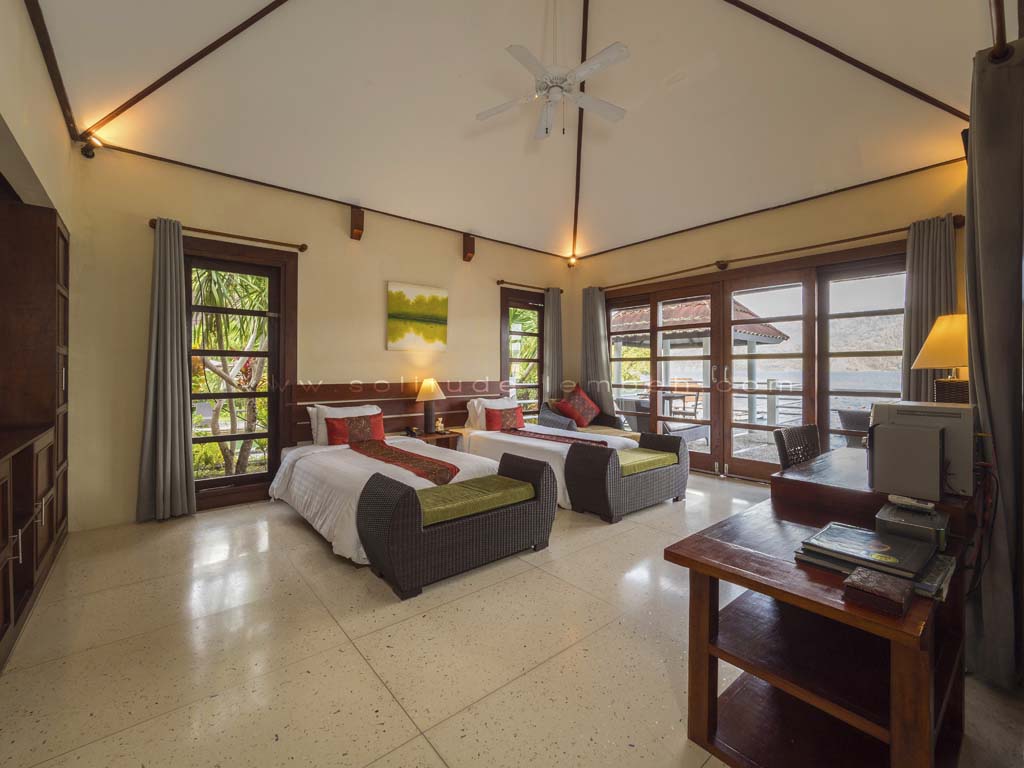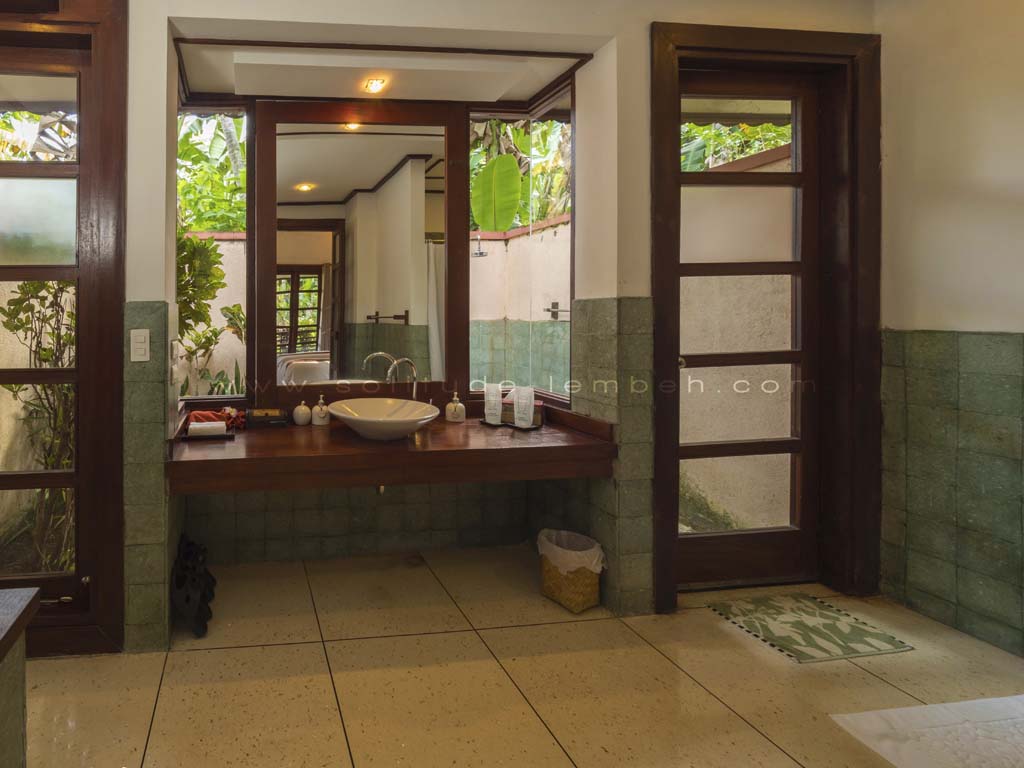 Solitude Lembeh's dive centre is located right on the waterfront with direct access to the purpose-built jetty. A fully equipped professional dive centre with top-rated safety standards that Solitude are known for in their Solitude branded liveaboard diving operations.
The dive centre also provides a dedicated camera room for all the underwater photo and video enthusiasts to set up their underwater camera equipment with plenty of power sockets and adaptors for charging batteries, drying stations and large, fresh water tubs for rinsing cameras are also available located outside of the camera room.
Complimentary unguided shore/jetty dives are available between 10am to 3pm (subject to reasonable surface intervals between the last dive and/or the next dive).
Courses are conducted in the resort's swimming pool and surrounding calm, shallow, open water.
Dive Service
A convenient and functional jetty, both for easy and safe dive entries and exits on the house reef, as well as for ease of boarding dive boats, facilitates easy diving for all guests.
Three custom-designed 12-metre dive boats with gear-up benches, emergency O2 supply, easy exit ladder and secure camera storage, carry a maximum of 6 divers and 2 guides.
For underwater photographers, the dive centre boasts freshwater rinse tanks complete with water hoses and low-pressure air-guns to accommodate dozens of cameras. The brightly lit and air-conditioned camera room is located just next to the dive centre. The room has 21 individual work-stations with shelves and storage spaces. Each work-station has its own charging outlets fitted with universal electrical outlets that remove the hassle and need for adaptors.
Dive area
The more than 30 dive sites of the Lembeh Strait are within easy reached of the centrally located Solitude Lembeh Resort, the nearest dive site being just a stone throw's away from the jetty and the furthest 20 minutes. After each dive, guests are whisked back to the resort for a quick shower, a download or a change of lens and can relax comfortably during the surface interval.
The Lembeh Strait is one of the world's best dive areas for 'muck diving', 'critter diving' or 'macro diving' – whatever you choose to call it. It is a paradise for divers who are looking for the smallest and rarest of critters. There are specific sites where you are very likely going to see scorpionfish, ghost pipefish, seahorses, crabs and angler fish and more nudis than you can point a scoffling stick at. These sites, including the two wrecks, are a highlight for underwater photographers and lovers of muck diving.
Please do not expect beautiful coral reefs swarming with colourful reef fish in perfect visibility.
There are partial rather cool currents in the Lembeh Strait. The water temperature can get as low as 22°C (71°F), a warmer 5mm wetsuit is recommended.
From July through to November the water temperature averages 25°C-26°C (76-78°F), and December through to June water temperature averages 28°C (82°F). The Strait is also subject to the occasional cool current (22°C), and as muck divers tend to move at a glacial pace and often dive at night, dressing for warmth is recommended. Take at least a 3mm wetsuit, if not even a 5mm, and a thin hood, and thin dive undergarment for flexibility.
There are two diveable wrecks in Lembeh: Mawali and Kapal Ikan. Both wrecks are overgrown with beautiful corals and resting in about 15-30m.
Mawali: The Mawali or Tanduk Rusa is the most commonly dived wreck in the Strait. This Japanese freighter from WWII is lying on its port side and has a length of 90m. The wreck is still complete with propeller, beams, bridge and engines. The cargo holds are safe to visit, but the machine room is unstable and should be avoided. The wreck acts as an artificial reef, so is attractive even for divers who are not particularly interested in wrecks. There are no currents, so it is a fairly easy dive.
Kapal Ikan: This 40m steel fishing vessel is seldom visited by divers. Although not an old wreck, it is already becoming overgrown with sponges and corals. She stands on her keel and is largely intact, providing a home to lots of fish and lobsters. Sometimes stronger currents make anchoring difficult.
Pricing for Solitude Lembeh Resort
Valid until 31 December 2023
AUD
USD
7 night Deluxe Room (double/twin) with 18 dives
1765
USD
|
1765
7 night Deluxe Room (single) with 18 dives
2110
USD
|
2110
7 night Garden Villa (double/twin) with 18 dives
2025
USD
|
2025
7 night Garden Villa (single) with 18 dives
2715
USD
|
2715
7 night Seafront Villa (double/twin) with 18 dives
2340
USD
|
2340
7 night Seafront Villa (single) with 18 dives
3205
USD
|
3205
This resort's prices are in USD. The AUD prices shown are based on the current exchange rate. The price paid in AUD will be based on the actual exchange rate at the time any payments are made.
Included: accommodation as specified, all meals, 3 guided day boat dives per dive day, tanks, weights, air fills, unlimited self guided jetty dive on house reef from 10am to 3pm (air only), roundtrip airport transfers from/to Manado between 6am and 8pm only
Excluded: Lembeh daily diving park fee
The per person pricing above is indicative only: we show 7 night with 10/12 dive packages at high-end and lower-end rooms (singles & doubles) for the purposes of comparison. We can give you a price (and availability) for any combination of nights/dives you wish to undertake, which will include any discounts due to you as part of that package, and any exclusions, or items payable at the resort. Please use the [Enquire Now] tab to give us your exact requirements and we'll give you the best deal we can.