Introduction
Location
Accommodation
Diving
Pricing & Schedules
Enquire Now
Wakatobi Dive Resort is a luxurious and eco-friendly resort located in the Wakatobi archipelago in remote Southeast Sulawesi. Situated on the beautiful tropical island of Tolandano, Wakatobi Dive Resort offers, arguably, some of the best reef diving in the world. What makes this resort so unique is the extent to which it envelops the surrounding area into a sustainable marine protected area. Underwater photographers in particular enjoy the ease of diving with spectacular critters on the world-famous 'house reef' which offers 6 different dive sites.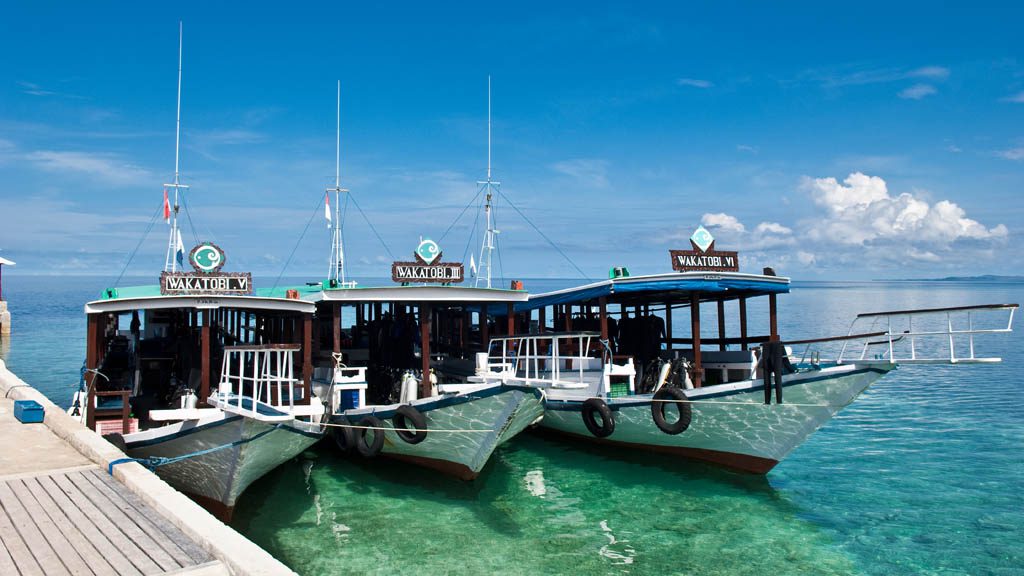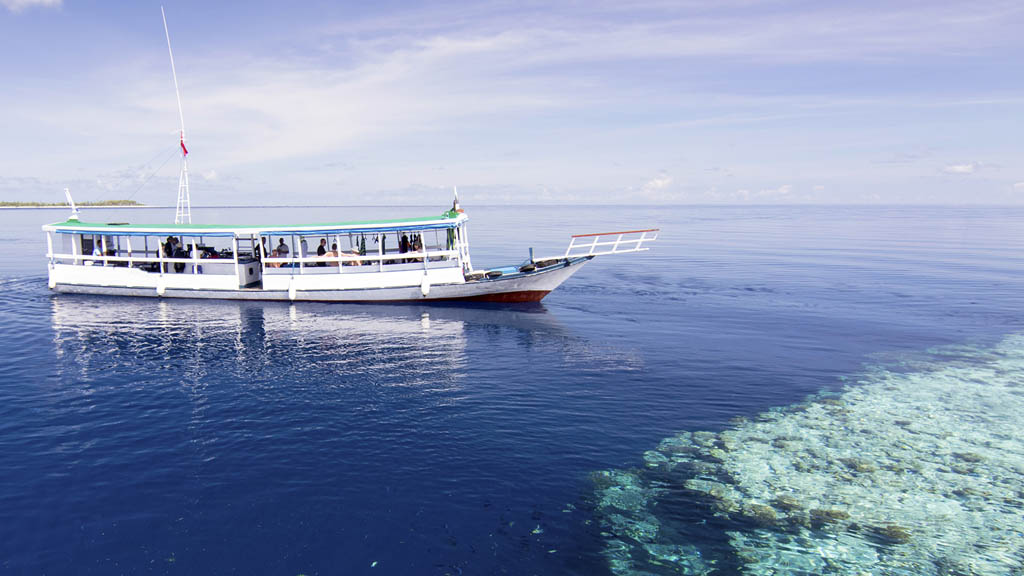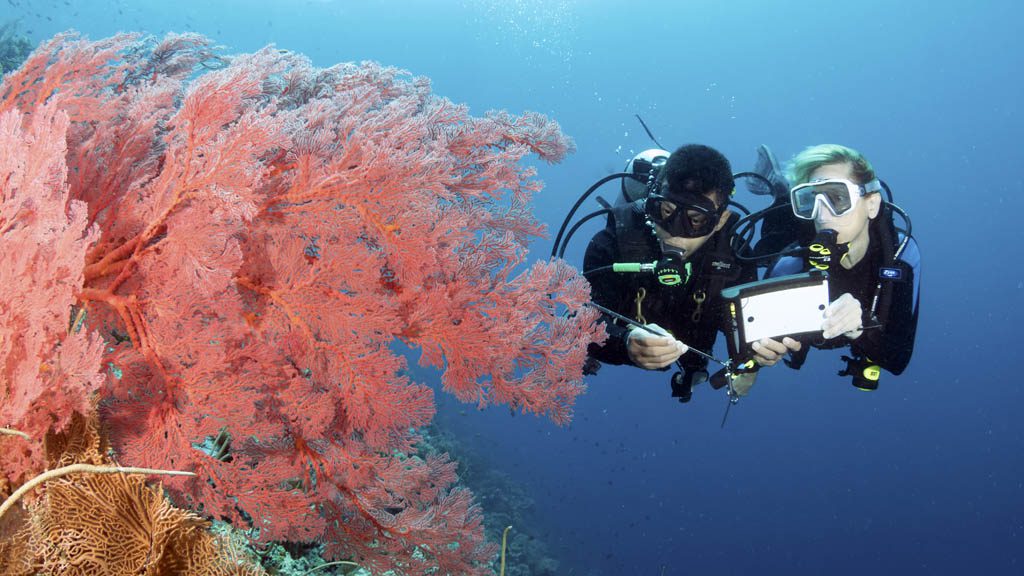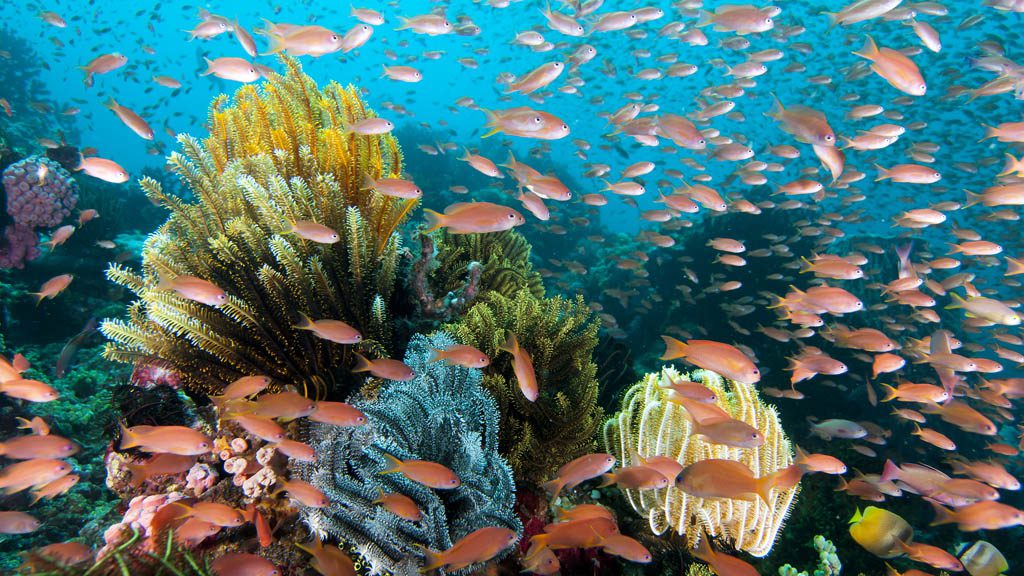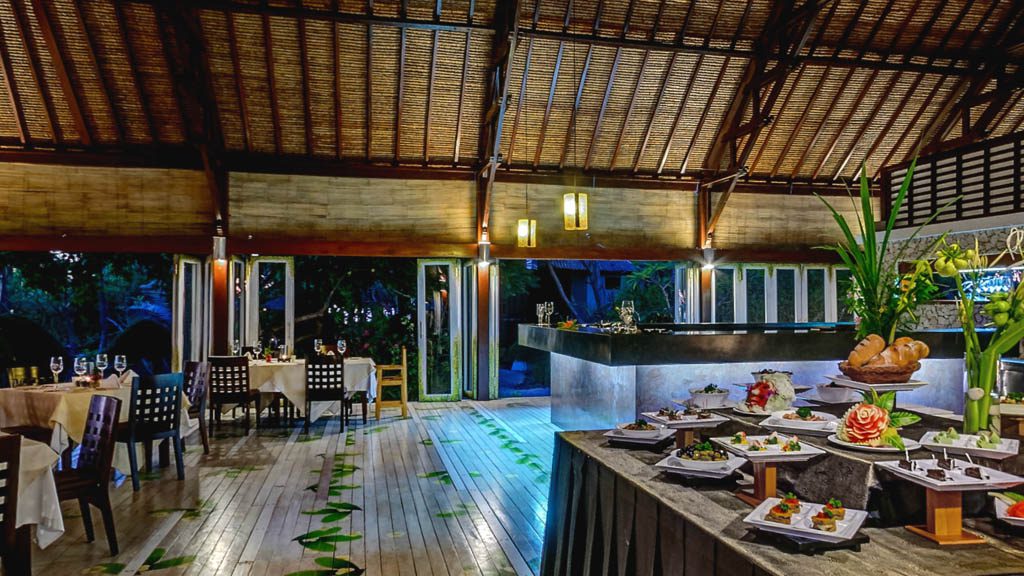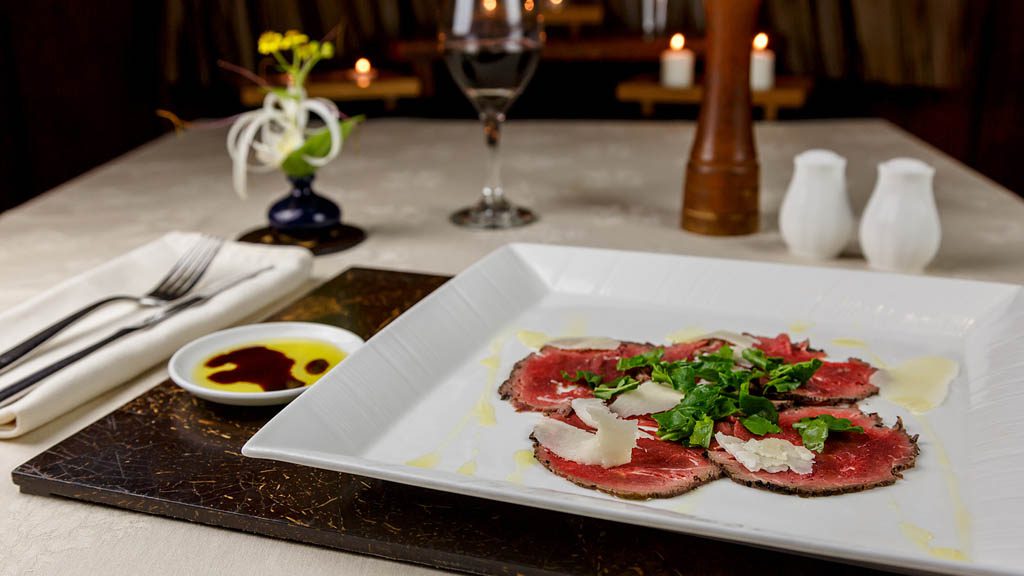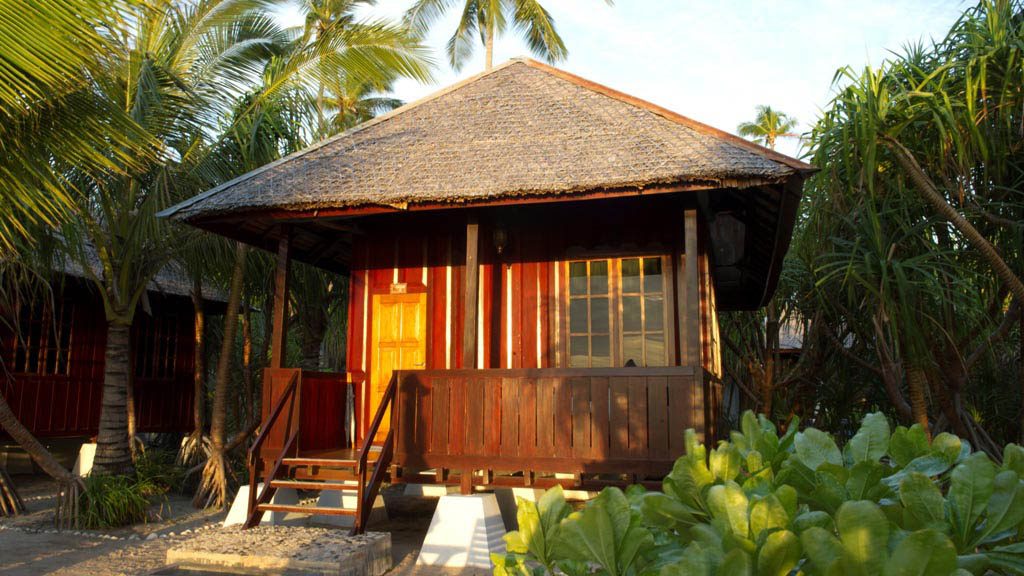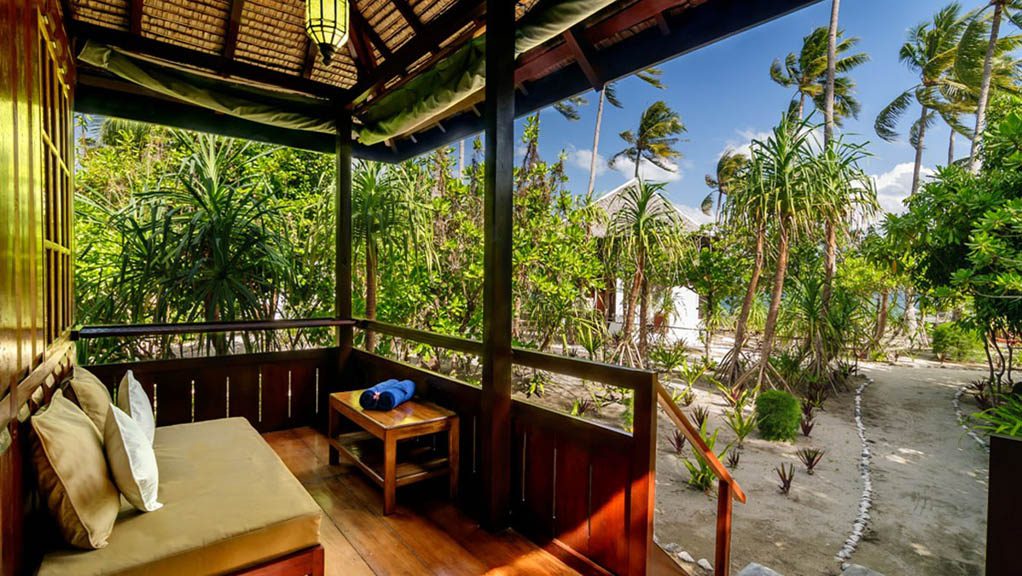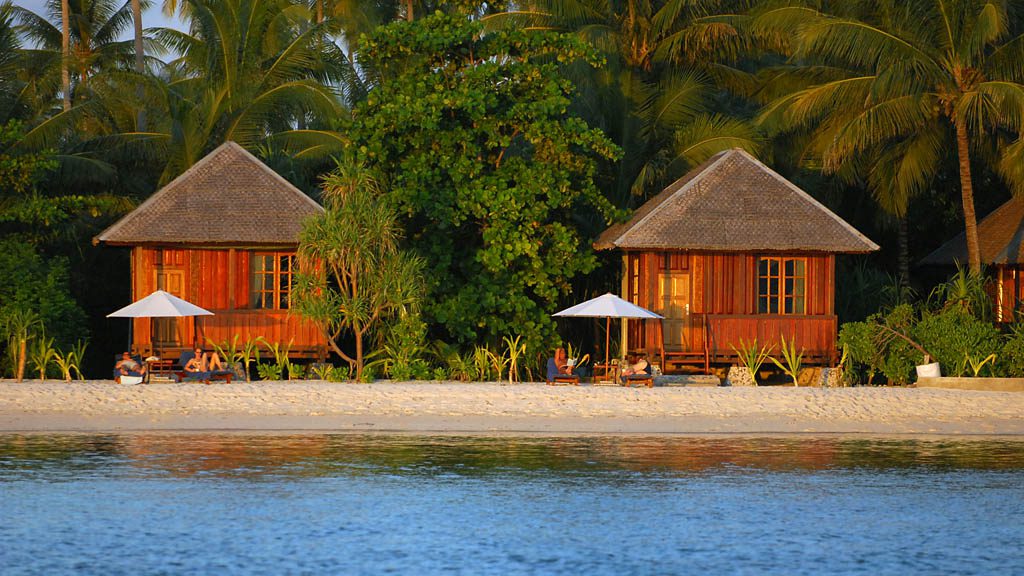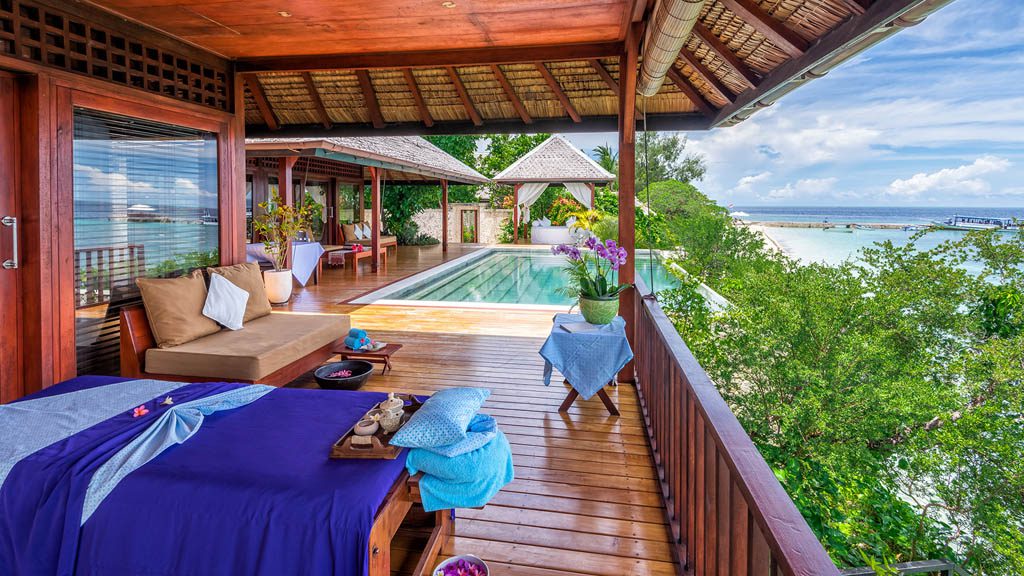 Features
Wakatobi Dive Resort is a destination that caters to divers and nature-lovers looking for world-class diving off the beaten track and far from the madding crowds.
The main house as the 'lounge-house' was designed in the traditional architectural style of an Indonesian longhouse. It was constructed by local craftsmen with traditional hand tools. The longhouse is near to the accommodation bungalows which are spaced along an exquisite beach.
The lounge-house contains all the common guest facilities such as the dive centre, rental equipment room, dining area, kitchen, video lounge and marine life reference library, storage rooms and the bar.
The team of top-trained Balinese Chefs prepare delicious, ample and healthy meals using fresh produce that they get from Bali and overseas. Added to this are loads of day-fresh tuna sashimi, excellent soups, barbecued fish, fresh fruits, steaks and oriental specialties. Meals are generally served buffet or family-style in the Longhouse dining area. They also host a beach luau or two during your stay. Special dietary needs can be happily catered for with prior notice. In the lounge complimentary instant coffee, tea and cookies are supplied around the clock.
Wakatobi has a fantastic spa where you can indulge in a huge variety of massage and beauty treatments.
Staying Connected
There is a good chance that your mobile (cell) phones might work in the resort through a public system on the island, which is however not always reliable. In addition, there are several satellite phones for use in an emergency. There is a computer available in the Lounge with internet access. Internet speed may be limited as it is not broadband. It can be used for guests own laptops as there are LAN ports in every room. A WiFi network is also available.
We think…
Wakatobi Resort is an idyllic place with a truly outstanding house reef, where experienced divers can dive independently. The location of Wakatobi and the reefs make this destination a real insider tip for demanding divers who want something very special. One pays for the exclusive location, a stay in the resort is not cheap, but worth every cent.
Wakatobi Dive Resort is a luxurious and eco-friendly resort located in the Wakatobi archipelago in remote Southeast Sulawesi, situated on the beautiful, private tropical island of Tolandano.
How to get here
Wakatobi Resort's and Pelagian's private air charter provides a direct connection to and from Bali's international airport. All flights are operated by Garuda Indonesia, the national carrier and highest-rated airline. In just over two hours the flight aboard a modern, spacious ATR 72 aircraft brings guests directly to the resort's private airstrip.
Flights to and from the resort are currently scheduled on Mondays and Fridays, leaving Bali around 8am on the outward leg to the resort, and returning to Bali around 3 pm on the same day. Any international flight connections for the same day should be booked for a departure after 6pm.
The logistics involved in these private charter flights are fairly complex and depend on many factors. Therefore it is of great importance to reconfirm your charter flight with the Wakatobi Bali office upon arrival in your hotel in Bali.
Wakatobi offers three levels of accommodation: Villas, Ocean Bungalows and Palm Bungalows. All are of equal floor size but what sets them apart is location and interior equipment/decor standard. All come with a King-size bed as standard but two twin beds are available upon request as an alternative. All bungalows are equipped with a sofa, coffee table, wardrobe, mini-bar with fridge, a bathroom with (of course hot and cold) shower, LAN internet connection, ceiling fan and a spacious balcony as well as private sun chairs and umbrella in front.
Palm Bungalows
These very comfortable bungalows are located slightly behind and in-between the front-row Ocean Bungalows amidst beautiful palm trees and other tropical plants. Available both on the south and west section of the resort. Some palm bungalows even have oceanview.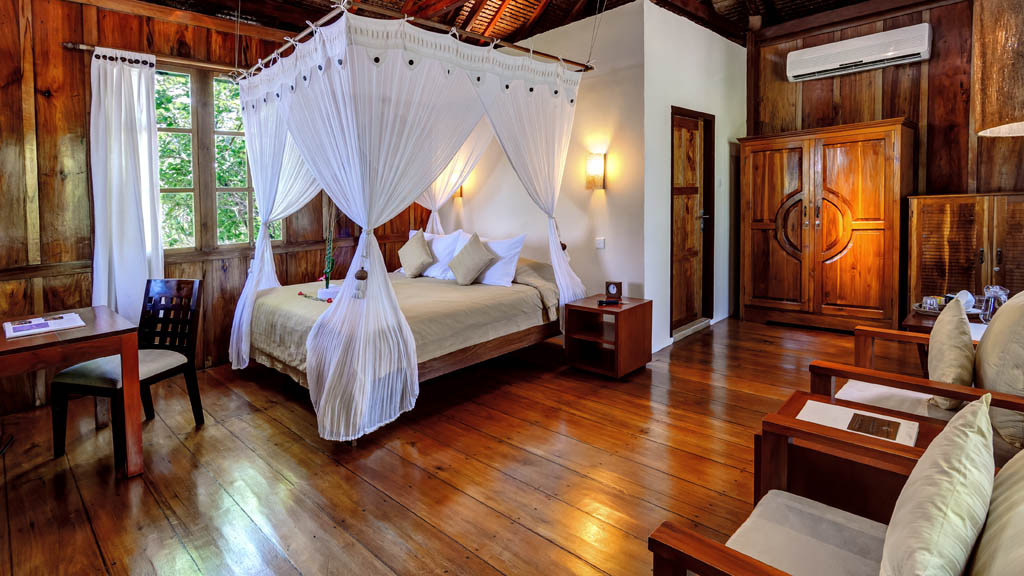 Ocean Bungalows
Wakatobi's Ocean Bungalows are located directly on the beach. See the fish jump, hear the gentle waves and listen to the birds – all while seated on the balcony or in one of the comfortable lounge chairs in front of your bungalow. They all have huge front porches with comfortable lounge beds/cushions and stunning views. They also have indoor bathrooms and huge Asian spa-style outdoor showers. The ones on the south end of the resort are the ones with the best breeze from the ocean and is an excellent choice for those who prefer to enjoy a holiday in the tropics without the use of air conditioning (this applies primarily during June, July and August).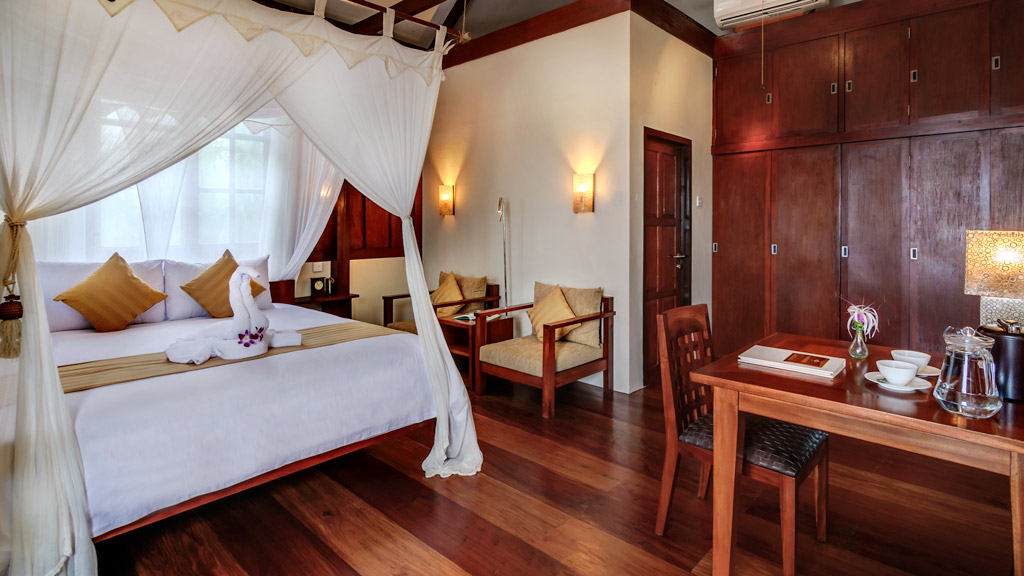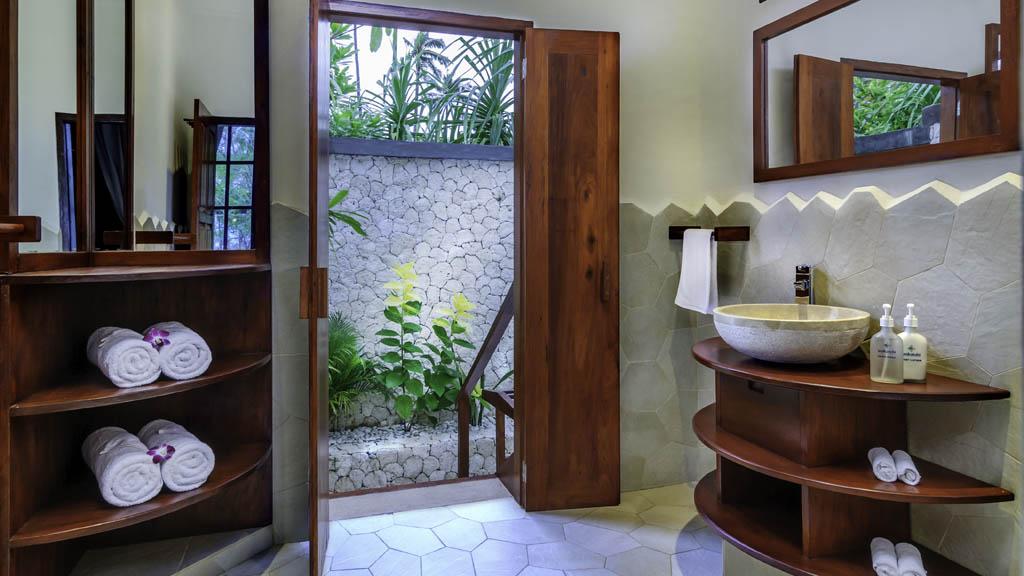 Wakatobi Villas
For couples seeking the best – these are the nicest accommodations. They are located on the northern end of the resort beach and are perched on a small ledge just above the beach offering unobstructed views over the ocean and sunset, even from the bathrooms.
Each villa is classically designed and constructed of earthy materials such as wood and sandstone. They are more spacious than any of our other accommodations and are decorated for ultimate comfort and relaxation.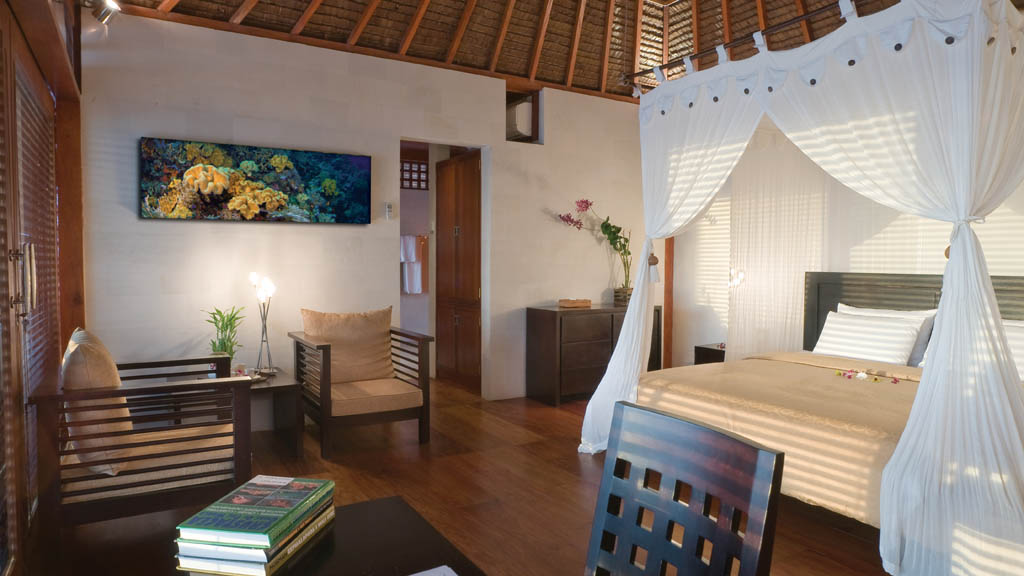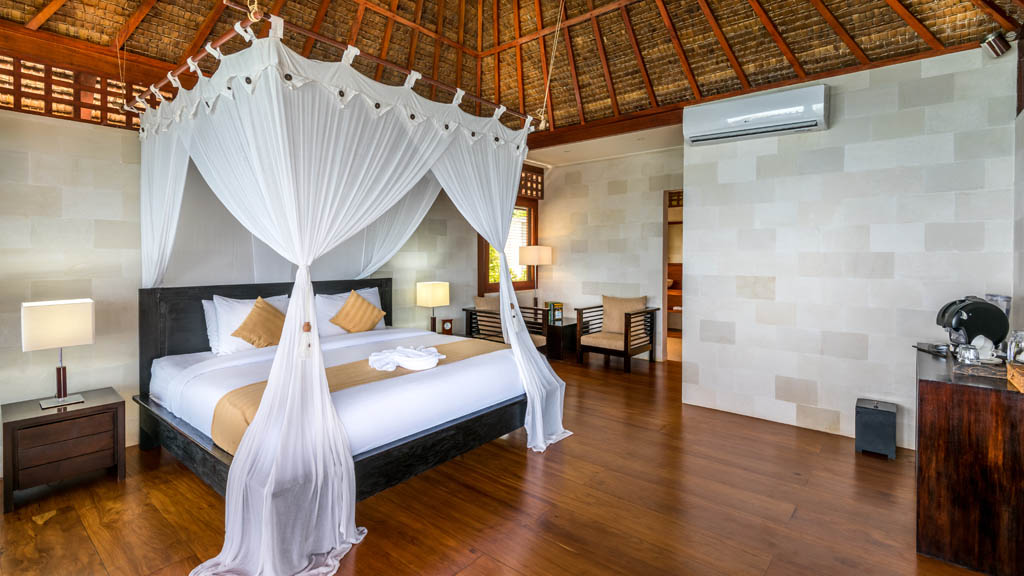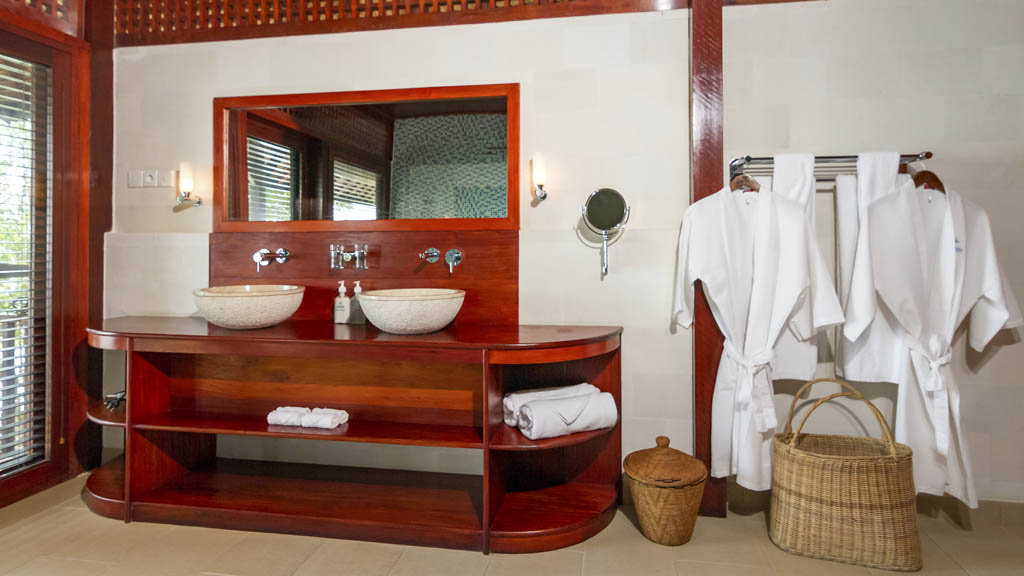 The well-equipped Wakatobi Dive Centre is managed by a Swiss team and offers safety to a European standard. Besides dive excursions, they also offer dive gear to hire. The resort has a Nitrox fill station and is specialized for rebreather diving (please book in advance). The tanks are equipped with INT connection, some DIN connections are also available (please reserve in advance).
Dive Service
Wakatobi offers guests three types of diving options: Shore diving directly off the beach – simply gear up and go! Explore six dive sites here, around the clock. Night dives are available when the weather allows.
Diving from the House Reef tender boat – this allows you to explore dive sites on the house reef normally not accessible from the Resort. Due to the house reef being so expansive this adds several sites for you to enjoy.
Scheduled Boat Dives – over 40 dive sites within 10 to 60 minutes boat ride from the resort. The boats used are based on traditional Indonesian boat designs and are specially made locally with divers in mind. They are 24m (70ft) long and feature a large camera platform, rinse tank, toilet, fresh water shower, oxygen, GPS and marine radio. The boats can comfortably accommodate 14 divers (though usually just 10 or 12 are aboard), have a range of 70 miles. Entry is by giant stride and exit by ladder.
Dive Sites
Wakatobi started making headlines in the diving community in the mid-'90s and by now many divers have found their way to Wakatobi at the southern tip of Sulawesi and all of them agree that it is more than worth the trip.
The hundreds of kilometres of reef structure in the National Marine Park provide every imaginable marine animal including whales, dolphins, sharks, rays, tunas, barracudas, marlin and more.
Most of the dives are drift dives along colourful, dramatic walls of coral. Partial drop-off dives are also offered along with seamount dives, slopes and a 40m-long Japanese freighter, here are just a few examples of the many dive sites within easy reach of the resort:
Wakatobi House Reef
Six different sites are actually accessible directly off the beach in front of the resort. It's only 80 yards from the shoreline to the drop-off. Highlights include a great variety of fishes, invertebrates, macro subjects, beautiful soft corals, gorgonians, tunicates, whips, sponges, overhangs' all totaling a spectacular rainbow of colour.
Inka's Palette
Beginning as a gentle slope, Inka's Palette plummets into the depths with multiple overhangs. There are very large tube sponges, huge leather corals, a giant Tridacna Clam, good fish life and a colourful palette of hard and soft corals.
Mari Mabuk Turkey Beach
This is a long ridge running from 15 feet down to 80. It features huge sea fans, coral heads adorned in bright soft corals and feather stars blooming in the frequently swift current. The saddle that bridges the reef contains Blue ribbon Eels, leaf fish, Crocodile fish, scorpionfish, nudibranchs and more.
Lorenz's Delight Roma
Begin by plunging deep, where forests of immense yellow wire corals spiral 15 feet or higher off the steeply sloping wall. Then work your way up to the 60-foot range, where an overhanging ledge harbours big sea fans framed in colourful soft corals.
Onamobaa Cavern
An extension of the house reef, this is an excellent soft coral dive. Often compared with Hanging Gardens at Sipadan. Every part of the reef is covered with colour and life.
Pricing for Wakatobi Dive Resort
Valid to 2024
AUD
USD
7 Nights Ocean Bungalow Double with 5 dive days 'Dive Unlimited'
4510
USD
|
4510
7 Nights Ocean Bungalow Double with 5 dive days 'Dive Light'
4260
USD
|
4260
7 Nights Palm Bungalow Double with 5 dive days 'Dive Unlimited'
3775
USD
|
3775
7 Nights Palm Bungalow Double with 5 dive days 'Dive Light'
3525
USD
|
3525
Included:
*7 nights accommodation
*All meals (delicious and highly varied multi-course chef-prepared meals + snacks)
*24 hours tea/coffee/hot chocolate, drinking water
*Multilingual highly trained instructor-level dive guides
*Tanks, weights and unlimited air fills
*Optional village tour on last day
*Greeting service upon arrival into Bali
*Free WiFi high speed internet access via satellite
*Daily turndown service

*Dive Light - 2 70-min guided boat dives per day, unlimited shore dives
*Dive Unlimited - 3 70-min guided boat dives per day, unlimited shore dives

*Return charter flights to Wakatobi ex-Denpasar are USD 860 pp

** Seasonal pricing applies at this resort. Above pricing is indicative of the resort's non seasonal time periods**
The per person pricing above is indicative only: we show 7 night with 10/12 dive packages at high-end and lower-end rooms (singles & doubles) for the purposes of comparison. We can give you a price (and availability) for any combination of nights/dives you wish to undertake, which will include any discounts due to you as part of that package, and any exclusions, or items payable at the resort. Please use the [Enquire Now] tab to give us your exact requirements and we'll give you the best deal we can.