Overview
Coral Expeditions II is a small cruising ship whose weekly itinerary takes it from Cairns as far north as Lizard Island, then back via the famed Ribbon Reefs; then south as far as Hinchinbrook Island taking in the reefs of Sudbury and Nathan along the way. Diving and snorkelling is offered twice each day (apart from the days it returns to Cairns) for both certified and Discover SCUBA Divers.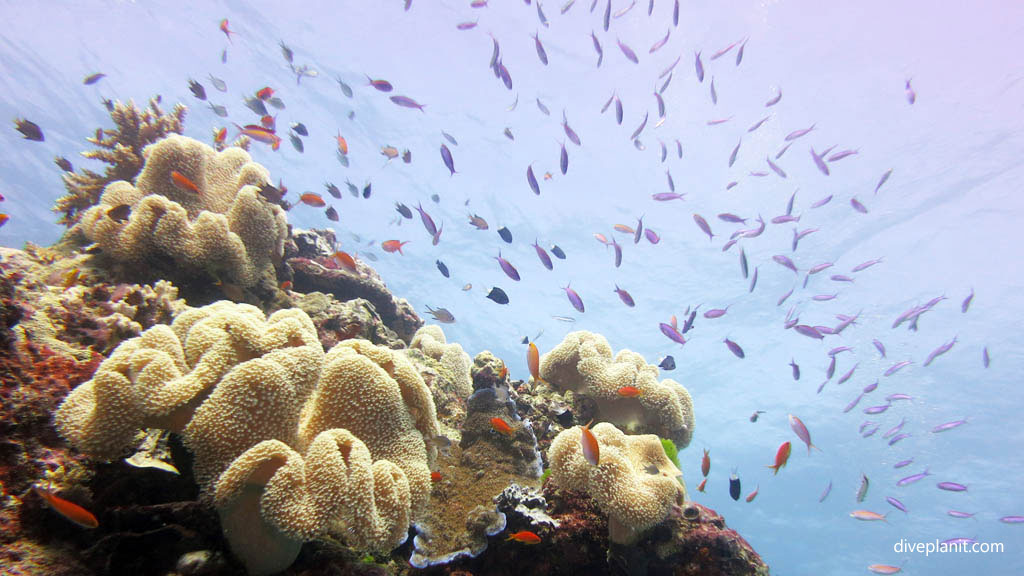 It's the perfect alternative to a Dive-Liveaboard regime for those who don't need to do five dives a day, but would like to do a few different dives in different areas along the Great Barrier Reef.
The accommodation and food on board is likened to that of the first class hotel, and as there are two lounge areas and a sundeck for just 50 guests, there's plenty of room to spread out and find your own space between dives without been holed up in your cabin.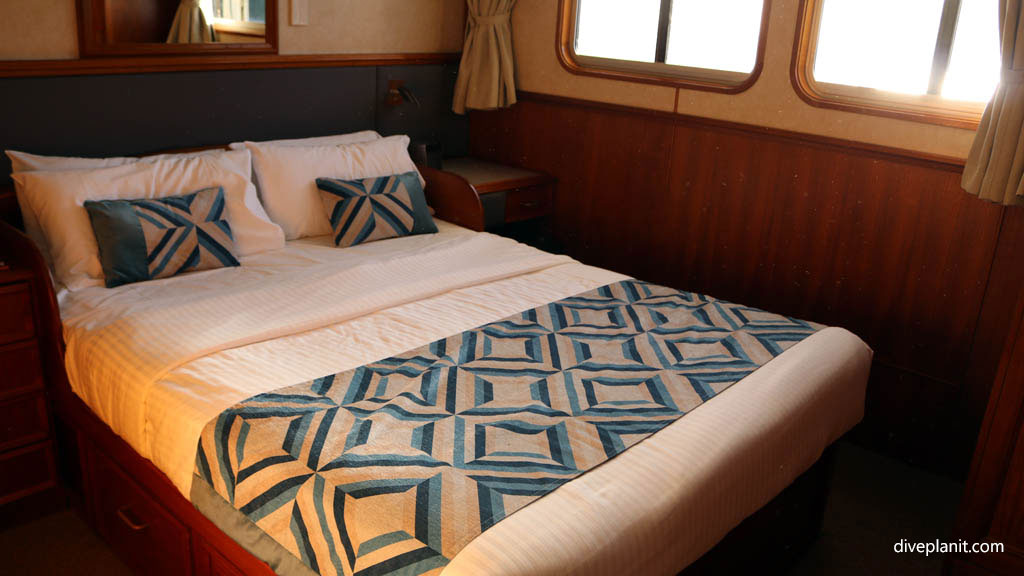 With a two course breakfast, a number of lunch options, and a choice of two three-course dinners or a buffet, plus morning and afternoon tea, there's no chance of going hungry.
The boat also offers guided shore excursions to climb the nearest lookout, or just amble along the beach of the islands visited, whichever you feel most comfortable with; and also on the southern leg, there is a private tour of Fitzroy Island's turtle Sanctuary.
Facilities
| | | | | |
| --- | --- | --- | --- | --- |
| Training School Type: | DSDs & Certified Divers only | | Nitrox Fill: | |
| Air Fill | | | Number of Guides | 2 |
| Gear Hire | | | Number of Boats | 1 |
| Gear Sales | | | Number of Dive Sites | 24 |
| Gear Servicing | | | Accommodation | |
Location
Coral Expeditions departs the Cruise Liner terminal in Cairns. The northern and southern itineraries are described on their website.
Enquiries: please contact Coral Expeditions directly on 1800 079 545 (+61 7 4040 9999).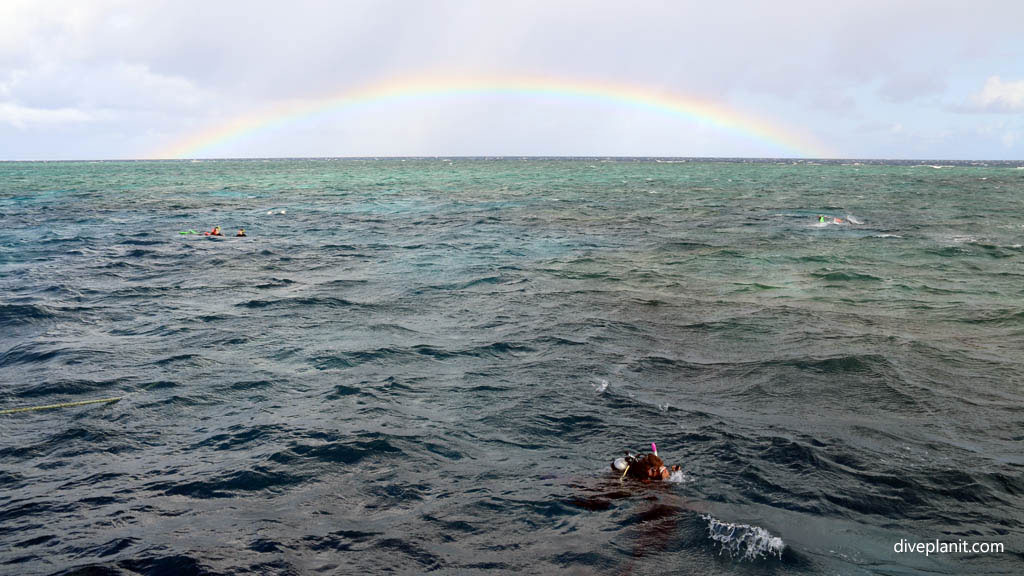 What to expect
The two in-water sessions are usually between 10am and noon and 2:30 and 5pm each day. Each evening, a full itinerary for the following day is delivered to each cabin, so it's easy to decide what activities you want to do, and know when you need to be on the dive deck ready to kit up.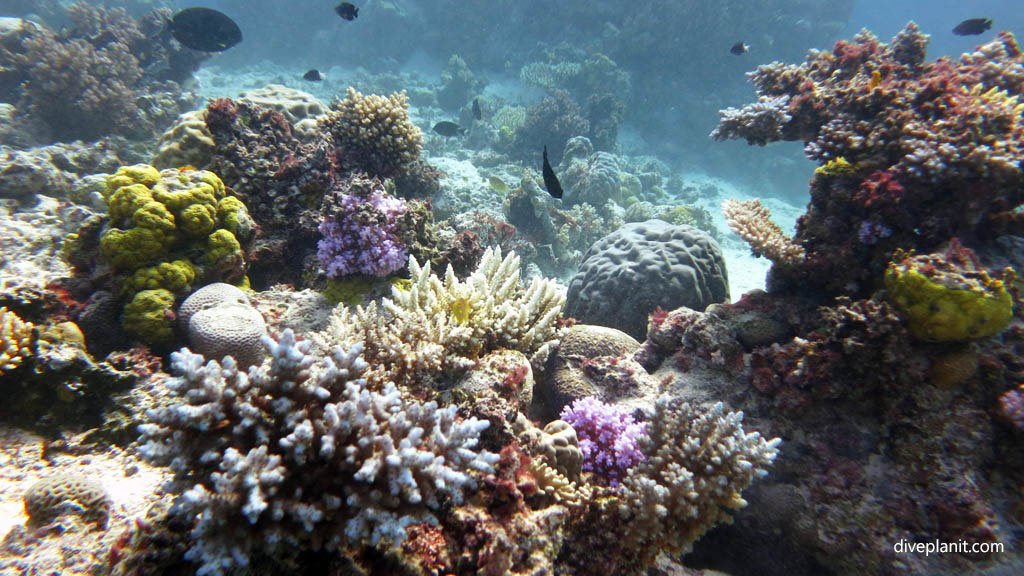 The dive instructors arrange activities according to the requirements of guests as on any given cruise there may be a mix of certified and Discover SCUBA Divers. They have all the gear to hire or you can take your own.
The way the tanks are rack-mounted makes it easy for experienced divers simply to put the tank on while standing, walk down a single flight of stairs to the platform put their fins on, buddy check and dive straight in.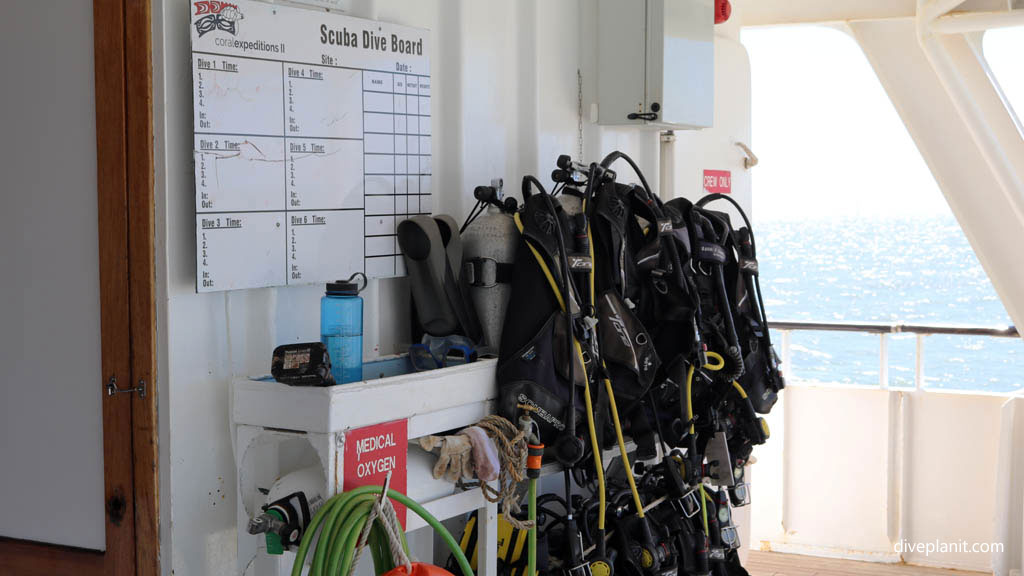 For DSDs or those who likes someone else to do the heavy lifting, the boat hands will carry all the gear down to the platform and load you into it while you just sit on the step. Then they'll even lower the platform gently so you can simply float off it.
Because they are catering for snorkellers too, the moorings are usually within sight of the reef, so it's a simple matter of following one or other of the mooring lines down to the reef edge. Depending on conditions lighting and mood you can go one way along the reef edge and if it's not looking too chipper, simply turn round and go the other way. You'll never be far from the boat and often you can see the more adventurous snorkellers overhead.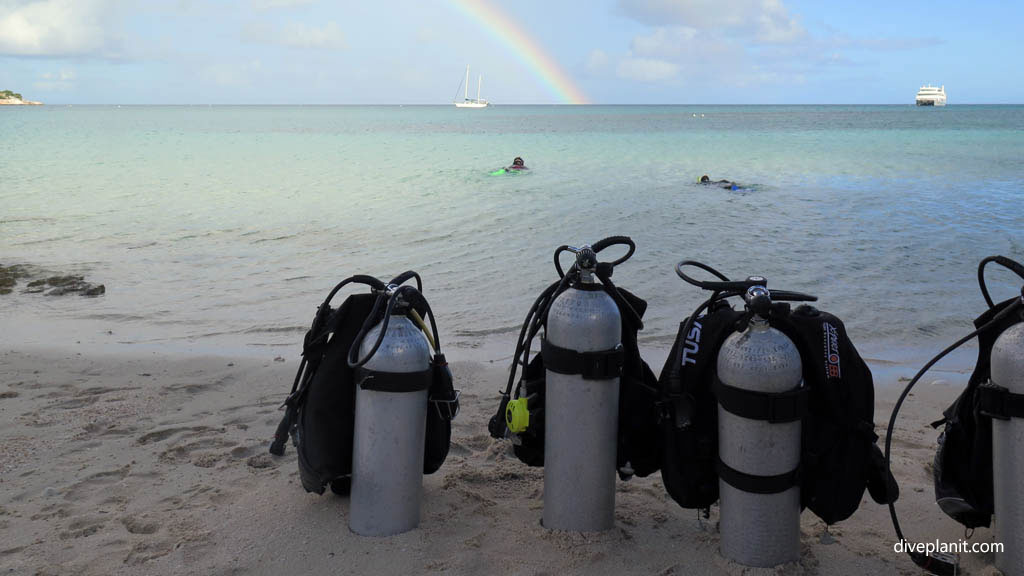 None of the dive sites in the trip a particularly deep, especially not on the fringing reefs of the islands such as Lizard where you enter from the beach, but even on the outer reefs most dives were less than 12 m. All the reefs are perfectly suited to DSDs and occasional divers as well as fully certified and experienced divers.
As the dives are not deep and pursued in a very relaxed manner, +60 minute dives were the norm on our trip, though dive times would be shorter if several dive groups needed to be accommodated at each site.
There are no wrecks or raging currents, this is after all, an expedition to see the coral and its inhabitants.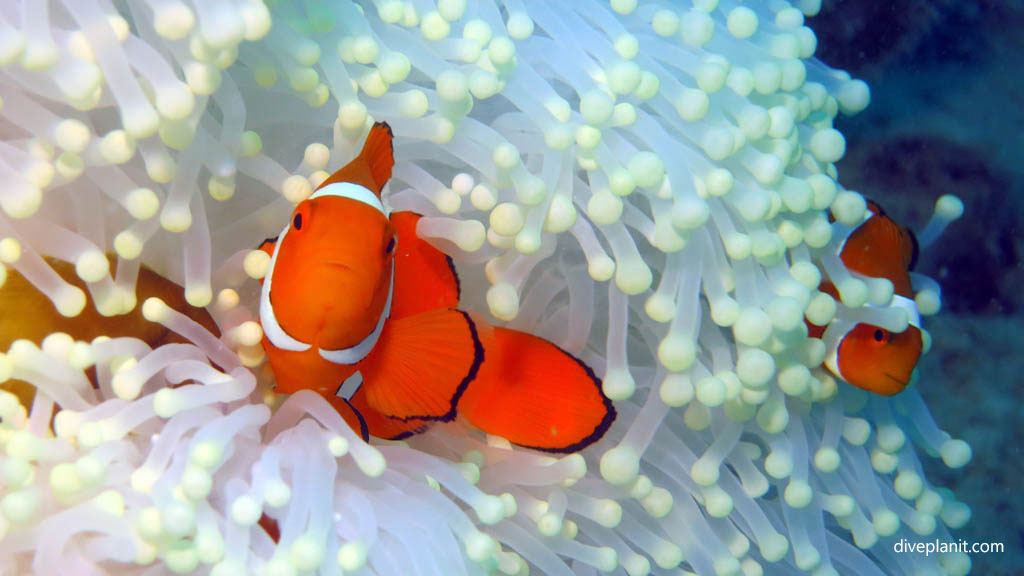 Pricing / availability enquiry