Introduction
Location
Accommodation
Diving
Dive Sites
Pricing & Schedules
Enquire Now
Pro Dive Cairns operates three liveaboards vessels named "Scubapro 1, 2 &3" and have set a new standard among the budget category of dive boats in Cairns. All three are purpose built dive vessels with dive students, snorkelers and certified divers in mind. Each vessel takes no more than 32 guests and serves as training vessel for the 5-Star Pro Dive Training Centre in Cairns. You will always find a mixture of experienced divers and dive students on board. They offer dive training in English and German. Non-divers have access to supervised snorkeling all day. All dive sites feature shallow reefs and are ideal for snorkelers.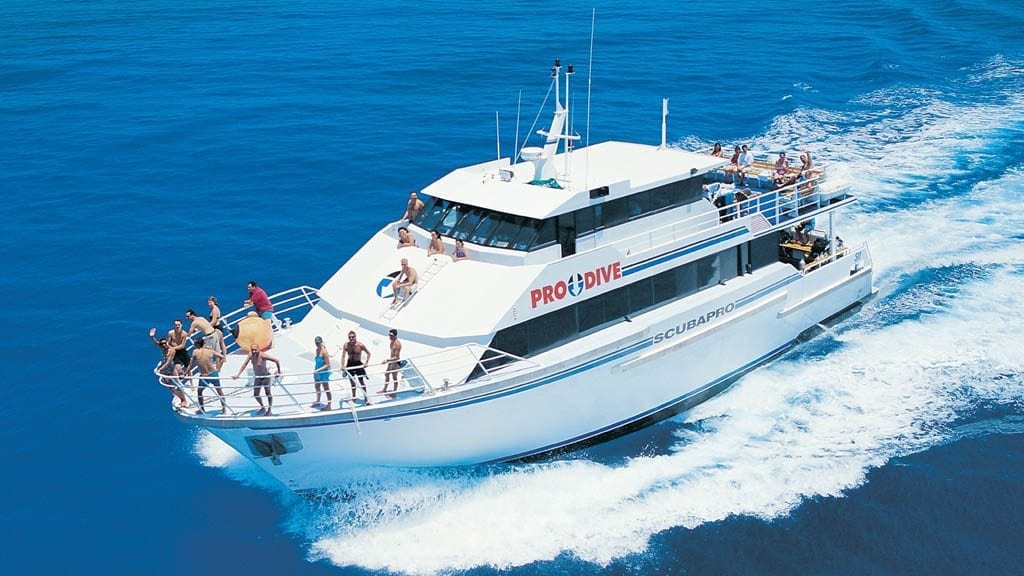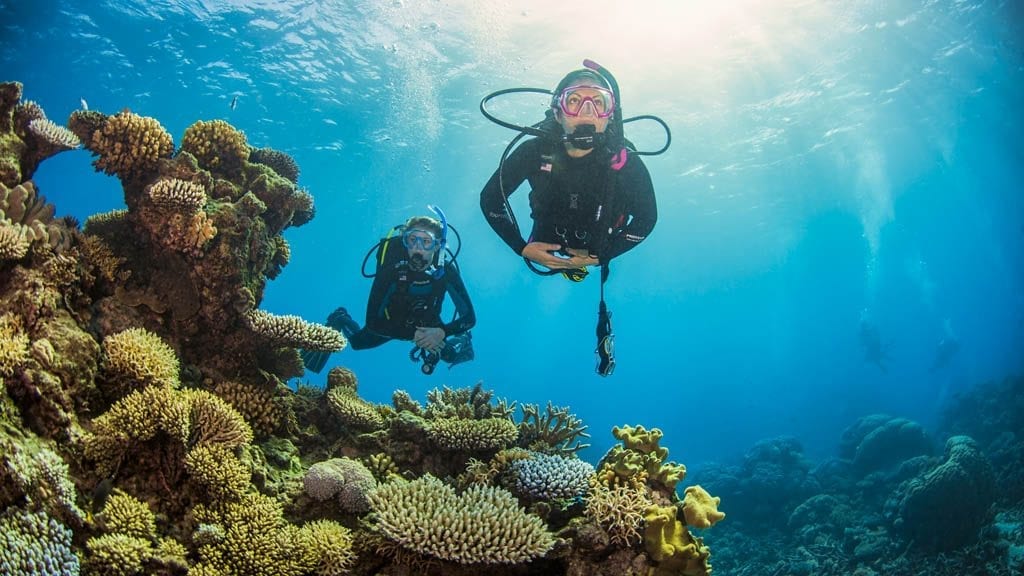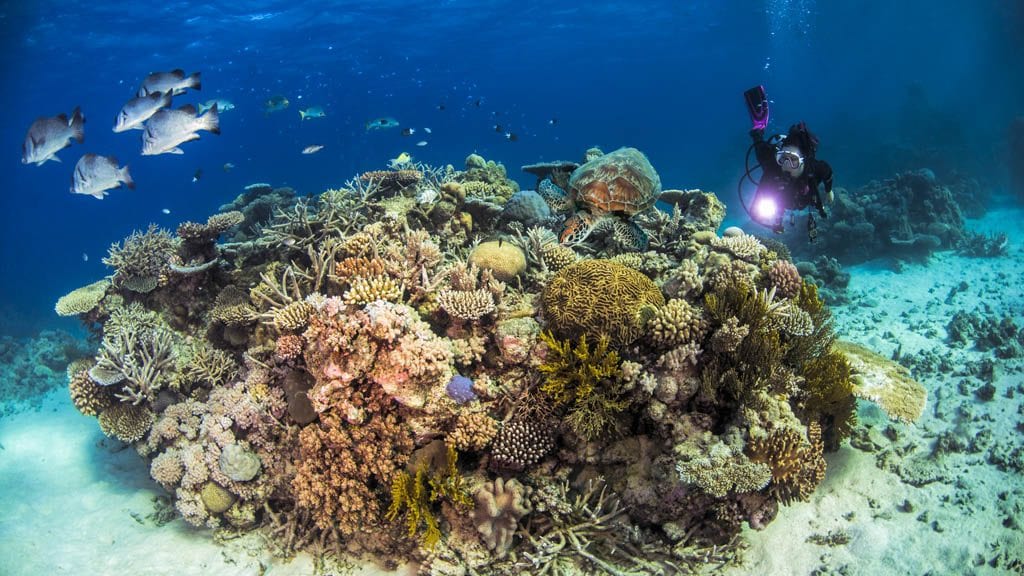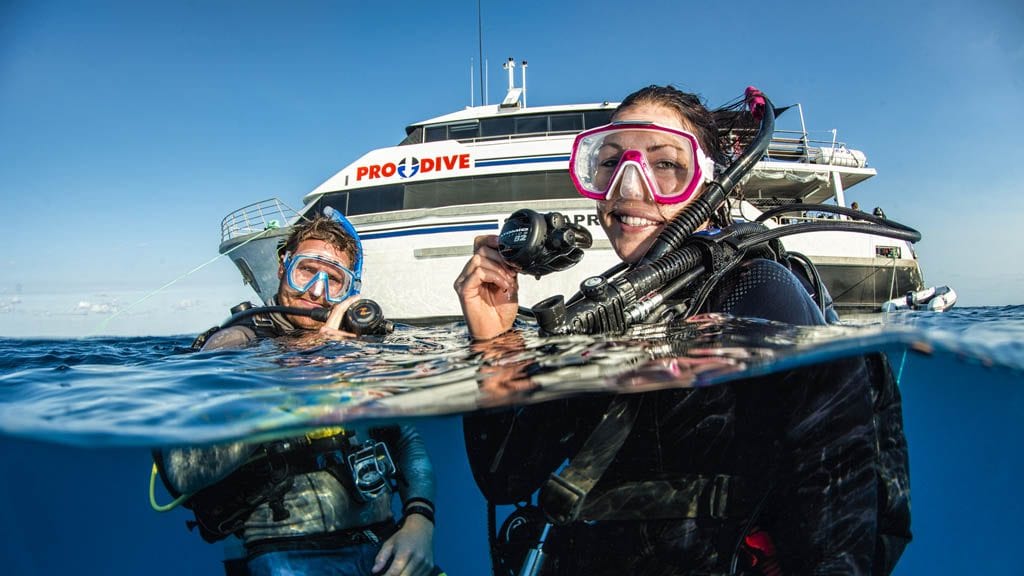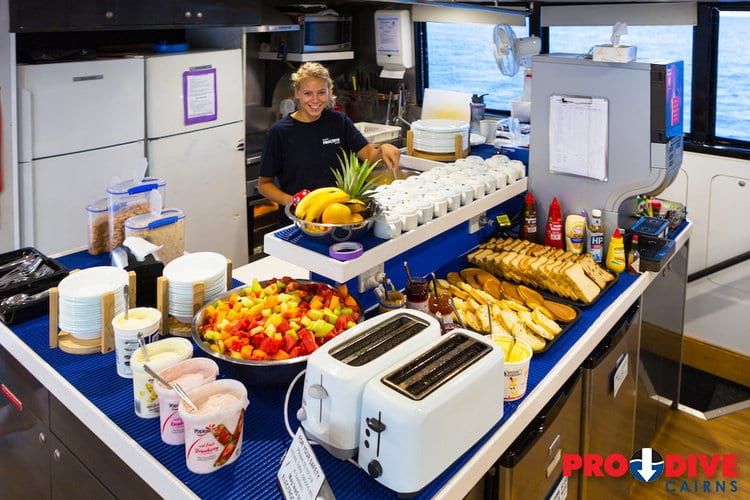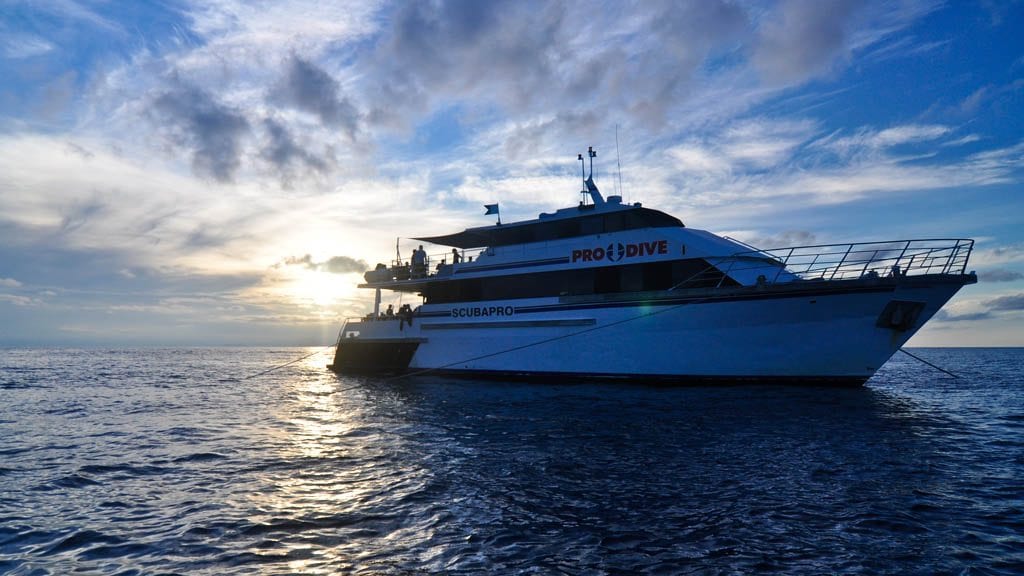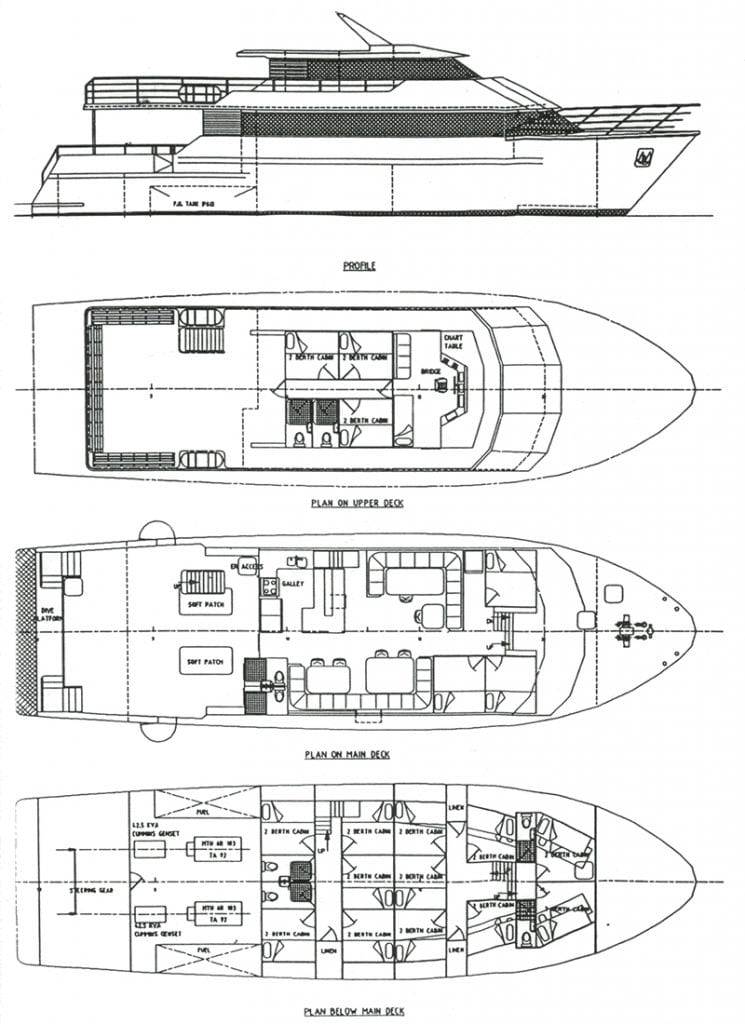 Pro Dive Cairns has developed an excellent reputation based on the very experienced crew and the back-up of one of the most professional PADI 5 Star Training Centres in Cairns. The three liveaboard vessels are our first recommendation for a 3 day/2 night excursion in the lower budget category and for anybody who wants to do dive training from beginner to advanced and up to instructor level.
Scubapro boats are all 24 metres (80ft) in length. They take a maximum of 32 divers plus 6-8 crew, depending on the dive course activities taking place on board each particular trip. Scubapro II & III, are sister ships, and in lay-out and facilities exactly the same.
A big saloon, along with shared bathroom facilities (8 toilets and showers) and a sun deck make for a pleasant stay on the reef, even for people who have never been overnight at sea. The spacious dive decks make the Scubapro Fleet the best dive training vessels on the market. Each vessel is equipped with first aid equipment, oxygen kits and staff trained to use them. 240V power supply is available throughout each boat. 11L tanks are available as well as Nitrox.
Alcohol is not available for purchase on board Scubapro, however, passengers are welcome to bring their own on board if they wish to do so.
Staying Connected
Free WiFi is offered on all Pro Dive trips. Passengers will need to bring their own laptops, iPhones, etc.
We think…
Pro Dive Cairns are the best choice for certified divers who are on tight budget and still want to experience the Great Barrier Reef. The dive areas visited by Pro Dive Cairns are good, however, they are no comparison to the Ribbon Reefs and Coral Sea. We highly recommend Pro Dive Cairns to anyone who wants to learn to dive, as the dive courses are very professional and thorough. Don't miss out on the best learning experience!
With three boats, Pro Dive Cairns normally departs from Cairns daily, offering flexible, one or two night stays on the outer reef.
Altogether there are 16 air-conditioned guest cabins on board: 14 twin (bunk style) and 2 double cabins, there are no en-suite facilities. Guests share 8 toilet/shower facilities. Sheets and blankets are provided, but guests must bring their own towels.
The 2 double cabins with a double bed can be secured, but need to be booked as far in advance as possible, so please contact us early if you want a double bed cabin!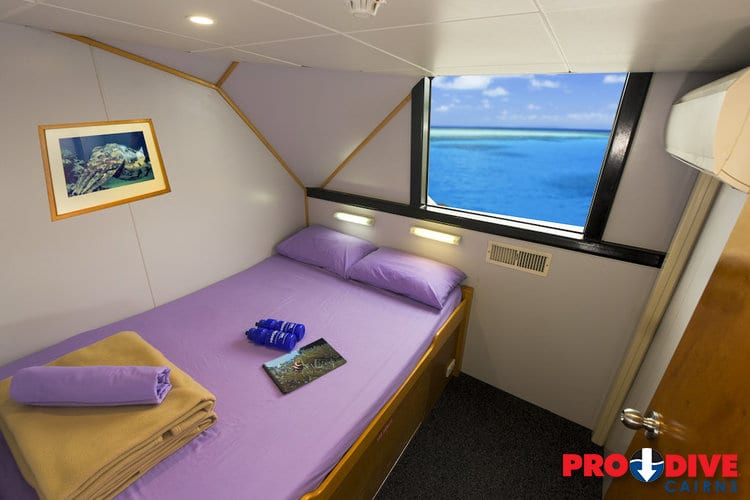 However, the twin bunk cabins are perfect for the majority of divers travelling with their buddies.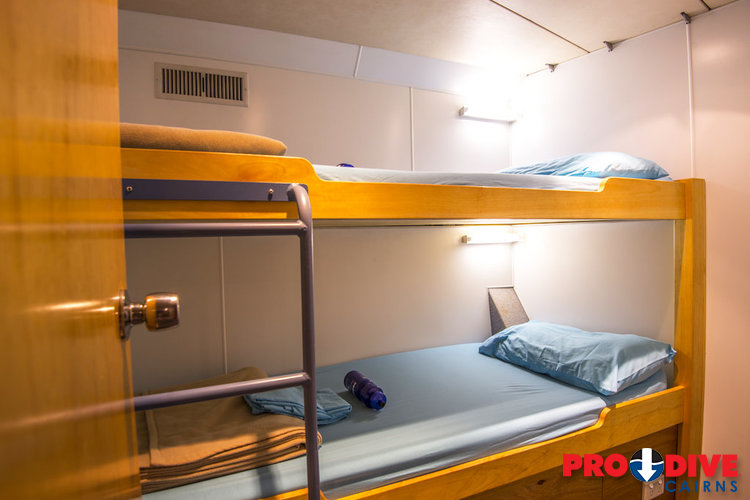 Pro Dive Cairns visits the areas of the outer reef that is closest to the Queensland coast, which should not be compared with the Ribbon Reefs and Coral Sea areas accessible only on longer cruises. However, the diving is the best you can access on a shorter trip from Cairns or anywhere else in Australia.
Pro Dive Cairns visits Milln, Flynn, Gordons and sometimes Thetford Reefs which are located approximately 50 km (30 miles) east of Cairns. Features of these reefs are pinnacles, lagoons, small caves & gutters and pretty coral gardens. The reefs display a huge variety of tropical marine life with colourful reef fish for example parrotfish, sweetlips, blue spotted stingrays, moray eels and sea stars. Pelagics are rather rare. You might come across small whitetip sharks and with a bit of luck barracudas or grey reef sharks. The typical features for the GBR are the many, beautiful giant clams which come in different colours.
Diving here is pretty easy, ideal for novice divers. Hardly any currents and the best diving is to be found in the shallows, where most of the activity is happening. Maximum depth is between 15 and 30m (45-100 ft), average depth about 18 m. The reef tops come up just below the surface, which is ideal for snorkelers. Average visibility is about 10 to 20 m (30-60 ft), and on a very good day even 30 m (100 ft).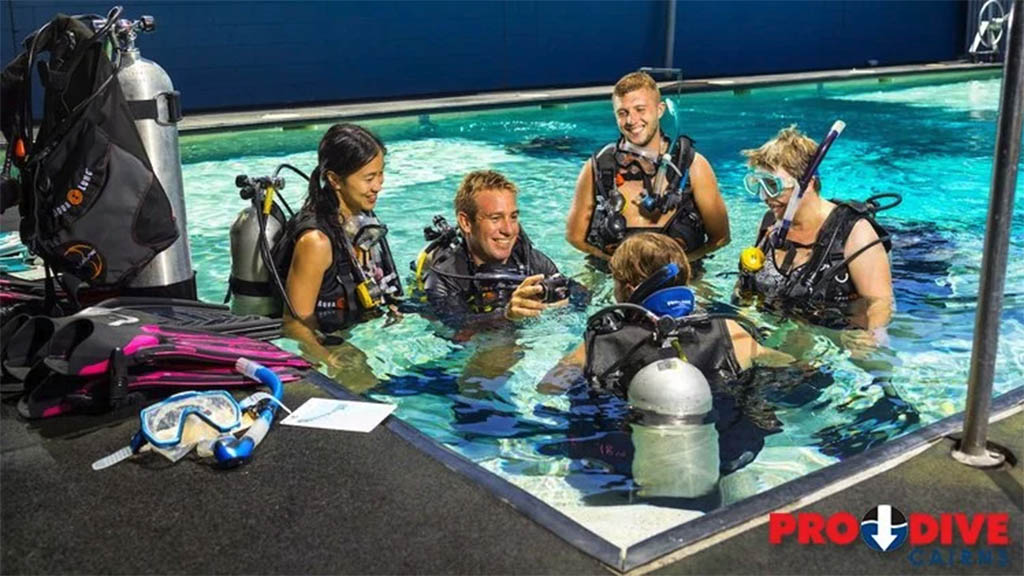 Learn to Dive – 5 Day Open Water Course
The five-day course consists of two parts:
Two-days in pool and classroom training in Cairns.
Three-days and two-nights on an Outer Great Barrier Reef liveaboard trip.

The first two days of the course are spent at our five-star PADI training centre where you will learn dive theory in air-conditioned classrooms and basic skills of scuba diving in the pool. Centrally located in Cairns city, this modern training centre features the deepest four-metre diver training pools in the region, ensuring a professional and safe learning environment. Then it's time to head out to The Great Barrier Reef for a three-day, two-night liveaboard adventure to become a certified diver!
Once on The Great Barrier Reef, you will have the opportunity to participate in up to nine dives. The first four dives are training dives, which will complete your PADI Open Water Certification. After these are completed, you can enjoy five recreational dives, one of which is an exciting night dive guided by your dive instructor.  This is a highly personalised certification course and you'll have the same instructor for the entire duration.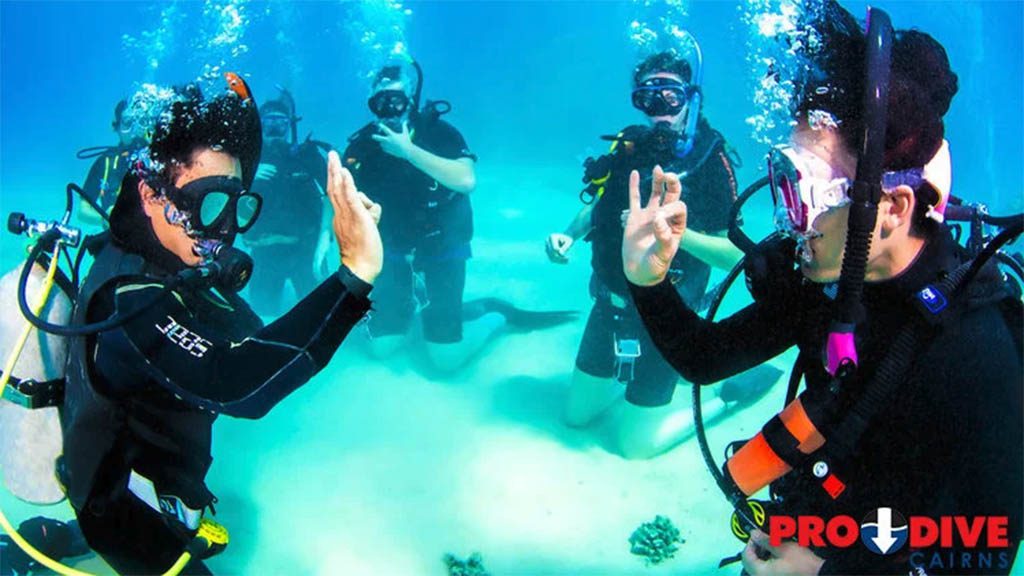 Learn to dive – 4 Day e-learning Open Water Course
If time prevents you from participating in the five-day course, but you still wish to enjoy the liveaboard experience, this four-day course is the perfect option for you. Classroom theory is replaced with online eLearning which can be completed in your own time prior to arriving in Cairns, leaving only one compulsory practical training day at Pro Dive Cairns' PADI Five Star Dive and Career Development Centre.
The ocean training dives will be conducted as normal during a three-day, two-night liveaboard to the Great Barrier Reef. With warm waters, minimal current and great visibility year round, The Great Barrier Reef is the best place on Earth to learn how to dive.
The four-day course consists of three parts:
After you book, you will receive login instructions for the online PADI eLearning Open Water Course theory. These modules and quizzes must be completed before you arrive in Cairns and start your practical training.
One day of practical training at the Pro Dive Cairns Training Centre.
Three-days and two-nights on an Outer Great Barrier Reef liveaboard trip.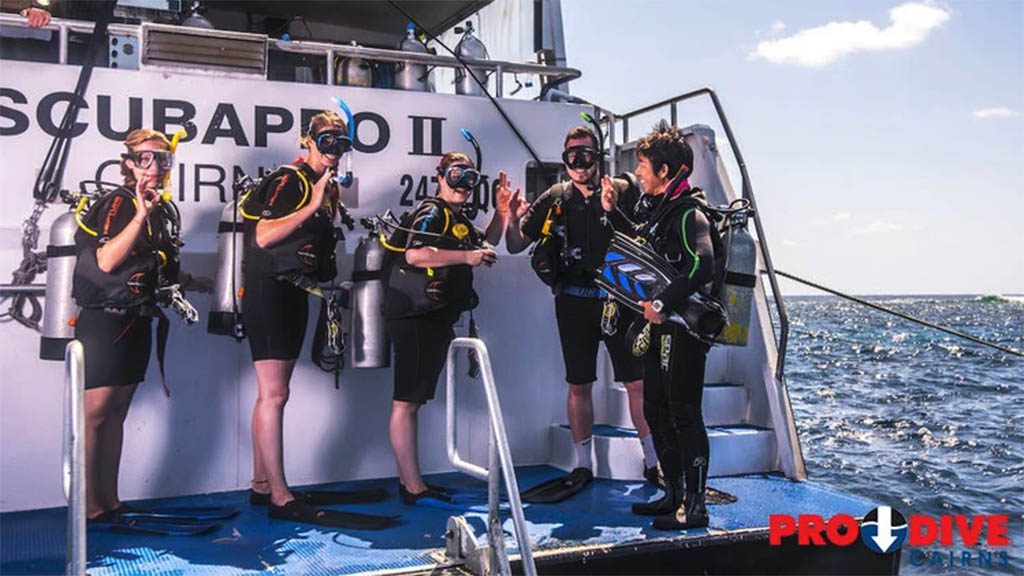 Pellowe Reef
Pellowe Reef is a small isolated reef located close to the edge of the continental shelf. For this reason, access to the reef is weather dependent and best visited on fine weather days. The reef drops away to 30 metres very quickly in places, providing some spectacular diving.
This reef offers divers an exciting wall dive and swim throughs. The majority of the dives will be in depths between 5 to 30 metres. Being closer to the continental shelf increases the possibility of large pelagic fish species along with the more regular sightings of chevron barracuda and nudibranchs.
Rating: Novice – Intermediate
Moderate Currents
Visibility – 15 to 20 metres
Depth – 5 to 30 metres
Milln Reef
Milln Reef offers a number of exciting dive sites such as Whale Bommie, Petaj Mooring, Swimming Pools I, Swimming Pools II and Fish Town to name a few. Our dive site at Petaj is home to resident turtles and white tip reef sharks. At the Swimming Pools you can expect to see schools of diagonally banded sweetlips and nudibranchs.
Milln Reef offers excellent wall dives, pinnacles and swim throughs. Milln is great for night diving. Some of the walls are full of sleeping parrot fish in their mucus sacks, turtles and barracudas and the occasional bull ray. Whale Bommie provides good diving with depths exceeding 20 metres. A great site to dive at night where you can expect to see sleeping turtles, reef crabs, painted lobsters, soft corals and gorgonian fans.
Rating: Novice – Intermediate
Mild Currents
Visibility – 15 to 20 metres
Depth – 5 to 25 metres
Thetford Reef
Thetford Reef is made up of numerous coral bommies where you can experience some very exciting wall dives and many swim throughs. The depth and exposure of Thetford Reef makes it suitable to visit during mild weather conditions. Cathedral and Blue Lagoon are our two favourites.
This reef is home to many soft and hard corals like boulder and plate corals with an abundance of marine life. Look for the giant clams, butterflyfish, damsels and angelfish.
Rating: Novice – Intermediate
Moderate Currents
Visibility – 15 to 20 metres
Depth – 5 to 30 metres
Flynn Reef
Flynn Reef is one of our most popular reefs to dive and offers excellent diving for novice to very experienced divers. We have a number of dive sites at Flynn reef such as Tracy's Bommie, Gordon's Mooring, Tennis Court and Coral Gardens.
These sites offer excellent wall dives, swim throughs, overhangs and maze like structures. Expect to see an abundance of marine life combined with plenty of hard corals such as finger, table, plate and boulder corals as well as many species of soft corals.
Rating: Novice – Intermediate
Mild Currents
Visibility – 15 to 20 metres
Depth – 5 to 25 metres
Pro Dive Cairns Pricing until 31 March 2023
3 Days/ 2 Nights Excursions
AUD
Certified diver (on air)
965
Certified snorkeler
805
PADI Dive Courses including 3 Days/ 2 Nights Excursions
AUD
PADI Open Water Dive course (over 5 days)
1125
PADI Open Water Referral course (over 3 days)
1040
PADI Advanced Dive course
1145
PADI Enriched Air (NITROX) course
1155
Included in the price: 2 nights accommodation on board Scubapro (double/twin share cabin), return transfers to/from your accommodation in Cairns and northern beaches, non-alcoholic beverages (tea, coffee, water), all meals, snacks, bed linen (no towels included), for divers up to 11 dives (incl. 2 night dives), full hire gear incl. a dive computer and short wetsuit for divers & full snorkeling gear and wetsuit for snorkeler, Environmental Management Charge (EMC) & Port fees. Courses also include PADI Open Water Certificate, manual and log book to keep (no manual for Referral course students), dive insurance & accommodation transfer daily.
Note: The rates include a fee of AU $85/person. This fee consists of a Government Environmental Management Fee (EMC) of AUD 19.50, port departure tax and administration charges. This charge is applicable for all passengers travelling on 3 day/2 night liveaboard dive trips and all dive courses combining the 3 day trip. (This fee is subject to change without notice.)
Pro Dive Cairns Important Information
Important Information
1) If you do not have your PADI manual from your theory course, it is a PADI requirement that you purchase a manual prior to completing the course.
Non PADI referrals - If you have completed your pool and school training with another training agency (not PADI) you will need to do a crossover. This involves an additional day of pool and theory work and will incur additional costs.
2) Prior to commencing your Learn to Dive Course you are required to complete the self assessment Student Diver Medical Declaration. A positive response to any question means that there is a pre-existing condition that may affect your safety while diving and you must consult a medical practitioner preferably with experience in diving medicine to obtain a dive medical certificate that states that you are fit to undertake recreational diver training.
To avoid disappointment we suggest that you complete the Student Diver Medical Declaration and if necessary obtain a dive medical from a doctor prior to commencement. (Any costs associated in this process are payable direct to the doctor).
Student Diver Medical Declaration and Dive Medical (if required) must be completed within 90 days of commencement of your learn to dive course.