Overview
Mike Ball – the loudest name in Australian Diving!
Spoilsport offers exciting 3, 4 and 7 night expeditions to the Ribbon Reefs, Cod Hole and Osprey Reef in the Coral Sea from their base in Cairns. The short itineraries include a scenic flight between Cairns and Lizard Island which give you unforgettable views of the Great Barrier Reef. Spoilsport is certainly one the most comfortable luxury dive vessels in Australia.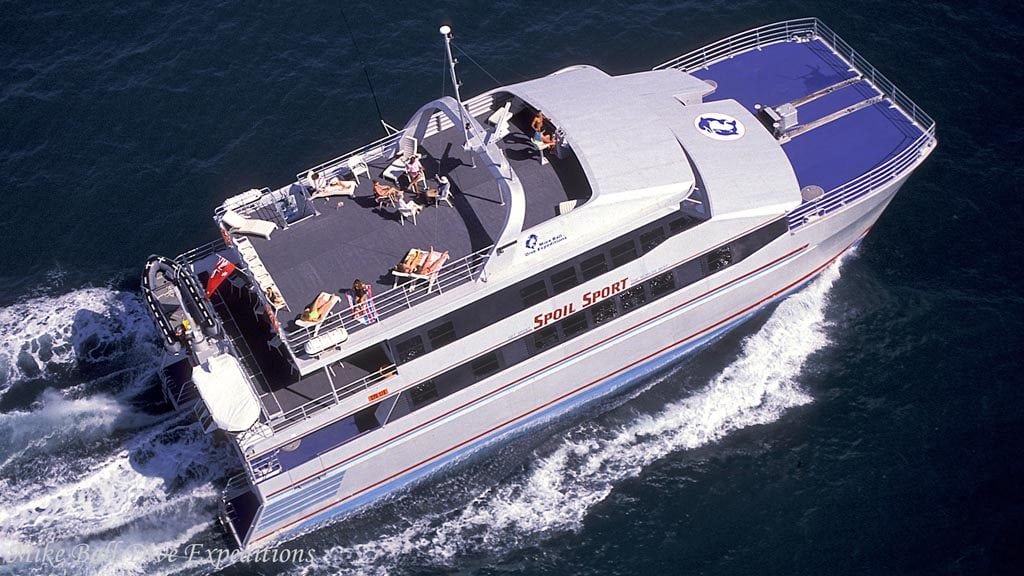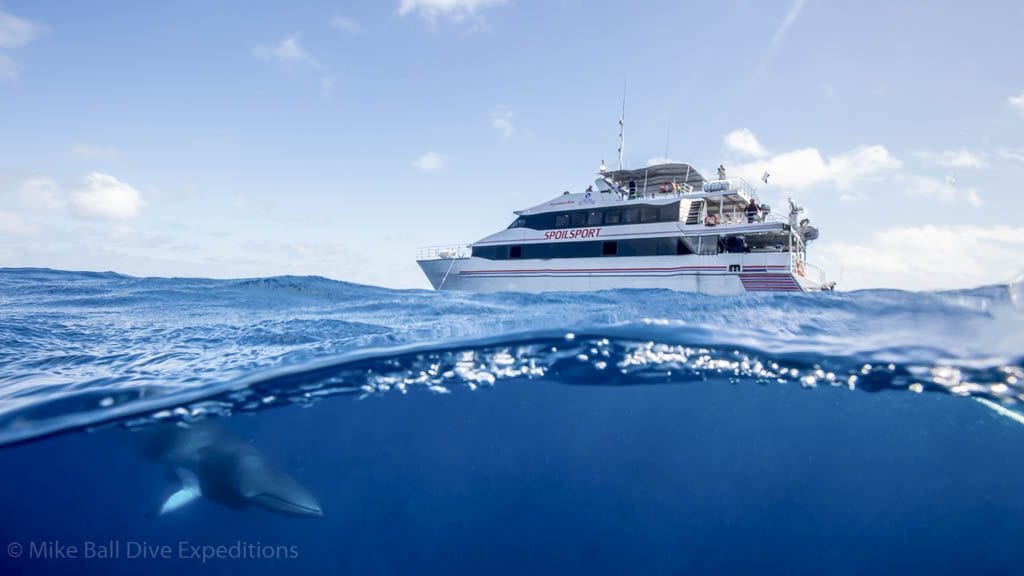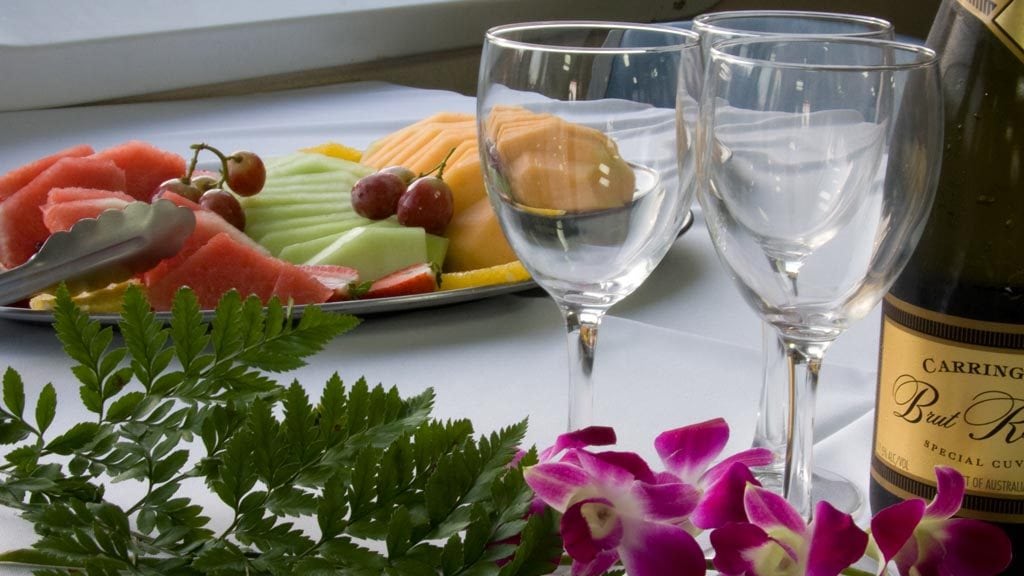 Spoilsport cruises to the Ribbon Reefs and the Osprey Reef and includes the best dive sites in Australia on their schedules. Sharks at Osprey and the fantastic diversity of the marine life on the Ribbon Reefs will not fail to excite you.
Vessel
The Spoilsport has an excellent reputation among Australian dive cruises and she has earned it. Food, accommodation and dive deck organisation satisfies even the most demanding divers. Spoilsport takes a maximum of 29 divers on board.
There is plenty of space for everybody on this spacious three-story luxury catamaran.
Accommodation
Spoilsport has cabins in different price categories in either twin or double configuration.
The best cabins are the "Premium" cabins with double bed and private en suites. There are large "Standard" twin cabins with big windows and their own private bathrooms, and "Club" twin cabins (over and under bunk beds) with private bathrooms and the "Budget" cabin with shared bathroom facilities.
PREMIUM CABIN: 4 cabins with double bed, private bathroom and a window. They are the nicest and most spacious cabins on board. They are the only cabins with double beds.
STANDARD CABIN: 4 twin bedded cabins (one bed on each wall, L-shaped set up) with private bathroom and large windows.
CLUB CABIN: 4 twin cabins (with over and under bunk beds) and no window. Each cabin has its own private bathroom.
BUDGET CABIN: 2 twin cabins (with over and under bunk beds), no window and shared bathroom facilities.
Staying Connected
Due to the remoteness of the trips, WiFi is not available on board. Mike Ball Dive Expeditions has made an informed decision to give you the time of your life. No distractions; no work emails; no Facebook. Just enjoy the deep blue of the ocean.
Location
The dives are on the Great Barrier Reef, Far North Queensland, Australia. Spoilsport's home port is Cairns, but some of the itineraries include a flight, so where you start and end your trip will depend on the package you select. Check out the itineraries and availabilities below.
What to expect
Dive Services
On a full day on board you will be offered 4 to 5 dives per day (including 1 night dive after dinner). The full dive services include:
PADI Instructor on board, no beginner courses (Open Water referral courses on the 3 night Fly Dive Cod Hole Expedition possible)
PADI Advanced courses are offered for an extra charge
Safe Solo Diving program
Daily Marine biology presentation
Digital underwater cameras are available for hire
Photography courses offered by on-board photo-pro
Excursion DVD and Photo CD available for purchase at the end of the trip
Spoilsport offers Nitrox diving. Nitrox EAN 32 is available at extra cost.
SDI Easy Nitrox and PADI Nitrox courses are offered on board at extra cost.
Non-divers/Snorkelers are welcome on board and receive a 10% discount on excursion fee.
Equipment available on board:
Nautilus Lifeline – All divers are required to use a Nautilus Lifeline GPS.
Dive Tanks – There are 42 tanks on-board 50% Air and 50% Nitrox; two thirds average 10.3L (80 cuft) and one third average 11.3L (88 cuft).
Four 15L steel tanks are available for hire.
Tank Valves – Air and Nitrox cylinder valves are compatible with US yoke regulators (UK A clamp).
DIN Fitting Regulators – There are 16 cylinder valves with a removable plug which will accommodate European DIN style regulators.
Dive Itineraries
The Spoilsport runs a regular itinerary of 7 Night / 26 Dives Coral Sea Safari trips, starting from Cairns on a Thursday evening. But these can also be joined (or left) half-way via a low-level flight to and from Lizard Island, as a 4 Night Coral Sea trip (Thursday to Monday), and a 3 Night Cod Hole trip (Monday the Thursday).
The Spoilsport offers more than just regular diving. You can booked your own private shark shoot, as below.
And the regular itineraries are interspersed by Special itineraries and expeditions such as the Minke Whale Expeditions. Here's one from 8-11 July 2019.
Check out the different itineraries and special expeditions in the Live Availability panel below.
We think…
For getting the best dive adventures in Australia, Spoilsport is the ship to choose. Spoilsport offers all the comforts one can wish for and the crew and service are outstanding.
Trip dates & Availability
Spoilsport Cairns Extras Payable Locally
Valid until 31 March 2021
AUD
Environmental Management Charge (Reeftax)
20
Full set of hire gear (per day)
44
Nitrox fills 3 or 4 night excursion
75
Nitrox fills 7 night excursion
150
15L steel tank (per day)
25
Special 7 night Far Northern Expeditions may attract a fuel surcharge
44
Important Information
Single occupancy: 70% surcharge
Non-divers receive 10% discount on expedition prices
Included:
* All meals and snacks on board
* Water, Coffee, Tea, Softdrinks
* Australian Wine with Dinner
* Cabin and dive deck towels, linens
* Tanks, weights, air fills
* 3 nights 12 dives, 4 nights 14 dives, 7 nights 26 dives
(Minke Whale trips: 3 nights 10 dives, 4 nights 12 dives, 7 nights 22 dives + plenty of snorkelling with whales)
* low-level scenic flight between Cairns and Lizard Island (3 & 4 night trips only)
Not Included:
* Environmental management charge
* Fuel surcharges
* Diver evacuation insurance is highly recommended (e.g. DAN )
Special payment and cancellation charges apply for this operator
Pricing / availability enquiry