Introduction
Location
Accommodation
Diving
Dive Sites
Pricing & Schedules
Enquire Now
Heron Island is in the Southern Great Barrier Reef, reached by helicopter or ferry from Gladstone, Queensland. Famous for its spectacular coral reef and a sanctuary for a wide variety of marine life. This natural coral cay provides a genuine eco-experience, a unique opportunity to witness the magic of the world's largest coral reef.
Accommodation ranges from rooms set amongst a leafy forest, to beachside rooms to the larger Beach House and Point Suite, and offer relaxed, low-key comfort and immediate access to crystal clear waters teeming with nesting turtles, reef fish, turtles, rays, reef sharks and more. 20 dive sites nearby are easily accessible by boat within minutes of the jetty.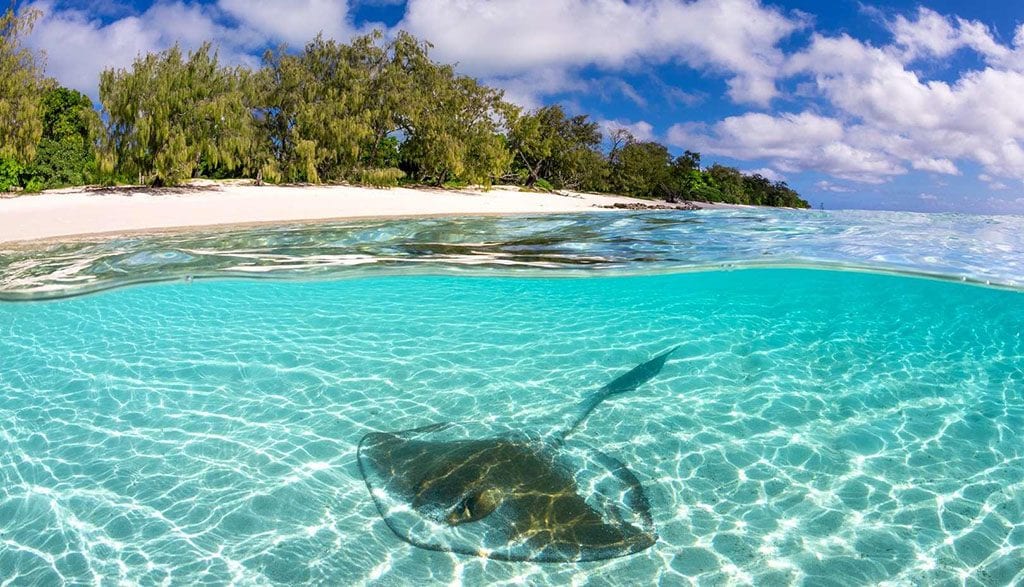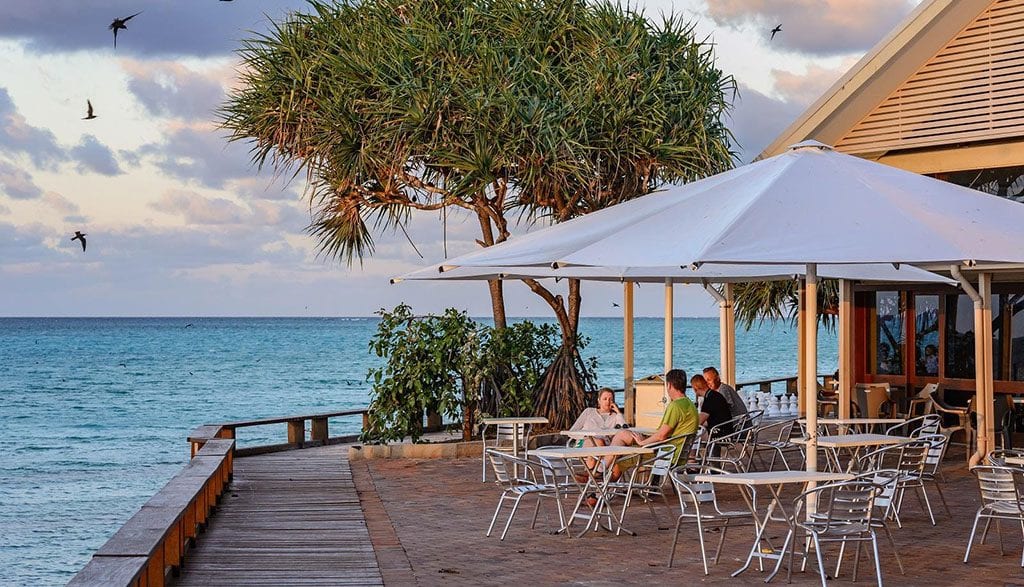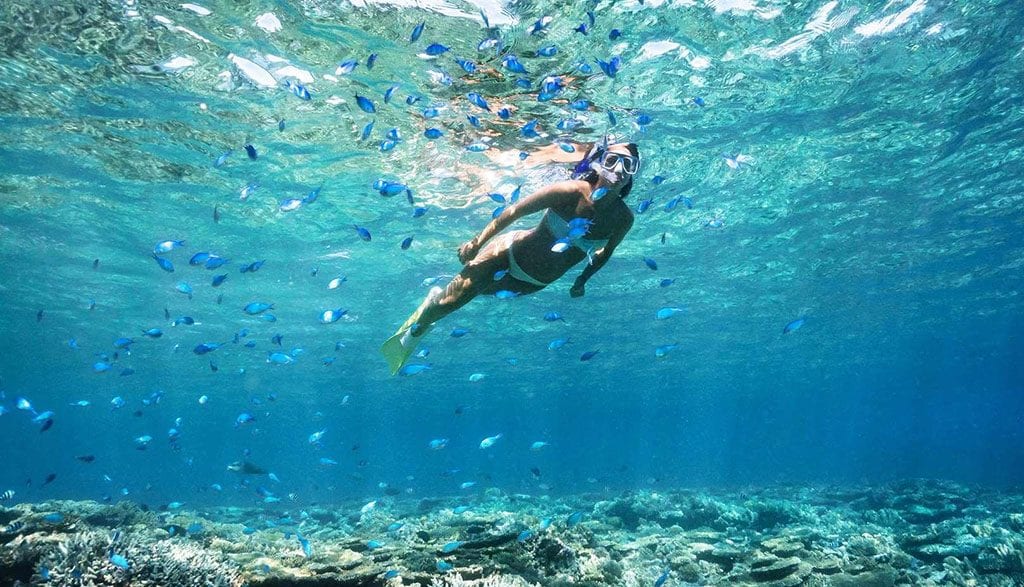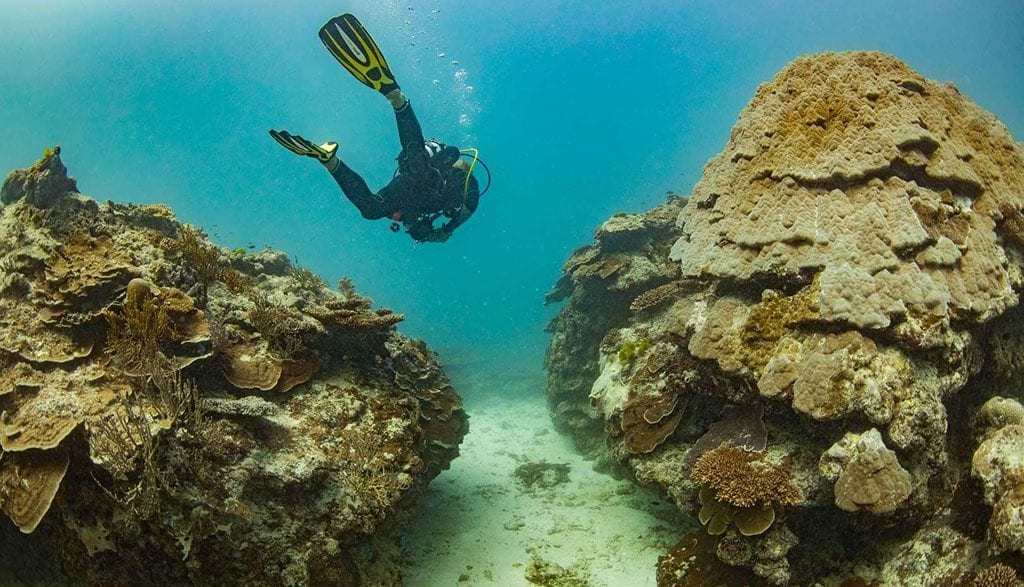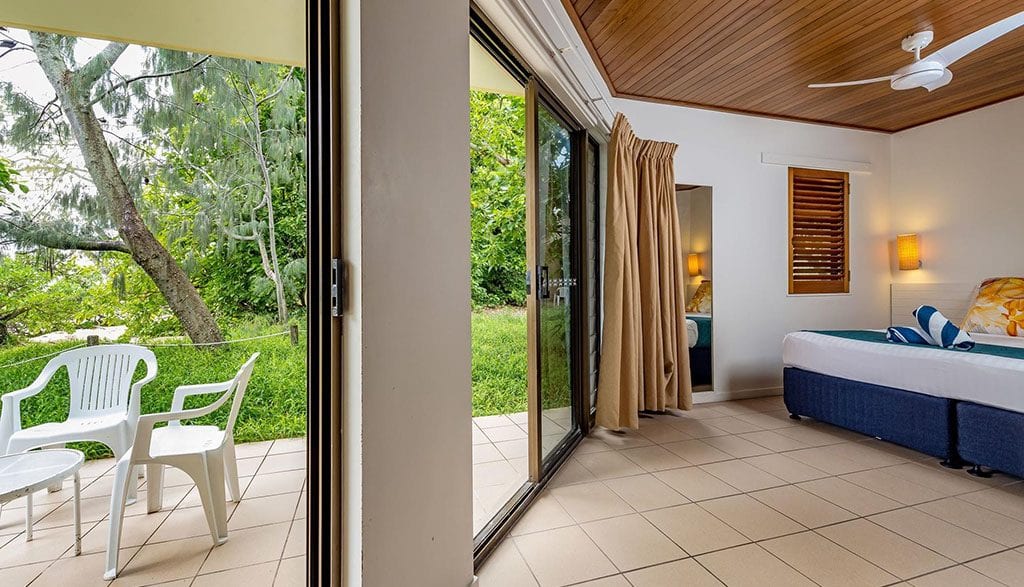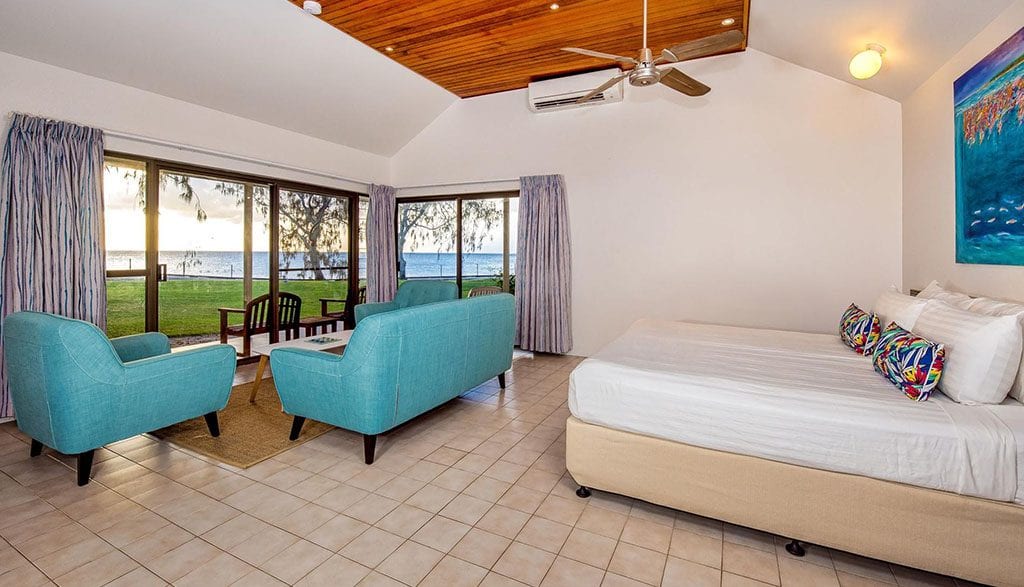 Heron Island is located in the Capricorn Bunker Group which is in the southern section of the Great Barrier Reef.  Measuring just 800 x 300 metres and sitting right on top of Heron Reef, this is a small island with an abundance of marine life at its doorstep.  Beautiful corals are found in the reef flat, sharks and rays can be spotted swimming through the beach and the area is home to 900-1000 fish species.  The entire Great Barrier Reef has around 1500 fish species, so Heron Island has a majority of the species living in the area.  In the summer months, from November to March, nesting turtles are nearby, with their hatchlings surfacing around January to May. Heron Island is well known around the world for its spectacular diving and extensive array of marine animals. The Heron Island Marine Centre (Dive Shop) is located behind the main reception at the Heron Island Resort.
Getting Here
At 34 metres, The Heron Islander is specifically designed to provide a comfortable and spacious transfer from the Queensland mainland to Heron Island. She comfortably seats 170 and has a top speed of 30 knots (55 km/h). With the exception of Tuesdays and Thursdays, the Heron Islander makes one return trip per day between Heron Island and Gladstone, per the schedules below.
The Heron Islander:
Departs Gladstone at 9:30AM – Mon, Wed, Fri, Sat, Sun.
Arrives Gladstone at 12:30PM –  Mon, Wed, Fri, Sat, Sun.
We recommend a flight arrival into Gladstone no later than 1½ hours prior to our sailing times. Please note, Aldesta Hotels does not accept responsibility for flight delays or flight schedule changes.
Check-in at the Heron Island Ferry Terminal opens at 7.45am and closes promptly at 9.00am. Please ensure you are checked-in and have your boarding pass prior to the check-in closure time. Guests not checked-in by the closure time may be denied boarding. The Heron Island Ferry Terminal is located in the Gladstone Visitor Information building, at 72 Bryan Jordan Drive, Gladstone.
Arrival in Gladstone by Air
Due to reduced flight schedules the airport shuttle bus is currently not operating. Guests will be required to make their own way between the Gladstone airport and marina for their ferry transfers.
Arrival in Gladstone by Car
If you're making your own way to the Heron Island Ferry Terminal, you'll find it at the Gladstone Marina Parklands, in the Gladstone Visitor Information Centre building at 72 Bryan Jordan Drive, Gladstone. The Heron Island Ferry Terminal is located in the same building as Compleat Angler. Check-in at the marina opens at 7:45 am.
We strongly recommend you pre-book secure car lock-up facilities by calling Compleat Angler on 07 4972 7283, available for $12 AUD per day for a covered car park, or $10 AUD per day for an uncovered spot.
Should you have any questions pertaining to your transfer to Heron Island, please call the Heron Island Marina Office on (07) 4972 5166.
Departing:
It is recommended that domestic flights departing Gladstone Airport are booked no earlier than 4.45pm. Please note, Aldesta Hotels does not accept responsibility for flight delays or flight schedule changes.
Luggage Requirements
Onboard bags
– Guests are permitted to bring a small carry-on bag onto the boat. As checked baggage will not be available until guests check into their room at 3.00pm, it is recommended that guests carry with them any personal affects they may need prior to room check-in; e.g. medication, swimmers, sunscreen, hat, etc.
– Max. baggage weight 10kg and no more than 1 bag per person.
– There is minimal space available onboard the vessel and guests will need ot keep their carry-on bag with them at their seat throughout the 2hour journey.
Checked luggage
– Each adult, child and infant are permitted 1 x 23kg bag per person, to be checked in prior to boarding.
– All checked bags must be sealed, with all items secured inside. Checked luggage is transported in containers that are hoisted by crane on and off the boat. Bags may be jostled during transit and if not sealed well, loose items may be misplaced.
– Additional bags or oversized luggage exceeding 23kg, will be charged at a cost of $20 per item.
– Guests who are diving at Heron Island are permitted to bring a reasonable amount of dive equipment in addition to their checked luggage.
Prohibited items
– Guests are not permitted to bring food or alcohol to Heron Island. Any food or alcohol being carried on to the Heron Islander will be confiscated and returned to guests upon their return to Gladstone.
– Eskies are not permitted. Guests may bring a cooler bag to store medicine or infant formula, etc., however these bags will be inspected at check-in at the Marina. Any cooler bags our team are not permitted to inspect will not be allowed onboard the Heron Islander.
These measures are in place for the health and safety of guests and staff members. As Heron Island Resort and the Heron Islander are both licensed venues, outside alcohol cannot be brough onto the premises.
The Heron Island Resort is the only hotel accommodation on Heron Island and one of the few places in the world where you can dive into the Great Barrier Reef just a short walk from your room! The Resort offers rooms, suites and beach house accommodation, catering to different budgets and group sizes. With the idea of allowing guests to connect with nature, all rooms at Heron Island Resort are free from televisions, phones and WiFi. Internet is available within the resort at Baillie's Bar, Pandanus Lounge, Shearwater Restaurant, and the hotel's Reception area.  Baillie's Bar does have a wide screen tv for guests who wish to keep up to date with the latest sporting events and news.
Featured here, the Point Suite includes a king bed, large en-suite bathroom, air conditioning and a private terrace offering spectacular views of the Great Barrier Reef sunsets.
Point Suite
Beach House
Pictured above is the Beach House which can accommodate up to 4 guests with a king bed, a day bed, and a rollaway bed is available upon request (extra charges apply). The Beach House is airconditioned and also has ceiling fans, plus a private patio with outdoor furniture and a shower to relax and take in the stunning view.
Heron Island Marine Centre
The Heron Island Dive Shop (technically: the Heron Island Marine Centre) has everything you need to enjoy your dive at Heron Island Resort. You can hire everything from a snorkel to a shorty, BCD to a dive computer. They also sell some of the latest Aqualung gear. They have three boats and a variety of tank sizes on board.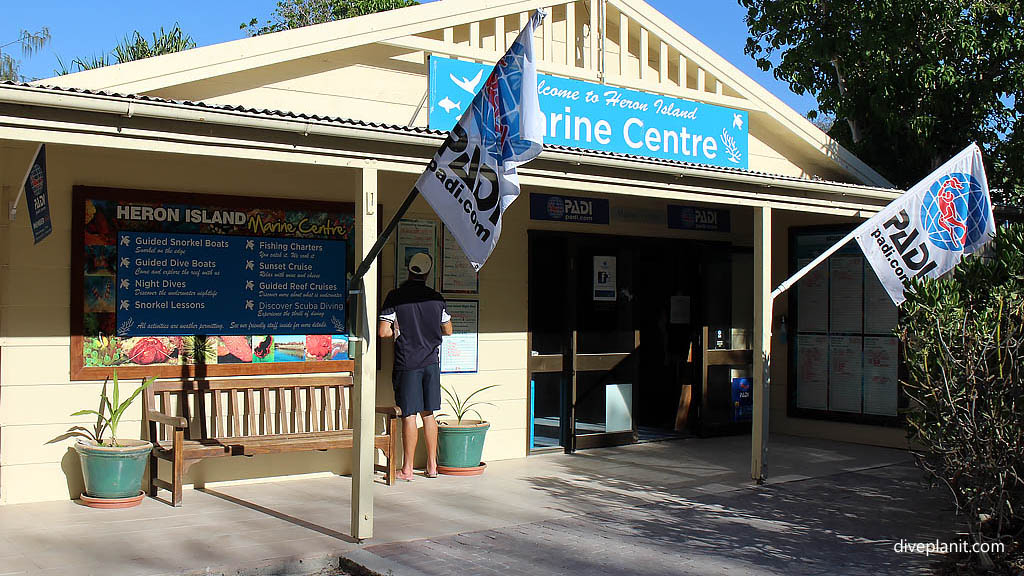 Dives are organised as single boat dives, and they have three dives per day plus night dives so you can dive as much or as little as you want. All dives are guided in small groups. Being a PADI affiliate, the Marine Centre offers PADI training and Discovery Scuba Diving, with training in the pool and a trip out to the reef.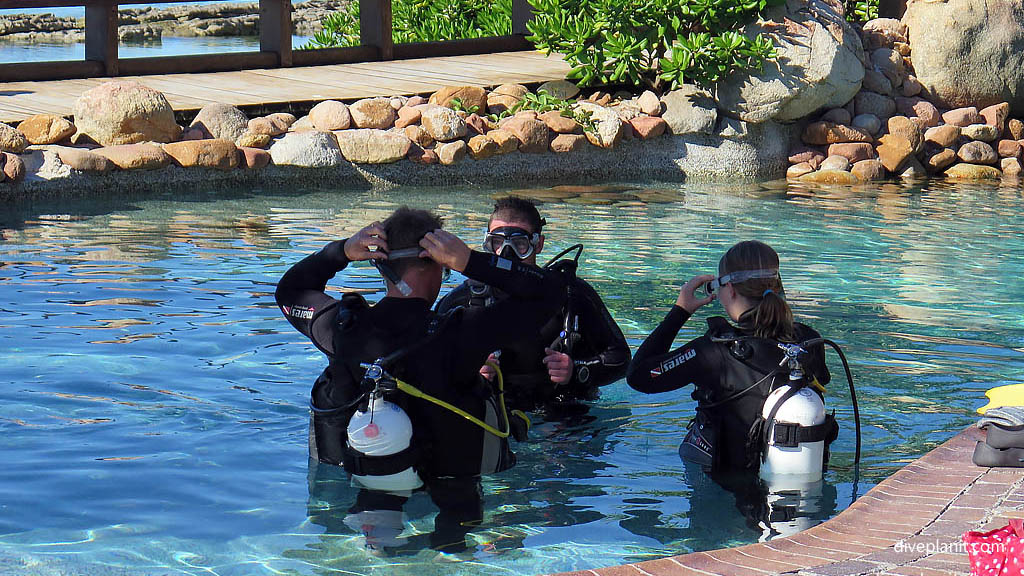 The dive sites are many and various and all within a short boat ride of the jetty. The reef, of course, is continuous around the island, and so depending on current, any particular dive could take you passed one, two, or even three dive 'sites'.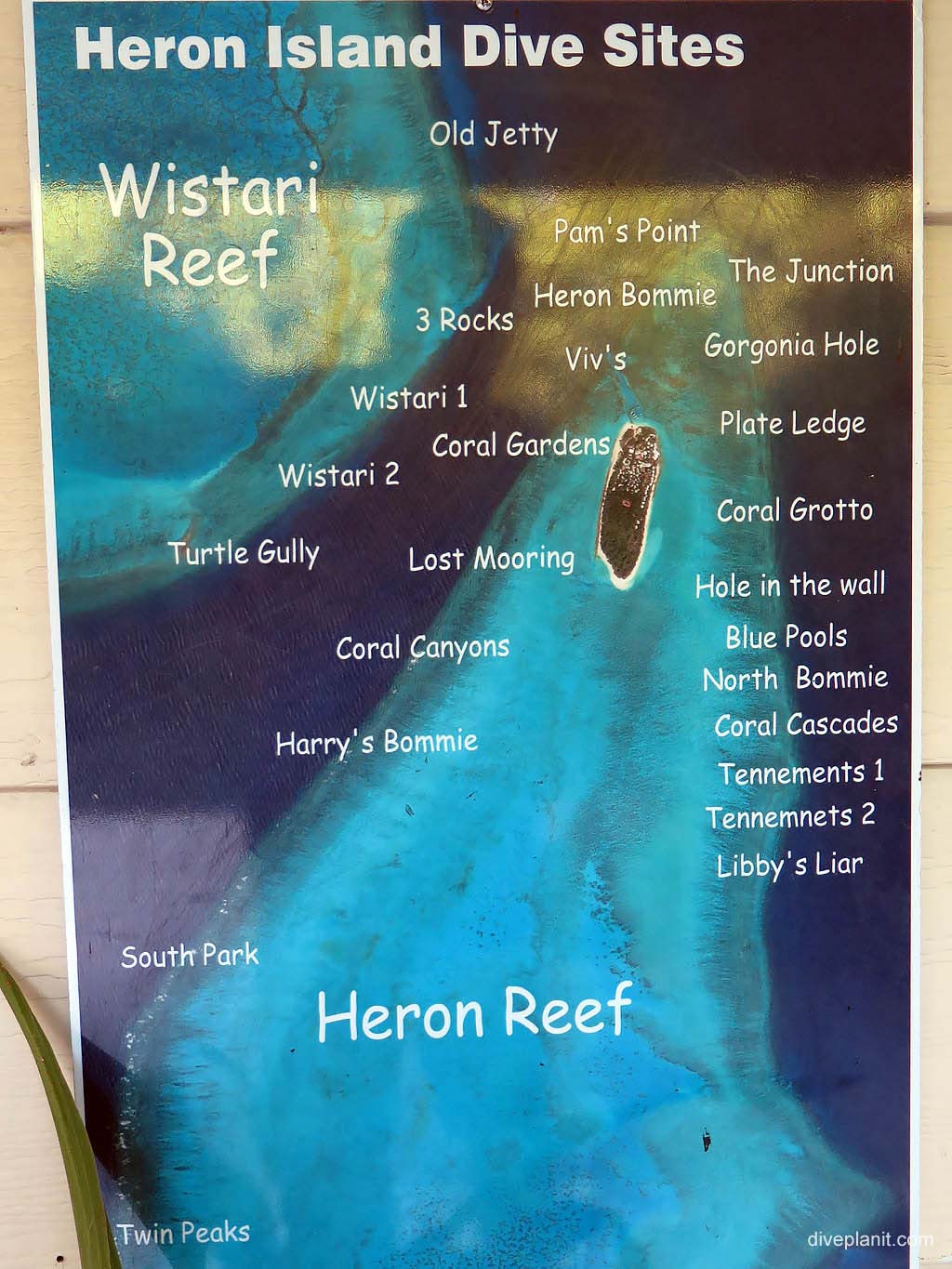 The dives are at 9am, 11am and 3pm every day, plus night dives Monday, Wednesday and Friday.
Get yourself to the dive shop ('Marine Centre') about 45 min before your first dive to get any gear that you'll need.  (If you have your own wetsuit, turn up to the shop wearing it as you can go back to your room wearing it and shower there. If you don't, remember to take a beach towel and optionally some dry clothes to get back into.)
The shop will give you a bag to carry your gear down to the boat in, though it's best to get into your wetsuit there and then and either take your dry stuff with you or leave it in their lockers.
Even so, carrying gear, it appears a bit of a hike from the shop along the sandy paths, across the helipad and the long jetty out of the boat (although it is only about 250 m). The tanks and weights stay on the boat (so you don't have to carry them), and they have a variety of sizes of tanks from 8 to 15 ltr steels, so if you're a bit of an air hog its best to get to the boat early and grab a big one.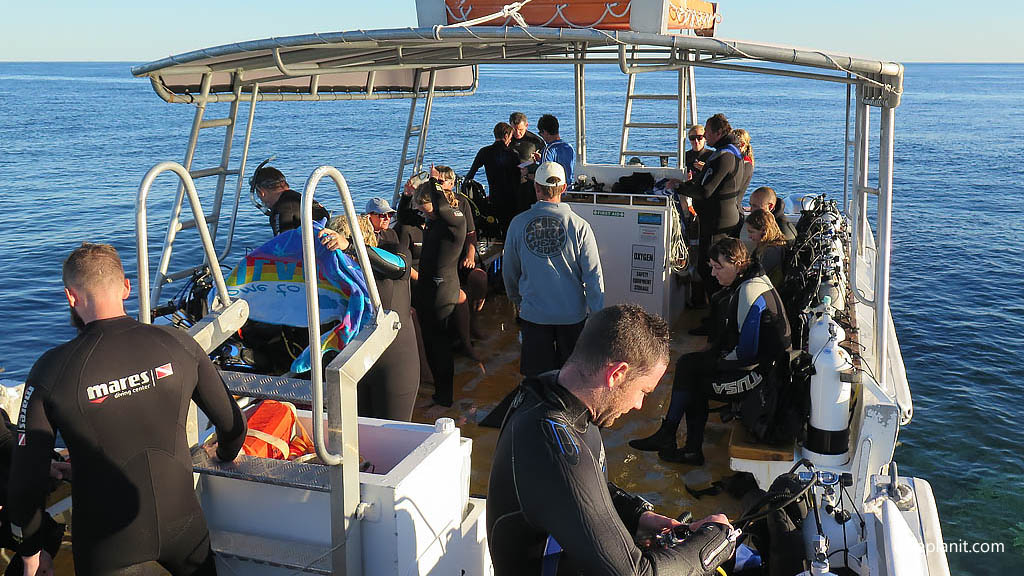 The boat takes divers and snorkelers so if you have a non-diving family you can take the whole mob with you. Once logged into the manifest you can board and set up your tank – there is plenty of space and a dry cupboard and camera table. The boat is covered – but open, and is shaped a bit like a landing craft. So you are protected from sun, but not spray. If there is any chop (caused by wind greater than 15 knots) expect spray – though the trip to even the furthest site is only about 10 to 15 min.
All sites have mooring buoys and once moored up the divers and snorkelers are separated and each dive team is briefed about the terrain, the prevalent current direction, and the critters likely to be encountered, with a quick run through of the relevant hand signals.
Then it's a giant stride in and down the mooring line. In most cases you can see the bottom and get a good impression of the terrain from the surface. The dives are 40 to 50 min according to air consumption. The boat stays around the mooring for the snorkelers who are typically first out. Usually divers will drift up to 2 or three moorings in one dive and the boat will then follow their bubbles. As the reef is right there at all points, the safety stop is always done on the reef at 5 m.
On surfacing, there are grab lines all along the boat and the sturdy ladder to climb easily up back into the boat.
It's a very short trip back to the jetty. The morning dives are pretty much back to back, with just enough time for a comfort break. (Facilities are available at the back of the bar 50 m from the dive shop – sorry 'Marine Centre'). There's a longer break between 11am and 3pm dives, time for a shower and lunch before suiting up again.
If you're not night diving the gear is taken back to the shop and washed down after this dive, and this would be the time to book in for the next day's diving. There is also space to wash and hang your own suit if you're doing multiple days diving. Note that the resort has a strict 24-hour no-fly policy (despite the fact that the deepest dive will likely be above 20 m).
Pricing for Heron Island Resort to 31 March 2023
7 Nights Turtle Room (Double) with 10 Boat Dives
AUD
2043
7 Nights Turtle Room (Single) with 10 Boat Dives
AUD
3436
7 Nights Wistari Suite (Double or Twin Share) with 10 Boat Dives
AUD
2463
7 Nights Wistari Suite (Single) with 10 Boat Dives
AUD
4276
7 Nights Point Suite (Double) with 10 Boat Dives
AUD
2988
7 Nights Point Suite (Single) with 10 Boat Dives
AUD
5326
7 Nights Superior Point Suite (Self Contained Apartment) Quad Share with 10 Boat Dives
AUD
2169
-
Pricing includes accommodation as specified, breakfast, 10 boat dives, tanks, weights, boat, dive guide, and return land & ferry transfers from Gladstone airport.
Note: 10% surcharges apply to Peak Periods: 17 Sept - 4 Oct 2022; 10 Dec - 22 Jan 2023
Many of the rooms at Heron Island are suitable for triple and quad share which would give lower per person pricing than illustrated above.
The per person pricing above is indicative only: we show 7 night with 10/12 dive packages at high-end and lower-end rooms (singles & doubles) for the purposes of comparison.
We can give you a price (and availability) for any combination of nights/dives you wish to undertake, which will include any discounts due to you as part of that package, and any exclusions, or items payable at the resort. Please use the [Enquire Now] tab to give us your exact requirements and we'll give you the best deal we can.