Introduction
Location
Diving
Dive Sites
Enquire Now
Heron Island is in the Southern Great Barrier Reef, reached by helicopter or ferry from Gladstone, Queensland. Famous for its spectacular coral reef and a sanctuary for a wide variety of marine life. This natural coral cay provides a genuine eco-experience, a unique opportunity to witness the magic of the world's largest coral reef.
Accommodation, ranges from rooms set amongst a leafy forest, to beachside rooms steps from the water to the larger Beach House and Point Suite, and offer relaxed, low-key comfort and immediate access to crystal clear waters teeming with nesting turtles, reef fish, turtles, rays, reef sharks and more. 20 dive sites nearby are easily accessible by boat within minutes of the jetty.
Pricing for Heron Island Resort to 31 March 2021
7 Nights Turtle Room (Double) with 10 Boat Dives
AUD
2148
7 Nights Turtle Room (Single) with 10 Boat Dives
AUD
3495
7 Nights Reef Room (Twin share) with 10 Boat Dives
AUD
2217
7 Nights Wistari Suite (Double or Twin share) with 10 Boat Dives
AUD
2567
7 Nights Wistari Suite (Single) with 10 Boat Dives
AUD
4335
-
Pricing includes accommodation as specified, breakfast, 10 boat dives, tanks, weights, boat, dive guide, and return land & ferry transfers from Gladstone airport.
Note: 10% surcharges apply to Peak Periods: 1-19 April 2020, 27Jun-12Jul, 19Sep-5Oct, 12Dec20-26Jan2021
Many of the rooms at Heron Island are suitable for triple and quad share which would give lower per person pricing than illustrated above.
The per person pricing above is indicative only: we show 7 night with 10/12 dive packages at high-end and lower-end rooms (singles & doubles) for the purposes of comparison.
We can give you a price (and availability) for any combination of nights/dives you wish to undertake, which will include any discounts due to you as part of that package, and any exclusions, or items payable at the resort. Please use the [Enquire Now] tab to give us your exact requirements and we'll give you the best deal we can.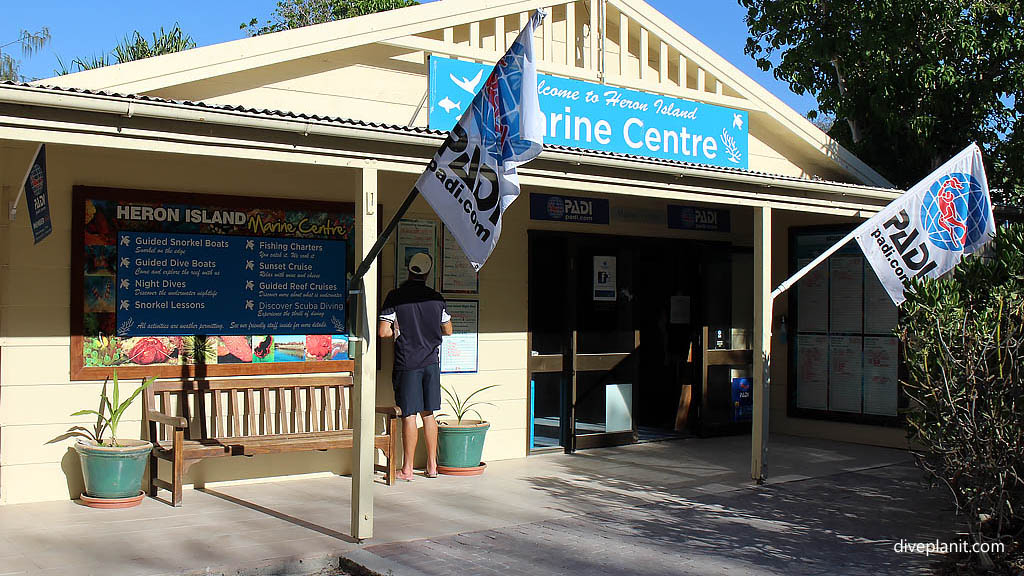 Heron Island Dive Shop (technically: the Heron Island Marine Centre) has everything you need to enjoy your dive at Heron Island Resort. You can hire everything from a snorkel to a shorty, BCD to a dive computer. They also sell some of the latest Aqualung gear. They have three boats and a variety of tank sizes on board.
Dives are organised as single boat dives, and they have three dives per day plus night dives so you can dive as much or as little as you want. All dives are guided in small groups. Being a PADI affiliate, the Marine Centre offers PADI training and Discovery Scuba Diving, with training in the pool and a trip out to the reef.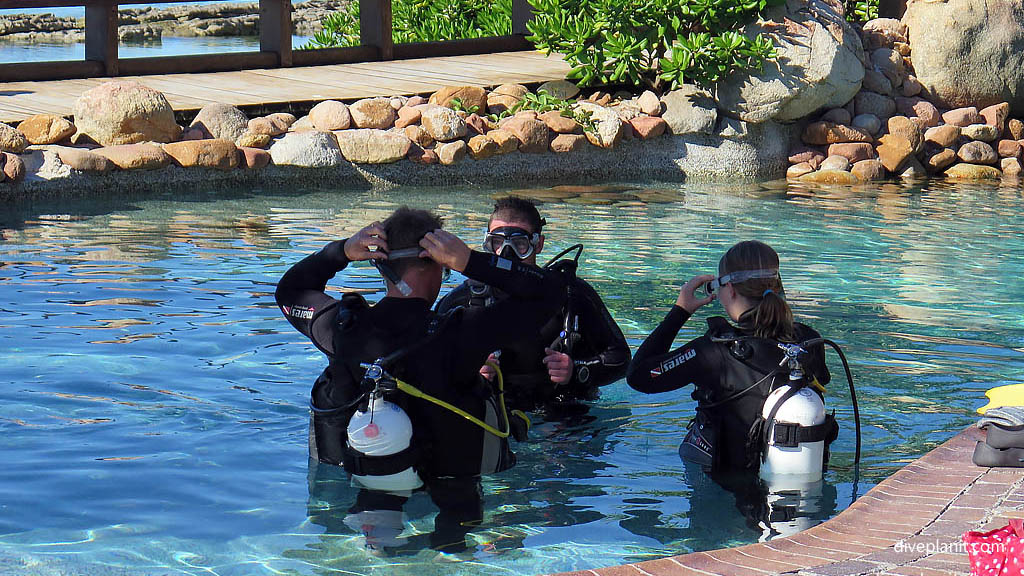 The dive sites are many and various and all within a short boat ride of the jetty. The reef, of course, is continuous around the island, and so depending on current, any particular dive could take you passed one, two, or even three dive 'sites'.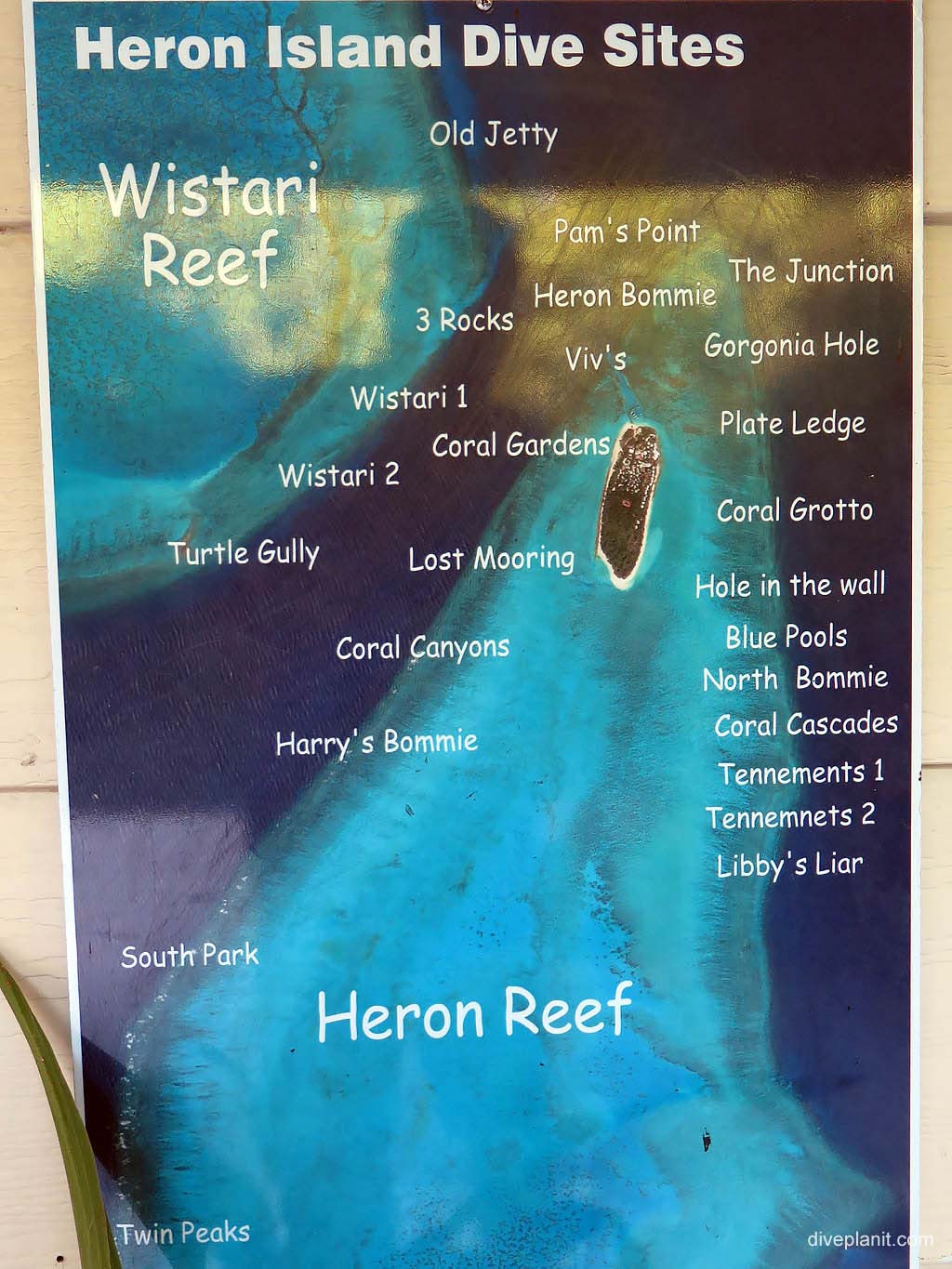 Small point of order: the top of the map points roughly west!
The Marine Centre is located near the Shop behind the Reception
The dives are at 9am, 11am and 3pm every day, plus night dives Monday, Wednesday and Friday.
Get yourself to the dive shop ('Marine Centre') about 45 min before your first dive to get any gear that you'll need.  (If you have your own wetsuit, turn up to the shop wearing it as you can go back to your room wearing it and shower there. If you don't, remember to take a beach towel and optionally some dry clothes to get back into.)
The shop will give you a bag to carry your gear down to the boat in, though it's best to get into your wetsuit there and then and either take your dry stuff with you or leave it in their lockers.
Even so, carrying gear, it appears a bit of a hike from the shop along the sandy paths, across the helipad and the long jetty out of the boat (although it is only about 250 m). The tanks and weights stay on the boat (so you don't have to carry them), and they have a variety of sizes of tanks from 8 to 15 ltr steels, so if you're a bit of an air hog its best to get to the boat early and grab a big one.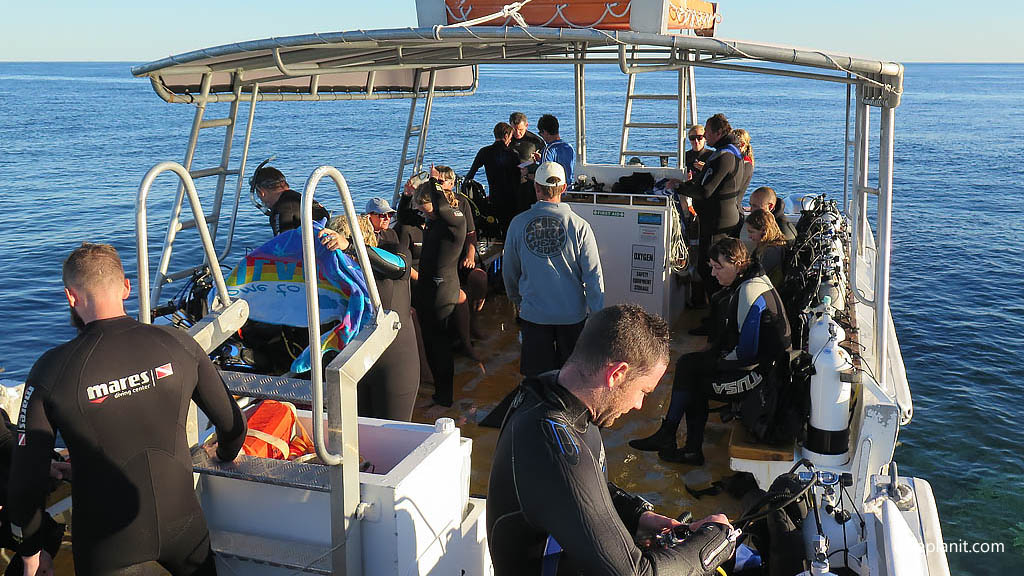 The boat takes divers and snorkelers so if you have a non-diving family you can take the whole mob with you. Once logged into the manifest you can board and set up your tank – there is plenty of space and a dry cupboard and camera table. The boat is covered – but open, and is shaped a bit like a landing craft. So you are protected from sun, but not spray. If there is any chop (caused by wind greater than 15 knots) expect spray – though the trip to even the furthest site is only about 10 to 15 min.
All sites have mooring buoys and once moored up the divers and snorkelers are separated and each dive team is briefed about the terrain, the prevalent current direction, and the critters likely to be encountered, with a quick run through of the relevant hand signals.
Then it's a giant stride in and down the mooring line. In most cases you can see the bottom and get a good impression of the terrain from the surface. The dives are 40 to 50 min according to air consumption. The boat stays around the mooring for the snorkelers who are typically first out. Usually divers will drift up to 2 or three moorings in one dive and the boat will then follow their bubbles. As the reef is right there at all points, the safety stop is always done on the reef at 5 m.
On surfacing, there are grab lines all along the boat and the sturdy ladder to climb easily up back into the boat.
It's a very short trip back to the jetty. The morning dives are pretty much back to back, with just enough time for a comfort break. (Facilities are available at the back of the bar 50 m from the dive shop – sorry 'Marine Centre'). There's a longer break between 11am and 3pm dives, time for a shower and lunch before suiting up again.
If you're not night diving the gear is taken back to the shop and washed down after this dive, and this would be the time to book in for the next day's diving. There is also space to wash and hang your own suit if you're doing multiple days diving. Note that the resort has a strict 24-hour no-fly policy (despite the fact that the deepest dive will likely be above 20 m).