Introduction
The Whitsundays is in the heart of the Great Barrier Reef located on the tropical coast of Queensland and includes 74 islands and mainland tourist town of Airlie Beach. Snorkeling and diving the Whitsundays could not be easier with many comfortable boats going to bays around the islands and to the outer reef daily. There is also the option to spend a night or two on the outer reef sleeping under the stars on one of the pontoons.
Airlie Beach is a small town with a village atmosphere, with selection tourist shops, restaurants and a lively nightlife. It provides the mainland access point to the Whitsunday Islands and the Great Barrier Reef Marine Park.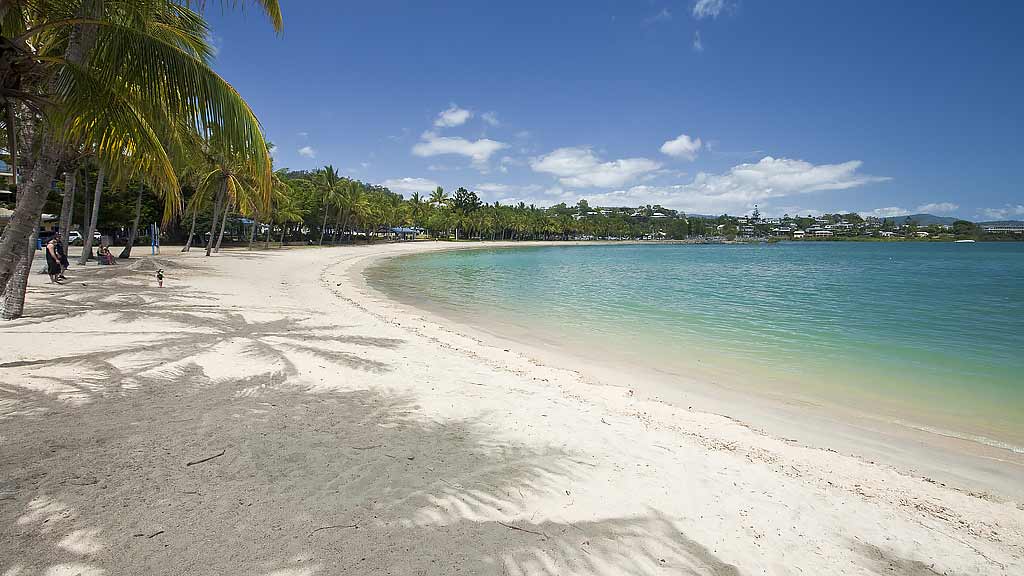 Hamilton Island is the other main centre with its own airport and large marina – the departure point for many dive and snorkeling trips.
Location
The region is located approximately 1,000km north of Brisbane and 250km south of Townsville.
As well as a couple of smaller operators, the two main companies offering snorkel and diving trips to the Great Barrier Reef are Cruise Whitsundays based out of Airlie Beach, but also calling at Daydream and Hamilton Island, and the Explore Group based on Hamilton Island. Both companies have a number of vessels and cater for both ends of the spectrum: those who have no intention of getting wet, and those who want to get as many dives in as possible. They differ in a number of ways: Explore offer diving from their vessel, Cruise Whitsundays offer diving from their pontoons. Explore visit Bait Reef, whereas Cruise Whitsundays pontoons are secured at Hardy and Knuckle Reefs. Cruise Whitsundays is the larger company offering a number of itineraries, whereas Explore prides itself in providing a more intimate experience on the Reef.
If you want a truly different and memorable experience diving the Great Barrier Reef then overnighting on a pontoon and sleeping under the stars on one of the outer reefs has to be up there. Cruise Whitsundays offer just that in their ReefSleep package: take the day boat out to their pontoon at Hardy Reef. Enjoy a couple of dives with everyone else, then, at 3pm when the day visitors depart, enjoy a couple more dives with the Reef all to yourself. You can do a night dive before enjoying a BBQ dinner and a night under the stars in your very own swag (or a swag for two).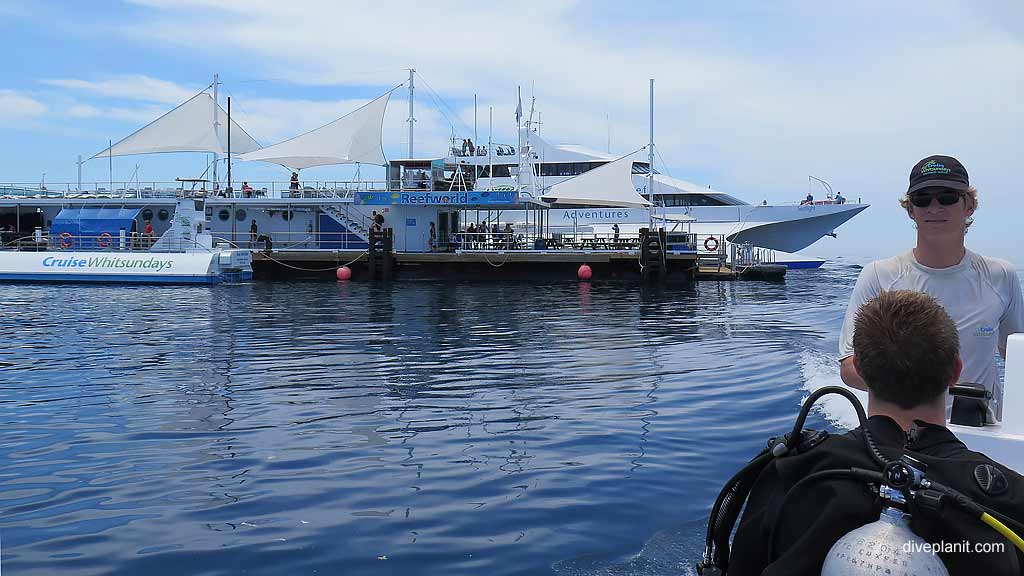 Enjoy a couple more dives in the morning – again with the Reef all to yourself – before re-joining the day boat trip and heading back to Airlie beach in the afternoon. Read more about that experience here.
Dive Centres
Dive Sites
The ReefWorld pontoon is moored on the eastern side of a channel between two reefs, providing very sheltered diving for 100m north and south of the pontoon along the reef edge.
The reef slopes at a comfortable angle and the different types of coral, all in pristine condition, are layered from 20m all the way to the surface. All the usual suspects are present: rabbits, butterflies, angels and surgeons; plenty of coral grouper and reef lizards. There is big stuff too: Trevally and Jacks, and little stuff like damsels and dascyllus.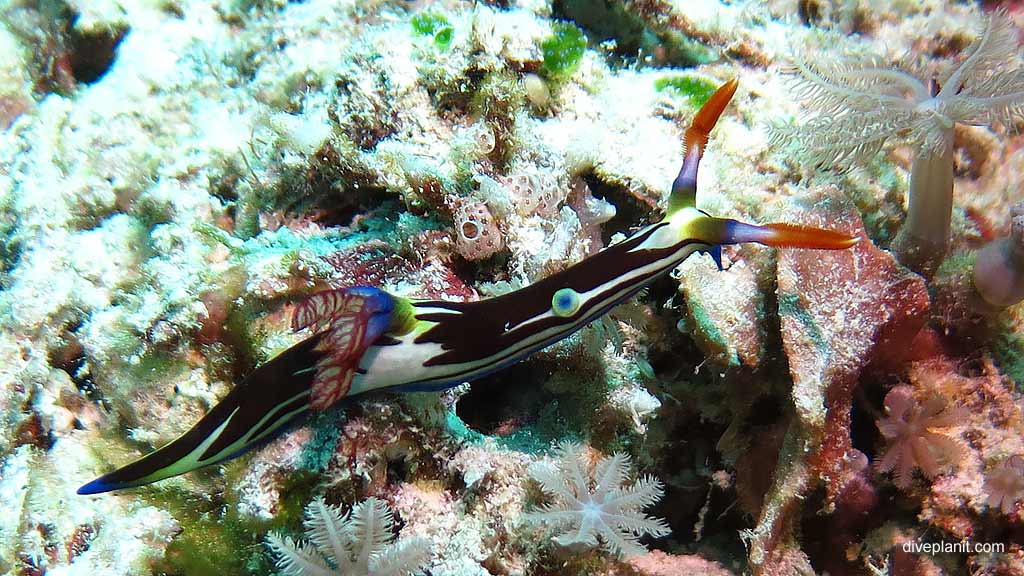 And little stuff: I almost doubled my collect of Nudi photos. Even after six dives, I was still discovering new finds. The dives below focus on the different things to be found: corals and critters, fish and nudis.
Dive Sites
Where to Stay
Airlie Beach Hotel
The Airlie Beach Hotel is a 4-star complex with 60 beach front hotel rooms and suites, a salt water pool, three restaurants and retail shops. Restaurants include the award winning Mangrove Jacks Cafe Bar and Capers on the Esplanade & Cactus Jacks bar & grill. Its central location make it perfect for exploring Airlie Beach, but also it is just a pleasant five minute walk to the Port of Airlie to catch the Cruise Whitsundays day boats out to the Reef.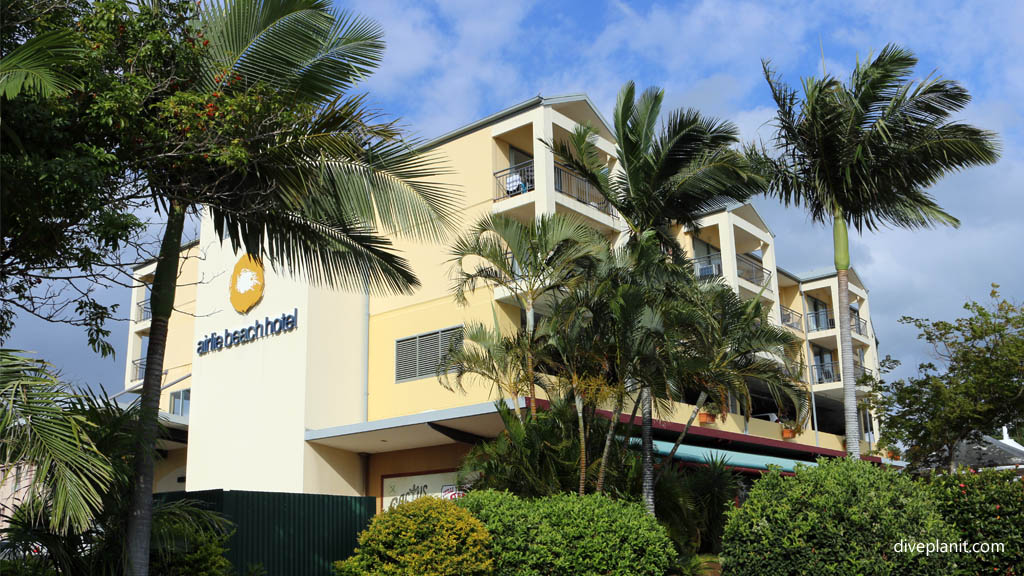 Peppers Airlie Beach
Peppers Airlie Beach offers a choice of beautifully appointed one, two or three bedroom apartments with panoramic views of Whitsunday Passage and a range of first-class leisure facilities such as a wet-edge resort pool, fine-dining Tides Restaurant & Bar and an endota spa.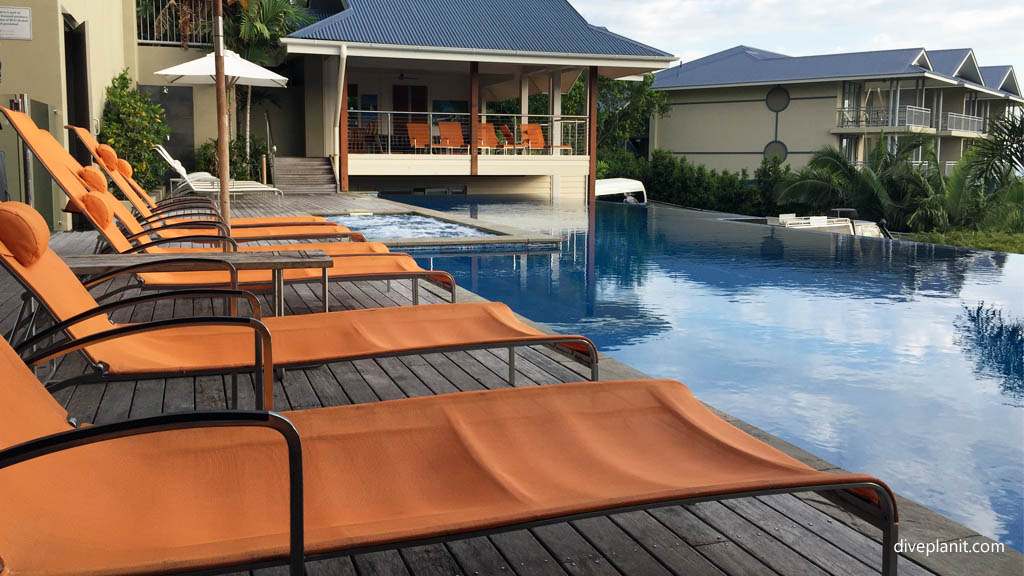 qualia – luxury accommodation on Hamilton Island
A byword for Hamilton Island luxury accommodation, qualia is situated on the secluded northern-most tip of Hamilton Island surrounded by all the splendour of the Great Barrier Reef. qualia is a private world of sensory perfection, so if you're looking for an exclusive and indulging getaway, you'll be in the right place.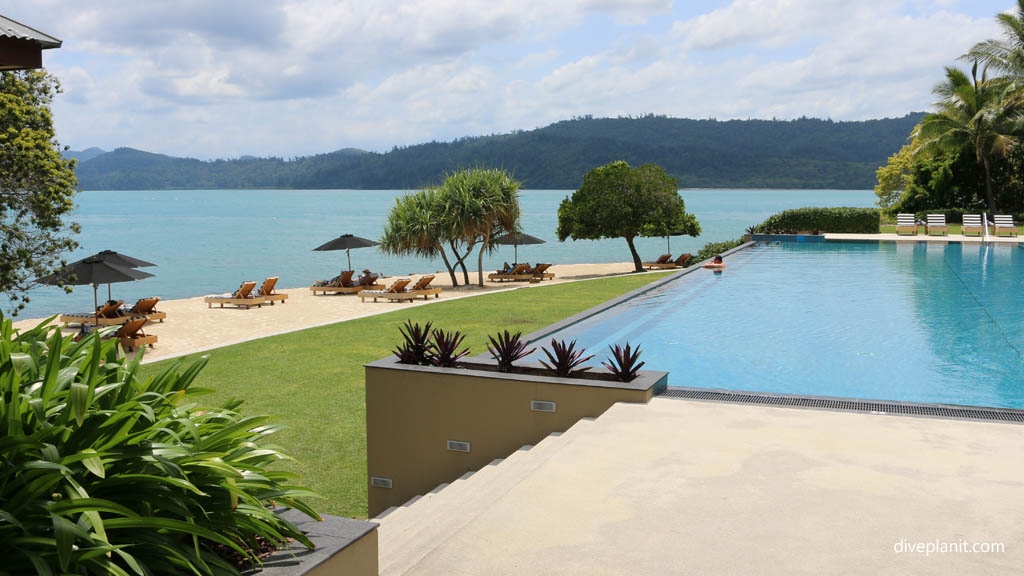 BIG4 Adventure Whitsunday Resort
Located on Shute Harbour Road in Airlie Beach, BIG4 Adventure Whitsunday Resort provides easy access to the Whitsunday Islands and the Great Barrier Reef Marine Park. The Park has over 40 self-contained 2 and 3 bedroom cabins, and so much to do for the rest of the family, they'll be struggling to fit it all in while you slope off to go diving.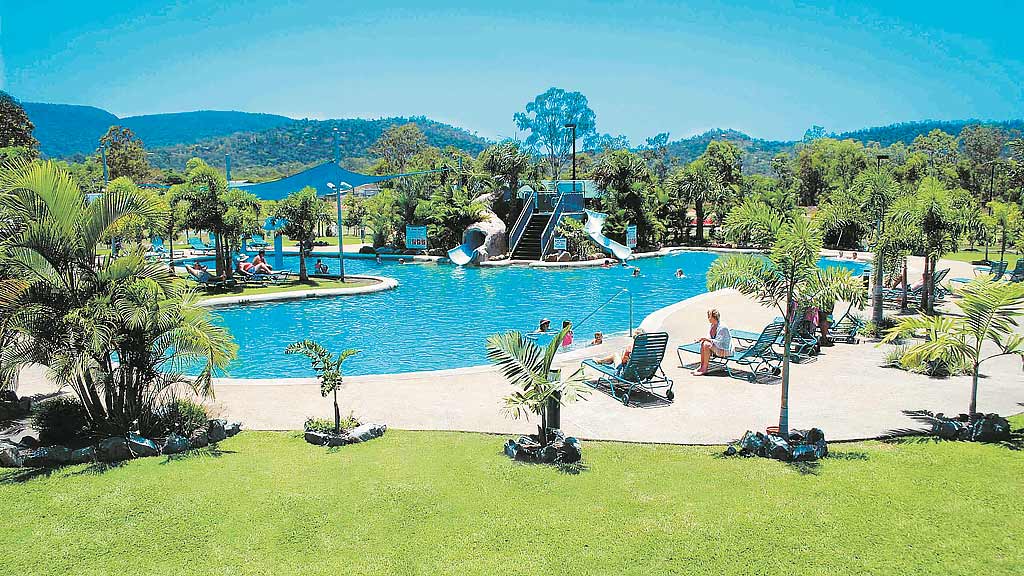 There's a lagoon style swimming pool with water slides, jumping pillow, go-karts, and adventure playground; there are sports from tennis to table tennis, and mini-golf to basketball. Best of all, there's an outdoor movie theatre to ensure you can relax as a family in the evenings.
Toscana Village Resort
Toscana Village Resort is pretty centrally located in Airlie Beach, and has two and three bedroom villas with impressive views north over the Whitsunday passages to Hayman Island. The resort has four swimming pools including turbo and kiddies pool with waterfall feature, BBQ area and tour booking facilities.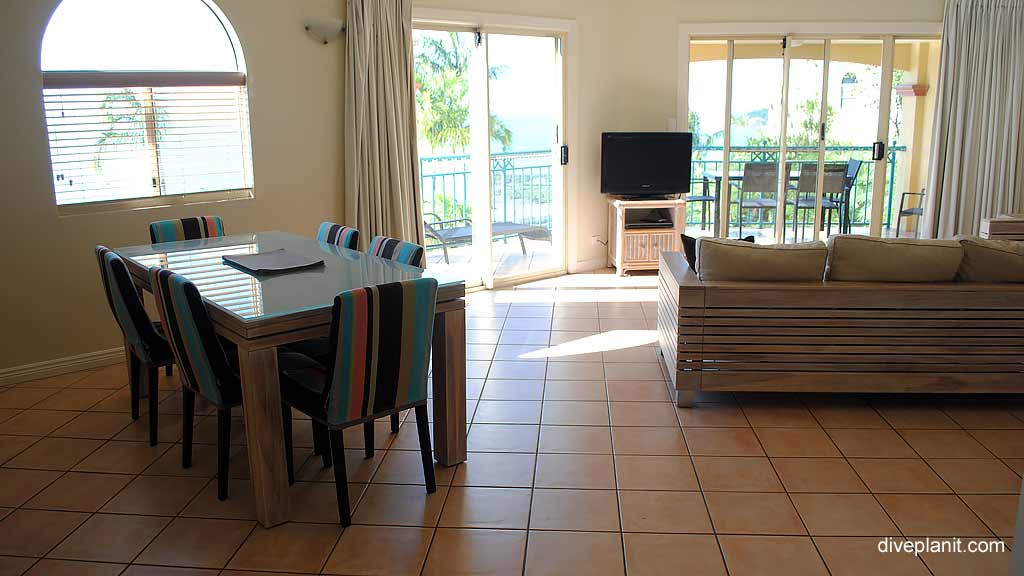 Mirage Whitsundays
The Mirage Whitsundays is a complex of about 100 apartments, villas and penthouses close to the Abell Point Marina in Airlie Beach. The well appointed two and three bedroom apartments would be a luxurious but affordable option for a group of divers traveller together.
Swish alternatives on Hamilton Island include Beach Club, and in Airlie Beach, the boutique Heart Hotel and Gallery.
There are also plenty of budget options including several backpacker resorts, this being a popular stop for backpackers on their grand tour of Australia.
Where to Eat
Fish D'vine Fish Café and Rum Bar
Fish D'vine is an award winning seafood restaurant and rum bar, famous for a relaxed atmosphere and simply d'vine food. Fish D'vine and Rum Bar are sometimes seen as separate identities under the same roof, but the famous local chilli mud crab with a Hemingway Daiquiri or barbequed tiger prawns with a Mojito quickly dispenses this myth!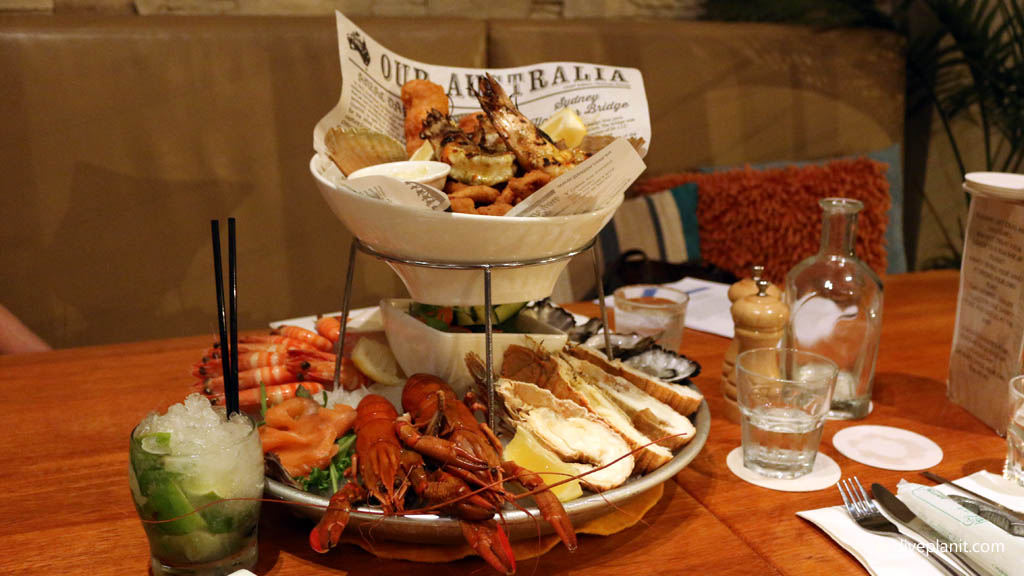 With 400 different rums on offer at the Rum Bar, you might be struggling to choose one. Don't worry – just give the bartender a few hints about the sorts of drinks you like and he'll pick one that hits the spot.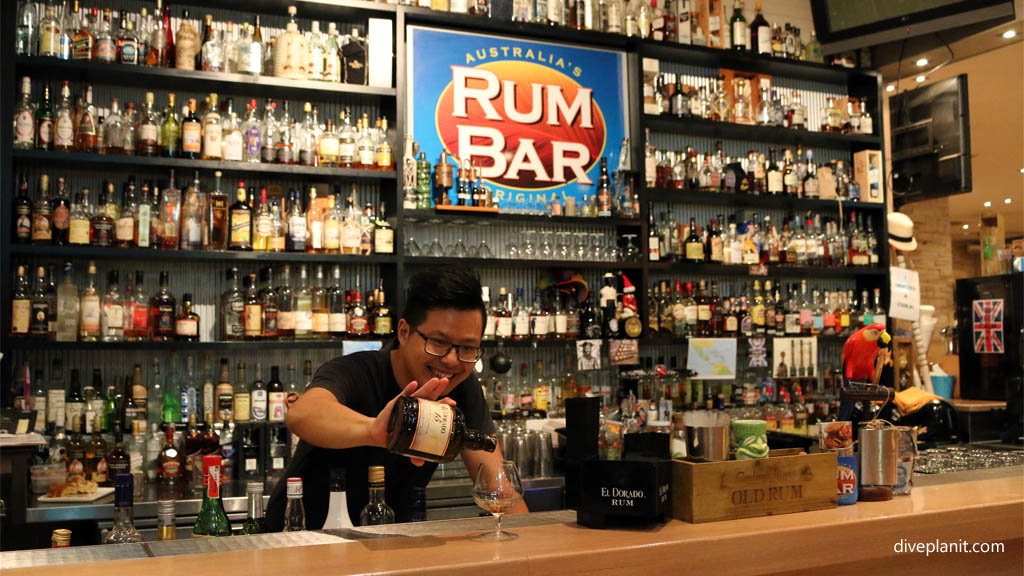 Tides Restaurant and Bar, at Peppers
Tides Restaurant and Bar affords a stunning view over Airlie Beach and the Whitsundays Passage with its chic open-air design. Enjoy a menu of modern Australian cuisine infused with Asian overtones based on regionally sourced produce and local organic fruit and vegetables. There's a commensurately impressive beverages list to match.
Capers on the Esplanade
Capers is the perfect place if you can't decide what you want to eat. Capers on the Esplanade has a choice of everything from steaks to refreshing salads, burgers to pizzas in a casual setting right opposite the beach.
Beach Club Restaurant Hamilton Island
If you are staying on Hamilton Island and fancy a bit of a purge – there is only one destination: the Beach Club. Its spectacular beachfront location, with stunning views out over the Beach Club pool and Catseye Beach will whet your appetite for the world-class a la carte and tasting menus with premium Australian wines and champagne; available every day of the week.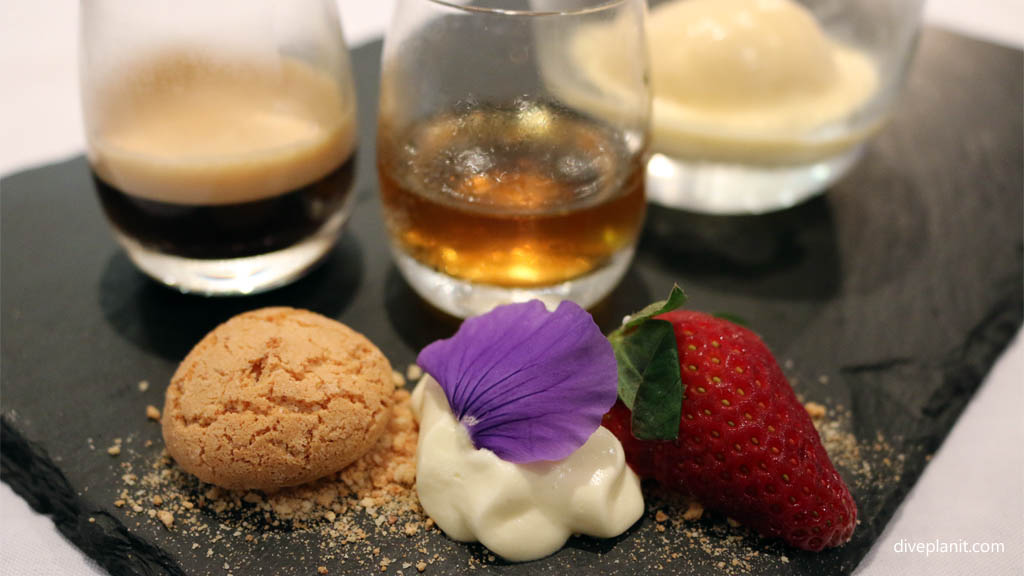 Fat Frog Beach Café, 44 Coral Esplanade
Funky and friendly, unique and quirky, the Fat Frog is known for great coffee, and lovingly house-made meals,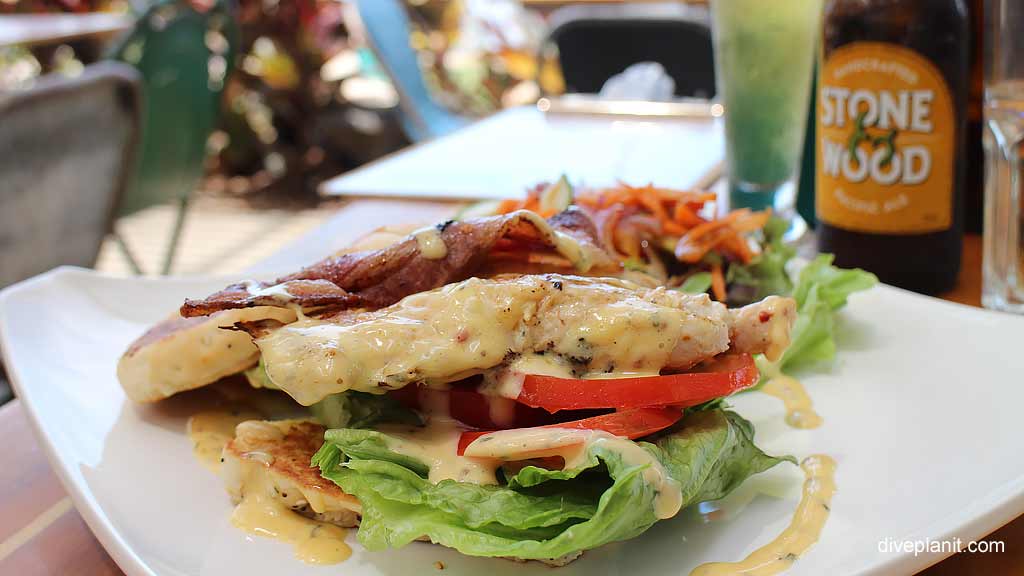 while the stunning location at Cannonvale Beach makes for the perfect spot to relax and enjoy the gentle sea breeze, the views and atmosphere.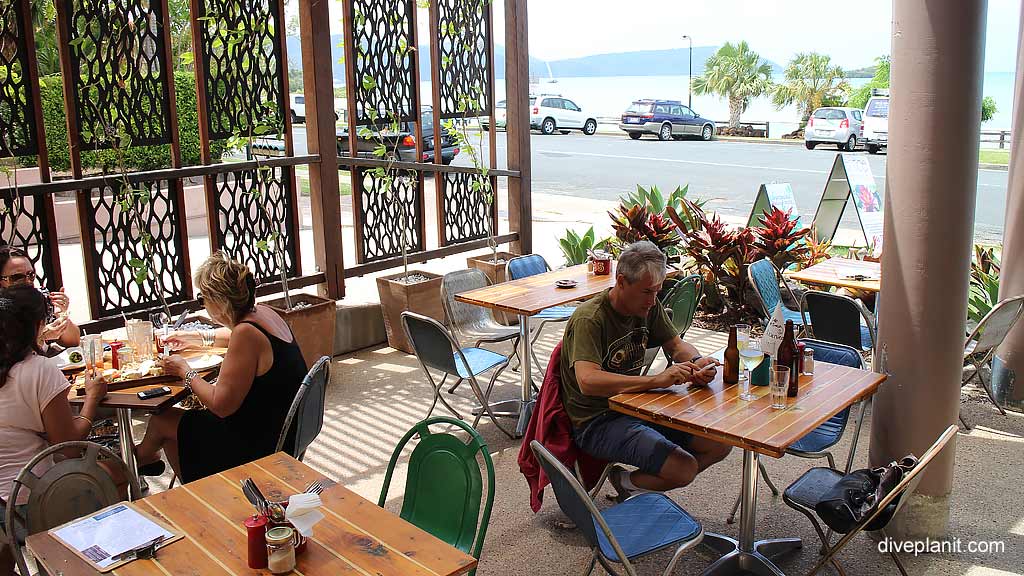 Denman Cellars
Located at the relatively new complex Boathouse complex at Port of Airlie, at the eastern end of town, Denman Cellars has a range of over 200 beers from around the world as well as a great tapas menu to nibble on, whilst enjoying views of the marina.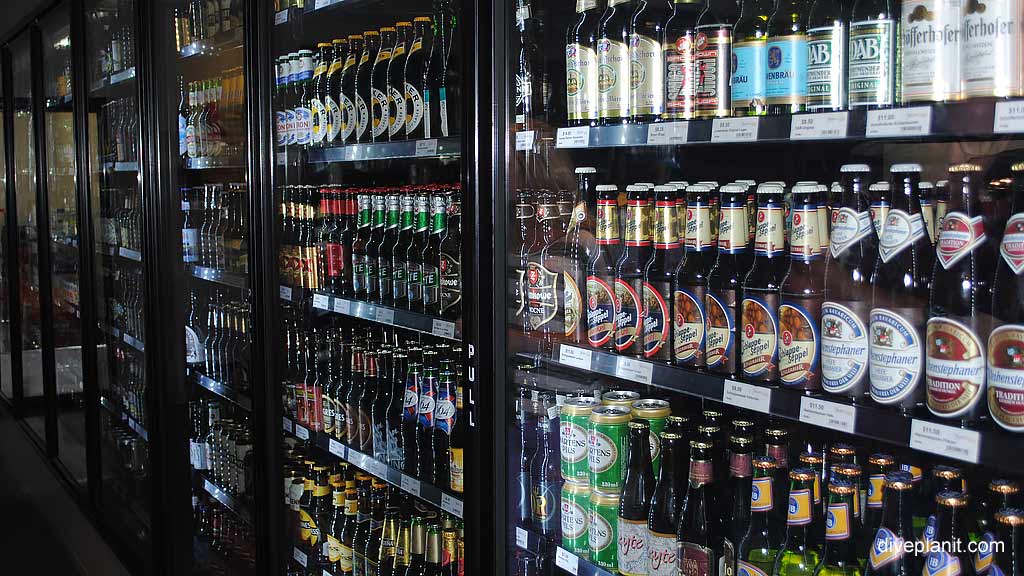 Also…
A great place to catch a drink around sunset is the Whitsunday Sailing Club. You can even enjoy dinner on the waterfront balcony known to have 'the best view in Airlie Beach'.
Failing that take a walk around the block at Airlie Esplanade – most tastes are catered for in a 100m circuit.
How to Get Around
You can easily, and pleasantly, walk the length of the main street through town, and there are plenty of local buses along Shute Harbour Road to get you to and from your accommodation for a night on the town. Taxis are plentiful too. For cruising between the mainland, islands and Great Barrier Reef your first choice would be Cruise Whitsundays at the Port of Airlie, Airlie Beach. Flying can be more fun especially with a Heli Taxi from Airlie Beach Helipad. If you are a larger group and want to organise a suitable transfer use Whitsundays 2 Everywhere.
Other Activities
Flying
Airlie Beach Helipad (formally Heli Taxi) offer a number of private charter tours over the Whitsunday Islands and the Great Barrier Reef and can land the helicopter at a number of remote locations across the Whitsundays, such as the world famous Whitehaven Beach or Langford Reef for a great snorkel, and enjoy a champagne lunch.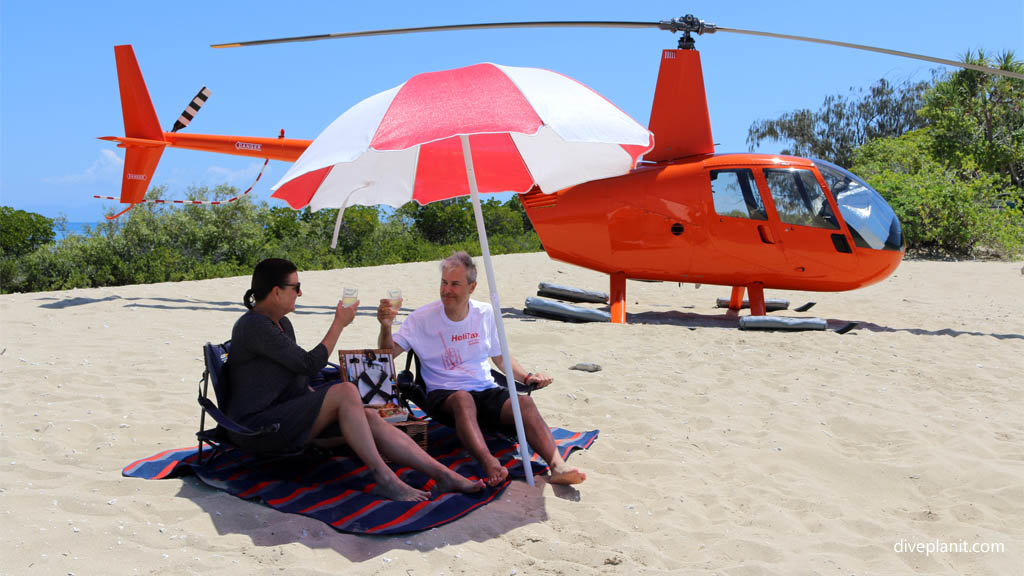 Sailing
If you want to mess about on boats, there is no shortage of options. The region is famous for its idyllic sailing conditions and the annual Race Weeks in Airlie Beach and at Hamilton Island attract entries from all over the world.
Explore Whitsundays will take you on 1 or 2 day day trips around the islands on one of their maxi yachts – some of them former America's Cup entrants. You'll get a chance to take the helm and usually they'll stop at a few great snorkelling spots, and perhaps Hill Inlet or Whitehaven Beach (recently voted the best beach in the world).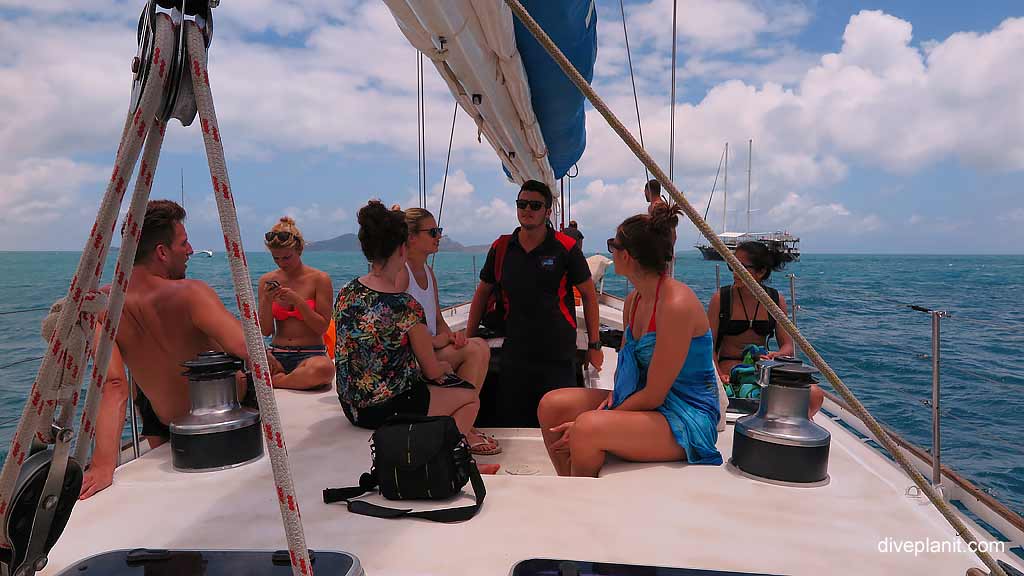 Ocean Rafting – Power Boat to Whitehaven Beach
Ocean Rafting Tours will take you out to the islands at high speed on their fleet of bright yellow rigid inflatables. The first stop is for a snorkel before heading for Hill Inlet for a short hike to look at a rather fabulous view from the look-out.
Then it's down to the inlet beach, where you're picked up and whisked across to Whitehaven beach for lunch.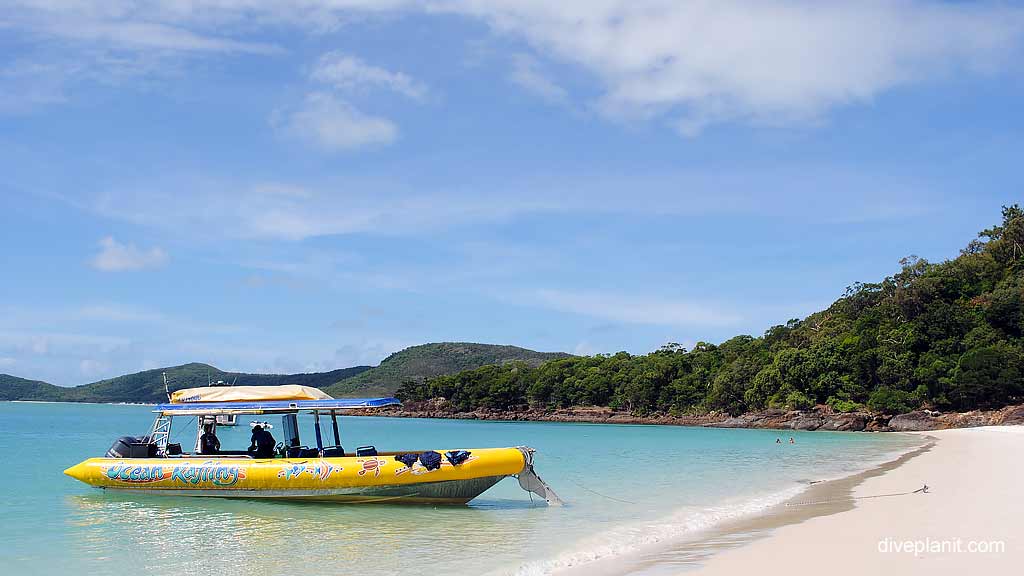 Try paddle boarding or kayaking
Closer to shore, you can hire a kayak or a stand up paddle board and explore the waterways around Shingley Beach.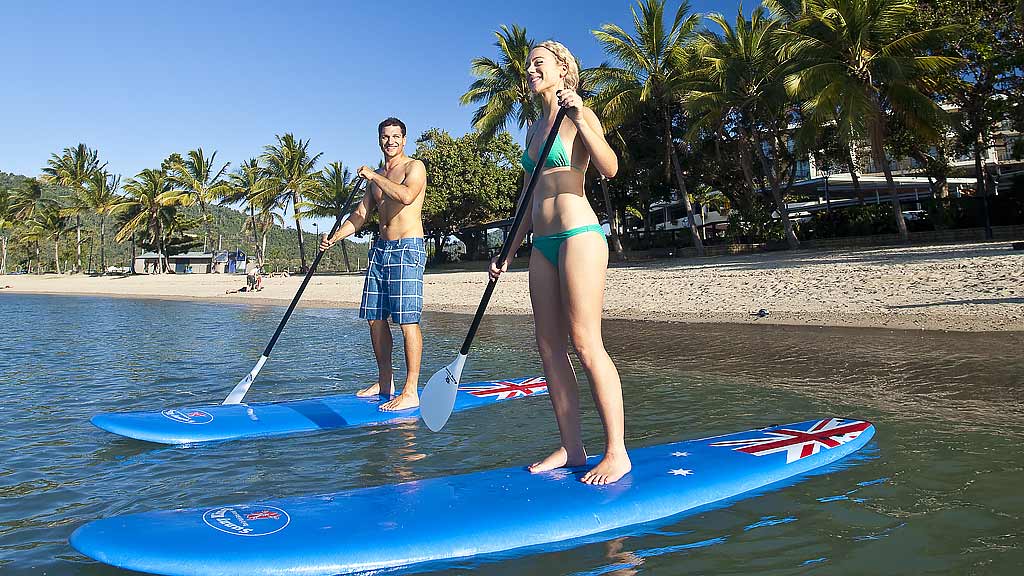 Scenic Flights
GSL Aviation fly from Whitsunday Airport in Airlie Beach, several times a day. They have a fleet of fixed high wing aircraft which can also land on the water, to ensure you get the most from your experience.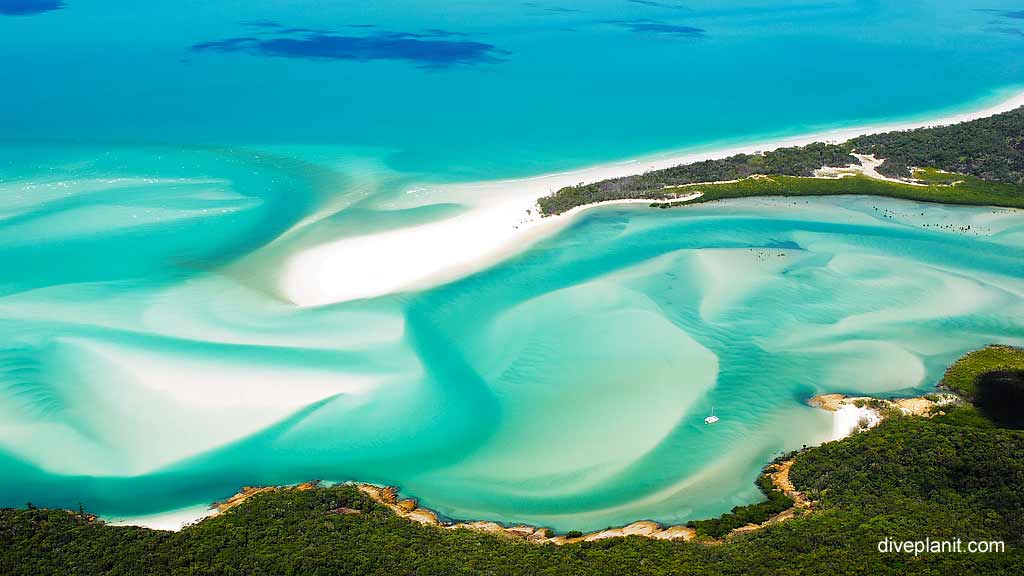 The scenic flight gives a bird's-eye view of the Islands and Great Barrier Reef beyond, including the famous Heart Shaped Reef. The colours are spectacular – the variations of blue, dotted with darker blue and green reefs. The flight lasts a good hour – great value.
Local Information
The great thing about Airlie Beach is that it has a compact town centre with everything available on the main street. You can check out all the options for accommodation, attractions, events, tours, transport and restaurants in Airlie Beach on their own website.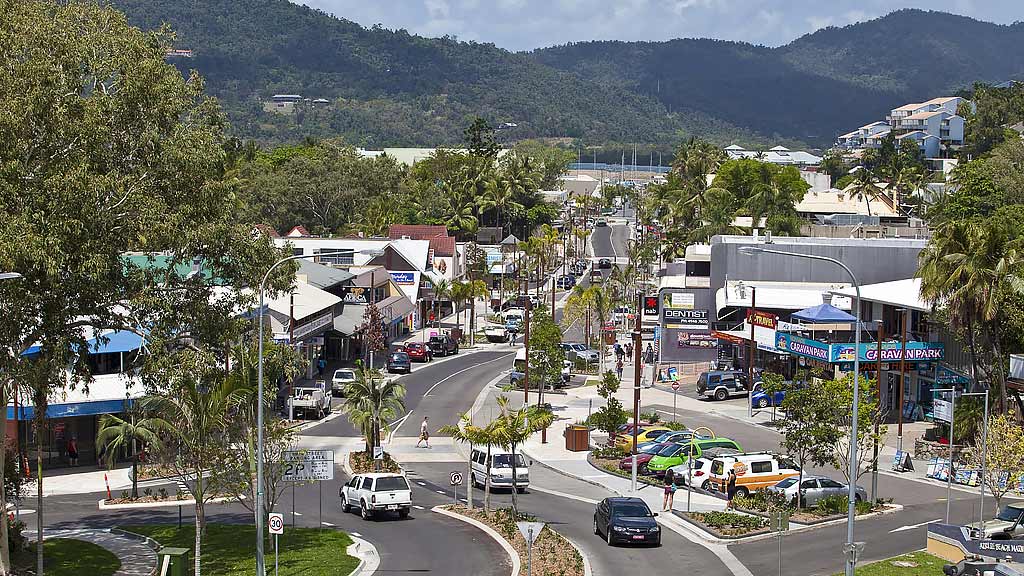 The Whitsundays at 20° south of the equator, and as such has a tropical climate similar to Fiji. In the summer months, December to February, day time temperatures average 30°C, whilst in winter, June to August they are 22°C. During the rest of the year, the daytime average is about 27°C.
Getting There
Whitsunday Coast Airport in Airlie Beach is serviced by Virgin, Jetstar, Qantaslink and Tigerair, though only Tiger fly directly from Sydney. Hamilton Island Airport is an alternate gateway to the Whitsundays, with direct flights from all major cities.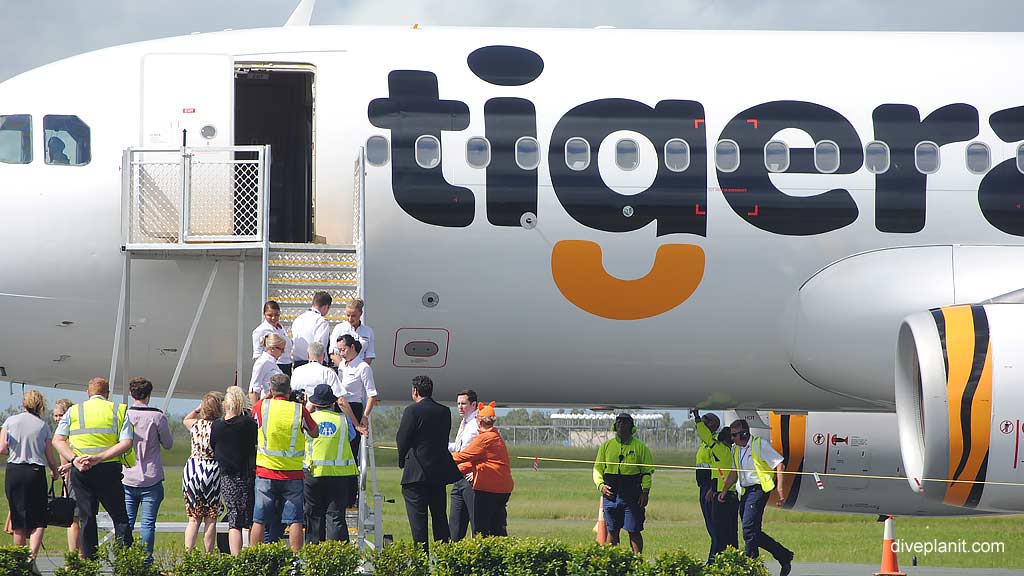 Bus and taxi transfers are available from Whitsunday Coast Airport to Airlie Beach. Queensland Rail (QRail) provides rail access to the area. The local train station is in Proserpine and services include The Sunlander and The Spirit of Queensland. Trainlink coach transfers are provided from Proserpine to Airlie Beach. National bus services are also available and include Greyhound and Premier coach lines.
Pricing / availability enquiry