Whether you're diving, snorkeling or just swimming with Manta Rays – there's nothing quite like a manta ray encounter, and I've never met a person who is not completely in awe and intrigued by these simply gorgeous gentle giants. Is it because they are one of the largest fish in the ocean – certainly the largest of all the rays? Is it their inquisitiveness? They do have the largest brain to body size ratio of any living fish… Or is it simply that these enormous creatures are completely harmless (unless you happen to be a plankton)?
It's probably the way they effortlessly and gracefully (and apparently socially) soar through the blue water precisely in the way that we divers can't. Watching them barrel, over and over whilst feeding, and whilst courting, glide through the ocean on a love train (that's right – love train! Read this Fact Sheet from Lady Elliot Island) simply makes you glad that mantas exist.
So how far do you have to go to see a manta? As usual, unless you are lucky enough to live on an island next to deeper water, there's an inverse rule that says the further you go, the more likely you are to see mantas. Here are five places I have encountered mantas in the last two years. (Note all video and images are true to location).
Coffs Harbour: South Solitary Islands
That's right, mantas can be seen at NSW's very own South Solitaries. This may not be an everyday occurrence, but mantas are listed on Jetty Dive's Local Critter page, and here's the video proof.
Click here for more on diving with Jetty Dive.
Lady Elliot Island
Lady Elliot Island is a destination well known for manta activity – indeed, the island advertises itself as 'Home of the Manta' and is used frequently as a base for the research team at Project Manta. There are mantas at Lady Elliot all year round with numbers peaking between mid-May and mid-August. Mantas can be seen whilst snorkelling as well as diving, and there are a couple of known cleaning stations, around Lighthouse Bommies where mantas are reliably sighted.
Lady Elliot is also deeply involved in manta conservation and they offer lots of information about mantas. Check out their Fact Sheets covering mantas and other marine species.
For more information on diving Lady Elliot Island, check out Diveplanit.
Mantaray Resort, Yasawa Islands, Fiji
There's something about that name that might give you a clue: this is the place to go to snorkel with Mantas.
A comfortable little eco-resort on the backpacker trail through Fiji's Yasawa Islands, Mantaray resort offers both excellent diving and snorkelling. They have a couple of dive boats that can take you to dive sites around the nearby islands, and you can snorkel and dive on the house reef right off the beach.
During May to October, larger ocean mantas come into the shallow waters to feed and be cleaned. When mantas are sighted, the beach drums are sounded, and the rapidly assembled guests are taken to where the mantas are and slipped into the water close by. A great place to see a manta especially if you don't dive, or if you are trying to encourage your NDSO (non-diving significant other) to venture below the surface.
Rather than try to snorkel after a manta, the most sensible approach is to observe the path of surface activity, plot the path of the mantas below and position yourself close to where the mantas are heading.
Check the Yasawa Island Destination page for more information.
There is a dive site in the north of Cocos lagoon called Service Station.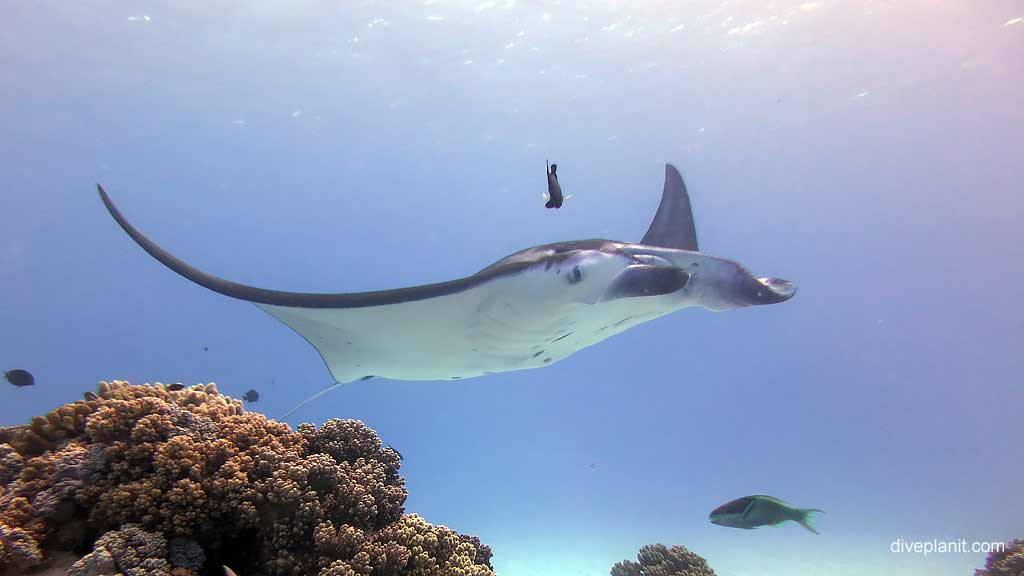 Fortunately, it's on the way back from the dive sites around Direction Island. As such, it's very tempting for Dieter, who runs Cocos Dive, to have a little look on the way back just to see if the mantas are around. As an acknowledged cleaning station, the chances are pretty high. Every time I was there, so were a couple of mantas. As the water is only 9m deep, you can slip in even with half a tank-full of air and watch the show for at least 20 mins.
Here are the 5 Steps of manta servicing at Australia's Cocos Keeling Island.
Manta Point, Nusa Penida, Bali
There's usually a clue in the dive site name, and Manta Point is a bit of a giveaway. So yes, you will encounter mantas there – on one dive we encountered eight.
Having said that, the boat journey from Bali to the dive sites around Nusa Penida is a good 40 minutes, and the water is just 21°C – as opposed to the 29°C everywhere else in Bali. However, that is what makes the sightings all the more satisfying.
One tip about the trip across the strait from Bali to Nusa Penida – choose a reliable operator. We went with Blue Season Bali.
There's some detail on diving Manta Point, Nusa Penida here.
Palau
You'd expect Palau to have mantas, because let's face it – Palau has everything! That's probably because they had the foresight to ban commercial fishing in all their territorial waters creating a massive Marine Sanctuary.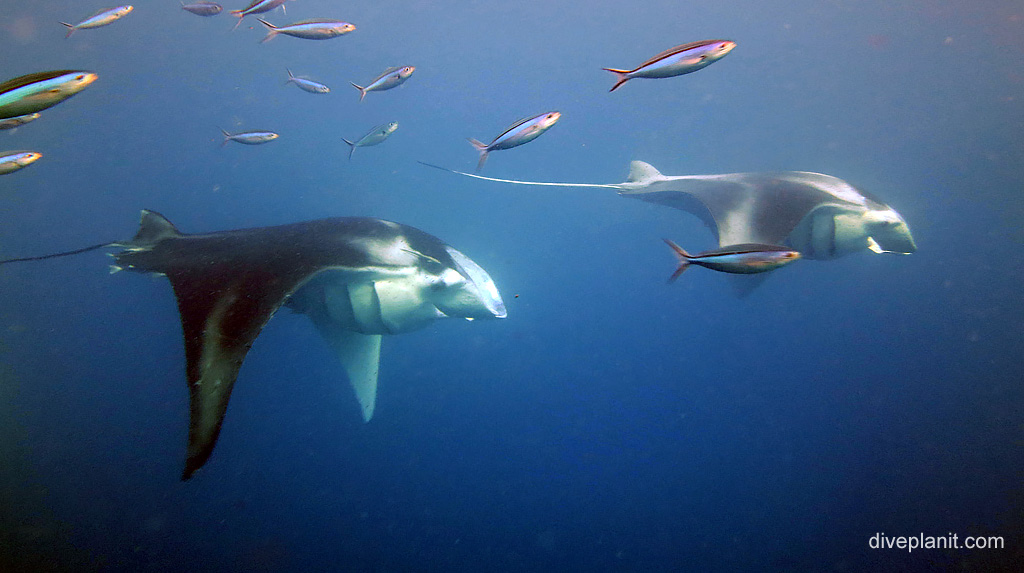 They also have a fringing reef close to deep ocean water and particularly serendipitous marine geography that funnels nutrient rich waters into the mouth of the German Channel. It is for this reason, that I spent the greater part of 40 minutes glued to the scene as a squadron of half a dozen mantas performed a veritable 'cirque de marine' – gliding, diving, barrelling, almost deliberately buzzing the divers assembled at German Channel to watch the show.
There is also a manta cleaning station, at German Wall, Palau.
The Situation for Manta Rays
It was only as recently as 2009 that mantas were recognised as two distinct species: the Reef Manta Ray (Manta Alfredi) and the Giant Manta Ray (Manta birostris). In 2011 mantas were classified as Vulnerable. As a result, manta rays are now protected in Hawaii, Mexico, Ecuador, the Maldives, the Philippines, Yap and New Zealand.
More recently (2012), giant manta rays were classified under the Convention on Migratory Species (CMS), which aims to conserve terrestrial, aquatic and avian migratory species throughout their range. There are proposals (by Fiji!) to include Manta Alfredi too.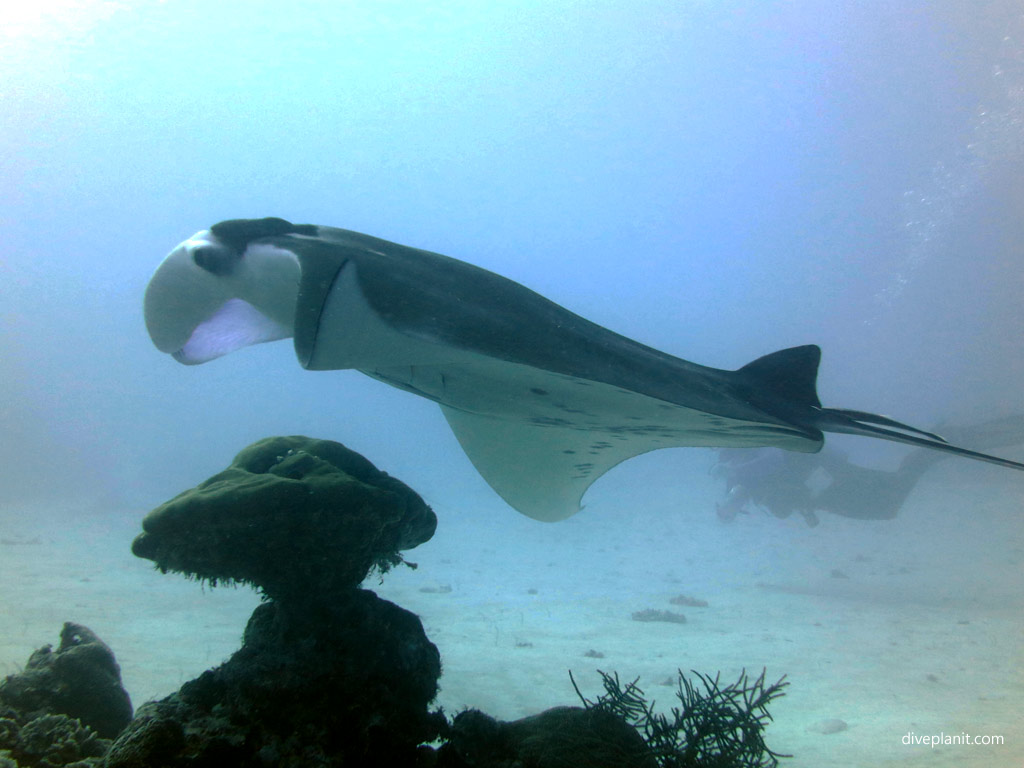 What can you do to improve the chances for manta rays?
You can report mantas sighted in east Australian waters to the University of Queensland Project Manta team at project.manta@uq.edu.au. Send your manta photographs (underbelly side) as well as any relevant information about the sighting (your name, location, date, number of manta rays observed, behaviour). If it is a new individual to the database, you get to name your manta!
Wherever and whenever you get the opportunity to contribute to, or even join a lobby group in support of CMS – take it! There are other migratory species who need protection, particularly in Australian waters!
Finally, be responsible when snorkelling or diving with manta rays by following these simple rules:
Enter the water quietly so you don't scare them away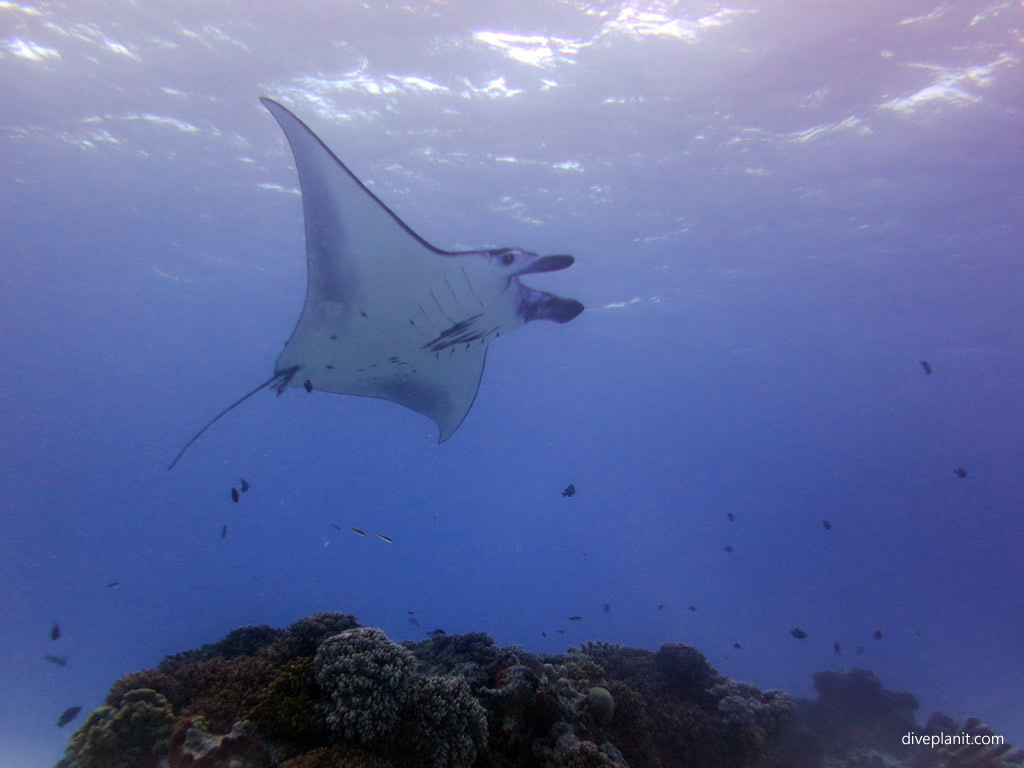 Leave plenty of open space for the manta to manoeuvre (taking into account your bubbles if you are diving). Mantas, like sharks, will not willing swim through a curtain of bubbles.
Stay calm and be patient – do not chase a manta ray, stay still and let it come to you. If diving, control your buoyancy and stay low, close to the seafloor.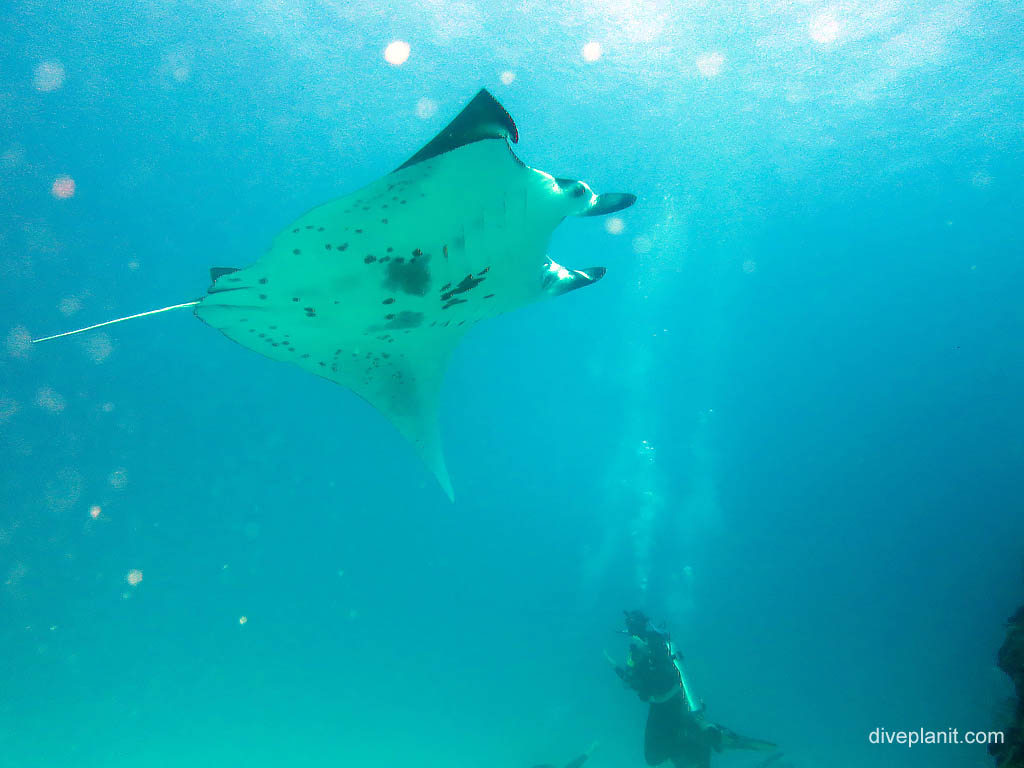 Do not disturb their feeding or cleaning behaviour – position yourself on the edge of the current line and let the mantas do their thing. Think about how you might feel being watched whilst enjoying a meal, or taking a bath!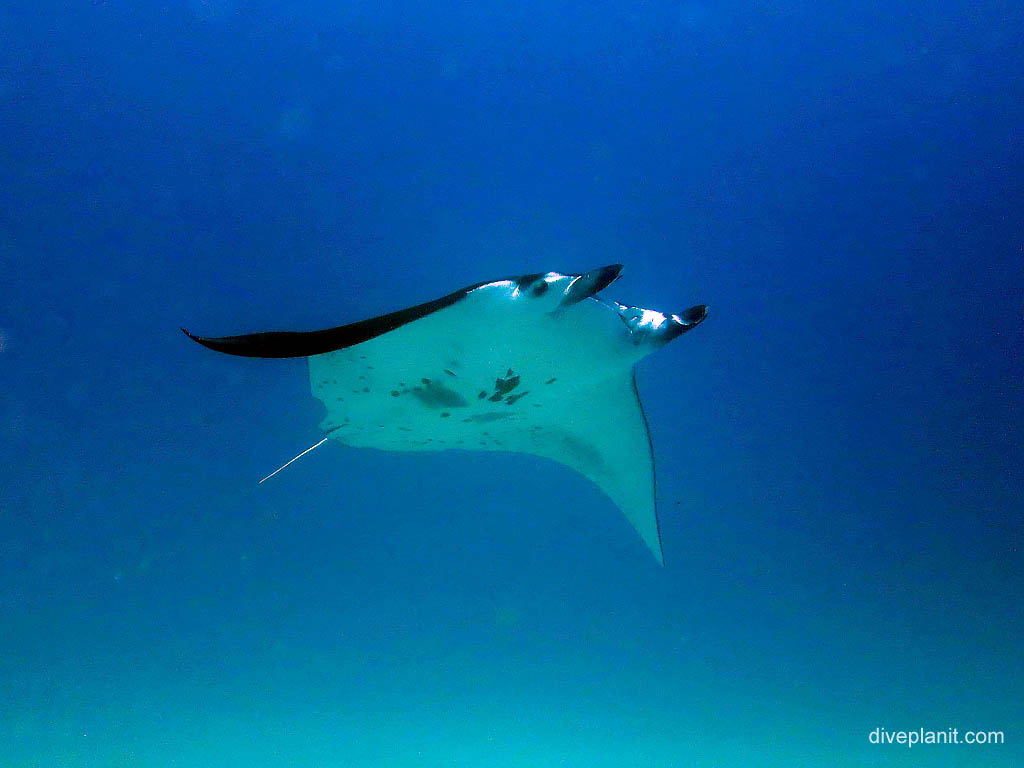 Do not touch a manta ray, even if close enough. Touching a manta may remove the protective mucus on its skin and the manta may become prone to infection and disease.
By following these reasonable steps, you can ensure that the manta cleaning stations you observe stay open, and that the mantas are cleaned and stay healthy, giving them a better chance of survival.