Introduction
Location
Accommodation
Diving
Pricing & Schedules
Enquire Now
Agusta Eco Resort is located on Agusta Island in the heart of Raja Ampat, and has so many famous dive sites within a few minutes boat ride: Mios Kon (Mioskon), Melissa's Garden, Mike's Point, Janbuba Jetty, Cape Kri, The Wall, and Arborek Island.
The luxury resort lies in an untouched wilderness surrounded by turquoise seas and emerald green islands. The resort is the only structure on the island, which guarantees you a vacation of complete relaxation, away from city noise and crowds.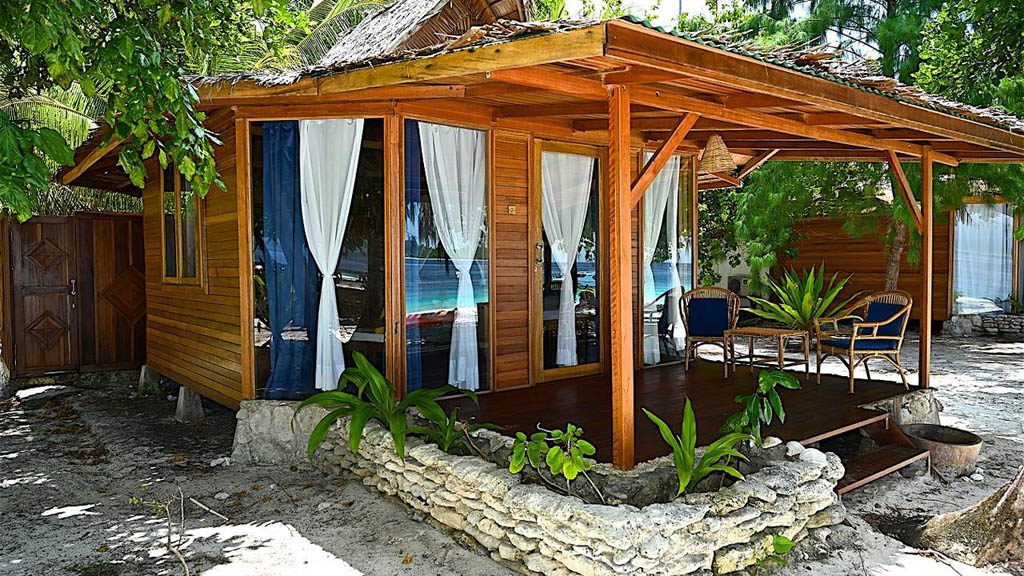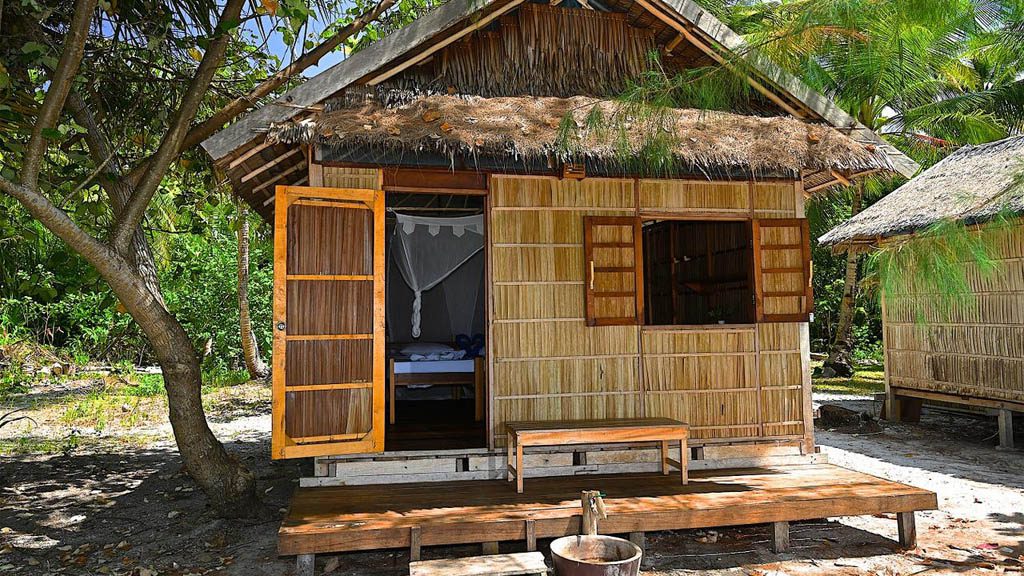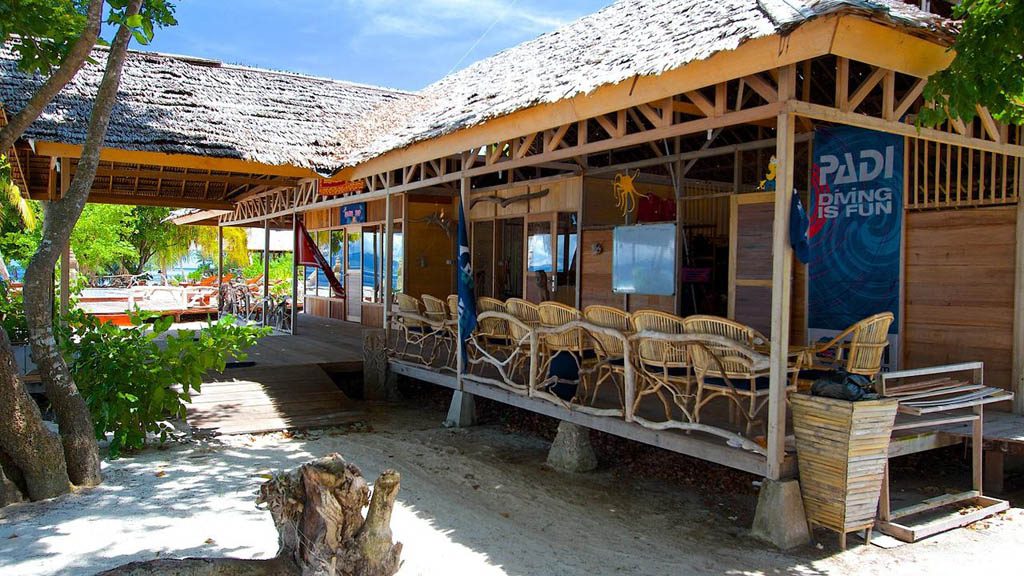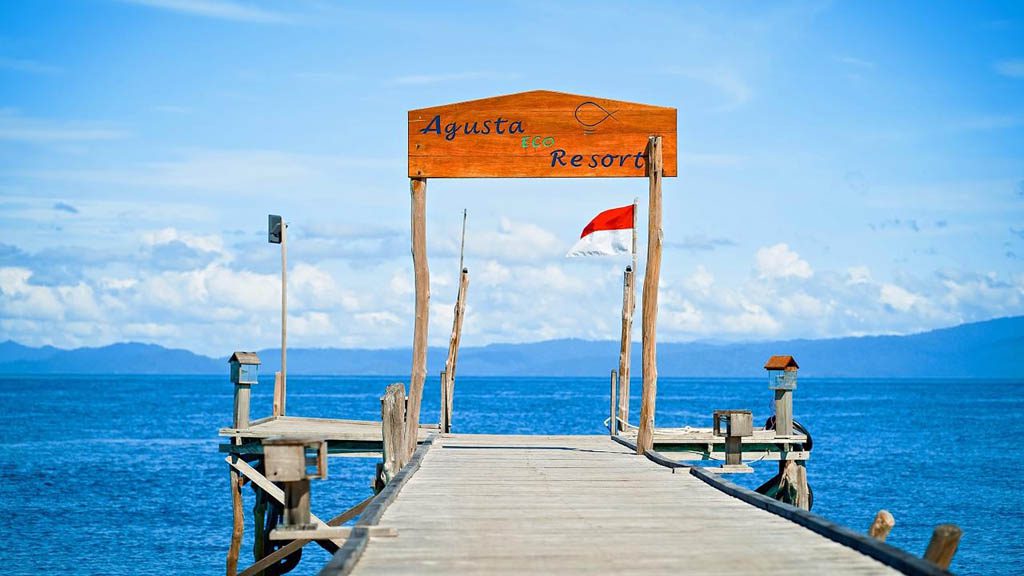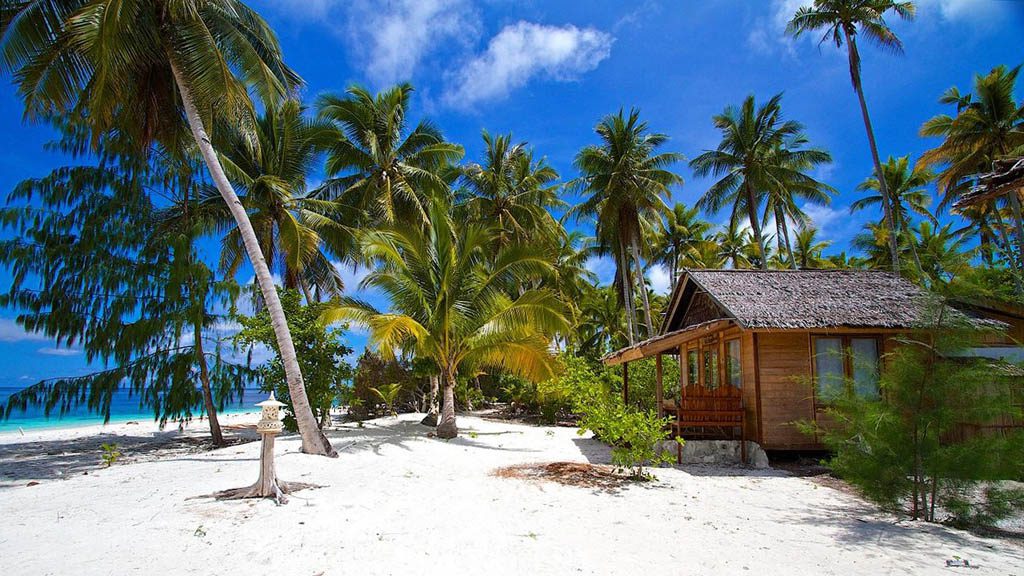 Resort Facilities
Agusta Eco Resort sets great value upon the gastronomy of the region. There are two chefs who tastefully prepare traditional Indonesian dishes, and are also able to cook different Italian and international specialties. The cuisine is rich in variety and of high quality. The restaurant is located in a huge open-air building, which also houses a spacious lounge with armchairs and sofas.
Solar panels, installed on the kitchen roof, provide electricity for the whole resort. Waste is segregated, organic waste is composted and any recyclables are shipped back to Sorong for processing. They also have a henhouse for eggs and chicken on-site and a vegetable garden.
The dive shop houses the reception and a small shop where guests can purchase local handicrafts and souvenirs. The resort has recently added a swimming pool and is now the only resort in Raja Ampat with a pool. Kayaks, kites and archery are amongst the non-diving activities.
Staying Connected
There is a free guest computer available at the resort to connect to the internet but WiFi is not available.
We think…
This is truly a special place and can only be described as paradise within a paradise – bang in the middle of Raja Ampat. The bungalows are spacious and comfortable. The pristine beaches and the diving are excellent.
Agusta Eco Resort is located on Agusta Island in the heart of Raja Ampat. Agusta Island is a deserted island and the resort is the only structure on the island, which guarantees you a vacation of complete relaxation, away from city noise and crowds.
Transfers
CHECK IN: We recommend arriving in Sorong with an early flight (before 8 am).
We will pick you up in the airport or hotel (if you have arrived one day before)and bring you to the ferry harbour. The ferry departs at 9 am and will arrive in Waisai in 2 hours, then continue to the resort with our speedboat (1 hour ride)
CHECK OUT: With our boat we take you to Waisai to take the ferry back to Sorong.
Departing from the resort at 7 am if you want to catch a flight in the afternoon on the same day.
Departing at 11 am if you have a morning flight on the day after (stay 1 night in Sorong).
Agusta Eco Resort has three room types: Deluxe cottages, Superior cottages and Raja Cottages.
The Deluxe cottages are 60 sqm in size and octagonal in shape. The Superior cottages are 46 sqm and rectangular. Eight cottages are double/twin share for two guests, with either a double bed or two single beds. Two cottages come with two rooms (1 double and 1 twin) and are perfect for families.
The 4 Raja Cottages are built in a traditional style with rich woods. They are all facing the sea with a large window from which you can enjoy the spectacle of the sea of ​​Raja Ampat. The rooms have air conditioning and private bathroom. The beds are twin or double and equipped with mosquito nets. One of these cottages, the family, has adjoining bedrooms and two private bathrooms. Ideal for families or groups of friends, it can accommodate 6 people.
All cottages are constructed of high-quality timber and with large windows, glass door and private bathroom. The interiors are comfortable and spacious with the furnishings such as the armchairs, tables and sofas handcrafted and originally from Bali. The rooms' artifacts and sculptures are made locally in Papua.
All cottages have air-conditioning, ceiling fan, minibar, safe deposit box and a big desk with power points and LED lights for photographers. The bathrooms are spacious and separated into two parts, one with a big mirror, sinks in lava rock and toilet, while the other part has a shower and a big open space with coral slab floor. The showers have hot and cold water.
Deluxe Cottage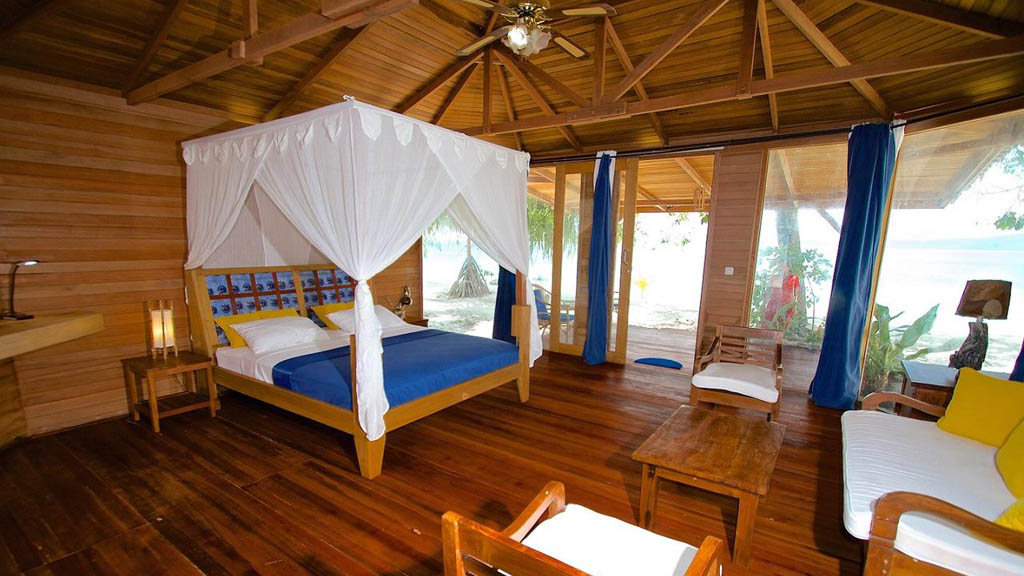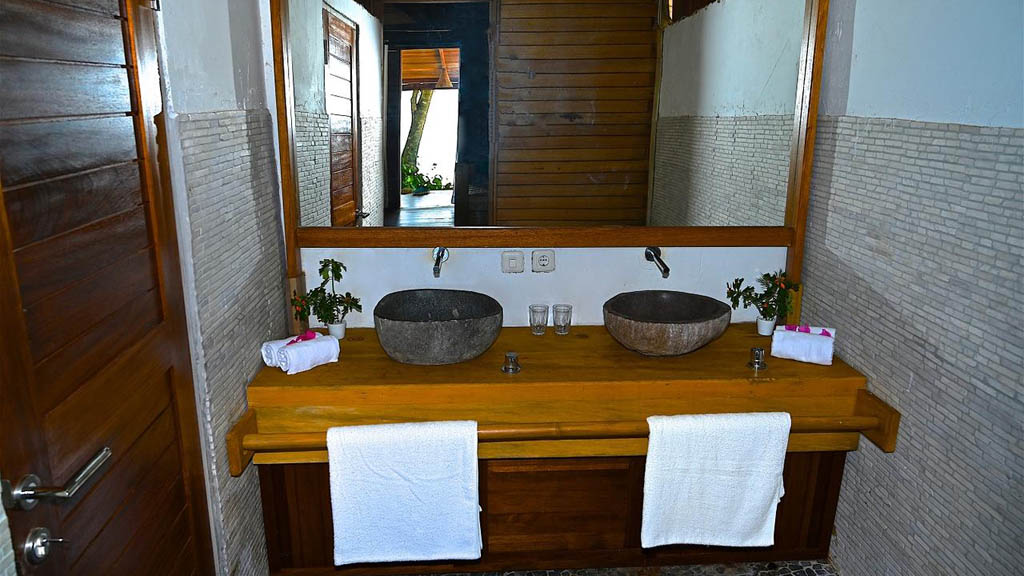 Superior Cottage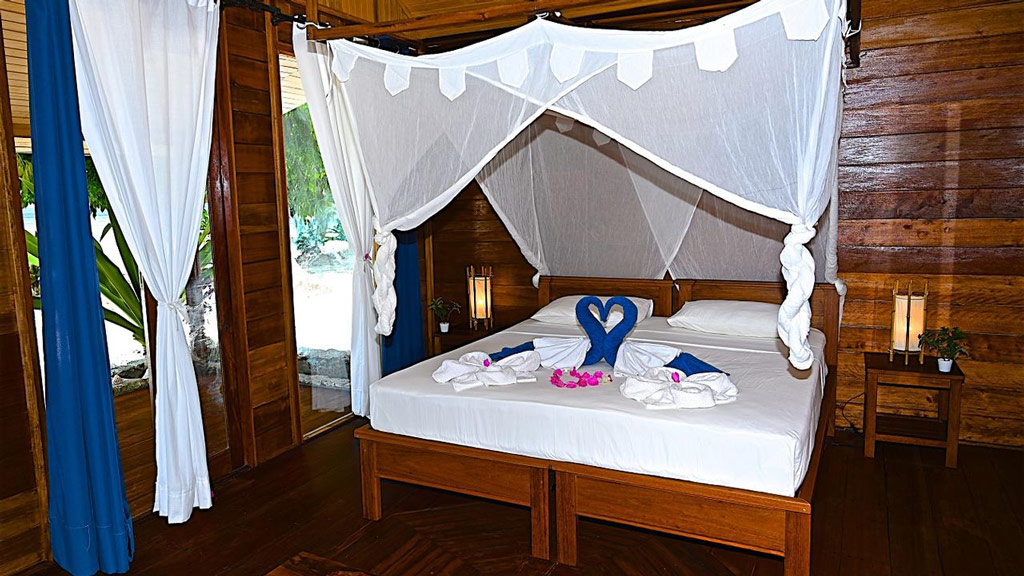 Raja Cottage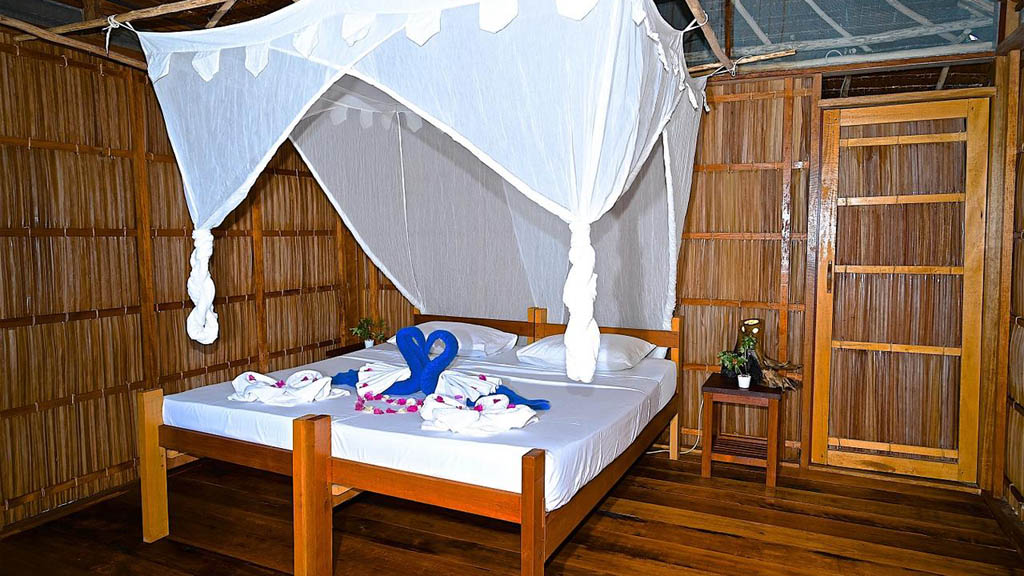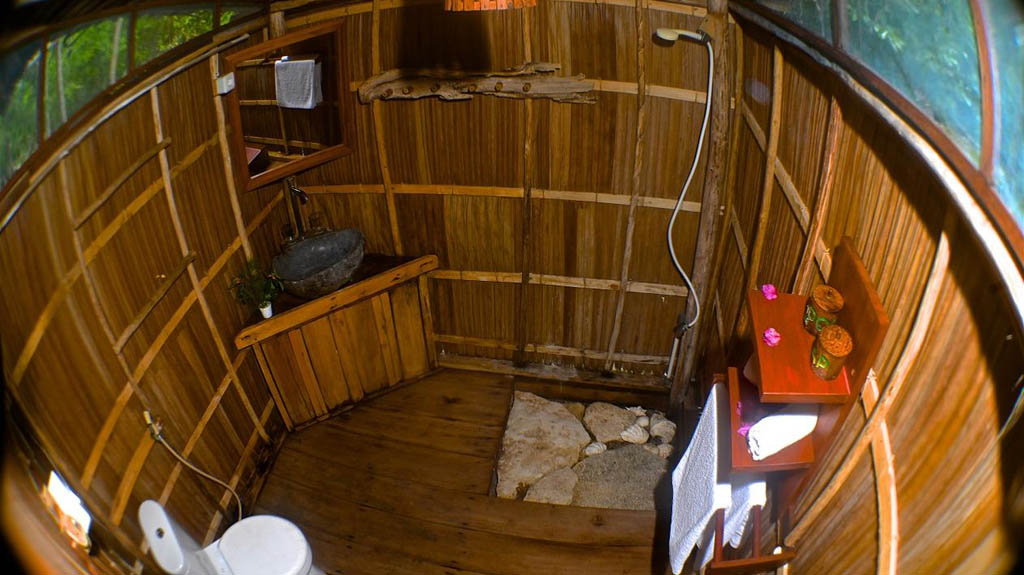 Agusta Eco Resort is a PADI dive resort. The resort is located in a strategic position in the centre of the Raja Ampat marine park, so they can access all the classic dives in the area.
The dive shop operates 2 fast dive boats: one seating 10 divers and one 16 divers. The larger boat also features a small toilet on board. 2 and 3 tank boat dives as well as dive courses up to divemaster level are offered.
The dive shop is very spacious and stores enough rental equipment to outfit 20 divers. Nitrox is also available for a small 'ecological contribution'. Nitrox courses are available at extra cost.
Day trips
Guests are offered 2 tank or 3 tank dive-days daily. Two guided morning boat dives are completed before returning to the resort for lunch. The afternoon offers another single tank dive. Night boat dives are available at extra cost. The unguided house reef diving is unlimited.
Dive area
The resort is centrally positioned within the Raja Ampat marine park, just 10 minutes away from Manta Sandy and well-known manta cleaning station, in an area known for five different species of pygmy sea horse, and endemic sharks like the ornate wobbegong and the epaulette bamboo shark.
Not far from the resort are many favourite dive spots like Mios Kon (Mioskon), an island populated with millions of bats, which offers the incredible underwater spectacle of hundreds of sweet lips; Melissa's Garden, a garden with plenty of colourful soft corals and reef fish, impressive the number of anthias in every corner of the reef, gorgeous also the exterior with lagoons of all blue tints and untouched beaches; Mike's Point, a more than 40m deep wall, where you can find big fish; Sardine Reef, judged as one of the most beautiful reefs worldwide, home to big school of fish, jackfish of all sizes, tuna, grey sharks and black and white fin sharks; Janbuba Jetty; Cape Kri; The Wall; Cape Mansuar; Arborek Island – the list goes on and on.
There are also many beautiful dive spots close to the resort: Marco Reef, Lampu, Mara's Garden, Lobster Wall and others. On all these sites you can find grey sharks, white fin sharks, blackfin sharks, mantas, lobster, turtles, all types of reef fish, schools of bumphead parrotfish, jackfish, barracuda and small creatures such as nudibranchs, sea horses, pipefish etc. are also common. A rare find is the recently discovered walking shark, part of the wobbegong family.
Pricing for Agusta Eco Resort
Pricing for 2023
AUD
EUR
7 Nights Deluxe Cottage Double, with 11 dives
2350
EUR
|
2350
7 Nights Deluxe Cottage Single, with 11 dives
2950
EUR
|
2950
7 Nights Papuan Cottage Double, with 11 dives
1500
EUR
|
1500
7 Nights Papuan Cottage Single, with 11 dives
1740
EUR
|
1740
This resort's prices are in Euro. The AUD prices shown are based on the current exchange rate. The price paid in AUD will be based on the actual exchange rate at the time any payments are made.
Included: accommodation as specified, all meals, tea, coffee, drinking water, 5 dive days/2 guided boat dives per day + 1 night dive, tanks, weights, air fills, boat, dive guide, fuel charges within 24km from resort, roundtrip speedboat transfers from/to Waisai.
Important: Guests with a morning departure flight will need to overnight in Sorong the night before departure. Agusta Resort can pre-book this, but payment must be made directly to the hotel. The cost of the hotel in Sorong is EUR 50 per room (single or double) and includes transfers to the airport and breakfast.
The per person pricing above is indicative only: we show 7 night with 11 dive packages at high-end and lower-end rooms (singles & doubles) for the purposes of comparison. We can give you a price (and availability) for any combination of nights/dives you wish to undertake, which will include any discounts due to you as part of that package, and any exclusions, or items payable at the resort. Please use the [Enquire Now] tab to give us your exact requirements and we'll give you the best deal we can.