Before we get into our recommendations for the best liveaboards for solo divers, let's clarify the term solo diver. We're not talking 'Singles Cruises' where you might expect to hook up with someone! And we're not talking about Self Reliant-certified divers. We're talking about divers who sometimes need to travel solo.
Whether you're new to diving and haven't yet found your go-to dive buddy for overseas trips, or you have a non-diving partner, being a single diver can sometimes be intimidating – and those single supplements can be a killer, with liveaboards charging anywhere between 10% and 100% for the luxury of a cabin to yourself.
However, at least with a liveaboard you won't be diving alone, with a boat-load of divers (some of them possibly also solo divers) to buddy up with for the actual diving. It's a great way to find long term dive buddies in fact, that you may keep in contact with for years to come.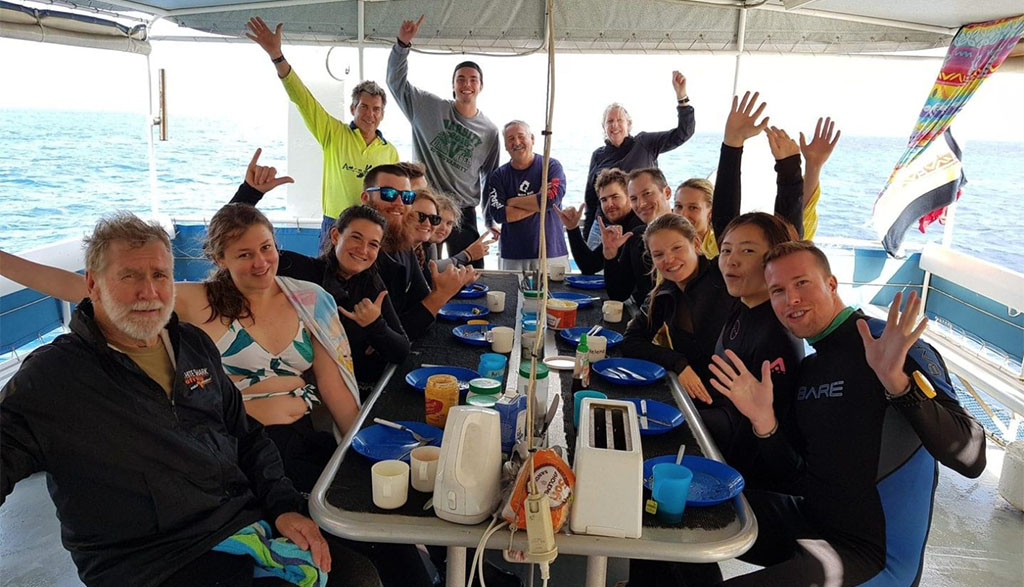 What to look for as a solo diver:
Some boats cater for single divers better than others – here's what to look for.
Single Rooms: For those who value their privacy – these are few and far between and need to be booked early as they are snapped up fast.
Low Single Supplement: For single divers who like to have their own room and need a bit of space. This can sometimes be as high as 100%, however some liveaboards charge as little as 10% more.
Quad Rooms: This is a great low-budget option, however, you'll have to share your space with up to 3 other divers. Most liveaboards have a same-gender policy for shared cabins but if this bothers you, it's best to check first.
Bunk Beds: Similar to a hostel, these rooms are the most informal and least expensive option for single travellers. 6 to 8 divers usually share one bunk bed room.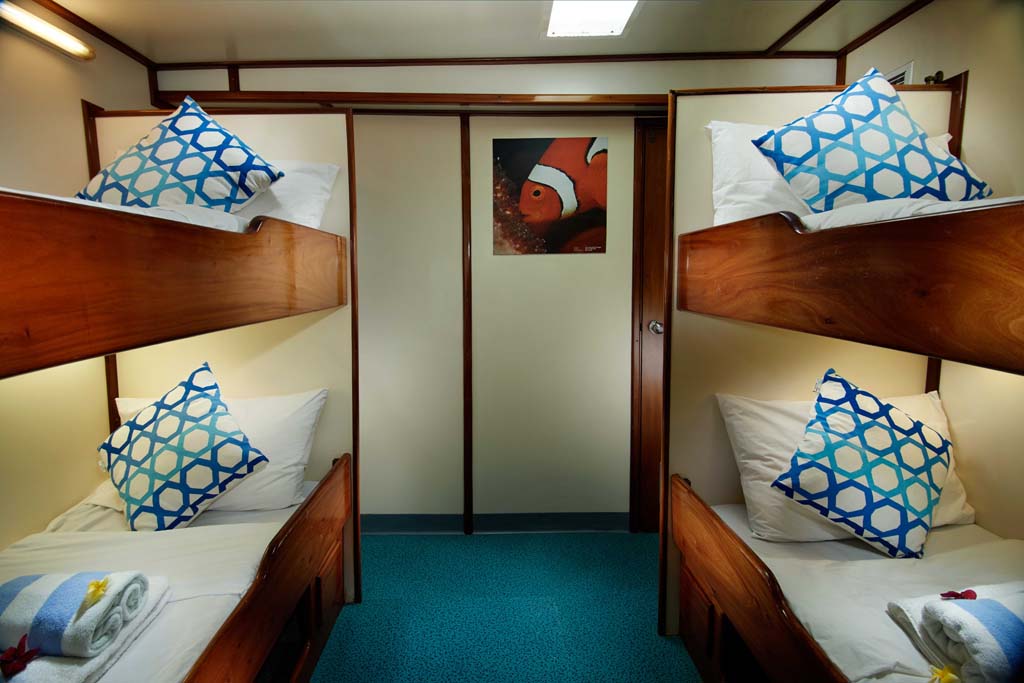 Best Liveaboards for Solo Divers by Destination
Australia
Spirit of Freedom liveaboard is one of the best ways to explore the Great Barrier Reef and Coral Sea and has two quad-share cabins below deck.
Divers Den's OceanQuest liveaboard is one of the most flexible Great Barrier Reef liveaboards, with daily transfers and budget bunk rooms.
While Mike Ball's Spoilsport doesn't have quad-share cabins, they do have Budget Twin Share cabins and the liveaboard pioneered PADI's 'Self Reliant Diver' certification – the only liveaboard on the Great Barrier Reef to teach this course.

Indonesia
Amira Liveaboard is a beautiful Phinisi-style liveaboard and offers dive cruises to the Komodo region, incredible Alor & Wetar, the fabulous Banda Sea, the Forgotten Islands of Tanimbar, Triton Bay and Raja Ampat. There are two single cabins on the lower deck.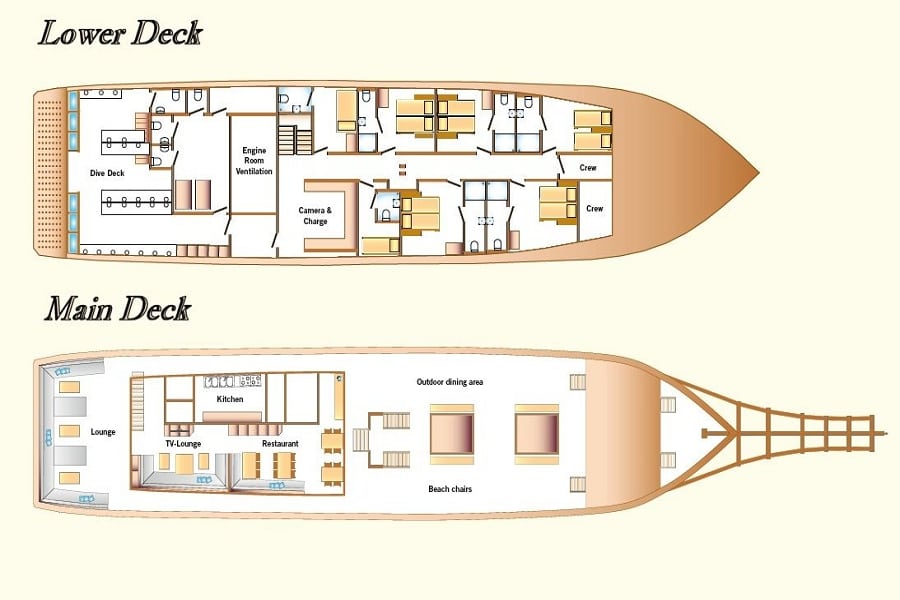 Damai I & Damai II: These two luxury dive boats have 25 years' experience in Indonesia, running dive trips in Komodo and Raja Ampat as well as annual crossover trips across the Banda Sea. Both boats have single cabins.
MV Mermaid I has a range of trips departing Bali and Labuan Bajo to Komodo National Park, and has a single cabin on the upper deck and two budget cabins below deck.
Sea Safari 8 offers great value seven-night itineraries to Raja Ampat and has two bunk cabins below deck.
Blue Manta and New White Manta both offer a very low single supplement of only 10%, with trips throughout Indonesia, from Komodo to Kalimantan, Sulawesi, the Forgotten Islands and Raja Ampat.

Mexico
Nautilus Belle Amie and Nautilus Under Sea liveaboards are ocean-going steel-hulled vessels offering 8-night dive trips to see the megafauna of Mexico's Socorro & Guadalupe Islands. See giant mantas, dolphins, hammerhead, Galapagos and whale sharks at Socorro between December and June and dive with Great White Sharks at Guadalupe Island from July to November. Both boats have a quad-share cabin.

The Philippines/Palau
MV Solitude 1 offers tours to Tubbataha Reef, Malapascua and Ticao and from November to February relocates to Palau. The boat has a quad-share or Family cabin below deck which sleeps four adults comfortably.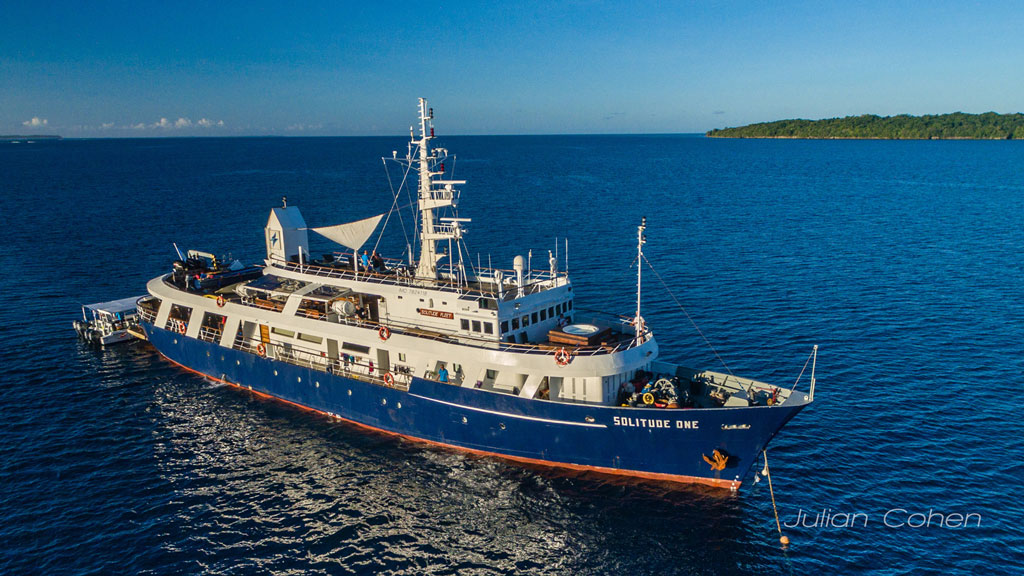 Papua New Guinea/Solomon Islands
The MV Febrina now has four single cabins and offer seven to 10-night itineraries from Walindi Plantation Resort in Kimbe Bay, exploring the Witu Islands, Fathers Reefs with occasional trips also to Rabaul in July.
The Solomons PNG Master Liveaboard has two quad-share cabins, with a wide range of tours from Honiara and Munda in the Solomon Islands, visiting the Florida and Russell Islands, and occasional trips to Rabaul and Tufi in Papua New Guinea.

Thailand
Sea Bees' Genesis 1 has two air-conditioned single cabins – a great option for Andaman Sea locations including the Similan and Surin Islands and Richelieu Rock.
The Junk has triple-share and quad-share cabins and does two, four and six-day itineraries of the southern Andaman Sea and the Similans. Sister ship The Phinisi also has quad-share cabins and offers four, six and 10-day Andaman Sea trips.

Truk/Chuuk Lagoon
The Truk Odyssey which is located in possibly the world's most famous WWII wreck diving destination, has two single ensuite cabins.