Introduction
Location
Accommodation
Diving
Dive Sites
Pricing & Schedules
Enquire Now
At 52m, the Solitude One is a well-designed dive liveaboard providing ample space and comfort for its 22 dive guests. Being relatively large, it is one of those liveaboards able to offer longer itineraries.
From September to March, the Solitude One operates 7 & 10-night dive trips in Palau, and from April to August, 6-7 night cruises in the Philippines including Tubbataha, Malapascua & Southern Visayas.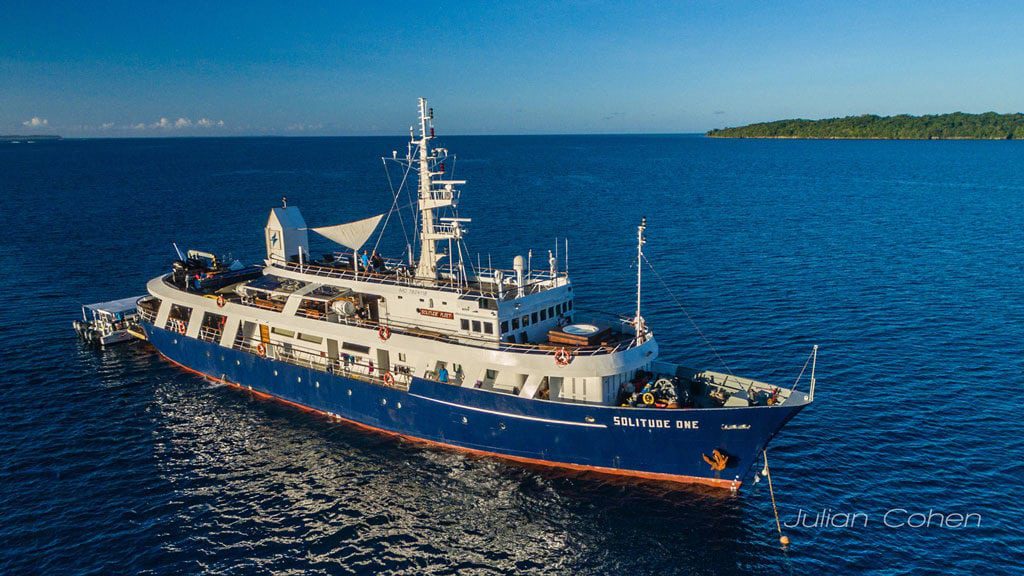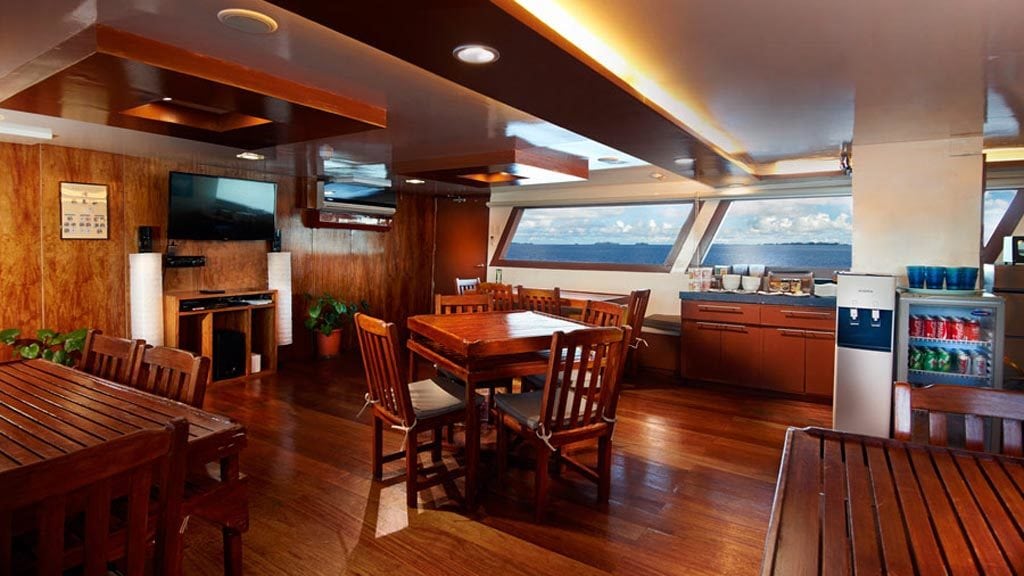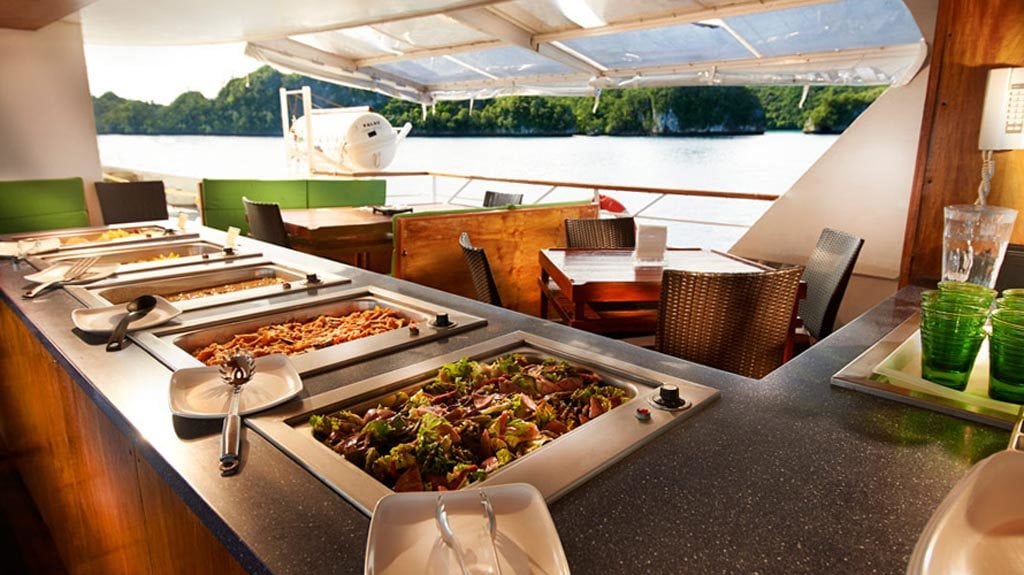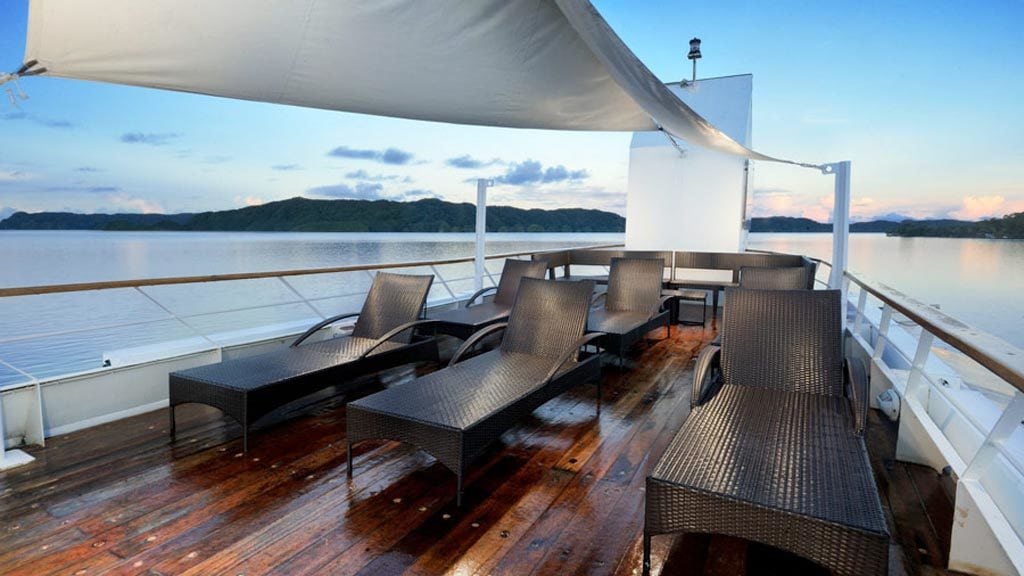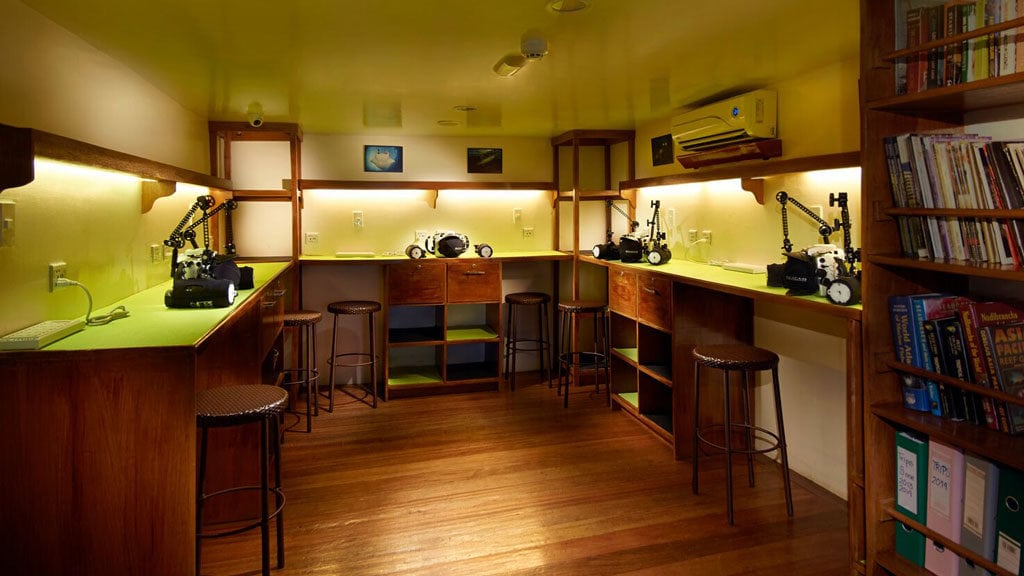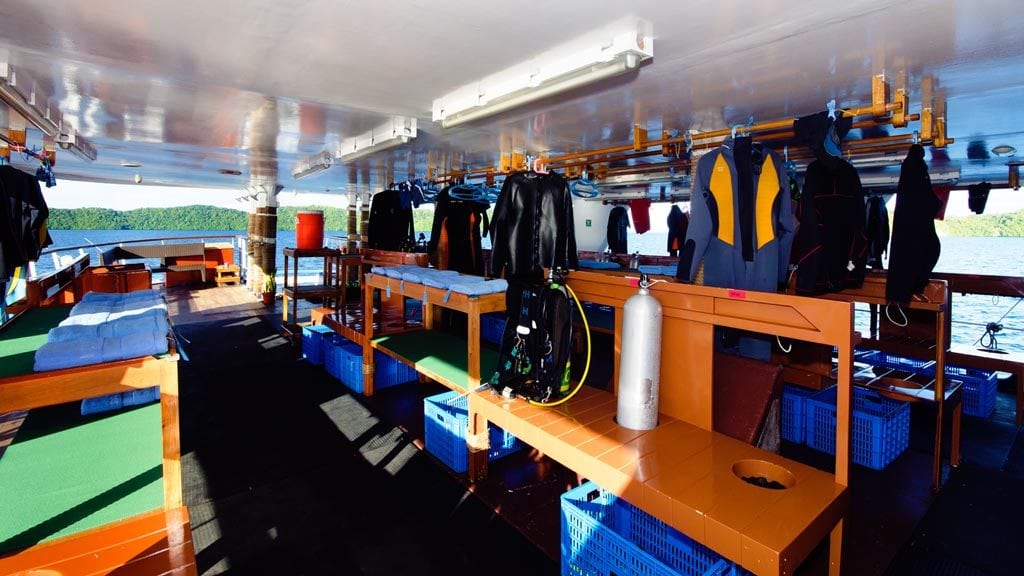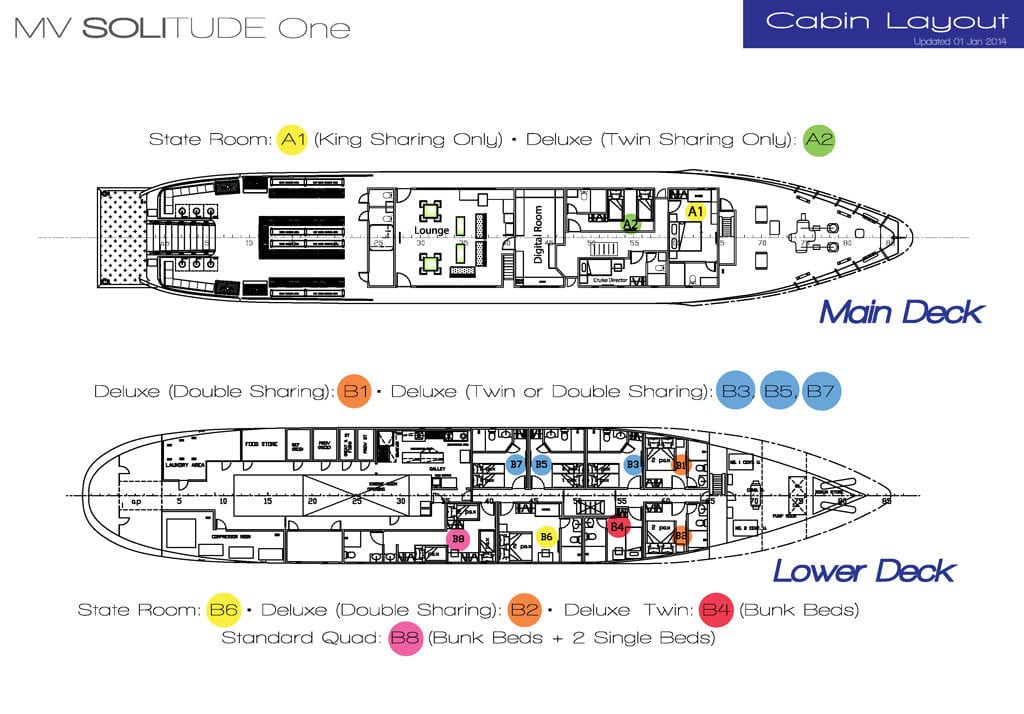 Facilities
There are plenty of spaces around the boat for both getting together with fellow divers, and areas where you can enjoy some solitary peace. These spaces are both in and outdoor, in fun sun and in shade. The décor throughout gives the boat a cozy ambiance.
Meals are carefully planned and constructed to make sure all palates are taken into consideration. Great pride goes into the preparation of these meals and special diets can be catered for. There is always be something for the peckish, even in the small hours. The Bar serves a good selection of spirits, wines and beer and those are readily available to you at an additional cost.
Staying Connected
Internet access is available via Satellite Broadband (Inmarsat FBB up to 444kbs). Guests can use their own device to access the internet, but charges apply
We think…
Solitude One is a comfortable and modern dive liveaboard, offering divers a lot of space, comfort and convenience.
Palau itineraries depart from Koror, Philippines itineraries depart from Puerto Princesa, Palawan.
MV Solitude One has a total of 10 en suite cabins that can accommodate a maximum capacity of 22 guests:
2 Staterooms
1 Stateroom is located on the main deck and 1 below deck. Both cabins feature a king size bed each and a day bed which can be converted into a single bed for a 3rd person sharing.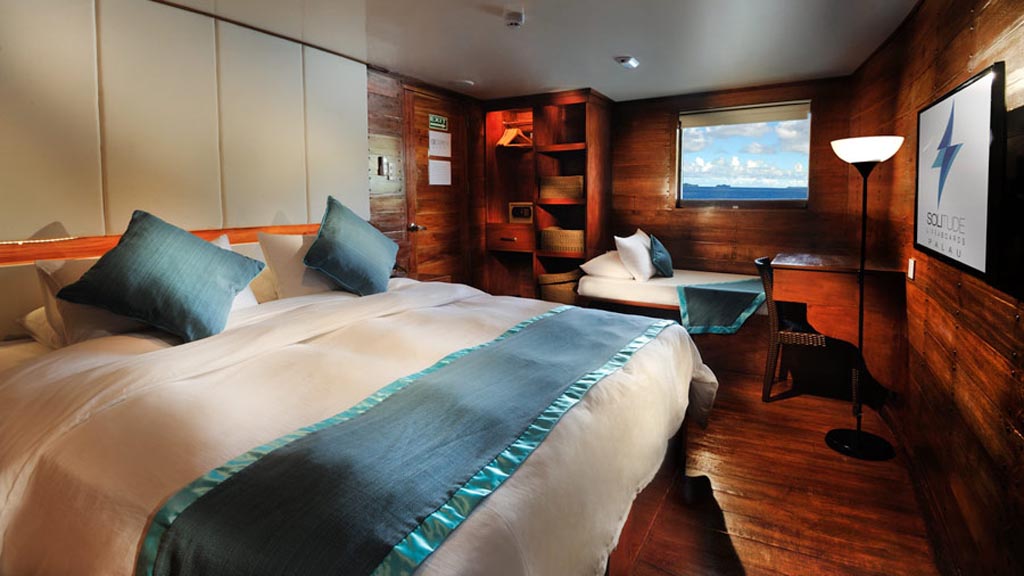 7 Deluxe Cabins
4x Twin or Double, 2x Double and 1x Twin, bunk bed style. One deluxe twin cabin is located on the main deck; the other deluxe cabins are below deck. The cabins feature either queen beds or 2 single beds.

1 Standard Quad/Family Cabin
The Quad-Sharing cabin was designed for families, a small group of friends or individuals who do not mind sharing with other like-minded divers. This cabin provides a better value package while enjoying the same quality level of service and hospitality. The cabin has 2 bunk-beds and 2 single beds. Each guest has his/her own wardrobe and personal electrical points to charge their own gadgets. Guests in this cabin will find that the space and layout is more than adequate, including an en-suite toilet, designed for 4 sharing individuals. The mattress size on each bunk bed is 92cm (3ft) x 199cm (6.5ft).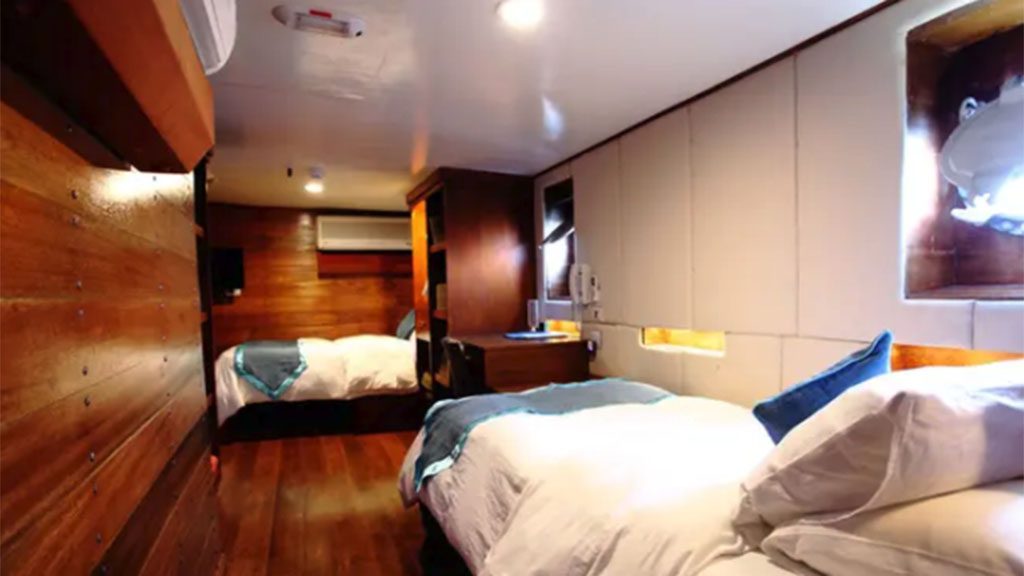 Dive Service
The dive deck is spacious enough to accommodate 30 divers and the tank racks, storage boxes, camera basins and equipment stowage are nicely designed.
Dive gear rental is available at extra cost. It is mandatory to dive with a Nautilus Lifeline which is available on board for hire. All dives are guided by experienced dive guides with a ratio of 1 guide to 6 divers.
Two purpose-built fiberglass dive skiffs are used as dive tenders, and these are both equipped with First Aid, Medical Oxygen, VHF Radios, Compass and GPS Navigation.
Two rinse tanks with air-guns and towels are provided for underwater camera users. There is a camera set up bench on the dive deck and two computer stations for guests use.
Trip dates & Availability Solitude One Extras Payable Locally Philippines (as of August 2018)
AUD
USD
PHP
Tubbataha Marine Park fees
5000
PHP
|
|
5000
Nitrox fills (per week)
135
USD
|
135
|
Full set of dive gear rental (per week)
200
USD
|
200
|
This resort's prices are in USD and PHP. The AUD prices shown are based on the current exchange rate. The price paid in AUD will be based on the actual exchange rate at the time any payments are made.
Important Information
Surcharge for single cabin 80%
Included:
Cabin, all meals, snacks, 3-4 daily guided boat day dives (incl. 1 night dive; no diving embarkation/disembarkation days), tanks, weights, air fills, dive guide, return Puerto Princessa airport or Mactan airport (Cebu) transfers on charter days, Philippines VAT/GST
Solitude One Extras Payable Locally Palau (as of August 2018)
AUD
USD
Koror dive permit incl. Rock Island & Jelly Fish Lake
100
USD
|
100
Koror dive permit excl. Rock Island & Jelly Fish Lake
50
USD
|
50
Peleliu dive permit
30
USD
|
30
State Cabin/Room Tax for Palau trips (per day)
10
USD
|
10
Nitrox fills (per dive)
8
USD
|
8
Nitrox fills (per week)
135
USD
|
135
Full set of dive gear rental (per week)
200
USD
|
200
This resort's prices are in USD. The AUD prices shown are based on the current exchange rate. The price paid in AUD will be based on the actual exchange rate at the time any payments are made.
Important Information
Surcharge for single cabin 80%
Special payment and cancellation terms apply for this operator.
Note: Airport Fees – Environmental Impact Fees
From 01 January 2018, the government of Palau has implemented their previously announced new Palau Pristine Paradise Environmental Fee (PPEF) to enhance their environment protection plan. The PPEF replaces the former Green Fee and departure tax charges (50 USD) and amounts to 100 USD per departing non=Palauan passenger and should normally be included in your ticket when it is issued after 01 January 2018. If your ticket was issued before 01 January 2018, the old charges of 50 USD will remain in place.
Included:
Cabin, all meals, snacks, 3-4 daily guided boat day dives (option to schedule 1 day dive for 1 night dive; no diving embarkation/disembarkation days), tanks, weights, air fills, dive guide, complimentary Rock Island & Jelly Fish Lake tour on day of disembarkation (permit not included), return transfers in Koror on charter days
Not Included:
Dinner on embarkation day (Palau only), drinks, dive gear rental, Nitrox