Overview
The New White Manta liveaboard is a world class cruising hotel. Serving both the Similan Islands and Layang Layang in their respective seasons the White Manta provides the perfect luxury platform to dive either of these iconic regions in style. Enjoy camera friendly facilities, including a dedicated camera room, delicious food, a generous dive deck, a beautiful sundeck and 24 hour satellite WIFI.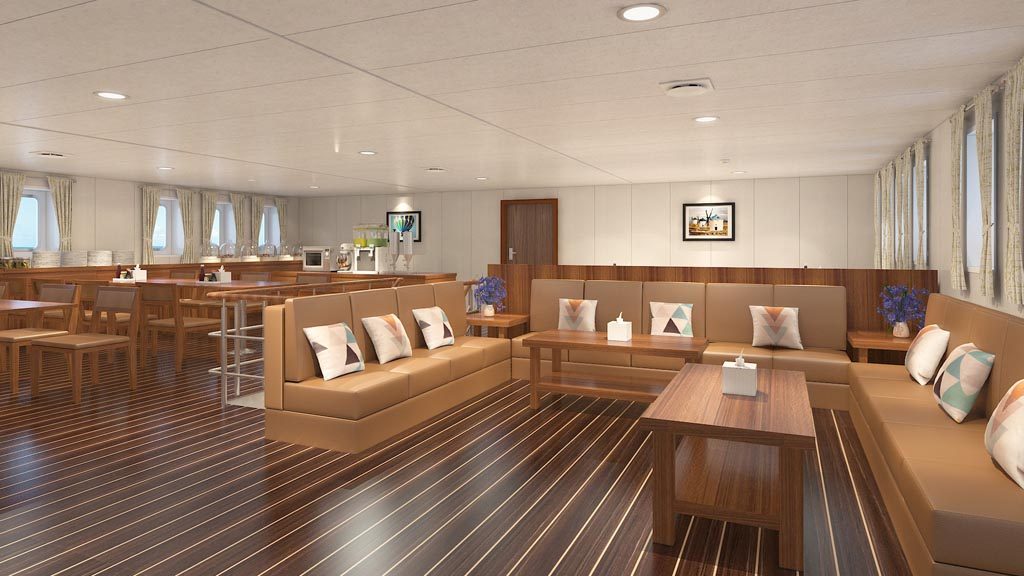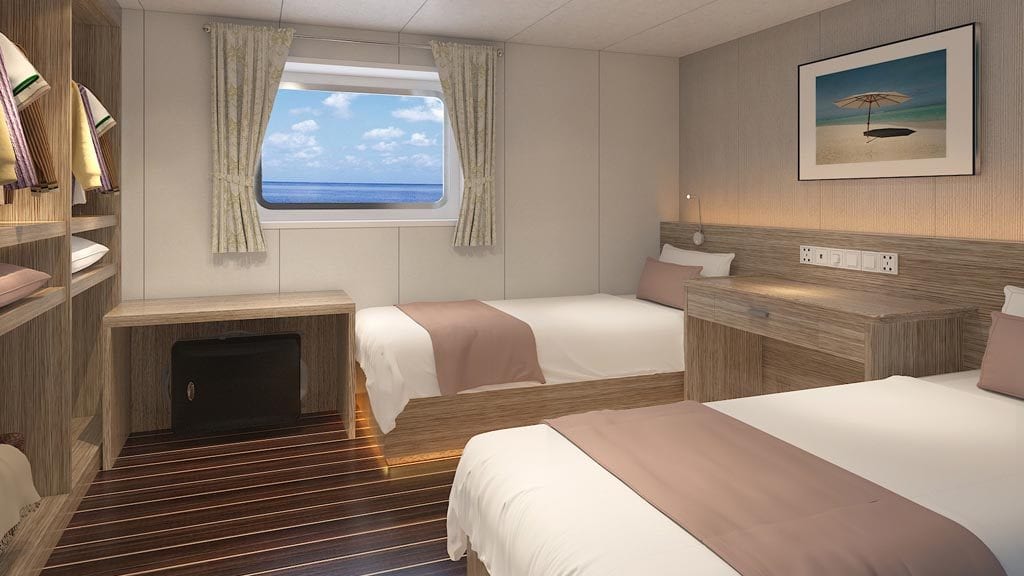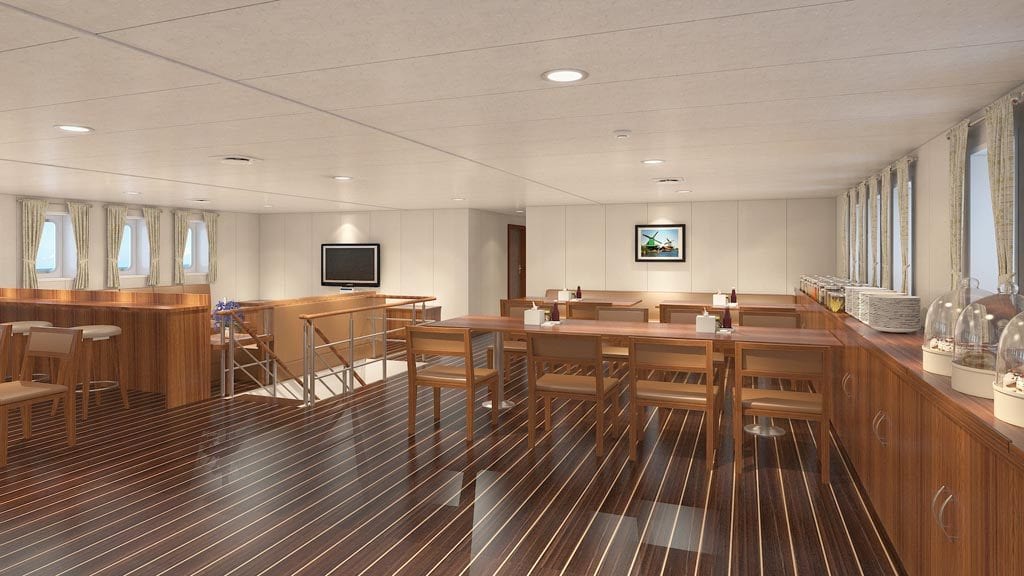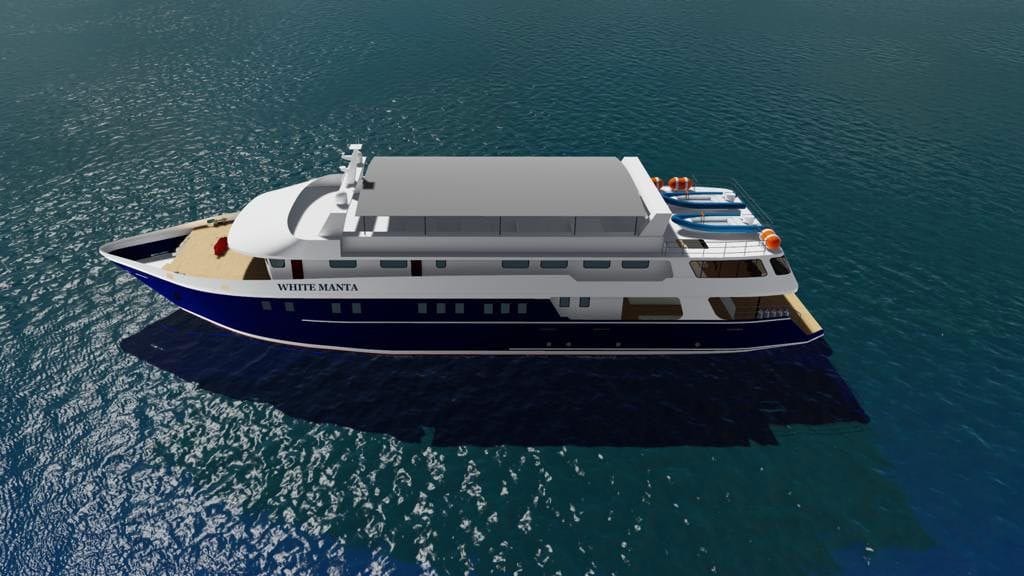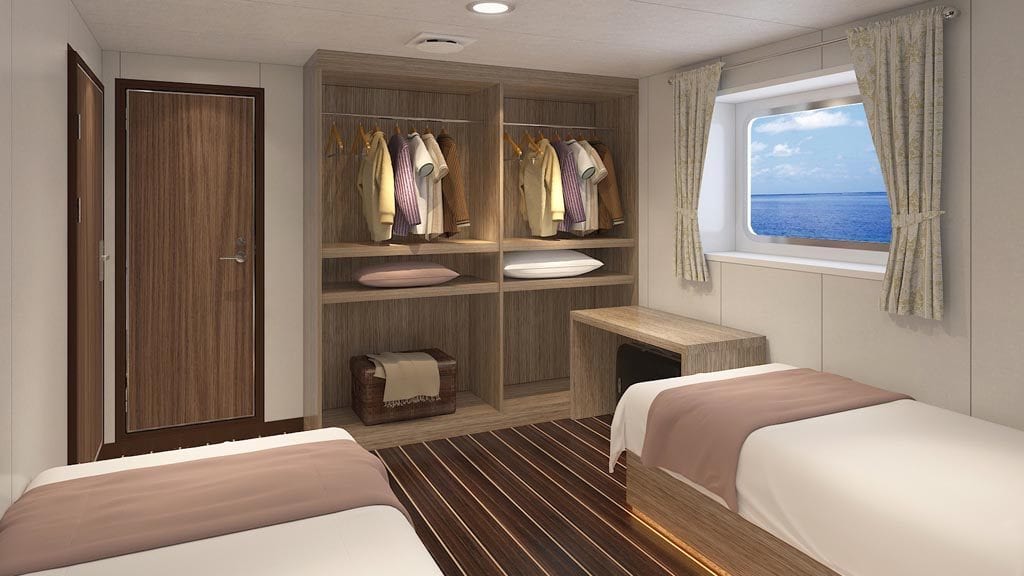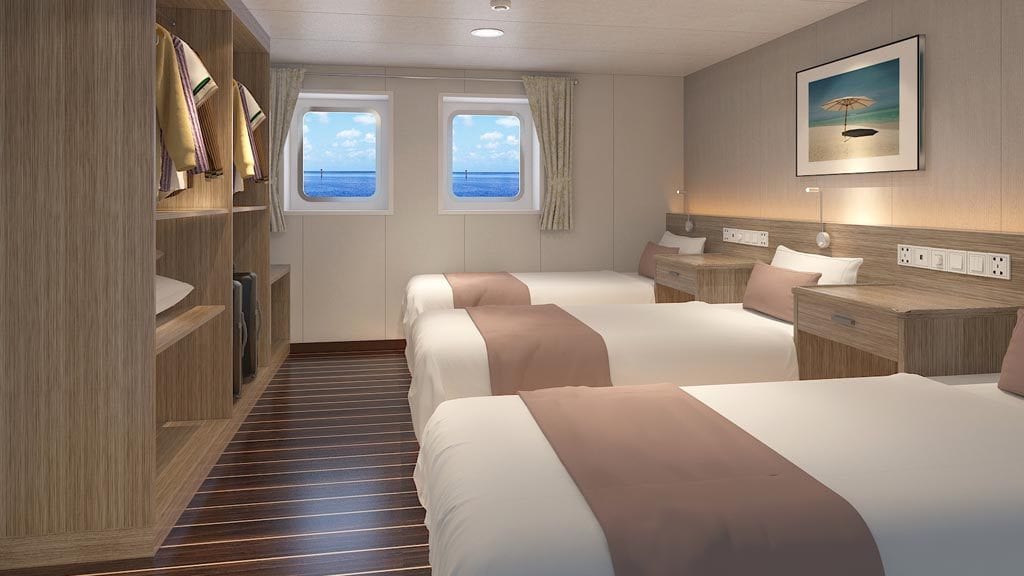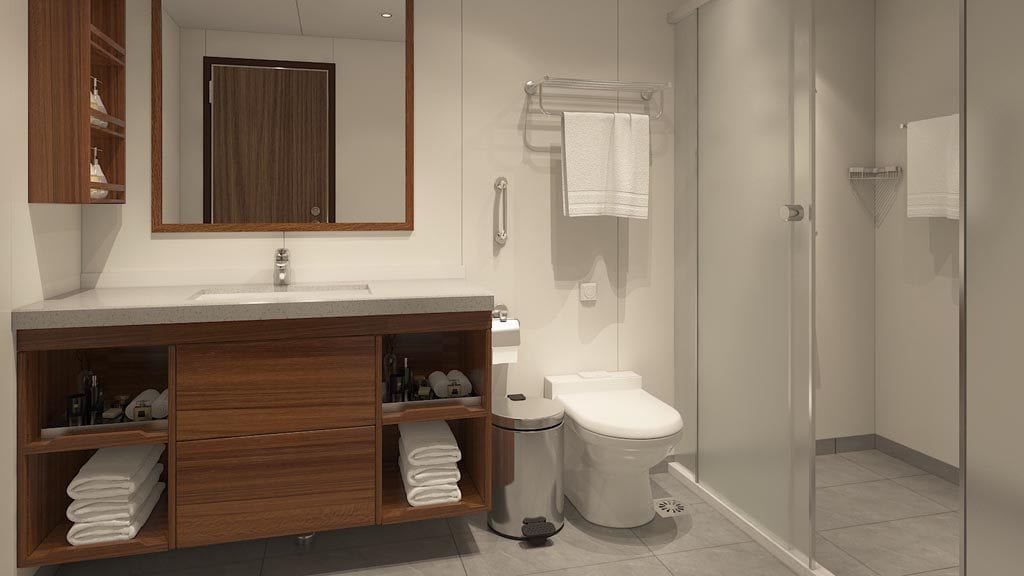 Accommodation & Facilities
The White Manta liveaboard is a large purpose-built dive liveaboard 46m long by 10m wide, both spacious and comfortable. On board are 14 beautifully furnished en-suite cabins, each averaging 20sqm in size, an open outdoor alfresco dining area, and an indoor air-conditioned room for finer dining, all designed for the perfect on-board ambiance of a luxurious dive holiday.
Comfortable, roomy and beautifully designed each cabin provides a home away from home even in the most exotic of locations. The White Manta liveaboard also has a number of family friendly cabins too, with combined double / twin share option available.
Cuisine & Lounging
Offering a fine selection of local and international cuisine, guests can choose to dine in air conditioned comfort in the indoor dining area or enjoy the magnificent meals al-fresco in the outdoor dining area.
With no fewer than five meals a day, can start your day with freshly baked breads, and be filled and satisfied with an extensive range of meals throughout the day. Snacks, tea and coffee, hot chocolate and drinking water are available all day. Special dietary requests can be catered for with prior notice.
White Manta's air-conditioned saloon is a perfect place to relax with a drink from the extensive bar, watch a movie, read a book or magazine, or sit with your notebook computer and edit treasured moments of the dives.
Aboard the White Manta, the dedicated indoor camera room will keep all underwater photographers happy. It has plenty of room to set up DSLR cameras, strobes, lenses, extra battery packs, a charging area and storage space is available those with laptops, cameras, torches or DPV's. Note that power on board is 220V and available international sockets.
The icing on the cake is the sundeck, partially shaded, it is a perfect place to catch a tan, enjoy a relaxing massage, or take a short nap.
Staying Connected
White Manta has 24hr satellite internet available so you can easily stay in touch with friends and family at home and let them know just how much of a wonderful time you are having!
Indicative Pricing for the White Manta (main & upper cabins)
| Destination | Days / Nights | Pricing |
| --- | --- | --- |
| Layang Layang | 7D / 6N | USD 3,300 |
| Similan Islands & Richelieu Rock | 5D / 4N | BHAT 52,000 |
| Similan Islands & Richelieu Rock & Hin Daeng/Muang | 6D / 5N | BHAT 68,000 |
Please note that the White Manta's maiden voyage will be March 2019. We expect to be able to present comprehensive pricing in due course. If you are interested in any of the trips listed below under Dive Regions, please send us an enquiry as there is currently plenty space and we can advise exact dates and prices.
What to expect
The professional dive team offers divers experienced guidance above and below the water, and diving is conducted in small groups of similar experience, cert level and objectives.
Four support RIBs are deployed constantly during dives, so you can be assured of surface cover and safety support during your dive, even in the most adventurous of currents.
The White Manta offers a full complement of rental equipment on-board, with cylinders available in yoke & Din fittings. Some larger tanks are also available for those requiring a little extra air (pre-booking highly recommended). Nitrox is available.
The dive deck is spacious and comfortable, with dedicated rinse tanks, dive deck shelves, and a wide outdoor work table is perfect for underwater digital cameras complete with charging area.
Dive regions
The White Manta serves both the Similan Islands and Layang Layang in their respective seasons, and offers 3 and 4 night trips from Singapore.
From April to June, and possibly longer, the White Manta will be offering 7 day / 6 night itineraries departing from Kota Kinabalu. They will be there during the peak hammerhead season, with the best visibility and conditions. Even so, the dive sites around Layang Layang are for experienced and advanced divers only.
From November to March the White Manta will be offering 5 day / 4 night itineraries to the Similan Islands and Richelieu Rock.
Within this period are a few additional 6 day / 5 night itineraries which include the southern dive sites Hin Muang, Hin Daeng and Koh Haa offering something for everyone with all levels of diving.
The embarkation/disembarkation alternate between Chalong Pier (central Phuket) and Thap Lamu pier, Phang Nga (just south of Khao Lak).
From June to October the White Manta will be offering short week, and long weekend trips from their base in the Marina Country Club in Singapore to Tioman Island (Malaysia), the Anambas Islands (west of Tioman), and other Indonesian Islands in the Riau Archipelago.
We think…
The White Manta is a very comfortable dive liveaboard with modern features expected by discerning dive guests. It provides a luxury alternative for divers wishing to dive the iconic sites of Layang Layang, and the Similan Island and Richelieu Rock.
Pricing / availability enquiry