Overview
The Blue Manta is possibly the largest purpose-built dive liveaboard in Indonesia. Though measuring 45m (148ft) by 9m (29ft), this steel hull liveaboard takes just 18 guests. Blue Manta offers 7 and 8-night dive cruises in Raja Ampat, Komodo and Alor and longer relocation trips with itineraries which include the Banda Sea, Ring of Fire, Triton Bay and the Forgotten Islands.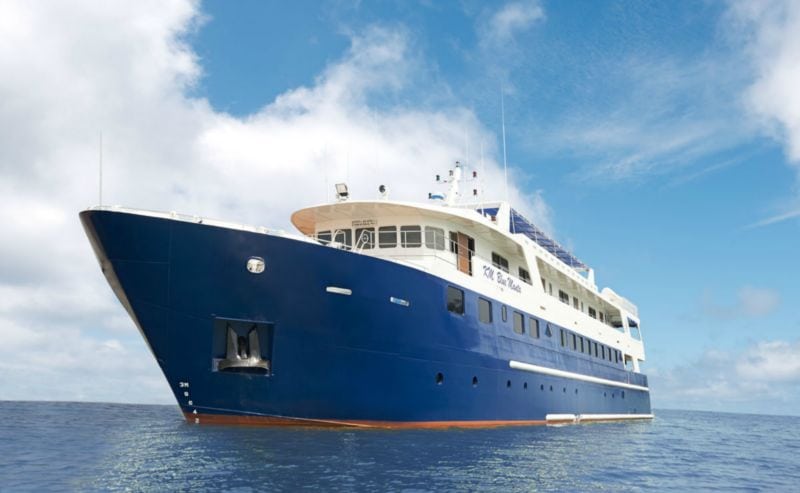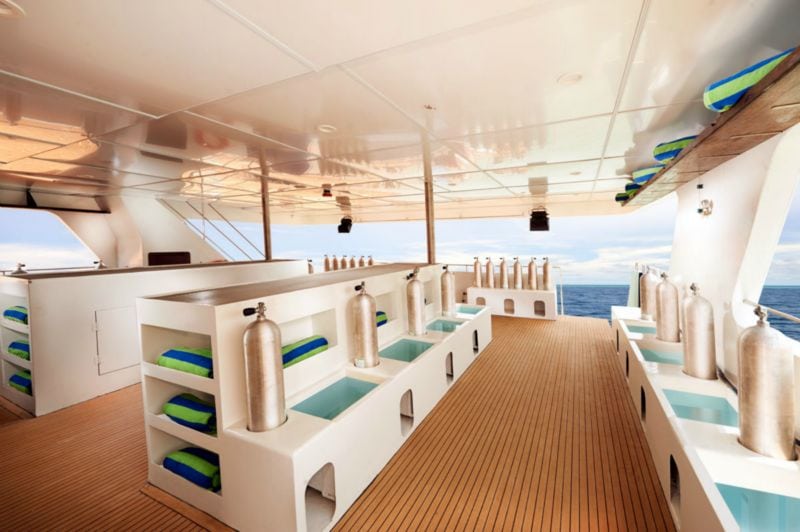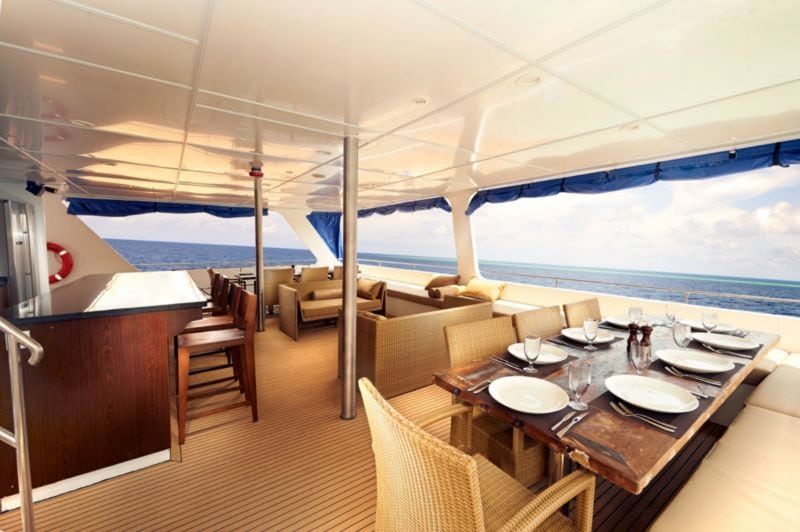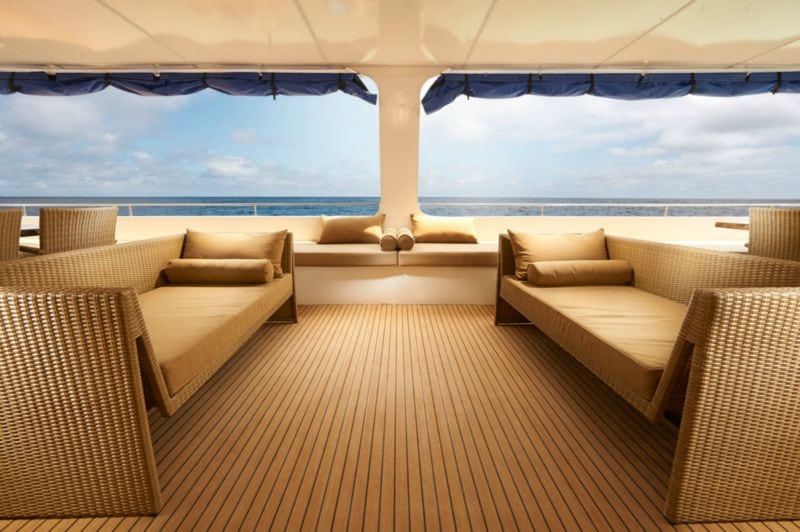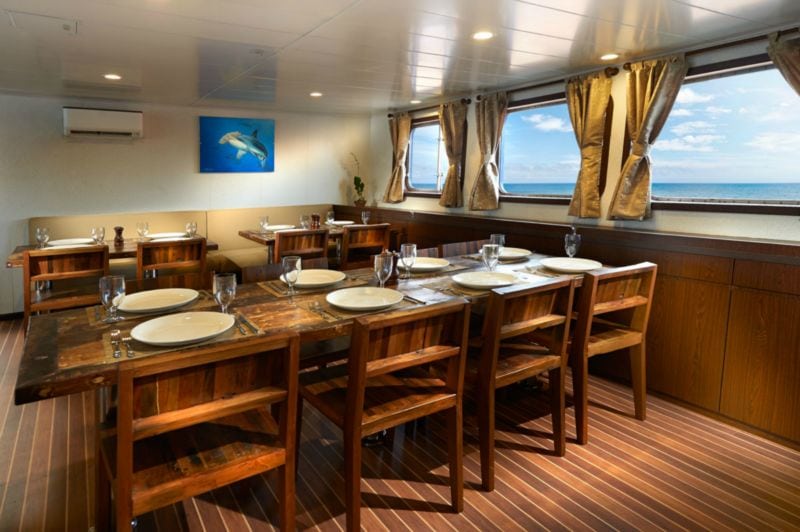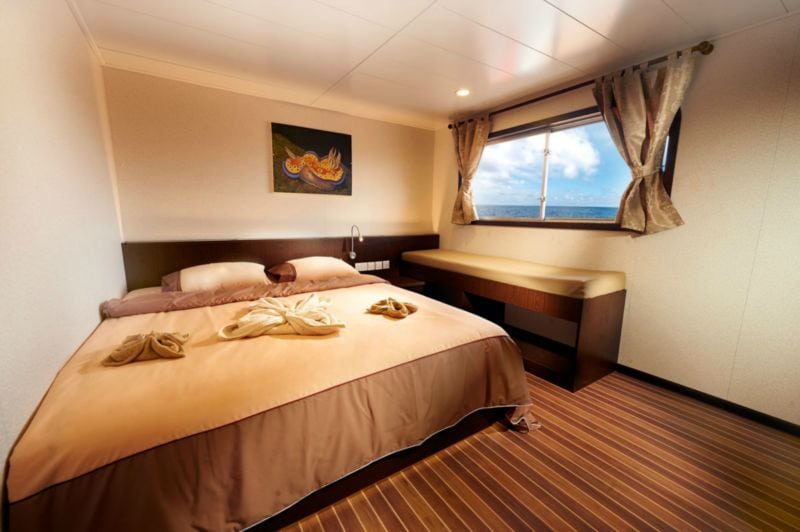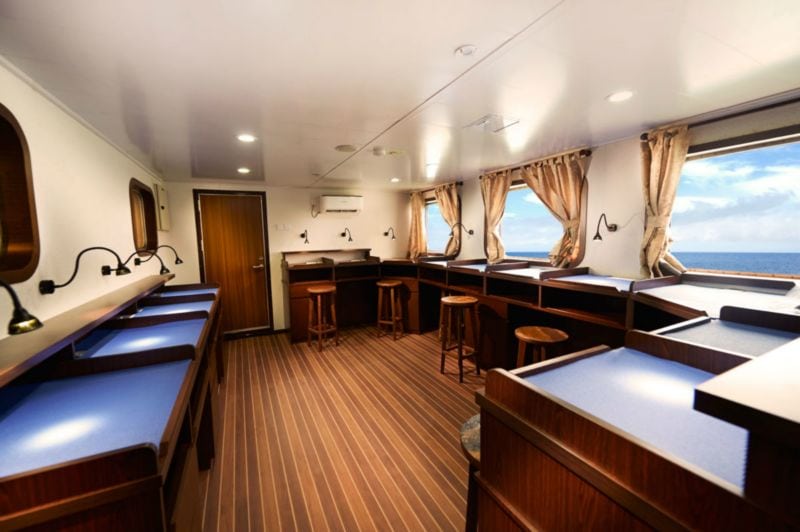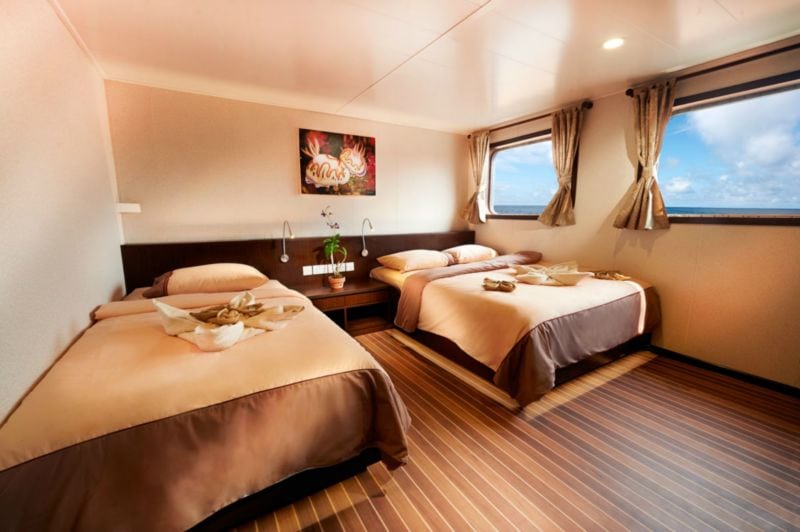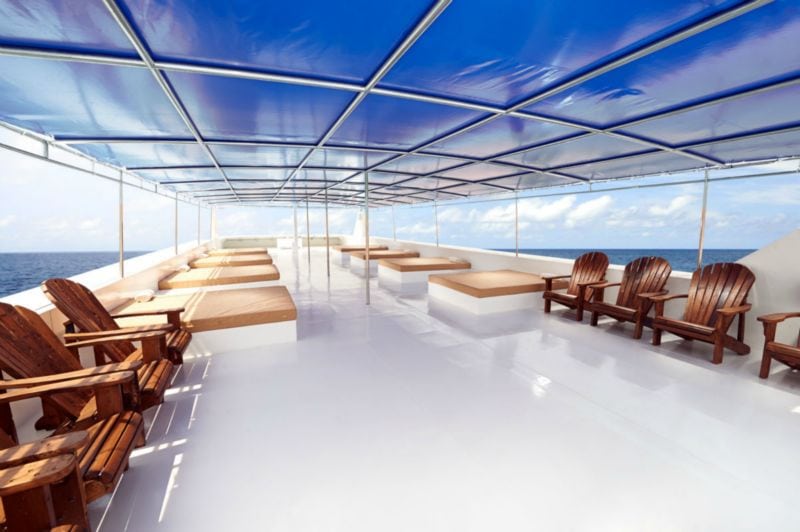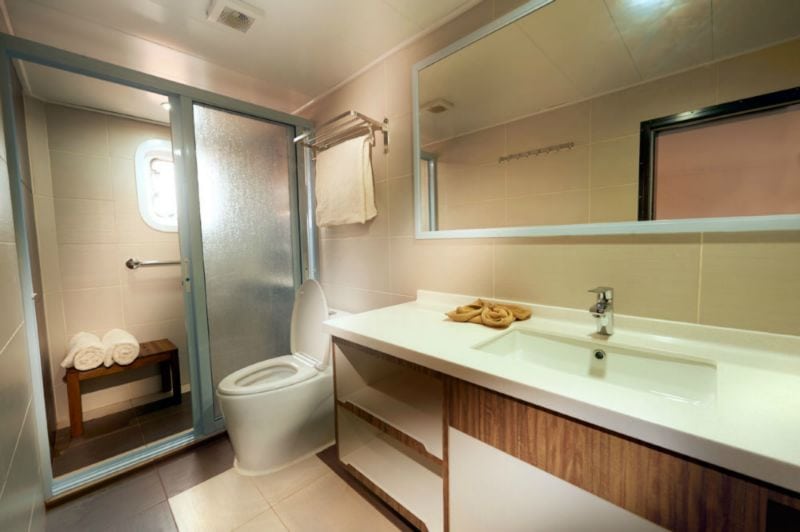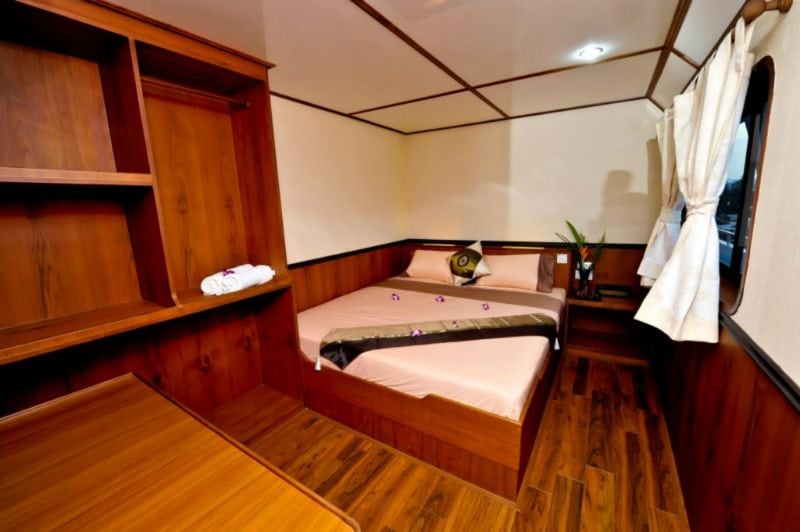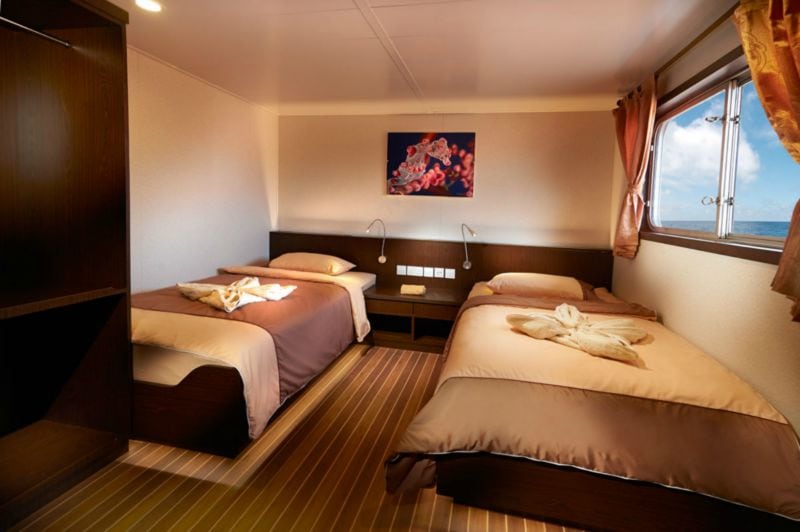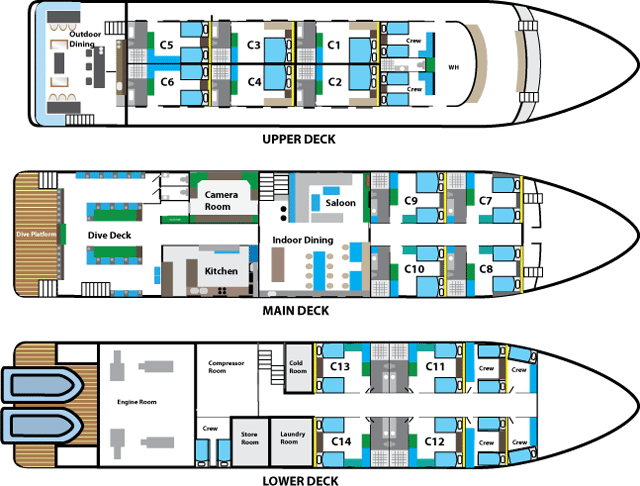 Accommodation & Facilities
Blue Manta accommodates up to 18 divers in 14 beautifully furnished double/twin en suite cabins, each average 20m2 in size. 6 cabins are located on the upper deck with either double bed (4 cabins) or twin share beds (2 cabins) with window. On the main deck, there are 4 more cabins with window, which can be set up as either twin share or double with a double bed and a single bed. Below deck are 4 more twin share cabins with 2 single beds per cabin and porthole. All twin bed cabins have side by side beds. All cabins have private en suite facilities with toilet, hot water shower and hand basin as well as air-conditioning, wardrobe, mirror, towels and bedding.
Like all steel liveaboards of this standard, Blue Manta is air-conditioned throughout. There is an open outdoor alfresco dining area on the upper deck as well as an indoor dining area and spacious salon on the main deck. The main deck also houses the dive deck which offers ample room for everyone to gear up and an indoor dry camera room. Individual rinse tanks are available as well as a wide outdoor work table. The Blue Manta is equipped with camera-friendly facilities, designed for the most avid underwater photographer.
The onboard services include two masseuses (complimentary 30-minute massage per trip), housekeeping and laundry, as well as personal sea-safe tracking devices, radar, GPS, VHF radio, EPIRB. Beverages such as coffee, tea, drinking water and soft drinks are offered free of charge. Beers and wine are for sale. Meals on board are a blend of Indonesian, Thai and Western cuisine served buffet-style. With no fewer than 5 meals a day, you will be filled and satisfied with an extensive range of treats for your taste buds.
Electricity is 220V. All cabins have 3 pin and 2 pin sockets. The communal areas have mostly 3 pin but adaptors are available for 2 pin appliances. The camera room on the dive deck has direct access to two 3 pin power sockets.
Location
The departure and arrival ports vary with itinerary.
What to expect
Blue Manta offers Nitrox, high-quality and well-maintained rental dive equipment, 12L and 15L aluminium tanks with international fittings (DIN adapters available), and weights. There is a 20,000L fresh water tank and two water makers which make 20 tons of fresh water per day. There are three 6.5m dive tenders and the 22 strong crew includes 2 western dive instructors and 4 local dive masters. The guide to diver ratio is generally 1:4.
Selected dive courses are available on-board: Nitrox, Advanced OW, PADI Wreck diver or digital photography.
On Blue Manta each diver is provided with a SeaSafe personal radio beacon system. This small transmitter is a self-contained and stand-alone tracking and location system, clipped to your BCD. If those currents washed you too far from the Blue Manta, a simple push of a button on the unit alerts the crew, so they can come and get you.
Dive regions
In Komodo you can discover some of Indonesia's most biodiverse and healthy reef systems; submerged pinnacles and stunning fringing coral reefs, Big Fish, adrenaline pumping currents, sharks, mantas & dolphins in crystal clear waters provide a sensory overload for first-time visitors. Amazing Macro discoveries such as pygmy seahorses, frogfish and nudibranchs galore provide secret delights for photography enthusiasts. Komodo really does have something for everyone, including stunning scenery above and below the waves and a walk on the wild side with the world's largest lizard, the infamous Komodo Dragon.
Raja Ampat or 'Four Kings' is a true divers paradise, a wonderland lost in time, incredible natural beauty dominates above and below the blue waters; steep jungle-covered limestone islands, stunning white sand beaches, hidden lagoons, and dense mangrove forests combine to create over 9.8 million acres of National Park. Underwater more than 1000 types of reef fish, 540 types of corals, sharks, Rays, turtles, dolphins and even whales call the park their home. This is the holy grail of dive destinations, truly one of the most beautiful places in the world.
Ambon, Banda Sea & Forgotten Islands are visited between the Komodo and Raja Ampat seasons, when the KM Blue Manta embarks upon once-in-a-lifetime voyages across the Banda Sea, visiting the famed 'Spice Islands' to discover diving Nirvana in the 'Ring of Fire'. This is diving as it was meant to be enjoyed, true exploration, away from the crowds, discovering dive sites that very few divers will get a chance to explore; discover unique and spectacular scenery both above and below the waves where volcanic activity has created a remote island paradise, only accessible to divers via liveaboard. With their unmatched experience in these areas, Blue Manta can show you just what an incredible destination this is and take you to their 'Hammerhead hot spots' where at certain times of the year, schools of more than 200 Hammerheads have been witnessed. Besides the schools of Hammerhead sharks, you will find pristine coral reefs, unique local seaman in Alor, the great show of volcano eruption in Komba, tons of sea snakes in Manuk and a visit to the spice island in Banda Neira.
Itineraries:
Raja Ampat (Nov-Apr) 7 & 8 night trips around the very best of Raja Ampat & Misool
Komodo (May-Sep) 8-night trips alternating start/finish between Bali & Labuan Bajo
Crossing trips (Apr/Sep-Oct) to Maumere, Alor, Banda, Ring of Fire, Ambon, Forgotten Island, Triton Bay and more; all stunning beautiful both above & below the water
Staying Connected
The Wi‐Fi is connected via Satellite and with 24/7 Wi‐Fi connection, you can be connected with your family and friends anytime, anywhere. Internet service costs US$50 per trip.
You should know…
Please bring enough cash to pay for any trip extras. Currencies accepted for payments are USD, Euro, Singapore Dollars and Indonesian Rupiah. Note: Banknotes must be in good order, not worn or torn and unmarked. Visa and MasterCard payments are also accepted and incur a 4.5% processing fee.
We think…
The boat is built for sea-worthiness. It is an ultimate liveaboard for long-haul cruises and blue water crossing trips. She is dependable for comfort, convenience and a stress-free dive holiday.
Trip dates & Availability



Blue Manta - Inclusions, Exclusions and Extras
Included
Accommodation, all meals incl. snacks, hot beverages, coffee, tea, up to 4 dives per full dive day, tanks, weights, air fills, dive guide, transfers on charter days
Single occupancy surcharge +10%
Excluded
AUD
USD
National Park fee Komodo (6 nights)
160
USD
|
160
National Park fee Komodo (7+ nights)
180
USD
|
180
National Park fee Raja Ampat
220
USD
|
220
National Park fee Ambon, Banda, Ring, Raja, Saumlaki
250
USD
|
250
Optional Extras
Full set of dive gear rental (per day)
54
USD
|
54
Nitrox fills (per day)
15
USD
|
15
15L tank (per day)
12
USD
|
12
Dive light (per day)
12
USD
|
12
Important Information
This liveaboard's prices are in USD. The AUD prices shown are based on the current exchange rate. The price paid in AUD will be based on the actual exchange rate at the time any payments are made.
Special payment and cancellation terms apply for this operator.
Fuel surcharges if applicable at time of travel
Pricing / availability enquiry