Overview
The MSV Amira Liveaboard offers dive cruises to the Komodo region, incredible Alor & Wetar, the fabulous Banda Sea, the Forgotten Islands of Tanimbar, Triton Bay and to Raja Ampat, the global centre of marine biodiversity. The Amira Liveaboard has an overall length of 52m (170ft) and is one of the liveaboards built in Sulawesi in traditional Phinisi style. She has been sailing the Indonesian Archipelago since December 2010.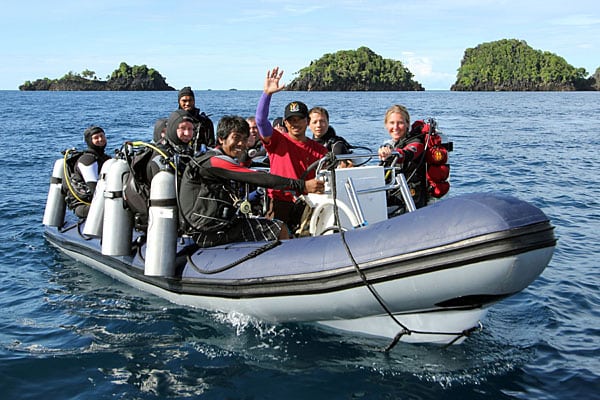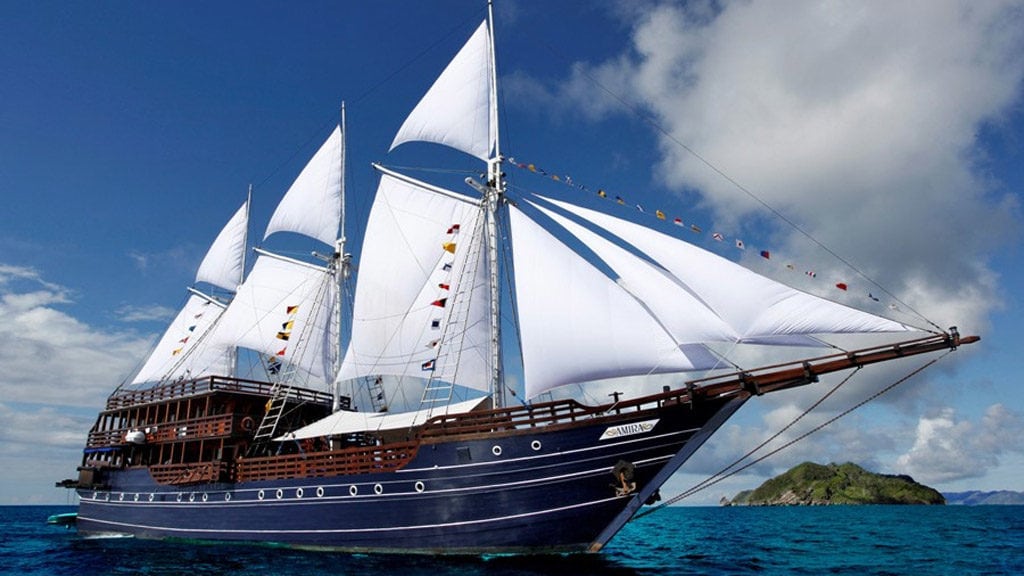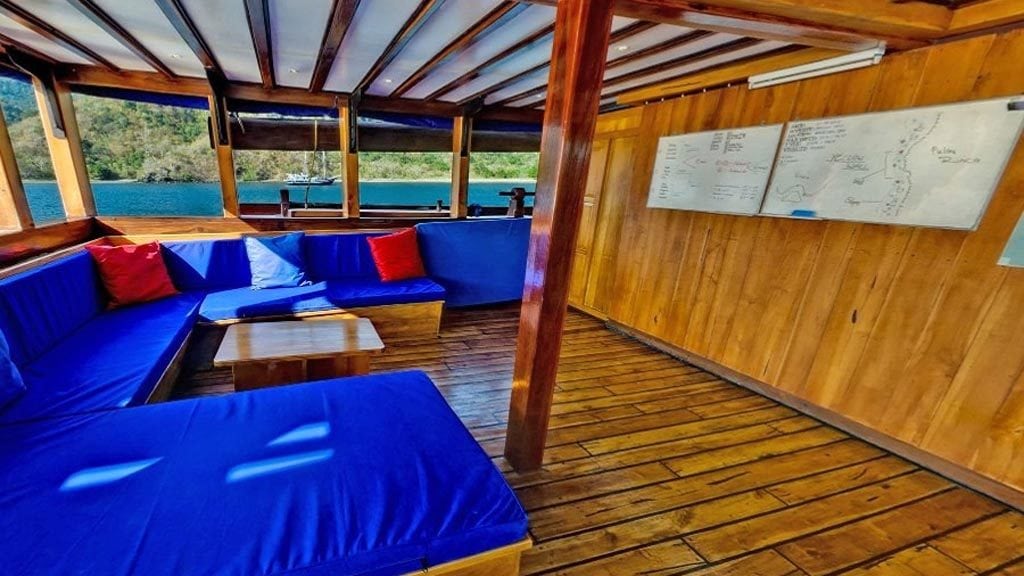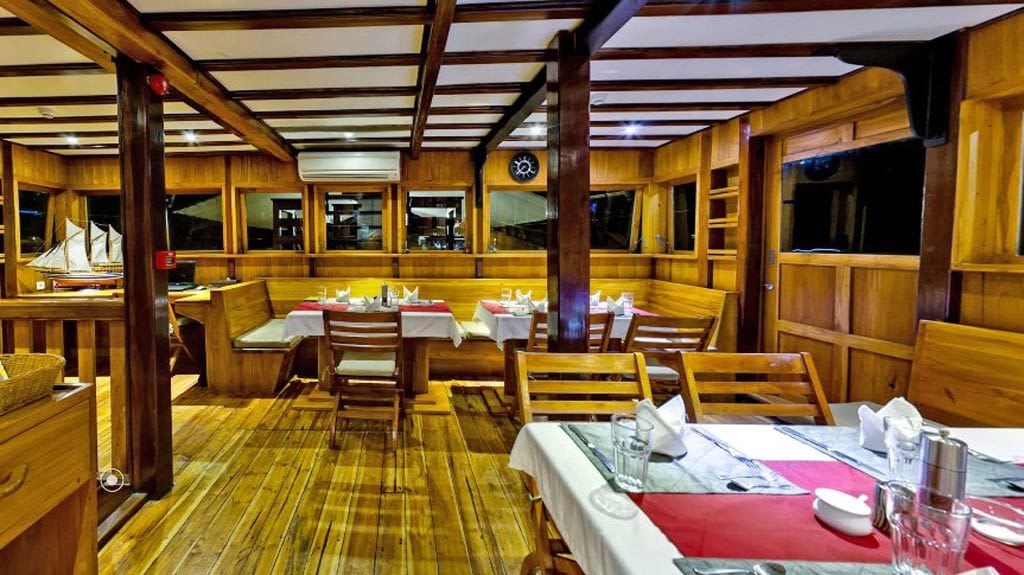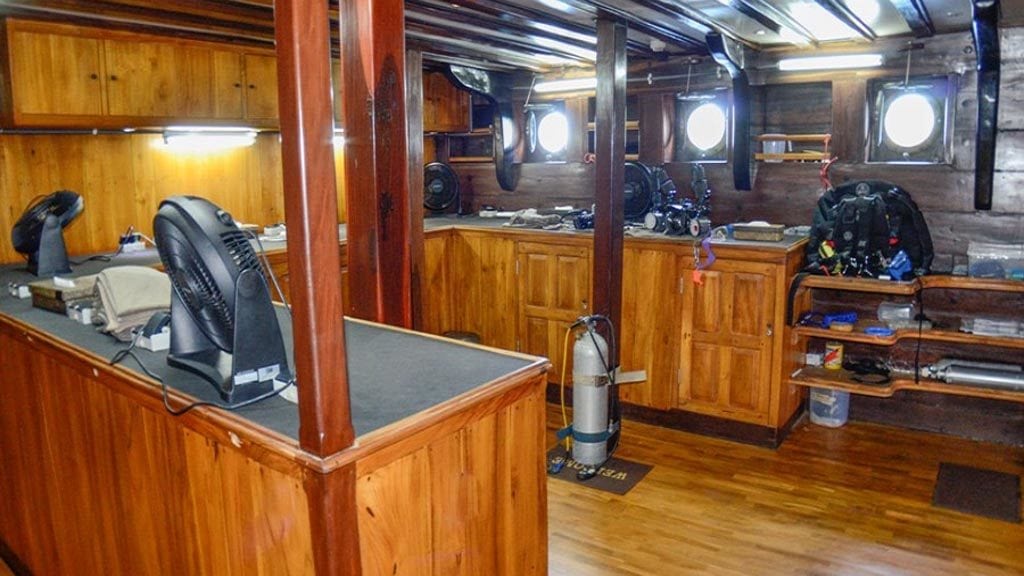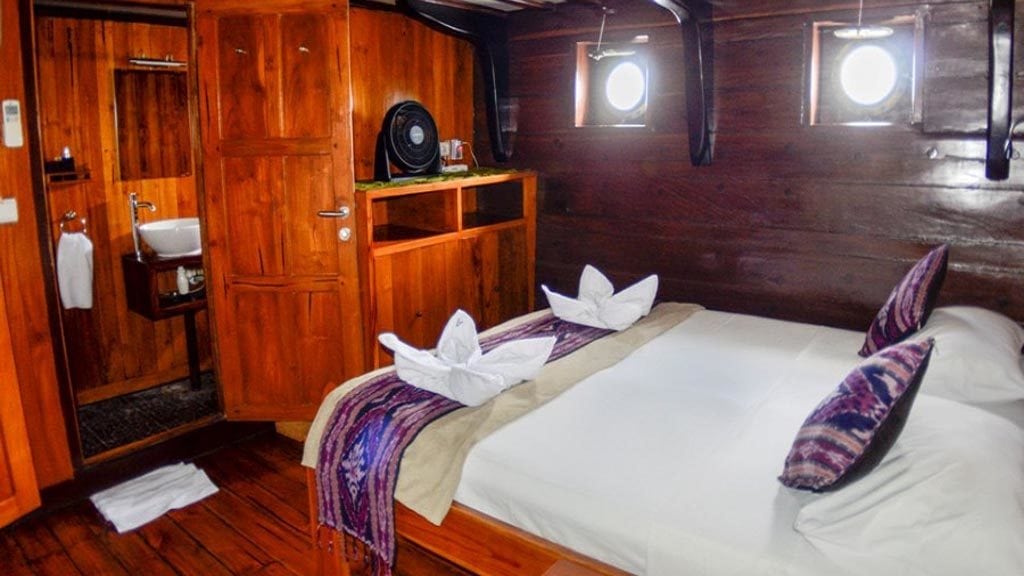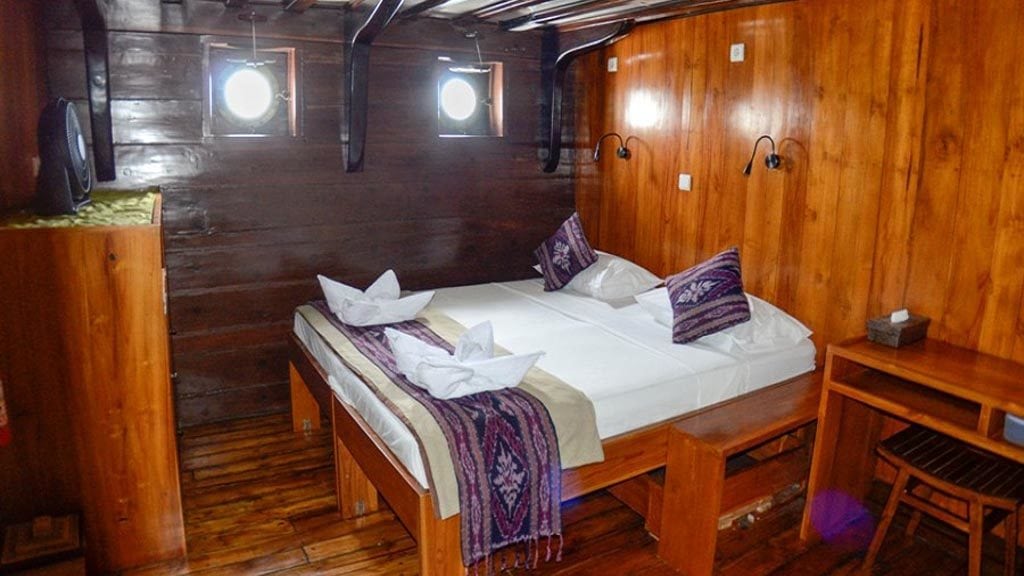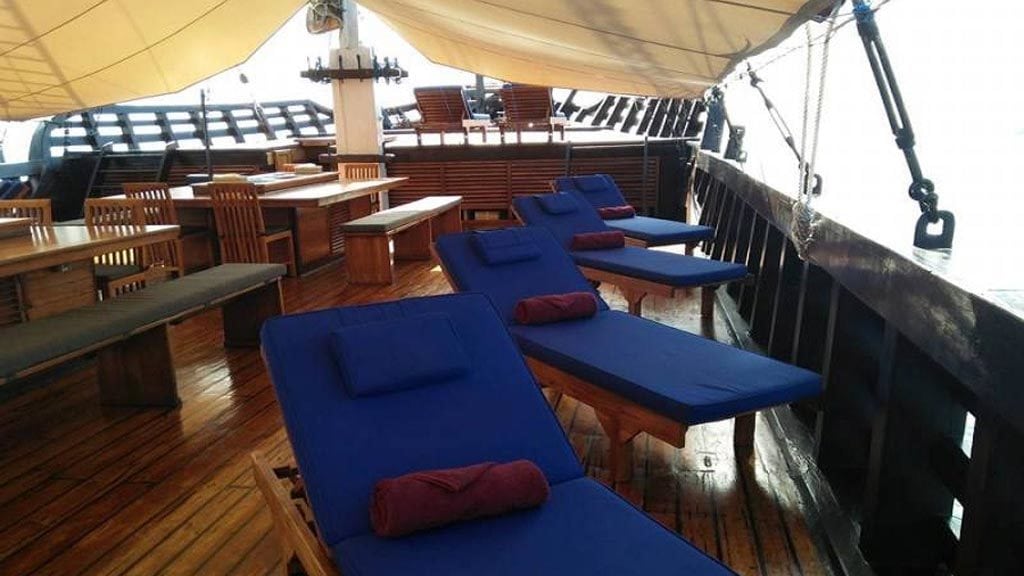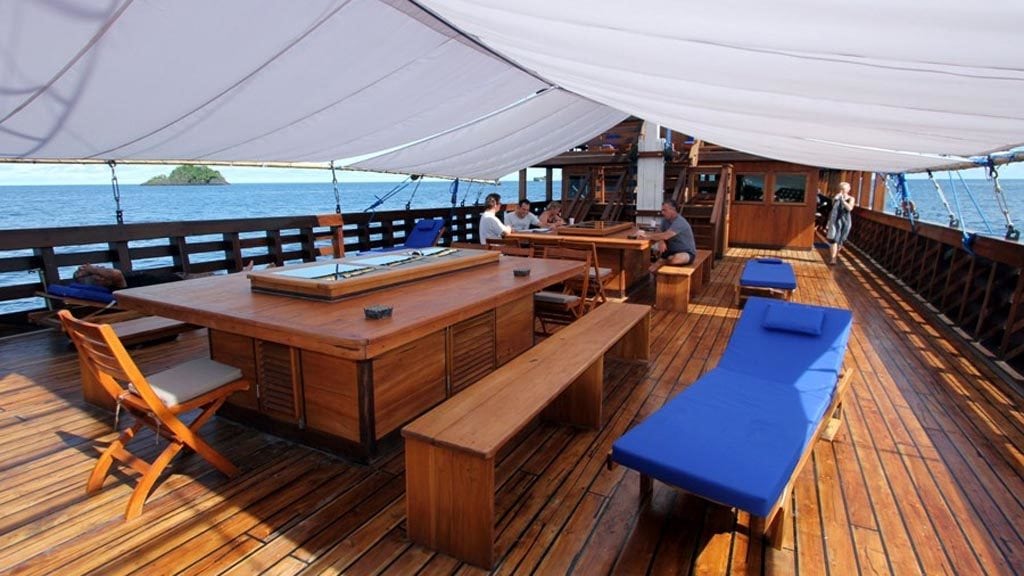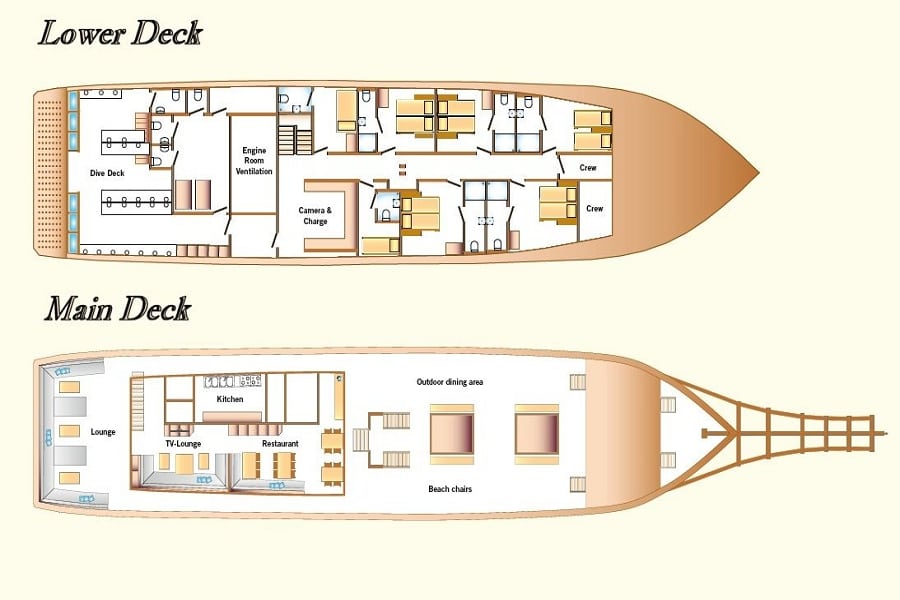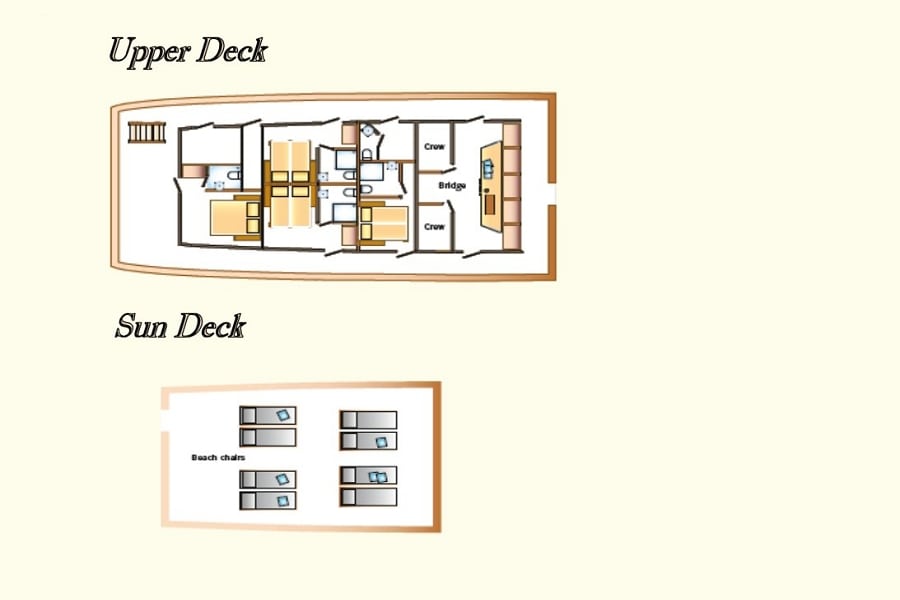 Accommodation & Facilities
Amira features accommodation for up to 19 dive guests in 5 double cabins on the lower deck (14m²), 1 single cabin on the lower deck (10m²) and 4 double cabins on the upper deck (13m²). All cabins have their own private shower and toilet facilities. All double cabins can be set up as either twin or double bed cabins.
The 4 upper deck cabins (21, 23, 24, and 25) are air-conditioned and have several windows. The wheelhouse and the captain's quarters are also situated on the upper deck. A large sundeck offers and an ideal place to sunbathe and relax.
On the main deck, a comfortable, covered lounge invites you to relax between dives. The restaurant comfortably seats 20 guests and has a comfortable TV and lounge area. There is also a coffee corner with espresso/cappuccino machine. The large front deck is equipped with deckchairs and a shade canopy for hot days.
The lower deck houses cabin 11 (single), 14, 15, 16, 17 and 19, a camera room and the dive deck with dive platform which is covered for the convenience of the guests (and easy entry to dinghies) – and a highlight on the vessel.
Location
MSV Amira departs from a number of different destinations depending on itinerary
What to expect
A regular dive day on the Amira consists of usually four dives (3 during day time, 1 at night). Exceptions may occur (e.g. first and last day of a trip, crossings, and unfavourable weather conditions). An extensive dive briefing takes place on the nature of each dive site before heading out to sea with the three dinghies. Every dinghy is equipped with a radio transmission system, emergency oxygen tanks and each diver wears an ENOS (electronic emergency & location system) homing device. A carefully chosen and well trained dive guide is assigned to every group (4-5 divers). Nitrox and 15L tanks are available at additional cost. Two Poseidon Discovery MKVI are available for hire.
Every diver is assigned a personal space on the liberally designed and fully covered dive deck. The equipment remains mounted on the tank during the whole trip and will be filled on site. There are rinse tanks available, spaces to place cameras etc., and there is drinking water on deck. The camera room is spacious and easily accessible. The dive deck also features 2 showers and toilets.
Dive regions
Amira includes some of the best dive spots in Indonesia in her schedule including:
Alor – Every spring and autumn during the adventure dive tour, Amira visits dive sites on Alor and Flores, the snake island of Gunung Apu, Lucipara and Ambon. This trip is an extraordinary experience with many sea snakes and great muck diving.
Banda Adventure –the attractions on this trip are the muck diving in Ambon, dives in the Banda islands which are steeped in history, as well as the corals and macro creatures at Misool. These cruises are on offer twice a year in May and October.
Ceram Sea – Underwater highlights of Misool and explorative diving in the north of Seram and west atolls of Halmahera
East Halmahera
Forgotten Islands
Jewels of Indonesia
Komodo – Komodo is surely Indonesia's most famous National Park. Besides a visit to the famous Komodo dragons during a land excursion, there are also a host of infamous dive sites.
Long adventure – A longer cruise with the highlight being the diving in Raja Ampat (Kri as well as Misool), Triton Bay and the Banda-Sea (Koon and Ambon).
Raja Ampat – West-Papua is without a doubt Indonesia's best dive area and one of the best dive destinations worldwide.
Triton Bay
All trips have been carefully chosen, planned and designed taking into account the experienced crew's recommendation, seasonal and weather patterns, and a desire to offer guests great diversity.
You should know…
All onboard purchases (bar bill, Nitrox, etc.) have to be paid either in cash Indonesian Rupiah or with credit card (MC or Visa only). Only crew tipping can be paid in USD, Euro or CHF cash. For all other purchases, the crew can no longer accept any foreign cash currency as it is prohibited by a new Indonesian law.
Staying Connected
Many of the trips are in remote locations and neither mobile phone coverage nor internet service is available.
We think…
The service on board is excellent and the crew is friendly and goes out of their way to assist. The variety of excursions offered in all parts of Indonesia stands out. Amira is a great choice for those who want to explore various, very remote dive areas in this part of the world.
Trip dates & Availability



Amira - Inclusions, Exclusions and Extras
Included
Accommodation as specified, all meals, selected beverages (excl. beverages in cans, containers and bottles), up to 4 guided dives per full dive day, tanks, weights, air fills, use of ENOS, multilingual dive guides, all offered excursions, transfers on charter days at location
Single supplement surcharge is 75%
Excluded
AUD
USD
EUR
Komodo National Park & Port fees
225
USD
|
225
|
Raja Ampat/Banda Sea National Park & Port fees & Fuel Surcharges
400
USD
|
400
|
Triton Bay/East Banda Sea, Misool/Triton National Park & Port fees & Fuel Surcharges
545
USD
|
545
|
Forgotten Islands National Park & Port fees & Fuel Surcharges
615
USD
|
615
|
Maluku Sea National Park & Port fees & Fuel Surcharges
625
USD
|
625
|
Jewels of Indonesia National Park & Port fees & Fuel Surcharges
560
USD
|
560
|
Cenderawasih Bay National Park & Port fees & Fuel Surcharges
735
USD
|
735
|
Optional Extras
Full set of dive gear rental incl. computer (11 nights)
250
USD
|
250
|
Nitrox fills (11 nights)
160
USD
|
160
|
Nitrox fills (14 nights)
208
USD
|
208
|
15L tank (11 nights)
150
USD
|
150
|
15L tank (14 nights)
195
EUR
|
|
195
Important Information
This liveaboard's prices are in EUR and USD. The AUD prices shown are based on the current exchange rate. The price paid in AUD will be based on the actual exchange rate at the time any payments are made.
Special payment and cancellation terms apply for this operator.
ALL ONBOARD purchases have to be paid in either INDONESIAN RUPIAH or via Credit Card (VISA and MC only ). Only CREW TIP can be paid with foreign currency.
Pricing / availability enquiry