There's nothing quite like diving with mantas. Is it because they are one of the largest fish in the ocean? Is it their inquisitiveness? (Mantas have the largest brain to body size ratio of any living fish). … Is it because these enormous creatures are completely harmless (unless you happen to be a plankton)?
It's probably the way they effortlessly, gracefully (and apparently socially) soar through the blue water precisely in the way that we divers can't. Watching them barrel, over and over whilst feeding, and whilst courting, glide through the ocean on a love train simply makes you glad that mantas exist. Here are 5 best places to dive with Manta Rays, from the Maldives to Raja Ampat.
1. Hanifaru Bay, The Maldives
The Maldives, being a string of coral atolls surrounded by deep deep water, attract lots of pelagic creatures, including turtles, whale sharks, huge aggregations of nurse sharks and one of the world's largest aggregations of mantas: Hanifaru Lagoon at Baa Atoll. The atolls in this region are best dived between July and October when the new moon creates large tidal flows and soupy plankton blooms, food for ocean giants. Dozens, and sometimes hundreds, of manta rays, gather in this lagoon and are often joined by several whale sharks.
2. Komodo, Indonesia
A new study conducted over several years in Komodo National Park, with over 4000 manta sightings uploaded by citizen scientists, reveals just how important the protection of waters within Komodo National Park really is. A collaborative effort between citizen divers, scientists from the Marine Megafauna Foundation (MMF), and Murdoch University, reports a large number of manta rays in the waters of Komodo National Park, Indonesian, a UNESCO World Heritage Site, suggesting the area may hold the key to regional recovery of the threatened species. 1085 individual mantas were identified in the survey, with 95 per cent of data contributed by citizen scientists – divers and snorkelers visiting the region between 2013 and 2018.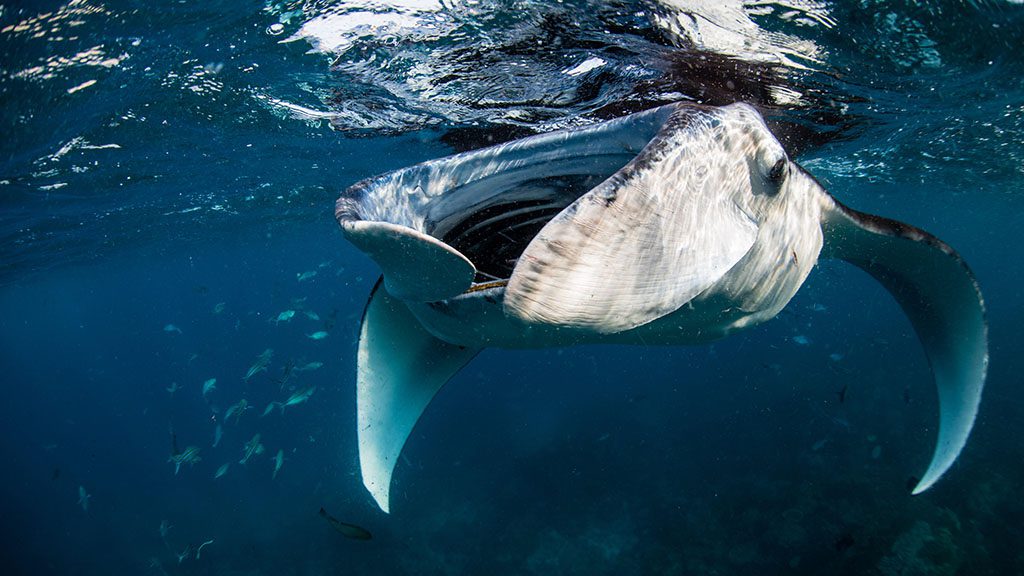 There are several manta aggregation spots in Komodo, and on a liveaboard trip with Mermaid I or Mermaid II, Blue Manta, Pindito, Moana – to name just a few – you are guaranteed an encounter. For a resort-based stay, Komodo Resort is also a great option.
3. Raja Ampat, Indonesia
There are a coupe of well-known manta dive sites in Raja Ampat but the best-known in Manta Sandy, located to the south of a large reef between Arborek Island and Mansuar Island towards the Dampier Strait's western end. It is also known as Manta Site or Manta Mantra. This site is very rich in plankton and also serves as a cleaning station.
4. Lady Elliot Island, Australia
Lady Elliot Island is a destination well known for manta activity – indeed, the island advertises itself as 'Home of the Manta' and is used frequently as a base for the research team at Project Manta. There are mantas at Lady Elliot all year round with numbers peaking between mid-May and mid-August. Mantas can be seen whilst snorkelling as well as diving, and there are a couple of known cleaning stations, around Lighthouse Bommie where mantas are reliably sighted. The Resort is also deeply involved in manta conservation and they offer lots of information about mantas.
5. German Channel, Palau
You'd expect Palau to have mantas, because let's face it – Palau has everything. That's probably because they had the foresight to ban commercial fishing in all their territorial waters creating a massive Marine Sanctuary.
They also have a fringing reef close to deep ocean water and particularly serendipitous marine geography that funnels nutrient rich waters into the mouth of the German Channel. It is for this reason, that we spent the greater part of 40 minutes glued to the scene as a squadron of half a dozen mantas performed a veritable 'cirque de marine' – gliding, diving, barrelling, almost deliberately buzzing the divers assembled at German Channel to watch the show.
The Situation for Manta Rays
It was only as recently as 2009 that mantas were recognised as two distinct species: the Reef Manta Ray (Manta Alfredi) and the Giant Manta Ray (Manta birostris). In 2011 mantas were classified as Vulnerable. As a result, manta rays are now protected in Hawaii, Mexico, Ecuador, the Maldives, the Philippines, Yap and New Zealand.
What can you do to improve the chances for manta rays?
Divers and snorkelers can contribute to a global citizen science project by sending photos of mantas you have encountered to Manta Matcher, an international manta database managed in partnership with the Marine Megafauna Foundation.
It's important to be responsible when snorkelling or diving with manta rays by following these simple rules:
Enter the water quietly so you don't scare them away
Leave plenty of open space for the manta to manoeuvre (taking into account your bubbles if you are diving). Mantas, like sharks, will not willing swim through a curtain of bubbles.
Stay calm and be patient – do not chase a manta ray, stay still and let it come to you. If diving, control your buoyancy and stay low, close to the seafloor.
Do not disturb their feeding or cleaning behaviour – position yourself on the edge of the current line and let the mantas do their thing. Think about how you might feel being watched whilst enjoying a meal, or taking a bath.
Do not touch a manta ray, even if close enough. Touching a manta may remove the protective mucus on its skin and the manta may become prone to infection and disease.
By following these reasonable steps, you can ensure that the manta cleaning stations you observe stay open, and that the mantas are cleaned and stay healthy, giving them a better chance of survival.