Introduction
Location
Accommodation
Diving
Dive Sites
Pricing
Enquire Now
The Carpe Diem liveaboard is a modern comfortable dive boat built in 2008 in the Maldives with cabins refurbished in late 2016. The 35m (115ft) vessel offers plenty of space for a maximum of 20 guests, with fully air-conditioned inner decks, and plenty of sun and shaded areas outside and on the top deck. As with all diving in the Maldives, the Carpe Diem liveaboard is like a luxury floating hotel, whilst all the diving and dive gear takes place from its well-appointed dhoni. The Carpe Diem liveaboard offers a variety of itineraries, heading both north and south of Malé on 7 and 10-night cruises.
We think…
The Carpe Diem is a beautiful and comfortable boat – the perfect platform to explore the Maldives.
The Carpe Diem liveaboard has a variety of 7 and 10-night itineraries. In the event it is not leaving from Malé, the boat will connect with an internal flight from Dharavandhoo (northern itinerary), or Laamu (southern itinerary).
Accommodation
The Carpe Diem liveaboard has 10 generously sized cabins of different standards spread over the three decks: one suite and deluxe cabin on the upper deck, two doubles on the main deck and six standard cabins on the lower deck. All cabins have individually controlled AC, safety deposit boxes and their own modern private bathroom.
The very spacious Suite (named Sun) has a king size bed, a wide flat screen TV plus DVD/MP3 player and an ample closet plus storage space. It's five windows give beautiful views across the ocean.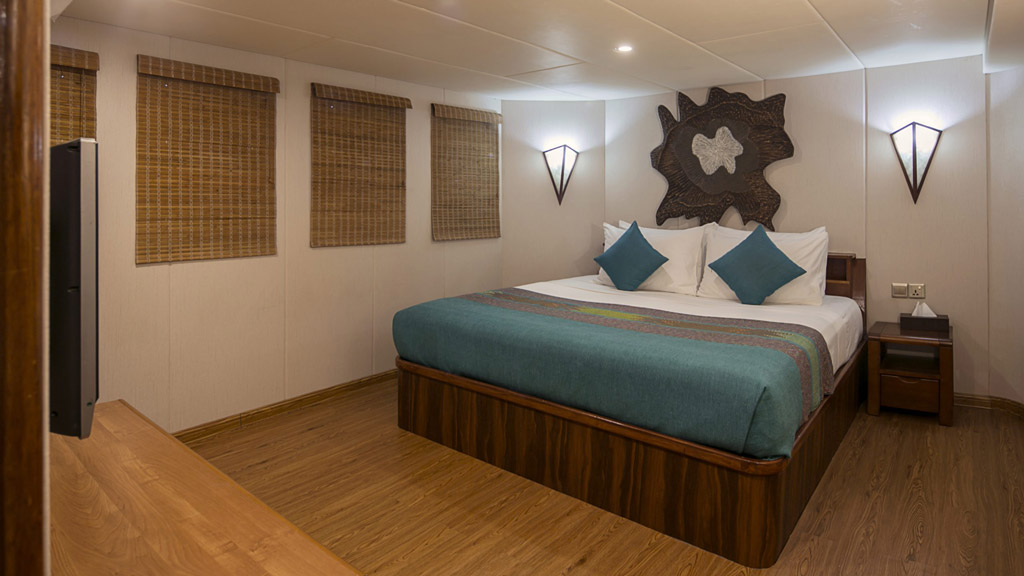 The Deluxe Cabin (named Star) has a queen size double bed, flat screen TV plus DVD/MP3 player and three windows overlooking Maldives blue waters.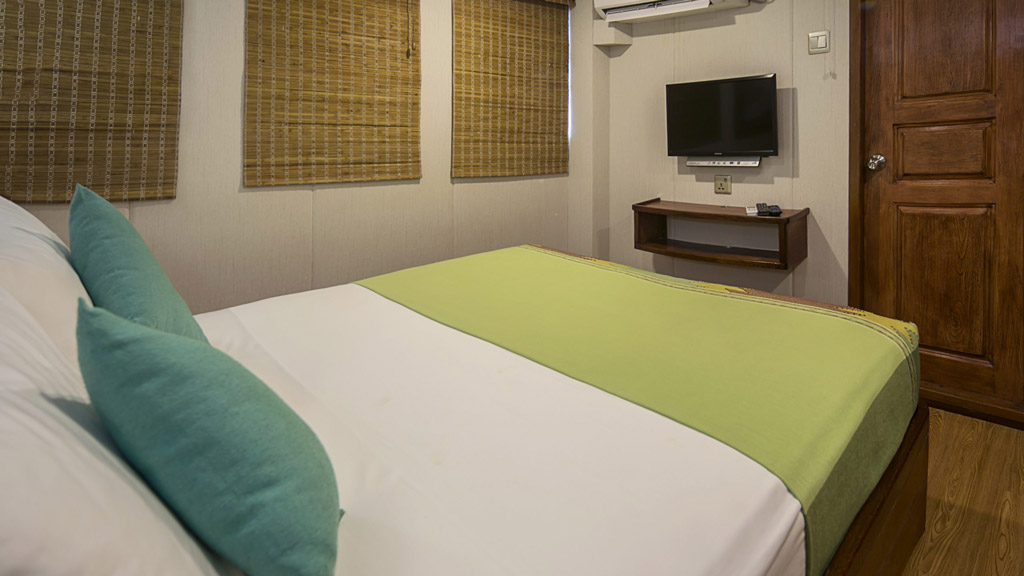 The double cabins on the main deck (named Sea and Sand) also have queen size double beds, TV plus DVD/MP3 players and a window view.
Four of the standard cabins have two single beds which can be converted into king size double beds, and two standard cabins each have a twin bed and bunk bed and can only take twin sharing occupancy. All standard cabins have portholes.
Facilities
The stylish lounge has comfortable seating, where you can help yourself around the clock to coffee, tea and water. There's also a small library and a TV and DVD/MP3 players for entertainment. Throughout the vessel, there are plenty of electricity outlets of the 3-pin UK type.
The Carpe Diem Liveaboard has a huge sun deck, which is partially shaded and has a sitting area in the middle as well as loungers.
Meals are usually served al fresco buffet-style on a shaded part of the deck.
Dive operation
The diving takes place on the spacious dive Dhoni, which is equipped with a toilet, two warm deck showers, first aid equipment and oxygen. All dive equipment is stored on the Dhoni.
So that guests are not disturbed by the compressors when the tanks are being filled, the dive Dhoni moves away and downwind from the mother ship.
The Dhoni is crewed by a team of three divers, led by an experienced PADI Instructor. Three dives per day are offered on dive dives with a night dive on offer once a week. Various dive courses, including Nitrox, are offered as well.
Dive area
During the 7day trips, they usually visit dive sites in the South Male Atoll and Ari Atoll. The 10-day trips visit those and additional dive sites in the North Male Atoll as well as parts of Rasdhoo and Felidhu atoll.
Transfers
All guests are met on arrival in Male Airport at 12.30pm and transferred to the vessel and transferred back to the airport early in the morning of disembarkation.
Staying Connected
The Carpe Diem liveaboard provides a medium speed WiFi that works from the local 3G base stations, with connection speed depending on the location of the boat. There's a fee of US$15/20(+GST)pp for the 7/10 night trips respectively.
You should know…
Diving in the Maldives often involves drift dives from the open sea into the shelter of the lagoon of the atoll. Depending on the state of the tide, this can be anything from a gentle drift to something akin to an express train ride. Therefore, the Carpe Diem requires a minimum of Advanced Open Water Diving (AOWD) certification to be able to join all the dives offered during a trip. OW Divers are welcome but will be asked to do their AOWD certification during the trip as otherwise they would be limited to 18m and hence just a few dives. The dive instructor may ask divers to sit out certain dives if he thinks divers are not experienced enough for a particular dive. On special South routings with lots of currents, divers do require a minimum of 100 logged dives and experience with currents.
With three days each day, Nitrox is recommended, and the Nitrox course can be done on board for those wishing to gain that useful certification.
Trip dates & Availability
Carpe Diem Male Extras Payable Locally (as of August 2018)
AUD
USD
Nitrox fills (per week)
100
USD
|
100
Dive gear rental (per week)
220
USD
|
220
Baa Atoll Park fee (paid to park ranger of Hanifaru Bay)
20
USD
|
20
Fuel surcharges Baa Atoll trips (7 nights)
100
USD
|
100
Fuel surcharges Baa Atoll trips (10 nights)
150
USD
|
150
EXTRAS payable at time of booking (as of January 2018)
AUD
USD
Green Tax (per night)
6
USD
|
6
This resort's prices are in USD. The AUD prices shown are based on the current exchange rate. The price paid in AUD will be based on the actual exchange rate at the time any payments are made.

Important Information
Special payment and cancellation conditions apply for this cruise.