Sitting close to the middle of the Coral Triangle, it's no wonder that Papua New Guinea (PNG) has some of the best coral reefs in the world.
With Air Niugini's daily flights from Cairns, Brisbane and Sydney putting Port Moresby just 4 or 5 hours away – it's strange that it's still over looked (or possibly overshadowed by a jungle trek) by many Aussie's.
PNG's small and well dispersed population ensures that there's hardly any human impact, so wherever you're diving, chances are you'll be the only ones for miles around. Even the dive resorts are nicely spread out, with only one or two in each province. This in itself, leads to a form of stewardship, where resorts come to an arrangement with locals, and reefs become protected, in exchange for employment and provisions.
We had a look at some favourites, and which resorts to dive them with.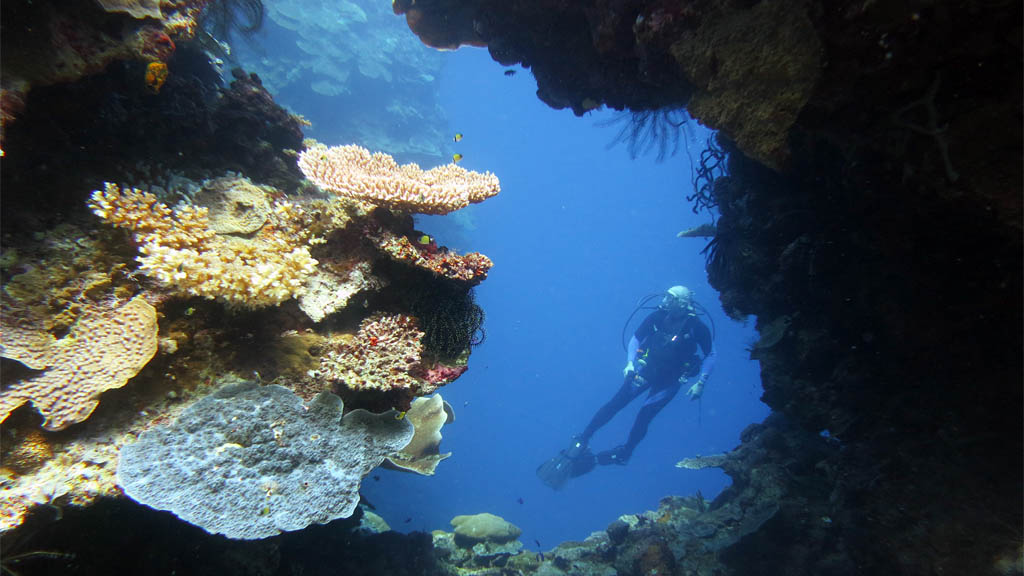 Coral Gardens, Tawali, Milne Bay, PNG
We selected Coral Gardens, out of all the amazing dive sites at Tawali for its panoramic array of colourful hard corals – and its easy access. Even snorkelers can enjoy this gently sloping dive site where corals of every shape, size and colour compete for attention and the reef fish are simply overwhelming in their abundance and diversity.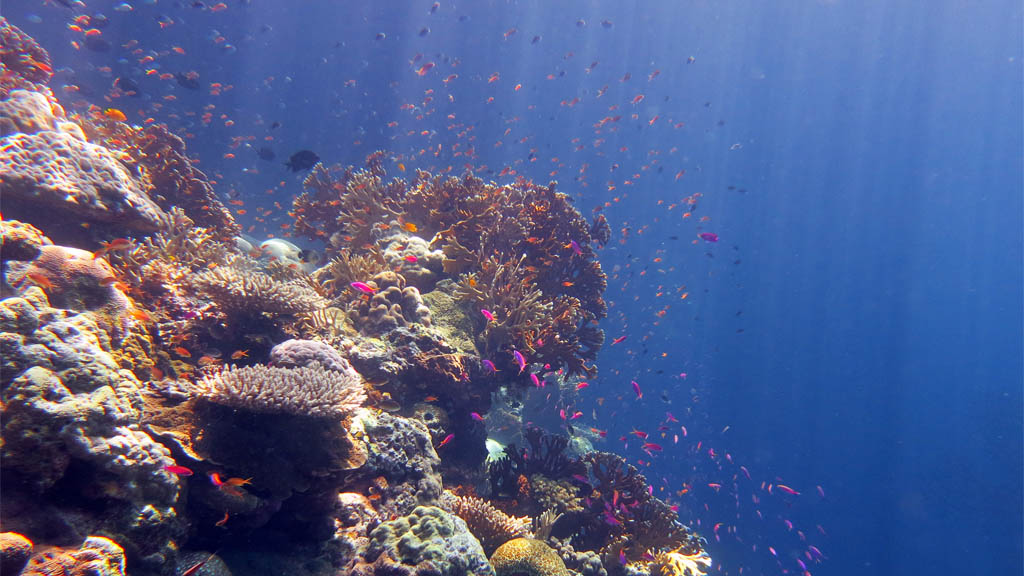 Nearby Deacon's Reef has similar coral cover, but narrower shelf which falls away sharply to the depths, attracting whale sharks, hammerheads and manta rays to the dive site.
Visibility: +30m
Depth: 3-10m
Ability level: all levels including snorkelers
Tawali Leisure and Dive Resort is the only dive resort in Milne Bay. It is modern, spacious and comfortable, with two dive boats and access to dozens of pristine sites.
Cyclone Wall, Oro Province, PNG
Wall diving at its best: from 7m, vertical walls plummet down to beyond 40m then slope away out of sight.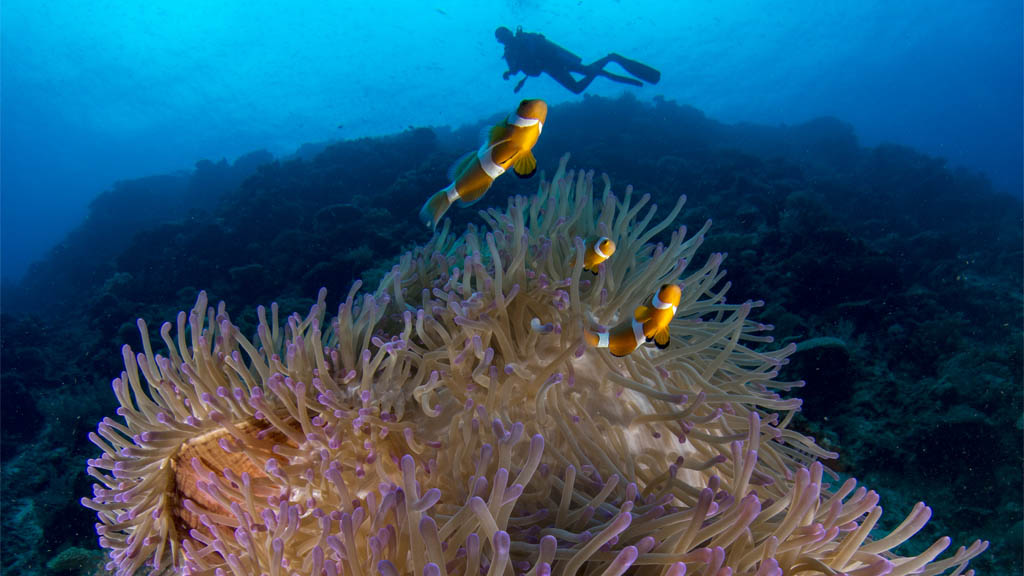 There is plenty to see at all levels: at 20m there are stretches covered in anemones, punctuated by large gorgonians and huge barrel sponges; at 10m hard and soft corals take over playing host to Reef sharks, Triggerfish, Scorpionfish and Anthias; at 7m Hawksbill and green turtles often 'hang' around and finally large brain coral reach up to just under the surface where the crowds of reef fish make for a serene safety stop.
Visibility: +30m
Depth: +20m
Ability level: Open Water (Deep Cert is recommended)
Cyclone Reef has three distinct sites, and all can be dived from Tufi Dive Resort, Oro Province, on whose house reef you'll find a host of Mandarin Fish.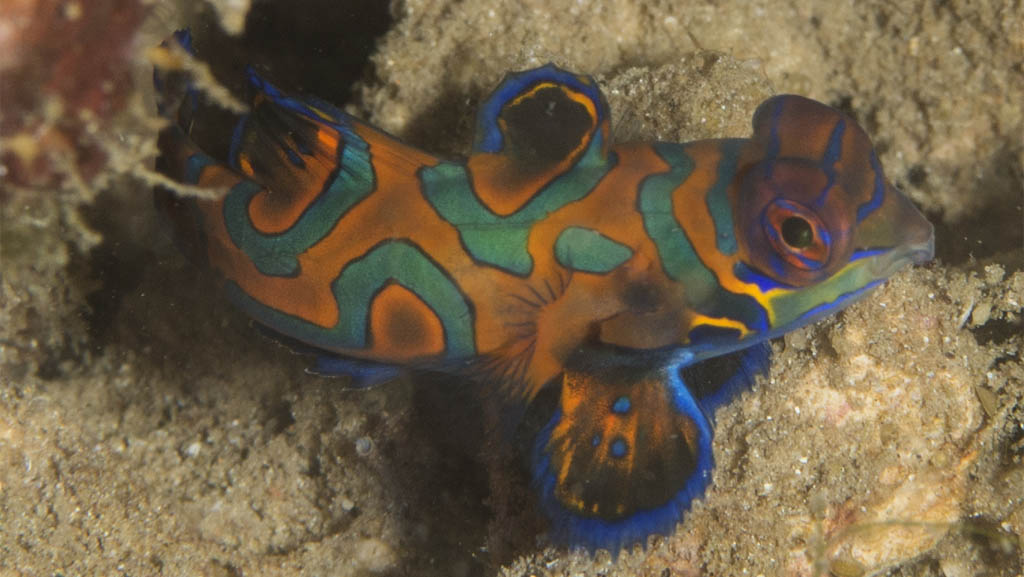 (Tufi photo credits: Heather Sutton)
Albatross Passage, New Ireland Province, PNG
The signature dive site in Kavieng is Albatross Passage, which is the first passage between mainland New Ireland and the island of New Hanover. At an incoming tide, this narrow passage is like fish soup. Eagle Rays, Mobula Rays, big Dogtooth Tunas, Barracudas, plenty of Grey Reef Sharks and loads of other fish can be seen here on almost every dive. The wall itself is overgrown with big fan corals, black corals and sponges and this is the home for small creatures like nudibranchs, Leaf Scorpionfish and Pygmy Seahorse.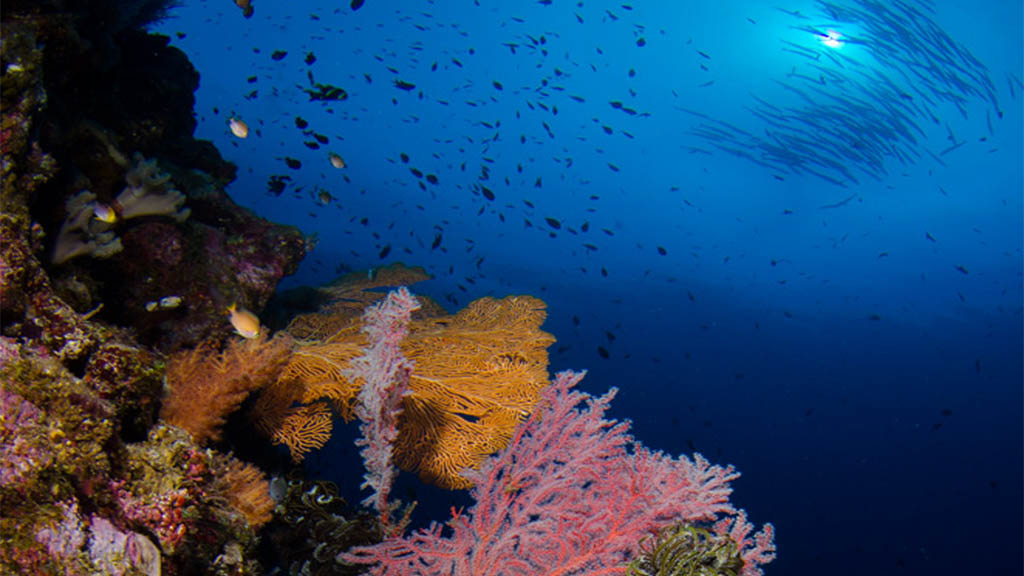 (Photo credit: Nuria Rizo)
Albatross is best dived at an incoming tide which ensures that the visibility is at its best (usually around 30m) and this current also brings in lots of pelagic fish. Average depth of this dive is around 20-25 meters.
On the way from Lissenung Island to Albatross are two more great dive sites: The wreck of an American B25 Bomber from WWII – the Stubborn Hellion – as well as Albatross Muck.
Visibility: 30m
Depth: 20-25m
Ability level: min. Open Water, Advanced recommended.
The easiest access to Albatross Passage is by staying at Lissenung Island, a small private island with four private bungalows, just 20 minutes distant by boat.
Josie's Reef, Kimbe Bay, West New Britain, PNG
Kimbe Bay is home to brilliant coral formations that delight underwater photographers.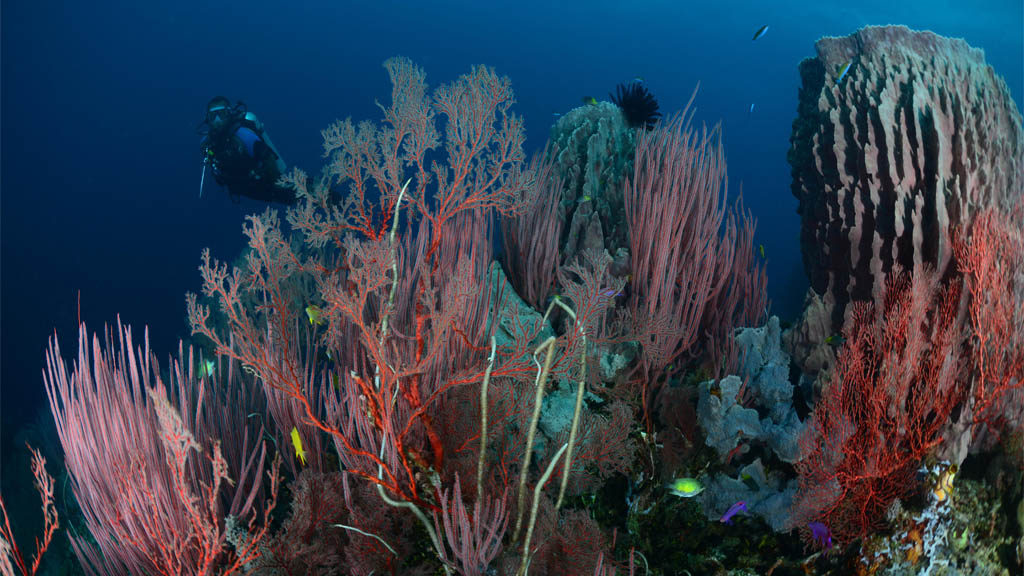 (Photo credit: Sungsoon Choi)
Dramatic sea mounts, coral walls and lush coral gardens are all a feature of Kimbe Bay diving, along with a myriad of fish and invertebrate life. Josie's Reef is a recently discovered site, covered in a dense forest of sponges, sea-whips and corals, and a giant sea-fan larger than a bus.
Visibility: 20-30m+
Depth: 10-30m
Ability Level: Open Water and above
Nestled on the east coast of Kimbe Bay, the Walindi Plantation Resort is the perfect base to explore Kimbe Bay's reefs and islands. Walindi run daily dive excursions complete with surface interval lunches served on a deserted island.
Fathers Reefs, West New Britain, PNG
A long extinct volcanic caldera, Fathers Reefs are a series of offshore reefs located along the northern coastline of New Britain.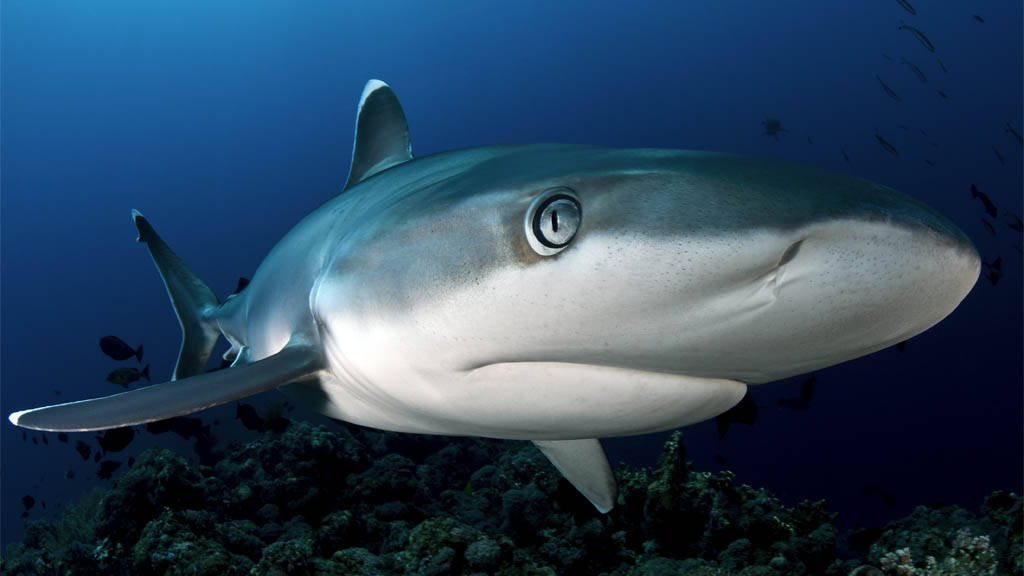 (Photo credit: William Tan)
The underwater topography is startlingly different with dramatic reefscapes, arches and swim throughs. Being offshore, these reefs also attract pelagic activity such as sharks, rays, turtles and schools of barracuda.
Visibility: 20-30m+
Depth 5-30m
Ability Level: Advanced and above
If you're looking to dive around West New Britain in comfort and style, the MV FeBrina is the way to go. This spacious, purpose built liveaboard accommodates just 12 divers, and departs the Walindi Resort for 8-day itineraries regularly throughout the year.
Air Niugini is the best way to get to PNG's Port Moresby (they code share with Qantas) and there are daily flights from Brisbane and Cairns, and almost daily flights from Sydney. Two domestic carriers can get you on to any of the resorts.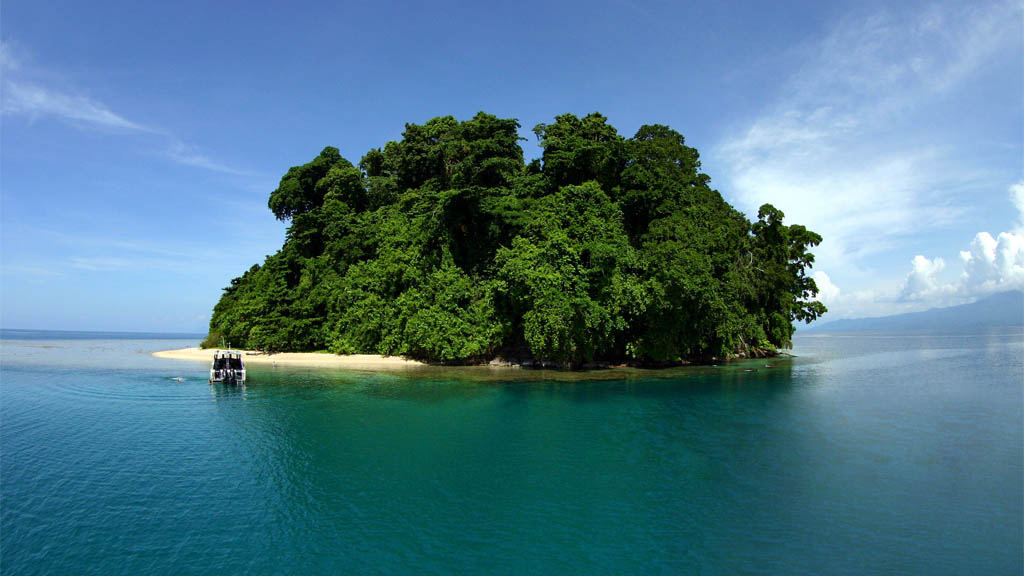 (Photo credit: Tobias Friedrich)
If you liked this post, you might also like Eight Great Dives Site just a Short Hop Away.