The Maldives is famed for its palm-fringed desert islands and luxurious resorts, but underwater, beyond those turquoise lagoons you'll encounter a very different experience.
The beautiful atolls provide a backdrop for a variety of marine life, with current-swept channels and isolated reefs packed with exciting pelagic species – including sharks. While sharks are common throughout the Maldives, there's a handful of iconic atolls and stand-out dive sites which are not to be missed by any shark enthusiast.
1. South Ari – whale sharks
Whale sharks are South Ari's main attraction, with reliable sightings year round. In fact, the South Ari Marine Protected Area that covers the southern tip of the atoll, boasts near-guaranteed whale shark sightings.
While the entire protected area offers high chances of seeing a whale shark, the islands of Maamagili and Dhigurah offer some of the most consistent encounters. While they can be seen year-round, sightings vary with the seasons. From December to April, during the northeast monsoon, the whale sharks tend to be seen more to the west, before moving over to the east between May and November, during the southwest monsoon.
Best time to dive: Year-round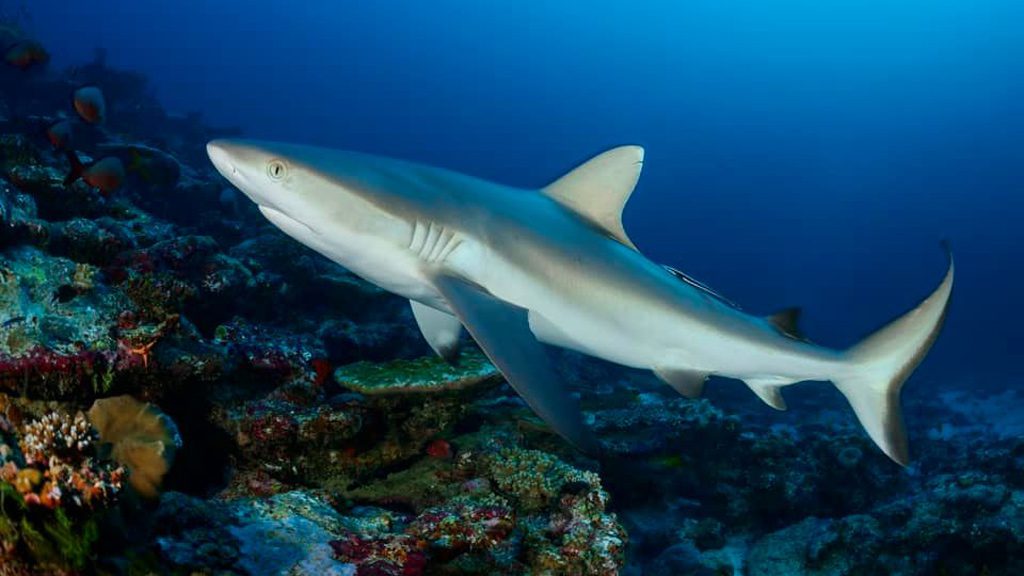 2. South Male – grey and whitetip reef sharks
Despite its proximity to the international airport, South Male is a relatively quiet atoll, with just three local islands, a good choice for budget and solo travellers. The diving focuses on the channels in the east of the atoll wall, all of which offer plenty of action.
Kandooma Thila – also known as Cocoa Thila – on the atoll's eastern edge and is one of the most famous dives in the Maldives. The thila is in the middle of the channel, with the reef below acting as a cleaning station for manta rays. It's patrolled by grey and whitetip reef sharks, parting schools of barracuda, jacks, red bass and trevally.
Further south, the Guraidhoo Channel provides encounters with a range of marine life, including bannerfish, fusiliers and rainbow runners, as well as trevallies, tuna, rays as well as grey and whitetip reef sharks.
Best time to dive: January – April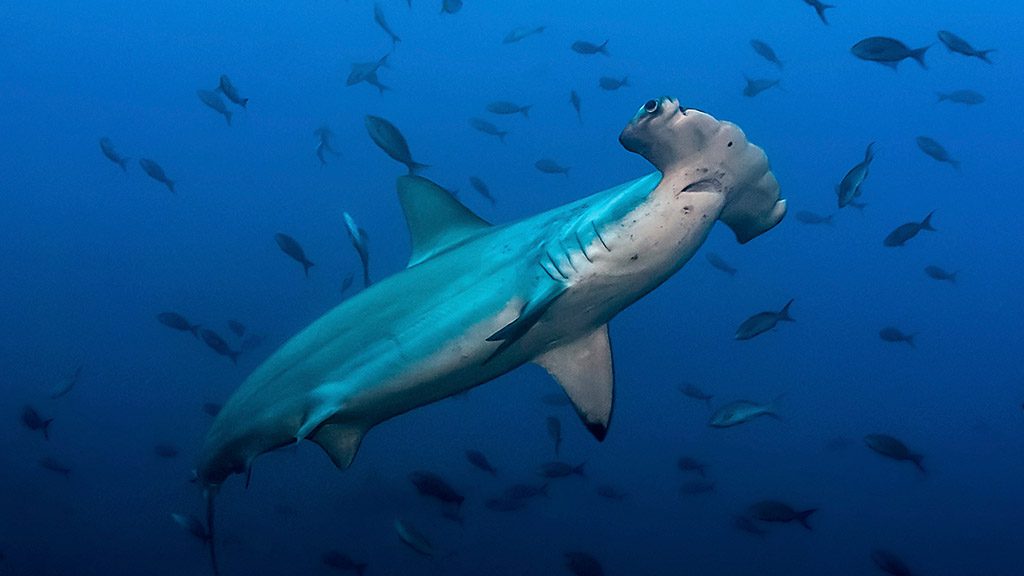 3. Rasdhoo – reef sharks and hammerheads
The small atoll of Rasdhoo offers chance encounters with hammerheads – as well as spectacular dive experiences mantas and schooling fish.
Start the day with a dawn trip to Hammerhead Point in search of the sharks out in the blue, then follow it up with a dive at Rasdhoo Madivaru, the Atoll's most famous site. This horse-shoe shaped ridge is patrolled by grey reef sharks, whitetip reef sharks and schools of eagle rays while an expansive sandy bowl is home to whiptail rays, marble rays and patches of garden eels. Between November and April, mantas can also be encountered at a cleaning station.
Best time to dive: January – April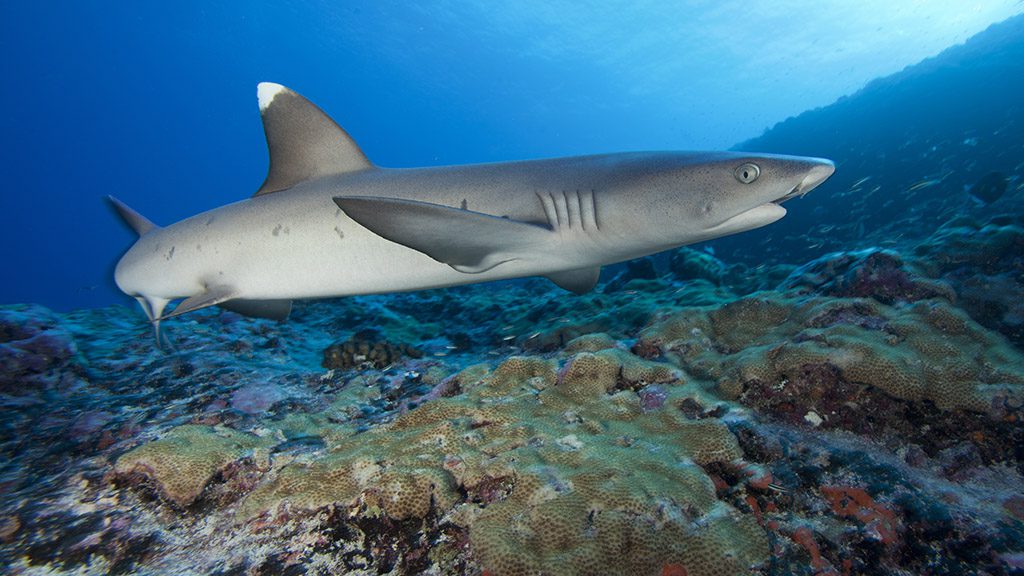 4. Vaavu – grey and whitetip reef sharks
Facing the open ocean, the eastern side of Vaavu Atoll delivers exciting diving – even by Maldivian standards. Strong tidal currents through these narrow cuts in the reef create ideal conditions for thrilling shark dives, and you can encounter large numbers of grey reef and whitetip reef sharks amidst swirling schools of barracuda, snapper, and trevally.
The signature site is Fotteyo Kandu, one of the best shark dive sites in the Maldives. The narrow channel has swim-throughs, small caves and large overhangs to explore, as well as a drop-off covered in colourful soft corals, while at the mouth of the channel, you'll encounter large numbers of grey and whitetip reef sharks, along with schools of trevally and sweetlips.
At nearby Miyaru Kandu, which means 'Shark Channel' large schools of grey reef sharks, whitetip reef sharks, plus tuna and Napoleon wrasse, are all commonly seen.
Best time to dive: January – April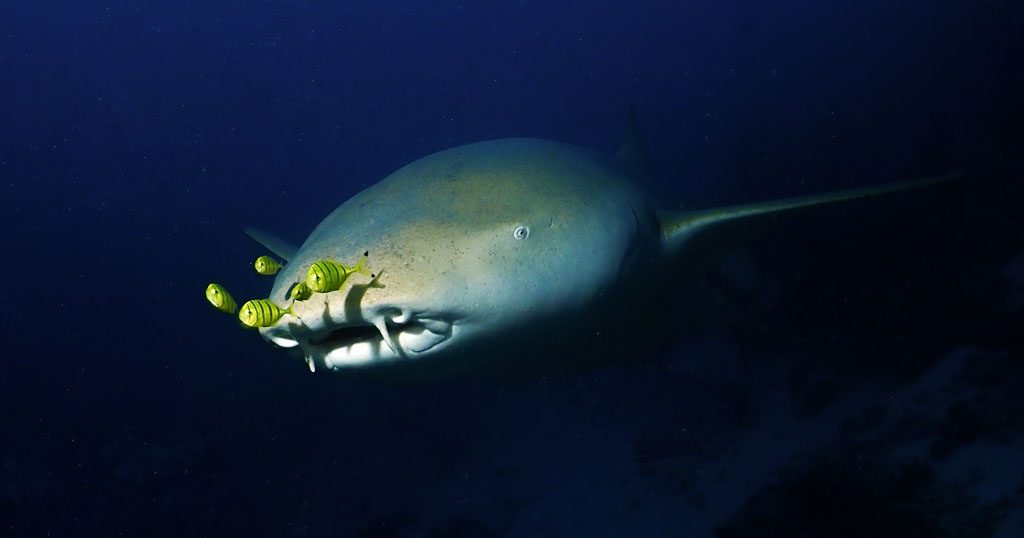 5. Huvadhoo – grey reef sharks, whale sharks, nurse sharks and more
Huvadhoo is one of the largest and most remote atolls in the Maldives. Lying almost 50km from its nearest neighbour. The outer reefs are swept by strong open-ocean currents, luring large pelagics in from the blue. And, as one of the deepest and most expansive lagoons in the Maldives, there is space for up to 13 species of shark.
The atoll's channels are a hotspot for shark encounters, with divers often encountering dozens of whitetips, blacktips, and grey reef sharks on a single dive. Unusually, both silkies and silvertips can also often be spotted in the current, while leopard sharks and nurse sharks take shelter below, and this is the only part of the Maldives where spinner sharks have been seen. Like blacktips in appearance, these curious sharks are known for performing acrobatic leaps as they strike prey close to the surface.
Whale sharks visit the atoll between January and April, with encounters mainly at night, with vessels attracting the sharks by shining spotlights on the water. Gliding through the inky darkness beside the biggest fish in the ocean is an experience you'll never forget.
Best time to dive: January – April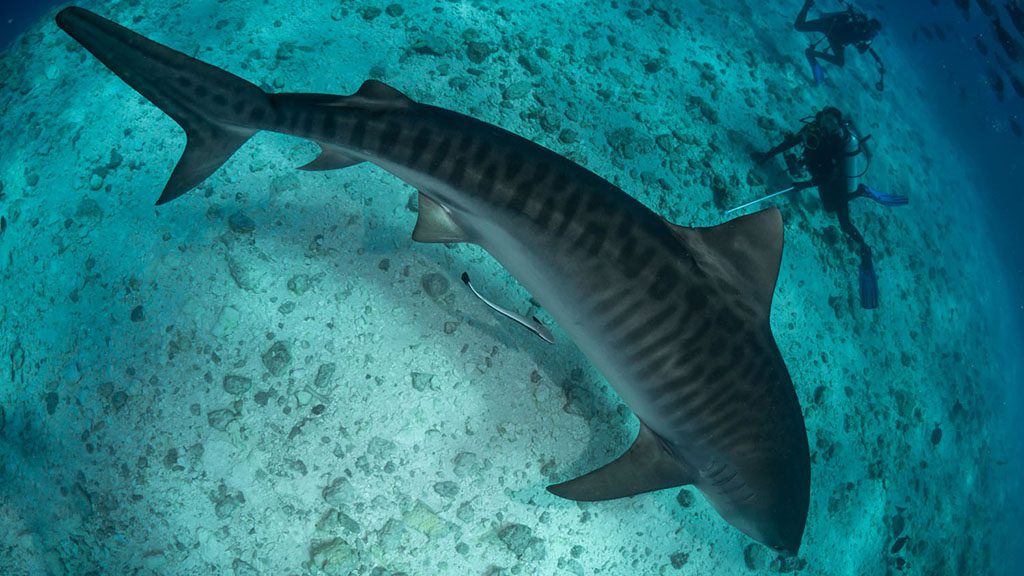 6. Fuvahmulah – tiger sharks and thresher sharks
Fuvahmulah's famous tiger sharks can be seen every day, but you'll also have the chance to encounter hammerhead sharks, thresher sharks, silvertip sharks, oceanic manta rays, big schools of barracudas, yellowfin tuna, bonitos, sailfish and even Mola mola and pilot whales.
Best time to dive: December – March