In the lead up to its launch on World Oceans Day, underwater sculptor Jason deCaires Taylor is in Townsville to oversee the next MOUA installation on John Brewer Reef: the Ocean Sentinels snorkel trail.
The MOUA team will take the eight green-concrete sculptures to John Brewer Reef where they will be installed as a marine science snorkel trail, adjacent to the existing Coral Greenhouse dive attraction. According to sculptor Jason deCaires Taylor the artworks have specially designed to take on the form of their environment.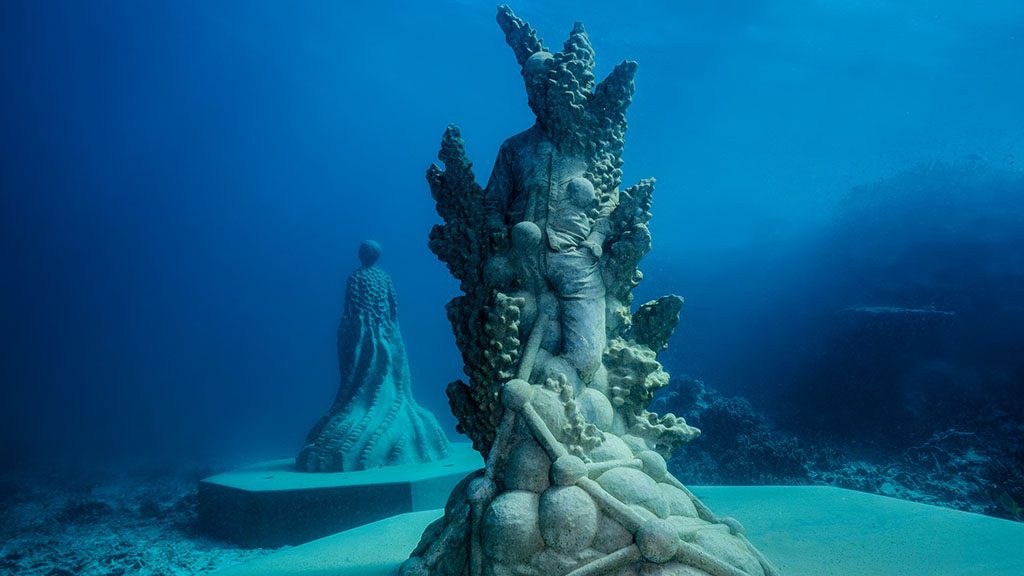 "Although completely submerged, their shallow depth will be ideal for snorkelers to view them. The surfaces and forms of the artworks are designed to be colonised by marine life. It is hoped that in years to come a variety of endemic species such as corals, sponges and hydroids will change the sculptures' appearance in vibrant and unexpected ways. Like the Great Barrier Reef itself, they will become a living and evolving part of the ecosystem, emphasising both its fragility and its endurance."
According to MOUA Deputy Chair, Dr Adam Smith, the exhibition is attracting global interest, creating new scientific opportunities, and contributing to the global marine science story.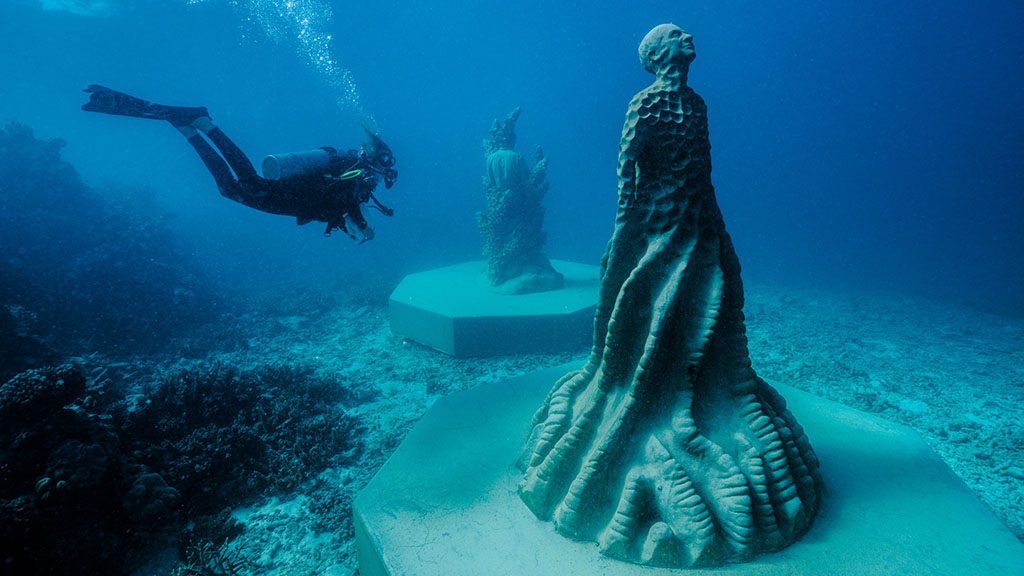 "Our monitoring program and reef restoration activities are providing results that indicate a strong and diverse aggregation of fish and coral species on site, and to be able to align the official launch with World Ocean Day – bringing together the muse on the site and the science, is very exciting."
So who are the Ocean Sentinels?
The Ocean Sentinels is a series of eight sculptures, modelled off world-leading marine scientist and conservationists – many of whom are connected to or living in Townsville, North Queensland. This is the MOUA's third art installation in the Townsville North Queensland region. Each Sentinel is 2.2 metres tall and they vary in weight from 0.94 to 2.8 tonnes. They have been crafted using a new high grade, low carbon earth friendly concrete, and reinforced with marine stainless steel. They are a hybrid form sculpture – a synthesis of human figures and natural marine forms: protectors of the Great Barrier Reef.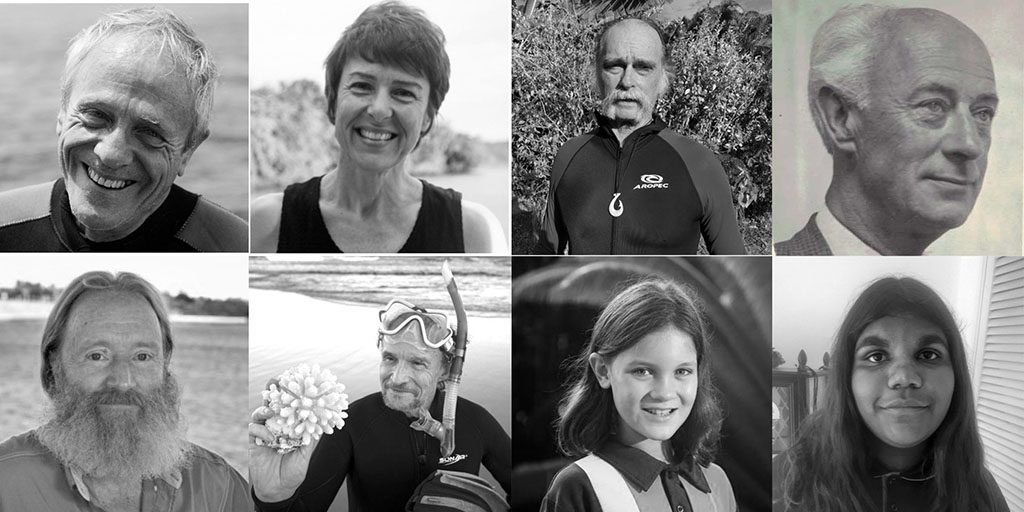 Dr Richard Braley
Also known as 'The Giant Clam Man', Dr Richard Braley turned a memorable encounter with a giant clam in Ha'apai (central Tonga) more than four decades ago into his life's work.
Based on Magnetic Island Braley conducted research on every corner of the Great Barrier Reef, which has the highest density population of giant clams in the world, and set up the Aquasearch Aquarium on Magnetic Island in 1998.
It's no surprise that Jason deCaires Taylor chose to morph Dr Braley with a giant clam, with the decorative shell making the perfect base. Dr Braley is excited that more people will learn about and appreciate giant clams, and understand the important, but often overlooked, role they play in the marine ecosystem.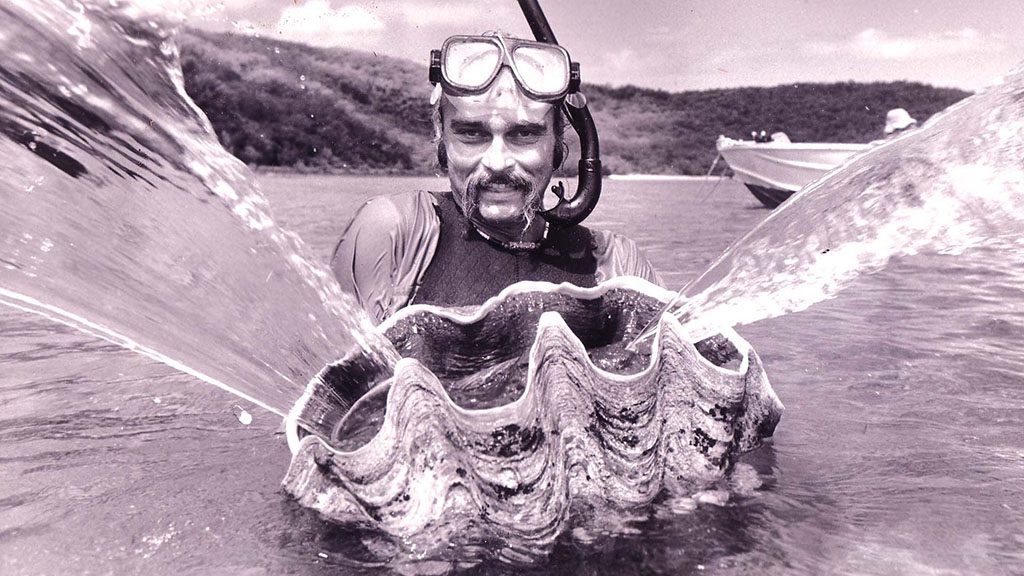 Dr Katharina Fabricius
Hailing from Germany, when a young Dr Katharina Fabricius met a scientist from the Australian Institute of Marine Science (AIMS) she knew the GBR was the place she wanted to work.
Dr Fabricius moved to Townsville in 1988 and is now one of the region's most respected coral ecologists – researching ocean acidification, water quality and climate change and the impacts on reef health, heading up the Coral Reef Ecology and Monitoring team and the Cumulative Impacts and Critical Thresholds team at AIMS.
Jason deCaires Taylor drew inspiration from fan corals and barrel sponges for Dr Fabricius' piece – the form of these species providing shapes and spaces for different organisms to colonise. Dr Fabricius hopes the stunning fan corals will grow on her sculpture once it's installed under water.
Professor Peter Harrison
Did you know that the phenomenon of mass coral spawning was discovered at Geoffrey Bay on Magnetic Island?
Australian Distinguished Professor Peter Harrison was conducting research for his PhD at Townsville's James Cook University in 1981 and was diving by torchlight at night alongside a group of curious marine biology students. They witnessed a spectacular underwater show where millions of microscopic eggs and sperm filled the waters around them in a mass mating ritual. This was the first recording of what we now know of as a mass coral spawning event.
Professor Harrison has gone on to pioneer a world-first technique dubbed 'coral IVF', whereby millions of coral sperm and eggs are captured during coral spawning and le􀅌 to form into larvae in floating pools on the reef. Once the larvae are ready to settle, they are released onto damaged areas of the reef to help them recover. And so far, the method has proved to be very successful and has established new breeding corals on damaged reefs.
Jason deCaires Taylor has morphed Professor Harrison with branching Acropora corals, also known as staghorn corals, and included molecular structures around the base as a nod to Professor Harrison's extensive research on coral spawning.
Jayme Marshall
Wulgurukaba and Yunbenen woman Jayme Marshall represents the next generation of Indigenous leaders, and her sculpture highlights the role Traditional Owners play in protecting the future of the Great Barrier Reef and surrounding Sea Country. Miss Marshall's involvement in the project emphasises how stories and traditions of the reef are passed down through generations and still hold significant weight within Indigenous culture to this day.
Jason deCaires Taylor has morphed the look and feel of cathedral fig tree roots and mangrove tree roots into Miss Marshall, symbolising the connection of land and sea to Indigenous cultures, who have lived in these environments for tens of thousands of years. As well as these two types of trees representing a strong connection to country for Indigenous cultures, mangroves are an integral part of the reef system and provide vital nurseries for juvenile fish species.
Molly Steer
Molly Steer was just nine years old when she decided to take the war on plastic straws into her own hands. Watching the documentary 'A Plastic Ocean' sparked Molly's desire to help make a difference and eradicate single use plastic straws.
The youngster's mission is to encourage every school in Australia to pledge to stop using plastic straws, through her 'Straw No More' movement. The initiative has been taken up by more than 3,000 Aussie schools, with hundreds of thousands of individuals around the globe also making the pledge.
Molly's sculpture is the only one in the series that is not a hybrid of a natural form. Jason deCaires Taylor has created a pillar of straws behind Molly. Taylor hopes the formation of the straws at the base of the sculpture makes an interesting habitat for marine life.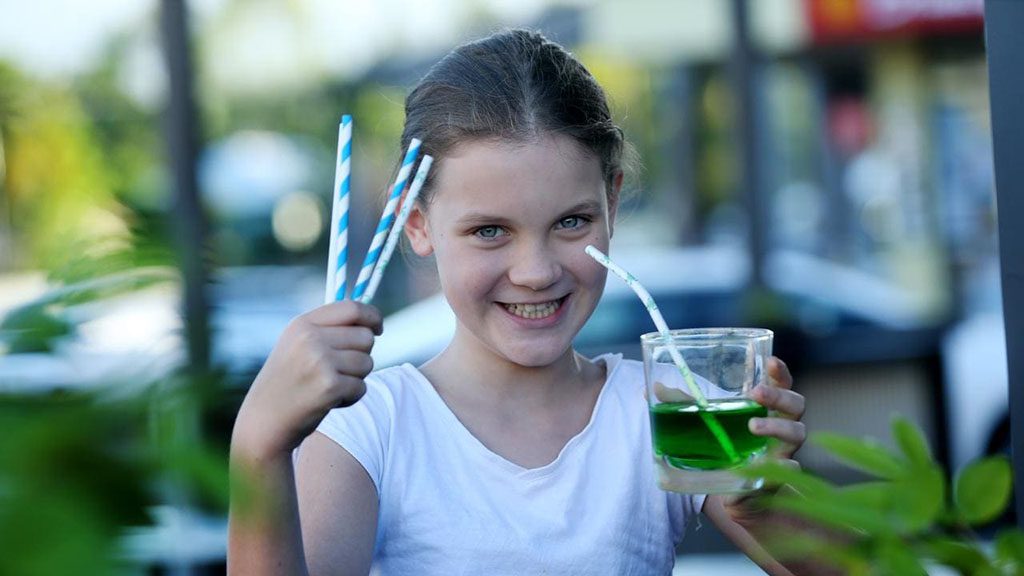 Dr David Vaughan
Dr David Vaughan is known for his work as Director of the Aquaculture Division at the Oceanographic Institute in Florida, where he helped design, build, and operate the 60-acre Aquaculture Development Park. The Park looks at ways to increase aquaculture production to satisfy a growing global demand for food without sacrificing the health of marine ecosystems.
Dr Vaughan is also the pioneer of the Plant a Million Corals initiative which aims to restore and revive coral populations in reefs across the globe by… planting a million corals!
Artist Jason deCaires Taylor used portrayals of elkhorn coral and lettuce coral in Dr Vaughan's piece. These species are not native to Australia but are often found in the Caribbean where Dr Vaughan has done extensive work.
Professor John 'Charlie' Veron
Professor John "Charlie" Veron, dubbed the 'Godfather of Coral', is an acclaimed marine scientist who has dedicated his life to charting the world's coral reefs.
He has discovered and described 20 per cent of all coral species on the globe and was awarded the Darwin Medal for his work on evolution. He was the first full-time researcher on the Great Barrier Reef, held the title of Chief Scientist at the Australian Institute of Marine Science, and he is currently working on the bold plan of collecting 400 species of coral from the Great Barrier Reef to preserve in a biobank.
Artist Jason deCaires Taylor wanted Professor Veron's deep connection with coral to be portrayed through the design and texture of the piece, making 'Charlie' appear to be made almost entirely of coral.
Sir Charles Maurice Yonge
Internationally renowned marine zoologist, the late Sir Maurice Yonge (1899-1986), led the Great Barrier Reef Expedition in the 1920s, a 13-month voyage that opened up the scientific world to the wonders of the Great Barrier Reef and laid the foundation of scientific study into modern coral reef biology.
An Englishman, Sir Yonge forged research on marine invertebrate feeding and digestion. He also spent much of his life teaching and fostering a love of science in the next generation.
The artist, Jason deCaires Taylor used the Ramose Murex shell, because shells are synonymous with collecting, to reference the studying and collecting of marine species that were a large part of Dr Yonge's expedition.
Fast Facts
Funded by major partner Queensland Government
Each sculpture is standing 2.2 meters tall and will be in around 5 metres of water.
Each sculpture weighs in at 2.8 tonne, and is crafted from a new high grade, low carbon earth friendly concrete and reinforced marine stainless steel.
The sculptures will be placed on barren stretches of sand and fixed to the seabed of the Great Barrier Reef off the coast of Townsville North Queensland.
Commercial Tourism Operators (CTOs) in Townsville North Queensland will begin offering limited tours from Townsville and Magnetic Island from May 2023.
The Ocean Sentinel snorkel trail will be officially opened on 8 June 2023 – to coincide with World Oceans Day.
While we're on the subject of MOUA…
Speaking of MOUA,  it's worth revisiting the original installation – Coral Greenhouse. Captured last week by the artist himself (Jason DeCaires Taylor), take a look at new images showing the transformation of the original installation – Coral Greenhouse – after three years submerged under water. Dive MOUA with Adrenalin Dive or Yongala Dive.