Introduction
Location
Accommodation
Diving
Dive Sites
Pricing & Schedules
Enquire Now
Scubaspa is a unique concept, as guests feel like they're on a floating resort! There are two Liveaboards in the Scubaspa fleet, Ying and Yang, which both offer a luxurious experience with thrilling diving and sublime relaxation. Spread over four spacious decks, there is a range of comfortable accommodation, a day spa, small fitness room, jacuzzi, restaurant and bar, open-air cinema, and a deck hosting sunset cocktails and star gazing dinners. With a crew of 30, including spa therapists, yoga instructor, highly skilled chefs, and an amazing dive crew, Scubaspa will cater to your every need. Exciting itineraries have been developed by Scubaspa's expert team to provide an exhilarating trip. A typical itinerary is filled with diving, snorkelling, spa sessions, delicious gourmet cuisine, yoga classes, water sports, time on the beach, and social activities. Staying onboard this unique luxury dive boat offers the opportunity to explore many different reefs and dive sites in the Maldives, and to witness manta rays, whale sharks, turtles, reef sharks, sting rays, a variety of tropical fish, and breathtaking corals.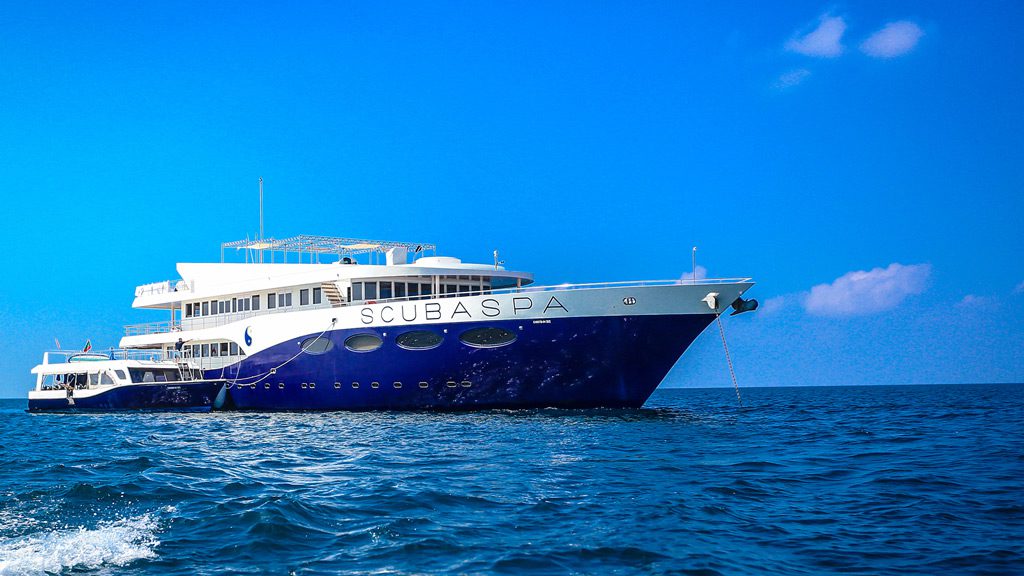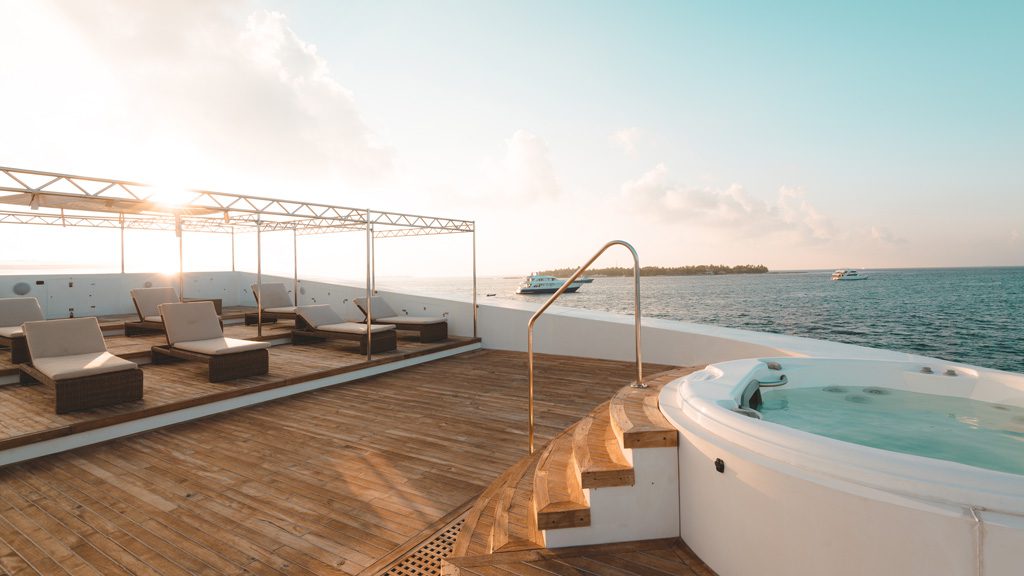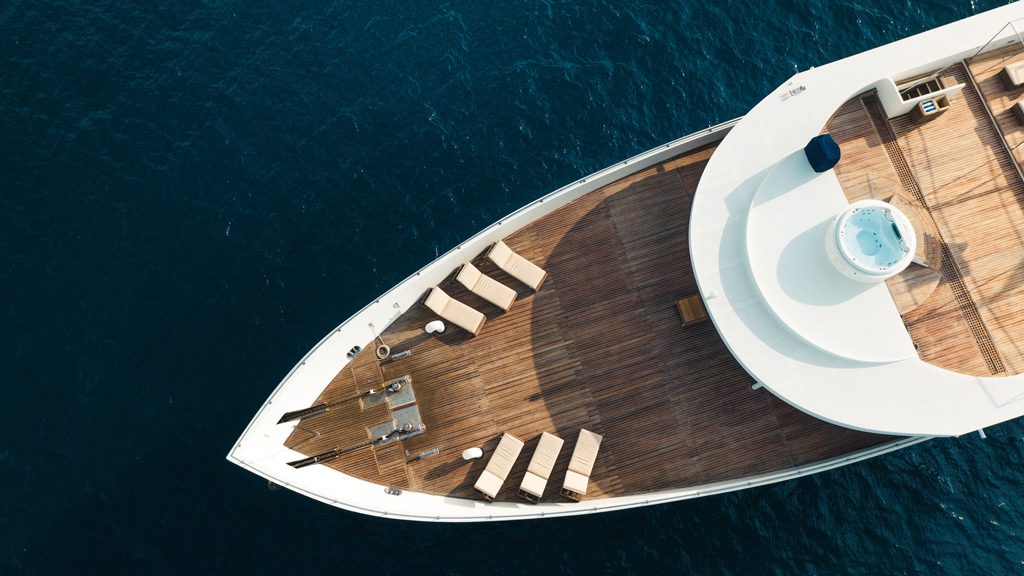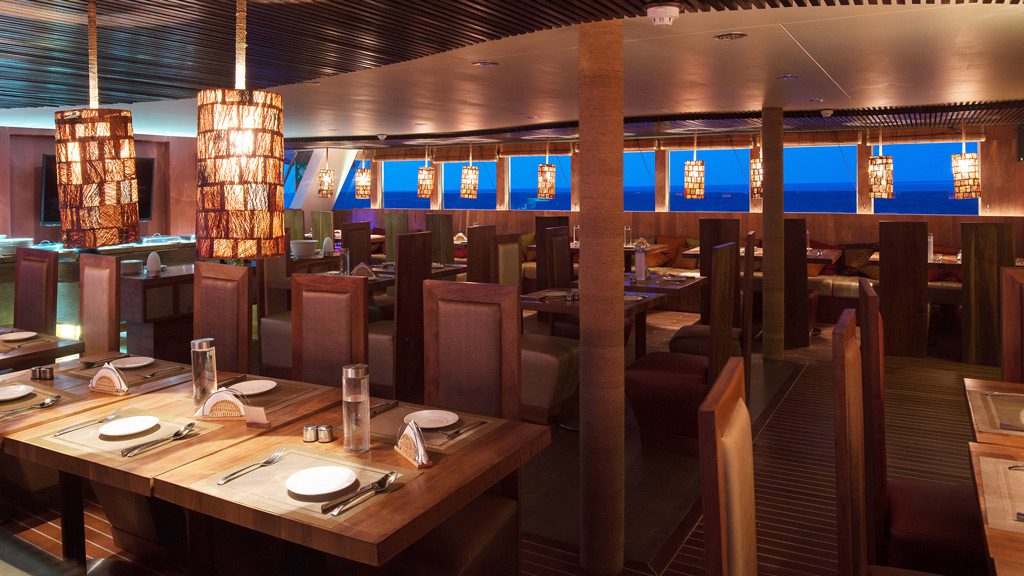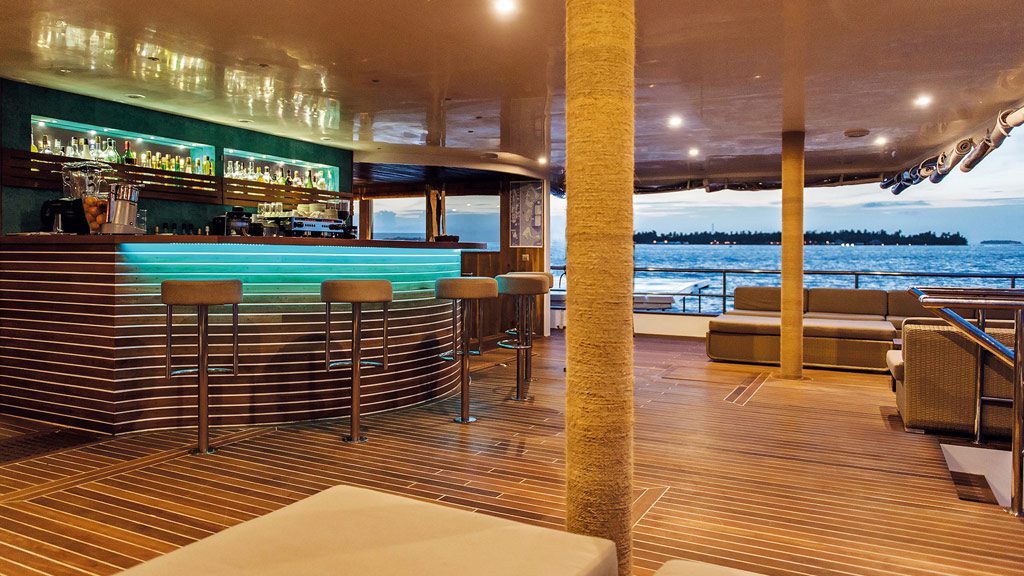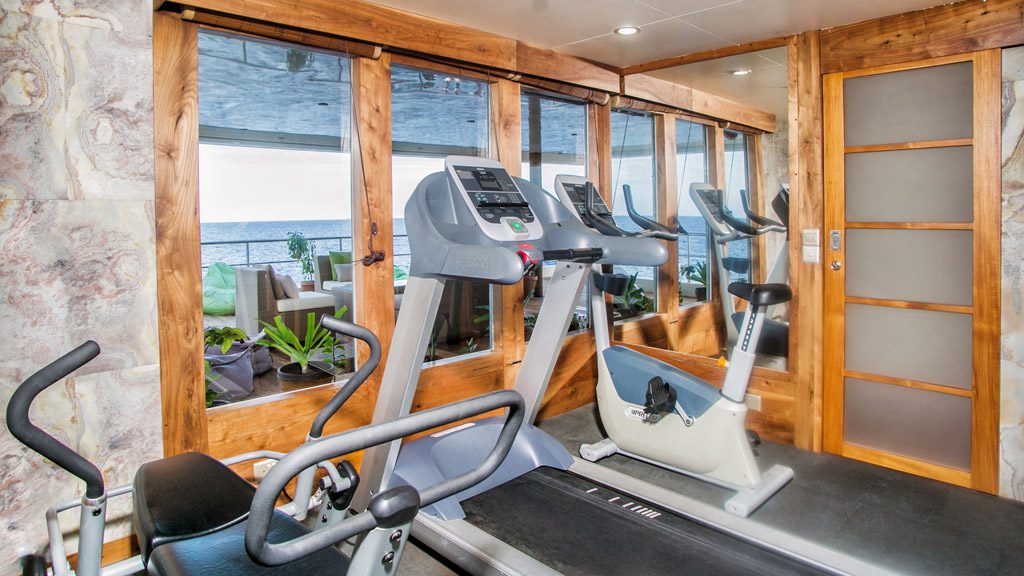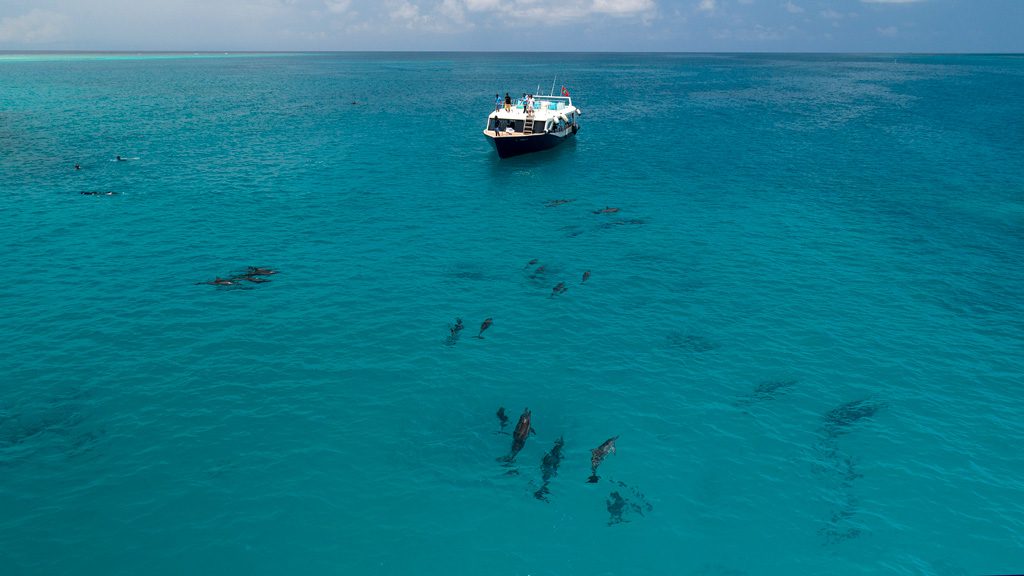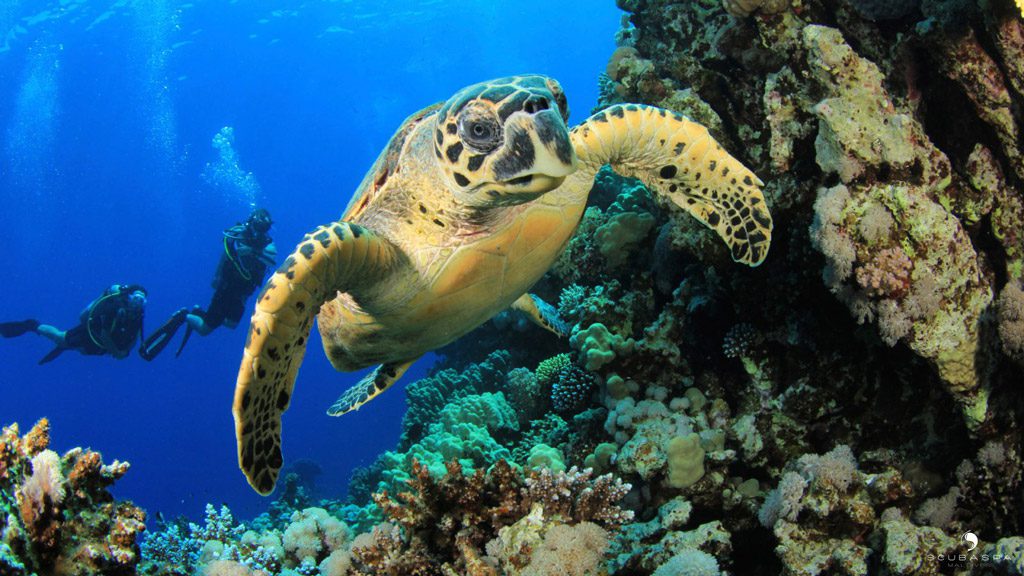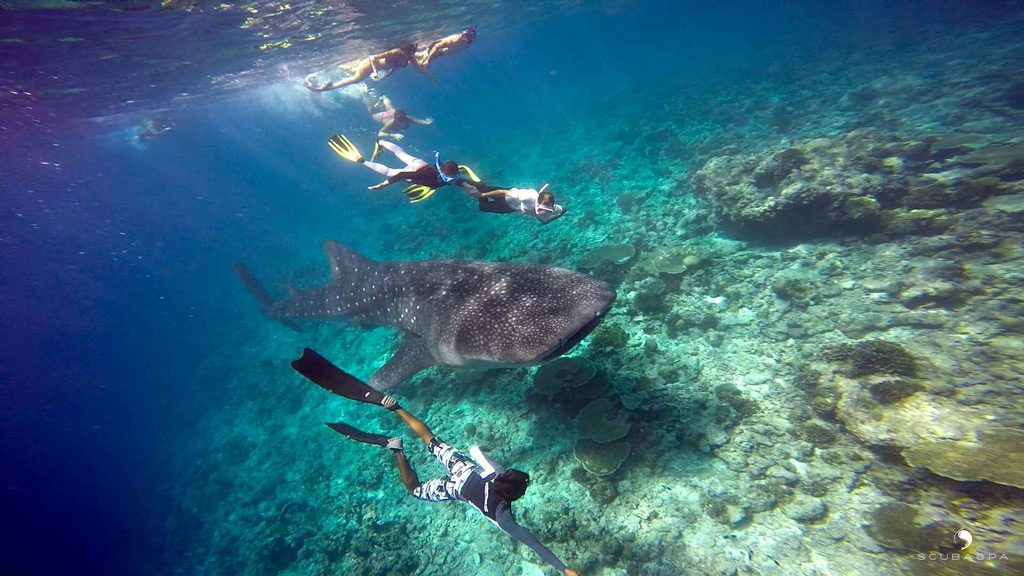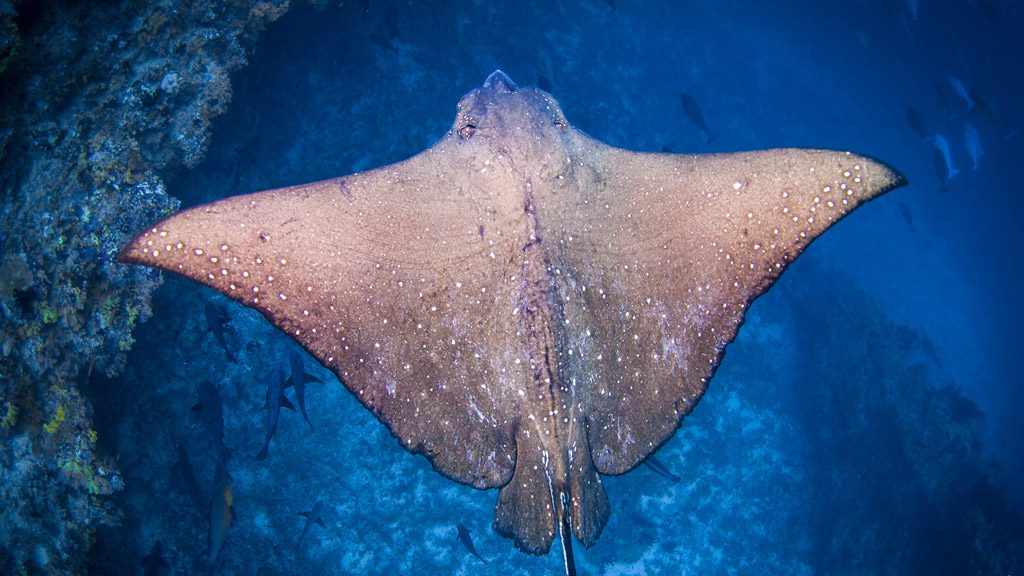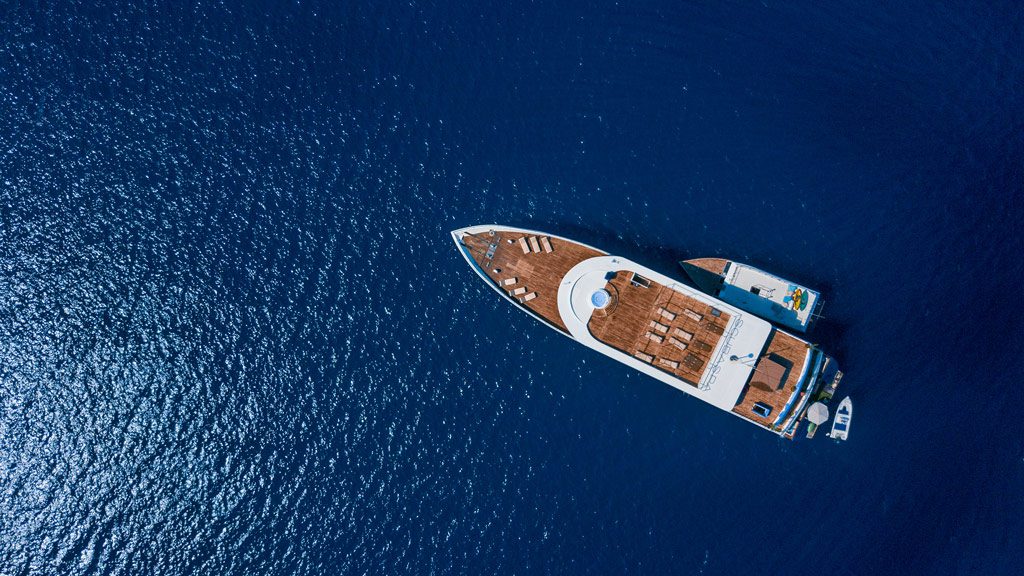 The Maldives is one of the most vulnerable ecosystems in the world with the effects of global environmental changes evident amongst its fragile biodiversity. Scubaspa passionately and actively supports environmental programs to combat these effects by partnering with government agencies, local NGOs, waste management businesses, and marine experts. Many efforts are taken on board Scubaspa liveaboards to ensure a sustainable voyage.
Best time to dive
With crystal clear waters and consistent temperatures between 26° and 29° celcius, diving in the Maldives is a year round experience with two distinct seasons. Scubaspa adapt their diving schedules according to the monsoons and the tide. The northeast monsoon runs from November to May and typically boasts clear skys and minimal rainfall. These conditions are best for channel dives on the eastern side of the atolls, while on the western side of the atolls divers can view manta rays visiting cleaning stations. Occurring from June to October is the southwest monsoon and is a time when the western side of the atolls provides ideal conditions for channel dives and witnessing manta rays drawn to cleaning stations on the eastern side. This period is also quieter with less travellers at this time.
Scubaspa will meet guests at the airport and facilitate transfers to the boat. The location and route of each trip will depend on which itinerary is chosen.
There's a variety of room options on board Scubaspa's Yin and Yang Liveaboards. Each room or cabin boats a modern design with ample lighting, an ensuite bathroom with shower, premium bath products, a comfortable bed with deluxe linen, air conditioning, WiFi, and multiple electrical outlets.
Manta Suite There are four Manta Suites on board, each with a king size bed or twin bed option, and one Manta Suite with a queen size bed.  These rooms are Scubaspa's premium suites and are located on the Main Deck. They include a stylish seating area and oval panoramic windows providing uninterrupted ocean views.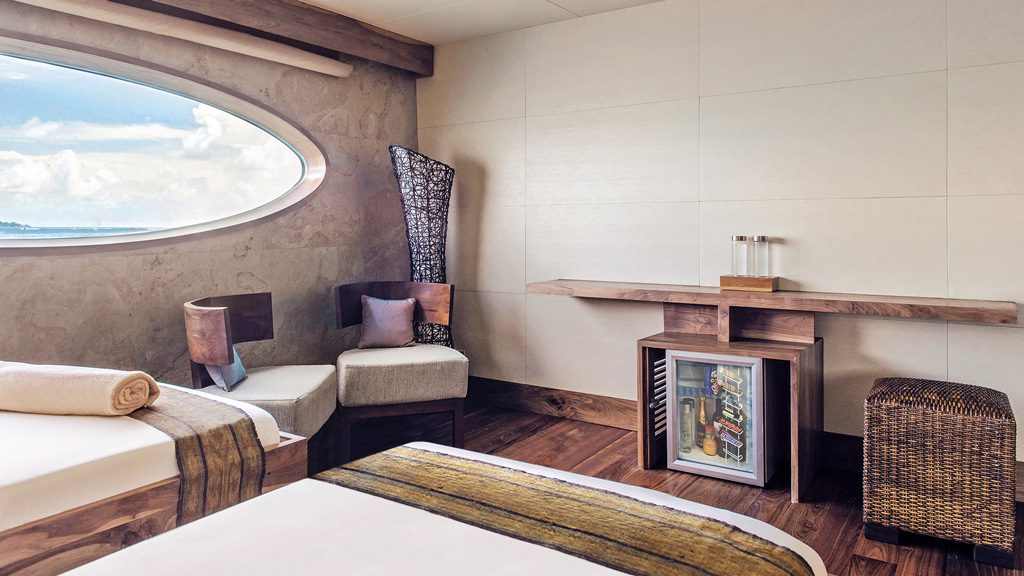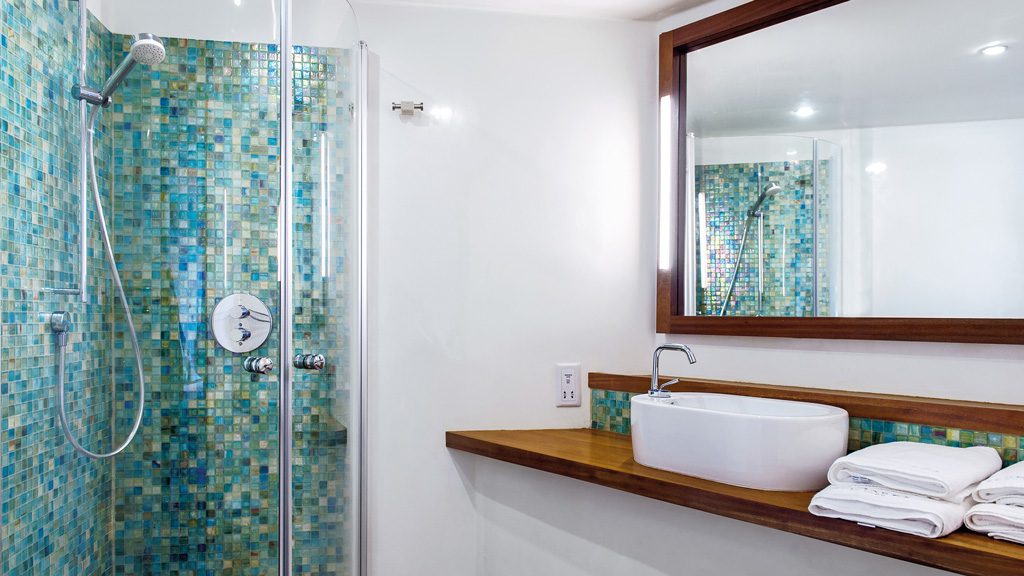 Dolphin Suites There are three stunning Dolphin Suites onboard each with a queen size bed with a spacious seating area, and located on the Main Deck. An oval panoramic window provides a breathtaking ocean views throughout the trip.
Cowrie Suite This suite is quietly nestled in the bow of the Lower Deck and consists of a queen size bed plus a sofa that can be transformed into a comfortable third bed. This deluxe suite spans the entire width of the bow, has four opening portlights, and boasts the largest shower on board.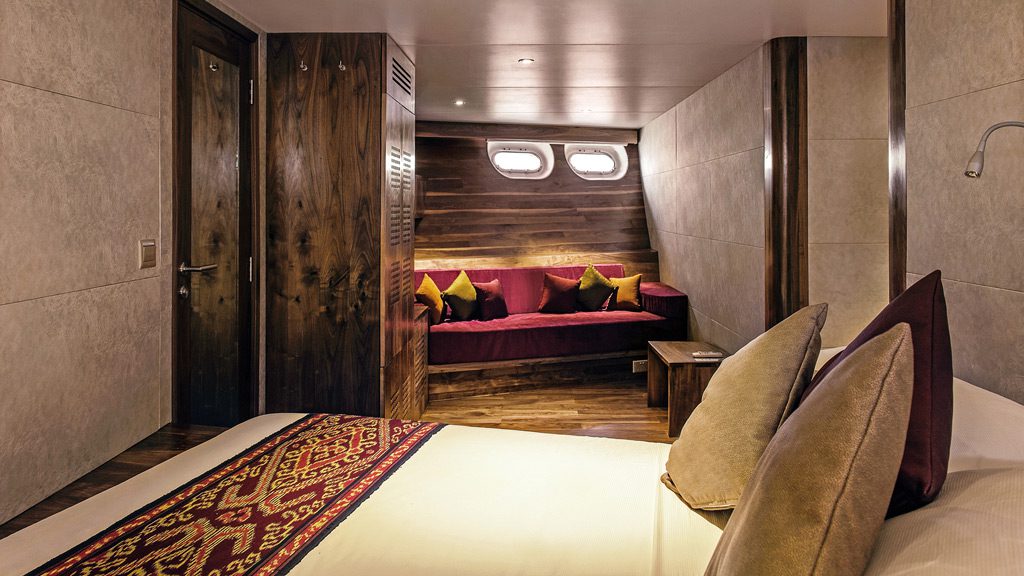 Sea Star Suite There are 8 spacious Sea Star Suites onboard, each with a queen size bed, situated on the Lower Deck and fitted with two opening portlights.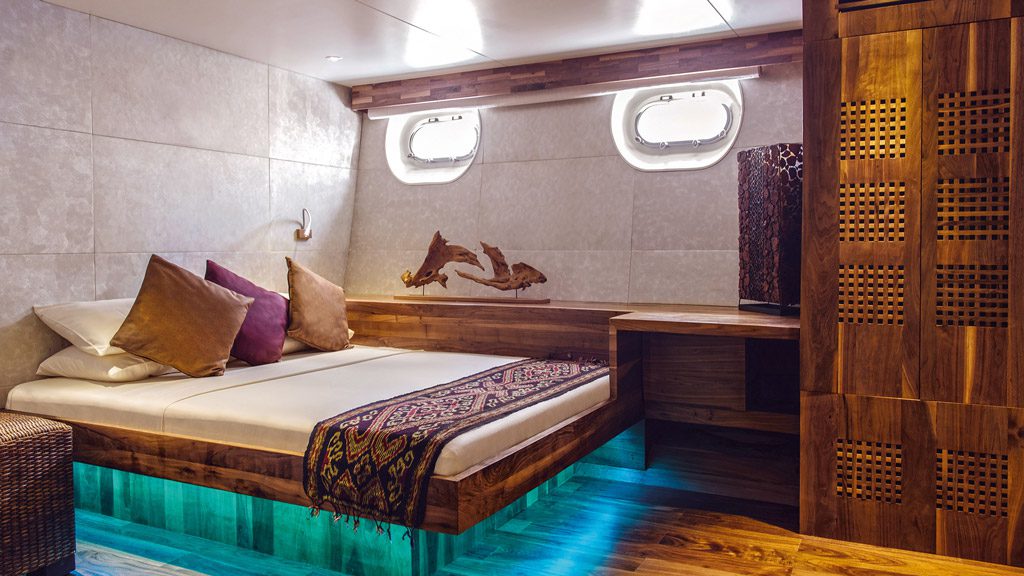 The goal of Scubaspa is to show guests the best that the Maldives has to offer by visiting desert islands, local villages, picturesque sandbanks, and the magnificent underwater world. There are 3 major geographical areas to be explored and Scubaspa's regular itineraries cover 6 different routes within these areas. Experienced drivers travel to these sites to experience thrilling channel dives and witness a variety of marine life. Novice divers get a breathtaking introduction to the underwater world with pinnacle and wall dives. Whether a beginner or experienced diver, everyone will find themselves face-to-face with marine life of all shapes and sizes, and witness big schools of fish and stunning corals. For those who are up to the challenge, Scubaspa's dive guides are ever willing to take divers through intense currents where big sharks are commonly found. Whatever your skill level, Scubaspa are dedicated to customising a diving adventure to suit everyone.
Each liveaboard has a 20 metre dive boat (dhoni) equipped with everything required for diving and relaxing day at sea including dive gear and air compressors, bathroom facilities, a sundeck, comfortable seating, a stern platform, and multiple entry points.
The extensive group of almost 1,200 islands that make up the Maldives is surrounded by 25 atolls which provide exhilarating diving experiences. The majority of these islands are uninhabited and therefore the untouched land has ensured the ideal tropical climate and an underwater world of magnificence. Great diving is available all year round, and at certain times of the year, divers will have the opportunity to explore some of the South's pristine dive sites. Scubaspa liveaboards cover a vast area including the following sites:
North and South Ari Atoll
Pelagics and large schools of fish can be found across many dive sites in the Maldives, but in the Ari Atolls the probability of these encounters is higher. Divers can expect to see whale sharks, mantas, hammerheads, and eagle rays. There are also large residents in the area such as the napoleon wrasse, grey reef and white tip sharks, large schools of blacktail barracuda, and batfish. North Ari Atoll is home to Broken Rock which is a unique formation with a canyon which breaks the reef in two. Here you can find large fan corals, turtles, scorpionfish, moray eels and amazing coral on the reef. For those who enjoy exploring wrecks, in the South Ari Atoll lies the Kudhimaa Wreck. This is a medium sized steel wreck which was deliberately sunk in 1998 and has easy access to the cargo holds, and is home to schools of batfish, puffer fish, box fish, and the large lion fish.
Vaavu Atoll
This area consists of deep channels with fast flowing currents and at any time of the year divers can experience the sights of schooling reef sharks and other species of shark including the occasional hammerhead. You can also expect to see tuna, trevallies, unicorn fish, snappers, triggerfish, eagle rays, mantas, and groupers. The well-known Fotteyo Kandu is also a feature of the Vaavu Atoll and many divers flock to this area to experience its swim-throughs, caves and overhangs.
North and South Male Atoll
This area is home to some of the oldest and most popular sites including Gaathugiri, which is also known as Banana Reef. The exhilarating topography with incredible rock faces, numerous caves, steep drop offs, and precipitous overhangs are a ready to be explored. The array of marine life in this region is extensive, with sharks, manta rays, trevally, black snapper, grouper, schooling bannerfish, large morays, squirrelfish, soldierfish, and Maldivian grubfish.
South Male Atoll encompasses Kandooma Thila, a large teardrop shaped pinnacle with magnificent scenery and prolific fish life. Soft corals cover the walls and schools of red bass and big-eye trevally roam the area. Grey sharks, white-tip sharks, eagle rays and many other species are often spotted here, and the top of the reef is home to peaceful turtles and batfish.
Please see the pricing table below the availability panel for inclusions, exclusions, and extras.