Introduction
Diving Bali and the nearby islands of Nusa Penida, Nusa Lembongan and Menjangan offer a most diverse collection of dive sites accessible from the one place.
Bali Diving
Looking at the map, if Bali is a chicken facing west, and Nusa Penida the egg it's just laid, then its dive areas can be listed as follows:
On the tip of its head is the Menjangan Island National Park with excellent walls as well as coral gardens, plenty colourful reef fish, a surprising number of anemonefish, and quite often – turtles.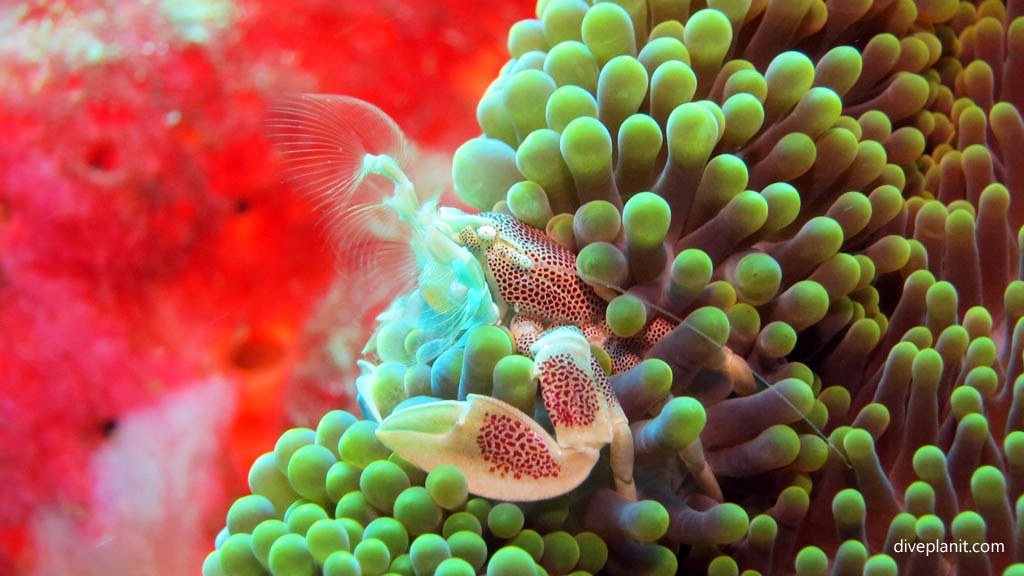 The island is just offshore from Pemuteran which is best known for its biorock sculptures which are slowly bringing back the marine life, and its amazing muck diving down by the jetty, where you can see a myriad of micro-critters including Thorny Seahorses, pipefish, razorfish, Rosy Spindle Cowrie and juveniles of everything from puffers to lionfish.
The chicken's tail is actually the volcano Agung with its sandy black slopes reaching all the way to the coast. In fact Bali is just a chain of volcanoes and this is why there are few coral reefs where you would might otherwise expect to find them – corals need a rocky substrate to grow on, and the black volcanic sand provides little purchase.
However, where there is a solid structure, like that of the USAT Liberty Wreck at Tulamben, a large artificial, yet actually very colourful and pretty, reef has formed. The large wreck turned reef is definitely one of the best shore dives in Bali.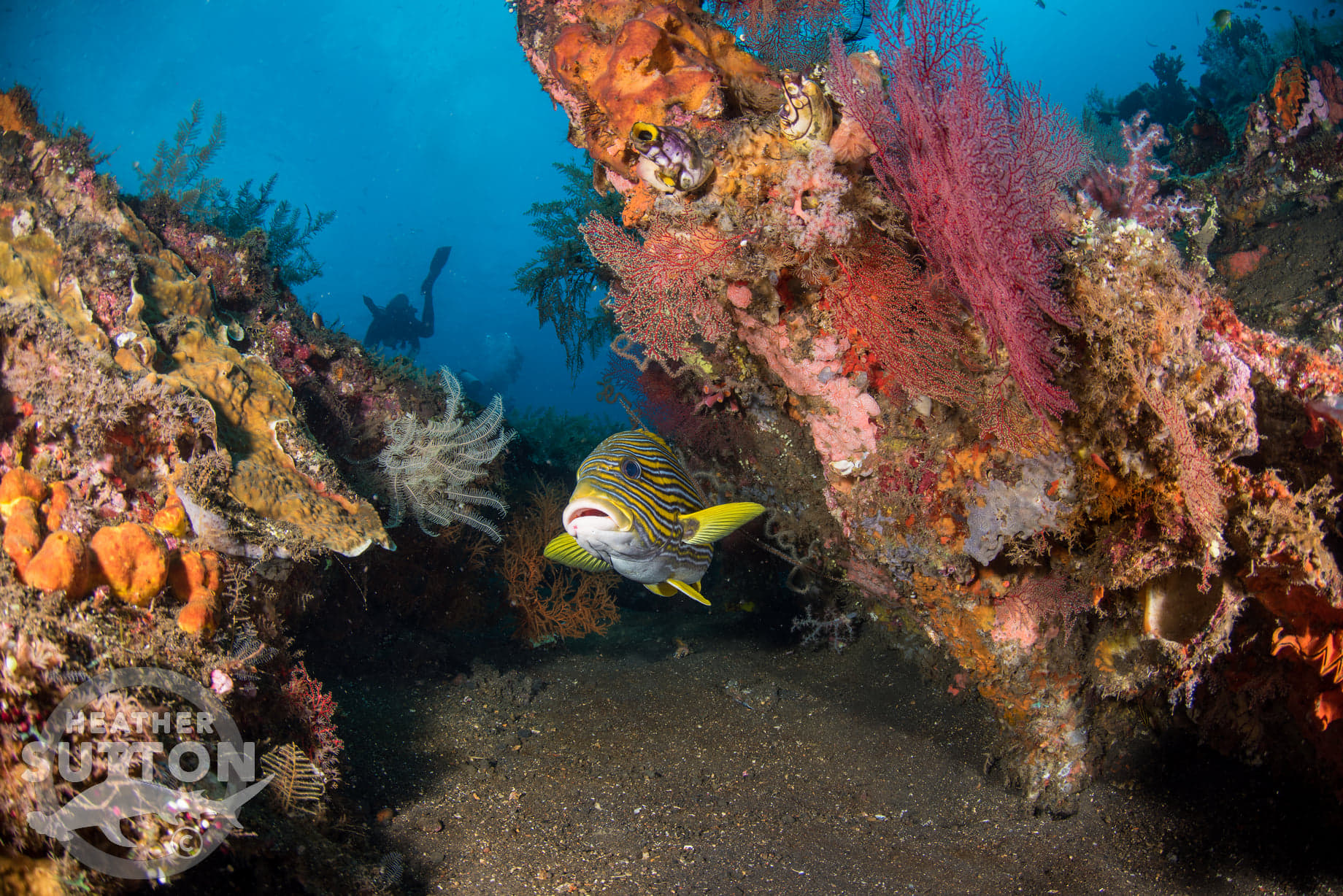 A little further along the top of the tail is Amed, which has a beautiful coral wall with steep drop off.
Just below the eastern most tip there is an isolated rocky bay at Gili Selang, where, possibly the most colourful coral reef in Bali is to be found.
While it is possible to dive these sites as day trips from the busy south, it can be a very long mini-bus ride. The smarter options is to choose a resort at Tulamben or Candidasa near the port of Padang Bai and use this as a base to explore the local sites and those on Nusa Penida.
Diving Nusa Penida
Diving Nusa Penida is a whole different kettle of anchovies from diving Bali mainland: at Nusa Penida there are strong currents and thermoclines. These currents are caused by the Indonesian Throughflow the steady current that arises as the Pacific Ocean slowly pushes 15 million cubic metres of water per second towards the Indian Ocean through the straits between the 17,000 or so islands of Indonesia. Nusa Penida sits right in the middle of that channel between Bali and Lombok and as a result has colder water from the depths pushing up around it.
The benefits, however, are practically guaranteed sightings of Manta at Manta Point, the crystal clear waters of Crystal Bay, the serene drift dives at Nusa Lembongan, and during the Indonesian winter months the chance to see Mola Mola (the Sunfish) from early July to mid-October with late-July and August being the best times.
These dive sites with their strong currents and thermoclines are not for newbies. The water temperature can vary between 18°C (70°F) and 25°C (75°C), and the crossing from Bali can be quite rough.
Location
Less than 4 hours flight time due north of Perth, (and 6'15" from Sydney), Bali's Denpasar international airport makes it an easily accessible location, as well as a good staging post for the hop to Sulawesi, Raja Ampat, Komodo and Ambon – well particularly for Australians.
Most of the dive resorts and sites on the east coast are a 2 – 3 hour drive from Denpasar, and the road trip to Menjangan is a long one – over four hours and along winding mountain roads.
There is a deco chamber in Kuta.
With conditions in Nusa Penida what they are, it pays to dive Bali with a highly reputable outfit, whether you're there just to dive, in which case dive from a resort or, if you are staying in Kuta or Sanur and just want to get a couple of dives in, then with a dive centre.
There are dive operators on every street corner of Kuta and Sanur, and as Bali is not such a big place, most of the operators can get you to most of the sites on the east via minibus and boat to Nusa Penida.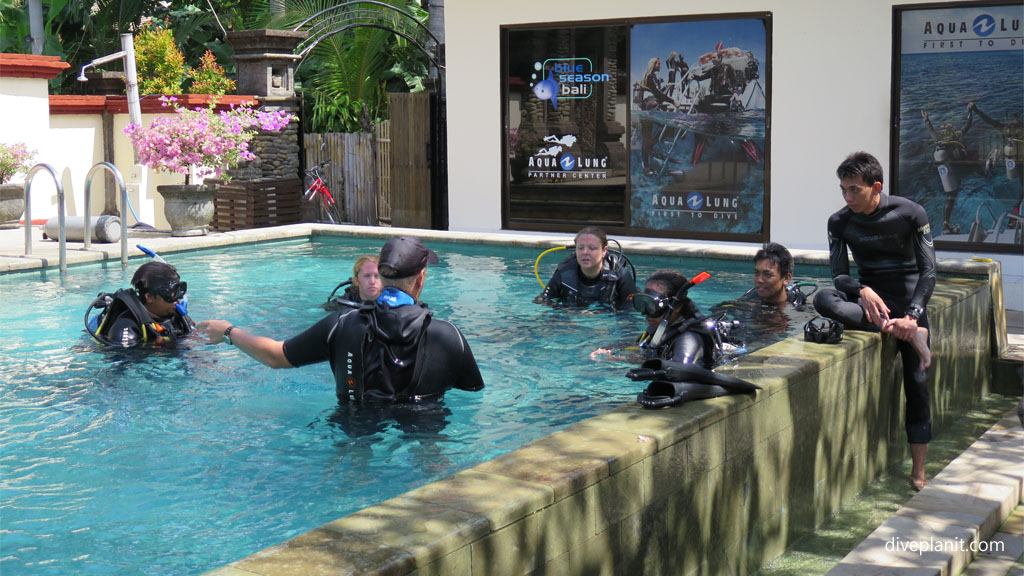 But don't assume the dive shop closest to where you're staying will be the best option, as most dive outfits will collect from your accommodation and transfer to the dive site and back, without you ever seeing their 'dive centre'. This can sometimes be an issue as in these cases you might not get to see your hired gear until you're putting it on. When choosing an operator don't be scared to ask these important questions:
What's the diver to guide ratio?
What brand and model of computer will I get with the regs?
How many persons is the boat surveyed for, and how many do you take?
Which days each week to you go to Tulamben Bay and Nusa Penida? (Not all operators will be diving Bali's dive sites on a daily basis).
Be specific, and if the answers are vague, well that speaks volumes.
Some dive outfits have multiple resorts, such as the Bali Hai Group and Two Fish Divers, and these can often provide the best of all worlds – staying locally to the best dive sites for a few days each, with the resort looking after all your internal transport arrangements.
The Adelaar's itineraries take them over the top of West Nusa Tenggara all the way to Komodo and back. In December and January, they also make a trip to Komodo via a route south of West Nusa Tenggara visiting little known, but excellent new dive sites.
Dive Centres
Dive Resorts
Liveaboards
Dive Sites
As also ready stated, Bali's best dive sites are as varied as Bali itself. In order of most easy to most challenging, we might list them thus:
The artificial reef formed by the wreck of the USAT Liberty in Tulamben Bay. A shallow shore dive that you can dive 4 times a day – each time having a completely different dive: the mucky shoreline, to the magnificent wreck, so the corals that have formed all over it, to the marine life from big potato code to turtles.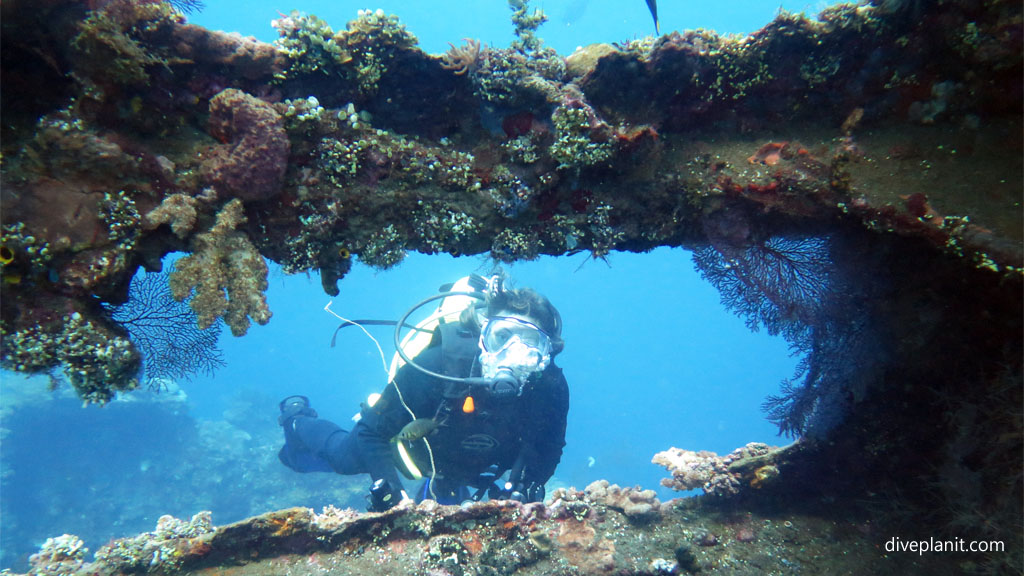 Also on the east coast, there are a dive sites from Padang Bai (which is a port), all the way up to Kubu Point with with reefs, sharks, turtles, and wrecks.
On the northern coast, there are sites at Puri Jati and way over to the west, Pemuteran – where a number of artificial structures have been erected to create artificial reefs. Off Pemuteran is Menjangan Island National Park with some walls and also a wreck.
Most of the mainland sites are very close to shore, with little current and are considered 'easy', by comparison to the sites around Nusa Penida and Lembongan. These sites are accessed via what can be quite a bumpy journey over the Selat Badung – the strait between Bali and Lembongan.
Lembongan is characterised by gently shelving coral reefs, and gentle drift diving. Whereas Nusa Penida is definitely the jewel in the crown with Manta Point, Crystal Bay, and in season, Mola Mola.
Dive Sites
Other Activities
If you want to mix up your days with a few non-diving activities there's certainly plenty to choose from. Everything from elephant rides to water parks, exploring the local markets, pampering yourself at one of the many day spa, and then of course there's the surfing.
Surfing
Surfing is, after all, why Australians first started coming to Bali and if you feel like riding the waves for a change instead of swimming under them there are surf schools all over Bali that will show you how.
Odyssey Surf School in Kuta makes the guarantee to have you standing on your first lesson and will even take a photo so you can prove it.
If you can already surf and want to try something a little more challenging, Komune Resort on Keramas Beach offers the opportunity to surf world-class waves at night. Enormous spotlights light up the breaks and there's also a pretty decent bar from which you can just sit back and watch.
White Water Rafting
The Ayung River in central Bali flows fairly steadily year-round, with white water rafting available several times a day, every day. It's a great way to get yourself an adrenalin fix while admiring the surrounding lush green countryside.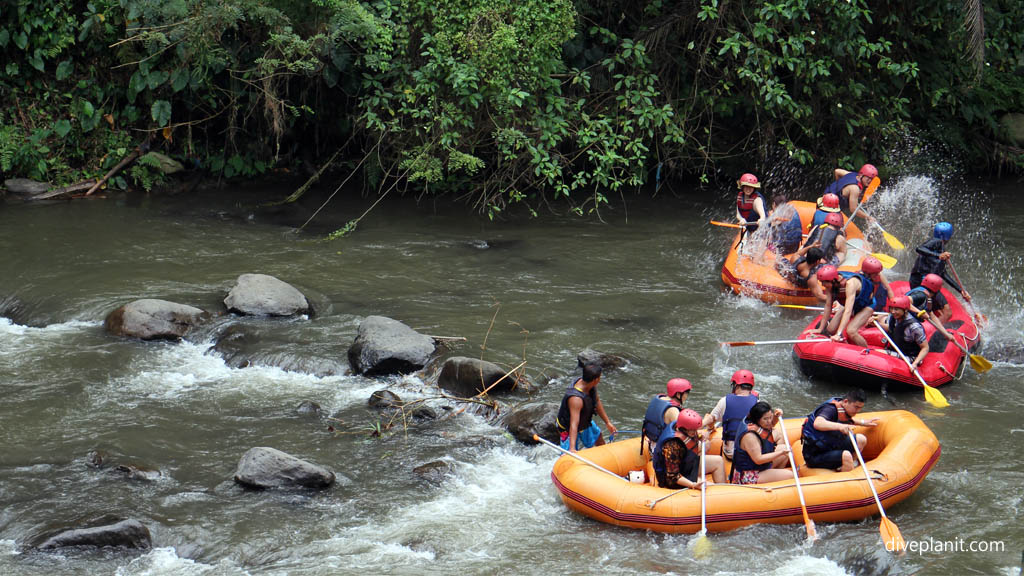 There are several companies that can take you there and it's probably best to ask your hotel concierge to recommend a trusted operator.
Yoga
Ever since Eat Pray Love became a hit, people have been flocking to Bali to find themselves and the number of yoga studios has correspondingly grown. Check with the hotel you're staying at and you'll probably find they run yoga classes at some point during your stay.
Try one of the early morning classes at The Four Seasons Sayan in Ubud, which are held each day on the hotel's rooftop, surrounded by a lily pond seemingly floating in air.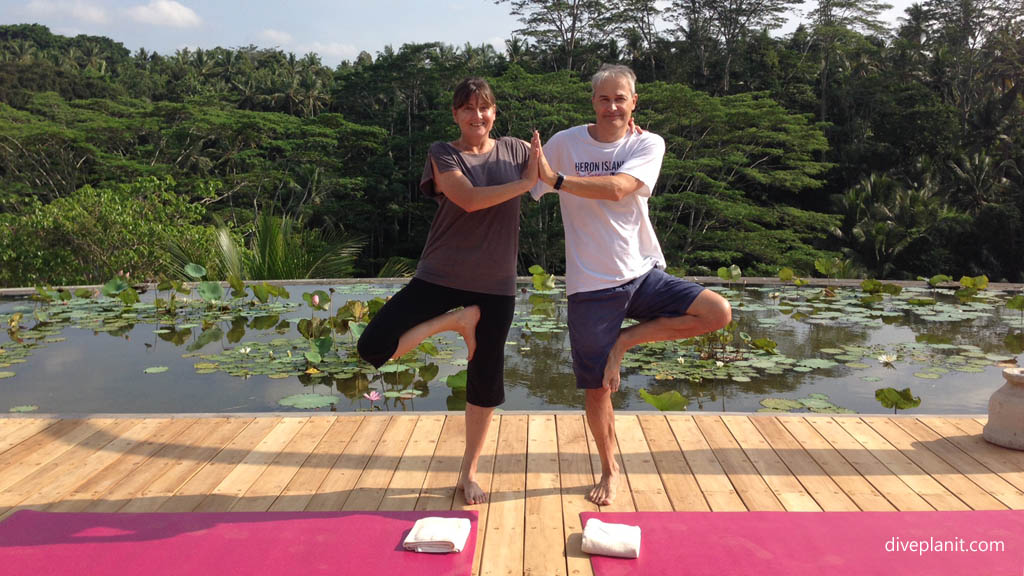 Otherwise, Ubud is a good place to start. The Yoga Barn is one of the more established, and runs classes from 7am until 9pm, with about 10 classes per day. You can choose to attend a beginners' class or attend a workshop or weeklong retreat.
Day Spas
Again, if there's not one at your hotel, walk a few metres down the main streets of Ubud, Seminyak or Sanur and you're bound to come across several day spas, where you can take your pick of soothing facials or relaxing massages.
The day spas at Four Seasons Jimbaran Bay and Sayan in Ubud are particularly lovely, offering a range of traditional therapies including full body wraps to sooth your sunburnt skin and relaxing massages to ease away your aching apre-dive muscles.
Temples
There are over 20,000 temples, or pura, in Bali, and certainly a few worth visiting to get a better understanding of this small island's rich culture and history.
Pura Gunung Kawi, Bali's "Valley of the Kings", and Tirta Empul are located near Tamaksiring. Gunung Kawi is located in a ravine between rice fields. The cliffs flanking the river feature shrines carved into the stone honouring kings and queens from the 11th Century.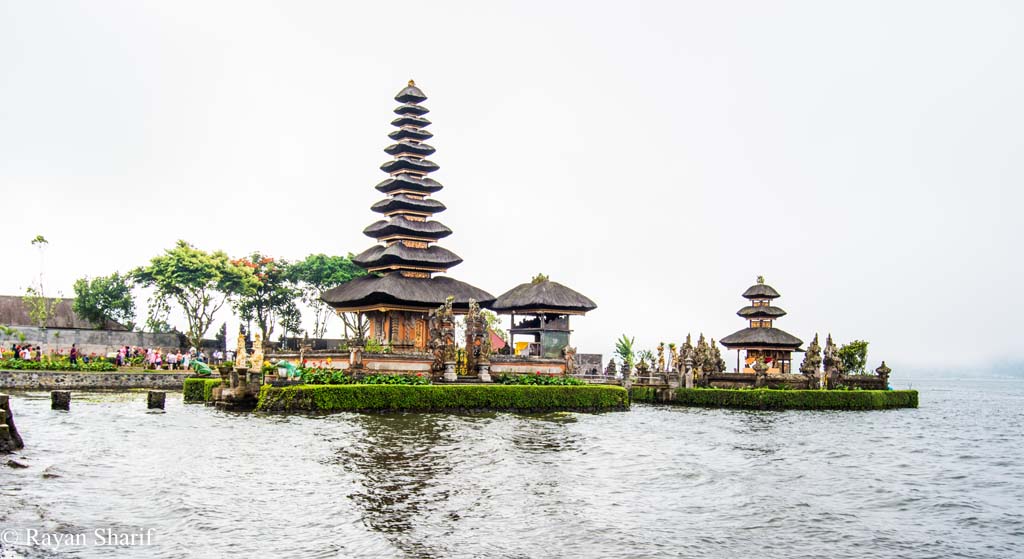 Goa Gajah, or Elephant Cave is in central Bali and known for the menacing entrance to its cave, while Tanah Lot and Taman Ayun are located to the east and easily accessible from Denpasar.
The Besakih or "Mother Temple" is the holiest of all, and located some 900 metres up Mt Agung in East Bali and dates back t the 10th century.
The Barong and the Wayang Kulit
Two features of Balinese culture that are truly unique and well worth seeking out; the wayung kulit or shadow puppet shows and traditional story-telling dance performances.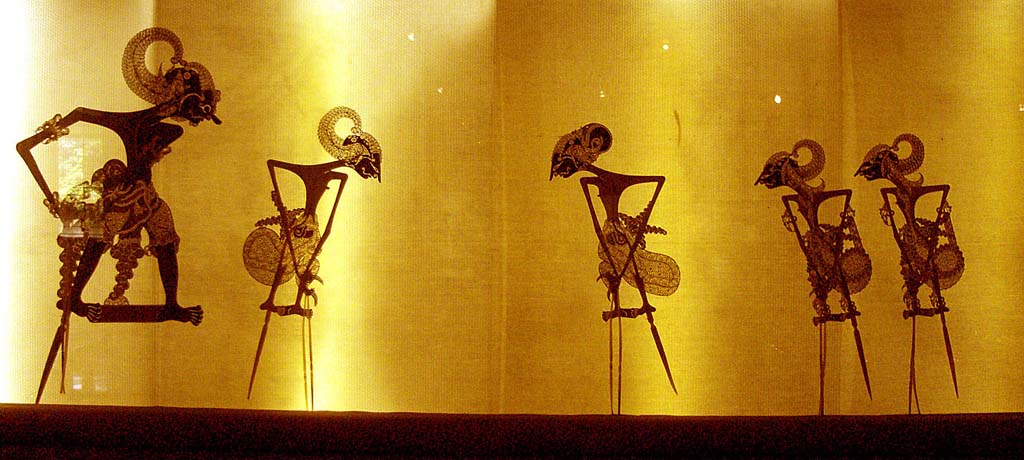 Wayang Kulit performances tell stories usually drawn from Hindu epics such as the Ramayana, worth experiencing if just to marvel at the intricately carved puppets. The Barong is probably the most well known dance, narrating the fight between good and evil, a mix of myth and history.
You can usually catch a 7pm show Ubud at one of several establishments, so plan an early dinner nearby before wandering by.
Local Information
Before you go, it's always a good idea to browse your own government's website to see whether there are specific issues for your particular destination(s). Here's a link to the Australian Government's Smartraveller website which tends to be pretty comprehensive for Bali as it's such a big destination for Australians.
Getting There
From Australia, Air Asia, Garuda, Qantas and Virgin all fly to Denpasar – and there is little difference between their prices. Check the websites of all these carriers for specials. Fares are not as cheap as they used to be, but there are still deals to be had. Jakarta is the other main hub into Indonesia, and there may be specials to Jakarta if you can work an itinerary around that. Try a travel agent too – they often have access to wholesale rates you can't even get on line.
Pricing / availability enquiry