Introduction
Mamanuca Islands: Diving
The image conjured up by Fiji's Mamanuca Islands is often family fun on an island beach or newly-wed couples enjoying fine dining as the sun sets into azure waters behind them. So you might be surprised that in the Mamanuca Islands diving is becoming one of the most popular resort activities. Take a quick look at their location and you'll see that as well as the lagoon reefs between the islands, there is a large barrier reef dropping off to open ocean.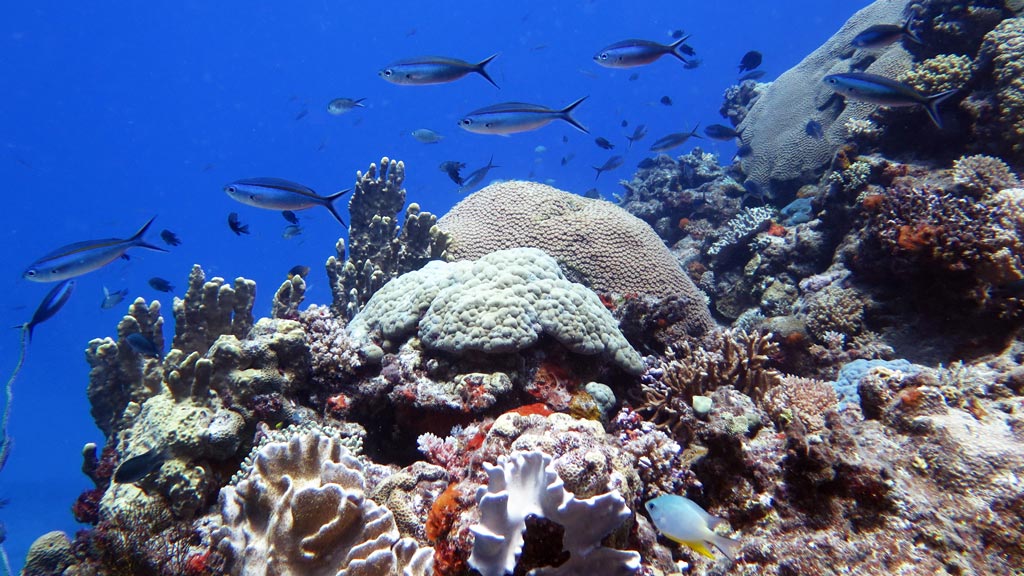 So you're going to get the best of both worlds: easy colourful sheltered reefs (with plenty of well-fed reef fish!), and some serious wall, drift dive and pelagic action on the outside of that barrier reef. With no shortage of great resorts and well-established dive operations, this is the perfect place for a honeymoon (or even a wedding) or to bring the young family AND to get some great diving in along the way.
Read on and discover some of the most easily accessible, comfortable and best diving in Fiji.
Location
The islands of the Mamanucas group are served by a number of comfortable ferry routes from Denarau Marina, and short charter flights from Nadi airport directly, making them the easiest Fijian destination to reach. You can get out of bed in Sydney or Melbourne and be snorkelling off your resort's beach before cocktail hour.
The resorts that offer diving all have access to the barrier reef that runs along the group's south-west border.
Vomo is considered the northern most of the Mamanucas, though its half-way to the Yasawas, and the first stop on the Yasawa Flyer route.
Castaway Diving is Castaway Island Resort's own PADI Five Star Gold Palm Dive Centre, offering full gear hire, all the PADI courses and is complete with a stable, fast monohull boat that comfortably seats 14 dive guests and gets them to all the closest dive sites with 20 minutes.
Diving at Vomo is 'at your convenience'. When you book your stay at Vomo, let them know that you'll be diving and the kind of diving you want. It will be arranged. The Ocean Play Manager will meet with you after you have checked in and chilled out and discuss what kind of diving you would like to do, and when you would like to dive.
Tokoriki Island Resort is an award winning luxury resort with its own PADI 5* Dive Resort on site.
Beachcomber Island Resort and Ratu Kini Backpackers Dive Resort on Mana Island also offer diving. Both are also easily accessible by the South Seas Ferries which depart Denarau Marina.
Dive Resorts
Dive Sites
There are dive types and dive sites to suit all levels of experience. There are plenty of colourful sites for novice divers with a variety of hard and soft corals and plenty of friendly Fijian reef fish. There are even gentle drift dives for those just learning to fly.
For those like to cover the ground without wasting energy on finning, there are plenty of great drift dives along the outer wall of the barrier reef – on the open ocean side – where there's a good chance of encountering a pelagic or two. Check out Namotu Wall for example, which has an abundance of marine life including turtles, reef sharks and schools of barracuda.
Some of the sites are well known for particular features or species: Gotham City – you guessed it – batfish!  Vonu Range – and Vonu as you know because you'll be drinking it – means turtle. Supermarket – not sure where the name came from because sharks don't shop – but that's what it's famous for. Big W – a roller coaster of coral bommies with swim throughs and even tunnels.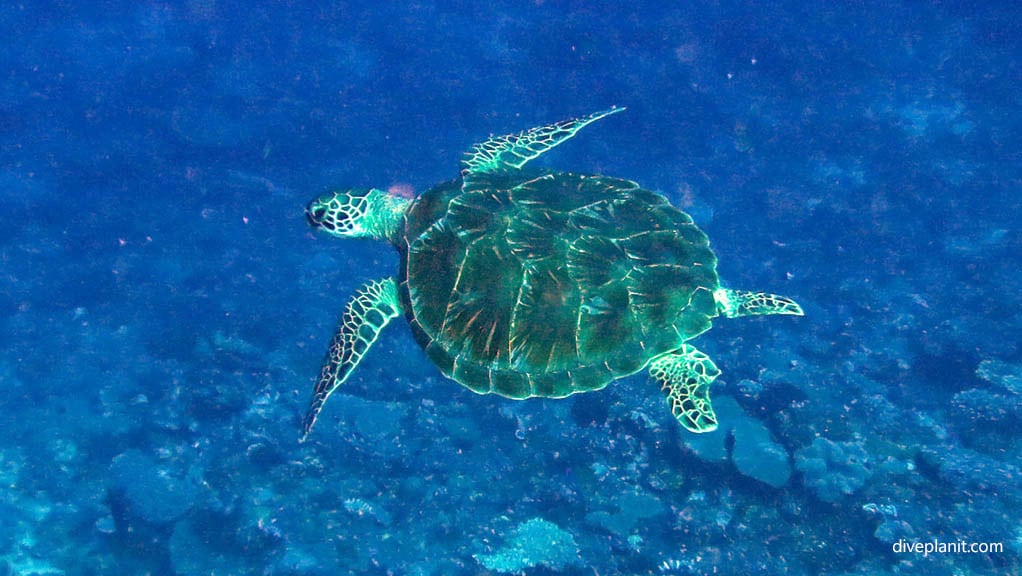 Many of the sites are just one, two or three pinnacles covered in hard and soft corals where you can spend the entire dive just spiralling round from bottom to top checking out anything from angelfish, butterflyfish and clownfish to rays, sharks and titan triggers. Both Plantation Pinnacle and Castaway's local Three Bommies are made up of three pinnacles rising from deep water with swim throughs at the base, slopes clad in hard and soft corals, and anemone gardens at the top.
Vomo Island, situated in the north of the group has its own diving terrain. Surrounded by reef which offers all day snorkelling and easy diving right off the beach in front of the resort, there are also a number of other reef dives sites like Shark Alley round the back of the island, accessible within a short boat ride.
The steeper slopes at the far side of Vomo Lailai offer more challenging diving with walls and swim throughs. You can be assured that when you dive a site around Vomo, you will be the only ones there!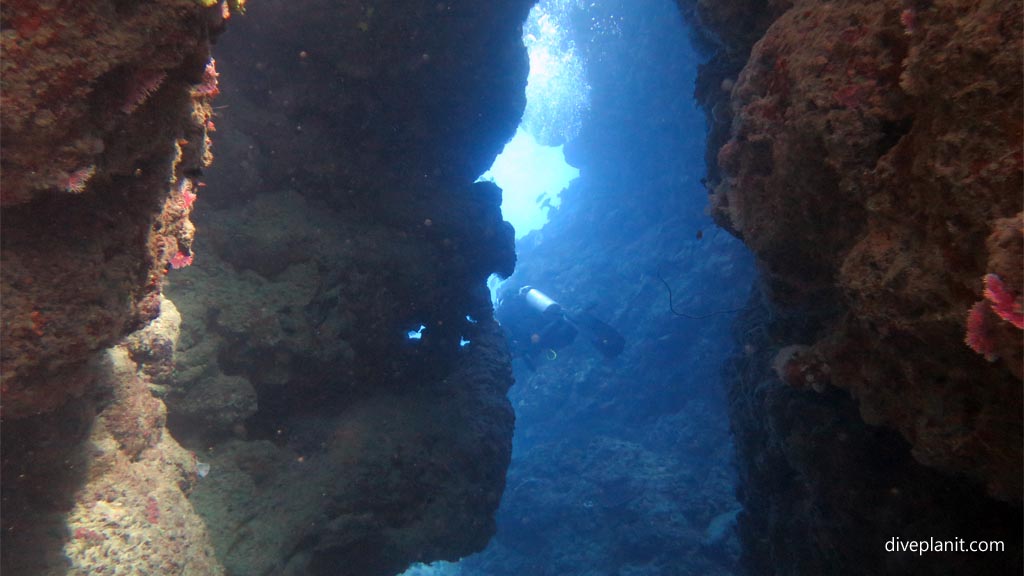 Dive Sites
Where to Stay
Castaway Island
Castaway Island is a pristine private island resort located in the heart of Fiji's Mamanuca Island group approximately 30 km from the mainland of Viti Levu and very close to its own and the Mamanucas barrier reef. Complete with PADI Five Star Gold Palm Dive Centre and their own powerful, custom built dive boat, Castaway Diving has a couple of dozen dive great spots all within 20 minutes of the resort.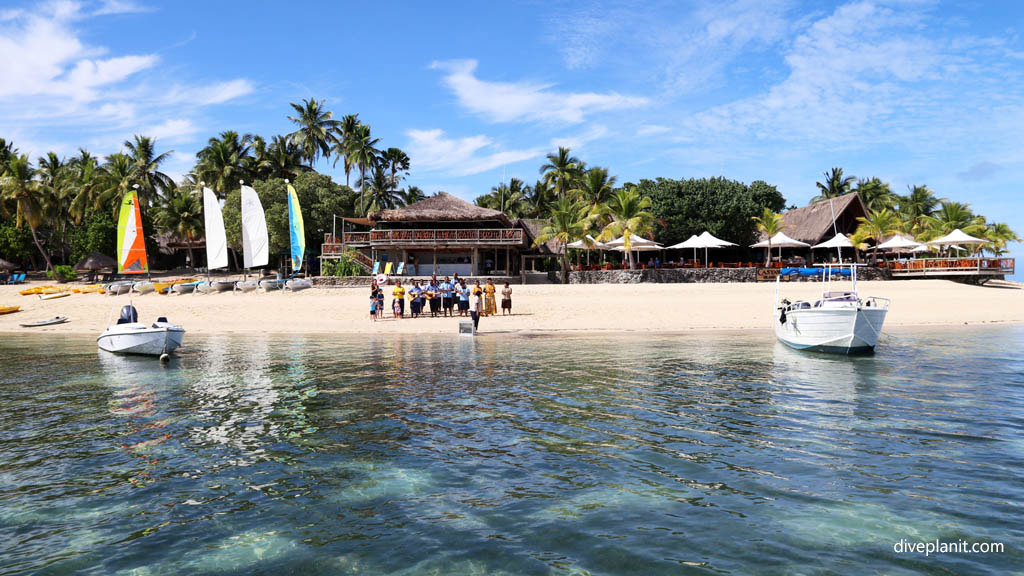 The island's 70 hectares are covered in rich tropical rainforest and surrounded by white sand beaches and coral reefs. The resort's sixty four traditional Fijian styled bures are nestled amongst lush tropical gardens or beachside at the water's edge. Inside, their air conditioned interiors feature natural rattan and local timber furnishings, and stylish modern bathrooms.
Castaway private island resort became part of the Outrigger Resorts group in February 2014, and in addition to having its own Diving Centre, offers two fresh water swimming pools, four restaurants and bars, a wide range of water sports and activities including surfing, and a renowned kids club.
Malolo Island
Malolo Island Resort is a mid-range resort very popular with families. A high-arched, thatch-roofed lounge greets you after walking up the jetty accompanied by a band of musical Fijians, and beyond, a white panelled colonial style building which houses the restaurant and function rooms.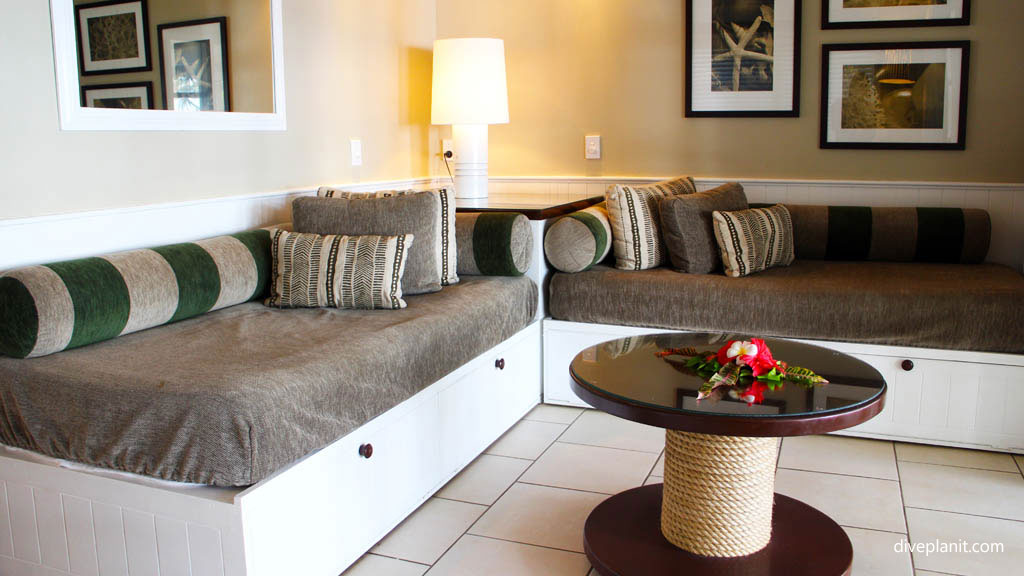 To the left and right, white-panelled bures with thatched roofs and French windows open onto beautifully manicured gardens and a couple of hammocks. In a couple of secluded corners you'll find the kids club and the spa, and down on the beachfront, the brand new water sports shack and dive shop.
LikuLiku Lagoon Resort Fiji is the high end resort on Malolo Island. This resort is a kid-free zone, with private plunge pools and bures over the water, enabling you to climb down a ladder and snorkel in a beautiful coral reef (handy).
During your stay, if you're lucky, you may get to meet a rare (and gorgeous) banded iguana. It's a breed of banded iguana that's unique to Malolo Island, and until very recently thought extinct. Resort employees have now found three on the island, including a breeding pair, and are working with Taronga Zoo to develop a breeding program.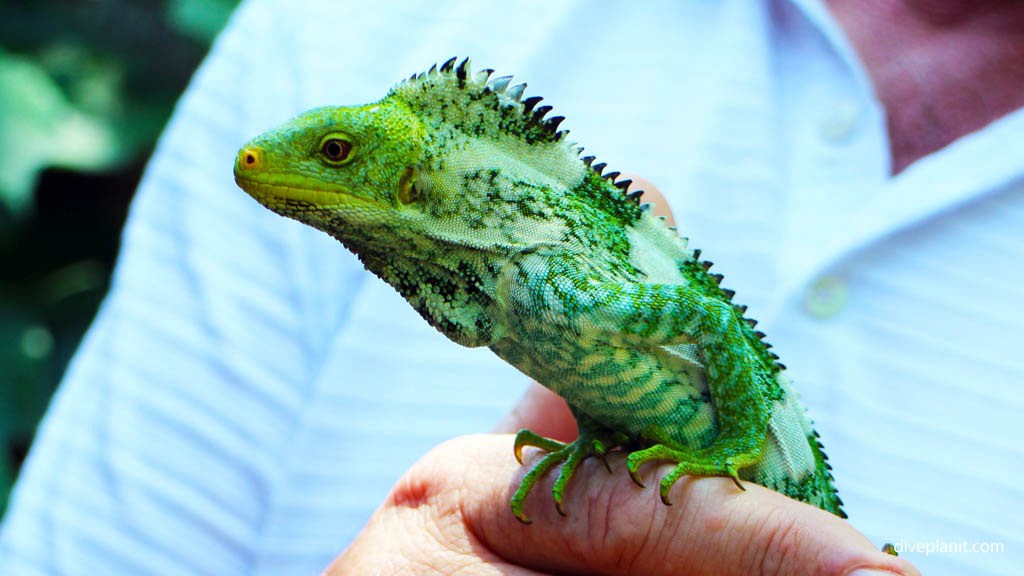 Vomo Island
Vomo is a Five Star Island Resort surrounded by its own reef offering relaxed diving and snorkelling in pristine waters. It's the kind of place you go to relax completely – where words like 'schedule' and 'deadline' disappear from your vocabulary.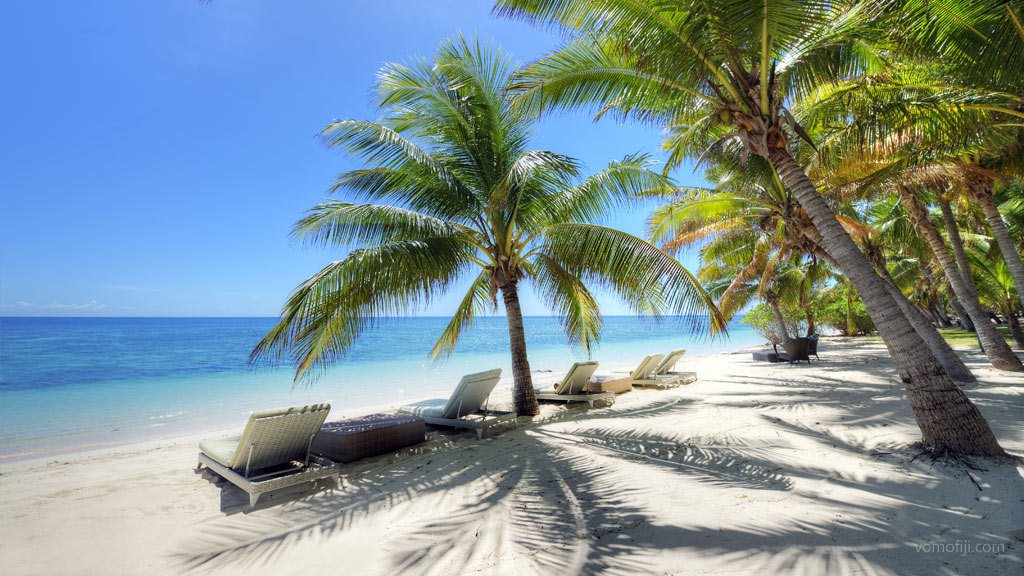 It's a place where you can spend time with family – a still get some great diving in. In fact, it's a place where your kids can learn to dive, and develop a passion for the marine environment with you.
It has a variety of easy yet exciting dive sites with a variety of marine life from swarms of colourful butterflyfish to Napoleon wrasse, to eagle rays and white tipped reef sharks.
Vomo offers a very personalised experience, both at the resort and diving. Occasionally you look around … and realise that you are the only ones there!
There are three main styles of accommodation: a Villa which designed for a couple or family of four; a Beachfront Retreat, for couple of friends sharing, and for a group of up to 8 – the Residence: in 4 bedrooms in three adjoining pavilions right on the beach with its own pool and kitchen – for washing down the camera gear – not suggesting you would self-cater here!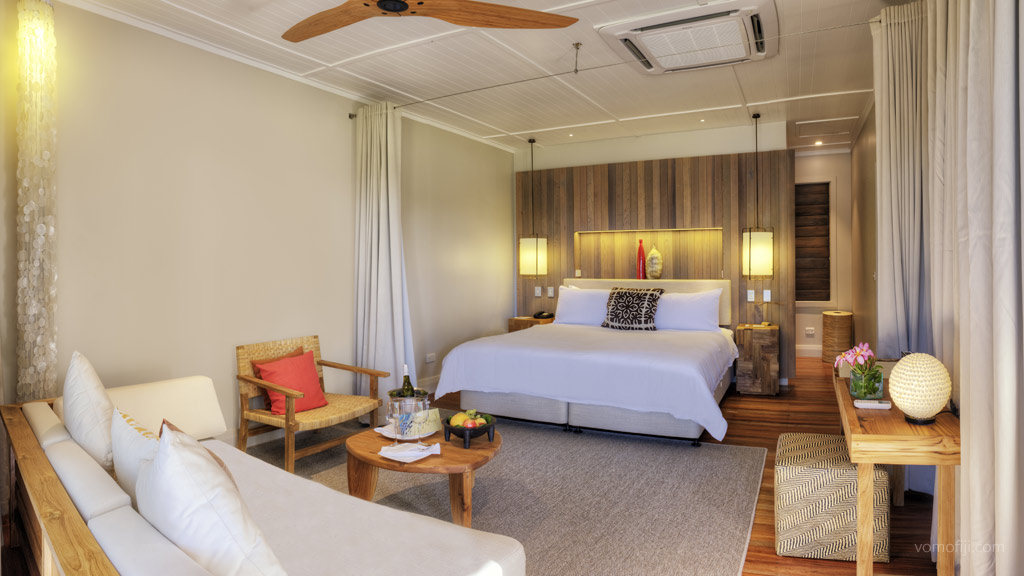 All accommodation is 5 Star: authentic Fijian style combined with European functionality, i.e., looks good and works. The villas are set within the natural landscape affording privacy and tranquillity.
Where to Eat
Castaway Island
Castaway's main restaurant is the aptly-named Waters Edge Restaurant. Right on the water's edge and cooled by ocean breeze day and evening, it serves buffet style and a la carte meals.
The Sundowner Pizza Bar and Grill is not surprisingly the perfect place to view a Fijian sunset and enjoy a genuine wood fired pizza and ice cold beverage. (You can even get a pizza to take out).
The Nuku Marau bar and grill adjacent the Family Pool Area serves a casual cuisine in a casual setting.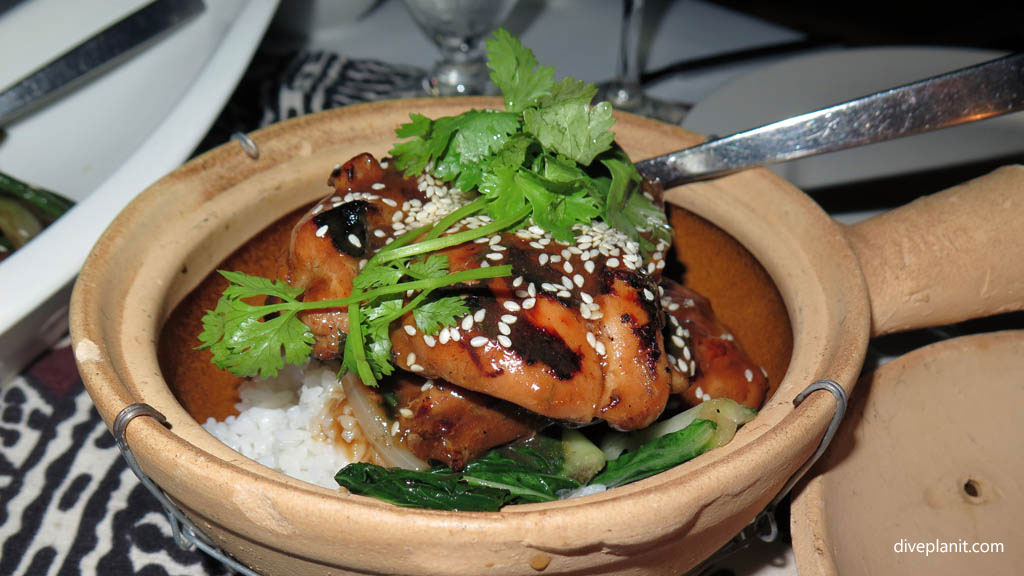 The award-winning Restaurant 1808 caters to guests seeking a truly unique outdoor Fijian dining experience with a healthy and delicious variety of dishes prepared using local, organic ingredients. This is bare foot dining par excellence: dishes are designed to be shared by everyone around the table as is customary in a Fijian home.
Malolo Island
Usually on an island resort your choice is limited to just one or at best two places to eat. Malolo Island actually has a choice of three restaurants, serving a great range of first class meals, ranging from pizza and burgers to curries, wagyu steaks and amazing looking seafood platters.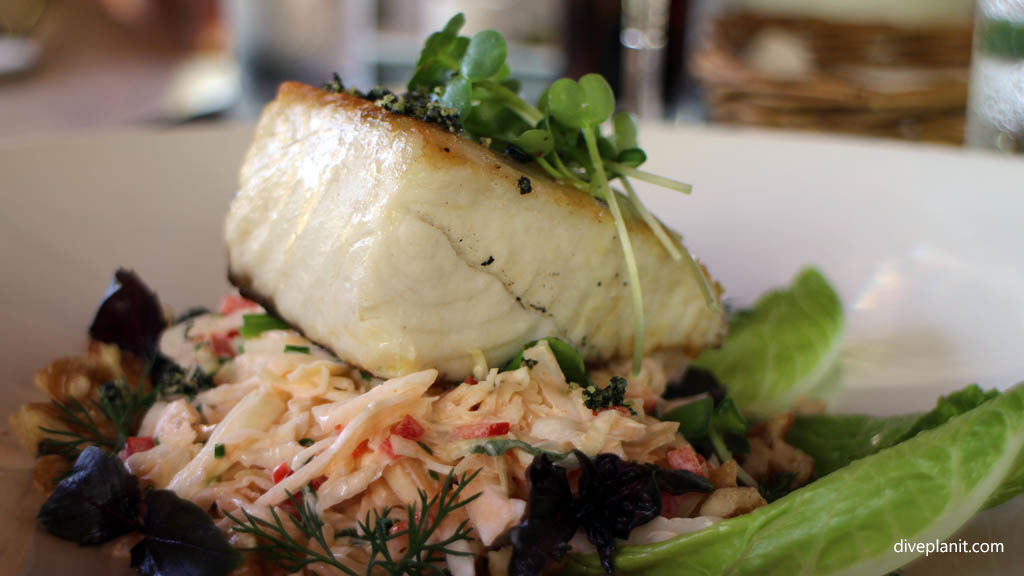 At LikuLiku you'll be served a daily changing mini-degustation style meal for lunch and dinner at the Fijiana Restaurant. The focus is on local ingredients, some of which are grown on the island itself in the chef's kitchen garden.
Vomo Island
The Reef Restaurant is à la carte for all meals, and the menu changes daily. The chef makes it his daily challenge to present guests with a memorable dining experience creating fresh, innovative dishes complemented with ingredients straight from Vomo's own herb and vegetable gardens.
There are other dining options to be enjoyed: you can have a picnic lunch on the island, and one of the many secluded spots set up for that purpose, or even take a picnic lunch and catch a boat out to one of the nearby completely deserted islands.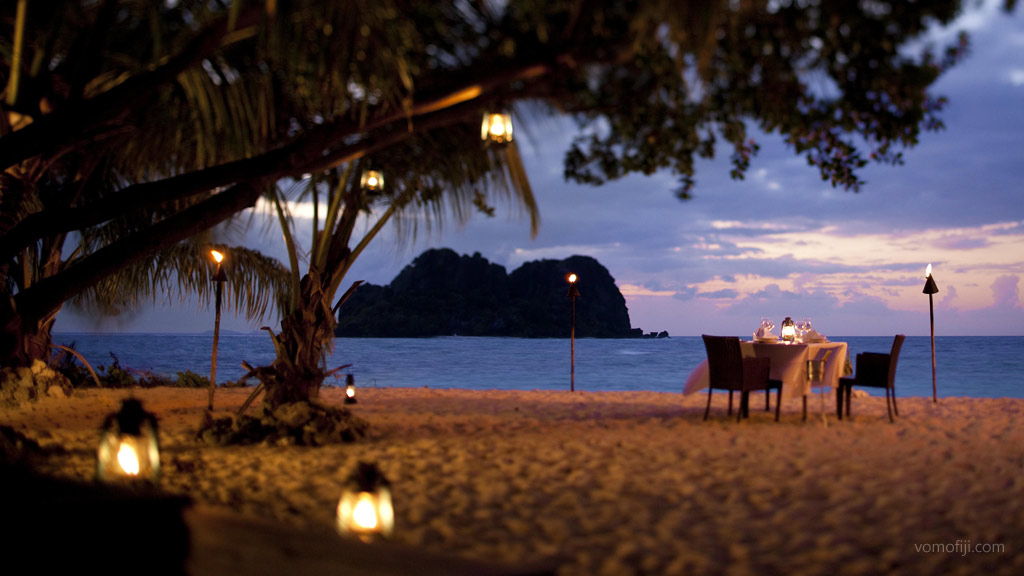 If you are celebrating a special occasion, a candlelight dinner for two at the water's edge can be arranged.
In addition to the Vudo Bar, the Rocks Bar is open for two hours around sunset. The perfect place to reflect on the day's diving as the sun sinks into the waves.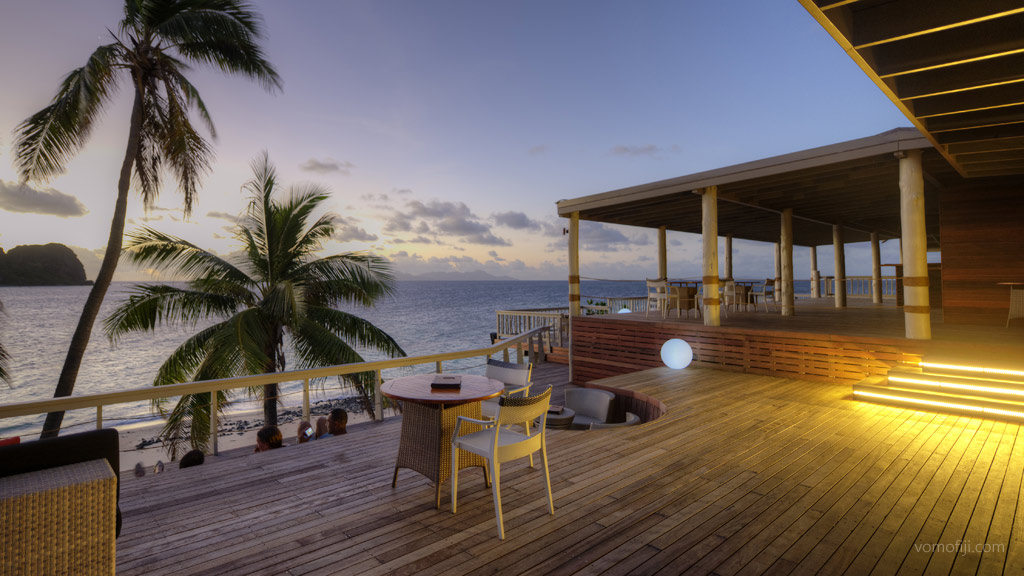 Other Activities
On Island
All these paradise island resorts have an extensive range of water sports on offer including kayaking, banana boat rides, windsurfing, snorkeling, hobby cats and good old fashion snorkeling.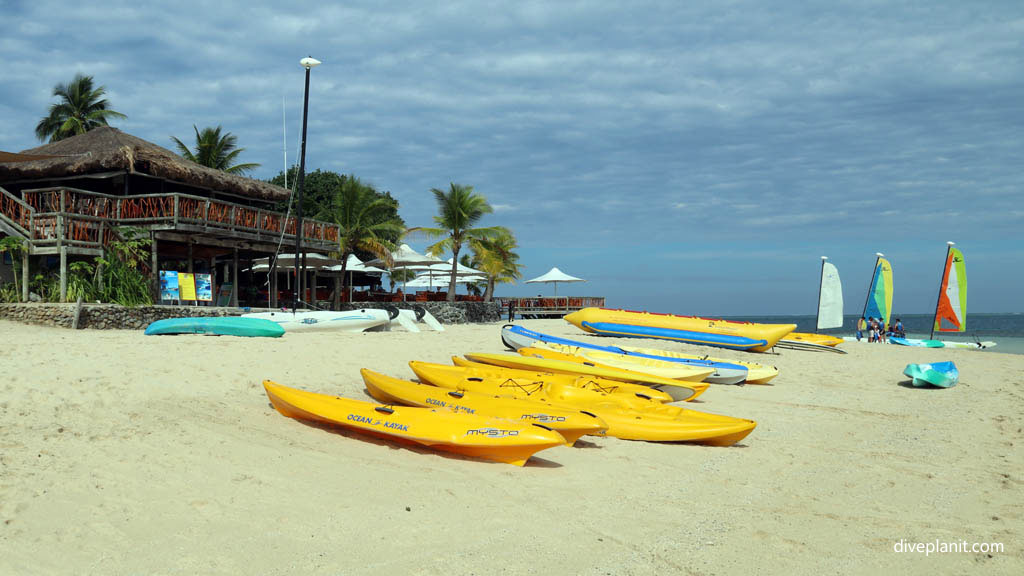 You can also take a boat trip out to one of the nearby uninhabited islands for the day with picnic lunch supplied for a day of sunbaking, swimming and snorkeling. Conversely, you can simply enjoy your book in the hammock in front of your bure.
All the resorts have top class spas too, and it's well worth booking a massage for your last non-diving day to soothe all those dive-weary muscles.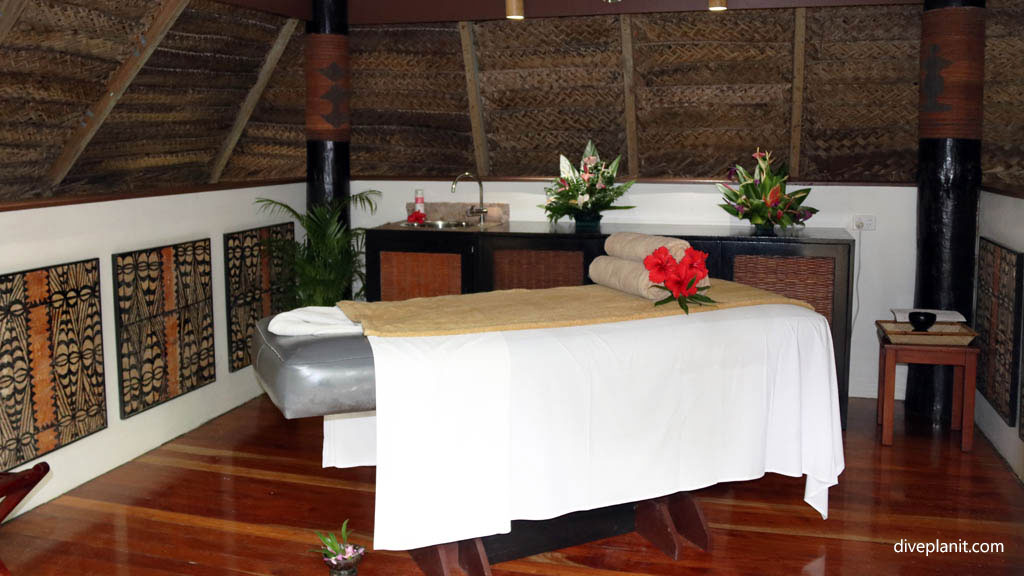 Off Island
Here are some of the other day and half-day trips available in the Mamanucas – mainly from Denarau Marina.
Tivua Island All-Inclusive Day Cruise
Dive one of Fiji's newest and most conveniently located wrecks: the MV Raiyawa. Join the Captain Cook Cruises Fiji Tivua Island Day Cruise and enjoys a typical island fun day out with infinite snorkeling, beach activities and sumptuous buffet lunch. Add on a couple of dives on MV Raiyawa wreck – a short trip in the boat's tender from Tivua Island, to make your trip complete.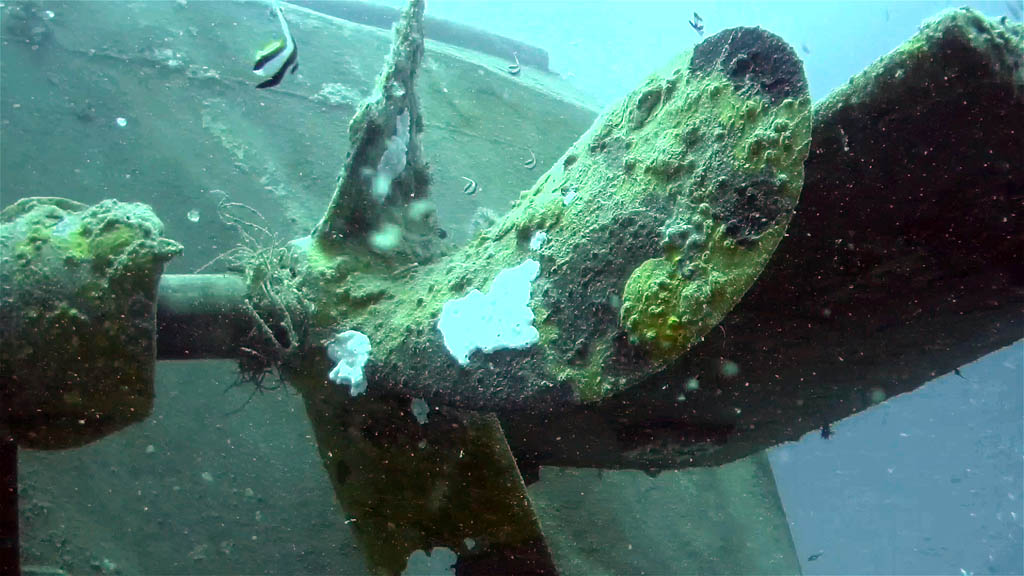 3-Night Mamanuca & Southern Yasawa Islands Cruise
Cruise and dive (or snorkel) your way through the Mamanucas. Enjoy the perfect mix of aquatic, land and on-board activities aboard Captain Cook Cruises Fiji's small cruising vessel.
Seaspray Day Adventure by South Sea Cruises
Spend a day exploring the crystal clear waters, beautiful beaches and lagoons of the Mamanuca Islands aboard the 15m sailing boat 'Seaspray'. Snorkel, swim and meet the locals at a few of the islands along the way. Seaspray departs Mana Island, and transfers to/from Mana are included.
Half-Day Surfing Adventure by Fiji Surf Co
Tackle the gentle breakers and rolling waves of Nadi's world-famous surf spots on this expert-led surfing adventure. The Mamanucas have breaks suitable for every level and Fiji Surf Co are the experts to get you there.
Getting There
For getting to Fiji, see the Getting There information on the main Fiji Islands page.
All the island resorts of the Mamanuca Islands are accessible from Denarau Marina by South Sea Cruises who run several services on several circuits throughout the day.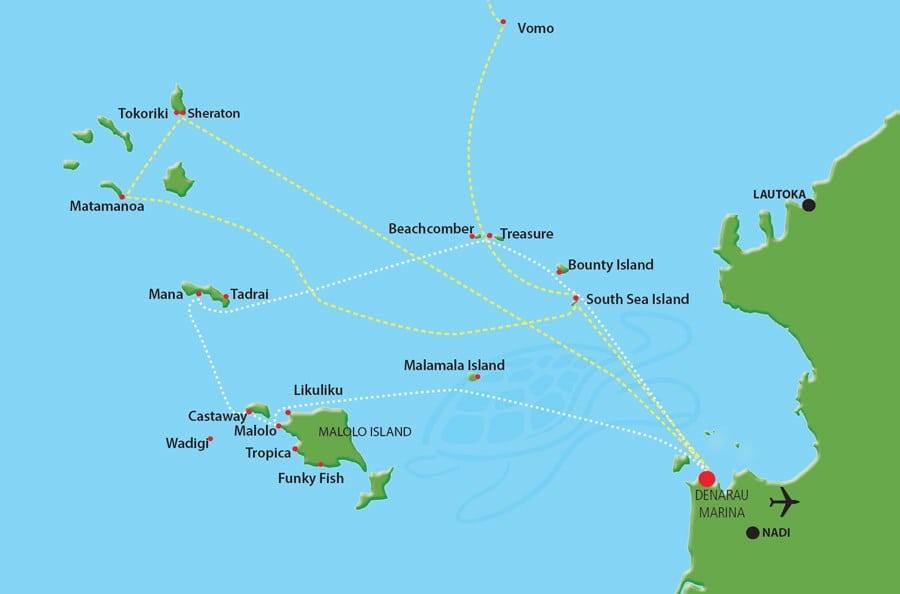 Alternately, you can opt for a private speedboat or water taxi transfer at a time that suits you. Or if you have the money, but not the time, catch a seaplane or helicopter transfer.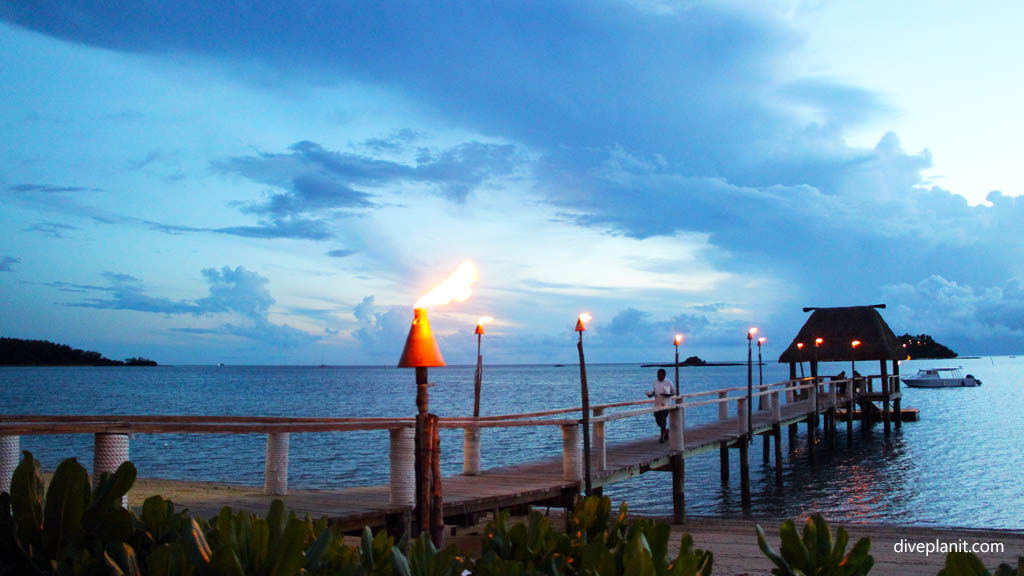 Pacific Island Air run air transfers that will get you to your island resort in 10-20 minutes and Island Hoppers Helicopters offer an equally speedy transfer to most of the islands. But don't forget, the no fly rule applies to any aircraft that exceeds an altitude of 300m. So check first before you book these enjoyable scenic flights that double as airport transfers – otherwise, the same no-fly rules apply as airliners!
Pricing / availability enquiry