Introduction
Location
Diving
Dive Sites
Enquire Now
Castaway Island is a pristine private island resort located in the heart of Fiji's Mamanuca Island group approximately 30 km from the mainland of Viti Levu and very close to its own and the Mamanucas barrier reef. Complete with PADI Five Star Gold Palm Dive Centre and their own powerful, custom built dive boat, Castaway Diving has a couple of dozen great diving spots all within 20 minutes of the resort.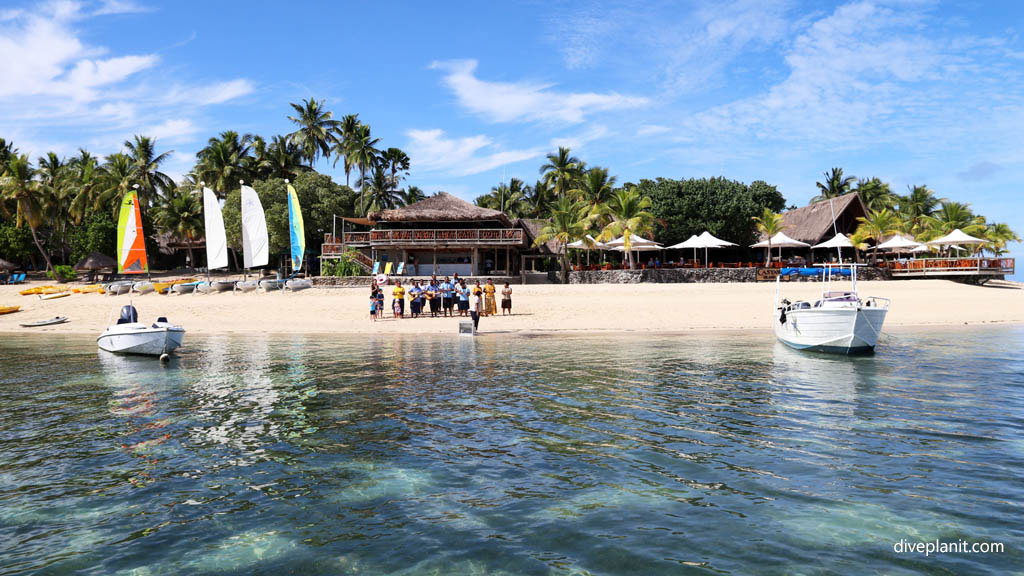 The island's 70 hectares are covered in rich tropical rainforest and surrounded by white sand beaches and coral reefs. The resort's sixty four traditional Fijian styled bures are nestled amongst lush tropical gardens or beachside at the water's edge. Inside, their air conditioned interiors feature natural rattan and local timber furnishings, and stylish modern bathrooms.
Castaway private island resort became part of the Outrigger Resorts group in February 2014, and in addition to having its own Diving Centre, offers two fresh water swimming pools, four restaurants and bars, a wide range of water sports and activities including surfing, and a renowned kids club.
Castaway Island Fiji is surrounded by white sandy beaches but also vibrant coral reefs. Take a second to look at its location on the Google map and you'll see just how close it is to the lagoon and barrier reef. Castaway Diving, the resort's own Castaway dive shop, offers both plenty of sheltered diving in the warm clear waters surrounding and adjacent to the island, but also plenty of exciting stuff on the barrier reef. You'll be enthralled by hard and soft corals, spectacular walls, swim-throughs, reefs and pinnacles, and moray eel and shark encounters all within minutes of Castaway Island aboard their purpose-built dive boat: Sokia.
Dining
Castaway's main restaurant is the aptly-named Waters Edge Restaurant. Right on the water's edge and cooled by ocean breeze day and evening, it serves buffet style and a la carte meals.
The Sundowner Pizza Bar and Grill is not surprisingly the perfect place to view a Fijian sunset and enjoy a genuine wood fired pizza and ice cold beverage. (You can even get a pizza to take out).
The Nuku Marau bar and grill adjacent the Family Pool Area serves a casual cuisine in a casual setting.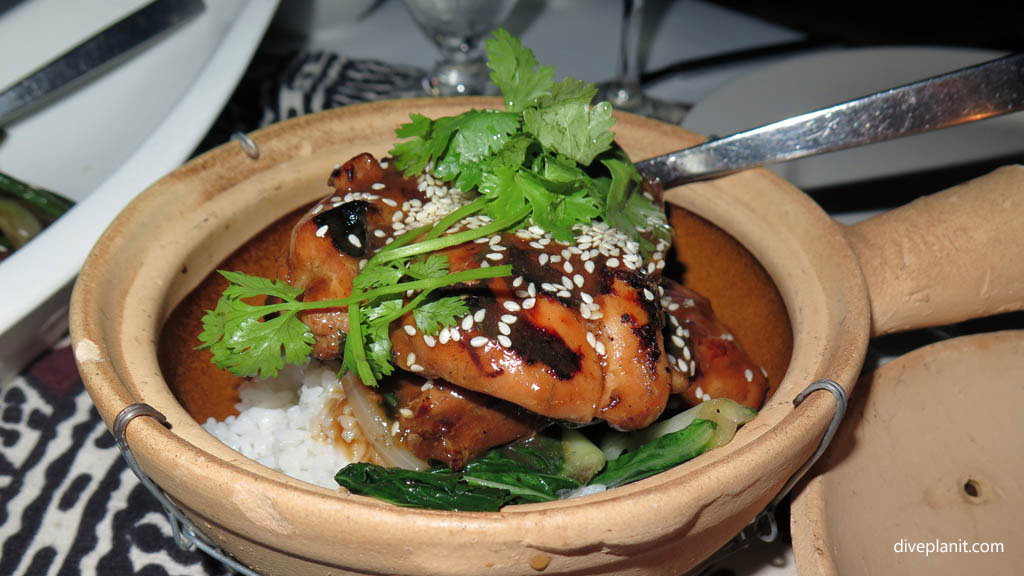 The award-winning Restaurant 1808 caters to guests seeking a truly unique outdoor Fijian dining experience with a healthy and delicious variety of dishes prepared using local, organic ingredients. This is bare foot dining par excellence: dishes are designed to be shared by everyone around the table as is customary in a Fijian home.
The Castaway Island Dive Shop is right opposite the main restaurant.
Dive Service
When first arrive head down to the dive shop and discuss the type and amount of diving you'd like to do with the DM. You'll be surprised at the variety of diving available across the 28 dive sites they have listed. From Vonu Range (Vonu of course meaning turtle), to Castaway Pass – a drift dive on the outside of the barrier reef wall with a good chance of seeing pelagics, to Supermarket, famous for its sharks, to Big W, another drift dive with tunnels and swim throughs.
Different sites suit different divers, and chances are the deeper dives will be the first ones with shallower and easier dives in the afternoon. There are three departures each day, so you can pick and choose when you want to dive.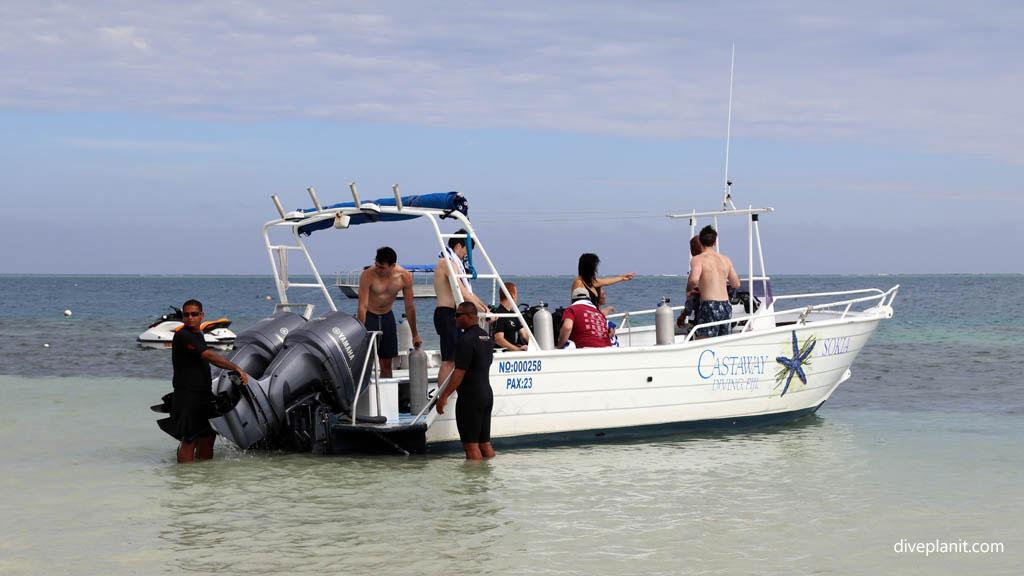 Sokia, which means angelfish in Fijian, is a 30-foot aluminum monohull dive boat, powered by twin 200 hp outboard engines, making her one of the fastest and most stable dive platforms in Fiji. Sokia is fully surveyed, safety equipped and comfortably accommodates 14 divers, speeding them to a host of spectacular dive sites along the barrier reef.
Being a PADI Five Star Gold Palm Dive Centre, they offer the full suite of PADI dive courses, starting with Bubble-maker, a scuba experience for children in a pool with lots of fun games to play and the emphasis on safety. Minimum age is eight years.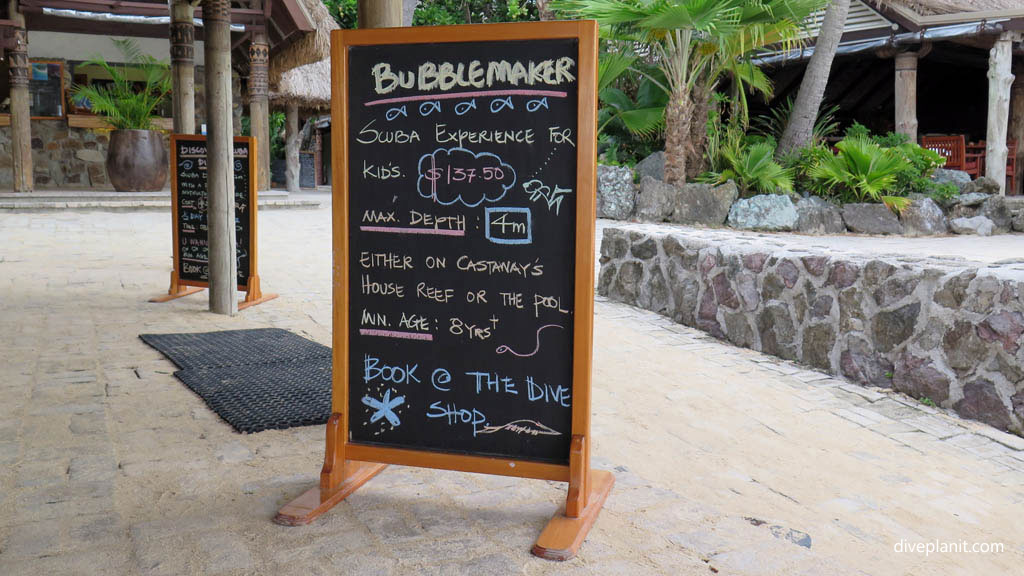 The Discover SCUBA Diving (DSD) course is really handy if you're certified but traveling with someone who isn't including kids. The DSD course is an easy and enjoyable way to introduce others to the beauty of the underwater world for the first time. The minimum age is just 10 years old.
They also have packages available so that you could you can pre-book, for example, a six tank dive package, saving considerably over buying individual dives and spread your six dives across your week's stay.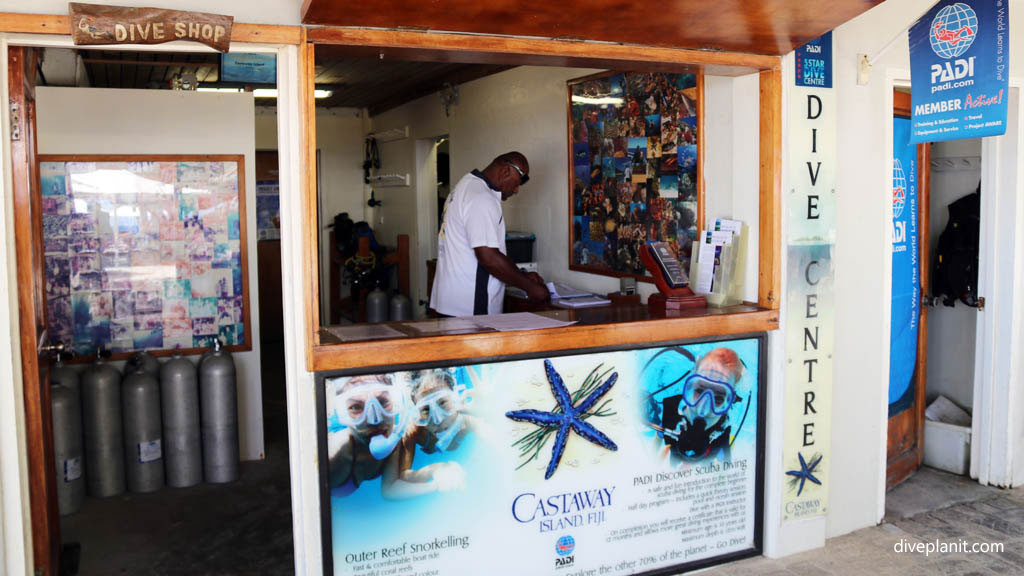 Castaway has all the dive gear you can possibly need to hire – from Aladdin computers and point-and-shoot digital cameras to Apollo diver propulsion vehicles! All the equipment for hire is selected from the Maris range and is of the highest standard available.
Of course, diving is available all year round at Castaway. The water temperatures peak at about 31°C during the summer and approximately 26°C in the wintertime. Wetsuits are therefore optional!
Castaway Fiji runs three single tank dive trips daily departing Castaway at 8:30 am, 11 am and 2 pm. They also offer night dives by appointment. All excursions have a round trip time of approximately one-half hours and obviously, all diving is subject to weather conditions. Simply call in at the dive shop on arrival and they'll get you sorted in no time.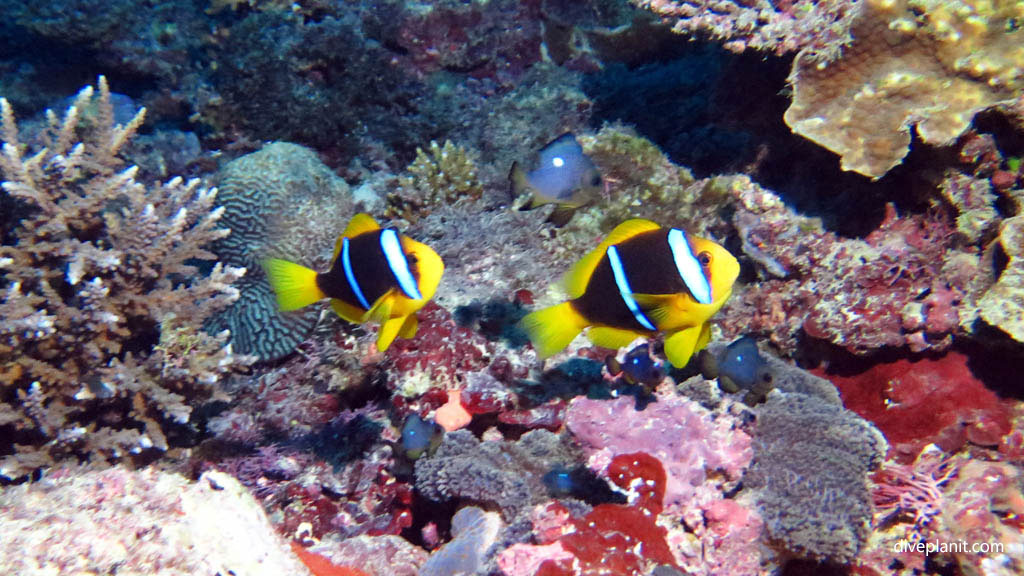 Once checked in for a dive, your gear will be outside the shop ready for you to carry it down to the boat. The cylinders simple click into the holder behind the benches that run the full length of Sokia. As it is one tank per trip there's plenty of space.
You can expect to be at the selected dive site and ready to enter the water within 20 minutes of leaving Castaway's beach, and if you're going out to the nearby Three Bommies dive site you'll be there in just three minutes.
The crew and dive guides are there to help and will make sure everyone is well briefed and comfortable during the trip. Entry is via giant stride off the platform at the back and re-entry via the broad ladder.
At Castaway Diving, they make it so easy: all the dive sites are so local and accessible they are probably the most ideally suited dive operation in the Mamanuca Islands region. The whole round trip is usually about 90 minutes, so going for a dive doesn't take you away from the family for too long.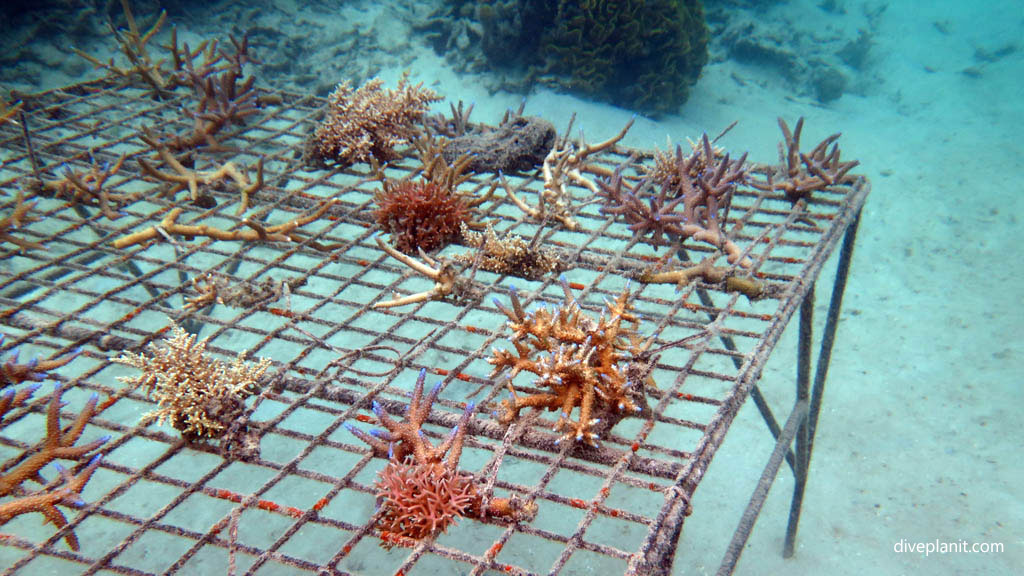 While you're there – have a snorkel out along their house reef. They are cultivating corals in nurseries as part of Ozone – (Outrigger Zone) Outrigger Resorts' Global Conservation Initiative to protect and help restore some of the reefs that have been damaged by cyclones.